With the advent of the digital era, it is now possible to ease the process of writing, drawing, and compiling your work effectively. 
Whether you are a student taking school notes daily or a professional that needs to enhance their drawings, digital note technology can change the game. Staying true to the digital workspace, these devices allow you to store, share, and edit notes and designs like never before. 
At A Glance: Our Top 5 Picks for Digital Notepads
Yet, they remain true to their roots of the humble pencil and paper for those who prefer handwritten messages. In any case, if you are looking to grab one of these digital notepads this year, we've got some excellent recommendations. 
Check our full reviews for the best electronic notepads in the next section – 
Top 11 Digital Notepads Of 2022
IMAGE
PRODUCT
DETAILS

Our Top Pick

Our Top Pick

Rocketbook Reusable Notebook With Grids

Comes with a Pilot pen
Dot grid style

VIEW LATEST PRICE →

Mafiti LCD Writing Tablet

Kick-stand function
One key to clear writing

VIEW LATEST PRICE →

Boogie Board Reusable Blackboard

Four template options
QuickClear Technology
Save and organize notes with the app

VIEW LATEST PRICE →

NEWYES Robot Pad 8.5-inch LCD Tablet

⅙-inch thin tablet
Erase with one button
Lock function

VIEW LATEST PRICE →

Moleskine Ellipse Smart Writing Set

Connects page to screen
Include audio with notes
Moleskine Notes App included

VIEW LATEST PRICE →

Iskn The Slate 2 Pencil And Paper Graphic Tablet

Multiple brush options
Removable ring attaches to any pencil
Compatible with various file formats

VIEW LATEST PRICE →

Jonzoo LCD Writing Tablet

Natural writing experience
Provides eye protection
Built-in magnet for stylus

VIEW LATEST PRICE →

Rocketbook Wave Smart Notebook

Comes with a specialized pen
80-page dotted grid
App on iOS and Android devices

VIEW LATEST PRICE →

Wacom Bamboo Slate Smartpad Digital Notebook

Bluetooth-enabled
Contains 80 pages
Connects with Wacom Inkspace app

VIEW LATEST PRICE →

Iskn Repaper Pencil And Paper Graphic Tablet

Comes with a control ring
192 pressure levels
Time-lapse video option

VIEW LATEST PRICE →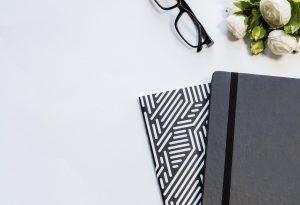 One of our first choices for a digital notebook was the reusable option by the brand Rocketbook. Whether you need to scribble notes, organize your day, or jot down tasks to do, this notebook is the most versatile option out there. This product provides a smooth writing experience and lasts for years to come. 
Sale
Why Did We Like It?
To begin with, those who want a notebook to last a lifetime will be very pleased with this product. If not a lifetime, this digital notepad is sure to be useful even after years of usage, thus making it a bargain at its price point. Once you purchase the digital writing pad, you also get a Pilot FriXion pen and a soft microfiber towel for cleaning handwritten notes. 
With an electronic notebook, it is possible to save tonnes of paper by using the same screen over and over again. The 32 pages are plenty for taking notes during a class, after which you can scan and capture ideas before wiping them clean. 
You also have the option to share notes over Google Drive, Evernote, Slack, iCloud, and email, and Rocketbook has a dedicated app to help you out. 
Also, with a traditional notebook, you have to deal with ink blots and smudges. In contrast, the digital pen used for this writing tablet gives you a smooth and precise experience for jotting down notes. 
What Could've Been Better?
With smooth pen tips, this digital notepad beats all the others with a simplistic design requiring only 15 seconds to bond with the specialized pages. We liked how a user can go with the flow of the creative process. However, one must take care not to leave the book in a scorching place. 
Pros
Eco-friendly

Links to popular cloud services

13 color options for cover

Budget-friendly

Smooth writing
The following digital notepad we selected is the LCD Writing Tablet by the brand Mafiti which is favored by creative professionals and graphic designers alike. This model is actually an updated version that is easier to write on, and the writing appears thicker too. Consider this option if you are looking for an electronic notepad with good battery life. 
Sale
Why Did We Like It?
While searching for the best digital notepad in the recent market, we came across this digital tablet that we simply had to include here. A plastic pressure-sensitive pen is included in this model that produces thick writing that is easy to view and process. Also, erasing the written matter is simple- you need to click the erase button, and that's it! 
Additionally, this LCD screenwriting pad allows you to write and erase more than 100,000 times before the battery gives out. One can easily replace the battery with new ones once they are used up without any hassle. Another thing we'd like to mention is the kickstand feature that can help you display notes or to-do lists to family or roommates. 
Some digital notebooks can be pretty heavy and challenging to carry to class or work, but this ultra-light model is designed for portability. 
What Could've Been Better?
Since this remarkable tablet is only 1/8th inch thin, it's ideal for kids' drawing, graffiti, or writing practice, while adults can list memos. However, although most of the features make this option one of the best digital writing pads, there was one downside. A few reviewers felt that the screen was a bit too small for lengthy notes. 
Pros
Long battery life

Thick writing and easy to read

Environmentally-friendly

Lock-protection switch
Right off the bat, we were keen on getting only the best digital notepads on our list, and we could not miss out on this option. This digital writing pad by Boogie Board is as convenient as it gets with its 8.5-inch by 11-inch dimension and black rule writing space. 
Why Did We Like It?
What's incredible about Boogie Board is that they are pioneers in introducing writing tools such as Liquid Crystal Paper that takes your writing to the next level. Unlike most digital notepads, this one does not have any delay or lag when the pen touches the computer screen. So, create sketches, take notes, or scribble essential things on the go in the form of handwritten notes with this digital notebook. 
Probably the coolest part about this device is the ability it gives customers to write on practically any document, photo, or even a map. Creative professionals can use its features to design interior plans, collaborate on edits, and trace a reference image, all with this single digital notepad. With four template options, including dot grid, planner, lines, and plain black, one can use the same tool for multiple purposes. 
Furthermore, users can save their digital notes on the Blackboard app for Android and iOS. 
What Could've Been Better?
There is no doubt that the Boogie board changes the note-taking process and simplifies it for users. Although we enjoyed its features, including the button that erases your notes with a click, there was one aspect that left us wanting more. The erase button dims the screen light, and one has to increase the brightness again manually. 
Pros
App is compatible with iOS and Android

Long-lasting digital notepad

Lock features available

Large screen size
Cons
Inconvenient erase button
The Robot Pad by NEWYES is an 8.5-inch LCD tablet that is great for doodling, drawing, and making short notes. The option is one of the best digital notepads for its size and usability, and it's lightweight, implying you can travel with it on picnics and vacations too. 
Why Did We Like It?
One of the first things we noticed about this model is that it is actually an upgraded version. The mark of a pen on this smart writing pad is much brighter now, and an erase lock button is available for capturing scribbles. Since the drawing tablet is smaller in size, it is ideal for children to practice sketches and art. 
Due to its lightweight, carrying it from home to school is convenient for children, and they can use it at school as a drawing pad. Parents will also find a place in purses, briefcases, and handbags to bring them along for the kids. When it comes to the stylus, one side has a rounded tip for thick lines, and the other has a beveled one that produces thinner lines. 
Usually, drawing tablets may not have lock features, but this one prevents accidental deleting with its erase lock feature. 
What Could've Been Better?
It's true that switching to a digital notebook for kids to practice drawing skills will save a lot of paper. And in that sense, this electronic notebook is a good alternative to traditional paper books. However, the replaceable battery is hard to remove and replace, and batteries need to be purchased separately. 
Pros
Affordable

Excellent for kids

Functional size

Lightweight
Cons
Batteries are difficult to replace
The next option we have for you is the Ellipse Smart Writing Set by Moleskine, which includes a bunch of material to enhance your note-sharing experiences. The encoded paper with a dotted layout is accompanied by a special pen, an ink refill, a USB recharging cable, and a user manual for convenient usage. 
Why Did We Like It?
Right off the bat, this digital notebook is a device that just about anyone can use for competing school or office projects. This option is one of the best digital notebooks for working in a team and collaborating with others due to one unique feature. Essentially, using the Companion app, one can seamlessly transfer notes to a smartphone and share your vision with co-workers. 
Convert handwritten notes into detailed instructions for your team with this versatile paper tablet. While most digital notepads allow you to draw on them and erase them at the most, this writing tablet gives you various ways to edit and personalize. You can search, edit, note, and share your ideas on Android and Apple devices alike. 
Apart from that, you can attach audio instructions to your writing and drawings, a feature that will help graphic designers explain their work to a teammate. Besides, we think most people will love the technology that allows for clear lines on the screen that capture each pen stroke. 
What Could've Been Better?
This option could have been the best digital writing pad on our list, but it has a fair share of downsides. A few reviews we came across mentioned that the pen offered less than satisfactory performance. Holding it for long periods may be difficult due to its rectangular design, and the tip might be too thick for some people. 
Pros
Accessories are included

Convenient and quick

Many customizable options

Can be saved on any device
The following electronic notepad we shortlisted is The Slate 2 by the brand Iskn. This device is also known as Pencil and Paper Graphic Tablet because it gives you the effect of drawing on paper while creating digital art. You can connect the lightweight electronic notepad to any device to sketch a digital drawing. 
Why Did We Like It?
Upon first look, this digital notepad seems similar to other devices, and in some aspects, it is. However, its detachable ring makes it unique and gives the user control over the choice of pencils. With this ring, you can combine the natural feel of your favorite color pencils and superimpose a cool digital drawing with a regular pencil and paper. 
Also, you can use any paper to express your thoughts in combination with a pencil. The ring will copy the same design digitally on a screen of your choice. You can also replay the process of how you created a design and save it for future reference. Exporting drawings in several file formats like JPEG, PNG, PSD, or even MP4 is possible. 
Additionally, one can use the slate and Repaper Studio with Android, iOS, Windows, and macOS. This option might be one of the best digital notepads for those who prefer the traditional method of drawing. 
What Could've Been Better?
If you take the Repaper option, the battery is rechargeable via USB, and it has a micro SD card port with a memory of up to 32 GB. Although the memory is good enough for most people, the battery life is only six hours and needs charging after that. This may get tedious for people planning to use the drawing tablet regularly. 
Pros
Comes with a pressure-sensitive pencil

Lightweight

Connects to any screen

Contains SD card slot
Let's take a look at another brilliant digital notepad that makes it easier to take notes and carry to school or work. This stylish LCD Writing Tablet by Jonzoo is versatile enough for all age groups and varied purposes. One can rely on it for kids' drawings, teenagers' school notes, and office to-do lists. 
Why Did We Like It?
First things first, the best digital notepads are ones that are compact, light, and have good visibility for writing and sketching. And this model manages to fulfill all of these aspects beautifully. With a built-in magnet and stylus dock, you can carry the stylus with the smart writing pad wherever you go. Don't worry if you lose the stylus because even writing with fingers will work on this device. 
Additionally, the back of the digital notepad has magnets making it convenient to stick to the fridge to leave notes, to-dos, or recipes for the family. This LCD digital notebook gives you the nostalgic feeling of writing handwritten notes without requiring any pen or ink. Anyone can draw bright, clear lines on the smart writing pad, erase them with a single button, and then resume. 
Furthermore, this digital notebook tablet reflects natural light and does not emit glares that damage eyesight. Your eyes stay safe because the device does not light up like a phone or tablet. 
What Could've Been Better?
This smart notebook indeed has several features that customers will enjoy, the magnet being just one of the many. Similarly, we also liked that the battery did not need constant charging. However, the electronic writing pad might be on the smaller side for some people. 
Pros
No ink leaks

No charging required

Lightweight

Affordable
When it comes to digital notepads, Rocketbook is a pretty reliable brand that you could opt for, And the new Wave Smart Notebook on offer might be the best digital notepad for jotting down notes in a hurry. So, if you are determined to reduce the use of paper this year, switch to a smart notebook like this option to meet your goals. 
Why Did We Like It?
When you think of a smart notebook, you may not expect it to actually look like a book. But, this digital writing pad is essentially a notebook with special paper. This 80-page dotted grid notebook can be used repeatedly by wiping the written matter. The makers even claim that microwaving the notebook will clear the pages, and you can start afresh. 
Besides, you can send your digital notes to cloud services like Google Drive, Slack, iCloud, and Evernote for future reference. Any time you are engaged in note-taking, remember to allow the ink to settle for 15 seconds on the specialized pages. You can use any Pilot Frixion marker, pen, or highlighter for writing on this digital notepad. 
Moreover, this paper tablet has a smart search feature that allows you to find your digital writing using titles. 
What Could've Been Better?
Reusing the same notebook for every new semester appeals to many students; thus, this digital notepad is pretty popular among the younger crowd. However, there were a few incidents of people microwaving the notebooks and finding an outline or shadow-like mark that stayed there permanently. 
Pros
Save notes conveniently

Smart search feature

Comes with a special pen

Two book sizes are available
Cons
Microwaving may damage the notebook
The next option we have is the lightweight Bamboo Slate Notebook by the brand Wacom. With this device, you can capture your notes and drawings using a regular pen and paper and later convert them to digital form. All ideas are conveniently stored in the cloud and can be used as you please. 
Why Did We Like It?
The Wacom Bamboo Slate allows you to create your ideas on paper and watch them materialize in the digital world. With this digital notepad, you get to use a real pen and paper and share your notes or drawings with friends, teammates, or co-workers. After the page is used, click the dedicated button to turn the page, and you will be presented with a clean slate. 
Additionally, you can convert your notes into text format, edit them and export them into PDF, PNG, or JPG files and save them. You can connect the device with Bluetooth-enabled iOS or Android devices and use them later. The digital notepad itself is pretty slim, with a width of not more than 8 millimeters. 
What Could've Been Better?
While most users had a pretty positive experience with this drawing tablet, there were a few reviewers who were not completely satisfied with the results. For instance, one user said that the product was easy to install, and the pen worked well initially until it started tracking unwanted lines and movements. 
Pros
Makes sketching quick and easy

Encourages work collaboration

Notes are easy to find

Personalization options
Cons
Inconsistent pen movement
After a few worthy contenders, we have yet another option by Iskn called the Repaper Graphic tablet. As the name suggests, you do not have to let go of your favorite writing instruments, including pens, markers, and highlighters. Simply connect the ring to your pencil or pen, and you can create digital art. 
Sale
Why Did We Like It?
Usually, shifting from drawing on paper with a pen or pencil to a digital style is not easy for everyone. A few might struggle with the transition, but this digital notebook makes this incredibly easy for you. All you have to do is put the specialized control ring on the pen of your choice and draw on the graphics tablet. 
Once that is done, your notes or artwork will instantly appear on the connected screen. With the new augmented interaction technology, the system is pressure-sensitive and offers eight pressure levels. Depending on the pressure you apply, the lines will appear as thick or thin as you need. 
Apart from that, the time-lapse feature allows you to go back and check the entire video of making a drawing. This can help users to improve on mistakes and avoid them in the future. 
What Could've Been Better?
Since the digital paper tablet is compatible with mobiles, you can draw on paper and get the digital version in real-time. However, it might not be possible to use the device for long because it has only six hours of battery at a time. 
Pros
Flexible drawing experience

Share on social media platforms

Mobile compatibility

Integrated memory
Cons
Only six hours of battery life
The final option featured on this list is the RoWrite Smart Writing digital pad by Royole. With advanced flexible sensor technology, the pen has a high level of accuracy and captures the exact movements of the pen. What sets this digital notepad apart is how it manages to capture the details of each pen stroke. 
Why Did We Like It?
Digital notebooks are available in various types, but few might be as intuitive and easy to use as this option. This model might be the best electronic notepad for detailed sketches and elaborate designs. The writing surface is transparent and highly sensitive, with flexible sensor trackers that assist in achieving pinpoint accuracy in note-taking or drawing. 
Also, once you pair a screen with a digital notepad, you can edit and enhance the image in real-time. Connect a device with the RoWrite app and select from different writing instruments, adjust stroke thickness, erase mistakes, or even add vibrant colors. Don't worry about leaving a drawing unfinished because the work will not be lost, and you can come back and edit it conveniently. 
What Could've Been Better?
On the one hand, several users enjoyed the ink pen that gives a realistic feeling while drawing. In fact, most reviewers had a comfortable, smooth, and accurate experience with this notebook. Yet, there were some who had a less than pleasant experience and tried reaching the customer support team, only to get delayed responses. 
Pros
Easy to use

Realistic drawing experience

Comfortable on the hands

Intuitive design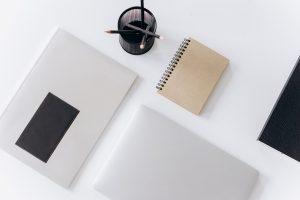 Digital Notepads Buying Guide
1. Type Of Digital Notepad
Digital notebooks come with a variety of features, and it would be a mistake to assume they are all the same. Some of them might have an LCD screen that draws using e-ink technology, while others rely on sensors to capture movement. 
If you prefer to draw the traditional way with pens and pencils on paper, the sensor capturing method will suit you better. Make sure to check these fundamental differences before investing in a new device.
2. Storage
The last thing you want is the digital pad giving up on you right before an important meeting or class. Insufficient memory space will come in the way of using the device since you will have to keep clearing it up. 
Instead, select a digital pad that has a simple system for transferring files and saving data. Plus, to avoid the looming dread of running out of storage, choose an option with larger memory space.
3. Stylus Sensitivity
Many digital notepads will come with a unique pen or stylus, but a few might need to be purchased separately. However, there are two factors that are the most important about any stylus- grip and sensitivity. A good pen will have an ergonomic grip that allows the user to draw for a long time. 
Additionally, good-quality pens are pressure sensitive and create thick or thin lines based on the force applied to them. Check for this feature for a great writing experience with the digital pad. 
4. Battery Life
Although battery might not be the first thing you think of before buying a digital notebook, it should be one of the factors to consider. This is because some notebook models rely on frequent charging and can have a battery capacity of only a few hours. 
If you travel often, try to select an option that gives you at least a day's worth of battery life and not merely hours. 
5. Price
With competitive rates for digital notepads out there, it is easier to avoid spending a lot of money on one device. Look for the options available within your budget and then compare them to see which one suits your needs the best. 
Sometimes you may find offers and deals on websites or stores, especially during the holiday season. While you are checking the specifications and price from websites, it's also a good idea to check customer reviews and product ratings.
Frequently Asked Questions For Best Digital Notepads
Q1. Which tablet size should I select?
If you buy one with a larger screen, the obvious benefit is the extra space to work with. So, that might be the most convenient while sitting in class or office and jotting notes. However, the larger ones are not as compact, do not fit in your purse or bag, and could be heavier. 
Frequent travelers can avoid selecting a large tablet since they need to carry it around wherever they go. 
Q2. Does the digital notepad have to be compatible with my phone or laptop?
It is incredibly important for the electronic notebook to be compatible with your systems; otherwise, you will not save or share anything you write. Luckily, this information is readily available on the box of the packaging or in product descriptions online. 
Apart from that, look into the access system to see how easy it is. Ideally, if your notepad saves the work in Evernote or Google drive, you should be able to retrieve it immediately. 
Verdict
All in all, narrowing down to the very best digital notebook is relative to the technology type, latency, size, stylus, or pen quality, among other things. That being said, after considering all aspects, we came to the conclusion that the Rocketbook Reusable Notebook With Grids was the overall best choice. 
Not only did it connect you to the digital world with a pen, but it was also available at a reasonable price. The Mafiti LCD Writing Tablet was another option we liked for its long battery life, and thick pen strokes made any handwriting appealing. We hope you find a decent digital notepad soon. 
See you later! 
Related Articles
Huion Vs Wacom | Comparison & Winner
10 Best Laptop for Architects and Designers
10 Best Stylus Pens For Drawing