Disclaimer | This article may contain affiliate links, this means that at no cost to you, we may receive a small commission for qualifying purchases.
Has your basement turned into a bleak and damp space with severe moisture damage? It's time to get a dehumidifier and turn things around.
Living spaces are at a premium, and it makes no sense to leave your basement unused, only because of moisture-related issues. That said, a dehumidifier will not only make your basement more habitable but also assist in the smooth operation of the central cooling/heating system.
We know it's not that easy to find the most suitable option, since there are several factors to consider. Nevertheless, we've compiled a list of the 9 best dehumidifiers for basements and included something for everyone.
Without further ado, let's begin.
Top Dehumidifiers for Basements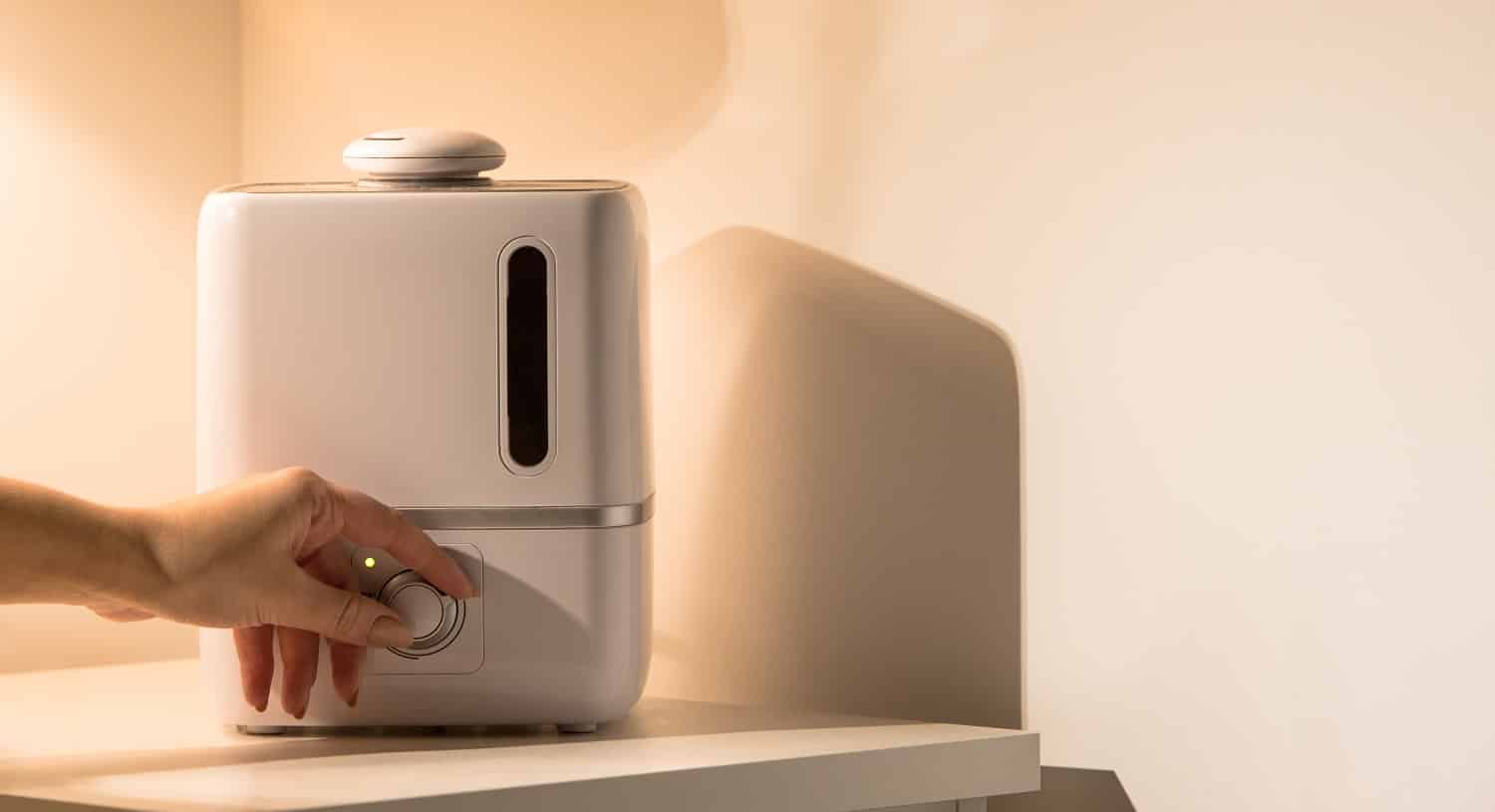 The Keystone Dehumidifier is a highly recommended option for buyers looking to invest in a top of the line unit. So, if you want to keep your basement in great shape while eliminating the risk of moisture damage, get your hands on this, stat.
Why Did We Like It?
First and foremost, we're impressed with this unit's 50-pint capacity, allowing you to create a habitable and pleasant environment in the basement. It includes electronic controls with an LED panel for easy use.
Other than that, a clear-view water level indicator enables real-time monitoring of the tank capacity. Also, the integrated full-bucket alert automatically shuts down the machine to avoid overloading. Therefore, you can set the 24-hour timer and rely on the unit to turn off when it reaches full capacity.
In the case of a power outage, the dehumidifier saves your settings and resumes functioning with the same parameters when power is restored. Besides, it comes with a continuous draining option, so you can run the machine with minimal supervision.
What impressed us the most is the easy-clean dust filter with a clean-filter alert that maximizes efficiency. Lastly, the rolling casters make things much more convenient as you can position the unit wherever required.
What Could've Been Better?
We do not have any complaints about the performance of this model, given it has some of the most practical features. However, it's quite noisy and sounds much like an industrial fan. Nevertheless, it's one of the best options if you're looking for efficiency and smooth operation.
The Waykar 40 Pint Dehumidifier seamlessly combines styles with utility and delivers optimum performance to maintain a comfortable environment. It allows you to keep the humidity level in the 45% to 55% range and ensures that your basement remains free from damp-related issues.
Why Did We Like It?
To begin with, we're very impressed with the sleek and modern look of this 40-pint model as it's quite unlike most other options in this price range. However, we're not all about appearances, as it's ultimately the performance that makes it one of the top choices.
On that note, what seals the deal for us is the intelligent control panel, facilitating precise inputs and functions. For instance, the Humidity Auto Control enables you to adjust the moisture setting by sensing existing room humidity and controlling dehumidification to maintain the set level.
Meanwhile, the Auto Shut Off/On feature turns off the machine when the water bucket is full and switches it on after the bucket has been emptied. You can also adjust the fan speed and use the 24-hour timer to conserve power while optimizing performance.
What Could've Been Better?
We are pleased with the compact dimensions and the intelligent features of this model. However, we found the bucket difficult to extract and empty as it does not come with handles or anything to grip it. We would have liked it better if the manufacturers made things more accessible and easy to manage.
hOmeLabs is a relatively new player in the basement dehumidifier industry but their premium 4,500 Sq. Ft Energy Star Dehumidifier can give a stiff competition to other brands. Therefore, if you're looking for a reliable model for a large basement, we recommend investing in this high-quality unit.
Why Did We Like It?
First things first, this powerful dehumidifier is suitable for large rooms, basement, or garage with a high level of moisture in the air. Since it is energy star certified, you can rely on this unit to save power as well as protect your establishment from mold, mildew, and other unwanted growth.
Furthermore, you can reduce your carbon footprint as it costs less to run this machine than other uncertified units. It's pretty easy to use as all you need to do is set the moisture level and let it run continuously in 24-hour cycles till it's full.
When the tank reaches full capacity, the machine will automatically turn off, and you'll have to drain the dehumidifier manually. To further add to your convenience, the unit includes a garden hose outlet, so you recycle the accumulated water.
However, what impressed us the most is its turbo mode that operates the fan in the High Air setting at 188 CFM. You can use this feature for increased moisture removal and odor reduction at your home.
What Could've Been Better?
Some users also install an evaporative cooler in their basements to make the place breezy while keeping moisture levels under check. However, this unit is not compatible with evaporative coolers, so you may want to keep that in mind before making a purchase decision.
The Inofia 30 Pints Dehumidifier is what you call small but powerful. It is one compact unit with a chock full of intelligent features that streamline the moisture removal process. So, if you want a high-utility machine for a mid to large size basement, we suggest getting this one right away.
Why Did We Like It?
First off, we're very impressed with the easy controls and operation of this unit. This machine includes button controls and an LCD screen on the top for instant access and input. All you need to do is set the target humidity between 30% to 80% in increments of 5%.
The machine automatically shuts down when the target humidity is reached, and restarts function as the humidity climbs above the set level. Other than that, you can program the fan speed and select between auto and manual drain options.
Thanks to the bucket full indicator and the alarm, the dehumidifier lets you know when the tank reaches maximum capacity. What took us by surprise is how low maintenance it is, allowing you to run the machine with minimal upkeep and supervision.
Long story short, the auto-defrost feature protects the unit from low temperatures down to 41°F while the error detection function indicates the need for troubleshooting when the machine stops.
What Could've Been Better?
Well, it works as advertised, and as such, we do not have any complaints regarding the design or functionality of this product. Regardless, we couldn't help but notice that the fan is noticeably loud when it runs on high power. This could be an annoyance while working in the basement.
We're halfway through our recommendations, and now is a good time to introduce the TOSOT 4,500 Sq Ft Dehumidifier. That said, if you want to prevent the growth of mold and mildew in your large, spacious basement, you need a high-performing unit like this one to extract maximum moisture.
Why Did We Like It?
Firstly, this TOSOT unit includes an internal pump that automatically removes collected water from the tank, thereby eliminating downtime due to a full bucket. Based on your convenience, the water can be pumped sideways or vertically up to 12 ft away.
Basically, water will fill up the bucket till it's almost full, and then the internal pump will automatically start removing it. Furthermore, it comes with an auto-off feature that turns off the machine as soon as it reaches the preset humidity level.
Meanwhile, you can even run the dehumidifier non-stop, regardless of the current humidity level. Just keep pressing the minus button till the control panel shows 'NS'. This manual setting can be done to keep the machine running until the bucket fills up completely.
Apart from that, we want to mention the low operating volumes of the 52/50/48 dB when the unit runs on high/medium/low settings, respectively.
What Could've Been Better?
Nothing but the weight. This machine is quite bulky and hence difficult to maneuver, especially on a carpeted floor. We would have liked it better if it was more practically designed, as that way it would be easier to handle. That bit aside, it's a viable option for basement conditioning.
Some of us have really large basements, and it becomes quite a challenge to keep the space free from moisture damage. If you're on the same boat and struggling to control the humidity levels, it's time to upgrade and get the Ivation 4,500 Sq Ft Energy Star Dehumidifier.
Why Did We Like It?
This Ivation unit has a range of handy features that make things simple and convenient. To begin with, we're very impressed with it's sleek, lightweight design, which allows you to stow it away in any corner.
Meanwhile, the smooth-rolling casters and a 6 ft long power cord ensures easy movement and eliminates the need for an extension cord. Apart from that, the LCD screen simplifies operation by providing information, including filter and reservoir alerts, at a glance.
It also displays the current humidity level so you can set the ideal level for automatic moisture control. Besides, it comes with a removable 1.3-gallon tank featuring a transparent level indicator and comfortable handles for convenient emptying.
Lastly, it has an intelligent frost sensor, which automatically defrosts the unit, preventing wasteful power consumption while also protecting the evaporator coils.
What Could've Been Better?
For most parts, we are satisfied with the performance of this and do not have any complaints about its design or features. However, we cannot overlook the fact that it tends to heat up a bit when running for 24 hours. While this does not compromise functionality, overheating can prematurely damage the unit.
If you're looking for a high-capacity dehumidifier within an affordable price range, you can never go wrong with the AmazonBasics Dehumidifier with Drain Pump. This is one of those rare machines that allow you to create a comfort zone without spiking up your power bill. Since it is energy star certified, you can rely on it to perform efficiently without any hold-ups.
No products found.
Why Did We Like It?
First and foremost, this machine is meant for year-round use, to create a comfortable environment in the basement, while keeping allergens, bacteria and odors under check. We like the streamlined design that allows users to tuck it away behind furniture. But you can also keep it in view as it does stick out like an eyesore.
Other than that, its whisper-quiet operation has immediately won our vote because most of us prefer working in the basement undisturbed. Furthermore, its smart dehumidification function automatically maintains humidity levels in a comfortable 45-55% range.
Besides, the model includes a timer, auto-defrost, and restart feature, enabling the machine to run as per the last-known settings in case of a power outage. Lastly, it comes with overflow protection and a drain pump option for continuous drainage during use.
What Could've Been Better?
Well, there's no sugarcoating here, but the unit puts out a lot of heat, and it can get a little uncomfortable on exceptionally hot days. While it can successfully control the moisture levels, it's disappointing that users have to deal with the overheating issue.
The Vremi 4,500 Sq. Ft. Dehumidifier is an ideal option for environmentally-conscious users looking to save on their power bills. But the real icing on the cake is its stylish design, which instantly elevates any basement's appearance. Therefore, if you want a neat-looking unit providing superior results, we suggest buying this one.
Why Did We Like It?
This Vremi model is easily the most hassle-free option in the market, specially designed keeping user convenience in mind. Featuring a sleek design, the machine comes with handles and built-in caster wheels for seamless movement and transportation around the house.
Furthermore, we're very impressed with its incredibly quiet operation, allowing users to work while the machine discreetly sucks out moisture. Besides, figuring out the features is honestly no big deal.
All you need to do is set the preferred humidity level and then let the machine run in continuous 24-hour cycles till the water tank reaches full capacity. After that, you may manually drain it or attach a garden hose to the drain outlet for automatic operation. Finally, we like the memory settings and the auto-defrost feature that ensures safe use under all circumstances.
What Could've Been Better?
The small water tank can be frustrating to some users as you gotta empty it more often, especially during the rainy season. While you can attach a garden hose and simplify the process, it's not a feasible option for all users.
Now that we've reached the end of our list, we would like to finish off with the Frigidaire, White 35-Pint Dehumidifier. Obviously, looks do not matter when you're looking for utility; however, this machine lets you deal with excess moisture in style.
Why Did We Like It?
There's very little to not like about this super-functional model, but we'll start with the design features first. It comes with integrated side handles and casters, facilitating seamless movement from one location to another.
Apart from that, we like that it includes 3 fan speed settings and an auto shut-off feature, enabling maximum customization. You may either rely on the full tank alert, indicating when the 2-gallon bucket is full and needs emptying, or connect a garden hose for independent operation.
Besides, the front pull-out bucket features full-height indents for easy removal at any point. Furthermore, the built-in handles and splash guard prevents spillage when emptying the bucket. Lastly, it's quite low-maintenance, thanks to the easy-to-clean, washable filters that enhance performance and reduce replacement costs.
What Could've Been Better?
Unfortunately, the fan is quite noisy, even on the lowest setting. This could be a design defect since the air intake occurs at the back of the model. You obviously cannot place it against a wall as that would impede function, so if you decide on buying this, you have to make peace with the constant whooshing sound.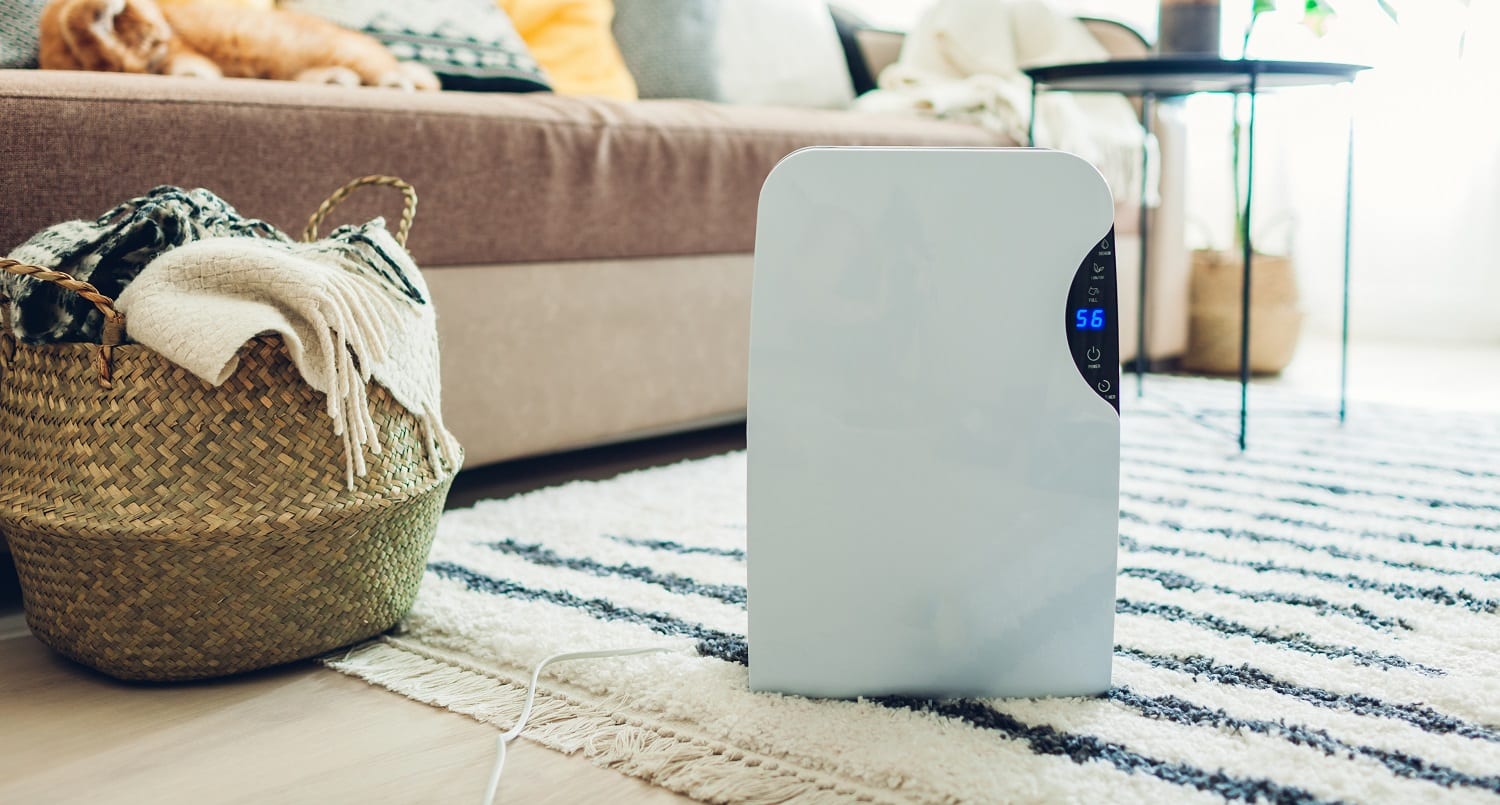 Dehumidifier for Basements Buyers' Guide
Knowing all about the 9 best humidifiers for basements may seem enough information to go ahead and buy one. However, there are certain factors that you should consider before purchasing any of these options.
After all, a good dehumidifier is an investment, and you should be able to make the most out of your unit. Take a look at these buying factors now.
Room Size
This may seem like a no-brainer, but finding the right-sized unit should start with the room area. While a smaller, low-priced unit may seem like a lucrative option, it will lead to higher operating costs in the long run.
Naturally, if the machine is considerably smaller, it has to work harder to reach the target humidity level. This will not only spike your energy bill but also reduce the service life of the dehumidifier. Therefore, it's essential to buy the right model as per sq ft capacity.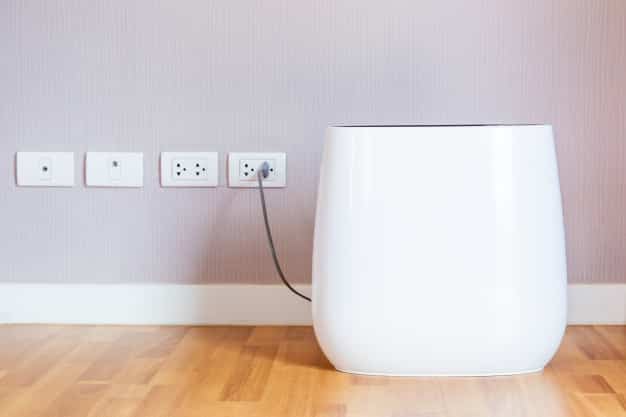 Drainage
Drainage differs from machine to machine. The most common method is using gravity, but you can also find models with a condensate pump. Naturally, the water collection and disposal option is different in these two setups.
Gravity drainage is a convenient setting where you connect a hose to the drain outlet and eject the water. For the latter, the tank has to be physically removed and emptied. Also, some units even come with automatic draining options.
An Auto-Humidistat
Since you're buying a new dehumidifier, you might as well get one with an auto-humidistat. This valuable energy-saving feature shuts off the machine when it reaches the preset moisture level. Also, it resumes function when the humidity level starts climbing eventually.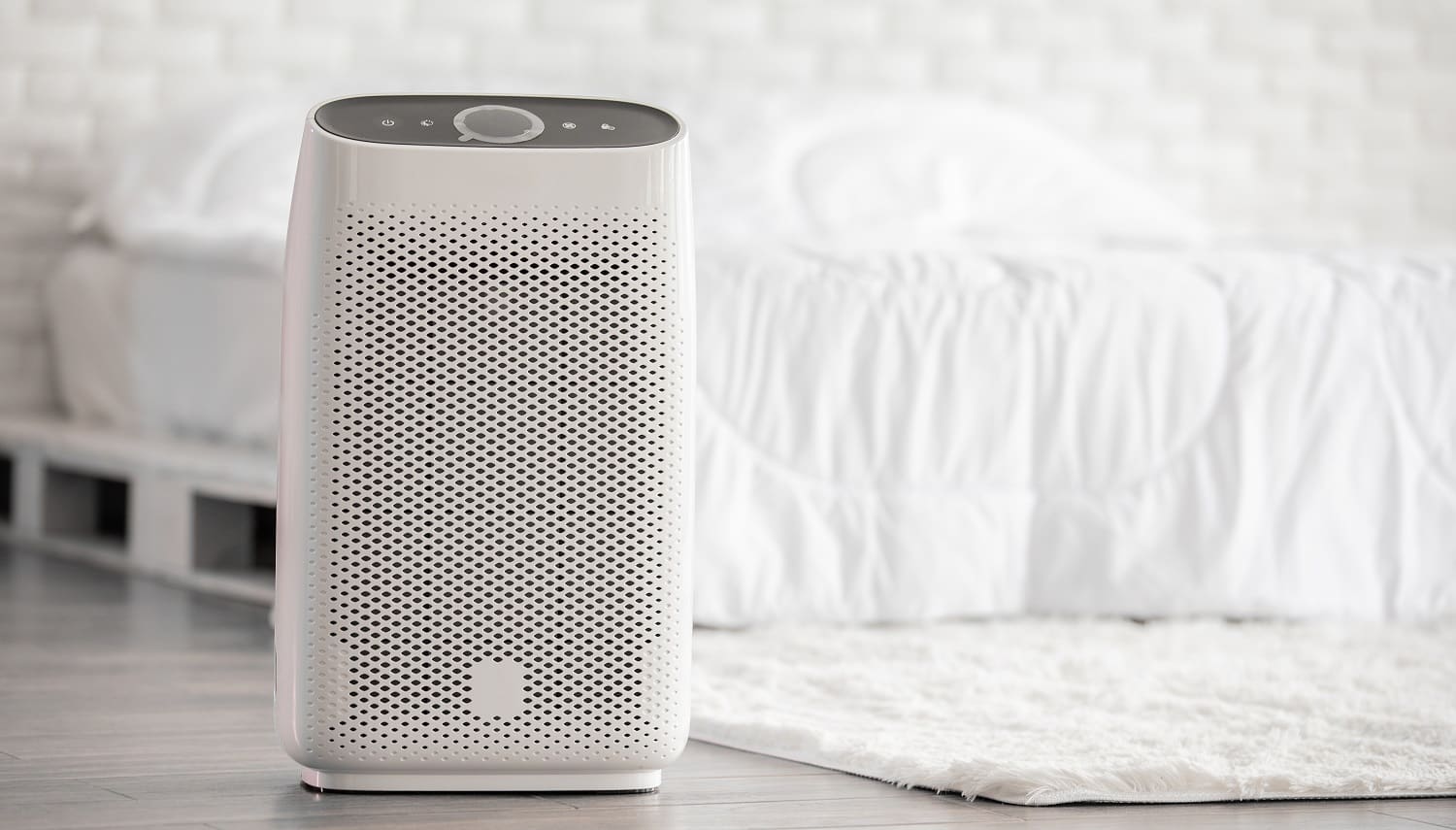 Verdict

That's all from us!
We hope you could find the most suitable option from our all-star selection. At the same, we suggest buying a model that simplifies the operation with user-friendly features, making it accessible to everyone in your family.
On that note, we'd like to take your leave. But before we sign off, here's a quick recap of our favorites.
The Keystone Dehumidifier is the best overall while the Waykar 40 Pint Dehumidifier has the best features. The hOmeLabs 4,500 Sq. Ft Energy Star Dehumidifier is the best high-capacity option and the Inofia 30 Pints Dehumidifier is the best budget buy.
Till next time!
Related Articles
9 Best Dehumidifiers for Basements
10 Best BPA Free Diffusers Right Now
19 Best Essential Oil Diffusers for Large Rooms Today
43 Insanely Cool Basement Bar Ideas for Your Home
What Size Humidifiers Do I Need for My House?
TrueMist Top Fill Cool Mist Humidifier Review