Woodworking is fun, but the dust it produces is not!
Dust and debris accumulated during woodwork is a real bummer and can worsen anybody's mood. After all, who wants to spend hectic workdays in a dusty environment?
Since you are here, we understand purchasing a cyclone dust collector is on your mind. But how does one go about it? There are hundreds of options on the market, but to make things easier, we've reviewed the top 9 of them for you. That's right, we have got a meticulously compiled list of some of the best options on the market and added a buyer's guide too.
With no further delay, let's look at our options and decide which one is best for your workshop.
Top Cyclone Dust Collectors 
IMAGE
PRODUCT
DETAILS

Our Top Pick

Our Top Pick

Shop Fox W1685 Dust Collector

1,280 CFM air suction capacity
Powder-coated paint
2.5-micron filtration

VIEW LATEST PRICE →

Dust Deputy Deluxe AXD000004A

Works with Neutral Vane Technology
Comes with a 5-gallon dust bucket
Connection hose made of anti-static polyurethane

VIEW LATEST PRICE →

Jet DC 1200VX-BK1 Dust Collector

Strong steel construction
1,200 CFM air suction capacity
4 swivel casters

VIEW LATEST PRICE →

Festool 204083 CT Dust Collector

HEPA dust extractors
Tool-free design
Comes with a pre-separator

VIEW LATEST PRICE →

Jet JCDC-2 Dust Collector

Cyclone technology
Steel frame construction
30-gallon drum capacity

VIEW LATEST PRICE →

Powermatic PM1300TX-CK Cyclone Dust Collector

Infrared sensors
Digital timer can run up to 99 minutes
All-metal duct

VIEW LATEST PRICE →

Baileigh DC-1450C

1,450 CFM air suction capacity
Dual suction capacity
Remote control operation

VIEW LATEST PRICE →

Laguna Tools 22201 Dust Collector

220V single-phase compliant electric motor
Steel construction
Octagon drum

VIEW LATEST PRICE →

Grizzly Industrial G0777HEP Dust Collector

72 dB noise level
26-gallon collection drum
Large impeller

VIEW LATEST PRICE →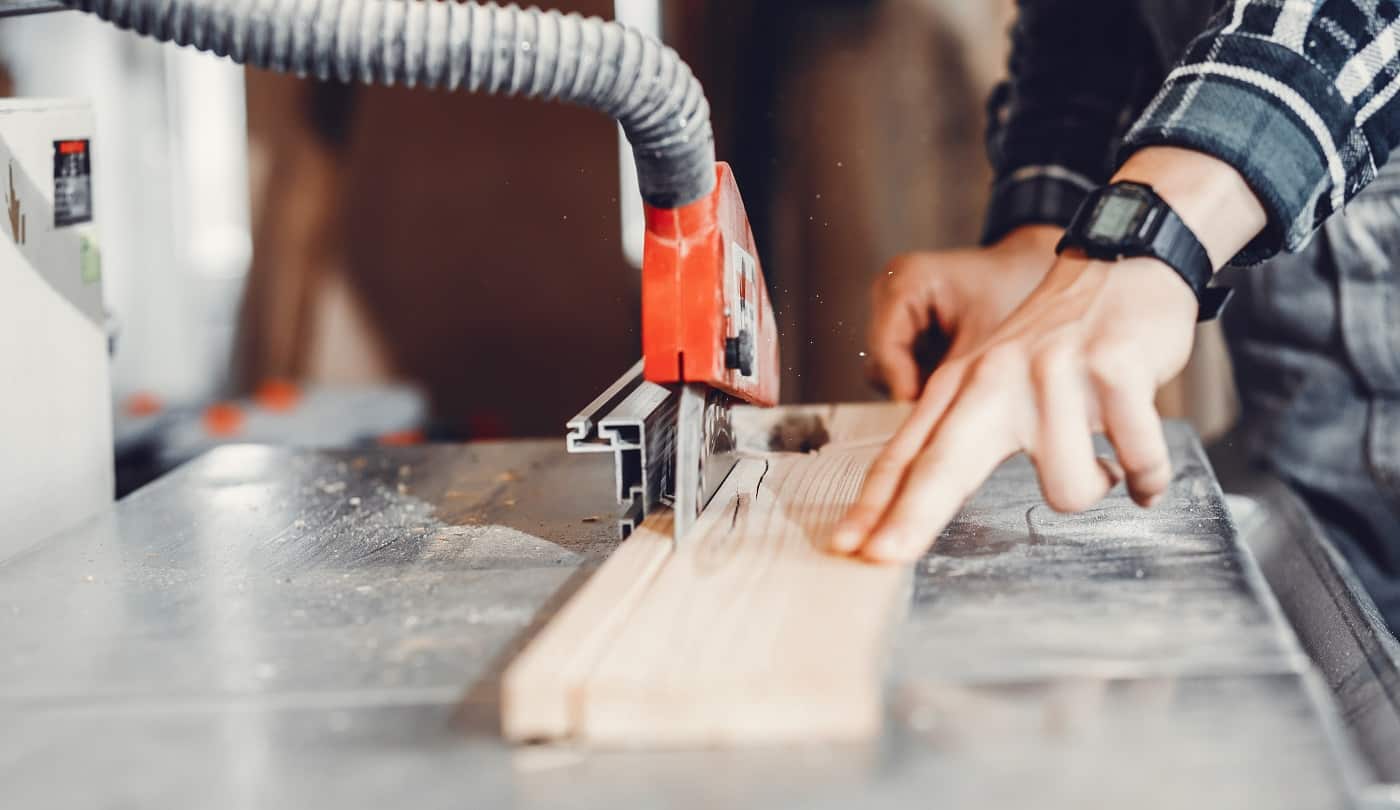 The Shop Fox W1685 is a robust dust collector that efficiently eliminates debris and dust from the workspace. It comes with a 12-inch steel impeller and a 1.5-HP, single-phase motor that operates on 110V. It is an excellent acquisition for every small woodshop owner.
Sale
Why Did We Like It?
The Shop Fox W1685 Cyclone Dust Collector comes with a powder-coated finishing that is scratch-proof and resists discoloration, abrasions, and general wear and tear. If that isn't enough, the 2-year warranty promises that the product is bound to last.
Furthermore, the device has a 6-inch inlet, a detachable Y-fitting, and dual 4-inch openings. The two openings of the Y-shaped fitting can service more than one machine. So, if you were looking for a convenient multi-machine mechanism, this unit is the way to go.
The 2.5-micron filtration bag collects all the wood dust, which is then handled by the heavy-duty steel impeller, enhancing the unit's durability and reliability. Besides, to switch off the device, pull down the large paddle on the safety switch.
Lastly, the overall air quality of your woodshop is significantly improved since the device can move 1,280 cubic feet of air every minute.
What Could've Been Better?
The caster wheels on which the machine rests are too small to bear its weight. It can be challenging to maneuver it around the shop since it won't swivel easily. Also, since the assembly instructions are unclear, assembling the unit can be quite a task for a first-time buyer.
Pros
Scratch-resistant coating

Steel frame ensures longevity

Safety switch

Relatively quiet

High suction capacity
Cons
Difficult to move around

Vague assembly instructions
Up next, we have the Dust Deputy Deluxe from Oneida Air Systems. It is ideal for shops or house clean-up projects. So, whether you're a professional woodworker or like to experiment with woodwork in your spare time, this unit will efficiently complete all the clean-up tasks.
Why Did We Like It?
A versatile device compatible with any dry or wet vacuum, the Dust Deputy Deluxe Cyclone Separator is highly functional and works according to the user's requirements. With it, you can upgrade the shop vacuum to a 2-stage dust control unit, using tapered ports that fit 1.5 to 2.5-inch standard vacuum pipes.
Its Neutral Vane Technology combines with the unit's centrifugal force to eliminate 99% of dirt and debris from the air. Not just sawdust, it also removes concrete dust, metal shavings, soot, ash, and pharmaceutical waste by collecting it in a sturdy 5-gallon easy-to-empty bucket.
Thus, it will prove to be cost-efficient as it saves money that you would've otherwise paid for expensive filter replacements and new dust bags. Finer dust particles never reach the dust filter, and no time needs to be allocated to frequent cleaning.
What Could've Been Better?
There are only three caster wheels, which is not sufficient to balance this 10.2-pound device. Consequently, the bucket often tends to tip over due to its weight and lack of proper balance.
Pros
Increases the lifespan of the filter

Eliminates suction loss

Kit contains all necessary attachments

Cost-efficient
Cons
Difficult to balance the bucket
The DC 1200VX-BK1 Dust Collector from JET has become quite popular, as evidenced by the highly positive reviews. But, what gives it an edge over others? Well, two things to be precise. A 2-HP motor and the Vortex Cone Technology that guarantees continuous and systematic air movement. That's not all. Keep reading to know more.
Sale
Why Did We Like It?
This unit from JET has a steel construction, which makes it robust and reliable. Also, it works with Vortex Cone Technology, which is as professional and top-notch as it sounds. It prevents clogging of the filter by making sure the larger particles are deposited directly in the collection bag, making manual cleaning much more manageable and time-saving.
Furthermore, it improves chip separation by ensuring that the chips fall directly into the collector bag, where they are tightly packed. Since this technology significantly reduces the airflow, it improves the packing effectiveness of the dust bag. As a result, you won't have to stop your work midway for changing or cleaning dust bags frequently.
Lastly, we have the snap ring mechanism that facilitates fast and effortless removal and installation of the dust bag. The unit captures up to 96% of 30-micron particles and comes with 4 casters for ease of movement.
What Could've Been Better?
The unit is slightly on the heavier side, weighing 132 pounds. Its steel construction also adds to the weight, so the operators might experience difficulty moving it from one place to another. However, the manufacturers have provided 4 casters that ensure smooth swivel, so we can't really complain.
Pros
Fan-cooled motor enables continuous usage

See-through dust bag

Easy to move around

5-year warranty
Cons
Unit is on the bulkier side
Up next, we have the 204083 CT Dust Collector from Festool with its HEPA-approved dust extractors. Starting in 1925, Festool has steadily continued to excel in the power tools industry. So, we had high hopes for this model, and it lived up to its expectations.
Why Did We Like It?
Affordable and efficient, this dust collector from Festool has a three-stage filtration system and a host of other features that make it one of our top picks. First off, there is a 5.3-gallon mobile collection bin and a pre-separator that works with cyclone technology.
The dust-loaded air is drawn and swirls in a cyclone-like movement, falling directly in the pre-separator, where it is separated before getting to the bin. This process reduces the frequency with which you would've changed the filter bags, thereby saving both time and money.
Furthermore, since the dust load on the filter reduces, the suction power significantly improves and remains consistently high.
Besides, the device is compatible with most Festool dust extractor models, so if there is a necessity for more than one cleaning system, you can easily get that.
Finally, you can take this space-saving model wherever work takes you.  It is designed to take up minimal floor space.
What Could've Been Better?
Festool doesn't give any information about the specific airflow capacity, which is not a deal-breaker since it has a high suction capacity. However, we were slightly disappointed with the collection bin capacity of 5.3-gallons, which makes the device suitable for home applications only.
Pros
Widely compatible

Flat design that helps in portability

Three-step filtration process

Takes up less floor space
Cons
Low collection bin capacity
Now that we're halfway through our list, here is another excellent model for your consideration. The Jet JCDC-2 Dust Collector is the perfect pick if you want a more powerful device with a bigger collection bin. It will do all the cleaning up while you unwind after a heavy workday.
Why Did We Like It?
The Jet JCDC-2 model has revolutionized the way people look at dust collectors. Its silent operation and efficient dust extraction make it a priceless addition to your workshop.
Additionally, it has a two-step filtration system, where giant chunks of debris are separated in the first step, and the finer particles move towards the collection container. Thus, this allows constant suction and improves the performance of the unit. Besides, the micro-filter captures up to 99% of particles, even those as small as 2-microns.
There is the 30-gallons drum, which works with a quick-release mechanism, and you can manually clean the filters after removing the drum. Despite the weight of the drum, moving it is not tiresome, owing to the caster wheels that come with the unit.
Also, it comes with a remote control that can operate the device from 50 ft. away. Thus, the dust collector can be installed in medium-sized factories and will work with uncompromised productivity.
What Could've Been Better?
Since the Jet JCDC-2 is such a powerful device, we would've liked a higher air suction capacity. Although the 938 CFM capacity suffices, the unit's efficiency would've multiplied with a higher suction capacity. Also, it takes up sizable floor space, so before making a purchase, decide on where you'll be placing this device.
Pros
5-year warranty

Two connection ports

Easy to move around with swivel casters

Allows remote control operation

2-step filtration system
Cons
Takes up space

Air suction capacity could've been higher
Like the Jet DC model that features a Vortex Cone, the Powermatic PM1300TX dust collector works with TurboCone Technology and a 1.75-HP motor. Its functioning is pretty similar to that of the Jet DC unit. Powerful and simple, read on to know what makes this device a favorite.
Why Did We Like It?
Filter clogging will never be an issue with the Powermatic PM1300TX Dust Collector. It works with TurboCone technology in which the larger dust particles are separated and fall directly into the collector bag, where they are tightly packed. Since the filters do not get jammed, they do not need frequent replacement, saving a lot of money.
Furthermore, the clear collection bag is relatively larger with a capacity of 10 cubic feet, and you will be saved from the hassle of frequently emptying or changing them. However, whenever you decide to do that, the snap ring technique will help in rapid removal.
The unit also features a canister filter that provides a superior filtering area and captures particles as tiny as 2-microns. Besides, it comes with an infrared sensor and a digital timer to adjust up to 99 minutes.
Finally, its most interesting feature is the all-metal duct, which provides stability to the device and minimizes vibration produced during operation.
What Could've Been Better?
The remote needs to be pointed directly at the receiver, with no obstructions for the device to work. So, every time the unit needs to be adjusted, you will have to leave the work you're doing and walk to the unit to activate its remote control.
Pros
Reduced vibration

Easy to maneuver

Does not need frequent filter replacement

Can capture minute particles
Cons
Working of the remote control can be improved
The DC-1450C Cyclone Dust Collector from Baileigh Industrials works with a 2-HP powerful motor and lives up to the brand's image of producing machines that increase productivity and fit both industrial and domestic usage. The unit can collect debris from multiple machines simultaneously, and its compact size allows it to fit into limited floor space.
Why Did We Like It?
Powerful and precise, the Baileigh Cyclone Dust Collector operates with a 2-HP motor and efficiently collects dust continuously for up to 8 hours a day from basement shops and small workshops. Although it is a heavy-duty device and can work in medium-sized and large shops, it is specifically designed to take up less floor space.
The air suction capacity stands at 1450 CFM, and cyclone-style technology is more than enough to extract dust particles and debris from 4 to 5 machines at once. It comes with two inlets, 6-inches and 4-inches wide, to make it compatible with small central systems.
Furthermore, the 28-gallon waste collection bin comes with a viewing port to help you see how much dust has accumulated. Once the bin is full, you can easily remove it through the quick-lift barrel release.
Also, the 1-micron filter prevents even minute particles from escaping the collector.
What Could've Been Better?
The unit weighs 210 pounds, and although it is compact and comes with swivel casters, moving it around can be laborious due to its sheer weight. Besides, it only provides a 1-year warranty that we do not find sufficient, given the model's price. However, Baileigh does offer lifetime technical assistance through phone.
Pros
Low noise level

Compact size

Remote control makes operation easier

4 swivel casters for ease of movement

Easy to remove bucket for efficient cleaning
Cons
Only 1-year warranty

Heavy
Now that we are nearing the end of our list, here is another excellent product for your consideration. The 22201 Dust Collector from Laguna tools has a stylish black finish and comes with excellent packaging.
Why Did We Like It?
If you're looking for a device that can collect wood dust from the workspace while you work without interruptions, the Laguna Tools 2201 Dust Collector is the one for you.
Right off the bat, we were impressed with the easy-to-use remote control and HEPA canister filter, making working with this unit very easy since you can control the device from a distance, and efficiency is guaranteed.
Besides, the inclusion of a horizontal chute improves airflow. Furthermore, the 1-micron canister can provide filtration up to 99.97% – higher than most models on our list.
To help effective filtration, the canister must've adequate airflow, and for this, the polyester-spun pleated filter needs meticulous cleaning. Additionally, there is a spring-loaded clamp to release the filter bag, which can then be cleaned or emptied.
Since the model has a metal frame, it is sturdy and durable. Also, the 46-gallons octagon drum negates the need for frequent emptying.
What Could've Been Better?
The unit has many parts and requires careful assembly. Now, this wouldn't have been a problem if the assembly instructions were clear, but that's not the case. The manufacturer's assembly instructions are pretty vague, and putting the unit together takes considerable time and is a two-people job.
Pros
2-year warranty

Powerful motor

Removes 99.97% of the particles

Spring-loaded clamp to release filter bag
Any list of powerful dust collectors would be incomplete without the Grizzly Industrial Dust Collector. The unit operates smoothly at a minimal noise level of 72 dB. However, this is not the only reason we have got this product on our list. Read on to find out what makes it such a coveted purchase.
No products found.
Why Did We Like It?
Now get rid of 99.9% of dirt particles, be it large shavings or minute particulates, with the Grizzly Industrial GO777 Dust Collector. It features a remote control switch, making its operation from a distance possible.
Moving on to the filtration, it comes with an internally pleated filter system and a filter-cleaning brush setup. It has dual filters backed by HEPA technology. The primary pleated filter can catch 99.99% particulates, and the secondary V-cell filter can capture up to 99.97% of waste. The filtration system is top-notch and is similar to the level of filtration essential in surgical rooms.
The unit is portable and has in-built casters for ease of movement. Not just that, the powder-coated paint ensures the long life of the model, and the 1-year warranty ensures the product is free from any manufacturing defects.
Lastly, the 26-gallon capacity of the collection tank collects big wood chips and smaller dust matter without needing frequent cleaning.
What Could've Been Better?
The unit has numerous features, a steel frame, and a dual filtration system that makes it a reliable device. It is because of these reasons that it is a tad pricey. However, we don't mind the high price, because its efficiency makes it worth it.
Pros
880 CFM air suction capacity

Powerful 1.5-HP motor

Low noise operation

In-built casters for ease of mobility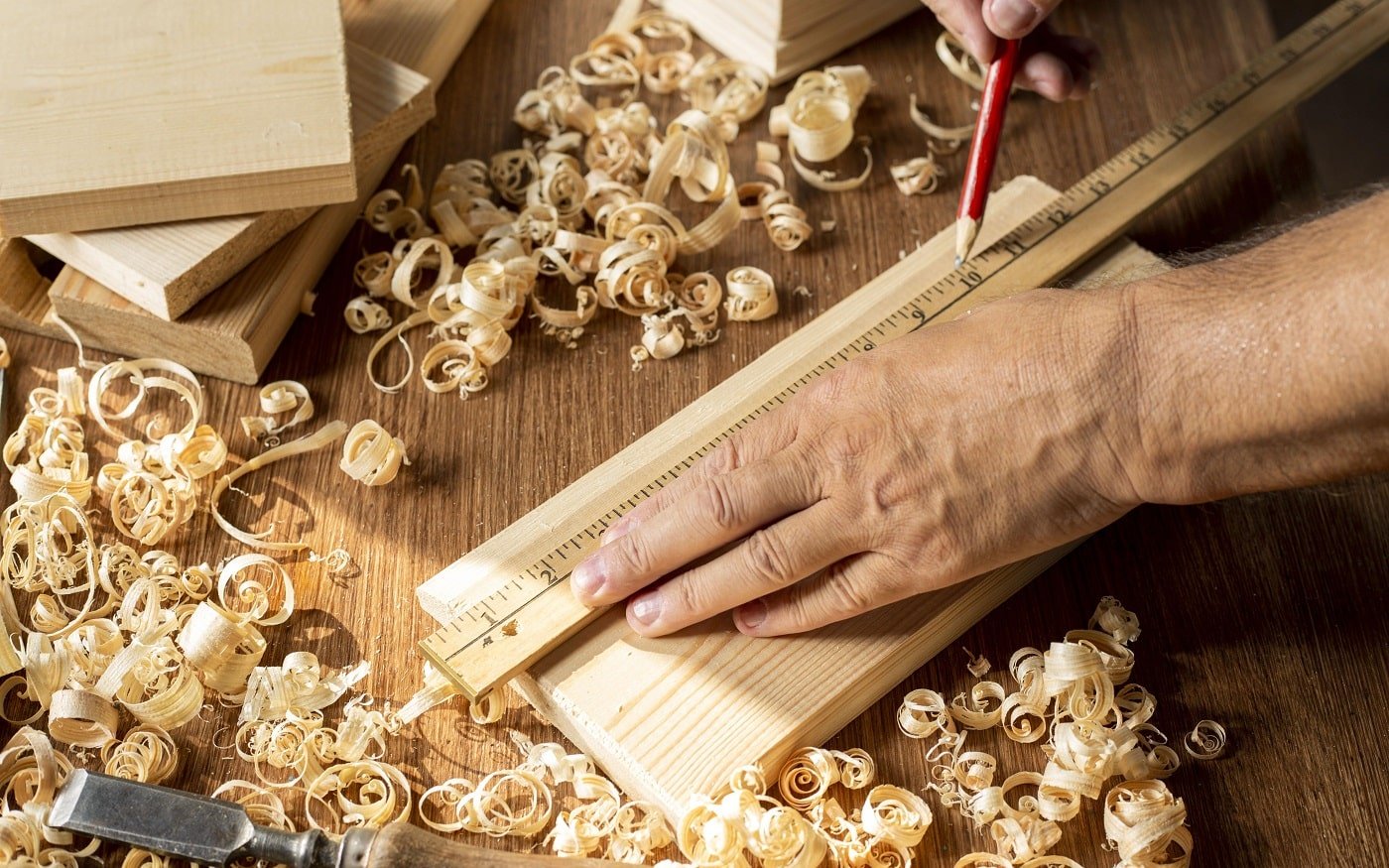 Cyclone Dust Collector Buyer's Guide
With that, we have come to the end of our reviews for the best cyclone dust collector of 2022. However, merely going through the reviews is not enough.
A lot of consideration goes into buying a dust collector. After all, you do not want to end up with a sub-par device that does not function effectively in the workspace.
So, in this section, we will look at some factors that must be on your mind while making a purchase.
With no further ado, let's see what they are.
Size Of The Workspace
The foremost consideration should be the size of the workshop. The dust collector must cover the entire area of the shop for it to function effectively.
While dust collectors with smaller Horsepower will suffice for small-sized shops and housework, you will need a more powerful unit for medium to large-sized shops. Dust collectors made for smaller areas are smaller and are easily portable.
We've reviewed models from each of the three categories to help you make the right choice.
Motor Power
Cyclone dust collectors are powered by electric motors and provide sufficient air to the collector to draw dust and debris. A powerful motor will generate a higher suction capacity and allow for the fast and systematic removal of dust particles.
The specifications of the unit will always mention the motor rating. While 2-HP will be sufficient for medium-sized rooms, we'd recommend a 3-HP motor for active dust collection if your workspace is larger.
1.5-HP motors are preferred for small woodworking jobs and by hobbyists.
Capacity
Cyclone dust collectors that cater to industries make use of a large collection tank. Once the dust is removed, it accumulates in the collection bin, then removed and cleaned.
If you have a small workshop, a 5 to 10 gallons tank would be enough. However, if you need the unit for industrial purposes, we recommend opting for a device with a large tank – 20 to 30 gallons would do the job.
Air Flow Rating
Another important consideration is the airflow capacity of the unit. As you must know by now, cyclone dust collectors make use of air to remove dirt and transfer it to the collection tank. Consequently, it needs a sufficient force of air for the adequate removal of dust and debris. The configuration will always mention the airflow capacity of a unit.
The higher the CFM, the better will be the performance of the device. For smaller areas, an air suction capacity of 800 to 1,000 CFM would be abundant. While for larger factories or areas where a lot of dust is generated, we'd recommend an air suction capacity of at least 1,200-1,500 CFM.
Warranty
Cyclone dust collectors are expensive devices, and therefore, should ideally last you a long time. However, since it's an electronic unit, it is not immune to technical issues. Hence, the unit you purchase must come with a good warranty and technical help to help you if it malfunctions.
Though warranty does not always guarantee replacement, you will have the required help to get the device running again.
Some models we've recommended have a warranty period of 3 to 5 years, which is fantastic, while some others come with only 1-year of warranty, but provide necessary technical support throughout.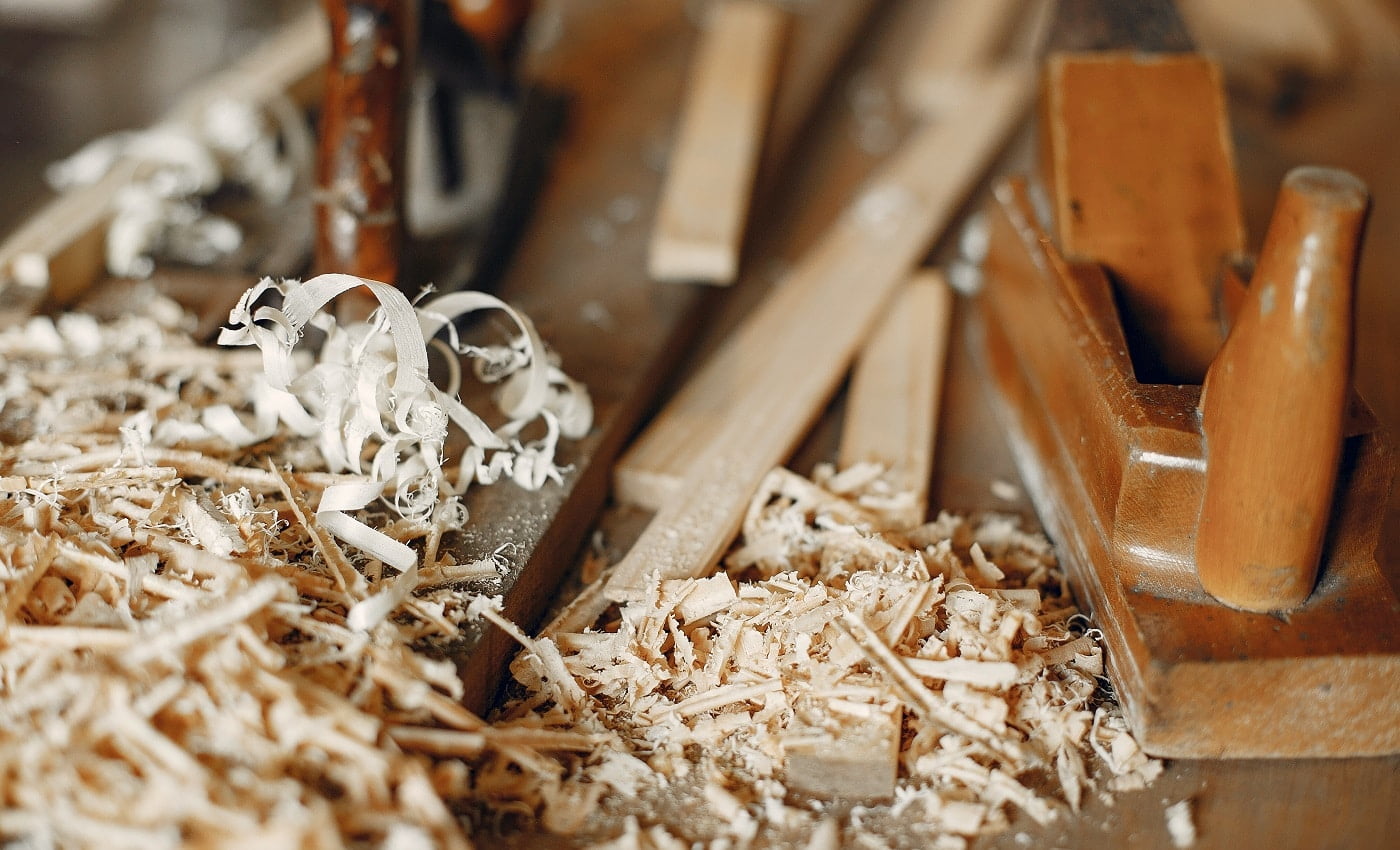 Verdict
Now, we have come to the end of this comprehensive guide. Each of the models we have recommended has certain distinct features that make it stand out, and ultimately the choice you make depends on your requirements.
According to us, the Festool 204083 CT Dust Collector would be great if you're looking for an affordable and reliable unit for a smaller space.
However, if you want something that renders powerful, industrial-grade performance with low noise, the Grizzly Industrial G0777 Dust Collector should be the ultimate pick.
That's all the time we have for you today. Let us know which model you opt for in the comments below.
Till next time, enjoy your workdays!
Related Articles
13 Best Bagged Canister Vacuums
6 Smallest Wet Dry Vacs For Home and Workshop
10 Best Shop Vacs For Dust Collection
7 Best Xiaomi Vacuum Cleaners for Healthy Homes
13 Best Shop Vacs  | Buyer's Guide and Reviews
13 Best Vacuum for Stairs | Reviews and Buyers Guide
13 Best Robot Vacuums You Can Buy Under $200 
8 Best Robot Vacuums Under $150 | Reviews & Buyer's Guide
13 Best Backpack Vacuum Cleaners | Reviews & Buyer's Guide
13 Best Non-Electric Vacuum Sweepers 
Best Samsung Robot Vacuums| POWERBot Buyer's Guide
6 Best Vacuum Cleaners for Mattress That Promote Healthy Sleeping
19 Best Upright Vacuums with HEPA Filter| Reviews & Buyer's Guide
Dyson AM07 vs Dyson AM06 Fan Comparison
Shark NV682 vs. NV683 vs. NV752 | Upright Vacuum Comparison Review
Vornado 530 vs 630 vs 660 | Room Air Circulator Fans Compared
Bissell BigGreen 86T3 vs. BG10 | Carpet Cleaner Comparison & Buyer's Guide
13 Best Canister Vacuums for Pet Hair
ILIFE A4s vs. iRobot Roomba 690 Compared | Robot Vacuum Face-Off
Shark ION ROBOT 700 vs 720 vs 750 | Robot Vacuums Compared
ECOVACS Deebot N79 vs. N79s | Robot Vacuums Compared & Buyer's Guide
Lasko 7050 vs. U15701 vs. 655704 | Floor Fan Comparison
PureClean PUCRC95 Automatic Robot Vacuum Cleaner Review
Oreck Commercial ORB550MC vs. Orbiter Ultra Multi-Purpose | Buyer's Guide
iRobot Roomba 675 vs. 680 vs. 690 | Robot Vacuums Compared & Buyer's Guide
Bissell 9595A vs. 1831 | CleanView Upright Vacuums Compared & Buyer's Guide
13 Best Central Vacuum Systems
The Best Vintage Vacuum Cleaners To Collect
11 Best Wet/Dry Handheld Vacuum
13 Best Steam Cleaners for Hardwood Floors
6 Best Miele Vacuums For Cat, Dog, And Pet Hair
5 Best Central Vacuum Hose Replacements
12 Best Vacuums for Tile Floors
6 Best Central Vacuum Inlet Valve Replacements
14 Best Wet/Dry Handheld Vacuums
12 Best Robot Vacuums For Under $300
McCulloch MC1385 or Vapamore MR100
13 Best Steam Cleaners for Hardwood Floors
15 Best Robot Vacuums Under $300
12 Best Lightweight Vacuum Cleaners For Elderly
11 Best Central Vacuum Attachment Kits, Powerheads & Brushes
15 Best Lightweight Vacuum Cleaners for Elderly [Buying Guide]
11 Best Vacuums For Tile Floors
7 Best Central Vacuum Hose Replacements To Consider