Trimming and cutting unwanted growth, untamed weed, and overgrown grass – seems like a hassle, right? Well, it is!
However, you'll be pleased to know that maintaining your healthy and lush green garden can be effortless, provided you invest in a cordless grass shear! But that's easier said than done.
This is because the availability of a wide range of shears and trimmers in the market makes the process of choosing the best grass trimmer rather tedious and time-consuming. Consequently, we usually end up buying a model that fails to fulfill our gardening requirements.
Understanding your plight, we've managed to shortlist 7 top-notch options for you to consider. And through this guide, we provide detailed reviews for each of our recommendations to help your decision-making.
Furthermore, we've included a buyer's guide at the end of the article to accelerate the selection process. So, without further ado, let's dive straight into the reviews.
Best Cordless Grass Shears
IMAGE
PRODUCT
DETAILS

Our Top Pick

Our Top Pick

Gardena 8885-U Cordless Shears

45 to 80 minutes of operating time
Powered by rechargeable lithium-ion batteries
Charging time: 6 hours

VIEW LATEST PRICE →

Makita XMU04Z Cordless Grass Shear

6-5/16 inches cutting width
3-stage cutting height adjustment: 9/16-inch, 3/4-inch, 1-inch
Blade speed of 2500 strokes per minute (SPM)

VIEW LATEST PRICE →

Workpro 2-in-1 Handless Hedge Trimmer

Rechargeable 7.2 V lithium-ion battery
Operation speed: 1100 RPM
120mm blade length

VIEW LATEST PRICE →

Sun Joe HJ604C 2-in-1 Cordless Grass Shear

Interchangeable 4-inch shear blade and 6-inch hedge trimmer blade
7.2 V lithium-ion battery
Weighs 2.5 pounds

VIEW LATEST PRICE →

Scotts Outdoor Power Tools LSS10172S

6.5-inch shrubbery and 4-inch grass shear blades
Powered by a 7.2V 2Ah lithium-ion battery
Includes a 2-year manufacturer's warranty

VIEW LATEST PRICE →

Black+Decker GSL35 Shrub Trimmer/Grass Shear

6-inch shrub trimming and 4-inch grass shear blades
3.6V rechargeable lithium-ion battery
Weighs only about 1.7 pounds

VIEW LATEST PRICE →

Greenworks SH07B00 Cordless Hedge Shear & Shrubber

Powered by a 7.2V lithium-ion battery
Includes both hedger and shear blades
Weighs only about 1.2 pounds

VIEW LATEST PRICE →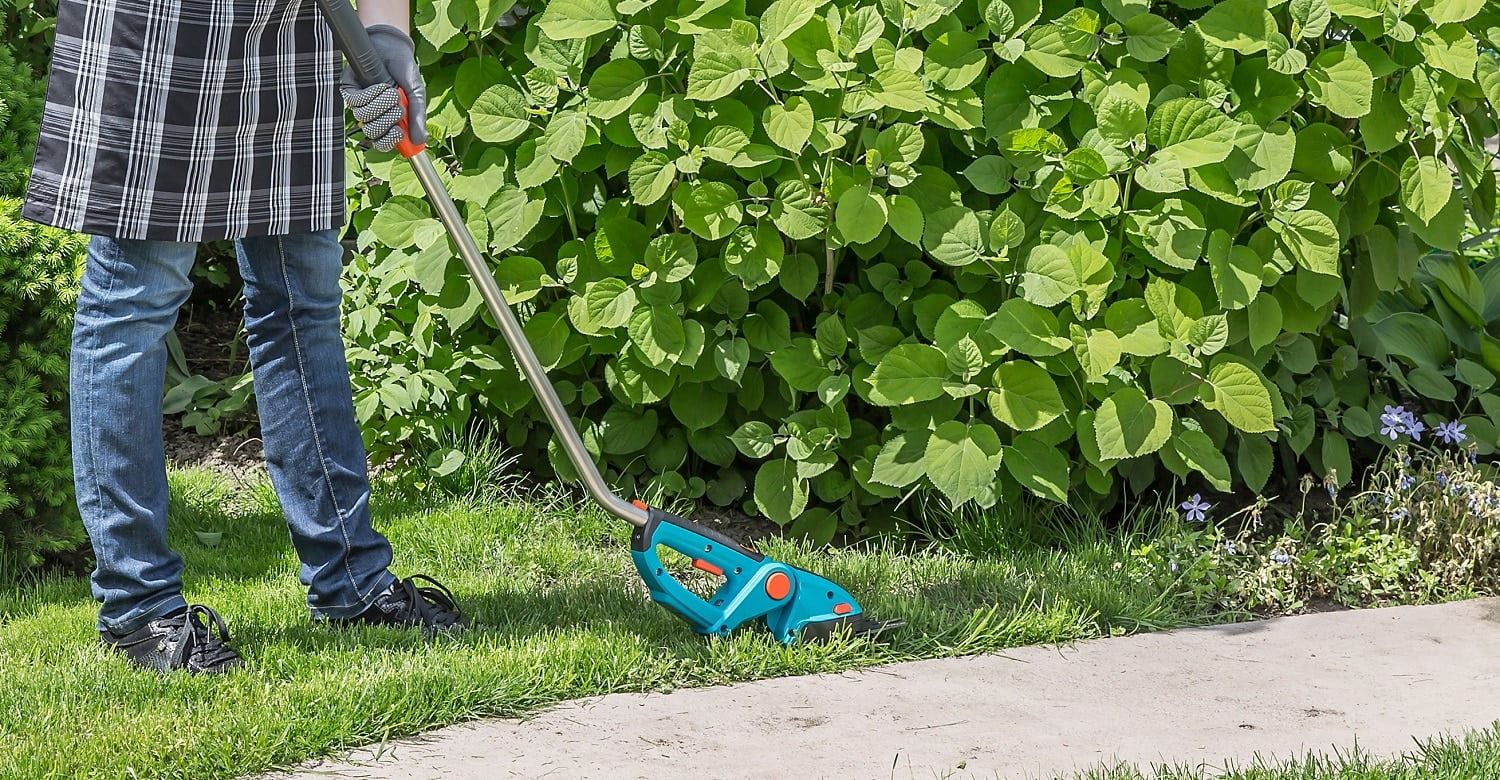 Gardena, a subsidiary of the Swedish Husqvarna Group since 2007, has emerged as a market leader in high-quality gardening tools and equipment. On that note, we decided to introduce you to the 8885-U lithium-ion cordless shear from the brand. Equipped with two different blades, it always ensures perfect cutting results.
Why Did We like It?
Weighing only around 1.22 pounds, the Gardena 8885-U is easy to maneuver in all working situations. Further adding to your convenience is its ergonomic pivoting handle that adapts perfectly with any natural hand. As such, it's optimally suited for contouring and shaping lawn edges with precision and ease.
The best part about this cordless grass trimmer is that it's equipped with two different high-quality and non-stick blades for versatile functionality and durable performance. You can easily convert these grass shears into shrub shears within no time. In our opinion, it's an all-rounder when it comes to gardening activities.

You already know that the technologically-advanced Gardena 8885-U is incredibly powerful, allowing you to get the best cutting results. But that's not all; the model comes with complete blade protection and an LED display, which, in turn, keeps you informed about its battery charging status.
What Could've Been Better?
The Gardena 8885-U definitely meets expectations in terms of performance and efficiency. However, we were disappointed with its overall battery life. It loses charge at a significantly faster rate, so you'll have to keep recharging its lithium-ion batteries to ensure continuous operation.
Pros
Ergonomic fit to hand

Precise cutting results

LED display shows charging status

Lightweight design

Includes two different blades
Next up, we have the XMU04Z Grass Shear from Makita, a leader when it comes to cordless power tool technology. Equipped with an efficient power management system, the unit ensures optimum performance for trimming or cutting grass without compromising on its battery life.
Why Did We Like It?
Makita XMU04Z is the ideal compact and cordless solution for trimming or cutting grass. It operates with a dual-blade action, powering through dense growth with ease and precision. All you need to do is set the cutting height as per your requirement in order to get optimum and uniform results.
That said, the brand has designed this grass shear, keeping your convenience in mind. This is why it comes with a 3-stage cutting height adjustment feature. On the other hand, its "tool-less" blade changing system enables you to replace blades whenever required without any hassle.
Furthermore, it comes with non-electrolyzed nickel-plated blades, so you need not worry about issues related to rusting or staining over time. What's more, the Makita XM04Z supports fast charging for uninterrupted performance. On a single charge, you'll be able to get up to 200 minutes runtime.
What Could've Been Better?
This cordless grass trimmer requires a 5.0Ah battery, which isn't included with the unit. Instead, you'll have to spend an additional amount to purchase it separately in order to ensure its optimal performance up to the specified runtime of 200 minutes.
Pros
Supports fast charging

Powerful and fast dual-blade action

Efficient power management system

Easy to operate
Cons
Doesn't include the battery
Workpro has always been committed to providing quality tools, allowing you to achieve professional results during your gardening project. And the 2-in-1 Handless Hedge Trimmer from the brand stands out among its vast list of exceptional products. Featuring a quick-blade system, it offers the functionality of both a cordless shear and a shrubbery trimmer.
Why Did We Like It?
We were quite impressed by the 2-in-1 design of this hedge trimmer from Workpro. It allows you to switch from mowing to hedgerow within no time. While its high motor speed of 1100 RPM ensures the best cutting results, making it perfect for trimming and pruning trees, shrubs, branches, and bushes.
Being compact in size, the grass cutter can easily power through a variety of small spaces, allowing you to mow hard-to-reach areas with ease. That's not all; it ensures effortless one-hand operation, thanks to its lightweight design and comfortable grip, which, in turn, makes it easy to use.
You'll also find it relatively easy to clean and replace its blades when required. It's not only quick but also safe for both children and adults. The security key and double-lock design of the child safety lock ensure double security protection, making the Workpro hedge trimmer one of the safest options on our list.
What Could've Been Better?
We noticed that the trimmer takes longer than the specified charging time (3 to 5 hours) to reach full charge. At one instance, it didn't switch on even after charging it for 4 hours, so we had to charge it for a longer duration. Nonetheless, on full-charge, it delivers optimum performance up to 50 minutes.
Pros
Compact, lightweight, and 2-in-1 design

Easy to use
Charging LED indicator
Security key and lock for safety
Cons
Takes longer to reach full charge
Fulfilling its aim of developing innovative outdoor tools to help keep your lawn and home beautiful throughout the year, Sun Joe comes forward with the HJ604C 2-in-1 Cordless Shear. Perfect for small gardens and hedge grooming, it ensures versatile functionality at the push of a button.
Why Did We Like It?
Nothing beats the Sun Joe HJ604C in functionality! It can be easily converted from a grass shear to a hedger for multiple grooming tasks, including hedge grooming, trimming small gardens, and hard-to-reach areas. Simply interchange the 4-inch grass shear blade and 6-inch hedge trimmer blade as and when required.
At 2.5 pounds, the lightweight unit teamed with cord-free operation ensures hassle-free service, making your backyard trimming and hedging simple and strain-free. Powered by a 7.2 Volt rechargeable lithium-ion battery, it powers up instantly with just the push of a button so that you can start trimming or shearing conveniently.
Furthermore, you'll be pleased to know that this grass shear from Sun Joe offers maintenance-free service throughout its lifecycle. In other words, it allows you to get the job done without having to worry about oil, gas, toxic hydrocarbon emissions, or expensive seasonal tune-ups.
What Could've Been Better?
Moving on to its downsides, we find it imperative to address a few of its minor drawbacks related to the design of its handle. That being said, the handle of the Sun Joe HJ604C lacked a secure and comfortable grip, making sweaty and tired hands slip during operation. It makes trimming or cutting grass for a prolonged duration difficult.
Pros
Safety switch prevents accidental starting

Easy to handle and control

Maintenance-free service

Perfect for multiple grooming tasks
Cons
Handle fails to ensure secure grip
You can easily beautify your garden while keeping plants healthy year-long with Scotts' expansive line of power tools known worldwide. Similarly, the planet-conscious LSS10172S Handheld Shear is great for touch-ups and detailing flower beds. It allows you to get rid of pesky weeds and unwanted growth without the need for expensive gas or fuel.
Sale
Why Did We Like It?
Thanks to the versatile Scotts LSS10172S Grass Shear, you no longer need multiple tools for maintaining your garden. Equipped with two different blades, featuring a tool-less blade change feature, the multi-purpose tool enables you to cut weeds and branches with thickness up to 0.5-inch.
Not just that, but it also comes with a pivoting and adjustable cutting head for optimal and precise cutting during tough trimming jobs. Being compact and lightweight, the trimmer allows you to tackle hard-to-reach areas in your garden for precise grooming. Consequently, it makes it easy to detail flower beds, remove unwanted growth and weeds.
What's more, Scotts has prioritized the environment, coming through with a planet-conscious design. In other words, the unit doesn't require oil or gas to function, preventing the release of toxic fumes to the environment. Instead, it's powered by a lithium-ion battery that gives you incredible power and runtime in a single charge.
What Could've Been Better?
In our opinion, the Scotts LSS10172S is probably not the safest option on the list. Why? This is because it isn't equipped with all the necessary safety features that prevent mishaps. Moreover, the handheld trimmer doesn't offer much resistance, and even the softest touch can make it start accidentally.
Pros
Supports fast charge

Planet-conscious design

Snap-on/off feature for tool-less blade change

Precise cutting in hard-to-reach areas
Cons
Not equipped with safety features
Black+Decker, a market leader when it comes to innovative power tools, cleaning equipment, and accessories, brings you this lightweight and compact shrub trimmer and grass shear combo. It gives you better control while trimming so that you can rest assured of achieving the best cutting results.
Sale
Why Did We Like It?
Equipped with an interchangeable blade system, the Black+Decker GSL35 works efficiently as a grass shear and shrub trimmer in order to keep your garden well-maintained and beautiful. It offers versatility, allowing you to prune ornamental bushes, cut grass, and trim shrubs with precision and ease.
There's no need to worry about replacing its blades anytime soon as both interchangeable blades are made using durable precision-sharpened steel. Furthermore, the 2-in-1 combo, weighing only about 1.7 pounds, features a lightweight, compact, and ergonomic design. As such, it helps you multitask in your garden with better control and reach.
Apart from convenience and multi-purpose use, the trimmer and shear combo offers powerful performance at all times. Thanks to its 3.6V lithium-ion battery, it provides a runtime of up to 24 minutes. In fact, it's also Energy Star qualified for energy efficiency, so you'll be saving expenses on electricity bills.
What Could've Been Better?
Despite being energy-efficient, we weren't entirely impressed with the battery life of the Black+Decker GSL35. It runs for only about 24 minutes, and therefore requires frequent charging for uninterrupted use. That said, we expected more from a well-renowned brand like Black+Decker.
Pros
Lightweight, compact, ergonomic

Versatile use

Energy Star qualified

Durable precision-sharpened steel blades
As the name suggests, Greenworks provides the best green alternatives to gas-powered tools. Having said that, our list would definitely be incomplete without the SH07B00 Cordless Hedge Shear & Shrubber from the brand. Being a true example of innovation at its best, it serves as a reliable and economical choice.
Why Did We Like It?
You must already know why Greenworks deserves its credibility as a brand. However, it's not only because it provides environment-friendly garden tools, but since all its products are also reliable. Similarly, the SH07B00 Hedge Shear & Shrubber is a trustworthy option ideal for both trimming and shrubbery work.
It comes with durable hedger and shear blades for versatile functionality, allowing you to maintain the pristine look of your garden or lawn. All you need to do is switch between both blades as and when required. Once the button is pushed, the shrubber's bound to guide you through the cutting or trimming process with precision for exceptional cutting results.
Weighing around 1.2 pounds, the unit is incredibly lightweight and compact, which, in turn, enables you to access every nook and corner of your garden with ease. You'll get better control and reach, thanks to its ergonomic design and comfortable grip.
What Could've Been Better?
There's no doubt that the Greenworks SH07B00 Hedge Shear & Shrubber ensures optimal performance for precise cutting and trimming. However, we weren't pleased with its overall build quality. Constructed using plastic, it lacked the required rigidity we expected for long-term use.
Pros
Lightweight and easy to use

Ideal for shrubbery work

Economical and reliable

Provides a comfortable grip for better control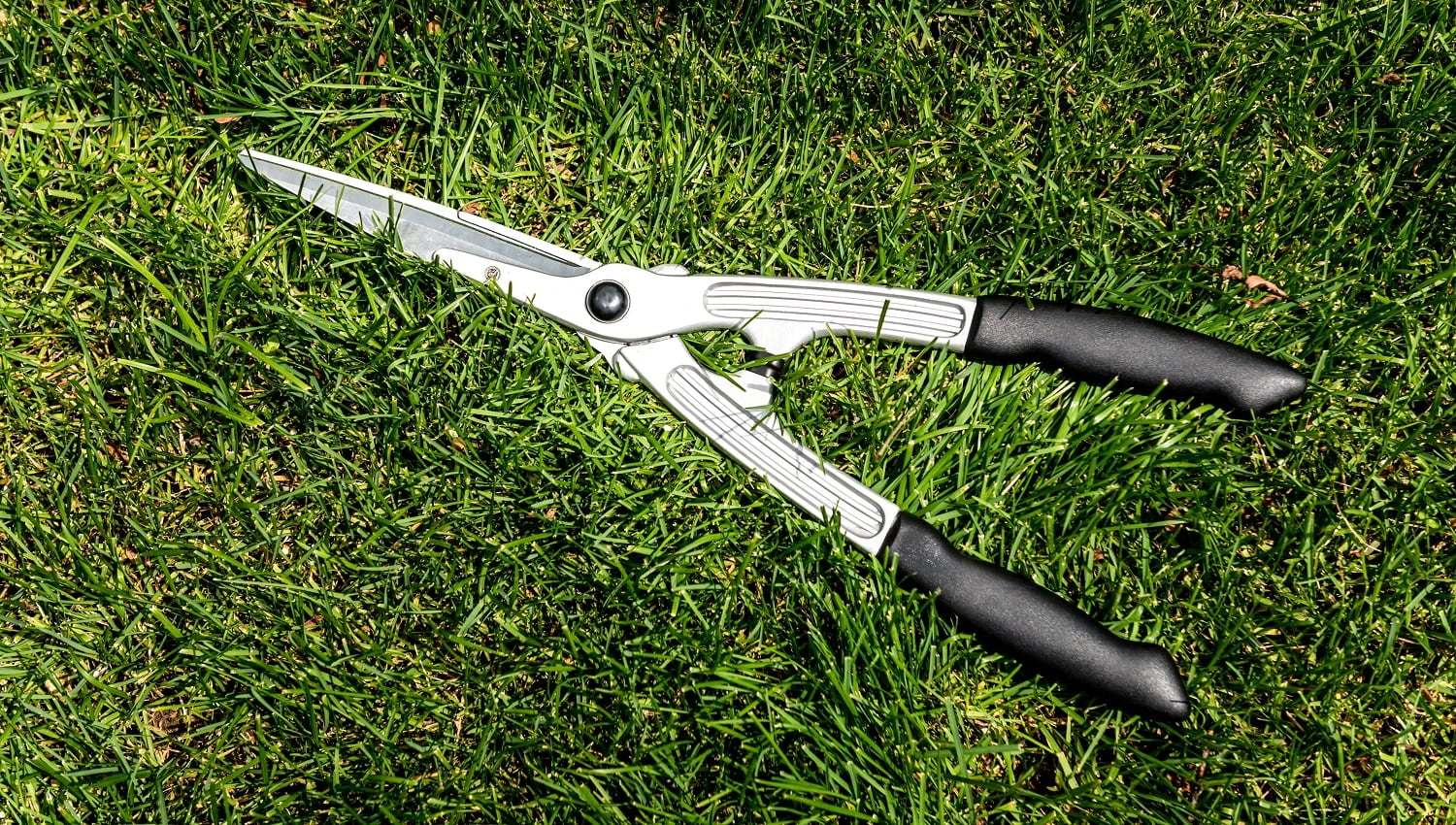 Cordless Grass Shears Buyer's Guide
With this, we come to the end of our list of the 7 best cordless grass shears. By now, you must have gone through all of our recommended options. So, were you able to make a decision? Well, it's absolutely fine even if you haven't.
Besides price and brand, various other factors come into play while choosing the best grass shear for maintaining your garden. That being said, we understand that finding an ideal option from a hand-picked list of excellent choices may seem simple, but it isn't.
This is why we've come forward with this comprehensive buyer's guide, explaining a few crucial points that need attention during the selection process. Read on to know more…
Battery
First things first, always check the battery requirements of the tool before settling. Cordless shears usually require rechargeable lithium-ion batteries for optimal power and longer runtime. Not only do they hold charge till the last drop, but they also support fast charge for continuous use.
Most commonly, 7.2 Volt lithium-ion batteries are used in grass shears for cutting or trimming grass and shrubs in a large garden. On the other hand, a 3.6 Volt shear would be sufficient for a small to medium garden.
Design
Opt for a grass shear that features a compact and lightweight design, so that you'll be able to access the hard-to-reach areas of your garden with ease. These trimmers also allow you to work on trimming shrubs, bushes, and grass for a longer duration.
Apart from this, make sure its handle is ergonomically designed, ensuring a comfortable and secure grip for better control and reach.
Blade Size
For multi-purpose cutting or trimming, the grass shear you plan on buying should come with two different blades that can be easily interchanged without the help of any tool. It's important to check the size of the blade as it serves as a critical factor that determines how large an area you can cover in a single sweep.
Most cordless shears come with 4 to 6-inch blades. However, you can consider opting for a large blade length to include more area in each sweep for higher efficiency.
That's not all; you'll have to check the material and quality of the blades used in the garden shear. It's better to go for precision-sharpened steel blades as they ensure precise cutting results and durability. In other words, you won't have to worry about corrosion or rust, even after years of use.
Cutting Height Adjuster
In order to maintain a healthy garden or lawn, you must maintain a proper length while trimming grass. Cutting it too short may result in patches, further damaging its overall growth. As such, you might end up reseeding the entire area, which, in turn, is a costly and time-consuming affair.
This is why you should consider going for a model that comes with height adjusting features or a supplementary cutting height adjuster. It will give you peace of mind while allowing you to cut grass or shrubs uniformly.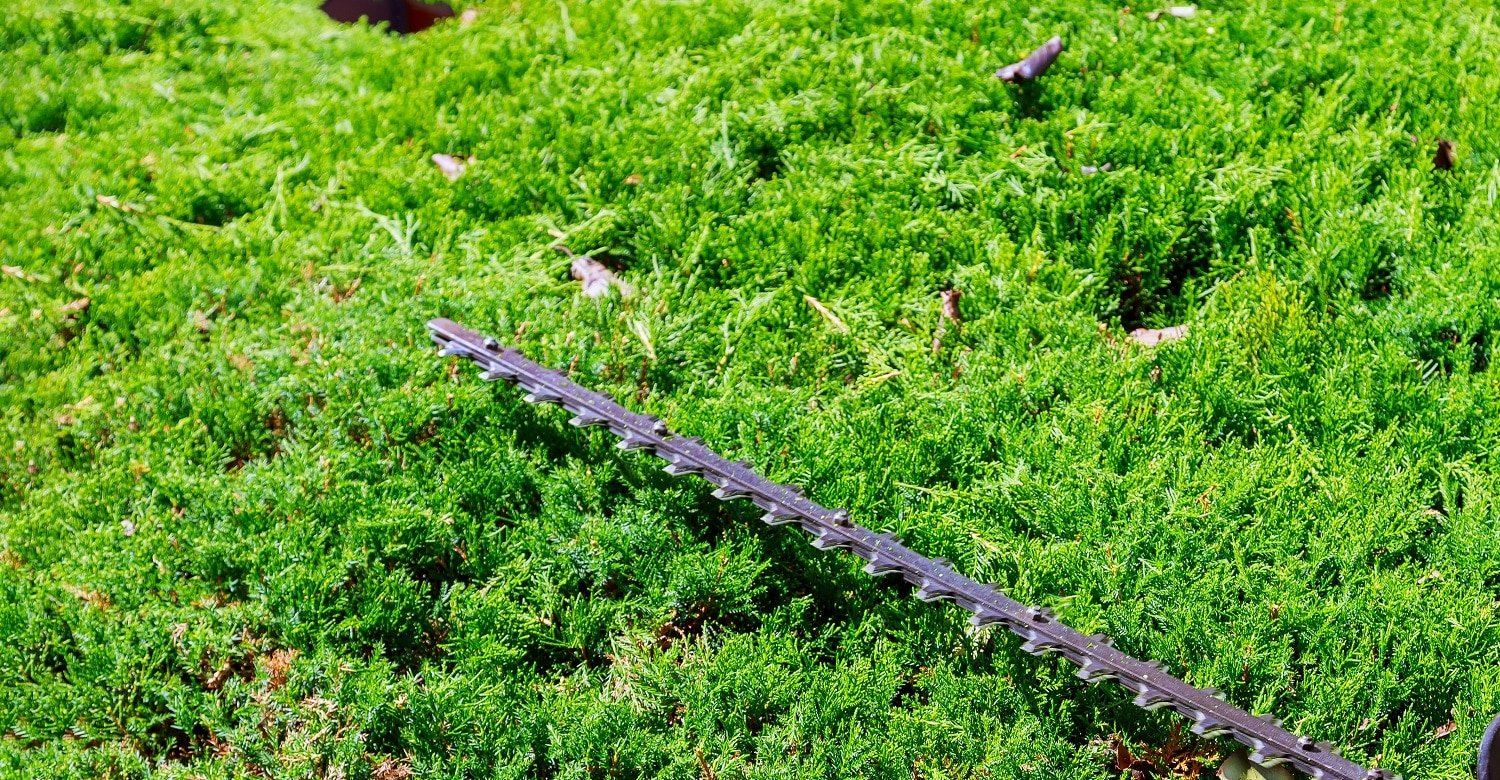 Verdict
Grass shears offering cordless operations serve as convenient and efficient tools that help keep your garden pristine and beautiful. They not only save you from the hassle of managing cords, which restrict movement, but also ensure optimal performance with precise trimming or cutting.
On that note, we come to the end of our comprehensive and informative guide. And here's hoping we were able to provide you with the required insight on cordless grass shears.
But before concluding, we'd like to go for a quick recap of our favorites from the list. Gardena 8885-U ensures the best cutting results, Makita XMU04Z offers the best battery life, while Workpro 2-in-1 Hedge Trimmer is the most versatile option.
With this, we'll now take your leave. Till next time!
Related Articles
11 Best Pruning Shears on the Market Today
7 Best Lightweight Hedge Trimmer
7 Best Fiber Cement Shear Reviews + Buyer's Guide