Cracks in concrete tend to develop for several reasons: wear and tear, extreme weather, rough usage, etc. 
Such cracks not only spoil the surface of the concrete but also lead to further deterioration and damage. Hence, it is critical to repair these cracks in time. Although, now it's possible to repair cracks if you don't know exactly how to repair cracks in concrete. There are several products available to help fill up such cracks quickly and restore the cement surfaces to their former condition, without any prior experiences. 
However, selecting the best concrete crack repair right product from the thousands of products that are available on the market requires both time and effort. To help get around this problem, we bring you this review and buying guide with all the essential products worth considering. 
We spent a considerable amount of time researching these concrete crack sealer products and comparing them with the competition. This review lists the advantages and disadvantages of every product mentioned to help you make an informed decision.
So, without further ado, let's get started! 
Best Concrete Crack Fillers
IMAGE
PRODUCT
DETAILS

Our Top Pick

Our Top Pick

DAP 37584 Liquid Cement Crack Filler

Fast-acting ready-mixed product
Suitable for both interior and exterior use
Self-leveling

VIEW LATEST PRICE →

Red Devil 0644

Premixed formula
Easy to clean 
Doesn't crack or shrink

VIEW LATEST PRICE →

Sashco 16210

Suitable for areas with heavy traffic
Water-based weatherproof sealant
Freeze-thaw stability

VIEW LATEST PRICE →

Bluestar Flexible Concrete Filler

Two shades of gray to select from
Self adjusts to temperature changes
DIY application

VIEW LATEST PRICE →

DAP 31084 Concrete Patch Interior and Exterior

Non-shrinking sealant
Completely odorless
VOC Compliant

VIEW LATEST PRICE →

RadonSeal 301 Concrete Foundation Crack Repair Kit

Low-pressure injection method
Water repellant
Imperious to most liquids and gases

VIEW LATEST PRICE →

PC Products 72561

Meets the ASTM C881-99 standard specification
Two-part epoxy adhesive paste
Ideal for wet or dry surfaces

VIEW LATEST PRICE →

Rust-Oleum 301012

Industrial strength epoxy
Fast curing 
Universal application on any surface

VIEW LATEST PRICE →

Damtite 04072

Two-component multipurpose mortar
Waterproof finish
No acidic reaction 

VIEW LATEST PRICE →

Dalton Enterprises 36099

Unique application process
DIY product
It fits small to medium-size cracks

VIEW LATEST PRICE →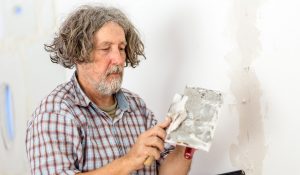 The DAP 37584 Liquid Cement Crack Filler is one of the highest-rated products in its category. This crack filler is an easy-to-use product that helps permanently seal up cracks in concrete and is suitable for both indoor and outdoor usage.
Why Did We Like It?
The DAP 37584 is an excellent product that is simple enough to use even for first-time users. It is a ready-made filler that comes in a bottle, so you don't need to mix or blend anything. This makes the crack filler very easy to use and helps save both time and effort. 
One of the most significant advantages of this concrete crack filler over others is that it works very quickly, and doesn't take a long time to set or cure the concrete. Your concrete floor will be as good as new within 30 to 45 minutes, or at the max under an hour. 
You can use the DAP 37854 on both interior and exterior surfaces, and it self-levels to match the gray of your concrete. It even helps to blend the repaired section with the surrounding areas of the surface it's used on. 
What Could've Been Better?
The quick-acting feature of this product is one of its most significant advantages. However, this also results in the solution drying up quickly once the filler bottle is opened. This means that you won't be able to store the product for long periods after opening it. The best way is to use the cement filler entirely after opening the bottle. 
Pros
Easy to use

Saves time and effort

Dries to match the surrounding area

Value for money
Cons
Doesn't have a long shelf-life after opening
For those who don't know, Red Devil is one of the biggest names in the American sealant industry. It specializes in the manufacture of high-quality caulks, sealants, adhesives, etc. The 0644 is one of the best products from the company for sealing up small cracks, gaps, and large patches in concrete. 
Why Did We Like It?
For those looking for a "set it and forget it" crack filling experience, the Red Devil 0644 is the most obvious choice. The premixed filler formula is suitable for cracks as well patches and makes repairs easy and quick. 
One of the most significant advantages of this crack filler is that it is paintable. You can use it to repair areas and then easily paint over them. The formula of the sealant does not react with the paint and remains stable; this is a feature that many products on the market do not offer. 
Most concrete fillers make it highly difficult to clean the surface. However, with this concrete crack repair, cleaning the surface where you apply this product is also a straightforward process; just use soap and water. This makes the product ideal for use even in areas that tend to get dirty quickly.
What Could've Been Better?
While this product is ideal for filling cracks and patches, larger patches require you to use the product several times as a one-time application does not provide accurate results. However, you get a superb finish after multiple applications on wide concrete cracks.
Pros
Simple to use

Affordable

Perfect for paintable surfaces

Suitable for lighter shades of concrete
Cons
Larger patches require applying the product multiple times
Next up is a product from Sashco, a leading brand offering a wide range of home solutions. The Sashco 16210 is a highly effective product for dealing with cracks in concrete surfaces. This concrete repair product comes with a complete repair kit that makes the process of application simple for all users.
Why Did We Like It?
We found the Sashco 16210 to be an excellent product for a wide variety of applications. It is perfect for use on sidewalks, garages, driveways, patios, and more. Besides being a multipurpose product, this crack repair sealant also offers long-lasting durability, preventing cracks from developing again.
The Sashco sealant is a highly versatile product perfectly suitable for use on horizontal and vertical cement surfaces. Therefore, you can also use it for repairing cracks in chimneys, pillars, etc., besides the regular flat surfaces such as roads and sidewalks.
This water-based sealant has high flexibility and is pretty resistant to strong temperature changes. You can use this crack filler on surfaces that are exposed to extreme temperatures without worrying about cracks, as the formula remains stable under excessive heat as well as cold.
What Could've Been Better?
In comparison to other products on this list, this concrete crack sealant takes time to set. This might become an issue if you use it in areas that receive regular traffic. However, once the filler sets, the area is entirely indistinguishable from non-damaged regions and provides a solid, sturdy surface.
Pros
Can withstand heavy traffic

Suitable for areas with substantial temperature variations

Highly durable

Perfect for horizontal as well as vertical surfaces
Cons
Requires a considerable amount of time to set
One of the highest-rated concrete crack filling products online, the Bluestar Flexible Concrete Filler is an excellent product. It helps seal up cracks and crevices effectively, ensuring a smooth surface and preventing further damage to it. And you can easily apply it yourself, making it perfect for DIY uses.
Why Did We Like it?
Most products available on the market for filling cracks in concrete are available in a single shade of gray. However, this crack filler is available in two different shades. This makes it easy to select the shade that matches the concrete surface where you need to apply the sealant.
What's more, the filler comes in a bottle with a nozzle that makes the application a simple and easy process. This makes it ideal for those who prefer the DIY route, as applying the filler just requires using the nozzle to pour the contents into any crack in your cement.
Another added advantage is that the product is resistant to extreme temperature changes. You can use it on surfaces that receive intense heat or cold, and the sealant will not get damaged. 
What Could've Been Better?
This sealant is an excellent product that fills up cracks in concrete very effectively. The only drawback it suffers from is getting a minimal amount of the adhesive for the price. Most competing brands offer a higher quantity at similar price points.
Pros
Works effectively on interior and exterior surfaces

Is resistant to temperature changes

The DIY application makes it simple to use

Prevents additional chipping and cracking
Cons
You get a tiny quantity for the price
DAP offers some excellent products for repairing and fixing cracks in concrete. The DAP 31084 Concrete Patch Interior and Exterior is another superb product that helps you permanently seal up cracks in concrete without much effort or expense.
Why Did We Like It?
We were impressed by the effectiveness with which this cement filler works. It perfectly fills up holes and cracks in concrete without leaving any gaps for air or moisture to enter. This ensures you get a watertight seal that holds the surface and prevents further deterioration.
The product arrives in a well-packaged box that protects it from damage or exposure. Also,  the ready-made formula simply requires application on the surface. Additionally, you can easily store the crack filler to apply later as well.
This sealant works like a charm to fill any cracks and gaps in the concrete. The crack sealer expands to fill up the cavities and dries up to offer a hard surface suitable for traffic. It even has a perfect consistency and sticks readily to all concrete surfaces, providing fast results. 
What Could've Been Better?
The DAP 31084 is an excellent product, but you should keep in mind that the sealant does not blend very well with surrounding areas. As a result, it is easy to make out the repaired area from the rest of the concrete surface.
Pros
Suitable for interior and exterior use

Perfect for spot leveling

Made in the US with globally sourced materials

Provides a durable finish
Cons
It does not blend in with the surrounding material
Among concrete crack sealants, the RadonSeal Concrete Foundation Crack Repair Kit is a must-recommend product. This concrete crack filler is one of the most effective products and utilizes innovative technology combined with scientific principles to get the job done.
Why Did We Like It?
For people who don't want to spend a considerable amount on getting a contractor to fix cracks in their cement, the RadonSeal Concrete Foundation Crack Repair Kit is the obvious choice. The kit includes all the tools and accessories you require to fix cracks in concrete and apply the filler.
Unlike most other products on the market, the manufacturer also provides a complete set of instructions for using the product. This is very beneficial, especially for first-time users who require guidance on using the product to fix cracks and crevices properly.
What makes this crack filler even more impressive is that it offers unmatched protection against moisture. Areas that tend to develop leaks due to condensation get completely fixed and dry up over time with this concrete filler.
What Could've Been Better?
Compared to similar products, it is costly, which might put some people off from trying it out. First-time users can consider spending on a more affordable alternative, but this product is still cost-effective when compared to the cost of hiring a contractor for the purpose.
Pros
Requires no tools for application

Provides a complete set of instructions

Prevents water seepage

Does not shrink overtime
Cons
Slightly expensive product
PC Products is a brand that has been offering quality home repair solutions for over 55 years, and the 72561 PC-Concrete is a perfect example of how good their products are. It not only helps repair cracks in concrete but also provides anchoring and support.
Sale
Why Did We Like It?
The PC Products 72561 is a multifunctional crack repair product that is sure to exceed your expectations. Its dual epoxy adhesive paste not only helps repair cracks in concrete but is also perfect for anchor threading rods, bolts, and more into concrete.
The concrete crack filler offers the added benefit of being applicable to dry and wet surfaces, making it ideal for damp environments. Additionally, it does well when used on vertical surfaces or cracks, making it suitable for walls, chimneys, etc.
One of the features that set it apart from most sealants is that the filler does not leave behind a mess. Just leave it to set after filling in the required cracks, and the filler won't leave behind any residue. You can easily use it without worrying about cleaning up afterward.
What Could've Been Better?
While this product provides excellent results without a doubt, it requires some effort for proper application. Getting the sealant out of the tube requires the right tools, and applying it to concrete surfaces requires some prior knowledge and expertise.
Pros
Suitable for anchor threading purposes

Meets the standard specifications for epoxy adhesives

Suitable for multiple types of applications

Can withstand a wide range of temperatures
Cons
Requires prior knowledge and skill for proper application
Rust-Oleum 301012 is an exceptional product for sealing and repairing cracks in concrete. It is a two-part industrial-strength epoxy that bonds with the concrete permanently. This makes it one of the best choices for a highly effective and permanent solution to fill concrete cracks.
Sale
Why Did We Like It?
For us, the Rust-Oleum 301012 turned out to be one of the most effective products in the market. It not only repairs cracks in concrete but also creates a surface that is harder than regular concrete. This concrete filler provides durability and prevents further damage.
Apart from this, the crack filler is straightforward and easy to use. You simply need to mix both epoxy parts in the quantity desired and apply them to the cracks in the concrete. The sealant will quickly adhere to the surface and fill the gaps, even entering hard-to-reach crevices quickly. 
As it sets fast, you do not need to worry about not using the surface for an extended period. Additionally, the repaired surface will look better than those with vinyl concrete patch compounds.
What Could've Been Better?
Like most products on this list, this sealant can withstand a reasonable variation in temperature. However, in extreme heat or frost, cracks tend to develop over time on the concrete. As such, should apply this product in areas that are not susceptible to extreme temperatures.
Pros
Provides quick results

Improves surface durability

Application is simple

Can withstand heavy human and vehicle traffic
Cons
Unable to withstand extreme temperatures
The Damtite 04072 comes from one of the leading manufacturers of repair and restoration products. It is the ideal solution for repairing cracks in concrete surfaces such as driveways, sidewalks, etc., while also providing a permanent waterproof finish.
Why Did We Like It?
You will be very impressed by the quality of the Damtite 04072 Concrete Super Patch Repair. It comes as a 6 lb powder and 1 pint bonding liquid that you need to mix for applying to the concrete. The liquid and powder blend to create a solid and durable surface.
The waterproof mortar is suitable for patching, repairing, or resurfacing. It works well on concrete, masonry, stucco, brick, and sticks to glass, steel, aluminum, and wood, enabling you to use it for several different purposes.
We also liked the fact that it sets fast and looks great after setting. The fast curing property allows it to be used on concrete surfaces that receive heavy traffic, and the repaired concrete surface will become usable within a day once you leave it to set.
What Could've Been Better?
While this product works well and quickly, you may face some inconvenience if you store the filler and try to use it later. It has a short shelf life and becomes unusable within a short period after being opened. So, you need to use it quickly before that happens.
Pros
Sets and cures quickly

Suitable for areas with heavy traffic

Provides an excellent finish to the surface

Works on a wide range of materials
Cons
Has a very short shelf life
If you are looking for an effective concrete crack filler, you must check out the Dalton Enterprises 36099. It is a contractor-grade thermo-plastic waterproof rubber that is ideal for concrete or asphalt cracks and works well to seal up cracks in concrete without requiring too much effort.
Why Did We Like It?
We maintain a constant effort to find products that are easy to use even for first-time users. To that end, we have mentioned several products that either come ready-made or are simple to mix. The Dalton Enterprises 36099 is one of the most accessible products despite falling into neither of the above categories.
The application process requires melting the product using a propane torch and pouring it into the cracks necessary. It fills up these cracks to create a watertight seal, leaving behind a solid surface. You can undertake the application process on your own without requiring extra help.
While similar products tend to damage the surface if over-applied, this sealant has no such drawbacks. You can apply it again on the same spot to improve the smoothness or finish of the surface; multiple applications do not reduce its quality or finish.
What Could've Been Better?
The Dalton Enterprises 36099 is overall an excellent product that fills up cracks in concrete very effectively. However, it does not leave behind a professional-looking surface, and is only suitable for areas that do not require a clean look.  
Pros
Simple application process

Provides effective and long-lasting results

Ideal for applying to asphalt as well as concrete

Watertight sealant
Cons
Not suitable for professional surfaces
This list would be incomplete without mentioning the GetSet2Save Hairline Crack Sealer. As the name suggests, this product specifically helps fix hairline cracks and leaks without requiring a lot of effort. It is suitable for use on several surfaces, including sidewalks, stairs, floors, walls, etc.
Why Did We Like It?
This crack filler is a super-thin formula that works by capillary action to reach the source of the crack. You just need to apply the sealant at the point of damage and it will seal up hairline cracks perfectly. It's also resistant to sunlight and provides long-lasting results on large concrete cracks.
One of the best qualities of this product is that it can enter into even the tiniest crevices, where other sealants may not reach. It is what makes it suitable for such cracks that are barely visible to the naked eye.
Besides concrete, you can also use it on other surfaces, including porcelain, window sills, asphalt, etc. No other product offers results that are close to what you get from this sealant when it comes to fixing hairline cracks.
What Could've Been Better?
This product works like a charm for small cracks and crevices, sealing them up permanently. Where it fails to work are areas that have larger cracks or gaps. The thin formula is unsuitable for large patches or cracks and tends to seep through them.
Pros
Reaches the source of the crack

Suitable for different types of surfaces

Creates a flexible seal

Completely safe to use
Cons
Not ideal for larger cracks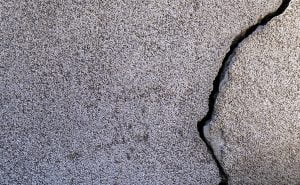 Top Concrete Crack Filler Buying Guide
Our list of the best concrete crack fillers is meant to help you find the right product that meets your requirements. 
However, selecting the product that is perfect for you from among several choices is a challenging task. Several factors need to be considered in this regard, such as durability, effectiveness, price, etc.
Hence, we've compiled this comprehensive buyer's guide to help simplify selecting the ideal concrete crack filler. It covers all the crucial aspects that should be taken into account while making a purchase. 
Read on to learn more about crack repair products.
Crack Filler Ease of Use
The foremost factor to consider while selecting a concrete crack filler is how easy it is to use. For most cracks that develop in your home, an ideal product should not require too much effort or assistance from other parties. It should involve a simple process to apply the filler and you should be able to apply it on your own. 
This factor is relevant if you want to perform the repair work without needing to hire a contractor for the same. If expert assistance is an option, then simply select the most effective sealant available.
Sealant Durability
Another prominent factor that needs to be considered is how long the product lasts. In general, most crack fillers last several years, and some even last a lifetime. While selecting a crack filler, you should check the reviews to find out whether the product would require frequent re-application or not. 
Durability is also affected by the location and use of the surface. For instance, surfaces such as driveways witness more heavy traffic than sidewalks and need to be more durable. 
Crack Filler Versatility
Several manufacturers offer products that are suitable for a variety of surfaces and materials. Depending on your requirements, you can choose a multipurpose product that works well on a single surface, like concrete. 
Multipurpose sealants can also be used on wood, asphalt, porcelain, glass, marble, etc. Generally, it is better to select a multipurpose sealant as it allows a wider scope of applications. 
Time Required for Repair and Curing
Different concrete fillers require different amounts of time to set correctly. It is better to select products that set fast for areas that frequently see heavy traffic. On the other hand, relatively traffic-free areas do well with products that have a longer curing time.
The amount of time that the product takes to cure also affects the amount of time available for manipulating and adjusting the surface. A longer curing time provides a longer period for adjustment and vice-versa. 
Sealant Temperature and Weather Resistance
You need to consider the effect of the weather and temperature on the surface that requires fixing. Several concrete crack fillers are highly resistant to strong changes in temperature and are also waterproof. These are suitable for areas that are exposed to such elements. 
Oh the other hand, you can easily use crack fillers that are not waterproof or weather resistant in areas that are not exposed. Since these areas are sheltered from heat, moisture, frost, etc., the sealant will provide excellent results.
Best Concrete Crack Filler FAQs
Can you use sand to fill concrete cracks?
Sand and emulsified sand can be used as fillers in the lower parts of concrete cracks. But sand washes out easily, is less resistant, and does not adhere to the concrete. Further, you must understand that sand cannot fix the real damage, which, more often than not, is caused by water seeping into the cracks, freezing, and expanding the rupture. 
Hence, we do not recommend using it on the upper layers unless you want a joint failure! 
How to repair crumbling cracks on the sides of a cement driveway?
The edge of a driveway is its most vulnerable spot, and heavy vehicles driving along the sides make it prone to cracks over time. So, to fix them, you must start by cleaning the cracks thoroughly and then applying any of the concrete crack fillers mentioned above. Sometimes you may have to use two products, like a quick-setting cement along with an acrylic fortifier. 
How do you apply concrete crack filler in deep cracks?
For cracks that are half an inch deep and about 1/8-inch wide, caulking it should do the trick. However, for deeper cracks, even a high-quality caulk does not suffice if used alone. 
First off, line the deep cracks with a foam backer rod. Use a putty knife to push the backer into the nooks and crannies until it reaches at least 1/4 inch below the surface. Then top it off with caulk to prevent it from sinking down once fully dried. 
When should you be worried about cracks in concrete?
Cracks on a concrete floor are bound to happen. But when the cracks change their form vertically, that's precisely when you should start worrying! 
In hindsight, a few cracks on concrete are normal. For instance, concrete poured during hot summer days has more cracks than concrete poured in winter. This is because, in the case of the former, it evaporates faster and produces more cracks, which are, in no way, related to any structural damage. 
What are the different types of structural and non-structural foundation cracks in concrete?
Structural cracks occur due to poor soil bearing, overloading, or poor construction sites. Some common examples include stair-step cracks, vertical cracks wider at the top or bottom, cracks on foundation beams and slabs, etc. 
On the other hand, non-structural cracks in the foundation occur due to climatic conditions, moisture, hydrostatic pressure, aging, and more. As such, they do not harm the structural integrity of your property, and some common examples are narrow cracks, vertical/diagonal cracks, cracks on plaster, etc.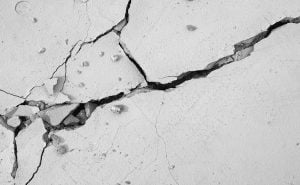 Best Concrete Crack Filler Verdict
Dealing with concrete cracks is a reasonably common problem, with thousands of people facing this issue. That is why the demand for products that help fix cracks in concrete has been steadily rising over the years. More and more people opt to purchase these and fix such cracks themselves without depending on expensive contractors. 
Before signing off, we would like to mention the products that we found to be the best. The DAP Liquid Cement Crack Filler is our number one choice, while the Red Devil is the most affordable option for concrete repair.
That's it for today! Please let us know your thoughts by leaving a comment below.
Related Links
How to Remove Spray Paint from Concrete
7 Best Concrete Grinder, Planers, Scarifiers
9 Best Wheelbarrow for Concrete
11 Best Paint For Concrete Walls In Basement
11 Best Concrete Bonding Agent