Out of all the construction materials, concrete is one of the most commonly used types due to its durability and versatility. 
However, this durability does not last forever as it is still exposed to various elements which erode the concrete's bond. Over time rain, UV rays, wind, and freeze-thaw damage weaken the concrete's structure. 
To combat this inevitable breakdown, bonding agents are used in maintaining the integrity of the concrete. In this guide, we will highlight a few of the best bonding agents for concrete, as well as some pointers to keep in mind when choosing an option. 
Without further ado, let us begin!
Best Concrete Bonding Agents 
IMAGE
PRODUCT
DETAILS

Our Top Pick

Our Top Pick

Loctite PL Premium Polyurethane Adhesive

Singular component polyurethane-based
Sets in 30 minutes and cures in 24 hours
Paintable surface for indoor/outdoor use

VIEW LATEST PRICE →

Gorilla Construction Adhesive

Can form a bond within 30 seconds of application
Fills gaps in surfaces for a complete adhesion 
Incredibly versatile application possibilities

VIEW LATEST PRICE →

PC Products 72561

Holds up to 6590 PSI
Working time of 20 minutes and cures within four hours
Repairs and fills cracks in concrete

VIEW LATEST PRICE →

Gorilla Ultimate Construction Adhesive

It can be applied underwater
Bonds almost instantaneously
Tensile strength of 445 PSI

VIEW LATEST PRICE →

Loctite PL Premium Polyurethane Adhesive Tube

Composed exclusively of polyurethane for indoor/outdoor use
Compatible with all types of construction materials
Performs better than the original PL Premium formula for a stronger bond

VIEW LATEST PRICE →

Sashco 16210

Able to withstand foot and vehicular traffic
It can span gaps of up to three inches wide
Water-based formula textured to blend in with concrete

VIEW LATEST PRICE →

Loctite 2292244 Construction Adhesive

Resistant to forming air pockets and shifts in material
Can be repositioned
Stronger bond compared to the PL Premium formula

VIEW LATEST PRICE →

PC Products PC-11

Marine epoxy forms bonds in dry, wet, and underwater environments
High tack consistency for vertical and overhead uses
Functional from -20-degrees to 200-degrees Fahrenheit

VIEW LATEST PRICE →

General Electric GE5020

Water and rain-resistant in three hours
Silicone-based for permanent flexibility 
Securely fills cracks

VIEW LATEST PRICE →

Liquid Nails LN-905

Durable to prevent shifting of material over time
Ideal for stonework, brick, and concrete
It covers 30 feet in a single ten-ounce cartridge

VIEW LATEST PRICE →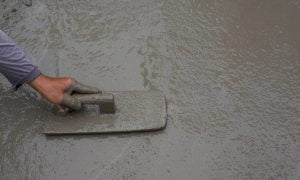 Loctite provides a highly versatile adhesive in their PL Premium line. It adheres to many different material types even under tough weather conditions. A strong bond is formed within 15-20 minutes and claims to give an adhesion three times stronger than standard adhesive.  Additionally, waterproofing and freeze preventative measures further increase durability. 
Why Did We Like It?
While using the Loctite PL Premium adhesive, the fast dry times were probably the most appreciated feature. Not having to wait for the adhesion to set in allowed for more efficient applications on multiple surfaces. 
As for the strength of the bond formed, it held together exceptionally well. In fact, it's three times stronger than other adhesives and gives a solid bond nonetheless. 
The versatility of this premium adhesive included many common construction materials. From concrete to masonry, stone, and even metal, the adhesive had no problem in securing two surfaces together. 
Of course, painting the adhesion may not be an essential feature, but it is a good option to have. Should you so choose to paint the adhesive once dried, it can give a cleaner look to the repair or project overall. 
What Could've Been Better? 
Due to the application method of the adhesive, the more precise application procedures were challenging. The solution is expelled at a constant steady flow which is by no means thin. This makes surfaces that require a thin, precise application almost impossible to reach.
Pros
Weather-resistant

Versatile application to different materials

Low odor

It doesn't shrink in freezing or wet conditions
Cons
Struggles with precise applications
Gorilla is a well-known brand on the adhesive market. The heavy-duty construction adhesive is popularly used due to its flexibility in the materials it can be used with. Withstanding various weather conditions and accommodating its shape to changing expansion and contraction makes it stand the test of time. 
Why Did We Like It?
What made this heavy-duty adhesive from Gorilla stand out is its ability to fill in gaps of the surfaces being bonded. The solution will permeate and fill these gaps to create a stronger bond. Having those gaps filled not only kept the two surfaces bonded well but held each individual piece together better. 
As the Gorilla adhesive gives off little odor and is VOC compliant, it can be used indoors as well as outdoors. Its flexibility of adapting to changes in size due to temperature is especially helpful. Freezing or expanding due to heat is no problem; the adhesive will adjust to maintain its hold. 
A fast drying time further helps the adhesive to be used comfortably for larger projects. Once dried, the bond is sandable and paintable for a more polished look. 
What Could've Been Better?
There are multiple cases of the nozzle breaking or bending, causing the adhesive to leak out. Additionally, the screw-on cap has a tendency to become clogged, requiring a deeper cut to be made to access the formula. The resulting exposure can cause the glue to dry faster in the tube. 
Pros
No solvent or water

VOC compliant solution

Low odor

Indoor or outdoor use
Cons
Weak nozzle and screw-on cap
Epoxy gels are incredibly strong in forming bonds, albeit they do require preparing the epoxy before applying. This epoxy gel from PC Products is a two-part epoxy that works great with concrete. With the ability to fill in the cracks in the concrete, it can give a lasting seal against water and extreme temperatures.
Sale
Why Did We Like It? 
Mixing the two epoxy parts is not as big of an issue, and the application process is relatively easy even for novices. There were 20 minutes or so of working time, which allowed the material to be adjusted before the epoxy bonded securely. After that, the adhesion was set within a few hours. 
PC Products used a high tack paste for this epoxy, which means any moisture is resisted when it is applied. Additionally, this high tack consistency makes vertical applications easier. The epoxy was able to be spread evenly to fill in cracks better.
After the epoxy is cured and dried, it becomes waterproof for extra protection throughout the concrete. It can then be sanded or painted to complete any restoration or construction project.
What Could've Been Better? 
Two mixing nozzles are included with the epoxy by default. These nozzles provide an easier mixing of the epoxy in perfect ratio and can then be immediately applied. However, these nozzles are one-time use. For multiple uses, either the nozzle must be cut, or more mixing nozzles must be purchased. 
Pros
Resists moisture for damp applications

Gray finish for easier cleanup

Easy mixing of epoxy in one tube

High viscosity for filling gaps
Cons
A limited number of mixing nozzles

cons
Another standout product from Gorilla is their Ultimate Construction Adhesive, with an advertised zero-second bonding time. While this claim may be difficult to believe, the fact remains that this adhesive is robust and tough. Capable of underwater application as well as an outstanding level of durability, this adhesive performs exceptionally for a range of projects.
Why Did We Like It?
Touted as the Gorilla brand's most durable formula, expectations were high. As is the norm with Gorilla adhesives, this particular product was able to adhere to a variety of surfaces with ease. Any concerns of whether or not a specific material was compatible with this adhesive were not an issue.
Performance-wise it held its own in various degrees of moisture, expansion, and contraction due to temperature changes. Furthermore, being able to fill in the gaps of the materials is always welcome to create a more closed-off seal. 
Durability is the key feature of this adhesive. No moisture will be able to penetrate past the gap-filling adhesive once it is dried. What's more, the adhesive is durable enough to be able to work underwater as well! Once dried, the bond is 100% waterproof.
What Could've Been Better?
An almost instant, zero-second dry time is one of the biggest pulls of this product. However, under different circumstances and use cases, this drying time can vary drastically. Under certain conditions, it can range from a few minutes to a few hours. While it is not an instant bond every time, the drying time does remain minimal. 
Pros
Applicable to a wide range of materials

Fills gaps

Shrink proof against changes in temperature

Paintable once dried
Not to be confused with the previous PL Premium Polyurethane Construction Adhesive, this formula differs in its application method. This adhesive uses a tube rather than a caulking gun to be applied, with similar durability. Able to be used inside or outside on almost any construction material, it is incredibly versatile and easy to use. 
Why Did We Like It? 
Packaged in a four oz. tube, applying this adhesive is a walk in the park as compared to the caulking version. So long as the instructions are correctly followed, a strong bond can be formed on almost any surface. 
Additionally, cleanup is easy with a putty knife when the adhesive is semi-cured and has a clay-like consistency. When dried, it has a grey-tan finish, so cleanup is essential to maintain a clean look before the adhesive dries. 
When it comes to the actual strength of the adhesion, it does form a secure, permanent bond when applied correctly. Filling gaps is ideal with this adhesive, thanks to its thick viscosity. It is rated to be able to fill up gaps of up to ⅜", which is a sizable allowance for most projects or repairs.
What Could've Been Better?
A downside to using an adhesive stored in a tube is the strong dependence on the nozzle of the container. In the case of this Loctite adhesive, the nozzle did tend to become clogged with dried formula and needed to be cut away. In some extreme cases, the entire tube needed to be replaced.
Pros
VOC compliant

Waterproof

Cures even in extreme temperatures

Easy application from tube
Cons
Nozzle frequently becomes clogged
Cracks are one of the most common repair jobs when working with concrete. The Slab sealant from Sashco is an excellent option for easily filling these cracks. The formula has been textured to best match the look of concrete to have the cleanest result possible. Additionally, it can flex to adhere to the shifting concrete for a long-lasting repair. 
Sale
Why Did We Like It?
Thanks to the numerous features the Slab sealant has, it is an ideal choice for repairing cracks in concrete. The texturing of the formula, as well as the flexibility and durability, all work together well to give a quality result. 
Needing to touch up repairs to concrete constantly can be a bothersome chore. This is not the case with the Slab sealer, as it adjusts to any shifts the concrete goes through over time due to temperature. 
Although this sealant may not fill the cracks within the concrete, it keeps the separate pieces bonded together at the surface level. Once dried, it can withstand any foot and vehicular wear and tear similar to regular concrete. 
For a more comprehensive repair, the sealer can be applied along with a backing rod for internal support. This can give the solution a firmer grip within the concrete, filling the hole beyond the surface level. 
What Could've Been Better?
Weather and humidity can affect how long this adhesive takes to dry and cure. In order to have complete protection from moisture, the Slab sealant requires a long curing time. This can range from a full day to a full 48 hours. This is a large window for possible contamination and can affect the durability of the sealant. 
Pros
Seamless repairs

Adhesive's elasticity adjusts to shifting material

Easy application

Ideal for fixing cracks in concrete
Cons
24-hour cure time for rain
Another adhesive from Loctite is a construction adhesive with a few unique features. Where this adhesive shines is in its durable and flexible nature. Air pockets are no problem for this adhesive. Loctite has developed this adhesive to have a stronger bond than their PL Premium line, definitely one for heavy-duty uses.
Sale
Why Did We Like It?
Having peace of mind that no air pockets will bubble up once the adhesive has settled is a great feeling. No air bubbles mean the overall bond remains solid throughout the material's recesses. It keeps the entire structure together and resists any minor movements due to temperature changes.
Applying the adhesive is relatively easy as it takes hold of the material quickly. Additionally, there is some allowance given for cold temperatures; the adhesive will not dry out even if it is exposed to colder weather. 
Furthermore, the fast grab that the adhesive has helps when working with surfaces that are difficult to clamp or are positioned awkwardly. However, there is no rush as the fast adhesion time still allows you to reposition the material before it sets and dries. 
What Could've Been Better?
Once this adhesive dries, it becomes incredibly solid; keep in mind there is not even room for air pockets to form. This rigidity has its drawbacks as the adhesive can potentially crack and brittle up. Possibly even breaking under extreme pressure, this adhesive may be strong, but it is not the most flexible. 
Pros
Interior and exterior use

Functional in cold temperatures

Fast adhesion time

Gray finish
Cons
Prone to brittle up when dried
A two-part epoxy from PC Products, this is an exceptional choice for any projects involving moisture or water. The high resistance to water is the standout feature of this epoxy. A tensile and cohesive structure makes this epoxy hold its shape even when applied vertically or overhead. 
Sale
Why Did We Like It?
Waterproofing in this adhesive is impressive no matter where it is used; the bond will hold strong with no problem. Even projects that are underwater, like a pool or tank, this epoxy holds its own without allowing any moisture to pass through. 
Furthermore, the mixture has a thicker consistency that prevents dripping or sagging while it sets and hardens. There are not many adhesives that are strong enough to hold their own shape after application, so this is a truly unique feature. 
There are 35 minutes of working time which is more than enough time to set the epoxy in position. Once it begins to harden, the total time to cure is eight to 15 hours. Once set, the epoxy takes on an off-white finish. 
What Could've Been Better? 
Due to the thick viscosity, this epoxy has many strengths against water and holding its shape. On the other hand, this thick consistency can make it difficult to mix or work with, especially when using a large quantity. Of course, it is still entirely feasible to work with when using smaller amounts.
Pros
Can withstand up to 1710 PSI

Fresh and salt water-resistant application

No dripping or sagging

Indoor and outdoor use
Cons
Thick viscosity can be challenging to mix and apply
This caulk from General Electric was designed to seal cracks in concrete and masonry with a quality bond, more of a repair or touch-up adhesive. Once thoroughly dried, it is completely waterproof and resistant to cracks and shrinking. For sealing minor cracks and recesses in concrete, this caulk is a quick and easy fix. 
Why Did We Like It?
Applying any concrete bonding agents on a rainy day can be challenging as the rain can wash away any applied adhesive. The General Electric silicone caulk is rain-proof within three hours of application, so any rain forecasts are no longer a threat. 
Besides the fast rainproofing feature of the silicone, the caulk remains permanently flexible. There is no deterioration or yellowing over time; it will shift and adapt to changes in its surroundings. As a result, the need for future touch-ups is unnecessary.
The caulk itself is easy to apply using a caulking gun. It is pushed out of the tube smoothly with a nozzle that makes precise applications easy. Once applied, it can be worked on using a putty knife to have a cleaner adhesion between the caulk and material.
What Could've Been Better?
Once the caulk is applied and set, any excess caulk can be difficult to remove. Using the appropriate materials to remove the caulk can still leave a residue or cause some discoloration. As such, it is crucial to have as clean of an application as possible. 
Pros
UV-resistant

Resistant to freeze-thaw damage

Fast cure time

Easy application
Cons
It can be challenging to clean up
Outdoor stonework and concrete are most prone to breaking down due to constant exposure to different weather conditions. Liquid Nails landscape adhesive is the weather-proof solution to keep these pieces together and looking brand-new. It holds them together as one solid piece and prevents any shifting due to weather or temperature. 
Why Did We Like It?
Whether it is a quick touch-up or a repair project, this adhesive gives excellent performance when binding exposed stone or concrete. These pieces tend to shift due to extreme temperatures or as a result of freezing and thawing. 
This landscape adhesive keeps the entire structure bonded and resists the external factors trying to break the material apart. Not only does the structure become more solid overall, but the adhesive can also fill the gaps to repair the pieces. 
Weatherproofing is a versatile, helpful feature to have in an adhesive. The numerous effects that weather conditions have on stone and similar materials is a tough challenge to prevent. Liquid Nails achieves this protection in their adhesive with astonishing success. The adhesive can maintain its bond through heavy exposure and climatic conditions. 
What Could've Been Better? 
A clean application is imperative with this adhesive, as once the adhesive is applied to the recess, working it into the desired shape can be challenging. The adhesive takes on a putty consistency that only hardens over time. As such, make sure the adhesive does not get anywhere you don't want it to go. 
Pros
Weather-resistant adhesion

Heavy-duty strength bond

Fills and repairs gaps

Low VOC
Cons
Challenging to spread once applied
Truly a feat of adhesive engineering, Weldbond offers a universal adhesive that works as a versatile option. Depending on the material type and application, the adhesive will have different effects. Plus, it is incredibly easy to apply and clean up, making for a high-quality bond between various materials. 
Sale
Why Did We Like It?
There are many reasons to like this universal adhesive, almost a fix-all solution for any adhesive needs. The versatility and flexibility that Weldbond brings make using it a breeze no matter what skill level or experience you may have. 
A clear finish maintains the underlying material's aesthetic. However, if a particular color is needed, it can be painted over once dried. Additionally, once the adhesive has dried, it acts as a sealant and priming coat that flexes with minor changes in the concrete.
All these useful features packed into one product increase functionality and durability. The adhesive is not the only benefactor of this incredible bond strength – the material it is applied to is protected all around. 
What Could've Been Better?
Although the Weldbond universal adhesive has a fast drying time, there was a notable change in colder temperatures. The adhesive would lump up within the container and become difficult to apply. What's more, once it is on the material itself, it would be difficult to spread and adhere to the surface. 
Pros
Clear finish

Easy to clean

Paintable once dried

Low odor and no fumes
Cons
Performs poorly in cold temperatures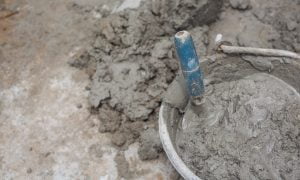 Concrete Bonding Agent Buying Guide
It can be overwhelming to choose a suitable option with all the different terminologies and various unique features of cement bonding agents. Using the most appropriate type of concrete bonding agent can determine how effective a bond is formed. 
Concrete binding agents come in five main variants with particular applications depending on the materials being bonded. Knowing these types and their use cases can help you make a more informed decision. 
Two-Component Agent
As is evident from the name, this agent is composed of two components mixed together to form a surface bond. A common type of two-component agent used is an epoxy resin. 
This type of agent is suitable for large projects. Waterproofing is an important feature to look for in a two-component bonding agent, especially for outdoor applications. 
Use cases, such as binding wood to a concrete surface, are where this bonding agent performs well. Additionally, the two-component agent can be used with insulating foams to insulate concrete. 
Concrete Glue Adhesive
A versatile variant of bonding agent, the glue adhesive has a straightforward application. This adhesive is ideal for quick touch-ups or if a simple adhesion is all that is needed. 
It does not need any preparation or tools; a simple coating is sufficient. Consider how much strength is required for your project as the glue adhesive is available in a wide range of bond strengths. 
Assembly Adhesive
This variant of concrete bonding agent is designed to handle heavy-duty projects. Perfect for indoor and outdoor use, it has an easy application thanks to a nozzle and narrow tip.
Additionally, it can be spread over larger areas once it has been applied. Once the adhesive has been set, the bond formed is incredibly durable and stable. 
Cement Adhesive And Filler
What makes this bonding agent unique is its ability to fill up the gaps in the concrete as compared to the other agents which only form a surface bond. 
This particular agent is able to level concrete while maintaining an adhesion. It is a great choice to use where maintaining an even surface is vital, such as in replacing tiling or filling drill holes in a wall. 
Silicone Concrete Adhesive
Typically, this type of bonding agent is used on concrete that is part of a building. It forms a tight seal between the pieces. There are two types of bases used in silicone adhesives-acrylic or silicone. These adhesive agents are not as strong as other options, so making sure the compound has a sufficient bond strength is important. 
Where this bonding agent shines is in its resistance to moisture. Furthermore, the adhesive strength is suitable for delicate materials such as ceramic or glass. If binding glass to cement is in your project description, a silicone adhesive can give you the performance you need.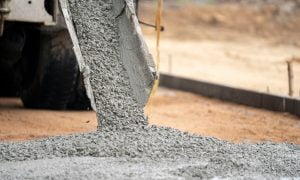 Verdict
Selecting the perfect bonding agent for concrete can be a tough choice. Hopefully, knowing all the factors to look out for and a selection of a few options to get you started, can help you make the right choice.
Gorilla's heavy-duty construction adhesive is an excellent choice for quick fixes that permeate the material for a secure bond. For water-related repairs, the PC-11 epoxy from PC Products performs exceptionally well. 
Additionally, this adhesive works well for vertical and overhead applications. If you are unsure of what to pick up, PC Products 72561 is a strong runner-up if you need a quality flexible bonding agent. 
Depending on what project you need the bonding agent for, pick the option which has the most relevant features to you. These unique features can be the difference between successful adhesion or not. 
Related Articles
7 Best Concrete Wall Clocks to Consider Today
7 Best Concrete Grinder, Planers, Scarifiers Reviewed
9 Best Concrete Stains to Consider [Reviewed]
9 Best Wheelbarrow for Concrete
11 Best Paint For Concrete Walls In Basement [Tested]
How to Remove Spray Paint from Concrete [7 Methods + Guide]
11 Best Concrete Crack Filler [Sealing and Repairing Cracks Easily]