In recent years, composite decking is becoming increasingly popular for outdoor structures as the supplies of natural timber are continuously dwindling. 
Another factor contributing to the growing popularity of composite decking is that it offers several advantages over traditional wood decking. That said, it is more resistant to damage and provides a much more appealing appearance. 
To keep up with the demand, more and more brands are now supplying composite decking material. Therefore, selecting the product that is right for you may be a challenging task. 
That is where this in-depth review and guide will help you out. It will provide you with all the information you need to make an informed decision when buying composite decking materials. 
Without further ado, let's get to it.
Best Composite Decking Brands 

Most of you who have been looking at various composite decking brands must have come across the name Trex. It is one of the first companies to offer composite decking materials and soon became an industry frontrunner because of its quality products. 
Trex offers three categories of decking materials based on quality and pricing. One of the best things about products from this brand is that they all come with a 25-year warranty. What's more, the company also uses reclaimed plastic and wood materials in its manufacturing process.
Not to mention how the brand is one of the biggest names for sustainability and is particularly known for using polythene and sawdust to create composite planks. Nevertheless, Trex offers a wide range of composite decking boards for various uses, such as surface decking, outdoor furniture, outdoor storage, and so on. 
Moreover, Trex products are available in several exciting colors, and the composite boards are highly resistant to termites, moisture, fading, and regular wear and tear. The only thing to note when buying a Trex product is that they are not very easy to install, and you will require the help of professional services.
Another excellent option is TimberTech, which offers composite decking in a wide variety of colors and textures, offering a very high level of customization. The manufacturer uses solid PVC compounds for creating its range of composite decking planks. That is why they are highly resistant to scratches, molds, mildew, and splits. 
TimberTech products are well known for their very realistic wood appearance and come with a warranty ranging from 25 to 50 years, depending upon which product you select. There are three styles to choose from, and all offer several colors and textures. 
Contractors and installers also prefer using TimberTech products as they are straightforward to install and have excellent durability. The boards are resistant to fading, cracking, and weathering and can do well on exposure to the elements. 
Dura-Life is another leading company in the composite decking industry, focusing on developing high-quality, durable decking. The products from this manufacturer are some of the easiest to install on the market while also offering excellent durability and style. 
Dura-Life offers four options to select from: the affordable MVP plank, the Starter and SwEdge options that are more suitable for finishing, and finally, the high-performance Sierra planks.
The manufacturer uses a combination of polypropylene, recycled wood and plastic, and hardwood floors for maximum durability. All Dura-Life products come with a 25-year warranty which also covers fading and staining.  
When you are looking for a brand that offers quality indoor flooring, then Cali-Bamboo is one of the best ones. They manufacture composite wood decking using BamDeck Composite, made from recycled bamboo fibers and recycled plastic. 
The products from Cali-Bamboo offer long-lasting durability while also being DIY-friendly. There are two categories to select from – BamDeck and TruOrganics. Both offer weatherproof decking that is also fade-resistant and uses recycled materials. 
Composite deck boards from Cali-Bamboo are also LEED qualified, which means it is one of the best sustainable decking options available on the market. Moreover, there are nine different installation looks with three color and four texture options. 
One of the unique features of Cali-Bamboo products is the hidden fastener system, which makes installation a breeze. However, compared to other brands, Cali-Bamboo offers only 15-year warranties, which is a bit on the lighter side. 
The next brand on the list is Fiberon, specializing in decking, railing, and fencing products using composite materials. This company offers one of the largest selections of options regarding colors and styles. It has one of the most realistic wooden textures in the segment. 
Fiberon uses several composites, but the most common is a PVC Permatek outer and an inner composite wood core. Cellular foam is also a commonly used material in their composite decking boards which can be installed easily with hidden or face-driven fastener systems.
The brand's decking products are available in Promenade, Good Life Collection, and Collections. Fiberon offers its products at a slightly higher price, but the warranties range from 25 years to a lifetime, depending on the product. 
One of the older brands in the composite decking industry, Envision, manufactures decking products using a compression molded process. This process results in dense and heavy decking boards that have deep textures. The company does not use any wood fibers and depends entirely on recycled plastic for its products.
Envision products are highly resistant to rot, insects, and termites and resistant to fading even in direct sunlight. You can install decking boards from Envision either by fastening from the top or by a hidden fastener system. It is also easy to find railings and facings of the same type, style, and color as the decking. 
Envision offers a 25-year limited warranty on its entire range of products, which are all stain and damage resistant and highly durable. The composite boards are generally darker colors and textures due to the high pressure and temperature manufacturing process.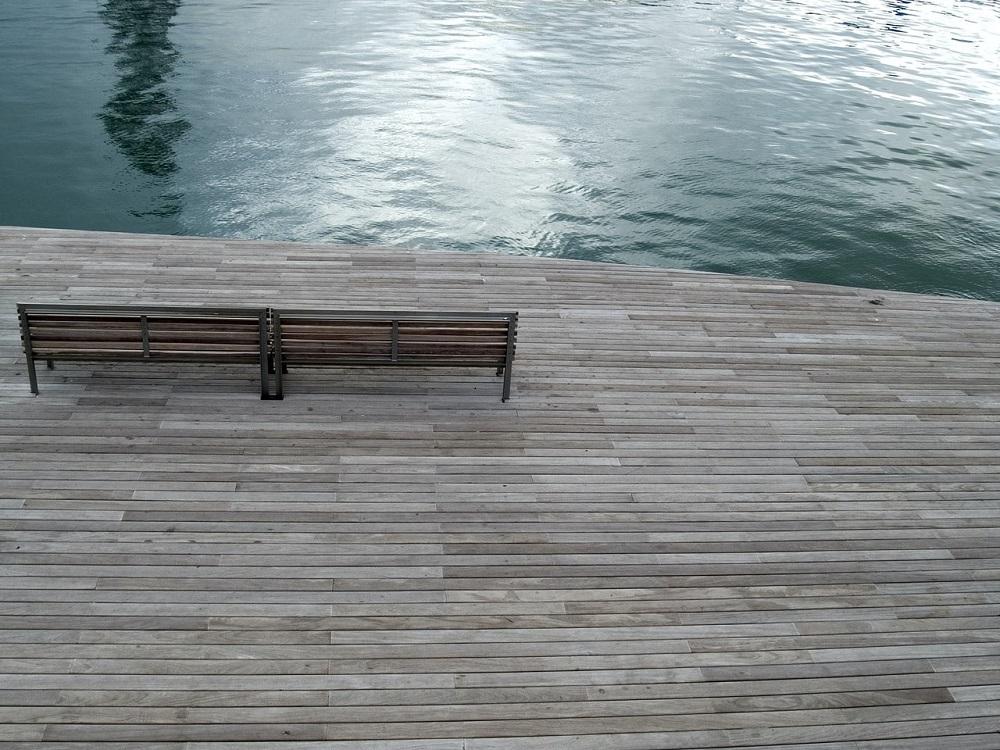 As the name indicates, Lumberock is a brand that blends lumber decking materials and other elements to manufacture high-quality composite decking products. Along with lumber, the company may use plastics and minerals in its line of tongue-and-groove products. 
Lumberock products are not only highly durable but also provide significant resistance against mold and mildew. Water and salt also have no visible effect on the brand's decking products. 
This brand offers one of the most extensive styling options available on the market. There are different lengths, widths, textures, designs, and color options to choose from. What is more, each plank and board comes with a lifetime warranty.
The only thing to remember is that these decking boards need to be installed by nailing or screwing down through the top faces. There is no hidden fastener system with these boards. 
Composite decking products that are most effective in blocking moisture come from MoistureShield. The brand uses a Solid Core to manufacture its products, which involves pressing and molding the planks into a solid piece. 
The manufacturer offers warranties against the entry of moisture in its products at any time. MoistureShield products are ideal for creating pool decks even underwater. Furthermore, the zero water absorption property also protects the material from rot, cracking, or warping.
However, this brand offers a limited number of style options, and the planks are also susceptible to fading. The fading depends upon exposure to the sun and will not be visible for several years when the decking is first installed. 
WearDeck is one of the biggest names in the world of composite decking, focusing on developing commercial-grade products that are highly durable. There are eight categories of products to select from, varying in length and width. WearDeck also offers customization for some of its products.
Products from WearDeck are entirely synthetic and do not contain any wood fibers. The manufacturer uses high-density polyethylene (HDPE) reinforced with fiberglass to create its decking products. 
This solid construction makes WearDeck products highly resistant to stains while also being heat-reflective and splinter-free. There are eight different colors to select from, offering versatility for different types of uses. The subtle wood grain patterns provide a realistic texture, which can help mimic the appearance of actual wood. 
EverNew is a subsidiary of the CertainTeed line of composite decking and porch systems. It uses materials that include either a blend of PVC vinyl or wood flour. These materials ensure that the products are lightweight yet durable.
One of the best features about this is that it looks good while also being highly durable. There are some exciting designs and styles to purchase from this brand. It is also one of the affordable options on the market right now. 
CertainTeed EverNew also offers excellent warranties on its range of products, which ensures a worry-free experience. Besides that, the decking materials are split-resistant as well as being resistant to mildew and mold.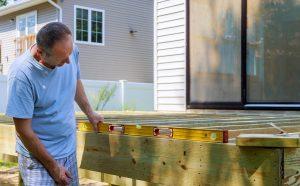 What Is A Composite Deck?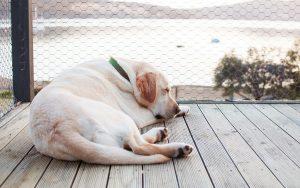 Before we talk about the best composite decking brands, the first step is to understand what a composite deck is made of.
A composite material consists of a base material that is combined with other substances. All of these are held together by a binding agent. As for a composite deck, it includes a blend of materials such as plastic or PVC, wherein the binding agent is wood. 
However, one important thing to note is that composite decking is different from plastic decking, as the latter does not contain wood and is made up of 100% plastic.
Also, there are several different techniques for manufacturing composite decking. These include molding, pressing, or hollowing out. The type of manufacturing process used to produce a decking material determines features, such as its durability and strength.
Now that you know what composite decking is, let us look at why composite decking is becoming so popular. 
Advantages Of Composite Decking 
1. Low Maintenance 
One of the most significant advantages of composite decking is that they are low maintenance, especially compared to traditional wooden decking. While natural wooden decking requires periodic replacement, painting, and finishing of sections, that is not the case with composite materials. 
That said, they only require light washing or spot treatment to retain the luster and color. You will also need to replace a wooden deck every ten to fifteen years, whereas composite decking can easily last for years. Simply put, composite decking is the go-to option if you want to install a deck and then forget about it. 
2. Offers High Value 
While the initial investment for installing composite decking is undoubtedly higher than traditional decking, it leads to more significant savings in the long run. These savings are due to lower maintenance costs, as composite decks do not need frequent replacements, staining, polishing, and so on. 
3. A Sustainable Alternative 
More and more manufacturers are producing composite decking material using recycled materials. These include recycled wood, plastic, and more. What's great about using recycled materials is that there is no need to cut down trees for timber. 
Similarly, the recycling material itself requires fewer resources and can also help solve waste management and disposal problems. 
4. Wide Choice In Aesthetics 
Traditional wood decking materials have to undergo different procedures to acquire an appearance suitable for installation. However, these processes can often lead to a change in the structure and quality of the materials. What's more, the aesthetic value may get sacrificed to retain their shape and integrity.
In the case of composite decking, neither the appearance nor the quality of the material needs to be compromised. Additionally, composite deck boards are available in a variety of colors and styles that are sure to give your deck a makeover. 
5. Saves Both Time And Labor 
Composite decking can save both effort and time, as it does not require frequent cleaning, scrubbing, staining, and so on. And while the process of getting a composite deck installed is similar to that of traditional wood, the former does not require as much care and maintenance. 
6. Resistant To Mold And Mildew 
Capped composite decking can be one of the most suitable options for homeowners looking for durable and long-lasting options. On that note, capped decking makes the composite decking materials highly resistant to invasions by mildew and mold. 
Protective capping is also highly effective in preventing the entry of moisture, making it superior to traditional wooden decking that is highly susceptible to moisture damage.
7. Evolving Technology 
The technology for producing composite materials is constantly evolving, with manufacturers trying out new and innovative materials to offer a better experience. That said, decking materials are becoming more durable, cost-effective, and aesthetically pleasing. 
And as the science of manufacturing composite decking develops, new materials are being created to handle the effects of bleaching, erosion, and so on. Additionally, the cost of composite materials also goes down as they become more widespread. 
8. Excellent Warranties 
Most composite decking manufacturers offer excellent warranties on their products, which is not always the case with traditional wood decking materials. With such a warranty, you do not need to worry about the state of your decking as the manufacturer will get it replaced or repaired if it gets damaged.
Evidently, composite decking offers several advantages over traditional wooden decking. With so many benefits, it doesn't come as a surprise that composite decking is becoming increasingly popular among homeowners for various uses. 
In the next section, we'll take a look at some of these uses and common applications. 
Types Of Composite Decking 
1. Commercial Decking 
Composite decking is increasingly being used for commercial purposes to increase the amount of usable space and add a style factor. Indeed, offices, retail centers, hotels, and apartment complexes are now opting for composite decking to enhance the appeal of shared spaces with these durable structures.
2. Residential Decking 
The most widespread use of composite decking materials has so far been for residential purposes. That said, they are commonly featured in patios, terraces, garden decking and so on. 
In fact, the moisture-resistant property of composite materials makes this type of decking ideal for areas frequently exposed to water, such as outdoor pool areas.
3. Swimming Pool Decking 
Composite decking materials, besides being moisture-resistant, also have a low water absorption capacity. As a result, they provide solid slip-resistant surfaces, which are ideal for swimming pool decking. Additionally, this material will not splinter or warp after coming into contact with water.
Composite decking also does not fade over time due to sun exposure and will ensure that your pool area looks new for years to come.
4. Boardwalks And Pathways 
Composite decks are perfect for use on boardwalks due to their UV-resistant properties. For the same reason, they can be used as pathways that connect outdoor spaces. Furthermore, the durability of composite materials only adds to their appeal. 
5. Terrace And Balcony Decking 
You can quickly transform the look and enhance your outdoor spaces, such as balconies, by using composite decking. At the same time, the decking material doubles up as a safe surface for bare feet. 
These are just some of the uses that composite decking is suitable for; indeed, these versatile materials are well-loved for much more. 
At the same time, there are several products available from different manufacturers on the market. To know which one is the best for you, we need to look at some of the best brands in the industry. 
So, let us get straight to it.
Final Words
With more and more people opting for sustainable alternatives, composite decking has truly taken off. Moreover, composite decking has several advantages over traditional wood decking because of its wide range of applications, excellent durability, aesthetic appeal, and more. 
Anyhow, the main advantage remains that composite decking is better for the planet. It results in the felling of fewer trees while also helping get rid of waste.
There is also no shortage of products, as several new brands are entering the market. And if you're confused about which brand to pick, our guide can help you make an informed choice and get the most suitable decking installed.
Related Links
8 Best Sanders For Deck Refinishing
11 Best Deck Box For Outdoor Storage
5 Best Fire Pits for Wooden Decks
15 Stunning Low-budget Floating Deck Ideas For Your Home
73 Epic Free Potting Bench Plans to Materialize
13 Types of Bamboo for Indoors, Deck, Garden & Yards to Consider