The question we plan on answering in today's guide is – what makes the circular saw special? 
Several fantastic machines are available out there, but they don't come more compact than this unit. The modern circular saw has taken the challenge of incorporating all relevant functions within a user-friendly design. Meaning, it's suitable for various users, young and old, to get better control. 
Moreover, it has retained the usual attributes of power and durability while increasing maneuverability for better results. In fact, the reduced weight permits people to take it with them to different job sites, highlighting its exceptional versatility. 
But how will you choose the right unit from the many options available in the market? We've listed the nine best compact circular saws that are making all the right noise. Additionally, we've included a buyer's guide discussing the essential characteristics that make the top models stand out. 
Without further delay, let's start. 
Top Compact Circular Saws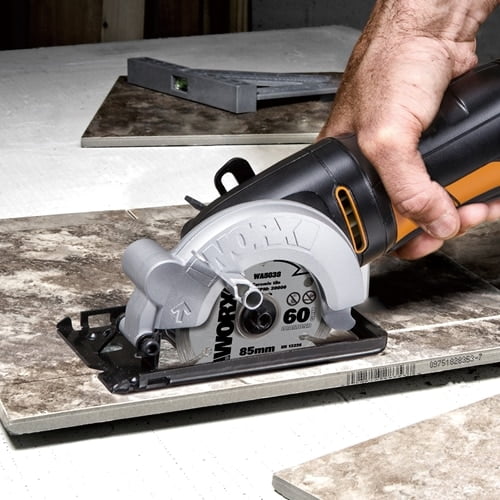 If you're a DIY enthusiast, you'll enjoy working with this WORX Saw, which is a highly sought-after unit. It has made significant strides to deliver balanced output, made possible by its innovative additions. Hence, this model has mostly received a positive response from buyers owing to its impressive performance. 
Sale
Why Did We Like It? 
We'll begin by discussing how this saw turns its small size into an advantage, delivering efficient yet powerful results. You'll see it comes with an EZ-set depth gauge so that users can adjust the bevel settings between 0 and 45 degrees. This allows you to make quick adjustments without experiencing interruptions.  
What's more, the blades easily cut through different materials like metal, tile, and plastic, but it's most useful against lumber. We found that this model slices through 2-inch thick lumber without any hassle. On top of that, it delivers precise output for the best results, meaning you won't feel fatigued even after working for extended periods. 
Along with that, the designers have kept its weight down, thereby improving portability without sacrificing its powerful performance. Plus, thanks to its cutting-edge technology, you can also use this tool with one hand, highlighting the incredible control, which makes it suitable for several tasks.
What Could've Been Better? 
After switching it on, this unit may shudder initially before dying down. However, this isn't a major problem and won't affect the stability of the cuts. Other than that, the narrow sled means that users might inadvertently end up tilting the saw, which isn't ideal. But there's no cause for concern as it gets better with practice.   
Pros
Easy to use

Versatile

Reduces work time

Precise output

Adjustable bevel settings
Cons
Narrow sled

Slight shudder
Our next recommendation is this low-maintenance saw from Rockwell, providing clean cuts while reducing debris production in the workstation. Customers have expressed admiration for its terrific accuracy, which is why it features on most wish lists. So, let's check out some of the other functions it has up its sleeve.
Why Did We Like It? 
First things first, let's focus on the fantastic maneuverability offered by this model, placing it at par with full-size circular saws. In that regard, the rear motor proves useful, delivering impressive balance for faster cuts. 
It's strategically placed in the handle, permitting you to control the saw with the palm of your hand. As a result, most users have expressed their admiration for the reduced stress and comfortable working conditions. 
Moreover, the easy depth settings deliver smoothness, ensuring you can adjust the blades to the correct angle. This improved angle of operation, ranging from 0 to 45 degrees, allows you to handle numerous tasks and experiment with different cutting techniques. 
Also, the brand's attention to safety is apparent with the improved blade visibility feature, permitting users to view the cutting line for straighter cuts.
What Could've Been Better? 
Regular maintenance is critical because, after daily use, the bolt may come loose, causing the blade to fall off. Therefore, it would be best to check the tightness of the components and have spare parts in hand to ensure that your work remains unaffected. 
Pros
Improved visibility and air quality

Spindle lock button

Safe

High maneuverability

Balanced rear motor
Cons
Needs regular maintenance

Bolts may come loose
DEWALT is a well-known brand, thanks to its range of terrific products, and this circular saw is no different. Significantly, the engineers have also focused on safety without compromising on power, meaning it has most bases covered. No wonder buyers are queuing up outside stores to check out its various features.
Sale
Why Did We Like It? 
This battery-powered saw weighs only 6.6 pounds but is sufficiently powerful to cut through numerous materials with aplomb. You need to look for the DCB205 battery that delivers a cutting capacity of 339 linear feet. Additionally, the output of 20 volts provides a steady supply of power for the best results. 
We loved the removable auxiliary handle, making it easier to control the unit. More control translates into greater accuracy, allowing you to make the desired cuts so that your projects stand out. Furthermore, it also helps to keep the unit clean and conduct hassle-free maintenance, thereby reducing stress.  
Another interesting inclusion is the hang hook for increased convenience, meaning even first-time users can enjoy its seamless experience. In that regard, the onboard blade key storage permits users to make fast blade changes without facing unnecessary interruptions.
What Could've Been Better? 
Compared to other circular saws, this unit is slightly bulky, which may not please many users. The additional weight is slightly inconvenient, so it takes adjusting to this change. Besides, we feel that the manufacturers missed a trick by not including LED lights, which would've increased safety in dimly lit environments.
Pros
Removable auxiliary handle

Onboard blade key storage

Fast blade changes

Cutting capacity of 339 linear feet

Easy to control
Cons
No LED lights

Slightly bulky
Another fantastic option for DIY enthusiasts and professional woodworkers is this model from Genesis. The powerful motor coupled with the sufficiently high rotations per minute allows you to complete work quickly. As a result, this saw has generated substantial buzz in the market, leading to a positive response from customers. 
Why Did We Like It? 
Right off the bat, we noticed the four amp motor that produces 3,500 rpm for quickly cutting through various materials. Not only does it reduce work time, but this versatile unit has 24 teeth, delivering nothing but clean cuts. As a result, it produces a similar performance to that of a larger saw, making it highly popular. 
Coming to its other attributes, you'll see that the barrel grip allows single-handed operations, highlighting its user-friendliness. This helps reduce stress in the workshed while ensuring you've maximum control over your projects. Similarly, the depth and bevel adjustments prove useful for working from different angles to make various cuts. 
Moving on, the manufacturers have also added a spindle lock for improved stability and fast blade changes. It keeps you safe and holds the material in place so that the blade doesn't wobble.
What Could've Been Better? 
Despite its many quality functions, users faced problems attaching the hose. Also, after successfully attaching it, we found this product tends to overheat on occasions, which isn't ideal. So, remember to take breaks and allow the machine to cool down to get the desired results. 
Pros
Spindle-lock

Barrel grip

Single-handed operations

Depth and bevel adjustments

Saw has 24 teeth
Cons
Difficult to attach the hose

Overheating
We're progressing fast and have reached the halfway point in our guide. Next up is the TECCPO Saw, which has quickly climbed the charts to rank among the most popular units available out there. We assure you'll get nothing short of the best.
Why Did We Like It? 
It has several fantastic functions but first, let's look at the 4.8 amp copper motor, delivering one of the highest cutting capacities going around. With this motor, the blades turn at 3,700 rpm to cut through aluminum, tile, plastic, flooring, and wood in one smooth motion. 
The designers have included three different types of blades for tackling a wide range of projects. And it's not difficult to make swift blade changes, allowing you to adjust according to the demands of the job. 
Other than that, it has a laser guide supported by a 7-inch scale ruler, ensuring you can work fast without compromising on accuracy. Irrespective of whether users want to make straight or angled cuts, this saw delivers the desired output. What's more, for safety, it comes with a double-safety switch, preventing accidental starting.
What Could've Been Better? 
For first-time users, unclear instructions pose a serious problem during installation. Elderly individuals have found it challenging to understand the steps, which doesn't reflect well on this model. So, TECCPO needs to make the necessary adjustments and detail the steps in an uncomplicated manner. 
Pros
Laser guide

Three types of blades

Fast

Versatile

Ergonomic handle
Cons
Poor instructions

Takes time assembling the unit
At first glance, the Makita Saw may not be eye-catching, but there can be doubts regarding the performance. It delivers a power-packed output, making it a favorite among buyers. But it also focuses on other aspects, ensuring this is an all-round model suitable for handling various tasks.
Why Did We Like It? 
At the very outset, you'll notice that this model produces 1,500 rpm, thanks to the built-in motor. While the number of rotations is less than other models, it's still a highly powerful saw that delivers fast cuts. 
You get a maximum cutting depth of one-inch while working on different materials, thanks to the 3-⅜-inch blade. But more importantly, the cutting depth is adjustable due to the improved angle of operation ranging from 45-90 degrees. Hence, you can vary the output depending on the type of task. 
We also loved the tilting base, which has several benefits. Not only does it allow subtle variations, but it also reduces fatigue, permitting you to work for extended periods. Also, users have loved its terrific range, meaning it's suitable for working on plywood, MDF, pegboard, and melamine.
What Could've Been Better? 
Truth be told, the plastic handle is slightly flimsy, which doesn't bode well for this unit. The designers need to increase the thickness of the plastic to solve this issue, providing more reliability. Apart from that, the blade is on the right side, while most units have it on the left. 
Pros
Versatile

Impressive tool kit

User-friendly

Adjustable cutting depth

Cutting capacity of one-inch
Cons
Flimsy plastic handle

Blade is on the left
If you're looking for a powerful unit, it's very difficult to look past the EnerTwist Saw. While the rotations per minute are similar to that of other brands, it's the 4-½-inch blade that makes the difference, proving useful for faster cuts.
Why Did We Like It? 
Of the many outstanding functions, we love its easy maneuverability, so let's discuss that first. This lightweight saw has 50% less volume than a regular model, making it highly convenient to make the necessary alterations. It guarantees improved portability, enabling you to work from different angles. 
The blade measures 4-½-inch with a no-load speed of 3,500 rpm for the best results. As a result, it won't be difficult to cut through wood, soft metal, tile, drywall, and plastic. But the most crucial aspect is that you can work in tight spaces without sacrificing accuracy. 
What's more, the adjustable bevel cutting ensures you get consistent output along with a wide cutting angle of 45-90 degrees. In that regard, both the laser and parallel guide prove useful for precise results and helps you maintain the cutting line. 
Finally, the ergonomic design features an integrated safety switch for greater balance and safety.
What Could've Been Better? 
There are a couple of issues you need to keep in mind. For starters, this model is slightly pricey compared to other saws with similar features. Hence, you need to be flexible with the budget or opt for a different unit. Secondly, while the single-handed operation is convenient, it's difficult to press the safety switch with one hand. 
Pros
Ergonomic design

Integrated safety switch

50% less volume

Easy to maneuver

Portable
Cons
Challenging to press the safety switch

Pricey
The Galax Pro has ticked all the right boxes to rank among the top models in the market. The attention to detail is visible in the carefully designed body and wonderfully crafted functions, giving it an edge over other products. Therefore, most users believe that it's worthy of the investment.
Why Did We Like It? 
People looking for a powerful unit will love the performance of this saw. The 5.8 amp motor offers incredible range and, not surprisingly, produces 3,500 rpm for a smooth experience. It cuts through wood, plastic, plasterboard, and PVC pipes in one go, highlighting its efficiency. 
Coming to its other aspects, we found that the motor separates near the front and rear gravity for maximum comfort. This enables you to work for extended periods without feeling fatigued, while the ergonomic design also allows single-handed operations. 
Now, thanks to the rip guide, users can conveniently maintain the cutting line for precise output in most tasks. Plus, the debris produced during operation is cleared by the built-in dust port and vacuum adapter, making it low-maintenance. So, the workstation remains clean, which saves you the added hassle of cleaning.
What Could've Been Better? 
Although it has solved the usual problems of a circular saw, we found a few disadvantages. The ergonomic design is convenient, but it takes time to get the hang of this unit; you need to change the grip slightly. Furthermore, the motor is noisy, which is frustrating while working for extended periods. 
Pros
Vacuum adapter

Adjustable cutting depth

Single-handed operations

Ergonomic design

Versatile
Cons
Takes time getting used to it

Noisy motor
This latest model from Rotorazer is taking the market by storm, and a closer look at its functions reveals why. It comes with innovative additions not seen in other brands, and understandably most people have liked what it offers. Moreover, it lasts a long time and promises to be money well-spent.
Why Did We Like It? 
The Rotorazer Saw delivers more speed and produces 4,500 rpm along with an output of 500W for handling numerous projects. So, you can cut most materials, including PVC, drywall, hardwood, and carpet with help from its multiple saw blades. 
Moving on, the manufacturers have used tungsten carbide, diamond, and steel to make the saws durable and powerful at the same time. Plus, with innovative additions like the parallel guide rail, users can make accurate cuts without any hassle. It delivers a clear view of the cutting line for better output and safe operations. 
However, the significant improvement is that you can cut in seven different directions, highlighting its versatility. In that regard, the dust port keeps the workbench clean, thereby reducing stress. 
Finally, to keep the components safe for long-lasting performance, this model comes with a blade case, something rarely seen in models from other brands.
What Could've Been Better? 
Like one of the earlier models, this product is slightly costly, which might sow doubt in the buyers' minds. Since price is an important consideration, you might think twice before making the purchase, given the range of units on offer. However, if you can be a little accommodating, this model won't disappoint. 
Pros
Clean cuts

Operational in seven different directions

Long-lasting performance

Accurate

500W output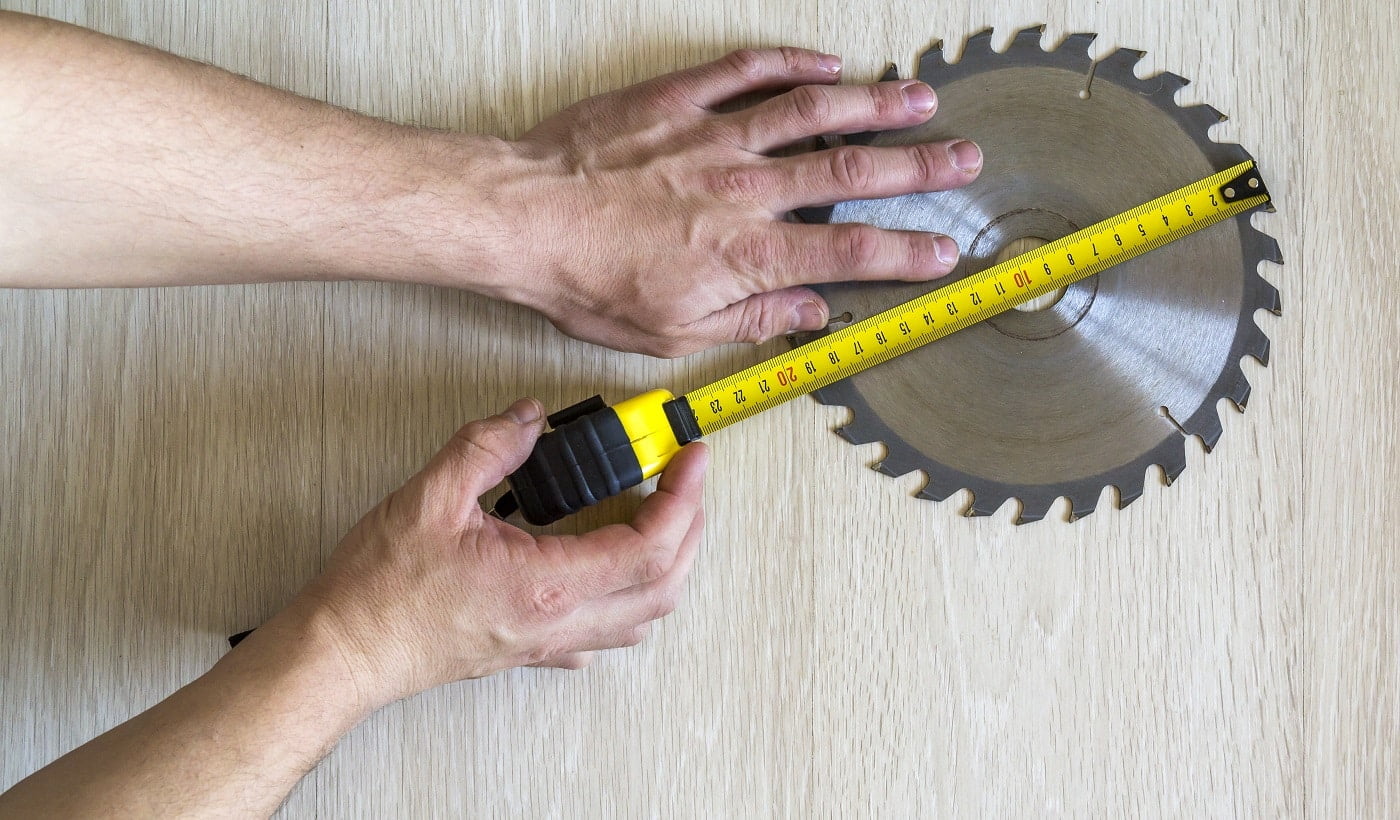 Compact Circular Saw Buyer's Guide 
Now, let's progress to the buyer's guide, where we'll be discussing the essential characteristics of a compact circular saw. 
Durability
Although most modern units are compact, that's no excuse to compromise on durability. The saw needs to be sturdy to handle the demands of work and last a long time for the best results. 
Adjustability
Next, it must be easily adjustable, allowing you to work from different angles, thereby making the saw versatile. In that regard, the bevel adjustment plays an important part in carrying out subtle adjustments depending on the type of job. 
Cutting Depth
Finally, we've to mention cutting depth, ensuring you can work on different materials like wood, plastic, and steel. Also, there must be a way for you to change the depth of cuts from one project to the next.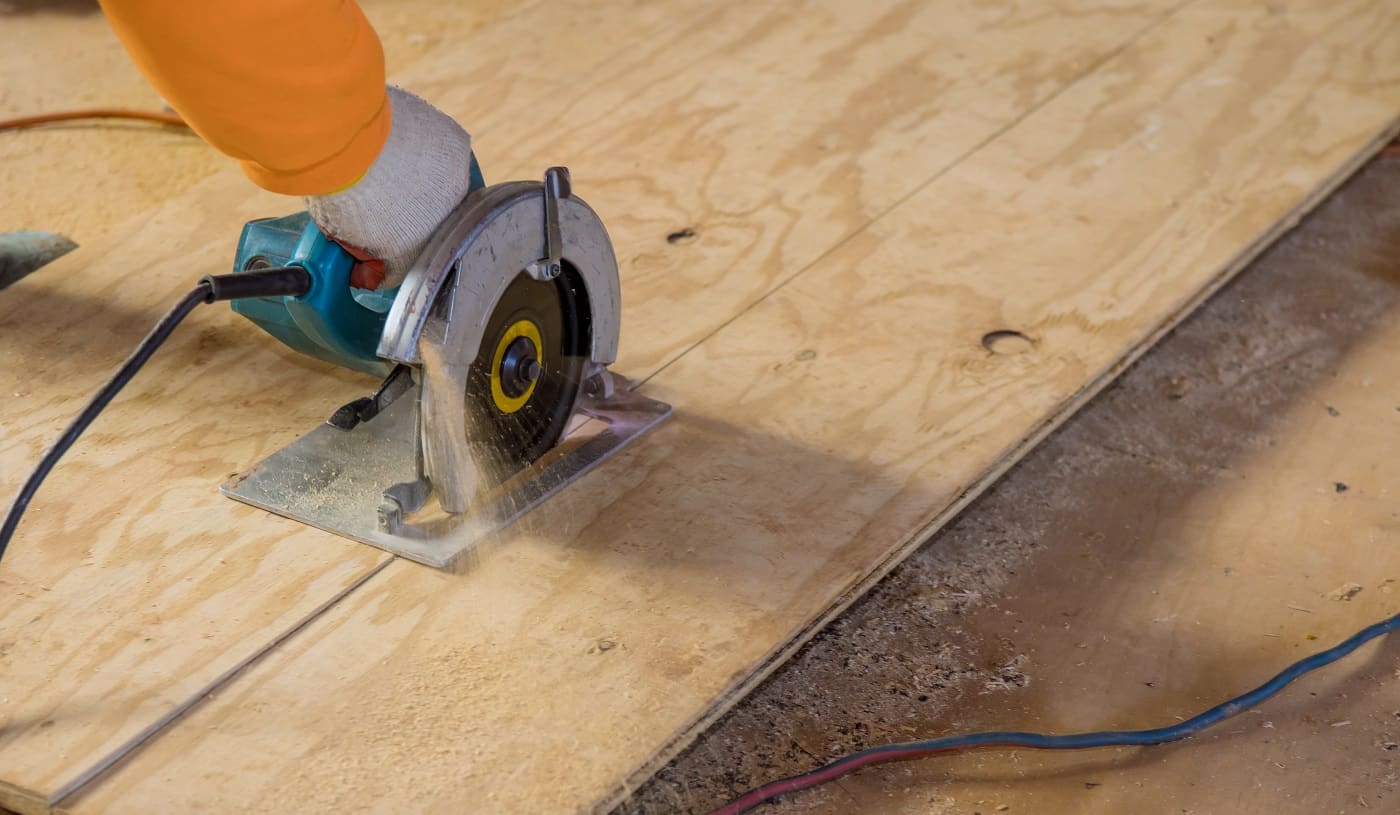 Verdict
Those were our picks for the best compact circular saws, and we hope you found the guide interesting. 
By looking at nine different models followed by the discussion in the buyer's guide, we've tried to offer a comprehensive analysis of this product. But there's one last thing we need to do before signing off. 
To make it easier for you, we've decided to highlight our favorite models in different categories. This will help you understand how to cross-reference the buyer's guide while making the purchase. After carefully reviewing the models, we feel that the WORX WORXSAW is the most balanced unit, delivering consistent results daily. 
Apart from that, the Rockwell Saw is highly powerful while also being low-maintenance, making it user-friendly. That's all the time we've got, but we'll be back with more exciting product reviews. Till then, have fun working on DIY projects with your new circular saw. 
Until next time. Adios!
Related Articles
Different Types of Saws & How to Use Them 
13 Best Screwdriver Sets on the Market Today
13 Best Wood Routers for Professionals & Amateurs Alike
Simply the Best Stained Glass Ring Saws  
49 FREE DIY Router Table Plans For an Epic Home Workshop
11 Best Angle Grinders on the Market Today
13 Best Chainsaws for the Money  Reviews & Guide
Top 10 Longest Pole Saws For Tree Pruning 
13 Best Tile Saws  | Buyer's Guide
11 Best Sliding Compound Miter Saws
9 Best Hybrid Table Saws Under $1000 
11 Best Budget Bandsaw Reviews 
11 Best Dry Cut Metal Chop Saw
11 Best Bow Saw | Reviews + Buyer's Guide
11 Best Table Saw [Reviewed & Buyer's Guide]
7 Best Cabinet Table Saws [Reviewed & Buyer's Guide]
9 Best Band Saw [Reviews & Buyer's Guide]
7 Best 12-inch Miter Saw Reviews [Buyer's Guide]
11 Best Chainsaw for Milling Lumber | Buyer's Guide
5 Best Stihl Chainsaws [Reviewed & Buyer's Guide]
9 Best Sanders for Deck Refinishing [Buyer's Guide]
11 Best Table Saw Fences [Reviewed & Buyer's Guide]
DeWalt DW735X Planer Review [Should You?]
Bosch 4100-10 Jobsite Table Saw [Reviewed]
Hack Saw Vs Bow Saw [All You Need to Know] [Explained]
How To Sharpen A Bow Saw And Bow Saw Maintenance
6 Sabre Saw Vs. Jigsaw [All You Need to Know]