Pulling out the iron every time fresh clothes are needed is a nuisance you can do without! Here's where a clothes steamer comes to your rescue.
With a steamer, you can polish your outfit in no time. Not just your clothes, but you can also give the curtains and household textiles a crisp look without needing to pull them down. Furthermore, it is ideal for smoothing out soft and delicate fabrics without scorching them.
Well, the trouble here is that the market is full of low-quality steamers, which will make your job more difficult than comfortable.
However, do not fret! We have compiled a list of the nine best clothes steamers on the market. We have also gone one step further and included a buyer's guide to help you make the best choice.
So, without further delay, let's get started.
Best Clothes Steamers 
IMAGE
PRODUCT
DETAILS

Our Top Pick

Our Top Pick

Hilife HL7 Steamer

240ml tank capacity
Small and compact design
15 minutes of continuous steaming

VIEW LATEST PRICE →

Polardo Steamer

Perfect for all fabrics
Sleek design
Works both vertically and horizontally

VIEW LATEST PRICE →

Beautural 722NA-0001 Steamer

Water tank capacity of 8.79 ounces
Fast heat-up technology
Auto-off when overheated

VIEW LATEST PRICE →

OGHom Steamer for Clothes

Sleek design
Lightweight
Easy to hold

VIEW LATEST PRICE →

The Conair GS23 Steamer

Three removable attachments
Dual heat settings
Kills bacteria and dust mites

VIEW LATEST PRICE →

PurSteam  PS-937 Steamer

Safety cap for burn prevention
4-level steam adjustment
Sturdy

VIEW LATEST PRICE →

MagicPro Travel Steamer

Heats up in less than 25 seconds
Leak-proof technology
Can be used on all fabrics

VIEW LATEST PRICE →

PurSteam PS550PW Steamer

InfaTherm heating technology
BPA-free ABS/PP
8ft long cord

VIEW LATEST PRICE →

Rowenta IS2461 Garment Steamer

45-second heat-up time
Dual-level steam
1.5 liters water tank

VIEW LATEST PRICE →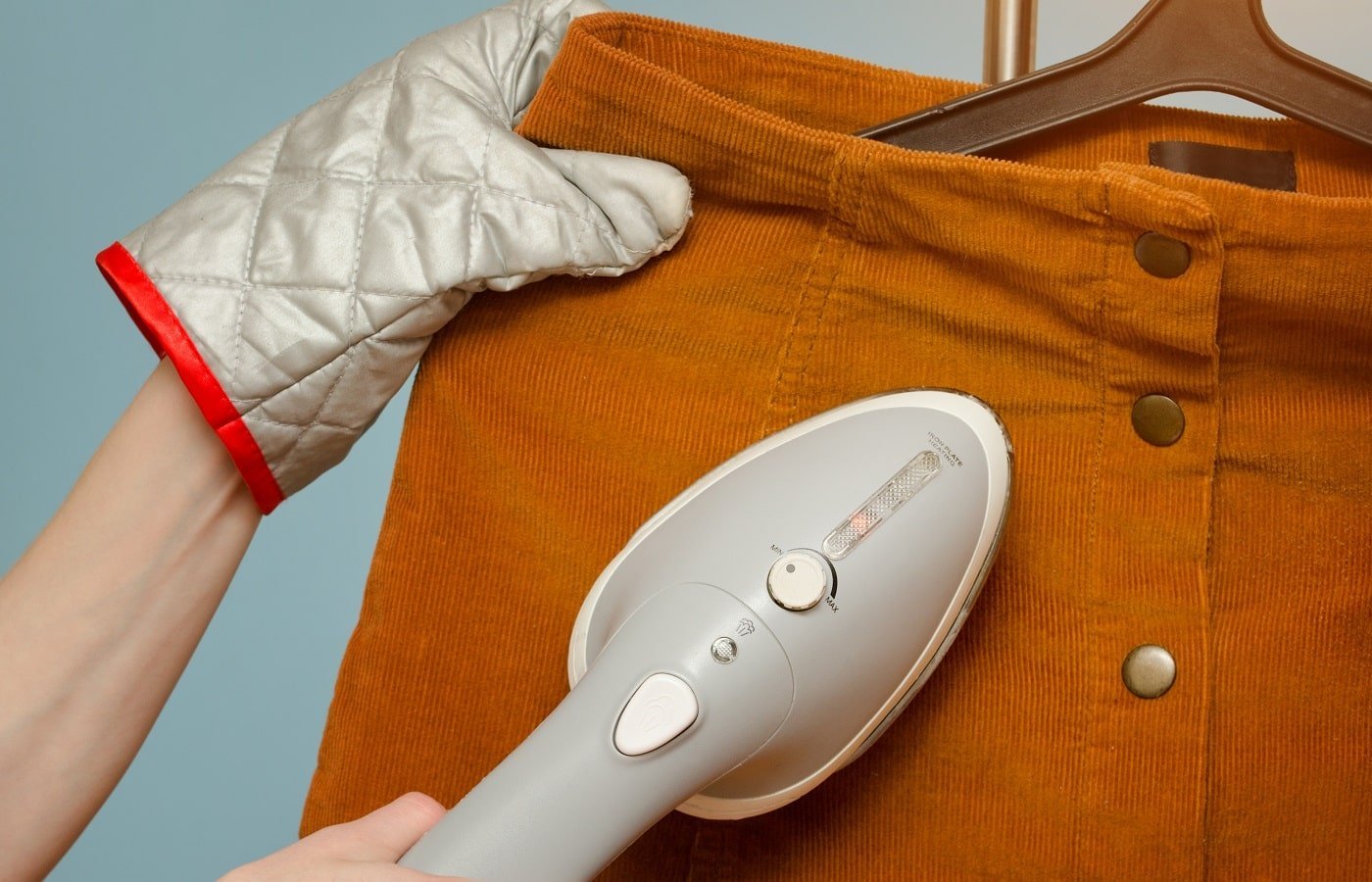 One of our top recommendations is the Hilife HL7 Steamer. It is the perfect choice if you are looking for an easy-to-use, lightweight steamer. Its design might be simple, but it gets the job done effectively. Given below are a few salient features of the product.
Sale
Why Did We Like It?
The most attractive feature of this product is its design – it is small, stylish and can easily fit in a suitcase. The top is detachable, which allows further mobility, and it is lightweight, standing at just 1.7 pounds.
Furthermore, it comes with a measuring cup with a 240ml capacity, and we do not need to take the steamer to the sink. Despite its small size, the water reservoir is huge, and the cup does not require frequent refilling. It heats quickly, and we can steam quite a few garments before refilling.
Moving on, the Hilife steamer has some excellent reviews that can vouch for its efficacy. It is a powerful machine that can smooth out the wrinkles on even the toughest of garments. With this steamer, we can iron out something as difficult as curtains with ease. What makes it even easier to use is its 9ft long cord, which can help us iron clothes from a distance.
That's not all; it comes with a brush attachment that keeps the clothes in a proper condition. It automatically powers off when overheated, which is a boon as accidents can be avoided.
Lastly, its affordable price makes it perfect for anyone trying out a steamer for the first time.
What Could've Been Better?
This item has a few minor drawbacks. The steamer spills water if we do not place it in a vertical position. Also, if you require quick results, this steamer might not be the ideal choice for you, as it consumes some time.
Pros
Affordable price

Easy to use

Portable

Long cord
Cons
Can be used only vertically
For people looking for a powerful steamer, the Polardo hand-held steamer is the perfect pick. It is hassle-free and does the job with ease. Read on to know all the deets about this excellent product.
Sale
Why Did We Like It?
The Polardo 2019 steamer is quite an efficient device. It comes with a metal steelhead and advanced heating element, which ensures great reliability and performance. Its anti-slip design and electronic pump allow it to be used from any angle, without the threat of water leaking out.
Moving on, the device heats quickly and runs for a smooth ten minutes before it requires a refill. When paused, it works immediately after we have powered it on. Speaking of refilling, its water tank has a Nano Polymer Filter that prevents the build-up of mineral deposits and increases the overall service life.
In addition, It comes with an automatic shutdown feature and turns off if not used for over five minutes. This makes the product great for households with kids.
Finally, it is feather-weight, standing at a mere 1.2 pounds, making it very easy to carry around. So, it can easily be accommodated in a travel case and taken around on all your trips.
What Could've Been Better?
Despite its brilliant performance, the product had one small drawback. The water tank has a mere capacity of 4Oz, which is not large enough and needs frequent refilling. This can be a tedious task.
Moreover, we cannot use it with a voltage converter, so that can be a hindrance as well.
Pros
Heats quickly

Can be used from any angle

Super lightweight

Can get the wrinkles out with ease

Automatic shut-off feature
Cons
Small tank capacity

Short cord length
Next up on our list, we have the Beautural Steamer. It is detachable and comes with three additional attachments – lint brush, soft brush, and creaser. But that's not all there is to it; read on to know what makes this product worth your consideration.
Sale
Why Did We Like It?
Who doesn't like an easy-to-use product? The Beautural 722NA-0001 steamer comes with a leak-proof and spill-proof design, which enables steaming both vertically and horizontally.
It has a powerful steam output, which smooths out the wrinkles on your clothes or drapes with ease. The constant pump steam technology is a great addition too, and the button does not need to be pushed constantly.
Furthermore, its fast heat-up technology saves a lot of time, and you do not have to worry about burning your clothes or leaving stains behind.
Also, it has a detachable 8.79-ounce water tank and can last for a reasonable amount of time without requiring refilling—the steamer works for a good 15 minutes without any interruption.
Not to forget, it comes with various brush attachments and is safe to use on all types of fabrics. You can steam your clothes, curtains, cushions, and much more with this.
What Could've Been Better?
The Beautural Steamer has certain minor shortcomings. It weighs over 2 pounds and is not quite travel-friendly.
Moreover, it does not come with a water filter, and we must use only distilled water to avoid calcification. Lastly, attaching different attachments for different fabrics can be a tedious task.
Pros
Large water tank

Fast heat up

Extra-long power cord

Safe for delicate fabrics
Cons
Only distilled water can be used

Not very portable
Next up, is the OGHom Steamer for Clothes, which has a rather simple design but gets the job done efficiently. What makes it even better is that it comes with a three-year warranty.
Why Did We Like It?
The OGHom Steamer is a great unit overall. It comes with a stainless steel heating panel, which allows the product to have a very long life-span due to steel's anti-rust and anti-oxidation properties.
Moving on, the steamer comes with a 9.2 ft long cord, making it easy to move around and allowing us to steam clothes from a distance. If that isn't good enough for you, the device is multifaceted – it can be used on clothes, drapes, furniture, and much more.
In addition, it has a 240ml water tank capacity and powerful steaming technology that takes less than two minutes to generate powerful steam. Once heated, the steamer produces 15 minutes of continuous steam before needing a refill.
It also comes with a heat-resistant nozzle, thermostat control system, and an overheating protection system – so those are some pretty significant additions for heat protection.
Finally, the steamer's lightweight design makes it an excellent traveling companion.
What Could've Been Better?
We are quite satisfied with the features of this product. However, it is only compatible with 120v US outlets, which might be a problem for people who travel outside of the United States frequently.
Moreover, it takes quite some time to smooth out thicker fabrics. So, if steaming thicker fabrics frequently is the goal, this product might not be the ideal choice.
Pros
Compact and portable

Affordable

Quickly heats up

Long cord
Cons
Compatible only with 120v US outlets
The Conair hand-held fabric steamer gives us a professional finish, without needing to opt for dry cleaning services. It comes with a dual heat technology that can handle most fabrics, from delicate silk and satin to heavy cotton and wool.
Sale
Why Did We Like It?
The Conair steamer comes with dual heat technology, which produces super high heat and concentrated steam. This allows it to penetrate heavier fabrics and smooth out even the most stubborn wrinkles with ease.
It needs just over a minute to heat up and produces solid steam for 15 minutes before requiring a refill. Due to its dual heat settings, the steam produced for delicate fabrics is lower than that produced for heavier fabrics. Also, it has a steam lock feature for continuous steaming or steam pausing.
In addition, it kills 99% of dust mites, bed bugs, and bacteria.
Moreover, it comes with three removable attachments-fabric brush, soft cushion brush, and creaser. This keeps your upholstery, garments, home textiles, and drapes fresh and smooth.
To conclude, it comes with an easy-to-remove water tank and a 9ft long power cord for safer steaming. Talking about safety, it also has a green indicator light that lets us know when the product is ready for use.
What Could've Been Better?
There is nothing much to complain about when it comes to the Conair hand-held steamer. Possibly the only drawback is that it weighs nearly three pounds, which makes it difficult to carry around.
Pros
Convenient steaming technology

Can handle different fabrics

Sanitizes clothes as well

Removable attachments
We are half-way through our list and the next product is the PurSteam PS-937 Steamer, with its quick and effective wrinkle-removing technology. The assembly is very easy, and it is much more affordable than its counterparts in the market.
Sale
Why Did We Like It?
The PurSteam PS-937 Steamer is the classic upright steamer. It is designed to produce continuous steam and comes with a powerful heat technology as well.
It comes with various attachments-deluxe clothes hanger, woven hose, fabric brush, removable water tank, steam nozzle, and durable handle. All these attachments work together to provide us with a comfortable and efficient steaming experience.
Besides, it comes with job-specific attachments to enable detailed steaming as well. This is particularly helpful in a professional setting, like a boutique, where a large number of outfits need frequent steaming.
Adding on to its features, we've a safety cap that locks the water tank when there is steam or hot water inside and thereby prevents burns. Kudos to the company for this feature!
Finally,  it is much cheaper than some other steamers with the same features and comes with wheels for easy movement. All of this makes it a must-have ironing accessory.
What Could've Been Better?
The PurSteam hand-held steamer is quite efficient. However, the instruction manual it comes with is very vague, which can make the initial operation difficult.
Also, the cord is just 5ft long and the handle tends to get a little hot during use, so we need to operate it with care.
Pros
Powerful steam technology

Highly functional

Lightweight and easy to use

Affordable

Water-tank lock technology
Cons
Not travel-friendly

The cord is quite small
The MagicPro Travel Steamer is sure to win over users looking for a fast, convenient, and lightweight portable steamer. With highly positive reviews, it is a favorite among buyers. But what makes it so good? Read on to find out…
Sale
Why Did We Like it?
To begin with, the MagicPro Travel Steamer allows us to steam much more than clothing. It can be used on sofa cushions, upholstery, household textiles, and all types of fabrics.
Additionally, it heats in just 25 seconds and helps get wrinkles out of clothes and fabrics quickly and efficiently. Despite its low heating time, the steam lasts for a good 15 minutes and can be paused as well.
Going further, it comes with an electronic pump system that does not allow the steamer to spill or spit out water. This is fantastic as it lets the unit be used both vertically and horizontally.
This unit is designed with proper security measures in mind. The automatic shut-down feature powers off the steamer when it overheats or when the water level is insufficient. This is great for preventing any accidents.
Finally, it is small and easy to handle.
What Could've Been Better?
The item can be a little large, weighing 2.9 pounds, for traveling purposes unless we have plenty of room for luggage. Moreover, the cord is not long enough, which is likely to be an inconvenience.
Steaming the heavier fabrics might take some time and require frequent water tank refilling.
Pros
Time-saving

Doesn't spit out water

Ergonomic design

25 second heat-up time
Our next recommendation is the PurSteam hand-held steamer. It is a multi-purpose steamer designed for an easy and fast experience. It removes wrinkles, sanitizes, cleans, and refreshes your fabric-all of it with the utmost care and ease.
Sale
Why Did We Like It?
Who doesn't appreciate something that makes life easier? PurSteam portable steamer weighs merely 2 pounds and can fit into a travel-case with ease. So, you do not have to worry about getting wrinkle-free garments on your trips.
Also, it takes barely 25 seconds to heat up and provides 10 minutes of continuous steam. Despite its powerful InfaTherm heating technology, it does not get overheated and is safe to use on all fabrics-be it clothes, plush toys, curtains, sheets, or upholstered furniture.
Apart from that, it can smooth out even silks and other delicates without any hassle, while also sterilizing and refreshing them for your use.
The steamer automatically shuts down when the water tank is empty, thereby preventing the unit from overheating. This is a great safety addition along with its 8ft long power cord, which lets you steam from a distance as well.
What Could've Been Better?
You might wonder what possible flaw this almost-perfect product might have? Well, for starters, the water tank has a mere capacity of 130ml, which means the steamer will require frequent refilling.
Moving on, since it's small, it might take a while before you get wrinkle-free drapes or bed sheets.
Pros
Powerful steam technology

Highly functional

Lightweight and easy to use

Auto-shut technology
We will be ending our list with the Rowenta IS2461 Garment Steamer. It is considered ideal for people who are looking for something efficient and easy to use. It is particularly useful if you need to steam a large number of clothes or need your upholstered furniture and drapes to be in perfect condition at all times.
Why Did We Like It?
Just because we placed it last does not mean that the product isn't one of our favorites. It comes with a 1.5 liters water tank that can easily provide up to 40 minutes of continuous steaming. That sounds incredible, and all the time spent refilling the water tank can be saved.
What makes it even better is its versatility. Not only does it smooth out wrinkles on clothes, but it can also be used efficiently on sofa covers, sheets, and curtains. Besides removing the wrinkles, it also deep-cleans and sanitizes these items.
Moreover, it is perfect not just for intensive steaming sessions but also for last-minute touch-ups, as it takes merely 45 seconds to heat up.
Lastly, it emits 37g of steam per minute and comes with a large metal steam head. This enables the steamer to remove creases on all fabrics with precision and ease.
What Could've Been Better?
The Rowenta Steamer is not portable, weighing around14.3 pounds. So, if you're looking for something lightweight and travel-friendly, this might not be the perfect pick for you.
Going forward, another drawback is that the water hose and steam handle tend to get hot, so you must be careful while operating the steamer.
Pros
Allows long steaming sessions

High precision technology

Doesn't spit out water

Powerful 2-level steam technology

Heats quickly
Cons
Not portable

No auto shut-off technology
Clothes Steamer Buyer's Guide
Now that you know all about the 9 Best Clothes Steamers, it will be much easier to narrow down on a single one. If you are still confused, do not worry. Buying the perfect steamer is a difficult decision, and a lot of factors need to be considered.
We have compiled a list of essential features that you must look for in your clothes steamer. Read on to know more.
Types Of Steamers
Before investing in a particular steamer, you must know the two available different types- the hand-held or compact steamers and the professional or home-based steamers. The compact steamers, as their name suggests, are portable and lightweight. They are ideal for people who travel a lot and are less expensive than their home-based counterparts.
Professional or home-based steamers have a bigger water tank and are meant for steaming a large number of items.
Features
Another factor you need to consider is the features that come with your clothes steamer. Some products have auto shut-off feature, quick heating technology, powerful steam emission, anti-leak proof technology, and so on. It is crucial to chalk out your needs and carefully go through the features of all the options we've given you. Choose one that ticks off all the requirements on your list.
For example, the automatic shut-off feature is crucial. This feature shuts off the steamer when it's not being used for a while or it has run dry. This preserves the motor from damage and also serves as a safety feature.
Similarly, heating time is another essential feature that you need to look into. Some steamers heat up quicker than others, and your work can be done easily. You should go for a steamer that will reach the required temperature quickly.
Attachments
Clothes steamers come with numerous attachments. Some have a creaser, while others have separate brushes for different fabrics, while others have a lint-free brush and soft brush. Try to understand what will be of most use to you and purchase accordingly.
Water Tank Capacity
The water tank capacity of a steamer determines the time it will take to ease out wrinkles. Portable steamers have low water-tank capacity, which lasts a little over 10 minutes, and need frequent refilling.
This means they take significantly more time to smooth out the creases. Home-based steamers have an enormous water tank and can work for 45 minutes or more without refilling. This allows them to smooth out wrinkles in one-go.
Ease of Use
The whole purpose of buying a steamer is to eliminate the difficulty of using a steam iron and pulling out an ironing board. So, carefully look into each of the steamers mentioned above variants and determine how easy they are to use. We have included their weight and other allied features that will help you decide.
Some other factors to look into are whether it has a sufficiently long power cord, whether the water tank is detachable, and whether it is sufficiently lightweight to operate in the case of hand-held models.
Once all these factors have been taken into account, you can easily choose a steamer that comes with ease of operation.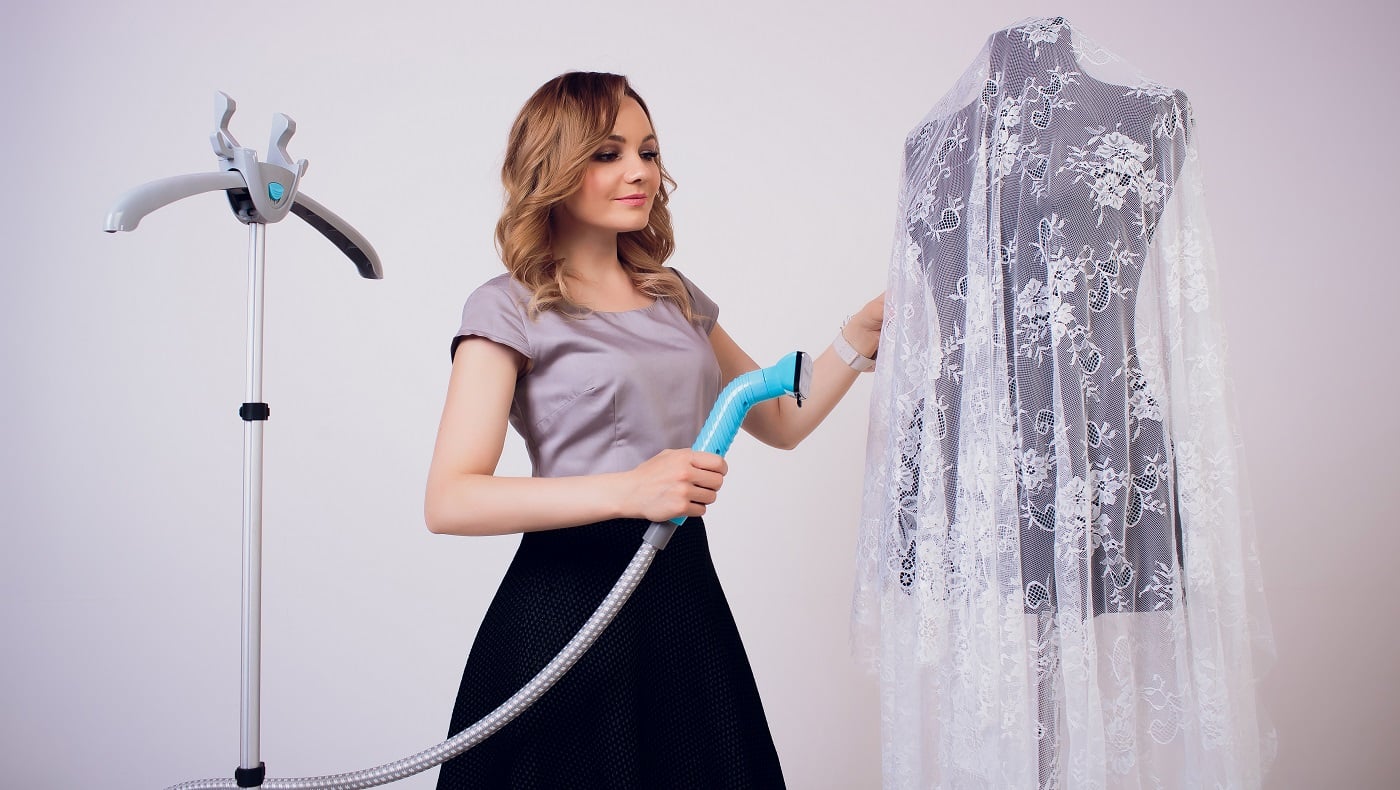 Verdict
Steamers can do a lot more than a simple steam iron can – keep outfits wrinkle-free, kill bacteria and dust-mites, remove the stale smell of clothes, and refresh your upholstery and curtains without removing them.
A clothes steamer has numerous functions and is an excellent tool to invest your hard-earned money in. It is quicker than a steam iron and is the perfect travel companion. Moreover, it works wonders on clothes made of softer or delicate material, and on other items that are difficult to press using a traditional iron.
While each of the options we have chosen for you is great, here's a quick recap of our favorites. The best overall are the Beautural 722NA-0001 Steamer and the Conair GS23 Steamer, with their fast heat-up technology and affordable pricing. When it comes to home-steamers, we love the Rowenta IS2461 Garment Steamer, ideal for intensive and professional steaming.
With that, we'd like to take your leave. Hope we've been of help!
Related Articles
11 Best Upholstery Steam Cleaners