The kitchen sees a lot of traffic throughout the day. Not to mention the high amount of grease and moisture that is present in the air.
This can lead to grease marks and water spots on kitchen cabinets, spoiling its entire appeal. To prevent this from happening, you can cover the furniture surfaces with a layer of clear coat. 
It will help preserve the shine and you get to choose from the different kinds of finishes. Once you have used this, the kitchen furniture will last for a long time, and you need not worry about them losing their shine or corroding.
Now we understand that making a choice can be difficult; hence, we curated this list of the top 10 clear coats. We have also added pros and cons for each to make the decision easier for you. This is then followed by a comprehensible buyer's guide. 
So, what are you waiting for? Dive in! 
Top Clear Coat For Kitchen Cabinets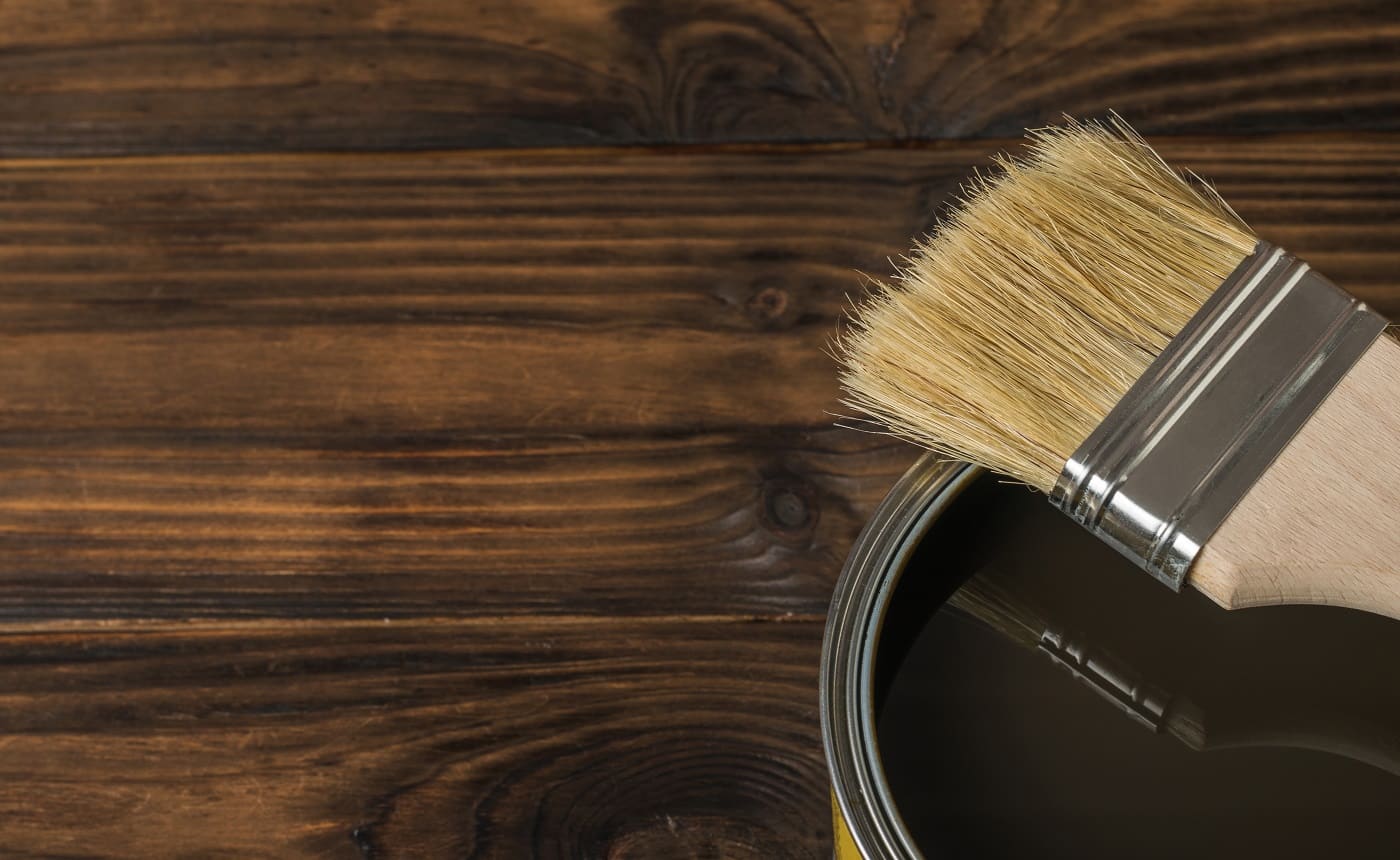 If you want to protect and preserve all your wooden surfaces, then the Minwax Polycrylic Finish will work incredibly well. It is a water-based wood stain that works perfectly on dark and light-colored furniture. You can rest assured that they will look like new for a long time.
Sale
Why Did We Like It?
First of all, this is an ultra-fast drying formula that will make the process less time-consuming. After application, we had to wait for just 2 hours before applying another coat. This enabled us to finish the entire project in a day.
Plus, being a water-based formula; you can easily clean it up. All you will need is soap and water, and that should do the trick. 
Moving on, the brand offers a great number of variants that you can choose from. This includes matter, gloss, semi-gloss, satin, and the ultra-flat type. Whichever you choose, the formula will ensure that the cabinets do not turn yellow. It also has low odor, which will not bother you while drying. 
What Could've Been Better?
The only issue with this product is that it comes in a small can while the costs are high. This makes it an expensive option, and many people are unable to afford it, especially when they have to work on a large number of cabinets. But if you have the liberty of spending a few extra bucks, then this will be a great option for sure. 
Pros
Ultra-fast drying

Does not turn yellow

Works with all wooden furniture

Easy to clean
One of our top recommendations is the General Finishes Top Coat GAHSG, which is known for its sheer durability. It will offer complete protection for high-wear surfaces and will ensure that you do not have to replace them within a few years. We have used it for interior work on a large scale, and it has worked well.
Sale
Why Did We Like It?
The formula involves a hybrid of acrylic technology and urethane. This is the secret behind its toughness and the fact that it is durable. Plus, it is water-based and easy to clean up; you can use a wet cloth to wipe it clean. 
Moreover, this product is known for its superior performance and dries very quickly. You will love the semi-glossy finish that it provides. 
We were able to finish working on all the kitchen cabinets within half a day, thanks to this. But we will recommend leaving it for an additional day so that it dries completely. 
Further, one very important quality is that it does not catch fire and is completely non-inflammable. This makes it safe to use in kitchens where you will be lighting up the gas very often. We found this to be the perfect alternative for normal lacquer, which can be flammable at times. 
What Could've Been Better?
Remember to not apply excess paint in any of the parts. In case you have, wipe it away immediately, and that should take care of the problem. A thick layer could make the surface partially opaque, and that does not look attractive. But if you take the necessary precautions, then there is nothing to worry about. 
Pros
Semi-glossy finish

Known to be very durable

Dries quickly

Does not catch fire
Cons
Excess paint creates an opaque layer
Do you wish to have a factory-like finish on your bathroom and kitchen cabinets? The INSL-X CC560109A-01 Cabinet Coat will help you achieve just that with its ultra-smooth performance. You will love the wide range of bells and whistles that are offered.
Why Did We Like It?
The best part about using this item is that it has super adhesion qualities. While some options would not sit on hard-to-coat surfaces well, this one poses no such problems. There is no patchiness that we noticed and a smooth layer was formed on application. You might need more coats but rest assured that the job will be done. 
Moving on, the kitchen sees a lot of greases as you are going to cook with different types of oil. Now the grease can settle on cabinet surfaces, making them look unattractive and old. But this formula will protect your cabinets and will prevent grease accumulation and chipping over time. It also resists scuffing and any kind of food and water stains. 
Plus, this will provide you with a semi-gloss professional finish that will not stand out too much and will fit well. It works excellently with furniture of all colors. 
What Could've Been Better?
The only issue here is that the process can be time consuming. You will have to apply multiple coats for the perfect finish, and that takes time. We will suggest doing it over a weekend when you have sufficient time in hand. Remember to leave enough gaps in between for it to dry. 
Pros
Works on different kinds of surfaces

Resists grease and chipping

Super adhesive power

Provides professional finish
Up next is a quick-drying formula that will keep all your surfaces protected. The Varathane 200041H is for those who are extremely busy in their lives and want something that can be applied in the least amount of time. This will provide you with a polished look that will add more charm to your kitchen.
Why Did We Like It?
First of all, this product is perfect for all kinds of indoor furniture that includes windows, doors, trims, cabinets, and other furniture. You can apply this to furniture in all rooms, and it will protect the surfaces from scratches and scuffing. 
Next, it is a water-based formula that dries to touch within 30 minutes. You can attempt to recoat after 2 hours, and you are done! 2 coats should be sufficient enough to protect your cabinets. Also, one pack can cover an area of 125 square feet, and that turned out to be cost-effective. One pack should be enough to cover cabinets in one room. 
Moving on to the finish, this will provide a glossy finish that looks beautiful and clean. It will add more sophistication to your room, and the furniture will look new for longer. 
What Could've Been Better?
When we received the first product, the can was completely damaged. Yes, it was not leaking, but the can was in bad condition. This happened because of inefficient packaging, and we wish that the brand would look into the matter. However, the product itself was unharmed, and hence we will not be holding it as a drawback. 
Pros
Dries within 2 hours

Resistant to stains and scratches

Covers an area of 125 square feet

Provides a clean and polished look
Now that we have reached the middle of this list, it is time to introduce the Rust-Oleum 242057 Paint. This is perfect for both indoor and outdoor use, and that makes it beneficial for home projects. You will be getting a semi-glossy finish that will protect your furniture and will make them look good.
Why Did We Like It?
You can use this product on a number of different surfaces, including plaster, metal, wood, masonry, and unglazed ceramic. This covers almost all kinds of materials that you see around the house. 
What's more, it is resistant to UV rays and will protect your furniture from turning yellow due to prolonged exposure to the sun. You can coat your porch furniture or outdoor cooking equipment with the formula. The backyard grills will look like new for longer, thanks to this. 
Next, this is known to dry quickly and will dry to touch within 30 minutes. You can cover an area of 120 square feet with 1 pack, and that is cost-effective too. This will not burn a hole in your pocket at all. 
Just remember to sand all the surfaces with 180/200 grit sandpaper before beginning to coat them. Clean it with a degreaser too and dry it completely before beginning. 
What Could've Been Better?
We found that this paint has a very thin consistency. Now it does help in drying up faster, but you will need multiple coats to achieve the desired effect. If it was slightly thicker, then 2 coats could have been enough to cover cabinets well. 
Pros
Can cover 120 square feet

Dries quickly

Cost-effective

For indoor and outdoor use
Up next, we have a product that is easy to apply. The Minwax 60910000 is an excellent option for beginners or DIY enthusiasts who are doing this for the first time. You can achieve a beautiful satin effect that adds much needed charm to your cabinets and trims.
Why Did We Like It?
While this is easy to apply, it provides a hand-rubbed look that is attractive. You will see no brush marks or drips anywhere on the surface, and it levels itself to provide a smooth finish. 
Next, this is specifically made for wooden cabinets and trims and will protect them against water and food stains. We also found that household chemicals do not lead to yellowing of surfaces after applying this. 
Coming to the solution, this consists of an oil-based polyurethane which is of very high quality. It will stick to the surface well and will provide a satin finish. The brand also offers a glossy alternative if you prefer that.
Plus, this will provide a clear and durable finish without any brush marks or drips. We used it for railings too, and it has worked out well.
What Could've Been Better?
Although it is resistant to water and will not let it affect the surface, if you don't wipe watermarks away, they remain. These do not cause any problems but will look unattractive. So, we would suggest that you wipe the surfaces once in a while or if water is spilled. 
Pros
Durable and clear finish

Hand-rubbed look

Perfect for wooden cabinets

High-quality formula
If you were looking for a low odor formula that will not cause your kitchen to stink, the Nuvo Cabinet Paint would work well. It is available in the form of a 31 fluid ounces can and can take care of a considerable area. Your kitchen will look fresh and clean for longer, thanks to this.
Why Did We Like It?
The product is sufficient enough to cover 20 linear feet when it comes to cabinets. Otherwise, you can coat 50 square feet with it. This should be sufficient enough to cover all the cabinets in a small sized kitchen. 
Next, this is a water-based acrylic formula that has low VOC and low odor. It can be easily used around kids and pets. Just prevent them from touching the surface while it is wet. Also, it is completely safe to use in the kitchen, and it does not have toxic properties. 
Once you apply the paint well, leave it for 4 hours and check if it has dried completely. Then apply another coat and let it remain for a day. We will recommend not cooking inside the kitchen till the surfaces dry off completely. This will prevent any particles from getting stuck in the drying layer.
What Could've Been Better?
We found that the product has a slight milky tint which might make dark colored furniture look lighter. This may change the look, and hence we would recommend not using it for dark colors. On the other hand, if you have light colored cabinets, then this will fit well. 
Pros
Water-based formula

Dries in 4 hours

Low VOC and odor

Resistant to marks and scratches
Cons
Not suitable for dark surfaces
The next option is perfectly suited for indoor use and can be used for paneling, cabinets, and doors. We were very happy with the Watco 63041 Lacquer and the kind of finish that it provided. Give your kitchen the shine that it deserves with this in the house.
Why Did We Like It?
This product is specifically known for the convenience that it offers. While for most options you will first have to sand the surface between coats, here, you won't have to do that, saving a lot of time and effort. You will not even need any kind of wood fillers and that will help in saving money. 
Moreover, it will dry to form a crystal clear layer, and that will last for a long time. If you use the coat on white or pastel-shade furniture, there will be no form of discoloration over time. 
Plus, it takes very little time to dry. The layer should be dry-to-touch within half an hour. Just leave it for another 1.5 hours, and you should be able to apply another coat. 
What Could've Been Better?
While this works well for interior surfaces, the product is not suitable for outdoor furniture or flooring. After all, it's not UV-resistant and may lead to yellowing of the surface over time. So, while we will be recommending this for the kitchen and rooms, refrain from using it on outdoor trims or wooden surfaces. 
Pros
Dries within 2 hours

Covers 290 square feet

Protects against scratches

Cost-effective
Cons
Not for exterior surfaces
Now that we are nearing the end of this list let us introduce the Deft Laquer 37125010041. It is a non-yellowing formula that will prevent any form of discoloration over the years. Let your kitchen look like new without any extra effort, thanks to this.
Sale
Why Did We Like It?
This is a 100% nitrocellulose lacquer that works perfectly well for metal and wooden interior cabinets and furniture. You can also use this for trims and windows, and it will serve its purpose well. 
Next, one of its essential features is that it is self-leveling. That means the paint will not accumulate in places, and you will get a smooth finish. It also dries very quickly within 30 minutes. However, you should leave it for an hour just to be on the safe side. 
Plus, this is priced well, and you will be getting a 2-pound can. The fluid can cover 400 square feet per gallon and will provide a crystal clear glossy finish. Moreover, as we have already mentioned, the surface will not darken or turn yellow over time. 
What Could've Been Better?
The only downside to this product is that it stinks badly on the application. The smell will remain for some time, and you have to ensure that the cabinets receive proper ventilation. This will help in driving away the smell quickly. However, you might have to pause cooking in the kitchen for 2-3 days post-application. 
Pros
Dries very quickly

100% nitrocellulose

Can be applied to metal and wood

Provides a glossy finish
The Modern Masters MCS90232 is known to provide your cabinets with the ultimate level of protection. It will help you coat surfaces with a layer of crystal clear liquid which is known to be very durable. You can expect your furniture to last for years, thanks to this.
Why Did We Like It?
Whether you are renovating your home or building it from scratch, this solution will help protect surfaces throughout. It can be used on both painted as well as primed surfaces. Made of polyurethane, this is absolutely clear and will not lead to any form of yellowing and discoloration. 
Moreover, if you have a kitchen balcony, the cabinets that are placed there are prone to oxidation over time. This coat will protect the surface and prevent all forms of discoloration. Our outdoor cabinets were prone to bird droppings and mildew, but since we applied this, there have been no further problems. 
Plus, the formula has UV blockers that prevent UV rays from damaging the wood. The UV rays are not absorbed, and hence your furniture will look new for years to come. 
What Could've Been Better?
This is a thick formula and may leave streak marks on your doors and cabinets. So, ensure that you use a brush to level it well before it dries. This will prevent the formation of any spots. In case marks appear, you will have to sand the entire surface and do it over again. 
Pros
Use on primed and painted surfaces

Resistant to UV rays

Prevents discoloration

Works on the exterior and interior furniture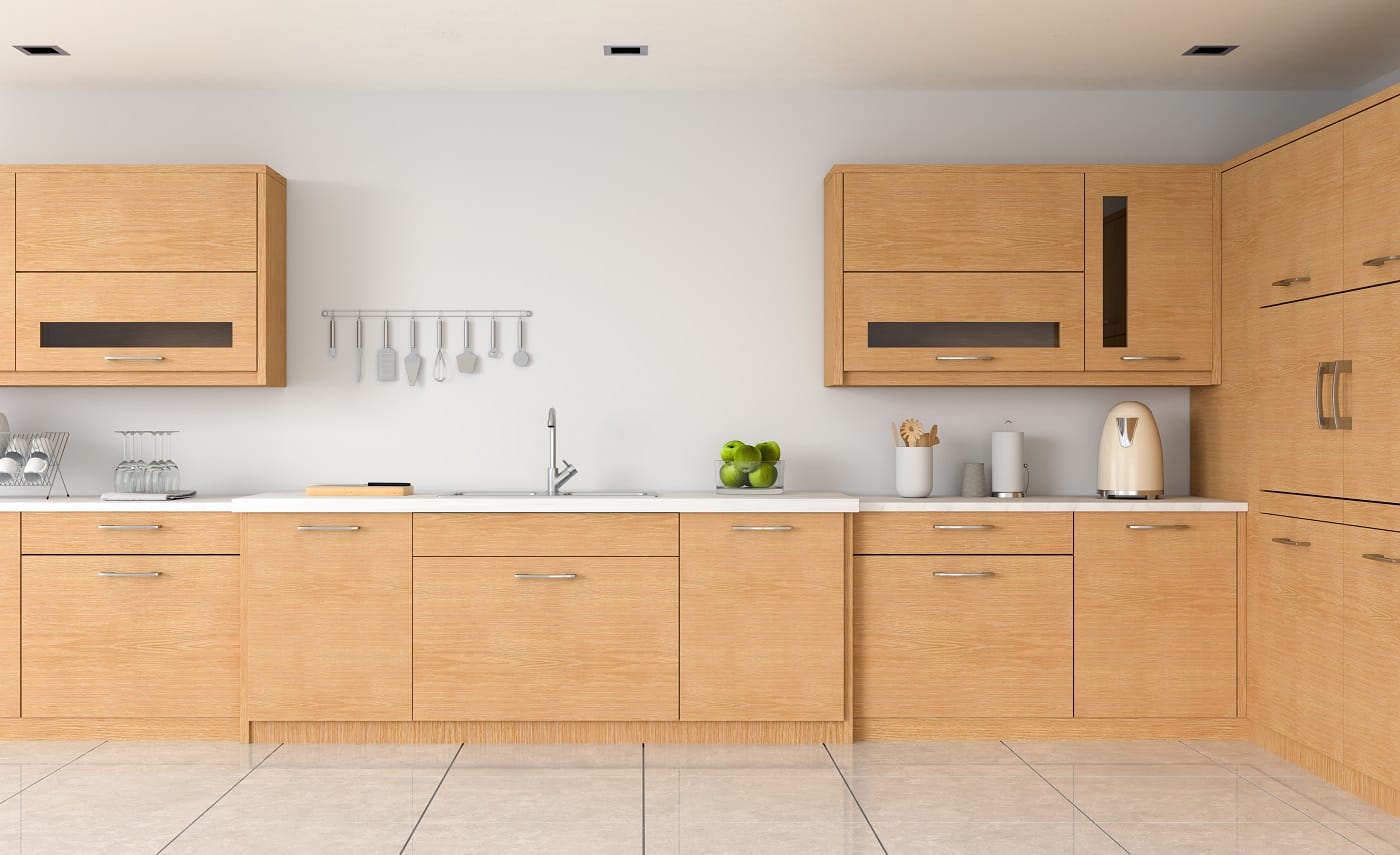 Clear Coat for Kitchen Cabinets Buyer's Guide
You don't need to spend a lot of money taking care of your kitchen. All you need to do is apply a few layers of polyurethane, and your kitchen should look like new for a long time. We were able to save so much time and money that would otherwise be spent on getting professionals deep clean the kitchen every once in a while. 
Now in this section, we will discuss some of the major factors to remember before purchasing a product. Keep these in mind, and you will not go wrong. 
Resistance To Abrasion
To ensure that the freshness stays for a long time, you should always select one which is resistant to abrasion. Every kitchen has its section of knives, forks, spoons with sharp edges. So, there is always a chance of scratches on the surface. 
If the formula is resistant to abrasion, then there will be no marks, and your kitchen will look like new for longer. 
Drying Time
Different clear coats take different amounts of time to dry, and you can read the back of the pack to find out. While some will dry to touch in half an hour, others might take a few hours. The quick-drying options will help you do the job faster as you can apply another coat within 2 hours. This reduces the waiting time and quickens up the process. 
Finish
Applying a layer of the clear coat will provide your furniture with a clear shine, and you get to choose the effect. Select between semi-gloss, gloss, and satin finishes while you are at it. You can get your desired finish easily as there are a number of choices in the market. 
Verdict
While the options might look similar to you in the beginning, you will notice that all of them have different properties. 
A good clear coat will ensure that your needs are met, and your furniture lasts long. Generally, we would advise applying 2 coats of this stain and leaving it for a day. That should give you a clear surface to flaunt. 
With this, we have reached the end of our guide. But before taking your leave, let us take you through our favorites one last time. The Minwax Polycrylic Finish is our personal favorite, and it works perfectly on wooden surfaces. But if you want a very durable product, then the General Finishes Topcoat GAHSG will work well. 
And the most versatile option is the NSL-X CC560109A-01 Cabinet Coat, which works on different kinds of surfaces. 
Let us know about your choice in the comment section below. Until next rime!
Related Articles
11 Best Polyurethane Protective Coatings 
5 Epic Face Painting Supplies That Will Improve Your Designs
6 Best Body Paint For Cosplay Reviewed
Learn How to Body Paint With Brilliant Results Right Now
5 Best Airbrush for Body Painting Reviewed
16 Brilliant Face Painting Techniques to Feed Your Imagination
13 Best Paints for Bathroom Ceilings
What is the Best Wood for Outdoor Furniture 
13 Best Spray Paints For Metal
7 Best Airbrush for Miniatures & Model 
11 Best Epoxy Resin For Crafts 
5 Best Polyurethane for Floors  
5 Best Epoxy Resin for Tumblers  
9 Best Exterior Wood Stains Today 
13 Best Spray Paints For Metal
7 Best Sprayers For Staining A Fence
7 Best Airbrush For Models & Miniatures  
Acrylic Pouring Medium Guide [All You Need to Know]
2 Best Epoxy Resin Guide [All You Need to Know]
3 Best Polyester Resin [Reviewed & Buyer's Guide]
11 Best Miniature Primer [Reviews & Buyer's Guide]
9 Best Paint Sprayer for Lacquer
7 Best Sprayers For Staining A Fence
9 Best Paint Sprayer For Lacquer