There's something peaceful and therapeutic about pottery and sculpting. The feel of the natural ceramic clay in your hands often imparts a sense of calmness as you sculpt.
Humans have been modeling clay to construct earthen clay pots since the prehistoric era. In fact, sculpting and pottery are the two oldest forms of ceramic art known to humans. So, it's only natural to feel connected to our past when we immerse ourselves in clay sculpting projects. 
But, what about choosing the best ceramic clay for your DIY sculpting projects? You get so many great options out there that it can be confusing. And that's why we're here to lend you a helping hand by reviewing seven of the best modeling clay for sculpting. 
Before we head into this article, checkout our article on clay sculpting ideas, to enhance your knowledge pool and choose the perfect clay for the right sculpting project.
So, without further ado, let's dig in! 
Best Clay For Sculpting
IMAGE
PRODUCT
DETAILS

DAS Air-Hardening Modeling Clay 

2.2 pounds of clay block 
Available in white and terra cotta colors
Suitable for classroom and studio use 

VIEW LATEST PRICE →

Crayola Air-Dry Clay 

25 pounds of natural clay 
Extra-large value pack 
Ideal for kids ages four and above 

VIEW LATEST PRICE →

Sculpey Polymer Oven-Bake Clay

0.23 kilograms of polymer clay 
Oven-baked sculpting clay
Suitable for studio and classroom use 

VIEW LATEST PRICE →

ACTIVA Natural Self-Hardening Clay

1.02 pounds of self-hardening clay 
Available in white, black, and terra cotta colors
ACMI certified 

VIEW LATEST PRICE →

Monster Clay Premium Grade Modeling Clay

4.5 pounds of modeling clay 
Wax or oil-based clay 
Available in brown color 

VIEW LATEST PRICE →

Craftsmart Air-Dry Clay 

10 pounds of air-dry clay 
Primarily for studio use 
Available in white color 

VIEW LATEST PRICE →

Amaco Air-Dry Clay

11.25 pounds of air-dry clay 
All-purpose modeling clay 
Available in gray color 

VIEW LATEST PRICE →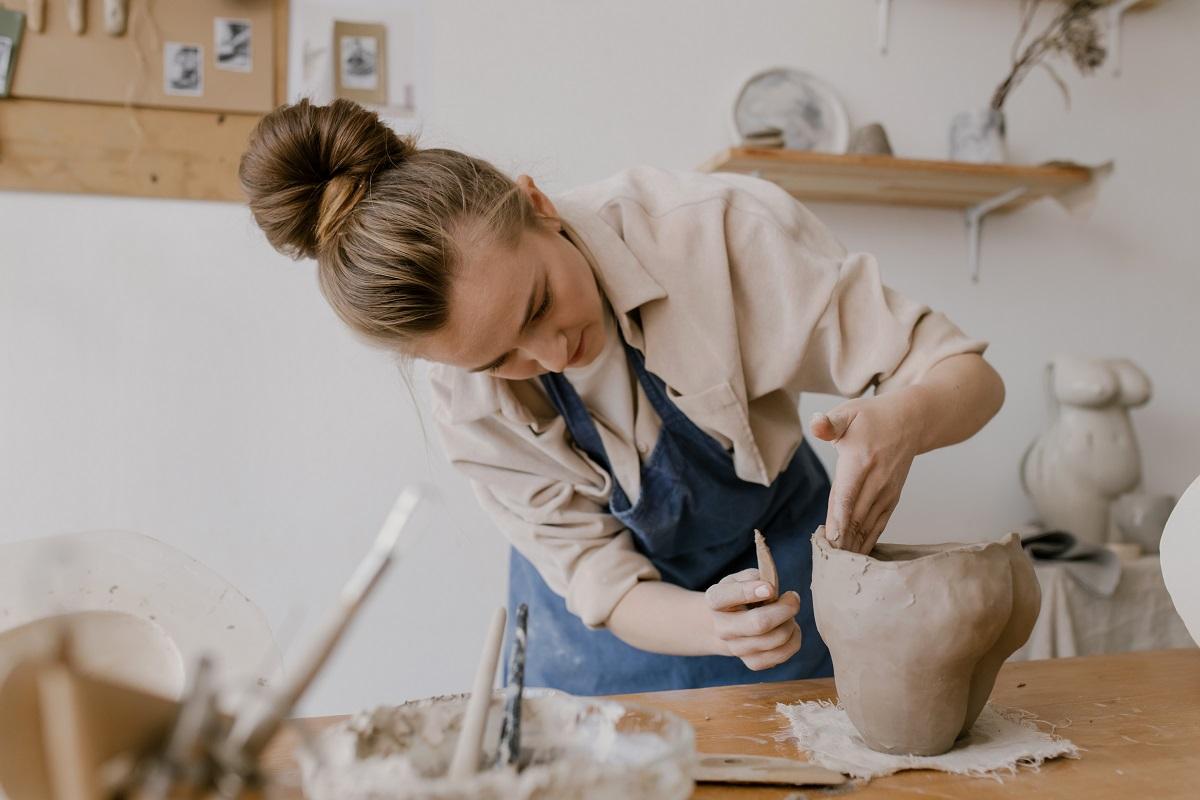 The modeling clay from the house of DAS has a well-known brand image worldwide for its superior quality. Whether you're a professional or an amateur, this sculpting clay works beautifully on every occasion. This clay is also highly versatile and can be a perfect pick for undertaking some excellent and innovative DIY sculpting projects. 
Why Did We Like It?
The premium-quality clay from DAS is extremely pliable, making it super easy to use the clay for any sculpting project. Its super pliability also offers better hand strength and motor actions for modeling the clay. Not only that, but you can easily mold the clay and create any sculptures you like owing to its pliable quality. 
Plus, it is air-dry clay, so you don't have to wait around for the clay sculptures and pots to dry before you can paint and decorate them. The drying process is quite straightforward as moist clay air dries within 24 hours. So, no need to oven-bake the clay sculptures for drying them. 
You can easily paint over the DAS clay using acrylic paint and tempera to decorate your clay artwork. As one of the best sculpting clays, it's ideal for kids and professional sculptors and can be a great choice for studio or classroom use.
What Could've Been Better?
Even though the DAS air-dry clay is highly versatile in making any clay art, it has a fibrous texture that offers resistance while adding fine detailing to your artwork. Hence, modeling this clay to create minutely detailed and fine sculptures can be a problem owing to the fibrous texture. 
Pros
Air dries within 24 hours

Easily pliable

Perfect for all ages

Highly versatile applications
Next, we have another high-quality clay from Crayola that is ideal for classroom use as it's great for sculpting different clay pots and small clay sculptures. Kids can also easily reuse the clay repeatedly to create new designs and sculptures. Hence, it is ideal for your kids to explore their creativity by making new sculptures and art.
Sale
Why Did We Like It?
The Crayola air-dry clay is easy to clean, making it quite an attractive sculpting clay for classroom use. It's a water-based clay, so even if the kids make a mess while creating sculptures, you can quickly clean it off using water. Hence, this clay is ideal for offering a mess-free sculpting experience to the kids. 
Plus, the sculptures made from this air-dry clay take only 24 to 72 hours to become completely dry without any oven baking. On top of this, it has a smooth texture, making it quite easy to add intricate designs to the clay sculptures without much hassle or intense carving.
What's more, Crayola offers various modeling tools, including pens, markers, color pencils, and crayons, to decorate and paint over the newly made clay sculptures or pots. So, let your kid's imaginations run wild with this sculpting clay and modeling tools from Crayola.
What Could've Been Better?
The biggest drawback of this sculpting clay is its hardness and lower flexibility. It remains pretty hard, even after kneading for a long time, making it difficult to mold the clay into small, intricate sculptures. So, you might need to apply some extra hand strength to make the clay more pliable while kneading it. 
Pros
Air dries overnight

Smooth texture

Comes with various sculpting tools

Perfect for classroom use
Cons
Remains hard after kneading
Moving on with our list, we bring you the polymer clay from Sculpey that's highly versatile in making world-class clay pottery and sculptures. It's almost an inexpensive method to explore your creativity and innovation. Plus, the clay is excellent for keeping your kids busy doing something creative and productive.
Why Did We Like It?
The clay is quite easy to bake if you have a home oven. Once it is dry, you can sand it, drill into it, or paint over it for decorating and designing your clay artwork. In fact, this polymer clay works beautifully with water-based acrylic paints. Hence, you can easily paint over your clay pots and sculptures without ruining their structural integrity.
Also, the polymer is non-toxic, making it completely safe for children to use in their classrooms. With this modeling clay, your kids can make anything they want, from flower pots to jewelry and tiny animal figurines. 
What's more, it's perfect for all ages, whether you're an amateur or a professional. If you're a professional sculptor and have a studio, you can easily use this polymer clay to create intricate clay artwork. 
What Could've Been Better?
Drying this polymer clay can be a bit troublesome because you need to oven-bake the clay items. It doesn't air dry by itself and remains soft and flexible until you oven-bake it. So, you need to have a home oven if you want to use this clay for sculpting and modeling. 
Pros
Non-toxic polymer clay

Easy to work

Works well with water-based acrylic paints

Ideal for all ages
The white, self-hardening clay from Activa is excellent for making detailed and intricate sculptures and clay artwork. It usually air-dries within 24 hours, but you can also kiln dry it if you want. Plus, it's highly versatile and works well with almost any artwork and design. This professional modeling clay is also perfect for both classroom and studio use. 
Why Did We Like It?
The primary quality that attracted us to the Activa self-hardening clay is its exceptional plasticity, making it ideal for any craft and art project. Its plasticity also offers excellent versatility to achieve great results while making sculptures and clay pots. 
Plus, you can work with your hands or use any modeling tool while using this modeling clay. What's more, as it's a self-hardening clay, you won't need to oven-bake it for the drying process. Its superior durability and strength also offer minimal shrinkage, ensuring that the clay doesn't crack or crumble once completely dry. 
Not only that, but you can also carve or drill the clay once it is dried and cured. It takes up the color of any water-based paints, crayons, and even markers. Also, the clay is non-toxic and absolutely safe to use for all ages. Its ACMI certification speaks for its ultra-fine grade and non-toxic quality. 
What Could've Been Better?
Although you can easily use water-based paints for decorating this self-hardening clay from Activa, it doesn't work well with oil-based paints. The clay cannot hold oil-based colors even after it is dried and cured. So, if you're planning to decorate your clay sculpture with oil-based paints, this product might not be the best pick. 
Pros
Self-hardening, air dry clay

High plasticity

Minimal shrinkage

Completely non-toxic
Cons
Not ideal for oil-based paints
Next up, we have the wax-based clay from Monster Clay, one of the best modeling clays available. It comes with a medium consistency, and you can mold it to make any sculpture or clay artwork. Plus, it has a unique elastic quality, making it highly versatile and easy to use. 
Why Did We Like It?
The wax-based Monster Clay is easy to use and is ideal for making wax figurines and more durable sculptures than any sculpture made from water-based, air-dry clays. Plus, it easily takes up oil paints and water-based acrylic paints while you're decorating any sculpture. 
Furthermore, the clay is reusable, so you can keep using it for a long time to make temporary display figurines without worrying about buying any new modeling clay. Simply store it in a dry place and heat it in your kitchen oven to soften it so that you can mold it to design a new sculpture.
The high plasticity of the clay maintains its strength and durability even after multiple uses. Plus, repeated heating and molding do not compromise the texture or quality of the clay in any way. The clay is 100% sulfur-free and completely to use by both amateurs and professionals for creating clay sculptures. Thus, it's perfect for classroom and studio use to make temporary display sculptures and figurines.
What Could've Been Better?
Even though the Monster Clay premium grade clay is excellent for crafting delicate and intricate sculptures, you cannot use it as it is because of its hard texture. You need to heat the clay in your kitchen oven for a while so that it becomes soft and usable. Hence, the hardness of the clay makes it impossible to use straight out of the box. 
Pros
Sulfur-free modeling clay

Oven-safe container

High plasticity

Suitable for studio and classroom use
The natural air-dry clay from Craftsman can greatly help you in exploring your creative ideas while making clay pots and sculptures. You can use the clay for hand modeling, sculpting, and pottery because it's highly versatile. However, this water-based sculpture clay tends to get fragile once it's dry, so better be careful while curing it.
Why Did We Like It?
The Craftsmart air-dry clay can greatly help you nurture creativity and bring your creative ideas to life. Whether you're into pottery, sculpting, or hand modeling, this white clay block has covered you. Plus, its air-dry quality makes it super-easy to use without you needing any kiln. 
As a water-based clay, you'll simply need to dab it with some water while using it to keep it soft and pliable. It also works well with all water-based acrylic paints if you want to decorate the clay. Plus, it's highly versatile and perfect for all ages, so the clay is ideal for both classroom and studio use. 
On top of this, the Craftsmart modeling clay is completely non-toxic, making it ideal for students and children to use it in their classroom without worrying about any health hazards. So, the clay offers great value to your money, whether you're a beginner or a professional in sculpting. 
What Could've Been Better?
The biggest drawback of the air-dry clay from Craftsmart is its poor packaging quality. As a ten-pound block of modeling clay, it needs to have solid packaging to avoid cracks. However, many customers have complained that they received a damaged and broken clay block because of the bad packaging from the manufacturer. 
Pros
Dries quickly

Easy to mold

Non-toxic, natural clay

Water-based clay
The Amaco clay is another versatile modeling clay that can be easily air-dried, making it pretty easy to use. It goes well with all types of paints and decorations, so don't hesitate to get creative while working with this clay. Plus, this clay is easy to use, so now your kids can have some fun classroom activities.
Why Did We Like It?
Any modeling clay usually shrinks once cured and dried, but the shrinkage is minimal with the Amaco air-dry clay. So, rest assured, your sculptures won't shrink or crumble once the clay gets air-dried. 
Also, it is all-purpose modeling clay, ideal for pottery, sculpting, or hand modeling. If you want some new clay pots for your garden, throw this clay on the potter's wheel and get rolling. What's more, you can also use it to make miniature sculptures or figurines. 
Moreover, like all water-based clays, you can soften the clay using water while molding it. But, the Amaco clay requires minimum water, and you can use it straight from the box. So, you can design clay pots and sculptures however you want without hassle.
What Could've Been Better?
Even though the Amaco modeling clay is quite versatile, it fails greatly while making thin and intricate clay sculptures and designs. If your design is thinner than an inch, the clay will crack and crumble when it is dry. So, if you're a professional sculptor working on smaller projects, this product might not be your best bet. 
Pros
Ideal for hand modeling, sculpting, and pottery

Easy to use

Durable and strong

Minimum shrinkage
Cons
Not suitable for intricate sculptures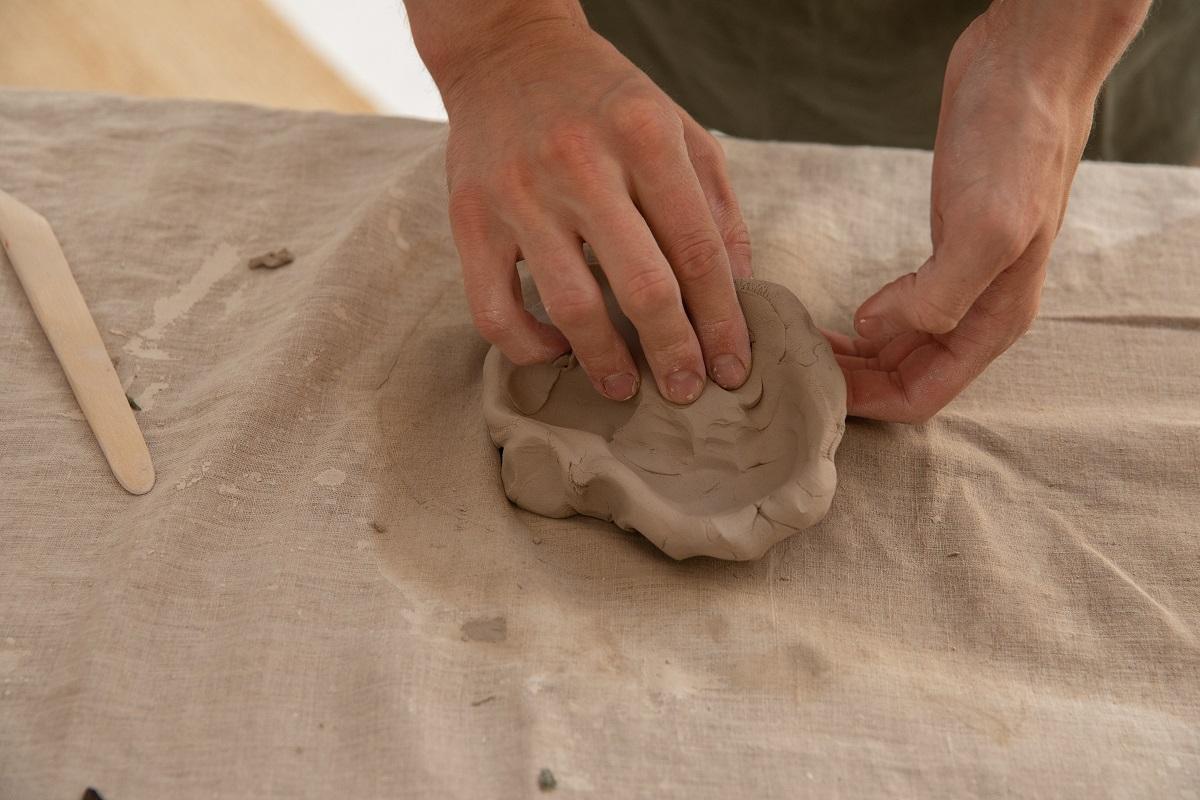 Clay For Sculpting Buying Guide 
1. Clay Type 
Here you get several options – water-based clays, polymer clays, or oil-based clays. Water-based clays can be air-dried or oven-baked based on your preferences, and they are quite easy to use. At the same time, oil-based and polymer clays have high plasticity and can be reused for a long time. So, carefully look through the qualities of each clay type before selecting them. 
2. Plasticity 
The pliable quality of modeling clay makes it much easier to mold the clay however you want while making sculptures and pots. If the clay has higher plasticity, it's less likely to crack or crumble after drying. Hence, always check the plasticity of modeling clay to determine its quality. 
3. Versatility
When it comes to modeling clays, nothing beats an all-purpose clay that's suitable for sculpting, pottery, and hand modeling for amateurs and professional sculptors. It's best to choose a clay that's perfect for studio and classrooms so that both children and adults can use the product. 
Clay For Sculpting Frequently Asked Questions  
The clay you were using got dried out. What should you do?
Well, there's a solution to every problem, including this one. If the clay is air-dry, you can warm and soften it by constant kneading. And if you need to make it even softer, spray a few drops of water and keep kneading. 
On the other hand, oil-based clay doesn't dry up and rather becomes less malleable in cooler temperatures. Place it in the microwave to make it more malleable again. 
Is it possible to fill in the gaps created in sculptures?
Yes, filling in the gaps formed in clay sculptures is possible. Just apply another layer of clay to it, which might require a bit more time. If you want to eliminate this issue altogether, work with good-quality and proper clay. 
Oil-based clay tends to crack soon, so you should keep brushing water over the clay to make the area smoother. You can also use large clay slips to cover large areas or cracks. 
Which clay is best for beginners?
For those using clay for the first time, air-dry clays are the best, as you don't need many tools, a kiln, or oven. It is easy to use compared to oil-based ones, and you have many options available on the market. 
At the same time, if you're looking for durable and long-lasting clay, polymer clay is a viable option. Like air-based clays, it's easy to use and becomes more durable once baked. 
Is clay toxic?
Most clays offered by brands are non-toxic, but it's essential to go through the package description in detail before purchasing the product. Some clays contain sulfur and can be toxic, but you will find many products that are void of sulfur. 
Nevertheless, we recommend wearing masks and safety goggles when using clay to make sculptures. These might contain free crystalline silica that can injure your lungs and affect your overall breathing capacity. Most clays contain traces of 50% silica content in them. 
Which type of clay is best for sculpting?
Among all types of clays available, polymer clay is the safest option for sculpting. It offers several benefits, especially if you don't own a kiln or studio. Besides, it's one of the best options when kids are involved. They won't make a mess while working with it, and the material is safe and easier to work with. 
If polymer clay isn't available, go for air-based clay that's easy to use and sculpt. But keep it away from kids, as it can be toxic for them.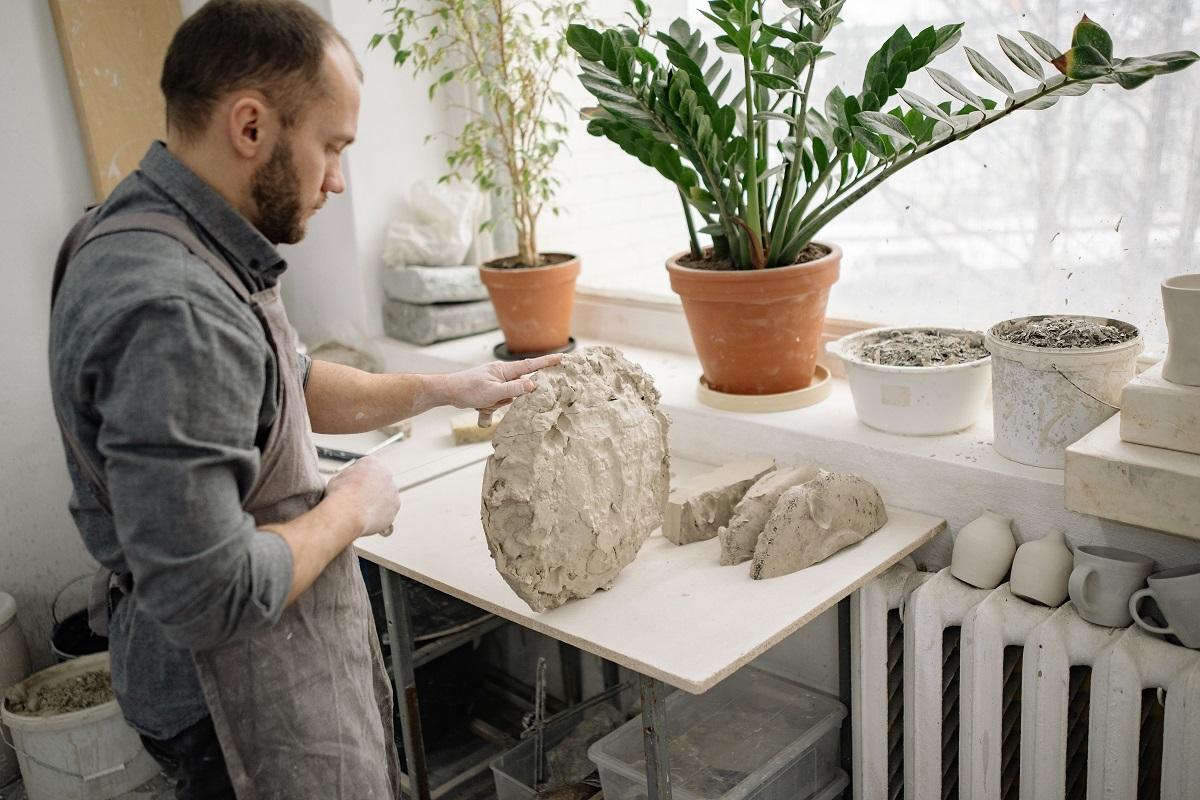 Top Clay For Sculpting Verdict
Selecting the best sculpting clay can be an overwhelming task because you have so many great options out there. That said, we hope our detailed product reviews have helped you gain a better perspective regarding the best clays for sculpting currently trending in the market. 
When it comes to our top favorites, the DAS Air-Hardening Modeling Clay and the Crayola Air-Dry Clay will be our two best choices. 
So, if you're confused about which modeling clay to choose, you can always go with our recommendations. Or, you can also do some more research to come up with your personal favorites. 
And with that, we'll bid you farewell. Until next time! 
Related Articles
32 Best Gifts For Coffee Lovers
26 Beautiful Simple and Inexpensive Garden Projects Realized With Clay Pots
Clay Pebbles in Hydroponic System 101
How to Repaint a Fireclay Farmhouse Kitchen Sink
14 Awe-Inspiring Ceramic Christmas Decorations