Chipper shredders lend the ultimate finishing touches to your lawn. They clean up leaves and twigs, leaving it sparkling and free of unwanted debris.
These are powerful tools, efficient at getting the job done in a matter of minutes. Lately, the market has been flooded with plenty of quality chipper shredders from reputable brands, each with its own unique advantages and drawbacks.
A few things to keep in mind while buying the right chipper shredder for your lawn are the size of the machine, its power source, noise output, and of course its capacity for work. These factors together determine the functioning and operational efficiency of the model. Most importantly, they must be compatible with your individual requirements. But we'll delve deeper into all that in the buyer's guide towards the end of this guide.
Making the right purchase, then, can prove to be difficult. This is where we step in to make the task easier for you! Our comprehensive review outlines the features of the 13 best chipper shredders available in the market and aims to guide you towards the right product.
So, let's get started, shall we?
Top Chipper Shredders
IMAGE
PRODUCT
DETAILS

Our Top Pick

Our Top Pick

YARDMAX YW7565

Briggs-Stratton 6.5 HP engine
Pneumatic wheels for maneuverability
Self-feeding chute

VIEW LATEST PRICE →

Sun Joe CJ602E

Instant-Start switch
Safety hopper with locking knob
ETL approval

VIEW LATEST PRICE →

Patriot Products CSV-2515

Handles 2.5-inch diameter branches with ease
Quiet and smooth operation
Voluminous collection bag

VIEW LATEST PRICE →

Champion 100137

338cc OHV engine; fuel-tank capacity: 1.6 gallons
Never-flat 12-inch tires
2-bushel collection bag

VIEW LATEST PRICE →

Yard Machine 24A-45M4700

Three-way feed system
2.5-bushel capacity bag
10:1 reduction ratio

VIEW LATEST PRICE →

Earthwise GS70015

15 amp motor
Leaf chute and tamper tool attached
Reset switch for overload protection

VIEW LATEST PRICE →

Sun Joe Electric Wood Chipper Shredder

14 amp motor; no load speed of 4300 RPM
16:1 reduction ratio
6-inch wheels for portability

VIEW LATEST PRICE →

WORX 13 amp Leaf Mulcher

Mulches up to 53 gallons of leaves per minute
Flex-a-line bladeless system
Clean air motor cooling system

VIEW LATEST PRICE →

Earthquake 9060300

6 HP gas-powered engine
20:1 reduction ratio
Combination blade system

VIEW LATEST PRICE →

Tazz 22752 K33

301cc Viper engine
11-inch never-flat wheels
Enhanced debris disposal system

VIEW LATEST PRICE →

BRUSH MASTER CH3M17

11 HP gas-powered engine
16 hammers and a chromium steel cutting blade
Centrifugal clutch to protect the engine

VIEW LATEST PRICE →

Powersmart PS10

15 amp motor
Safety hopper with locking knob
6-inch wheels for ease of use

VIEW LATEST PRICE →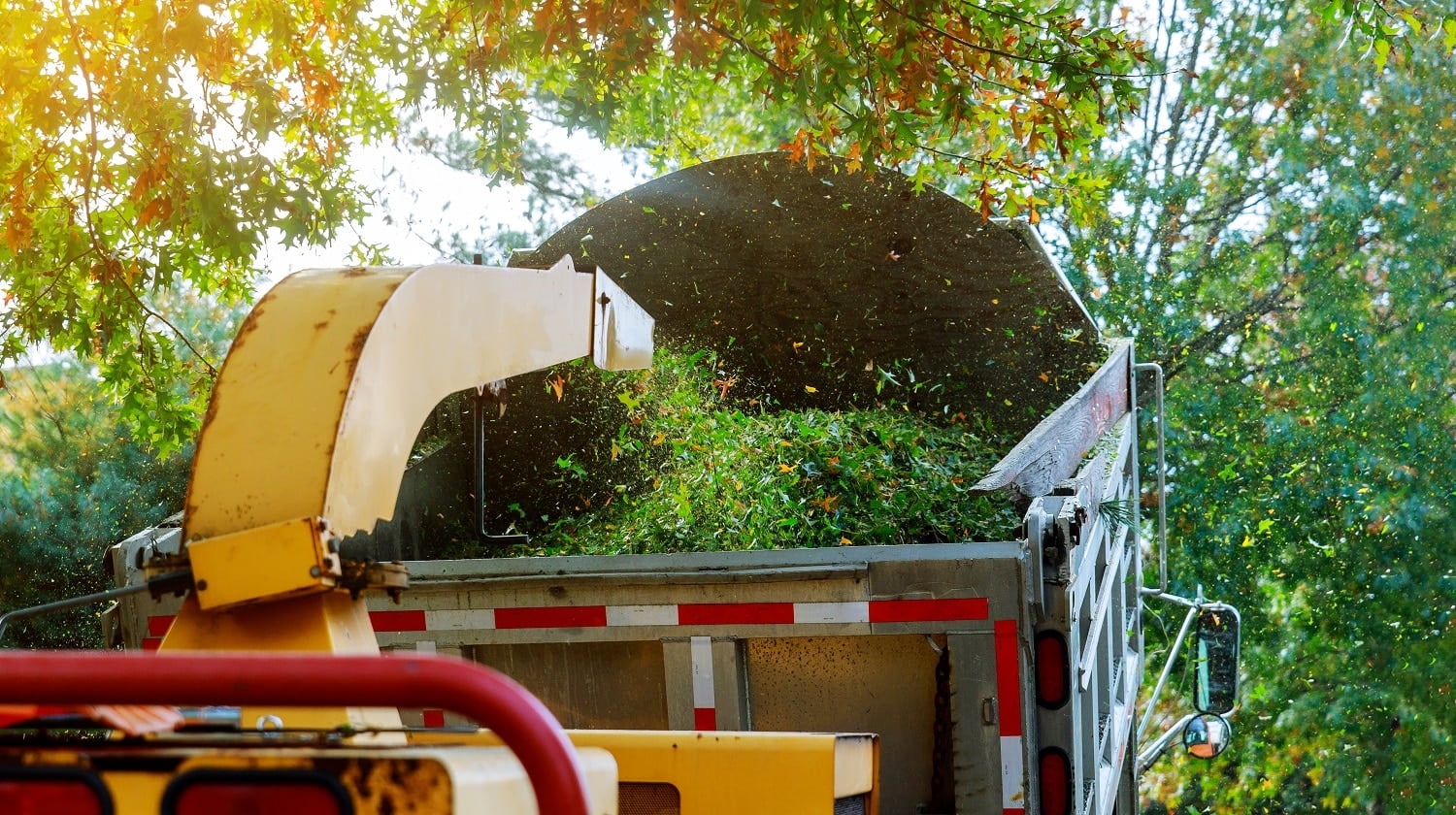 YARDMAX has been at the helm of some of the most powerful gardening tools out there, so it's no wonder that our list starts off with its product. A highly reliable machine, the YW7565 delivers an efficient performance and gives you hardly any cause for concern.
Why Did We Like It?
We cannot talk about any YARDMAX product without first mentioning its tremendous capacity for work, thanks to a strong engine. Powered by a 6.5 HP Briggs-Stratton engine with sufficient torque, this machine delivers a clean performance – one that shows an equally high degree of fuel-efficiency.
Further, it also scores high on operational efficiency and is fully optimized with a self-feeding chute that is specifically designed to tackle branches of up to 3 inches of diameter. The unit is ergonomically designed for time-saving and ease of use, and the blades require little maintenance. Additionally, it comes with pneumatic wheels that are capable of navigating tough terrains without straining the chipper.
Lastly, the YW7565 is built to last. Of solid steel construction, the appliance is durable enough for prolonged heavy-duty jobs. Durable and simple in operation, YARDMAX's product meshes together functionality with performance and makes for a good companion to both the garden-loving homeowner and the professional landscapist.
What Could Have Been Better?
The only aspect where this otherwise excellent piece of equipment could improve is the chute. During long hours of work, it is prone to clogging up which delays the process. However, given its other features, this is hardly a dealbreaker. The YW7565 is definitely in our best books!
Pros
Time and fuel-efficient

Great ease of operation and maneuverability

Highly durable
Cons
Chute prone to clogging up
Next up, we have a powerful chipper shredder that has garnered immense popularity among homeowners for its operational efficiency, host of additional features, and strong engine. Read on to find out all about it!
Sale
Why Did We Like It?
This device from Sun Joe is a sustainable piece of equipment powered by a 15 amp electric motor that reaches a speed of up to 4300 RPM. Therefore, it easily tackles twigs and branches of up to 1.5 inches of diameter and makes short work of excessive debris littering your lawns. 
In addition to that, the motor makes the device ideal for converting lawn trimmings into nutrient-rich mulch and thus, carries out a two-pronged function. With such high functionality, the CJ602E combines an equal degree of efficiency. Fitted with safety features such as a locking knob and instant-start switch, it simplifies the operation and is nearly noiseless on the job.
Last but not the least, this device also boasts of great design aesthetics and a strong construction. Well-suited for smaller gardens, it is compact and fitted with wheels for better maneuverability. Despite such features, the CJ602E requires little maintenance and comes with a 2-year warranty from the brand.
What Could Have Been Better?
Although incomparable on twigs and branches, this chipper shredder is not the most ideal machine for leaves or properties with more surface area. However, there is no dearth of chipper shredders specifically geared towards those uses and it would be unfair to compare as this model excels in all that it has to offer.
Pros
Lightweight and portable

Safety features enhance operational efficiency

Power-efficient and non-polluting
Well-equipped to tackle the largest mound of lawn debris, this exceptional shredder from Patriot Products promises to deliver. As one of the most popular products from an established brand, it lives up to the expectations, more often than not, exceeding them.
Why Did We Like It?
The 14 amp electric engine of the CSV-2515 is strong enough to carry out chipping and shredding with ease in tough conditions. It is compatible with a 110V outlet and works noiselessly without producing gas fumes. Also, it starts at the press of a switch!
Needless to say, this is a device that keeps in mind operational efficiency. While nearly noiseless performance is definitely its USP, this model is just as excellent in its primary function. It makes quick work of branches measuring up to 2.5 inches in diameter while the extra-large collection bag allows for efficient disposal.
Patriot Product's machine, in addition to such salient features, is light in weight and allows for immense portability. Fitted with wheels and handles, it is easy to maneuver and promises long hours of work on any residential lawn.
What Could Have Been Better?
The only aspect in which this otherwise excellent device falters is durability and it is, at times, prone to wear-and-tear. But it does well to bear in mind the working capacity of the device which, with proper care, is highly unlikely to cause any trouble.
Pros
Works well on thicker branches

Nearly noiseless operation

Power-efficient with easy maneuverability

Efficient disposal of debris
Cons
Construction could be more sturdy
The 100137 from Champion truly lives up to its name. Packed with power, it is highly suitable for heavy-duty tasks and proves to be a reliable companion to any serious gardener. As one of the best gas-powered models, this chipper shredder works well on yards of larger dimensions.
Why Did We Like It?
The first point in a conversation about this product is invariably its engine. A true workhorse, it carries an impressive oil capacity and gears the device to fast, heavy-duty chipping with no hassle. Also, the hardened 13.8-inch blades complement the power output perfectly, and together they ensure that branches 3-inches in diameter are dealt with quickly and well.
In addition to a power-packed performance on lawns, the 100137 is a versatile shredder that scores high on operational efficiency. The shredder makes quick work of a wide variety of shrubs and debris with diameters of up to half-inch or less. However, the chipper is effective on 3-inch diameters, while the 2-bushel bag makes disposal easy as 1 2 3.
Finally, this is a device that boasts of a construction par excellence. With a host of features such as never-flat tires and integrated handles, the vertical design is easy to maneuver and store. Last but not the least, this sturdy unit, along with offering great durability, comes with a 2-year limited warranty. A definitive win-win!
What Could Have Been Better?
Nimble and high-performing, this product is quite the steal. Its only drawback, however, is that it does not score as high on time-efficiency. But this is in no way a deal-breaker and its advantages far out do such minor issues.
Pros
Powerful engine with maximum power output

Combination of features for versatile functioning

Convenient clean-up

Attractive warranty
Cons
Time-efficiency could improve
Next on the list, is another powerful machine that proves itself a worthy companion on the largest of lawns. With a stunning array of specifications, it combines utility with convenience in operation and ranks high in our books!
Why Did We Like It?
The 24A-45M4700 from Yard Machine is another gas-powered workhorse that is equipped with a 205cc 4-cycle OHV engine with a fuel capacity of 1.4 gallons. This, combined with powerful blades, inevitably renders the device capable enough to tackle branches with diameters of up to 2 inches while also saving time.
Furthermore, operation is a breeze with this one. We have already mentioned the engine and the cutting blade. But this exceptional product also comes with a three-way feed system that incorporates drop-down, rake-in, and chipper chutes for optimum performance. Adding to this is the 10:1 waste reduction ratio that ensures that you get the most out of the device.
Last but not the least, the 24A-45M4700 is built to endure. Its ergonomic design is a sure winner in our books and the durable construction enhances its credibility as a high-performing and reliable companion to the most professional landscapist.
What Could Have Been Better?
Yard Machine's chipper shredder is nearly flawless when it comes to functionality and operation. The only drawback of using it, however, is that it weighs higher than most of its counterparts, and being gas-powered, also produces fumes. This makes it unsuitable for the environment-conscious user and hampers its sustainability. 
Pros
Competent blades for superior cutting

High capacity for waste reduction

Sturdy and durable machine

Good value for money
Cons
Heavy

Gas-powered engine produces fumes
A light and portable chipper shredder, this excellent model from Earthwise is a good deal at a better price. Comprising a multitude of attractive features, it makes light of leftover leaves and twigs, and is optimized for a commendable all-round performance. Read on to learn all about it!
Sale
Why Did We Like It?
Right off the bat, this model impressed us with its electric motor that allows for a number of heavy-duty tasks on a regular basis. The 15 amp motor reaches a speed of up to 4200 RPM and can tackle branches with a thickness of up to 1 ¾ inches. Combined with other salient features, the engine affords great operational efficiency.
Speaking of which, the device features a leaf chute and tamper tool, both of which protect your hands during the collection and deposition of debris into the shredder. Another safety feature is the reset switch that acts as a safeguard against overload, thus preventing malfunctions in the machine.
Moreover, this makes for one of the most efficient units when it comes to disposal, thanks to the 1.2-bushel collection bag. Affordable and sturdy, the GS70015 from Earthwise never fails to impress through its performance and guarantees user safety at every level of operation.
What Could Have Been Better?
This product hardly leaves any room for complaint. The only two minor issues are that of dust and noise, both of which are produced in considerable amounts during operation. Barring this, we found no disadvantages to using this one, which makes it a strong recommendation from our side!
Pros
Superior cutting due to powerful engine

Additional fittings for enhanced operational efficiency

Safety features included
Cons
Loud during operation

Produces excessive dust
An excellent, lightweight product that makes no fuss and carries out a variety of tasks exceedingly well. What's more, it is light on your pockets as well! Fitted with a number of useful features, this is a durable machine that promises to deliver.
Sale
Why Did We Like It?
Equipped with a powerful 14 amp electric motor, this highly efficient chipper shredder makes light work of branches measuring 1.5 inches in diameter, a commendable feat for a device this affordable and light in weight. Additionally, with a reduction ratio of 16:1, it truncates the volume of yard waste to a nearly negligible amount, which ultimately results in superior, nutrient-rich mulch.
Furthermore, this electricity-powered device scores high on portability as well, and is a breeze to maneuver on any terrain. Fitted with 6-inch wheels, it moves quick and smooth, thus saving you a considerable amount of time. Sun Joe also bears in mind user safety. To this end, the model features a locking knob that prevents the motor from operating when open.
Last but not the least, this is a device that will provide you with excellent service for a good amount of time to come, that too for a thoroughly affordable price! Weighing a mere 17 lbs, this versatile chipper shredder offers good value for money as well and makes for a worthy purchase. 
What Could Have Been Better?
This is yet another model that is hard to find fault with. We combed through its features and the only minute issue we found was that the device was sometimes prone to clogging. But it is also child's play to unclog it. So we cannot really complain, can we?
Pros
Superior waste reduction

Offers nutrient-rich mulch

Lightweight and portable

Good value for money
Cons
Device prone to occasional clogging
We don't slack off with our recommendations as we near the end of our list, and this outstanding leaf mulcher from WORX is a prime example of that. Versatile and powerful, it has a lot on offer for a very attractive price tag. Take a look below!
Sale
Why Did We Like It?
First up, a motor that can mulch up to 53 gallons of leaves per minute is one to reckon with. The 13 amp power source optimizes the mulcher for a variety of tasks, thus giving way to versatility along with a commendable performance.
In addition to that, while reducing the waste items to 1/11th of their original size, the device also allows for easy disposal by providing a collection bag. This not only eliminates troublesome processes but also lowers the user's carbon footprint, thanks to the recyclable paper bag. Further enhancing operational efficiency are the start-stop and motor cooling systems.
Such features increase the unit's credibility as an efficient lawn tool. Easy to assemble and store, it also achieves a high level of user safety by replacing blades with ultra-thick trimmer lines. Few products succeed in ensuring such efficiency, and WORX's model is definitely among them!
What Could Have Been Better?
Although exceptional at mulching, the unit does produce a fair bit of dust during the course of the operation. However, given its performance and versatility, it is a small adjustment to make! We would still vouch for its utility without a second thought.
Pros
Exceptional capacity for mulching leaves

Reduces user's carbon footprint

Enhanced safety features

Good value for money
Cons
Produces a considerable amount of dust
Our next product is a superpower of a chipper shredder, and we are here to tell you why exactly. Strong and built to endure, this super efficient piece of equipment makes for a worthy addition to your yard tools. We are not biased; you can see for yourself right here.
Why Did We Like It?
Equipped with a 6 HP gas-powered engine, this device makes short work of lawn debris of up to 3 inches in diameter. Further, it utilizes two slicing blades, two J-hammers and tri-hammers that result in superior cutting; we are talking about a reduction ratio of 20:1. This makes it ideal for producing compost while giving way to easy disposal with a 2-bushel collection bag. 
In addition to functionality, the machine is also optimized for remarkable operational efficiency. Moderate in its dimensions, it cleans up your yard and is very portable. Also lighter in weight than its fellow gas-powered chipper shredders, it doesn't need you to expend much effort on larger lawns. Moreover, the engine starts on a single pull; this saves time and simplifies the operation.
Lastly, the chipper shredder requires little maintenance and the engine is CARB certified – a guarantee of its anti-smog properties. It's of a sturdy constitution and well-suited to prolonged hours of work. Finally, in case of the occasional wear-and-tear or operational glitch, Earthquakes provides a one-year warranty on the item.
What Could Have Been Better?
There are few flaws in this excellent yard tool. One is that there is no way to secure the collection bag to the machine, and the other refers to its wheels which are made of plastic, and hence not durable. But it's hard to criticize the primary functioning of Earthquake's product and it ranks high in our recommendations!
Pros
Exceptional cutting capacity

Portable and simple in operation

Low maintenance with anti-smog properties

Pros
Cons
Wheels made of plastic

Collection bag separate from machine
Another product from Tazz is not surprising given the brand's excellence in the field of yard power-tools. Compact and powerful, our penultimate chipper shredder comes with tremendous capacity for work and a level of operational convenience to match it.
Why Did We Like It?
When it comes to performance, Tazz's products are hard to beat, and this one even more so. The engine, combined with the 1.72 gallon fuel tank, makes for an incredible power source while the device's primary functions remain impeccable in their efficiency. Slicing through material of up to three inches in diameter, the product makes light of most tasks.
Also, the feeder requires no effort on part of the user to force the material into the blades. It boasts of a combination of two slicing blades, two J-hammers and two tri-hammers which again result in a 20:1 reduction ratio. Clearly, with this model, there's no cause for concern even when there is heavy-duty work to be done!
Lastly, the machine comes with an optional vacuum kit for further clean-ups while the discharge port's locking mechanism keeps the chipped debris secured within. If the device still seems to be any lesser than its counterparts, take a look at the warranty. Tazz offers a 5-year warranty on an excellent piece of machinery which is anyway unlikely to malfunction!
What Could Have Been Better?
The only aspect where this excellent machine falters is in its consumption of gas, thus leading to additional expenses. Although quite fair given its performance, excess expenditure could be a concern for the average homeowner. But all things considered, we are of the opinion that in comparison to what's on offer, this is only a minor deterrent!
Pros
Optimized for heavy-duty tasks

Exceptional cutting due to combination of blades

Good warranty period
Last on our list, is another excellent product from Tazz. An established brand in the field of garden tools, Tazz is known for its high-performing products with a single-minded focus on quality. The 18493 is no exception to the rule and is ideal for medium to large-sized properties.
Standout Features:
4-cycle 212cc Viper engine

20% additional suction power

11-inch diameter wheels
Why Did We Like It?
First up, we'd like to emphasize the engine of this strong and compact device. At 212cc, the engine is well capable of handling heavy-duty tasks for prolonged periods of time with considerable ease. The tank has a capacity of 0.74 gallons, another impressive specification!
Such a high-functioning engine is bound to result in incredible efficiency in operation. With an additional 20% suction force, this worker copes easily with lawn trimmings of up to 3 inches in diameter. Alongside this, the bag connector and zipper allow for easy disposal of the debris.
In addition to its ease of use, the Tazz K33 is well-constructed and fitted with blades that endure. The 11-inch wheels prove nimble on a variety of terrains while the rubber mesh prevents debris from escaping the shredding chamber. Also, being a compact machine with a height of 34 inches, it takes up only the necessary storage space.
What Could Have Been Better?
This product from Tazz ticks all the boxes in terms of capacity and durability. However, the only disadvantage it suffers from is due to its gas-powered engine that results in emissions and scores low on environment-friendliness. However, we'd surely suggest you consider the excellent features on offer before blacklisting this model!
Pros
Excellent capacity for heavy-duty

Suitable for extensive properties

Extra safety features

Compact and sturdy construction
Cons
Emits fumes and is polluting
One of the most powerful machines on the list, the CH3M17 from Brush Master is one of our top recommendations for those looking for maximum performance on any lawn. It is fully optimized to power through any commercial gardening task and leaves little to be desired.
Why Did We Like It?
This chipper shredder is a true workhorse and performs with the support of an 11 HP commercial-duty gas-powered engine. It is a fabulous entry-level machine and makes short work of the most extensive lawns. In addition to being one of the most high-powered items on the list, it is also one that offers the simplest operation.
Speaking of which, the CH3M17 exhibits impressive operational efficiency. Fitted with a two-way side chute self-feeder, it is effective on twigs of up to 3 by 3-inch diameters and turns waste into 1/4th-inch mulch, thus clearing up your lawn as well as providing nutrition. Also, the unit features a centrifugal clutch and is belt-driven, both of which protect the engine and enhance its portability.
Last but not the least, its construction adds greatly to its value. Made of heavy-gauge steel, it has greater longevity than plastic, aluminum, and cast iron. Coupled with 16 hammers and a hardened chromium cutting blade, this chipper shredder is surely one to consider buying.
What Could Have Been Better?
It's nearly impossible to find faults with Brush Master's product. In fact, the unit lacks absolutely nothing. However, we're certain this is a product that is coveted by many, and here, Californians have a reason for disappointment. The machine's engine is not California-compliant and so, it cannot be shipped there. Barring this, the CH3M17 remains an excellent choice.
Pros
Incredibly powerful engine

Fulfills a two-pronged action: cleaning and feeding

Greater longevity in comparison to other products
Cons
Does not ship to California
Lightweight and inexpensive, this chipper shredder from Powersmart is a simple way to give your gardening experience a much-needed boost. Ideal for small to medium-sized lawns, the machine works well to deliver a commendable performance combined with enhanced operational efficiency and maneuverability.
Sale
Why Did We Like It?
Equipped with a powerful electric motor, this one impressed us right off the bat with its high degree of sustainability and power-efficient performance. The 15 amp motor runs on 120V and is capable of reaching a speed of up to 4500 RPM. It is, therefore, adept at tackling branches up to 1/8th-inch in thickness and leaves your lawn looking spick-and-span!
Needless to say, then, this chipper is ideal for converting lawn debris such as twigs and leaves into the highest quality mulch that ensures adequate nutrition for the soil. Not only does it fulfill a two-way function but this model also has great ease of operation. It is sturdy and compact, with 6-inch wheels for maneuverability, and fitted with a safety knob for prevention against overload.
All in all, this unit is quite perfect for residential lawns and offers easy maintenance that saves you a ton of time. Easy to clean and dependable, the already-durable product comes with a two-year warranty, exemplifying the brand's faith in its own quality. Powersmart's customer support is just as top-notch although it is unlikely that their assistance will be required.
What Could Have Been Better?
Remarkably free of disadvantages, this shredder is slightly lacking in only one department, and even that is strictly a matter of preference. A chute-extension would have been the ideal accompaniment to this otherwise flawless machine and enhance its operation, especially in terms of disposal. But as mentioned, this is in no way a primary requirement, and we highly recommend the product.
Pros
Super lightweight at 30.9 lbs

Great ease of operation

Durable, with an impressive warranty
Cons
Could do with a chute-extension
What To Keep In Mind While Buying a Chipper Shredder
Each landscape is different and needs the utmost care. But that does not mean you have to pour all your effort into its maintenance without any help. A chipper shredder is a good companion for it, and takes care of all the debris littering your garden. 
In combining a wood chipper and shredder into one, a chipper shredder offers a well-rounded experience. But in addition to ensuring that a model is compatible with your specific needs, you need to also examine certain aspects of a device before spending money on it. 
To this end, we have compiled a quick guide for you, outlining which factors affect the functionality of a chipper shredder and how.
Capacity
The capacity required of a chipper shredder depends largely on the size of the debris it is expected to work on. Most residential appliances are adequate for twigs up to 3 inches in diameter. If the load is of larger dimensions, then a machine dedicated solely to chipping makes more sense, instead of combined functions. However, most garden chipper shredders never need to chip larger twigs.
Power Source
This is key to a good performance. Electrical chippers are adequate for small to medium-sized lawns and are highly portable. The two main advantages are that they require little maintenance and emit less noise. However, you may incur several extra costs on accessories such as extension cords in case of a large yard.
On the other hand, devices powered by gas have a greater capacity for work and tackle large-sized debris with ease. They are fitted with stronger engines, which however, add to the weight and may hinder portability.
On the whole, though, the electrical ones are less polluting and sustainable as they do not produce fumes, unlike gas-powered models.
Reduction Ratio
This signifies the formula used to calculate by how much the machine will decrease the amount of debris. For instance, a reduction ratio of 6:1 means the debris will be reduced to 1/6th of its size. A higher reduction points to a stronger machine, and vice versa. The best ones usually work on a scale of 10:1.
Shredding Chute
An additional shredding chute proves useful as it is solely for shredding smaller and hence harder to tackle debris such as leaves. It helps to keep the feature in mind if regular gardening is what your requirement is.
Bag Capacity
The capacity of the debris bag determines how much effort you need to put in to tackle the discharge of chips and mulch. A larger bag capacity of 10 bushels allows for disposal in more volumes, thus simplifying the process.
However, most standard machines come with a bag of 2 to 3 bushels. It must be noted that while a larger bag has better functionality, it adds considerably to the weight of the chipper shredder which may affect maneuverability.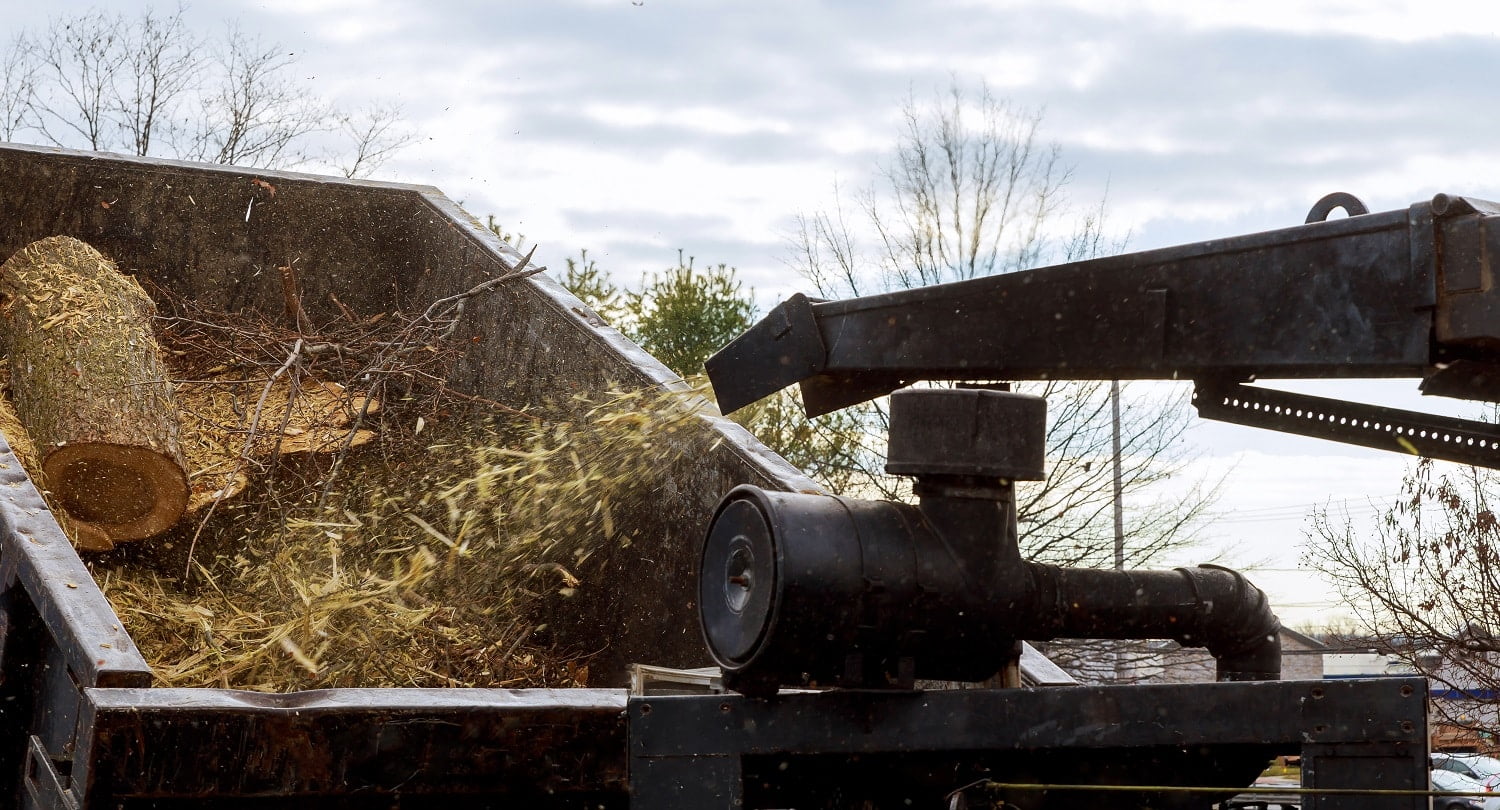 Verdict
With that, we come to the end of our listicle and guide, and hope it has been illuminating. 
Gardens are works of love and each one deserves no less than the best. We understand this, and so our list includes only the choicest products. However, picking the one can still be confusing.
In order to take you one last step closer to the ideal chipper shredder, we have rounded up our favorites in a few categories. When it comes to value for money, the PowerSmart PS10 gets our unanimous vote, while the YARDMAX YW7565 makes for a good choice, all things considered.
Similarly, the 22752 from Tazz is another excellent product in terms of performance and durability while the Brush Master CH3M17 is also a popular model doing the rounds.
We would love to know what you think of our recommendations; you can get in touch via the comments section below.
Till next time!
Related Articles
Best Lawn Edging for a Legendary Garden 
4 Best Walk Behind Brush Cutter | Buyer's Guide
3 Best Yard Hydrant | Buyer's Guide and Reviews
5 Best Stick Edger in 2022 | Buyer's Guide
13 Best Trimmer Lines | Multi-Sided, Round, Square, Twisted & Serrated
11 Best Battery Powered Lawn Mowers  
13 Best Lawn Tractor Batteries  
13 Best Loppers | Buyer's Guide
Who Makes The Best Lawn Mower Engine Today?
13 Best Loppers Reviewed [+Buyer's Guide]