Owning something that's old school and vintage in today's time can be refreshing. It allows you to relive the past in some small way!
Whether it is a gramophone, a VCR, or an old car, it's nice to have a little piece of history. However, these things come with their own set of challenges. Take a vintage car, for instance, which has an ancient sound system. It is impossible to play music using something that only plays cassettes smoothly.
That's where cassette adapters come in as a modern solution. Don't spend unreasonable amounts of money changing the stereo and the look of your beautiful old-school car. We have put together this guide of the 9 best cassette adapters on the market right now.
So, without further ado, let's jump into it!
Best Cassette Adapter 
IMAGE
PRODUCT
DETAILS

Our Top Pick

Our Top Pick

Arsvita Car Audio Cassette to Aux Adapter

Compatible with iOS and Android devices
Anti-corrosion plugs

VIEW LATEST PRICE →

Konig VHS-C Cassette Adapter

Made specifically for VHS-C cassettes
Convenient flip lid

VIEW LATEST PRICE →

Reshow Cassette to Aux Adapter

3 feet cord
Anti breaking design

VIEW LATEST PRICE →

Westgo Audio Aux Cassette Adapter

Money-back guarantee
Compatible with any device with a 3.5 mm jack

VIEW LATEST PRICE →

RCA Car Cassette Adapter

2-3 feet cable
Can be used with phones, iPods, CD players, etc

VIEW LATEST PRICE →

Aluratek Universal Bluetooth Audio Cassette Receiver

Bluetooth enabled
8 hour streaming time

VIEW LATEST PRICE →

Elook Cassette Adapter Player with Bluetooth

Long-playing time
Advanced tech for better performance

VIEW LATEST PRICE →

Sony Walkman Car Connecting Pack

Spring-loaded head
Silent operation

VIEW LATEST PRICE →

DeShop Universal Audio Cassette Adapter

Made from high-quality materials
Extremely lightweight at 0.81 ounces

VIEW LATEST PRICE →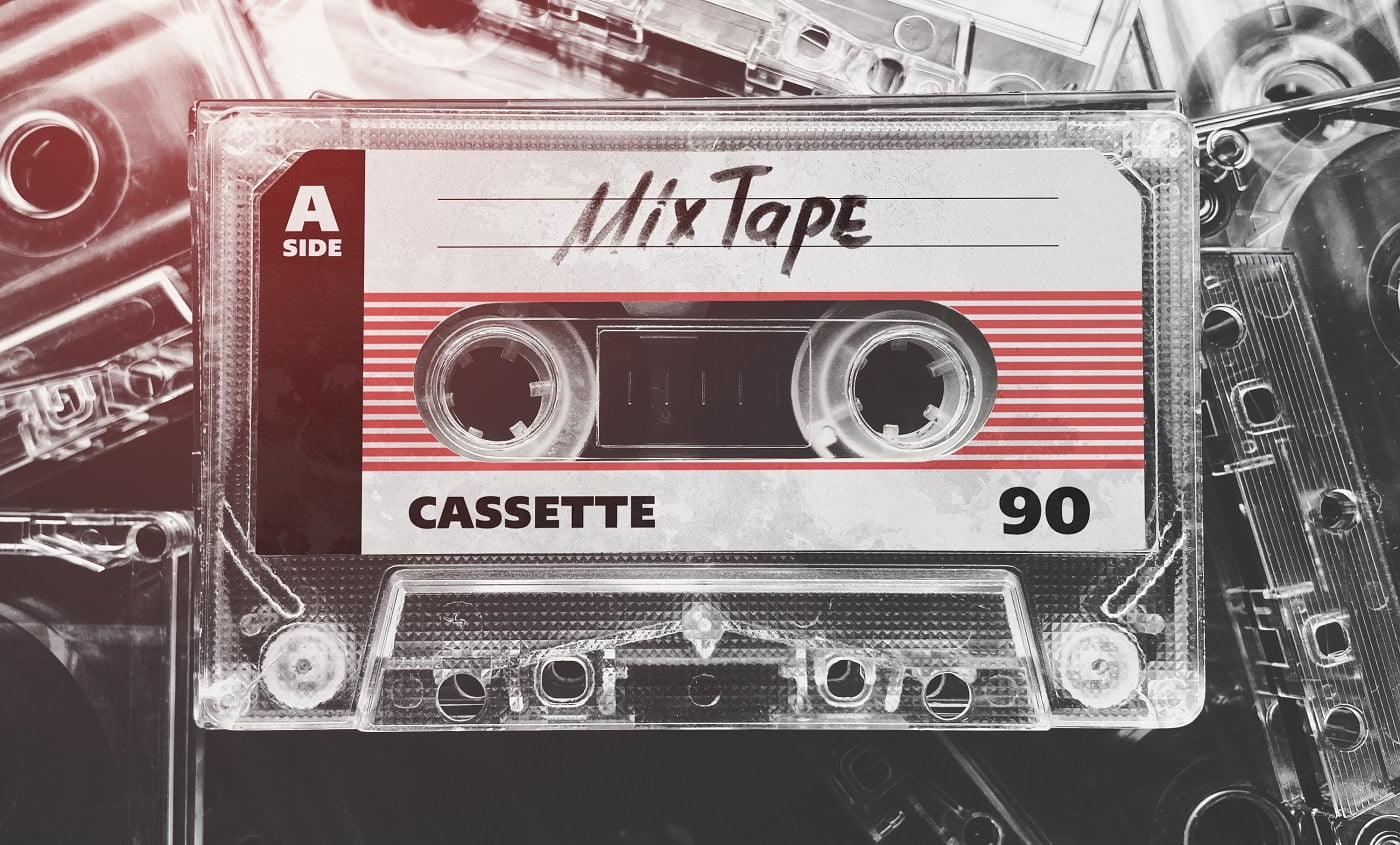 No car journey is complete without music. And while driving in a vintage car might feel good, the lack of a more updated music system can make it less enjoyable. The Arsvita cassette adapter is here to ensure that no drive is boring while also eliminating the need to carry a portable speaker.
Sale
Why Did We Like It?
The right song at the right time can change the way anyone sees the world. And an old sound system should not come in the way of that. This cassette adapter is perfect for anyone looking to add some modern beats to an old-school car. Since it is compatible with both iOS and Android devices, nothing can stop you from blasting new age hits as you cruise.
Let's move on to some specifics now. The adapter has polished metal molding that makes it quite durable. In addition to that, it has gold plugs that are corrosion-resistant and ensure that the music quality does not deteriorate. This adapter has a 3.5 mm aux cable that is guaranteed not to tangle.
Moreover, the adapter has a two insert direction feature and can be used on any player at home or in the car. It also guarantees seamless transmission of music without compromising on the audio quality.
What Could've Been Better?
This product is quite popular among people looking for cassette adapters, so it was difficult to find anything wrong with it. However, many reviewers have mentioned that this one is slightly more expensive than most of its competitors. That said, it does offer tremendous value for money.
Pros
Durable make

Versatile compatibility

Cable does not tangle

Does not degrade music quality
Growing up, if you witnessed various members of the family make home movies on old camcorders, then this one's for you. The Konig VHS-C cassette adapter is great for anyone looking to revisit old memories that are stuck on a VHS-C cassette. Let's have a quick look at this product's impressive features.
Sale
Why Did We Like It?
As we grow older, we like to look at old memories that are mostly in the form of photos or videos. While photos are easier to preserve, home movies on cassettes tend to become obsolete. But, with this cassette adapter, you can play these old movies and videos that are currently collecting dust, on any VHS player.
One great thing about this adapter is that it takes minimal effort to use. It has a very convenient flip lid that opens and closes easily. All you need to do is push the button beside the window to open the lid and slightly push down to close. After it closes with a click, the motor readies it to be compatible.
Overall, it is a handy product to have so that the old VHS-C cassettes are not forgotten. Since these tapes are smaller than regular tapes, having this adapter allows it to be used more flexibly.
What Could've Been Better?
This is a convenient tool to have in any house where that good old camcorder was used to the fullest. However, some reviewers expressed that this adapter should come with batteries. Plus, this is only compatible with VHS-C tapes, which can be a drawback for people with other types of tapes like JVC or Hi8.
Pros
Great to convert home movies

Easy to use

Simple instruction manual included

Durable case
Another great product that will help fill music in moments of silence on a road trip or a party is the Reshow cassette adapter. If you own a vintage car or like to own vintage sound systems at home, this is a must-have product. It eliminates the need to look for old cassettes or carry heavy external speakers.
Why Did We Like It?
One of the reasons this adapter stood out for us, and many reviewers, was its sturdiness and durability. The case is quite strong, and the cable is thick as well. If you have a car with an old stereo, with this adapter on your side, there is no need to have the whole system changed.
To elaborate a little more on the make of the adapter, it is rock solid and has an anti-breaking design. This handy little adapter has undergone several tests to ensure it doesn't easily damage and can last a long time. The cable is thick yet flexible, ensuring there is very little chance of tangling.
Additionally, it has a 3.5 mm audio out jack making it compatible with almost all devices and easy to use as well. All you need to do is insert the adapter like a regular cassette in the slot and plug the jack into a compatible player. After that, adjust the volume and enjoy!
What Could've Been Better?
This company claims to offer clear and undistorted sound, which many reviewers swear by. However, the one consistent complaint is that it only has a mono output. This means, no matter how clear it is, the sound only comes out of one speaker.
Pros
Thick cable

Sturdy make

Compatible with most devices

Easy to use
Cons
Sound only comes out of one speaker
The next product we will review is the Westgo audio aux adapter. This is another great adapter for everyone who still wants to use their old stereo in their cars and homes. No need to change the system to be in touch with the times, as this adapter can help preserve that retro feel.
Why Did We Like It?
Among the glowing reviews for this adapter, the price was one that reviewers raved about. This adapter is one of the most affordable in the market. It has a standard fit and can be inserted into any tape deck. Playing music in an old car has never been easier as this adapter comes with an aux cable compatible with most devices.
Speaking of the cable, it is of good quality and is sturdy. Many reviewers have mentioned that while many competitors have cables that tend to short, this one works like a charm. It is thick and not prone to tangling or breaking. The volume this adapter has to offer is also great.
To sum it up, this is an affordable and sturdy cassette adapter. It is a handy product to keep by your side to ensure old stereos and sound systems are utilized to the fullest. Plus, the company offers a money-back guarantee if you are not satisfied.
What Could've Been Better?
This is a very reasonably priced adapter with all the essential features. However, the one downside that this adapter has is that the audio quality is not that great. Many reviewers have mentioned that the audio is muffled, and sometimes the bass is higher than the treble.
Pros
Guaranteed satisfaction or money back

Sturdy cable

Good quality plugs

Affordable
Cons
Audio quality is not good
The RCA car cassette adapter is a great buy for people that do not want to spend exorbitant amounts of money changing the whole sound system. Using this adapter, you can hold on to that vintage charm while blending it in with modern technology. Let's explore this product a little more.
Why Did We Like It?
This adapter is an excellent and affordable alternative to anyone with an outdated sound system. It does not need an aux jack or bluetooth since it only needs to be inserted. The cassette is simple and has a standard fit making it compatible with any tape deck.
Moving on to the make, it has a sturdy case and a thick cable. The cable is about 2 to 3 feet long, giving it enough flexibility to keep the attached device anywhere you wish to. It also does not spoil the audio quality, and quite a few reviewers have even been impressed with the volume it has to offer.
Another great aspect is the product's compatibility. It is compatible with not just phones but also iPods, CD/DVD players, and any device with a 3.5 mm jack. It is affordable, simple to use, and easy to maintain.
What Could've Been Better?
This adapter transmits the sound clearly and usually does not spoil the quality. However, there have been certain instances where reviewers have complained about feedback. This product is not a very quiet mechanism and often gives out a dull noise when the volume is high.
Pros
Adequate cable length

Sturdy make

Can be used with a wide variety of devices

Cost-efficient
Cons
Has some feedback and other noises
This adapter is a little higher in the price range but has a lot to offer. The Aluratek universal bluetooth cassette adapter is an excellent option to consider as it is a bit more advanced than regular adapters. It is a small, lightweight, and portable device that can add a modern touch to your vintage car.
Why Did We Like It?
Having an old-school stereo does not mean you cannot enjoy the modern way of listening to music. With this adapter, you can transform your car by sprinkling a dash of advanced tech. The best thing is that it is bluetooth with features like auto turn off and a range of up to 10 m.
Now, let's talk about the usage. The adapter runs for 8 hours on a single charge and has a USB included to charge it. It can be connected to any Bluetooth device, like your phone, and then used to play all your favorite hits. Thanks to this, no more relying on low-frequency radio stations for music.
And this handy device is not just for car stereos but also old Walkman's and boom boxes hidden away somewhere. Additionally, no extra software or drive is needed to operate this. It also comes with a one-year warranty and excellent customer service.
What Could've Been Better?
The one consistent complaint with this product is that it ejects automatically. Many reviewers have found that the adapter would either get ejected or ready "tape error" after a few months of consistent use. Moreover, there is also a possibility to face difficulty while pairing the adapter with any device.
Pros
No additional wire or software needed

Works on Bluetooth

One year warranty

Works for 8 hours on a single charge

USB charger included
Cons
Ejects automatically at times

Pairing difficult at the beginning
The Elook cassette adapter is yet another bluetooth enabled product that is popular in the market, and rightly so. It is packed with features that make it easy to use and has a sleek design. It can be used on any cassette player and is ideal for bringing back that retro style in your home and cars.
Why Did We Like It?
On paper, the Elook cassette adapter is not too different from the Aluratek adapter, but that is far from the truth. The Elook cassette player may be bluetooth enabled too, but the tech is more advanced and that enhances its performance. The super chip in it ensures the sound transmits smoothly and fast and that the audio quality is top-notch.
In addition to that, it also has a very long playing time of 12 hours on a single charge. The connected device has to be in a 33 ft range of the adapter. Not only that, should it go out of range, it will automatically disconnect after 5 mins hence saving battery. It is guaranteed to offer a very enjoyable music listening experience.
Another very impressive feature is an LED indicator to show the status of the adapter. It also has a micro USB charging port and a small power button on the side. The product comes with a 12-month replacement window.
What Could've Been Better?
The issue with this adapter is that some of them offer mono output. Some reviewers have stated that they could only hear from the right channel. However, this isn't an issue since the company offers a 12-month return replacement window and can be changed.
Pros
Sleek design

12 hour playing time

Decent bluetooth range

LED indicator on the side
Sony has a long history of manufacturing quality products, and this cassette adapter is no different. It is a simple yet powerful product that allows you to listen to new music on old stereos. Although it claims to work best with Sony products only, reviews mention that it works like a charm with any device.
Why Did We Like It?
There is no denying that Sony products always offer top-notch service and quality. This cassette adapter follows suit with exciting features. It is a popular choice mainly because of its spring-loaded head. Plus, it can fit into any standard cassette deck and provide high-quality sound.
Another reason why this adapter is sought after is that it does not make a lot of noise. Unlike most of its competitors, this particular adapter has no static malfunctions or hissing on higher volumes. It provides high-quality sound without the need to revamp the sound system completely.
Additionally, this Sony adapter is one of the few that does not have any issues with auto-reverse. It is reasonably priced, guaranteed to last for a long time, offers tremendous value, and enhances the music from the device.
What Could've Been Better?
Overall there is very little to complain about with this adapter. It is an excellent buy with all the essential features. However, it has a very long cable. Its length is about 4 feet, which can be a bit messy to deal with in a small car. It helps to keep the excess wrapped up.
Pros
Self-adjusting case head

Operates silently

No static or disturbance

Long-lasting
And finally, we are going to review the DeShop cassette adapter. This one is a low-range product meant for any deck and is compatible with all types of devices with a 3.5 mm input. It is easy to use and durable. It's time to have a look at some of its features.
Why Did We Like It?
The DeShop adapter is a simple device that is lightweight and compact. What is there not to like about it? It only weighs around 0.81 ounces but packs a punch. Even the packaging is neat, making it a perfect gift for anyone!
Another great thing about this adapter is that it is compatible with almost all devices and can fit into any standard cassette deck. It is a long-lasting product and is said to be around for at least five years. And, the cherry on top is that it offers all this at a very nominal price.
Overall, it is a great adapter to consider for anyone else who likes to maintain the vintage feel of their car or home with an old-school stereo. And just in case you are not satisfied, the company has a 100% money-back guarantee.
What Could've Been Better?
While it is a great adapter to buy as it is affordable and compatible with almost all devices, there are some issues with audio quality. Reviewers have mentioned that there is static, and while it does not have mono output, one side is considerably lesser volume.
Pros
Money-back guarantee

Long cord

Durable

Compatible with mostly all devices, including CD players
Cons
Audio quality not up to the mark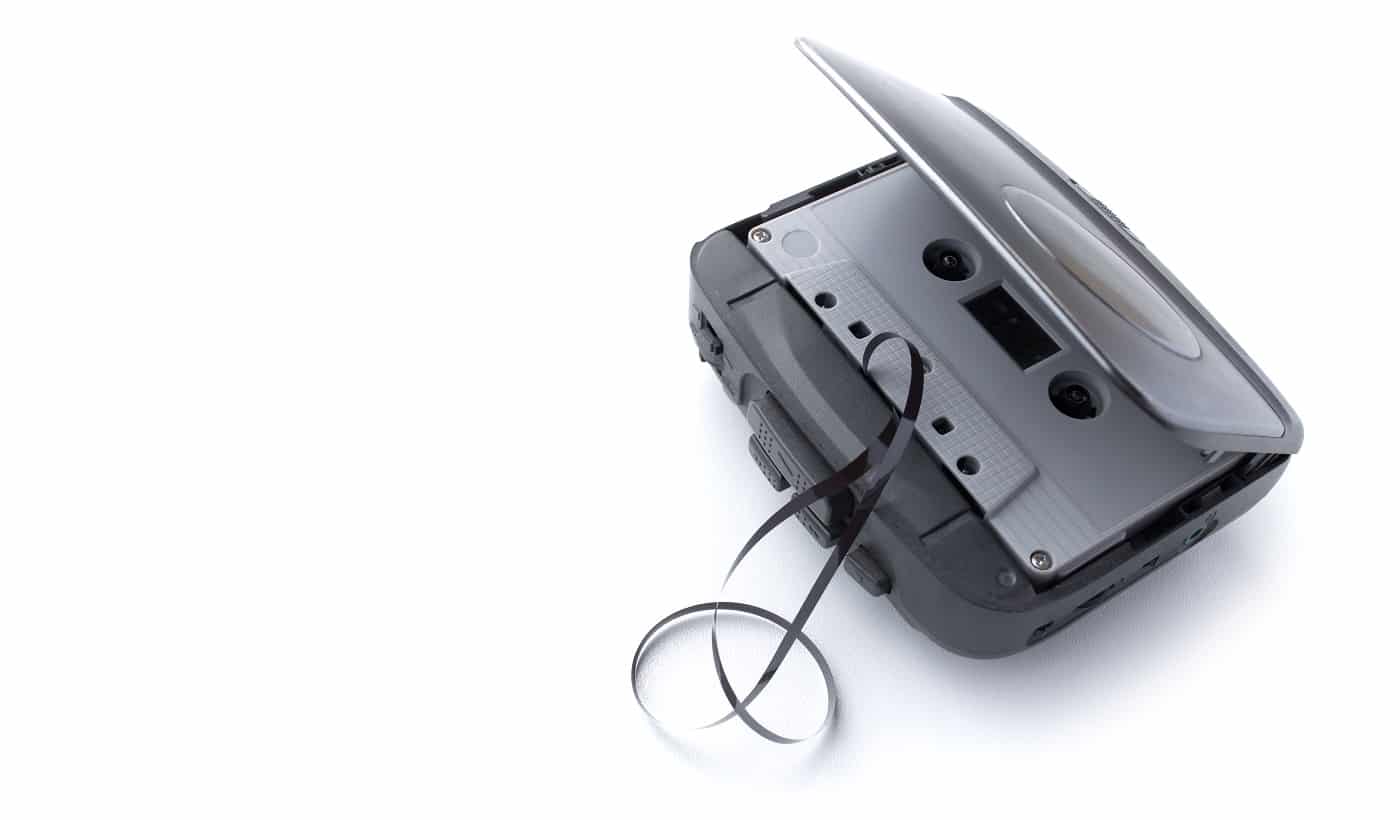 Cassette Adapter Buyer's Guide
Now, you must be wondering what is so complicated about a cassette adapter that it needs a buyer's guide? Well, we thought so too. But as we went deeper into researching, we realized there is a lot to consider when buying one. With advancing technology, a lot has changed, even in these little devices.
This is why we have put together some information that can be of help as you look into buying your first cassette adapter. Read on to find out what these crucial factors are!
Types
One of the first things to consider is what type of cassette adapter is best suited to your needs. The most common one is the cassette adapter (which we reviewed). These can be inserted into the deck and then connected to any compatible device with the attached cord.
Other than this, the second type is FM transmitters that seamlessly transmit the music on unused FM channels. And finally, there are cassette-shaped MP3 players that function as adapters and MP3 players. These can also be controlled by a remote.
Wired vs. Wireless
This is another factor to consider, especially if you're the type that does not like too many wires. A corded cassette adapter has a wire that is plugged into any compatible device. These wires can range from 2 ft to 4 ft depending on the brand.
Wireless adapters function on bluetooth eliminating the messiness of long wires. However, there can be connectivity and pairing issues. So, the choice is entirely yours, and both have their advantages and disadvantages.
Cable Length
As mentioned, the length of the cable can range from 2 ft to 4 ft. Depending on the length of the car, you will have to pick one that's best suited. All cables have a 3.5 mm headphone jack that makes them compatible with almost all devices.
A cable too long will tangle no matter how much the company claims it won't. And, a cable too short will disconnect from the device on the slightest pull. So, choose wisely!
Sound Quality
Of course, there is no use in buying an adapter that does not deliver proper sound. In order to determine if a device will have high-quality sound, ensure that it says it operates silently. This usually ensures that there will be no static, buzzing, or feedback from the device.
Compatibility
And finally, we come to this aspect. The compatibility of the device is vital in both wired and wireless variants. Not only does the jack need to be compatible with the device, but the Bluetooth also has to connect effortlessly. Moreover, the case needs to be a standard fit so it can insert smoothly into the deck.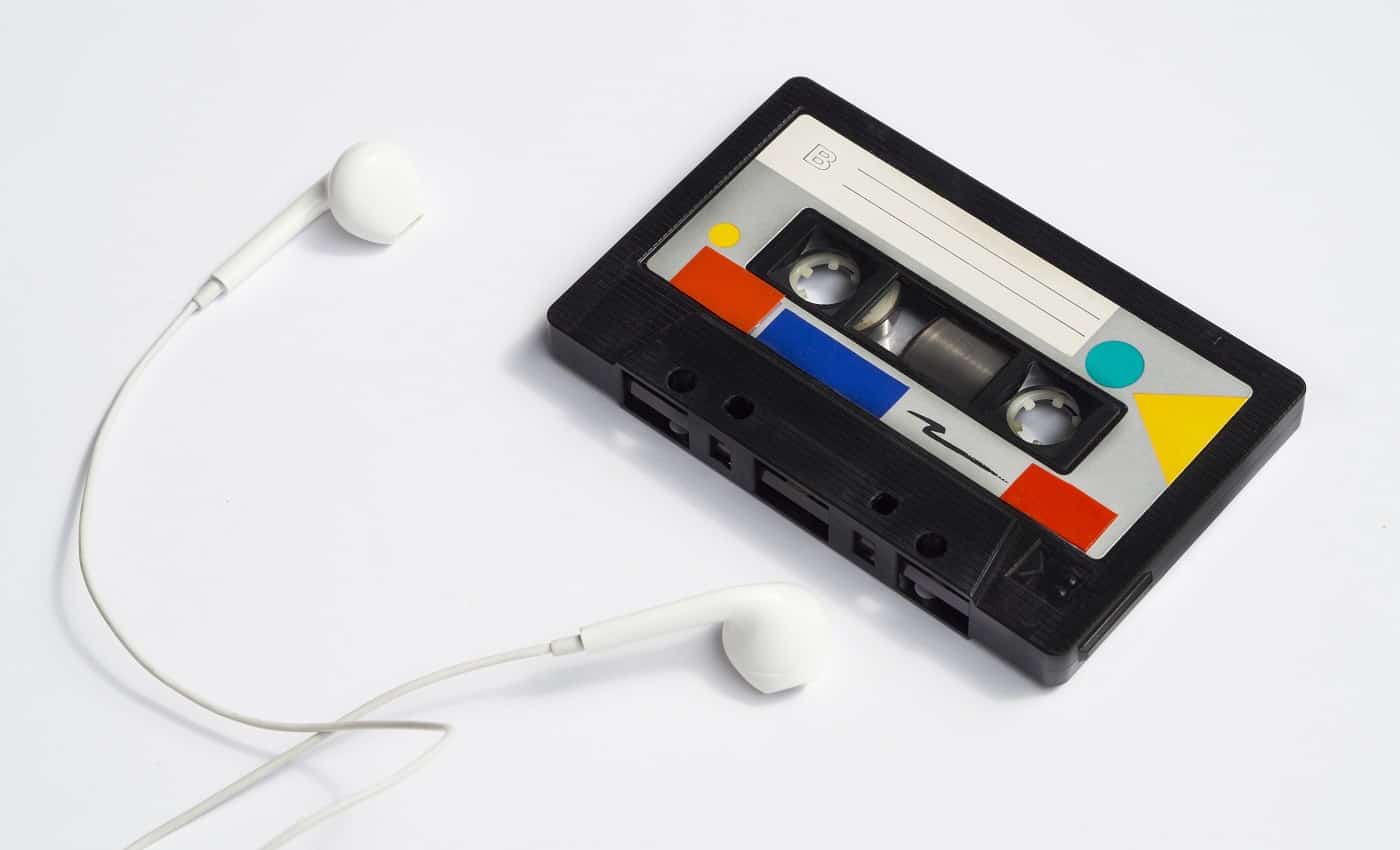 Verdict
Listening to anything like music or an audiobook can have a powerful impact on anyone's mood and day. So, why let something as minuscule as an outdated stereo come in the way of that?
If it helps, we would like to narrow down this list to the top two that stood out the most. For an all-around great experience, the Arsvita Car Audio Cassette adapter is ideal. However, because it is a bit expensive, we recommend the Sony Walkman car connecting pack for people on a tight budget.
We hope these reviews and buyer's guide have been informative. We shall see you soon with more of such helpful guides.
Until then, stay safe!
Related Articles
11 Best MP3 Players for Audiobooks
10 Best Portable BluRay DVD Players
10 Best Portable BluRay DVD Players