Disclaimer | This article may contain affiliate links, this means that at no cost to you, we may receive a small commission for qualifying purchases.
Do you hate compromising on good and tasty food when you are on-the-go? Well, not to worry anymore. Canned salmons are here to your rescue.
Canned salmon is one of the best bets when you are traveling, or you are not in the mood to cook. Friends coming over on short notice, and you do not have the time to cook? Well, all you have to do is pop open a can of salmon and serve it in your style. 
However, choosing the best one might seem like a daunting task. So, to help you, we have designed this guide with the top 7 variants that are available on the market. It will give you a detailed idea about the products and also their pros and cons. We have also included a buyer's guide to help you make a better decision.
So, without any further delay, let's dive right in!
Best Canned Salmon 
IMAGE
PRODUCT
DETAILS

Our Top Pick

Our Top Pick

BUMBLE BEE Snack On The Run

Has 3.5 ounces of salmon
Case of 12
Package weight is 1.77 kgs

VIEW LATEST PRICE →

Wild Planet, Wild Pink Salmon

Weighs 0.52 pounds
It contains 12 grams of protein
No added liquid or oil

VIEW LATEST PRICE →

Chicken of the Sea Premium Skinless & Boneless Pink Salmon

Pack of 12
Includes 2.5 oz salmon
Has 13 grams of protein

VIEW LATEST PRICE →

StarKist Wild Alaskan Pink Salmon

Includes 14.75 oz of salmon
Contains reduced sodium
Has 12 grams of protein

VIEW LATEST PRICE →

365 by Whole Foods Market, Canned Wild Alaska Salmon

Has 12 grams of protein
Includes 14.75 ounces of salmon
Certified Kosher

VIEW LATEST PRICE →

Rubinsteins Salmon Red Sockeye

It contains 7.5 ounces of salmon
Pack of 6
1.69 kgs package weight

VIEW LATEST PRICE →

Thinkpink Wild Alaska Pink Salmon

It contains 12 grams of protein
It comes in chunk forms
No added salt

VIEW LATEST PRICE →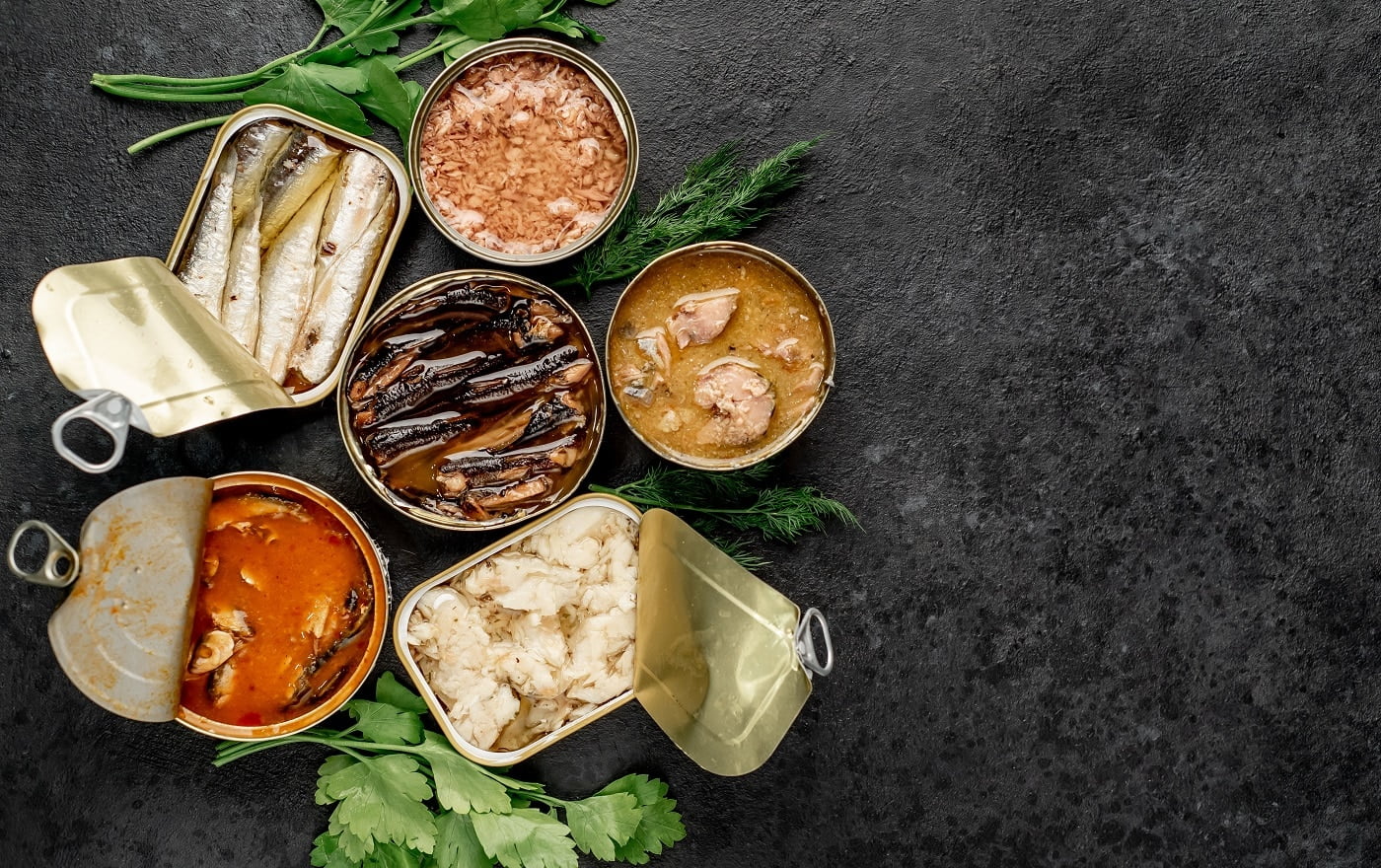 If you are looking for canned salmon that offers powerful, muscle-developing protein the BUMBLE BEE Snack On The Run is the best bet. With this item, you do not have to crack, bake or blend the salmon. To put it simply, it is as handy as a portable protein bar. Perfect for stress-free snacking, we would say!
Why Did We Like It?
What we liked the best about this item is that it is completely ready to eat. You can carry it in your backpack and have it on the go. 
It is perfect for camping trips or during long journeys where it gets a little difficult to procure food. For a perfect dose of protein, you should totally give it a try!
Moreover, the quantity it holds is quite sufficient to feed more than one person. It contains 12 cases, and each case has 3.5 ounces of snacks that can satisfy you and your friends. You can also enjoy a quick meal with your folks when vacationing.
Furthermore, it is very important that we talk a little about the packaging. The boxes are designed so well that they are extremely portable. It does not occupy much space and can fit into almost any bag that you carry. 
What Could've Been Better?
We hardly have any complaints about this product. However, we have heard that some people have found it to be a little sweet. So, we suggest that you read the ingredients list well before you decide on buying it. And if you have a sweet tooth, we are sure you are going to like it better. 
Pros
Very portable

Has sufficient quantity to feed more than 1 person

Great packaging

Good protein content
For the ones who are looking for a good dose of healthy nutrients, the Wild Planet, Wild Pink Salmon is an excellent option to consider. The best thing about this item is that it is canned directly from the fresh state and not from a frozen condition. So, rest assured that there is no compromise with the taste.
Why Did We Like It?
It is the fresh-sea flavor that we liked the best. Honestly, it did not feel like it was canned at all. It is loaded with nutrients and also great to taste. The product is completely skinless and boneless, and you do not have to put in any extra effort before you have it. These salmons are sustainably collected from the wild, icy waters of Alaska by families who are local to the land. 
Furthermore, it is full of essential nutrients. With DHA Omega 3 for every 2 oz. of serving and with 340 mg of EPA content, we do not need to tell you how nutritious it is. Further, you do not have to consume any unnecessary fats or toxic elements, all the while enjoying the delicious flavors that you crave.
Additionally, it is also gluten-free. What more can we ask for?
What Could've Been Better?
While we loved the product and how delicious it tasted, we cannot disagree that the price is a little on the higher end. It is relatively costlier than the standard alternatives that are available in the market. But for the taste it offers, we are not complaining!
Pros
Full of essential nutrition

Good packaging

Great to taste

Completely skinless and boneless
Next up on our list, we have the Chicken of the Sea Premium Skinless & Boneless Pink Salmon. This pack of canned sea salmon is an excellent choice if you have friends coming over for dinner. Do not want to spend time preparing and cooking? Take the salmon out, spread some mayonnaise over, or mix it in the salad!
Why Did We Like It?
After trying the product, we found out it is packed in a mixture of vegetable broth. This is a great thing as you can enjoy the benefits of both the salmon and vegetables when consuming this item. 
Mostly canned salmons are packed in oil or water, which is not preferred by many. A vegetable broth is a healthier alternative any day. 
Additionally, we have to give a special mention to the packaging. It is not marketed in cans, rather in plastic pouches that make it pretty thin and more portable than the standard ones that are available.
Now, in case you're wondering if it is plastic safe, then you don't have to worry there either. It is BPA-free and causes no harm to your food. 
Additionally, depending on how you like the salmon, you can eat it right out of the packet or prepare a meal with it. It is of incredible quality, and whatever way you decide to have it, there will be no compromise with the taste. 
What Could've Been Better?
One thing that we noticed after opening the pack was that the product was relatively dry. In one way, it is good that it is not soaked in excess oil. However, if you are planning to top your bread directly with it, we suggest keeping a dip handy to add extra moisture. 
Pros
Vegetable broth adds extra nutrition

Great packaging

The plastic used in the packaging is safe

Can be cooked or eaten directly
Cons
The content is a little dry
Are you thinking of incorporating more seafood into your diet? The StarKist Wild Alaskan Pink Salmon is a brilliant option for you to consider. The uniqueness of this product is its mild flavor, which is well-liked by many. This makes it very suitable to be included in salads, sandwiches, and many of your other favorite recipes.
Why Did We Like It?
Due to health issues, many of us have to be very careful with the amount of sodium that we consume. If you go for this item, you will have no such worries. The pack contains salmon caught from the chilly waters of Alaska and has very low sodium content. Moreover, MSC has certified it as a sustainable seafood. 
However, even if it is low on sodium and saturated fat, it is high on other essential nutrients. It is an excellent source of Omega 3s and protein. The product also contains calcium and vitamin D, making it good for your bones. It is also safe for individuals who are allergic to soy and gluten as it is free of both.  
Even your dietician would happily approve of it as it is so easy to include in your existing dietary plans. It fits well with paleo, keto, and Mediterranean style diets.
What Could've Been Better?
You do not have to alter any ongoing dietary plans in case you want to include this in your meals. Also, we have no complaints about the taste. However, we realized that there's some amount of skins and bones in the mix. So, before putting it in the food, you might have to seperate them in case you are not too fond of the taste.
Pros
Has very less sodium content

High nutritive value

Suitable with a variety of dietary plans

Good packaging
Next up on our list, we have the 365 by Whole Foods Market, Canned Wild Alaska Salmon. This is an excellent choice if you are planning a barbeque dinner party with your friends by the lake. Or for a quick weekend meal as you enjoy a solitary evening watching your favorite TV show.
Why Did We Like It? 
With this item, you get to experience the exquisite flavors of salmon that you can enjoy with friends and family. It is rich in omega 3s and other good nutrients that make it a very healthy option. 
The manufacturer puts extra attention to guarantee that the item meets all stringent quality checks so that you only eat what is best! The texture of the salmon is firm, it has a fresh flavor, and you can directly put it on your plate and have it. 
You can also add it to pasta, whip a savory spread with salmon and cream cheese or simply make a salad out of it. It is your playground, get as creative as you want!
What Could've Been Better?
Like the last item, many users had complained that the product contains skins and bones. Now, this becomes a problem if you are in a hurry and you have to spend extra time separating them before commencing to make the meal. We recommend that you take the extra time into account that you might need to get this task done. 
Pros
Fishes are sustainably caught

The salmon's texture is very firm

High in nutrients

You can have it directly
If you are all in for the unique delicacy that high-grade red salmon is, then Rubinsteins Salmon Red Sockeye is the best bet! Anyone who has had it before knows how good it tastes. But, if you are new to it, you are in for a treat!
Why Did We Like It?
Firstly, we were quite impressed with the quantity that each pack comes with. The entire package has 6 cans, and each can includes 7.5 ounces of sockeye salmon. This amount is quite good if you have another friend or two coming over for dinner and you want to prepare a quick meal. 
Furthermore, the product is packaged in a manner that the flavor of the salmon is kept intact. With this item, you can enjoy the rich flavors of the salmon if you decide to have it directly. You can even mix it in your favorite salads or use it as a bread spread. 
Moving on, the salmon inside the tin is stored in a nutritious liquid, and we suggest that you do not drain it out before having the salmon. The broth stores a good portion of the red salmon flavor and thus contributes a lot to the taste.
What Could've Been Better?
On receiving the item, we noticed that the can had some dents on the top and was also a little tapered on its side. For a premium-quality product like this one, we expected the packing to be better and not get damaged during transit. We hope the manufacturers fix this issue soon.
Pros
Quantity is enough for more than 1 person

The flavor stays intact even after packaging

Stored in a healthy broth

Bones can be very easily removed
Cons
It is not packaged very well
In no way would we wrap up our list without mentioning the Thinkpink Wild Alaska Pink Salmon from Pure Alaska. It is one of the best options for you to consider if you are concerned about keeping the sodium intake to the minimum. That said, we are not saying you have to compromise with the taste!
Why Did We Like It?
This product offers you the rich and delicious flavor of pink salmons, but minus the added salt that the standard canned salmons come with. It is healthier, tastier, and also hardly takes any time to open and have. You do not have to spend any time and effort in un-salting it. 
Additionally, this product takes pride not only in the flavors that it offers but also in the purity of the fish and health benefits that it is packed with. It contains a good amount of omega 2 fatty acids. 
It can be consumed even during pregnancies, as pink salmon is a short-lived filter fish. However, we always recommend that you consult your doctor before doing so. 
Furthermore, the manufacturer completely follows the "traditional" method when it comes to packaging this salmon. The salmons are collected from Kodiak Island, Alaska, and cleaned and canned with nutrient-rich bones and skins.
What Could've Been Better?
We have noticed some customers complaining about the product tasting a little bland because of the absence of salt. This is true, but it is done keeping in mind the health requirements of some customers. So, we suggest that you add salt according to your taste to make the experience even better. 
Pros
It contains no extra sodium

It is very healthy

The flavor is incredible
Cons
Might taste bland to some people
Canned Salmon Buyer's Guide
After reading about the 7 best canned salmons of the year, we hope you have a better idea about what to look for when you are buying one.
It is not just how excellent it tastes but also the health benefits that must be a major factor guiding your decision. However, we are here to tell you that there are a few other factors that you should take into consideration before deciding on any one product.
And in this section, we are going to discuss some of those factors. So, without any more delay, let's take a look!
Types Of Salmon
The most common varieties of salmons that are available on the market are ones that are caught in the wild and ones that are farmed. 
Most of the canned salmons that we have on this list are caught from the chilly waters of Alaska. Not to mention that their harvesting is done in a sustainable fashion, and no aquatic life forms are harmed in the process. 
Also, the wild-caught salmons grow in their natural habitat and generally taste better than the ones that are farmed. 
Bone-in/ Deboned
Well, this is a matter of complete preference. What we can tell you is that the bones and skins of salmons are completely edible, and some agree that they are actually quite tasty. However, keep in mind that they are not very suitable if you are planning to make salads or other such preparations. If you have it right out of the can, then there's no issue. 
Removing skin and bones is quite time-consuming. So, if that's the plan, we recommend that you go for options that have no bones or skins included. But, you should also keep in mind that salmon skins and bones are a rich source of vitamin D and work great in maintaining your bones. 
Weight
While measuring the weight of the can, always remember that the weight is calculated with the broth or the liquid in which the salmons are submerged. 
Sometimes, they can have more liquid or oil, which really prevents you from having a sufficient meal. Extra oil or broth also tends to reduce the real flavor and essence of the fish. However, the liquid is necessary because, without it, the salmons would become very dry and unfit for consumption.
The best thing to do is to read the package carefully. Make sure you note down the weight of the salmon and not of the whole package.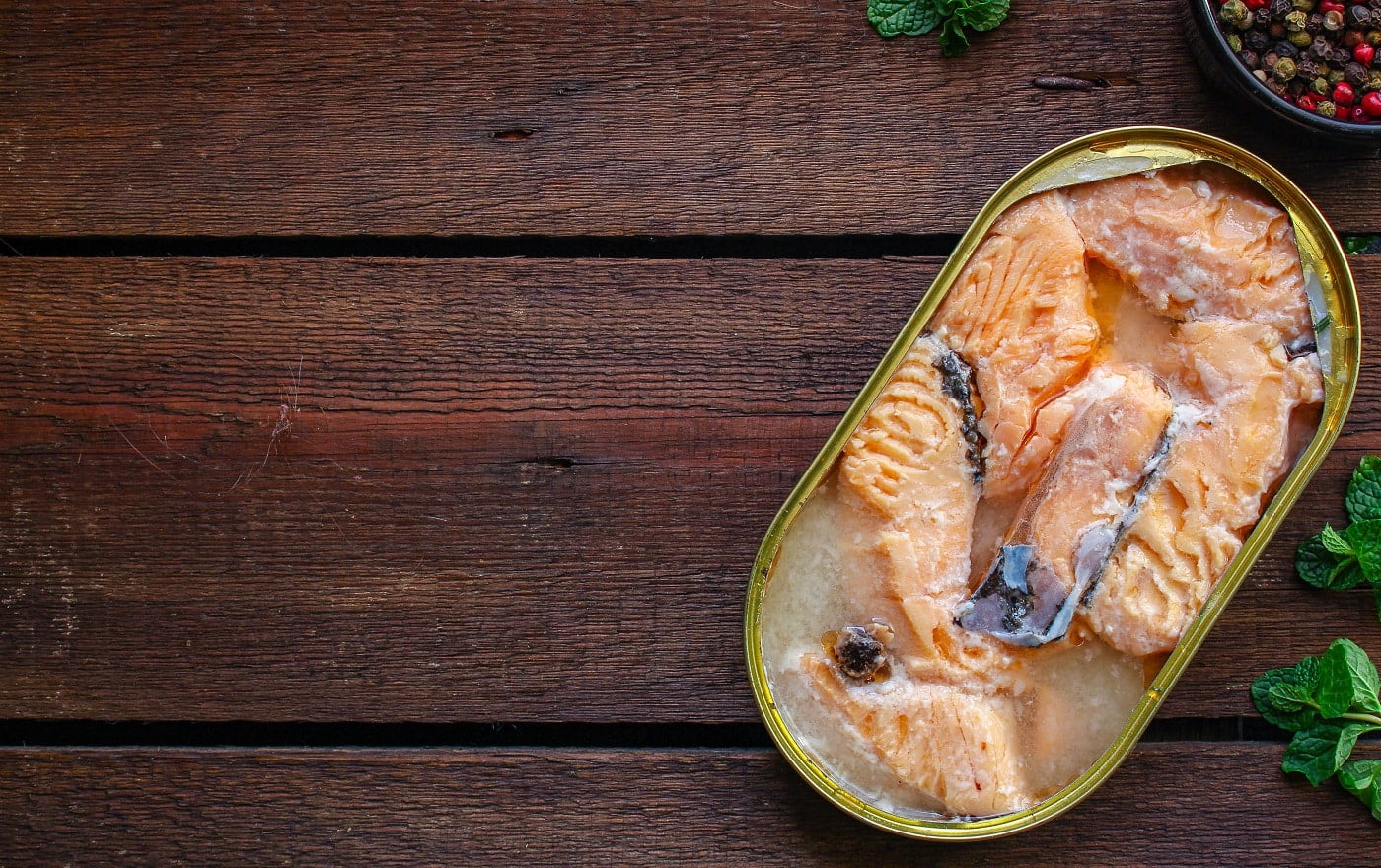 Verdict
That's all, friends!
Canned salmons are one of the best options when you are out on a trip as they are not just tasty but also very portable. We hope that after reading this comprehensive guide, you can make a good and healthy choice.
Before saying goodbye, we would, however, like to let you in on our favorites. BUMBLE BEE Snack On The Run takes the award for being our favorite overall. If you are looking for a gluten-free option, then Wild Planet, Wild Pink Salmon, is the perfect choice. 
And if you want an item that is very convenient to carry, Chicken of the Sea Premium Skinless & Boneless Pink Salmon is an excellent choice. With that, it's a wrap! Let us know about your favorite in the comments section below.
Until next time. Take care!
Related Articles