While working with a variety of materials like different types of metals and wood, you must have a good drilling tool by your side. 
And in this regard, nothing can beat a good-quality budget drill press as it can yield accurate holes of different sizes, which may be positioned at different angles. The best part is that many of the models available are priced quite reasonably. 
But since the market is flooded with a ton of options, choosing a suitable model often becomes difficult. That's why we've tried to help you out but putting forward this list of the 11 best options to consider. As a bonus, we've included a buyer's guide so that you can make a well-informed decision. 
With all said and done, let's get going!
Best Budget Drill Press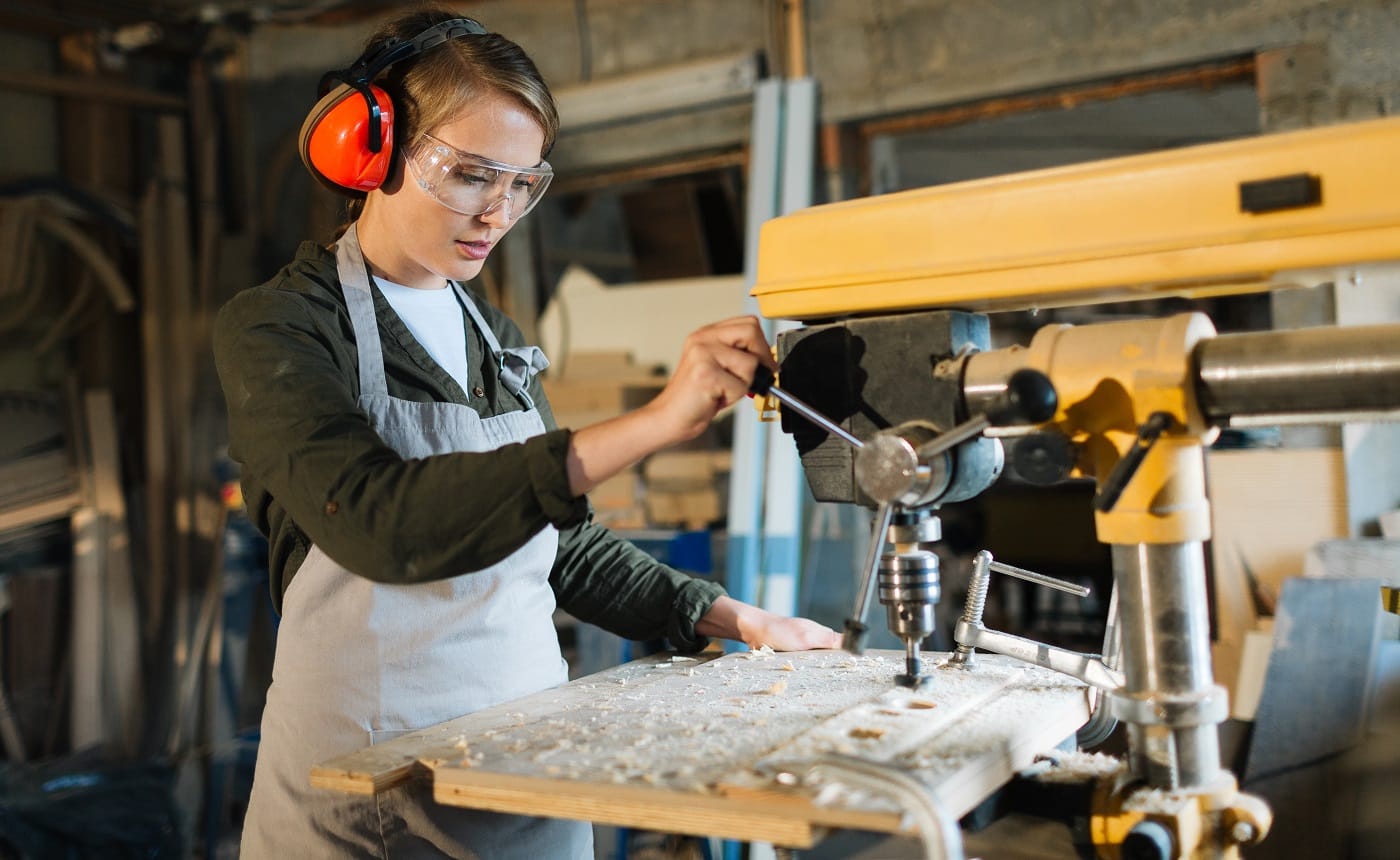 This drill press from WEN offers one of the best combinations of utility and efficiency you will find in the market. Coming with a couple of high-quality features, it facilitates creating accurately positioned holes to ensure that your projects are completed with utmost efficacy. Besides, the reasonable price tag has made it popular among many DIY lovers. 
Why Did We Like It?
To begin with, this unit consists of a keyed-chuck capable of drilling holes of ½ inch size, making it suitable for a range of projects. A key storage chamber is also attached to ensure that the keys are always within close reach.
What's more, its spindle can travel up to 2 inches and comes with knobs for depth adjustment to enable more accurate and multiple drilling operations. The measurements marked for the adjustment are easy to read and the worktable can be beveled 45 degrees to the left and right to create precisely-angled holes on any side. 
Beyond that, it has a strong, rugged, and durable induction motor of ⅓ HP that helps complete every work with ample torque and power. 
Last but not least, the head, base, and table of this unit are made from high-quality and durable cast iron. So, rest assured that it will provide long-lasting service.
What Could've Been Better?
The one-year warranty offered by the brand is not effective enough as it only covers minor issues. Also, the response from the manufacturer may be delayed in some cases. Nonetheless, the drill press works effectively to provide great results every time. 
Pros
Can meet a variety of drilling needs

Enables more accurate drilling

Completes the work with ample torque and power

Provides a very long-lasting service
Cons
Warranty not effective enough
This is another excellent drill press to carry out all your home improvement projects with absolute finesse. Suitable for many different materials including metal and wood, it can also be used for large-scale building and furniture projects. Plus, the brand offers an impressive 3-year limited warranty on the unit.
Why Did We Like It?
What we liked the most about this unit was its effective variable speed functionality, which lets you adjust the working speed by 5 levels based on your needs. This makes it possible to drill clean holes in different materials. 
Another great feature that this unit offers is a 2-beam laser, which plays an important role in aligning the holes precisely. Accompanied with this is the depth adjustment system that facilitates consistent drilling each time. 
As for the chuck size, it's the same as that offered by our previous pick, so you can comfortably insert larger bits for cutting and woodworking. Also, the work surface can be tilted by a maximum of 45 degrees, which makes sure that the angled drilling is precise. 
What Could've Been Better?
Although this unit does its job quite well, it may arrive with some missing parts missing. For instance, some customers complained that the central column used for supporting the other parts was not included in the package. So, make sure you check whether all the components are there as soon as it arrives. 
Pros
Adjustable working speed

Beam laser helps to align holes precisely

1-inch chuck lets users insert larger bits

Facilitates accurate angled drilling
Cons
May arrive with some parts missing
The DEWALT DWE1622K drill press is an extremely reliable option to go for as it provides optimal performance while working on a range of materials. This unit also offers great user convenience as it incorporates a number of utility-based features. The components included in the package are a safety chain, a tool for height adjustment, and a keyed chuck.
Why Did We Like It?
First and foremost, the unit offers relatively more drilling power than many other drill presses in the market. What makes this possible is a 10-Amp motor that helps the unit deliver a powerful and accurate performance. Additionally, you get to adjust the speed by two levels, viz., 300 RPM, and 450 RPM, as per your drilling needs. 
Another beneficial feature is the spindle travel distance of 4⅜ inches, which provides great drilling capacity and makes it suitable for heavy-duty applications. On top of that, the height adjustment functionality gives greater accessory compatibility. 
We were also impressed with the magnetic cooling tank provided in the package that lets users control the flow of the cooling fluid. All you have to do is make sure that it's placed close to the unit for proper functioning. Finally, the grip handle can be quickly released by just pressing a button and may be attached on either side of the unit. 
What Could've Been Better?
The only disadvantage of using this unit is that it is comparatively heavier than other models. As such, it offers limited portability and won't be suitable for people who may require shifting their tools frequently. However, we have no complaints regarding the efficiency of this unit. 
Pros
Delivers a powerful and accurate performance

Offers great drilling capacity

Offers good accessory compatibility

Lets users control the flow of the cooling fluid
Cons
Relatively heavier than other models
Next in line is this advanced model from Shop Fox, which is useful for both drilling and sanding operations. Notably, sanding helps in removing sawdust and other materials that may be stuck on the surface of drilled holes to make them smooth. Several unique functionalities have been incorporated into the model so that users can derive a steady and efficient performance.
Why Did We Like It?
First things first, the oscillating spindle is what makes this unit a dual-purpose tool as it helps in proper contour sanding besides holding the chuck in position for efficient drilling. This helps you obtain a smooth finish after the drilling process is complete and also reduces the heat build-up during use. 
Moving forward, we loved its variable speed motor of ¾ HP which offers as many as 12 speed settings, whereby you can adjust the speed between 250 to 3050 RPM. As such, users get great flexibility during work and can carry out different drilling and sanding projects. 
Another significant advantage of this unit is that its table can be tilted to 90 degrees either to the left or right. So, you can position the workpiece as per your requirements to achieve unique sanding or drilling angles. 
What Could've Been Better?
The instruction manual included with this unit is not quite comprehensive enough as a few of the steps for set-up are a bit vague. Hence, beginners might find the assembly to be somewhat challenging. Also, the manual doesn't have an inventory list, and some parts of the unit are not labeled properly.
Pros
Offers a great speed adjustment range

Highly versatile

Also useful for contour sanding

Lets users achieve unique sanding or drilling angles
Cons
Some steps for set-up are vaguely described in the manual
This powerful laser unit from Delta offers great precision for all drilling projects to achieve perfectly drilled holes in the first attempt. It also provides users with considerable convenience by virtue of its diverse and highly useful features. From our experience, it's safe to conclude that this unit is among the best-performing models in the market.
Why Did We Like It?
What places this unit a step ahead of many other models is its auto-tension belt drive system. In simple words, it promotes easier and faster speed changes during use while ensuring maximum efficiency of transmission with the help of proper motor alignment and steady belt tension. 
In addition, it comes with a heavy-duty ¾ HP motor, which makes it capable of handling a range of demanding projects. There is a 6-inch quill stroke capacity that makes it very useful for deeper industrial drilling applications and enhances its drilling capacity. 
Furthermore, there are a couple of user-friendly features integrated in the unit. Firstly, there is a depth scale and few micro-adjustable depth stops, which help users set up the unit for repetitive drilling very quickly. You will also find an LED light function that illuminates the work surface for sufficient visibility, while the non-tip base made of cast iron maintains proper stability. 
What Could've Been Better?
Some customers have complained that the customer support offered by the brand is not efficient enough. They have pointed out that despite having reported their issues with the unit several times, there was no substantial response or action taken. 
Pros
Promotes faster and easier speed changes

Ensures maximum efficiency of transmission

Capable of handling a variety of projects

Comes with enhanced drilling capacity
Cons
Customer service not efficient
Euro Tool is known across the country for manufacturing some of the best quality power tools for a wide range of applications. This small benchtop drill press offers the reliable characteristics of the brand and is also priced quite reasonably, suitable for use by professionals as well as DIY lovers.
Why Did We Like It?
Firstly, the maximum speed limit of this unit is as high as 8500 RPM, which is more than the majority of drill presses that you will find out there. This enhances its flexibility of use and also makes it much more versatile. 
Moreover, its highly efficient 110V motor lets you drill tiny and accurate holes on different materials. You will also be glad to know that this machine is compact in size and weighs a mere 13 lbs, which makes it easily portable around your workshop. As such, it is highly suitable for users faced with space limitations. 
Since it has very few moving parts, it's much easier to setup and use, so you can practically install and forget it! Last but not least, it has a cast iron base like some of our other recommendations, which takes care of the stability factor during use. 
What Could've Been Better?
The handle that arrives in the package may not always match or fit onto the unit properly. And since it plays a key role in the proper operation of the unit, such an issue has to be reported as soon as possible. The manufacturer is quite responsive, so it's most likely that you'll get a replacement handle without much waiting.
Pros
Offers great flexibility

More versatile than other models

Can drill tiny and accurate holes with ease

Simple to install and use
Cons
Handle may not fit onto the unit properly
If you are on the lookout for a decent unit that can deliver a considerably good performance, this drill press from BILT HARD will be the perfect option to go for. Integrated with many appreciable features, it is quite popular among DIY lovers across the country. So, let's go ahead and have a look at its different features.
BILT HARD Power Tool
High Powered Drilling: Product size: 39 x 16.14 x 9.45...
16 Operating Speeds: Adjustable depth stop and variable...
Why Did We Like It?
What we liked the most about this unit was its ⅝-inch chuck, which lets you use different drill bits with diameters ranging between ⅛  and ⅝ inches. Added to this, the spindle travel distance of 3⅛ inches makes it capable of drilling holes of greater depth than some other drill presses. 
Then, there is an easy-to-read depth stop that can control both upstroke travel and downstroke depth, enabling repeatable and precise drilling operations. Additionally, the bevel with a 11.41 inches diameter can be used to tilt the table by 45 degrees towards the left or right for drilling holes at various angles. 
Beyond that, you will appreciate the mighty 6.6-amp induction motor that can drill through metal, high-quality plastic, wood, and other materials for varied projects. Finally, the sturdy cast iron build of this unit gives it great durability and enhances accurate drilling. 
What Could've Been Better?
Although this unit works quite well, its instruction manual has many of the steps mentioned in brief, while some of them are also not clear enough. As such, you may have to look online for help, and the installation process would take much longer. 
Pros
Can work with different drill bits

Can drill holes of greater depth

Enables repeatable and accurate drilling

Durable design
Cons
Instructions for set-up are brief and unclear
The Jet JWDP-12 is built to tackle large projects quite comfortably and hence highly suitable for professional contractors. However, DIY enthusiasts engaged in larger tasks and in need of professional-grade accuracy can also go for this unit. Notably, it comes in dimensions of 29.7 x 19.9 x 12.2 inches and weighs 85 lbs. 
Sale
Why Did We Like It?
First of all, this unit uses a X-shaped laser in the drilling process, which helps achieve accurate results each time. Its 5-amp ½-HP motor can easily penetrate a wide variety of materials. 
Plus, the variable speed control range of 530 to 3100 RPM that drives the motor is commendable since it provides considerable flexibility. This also helps you finish all drilling tasks quite swiftly. 
What's more, it comes with spindle travel of 3⅛ inches to facilitate much greater depth cutting whenever needed. Speaking of the chuck size, it is the same as our previous pick, so you can drill holes of different sizes with this unit too.
Lastly, a paddle switch is incorporated into the unit, which enables easier lockout and shut-off protection. 
What Could've Been Better?
The cast iron base of this unit is not efficient enough as it cannot always provide maximum stability during use. Moreover, this base may sometimes be warped when the drill press arrives, so you will have to straighten it out before the first use, and not all users may be able to do that on their own. 
Pros
Helps achieve accurate results

Helps finish drilling tasks swiftly

Facilitates greater depth cutting

Provides easier lockout and shut off protection
Cons
Cast iron base is not efficient enough
If you are looking for a small but effective drill press for your home or workshop, this model from Grizzly Industrial may well be your go-to. It is packed with lots of beneficial features that can make all your drilling work a smooth sailing process without drilling a hole in your pocket (no pun intended). 
Why Did We Like It?
Unlike some other models with keyed chucks, this one has an adjustable or keyless chuck that can be used for different drilling purposes by adjusting its size between 1/16 and ½ inch. Furthermore, it comes with a great spindle travel distance of 2 inches, which helps in drilling deeper holes.
With regards to the variable speed functionality, this model lets users regulate the speed by 5 levels between 740 and 3,410 RPM. Additionally, its 8-inch swing makes it suitable for drilling into workpieces of various sizes. 
This machine also offers a considerably powerful performance, thanks to the strong and durable ⅓-HP motor installed in it. Lastly, its compact and lightweight design makes it more portable than many other models out there. 
What Could've Been Better?
The gauge for depth adjustment fixed on the machine is made from relatively inferior material and may not stay in place after about a year of use. To deal with this issue, take a thin ruler of metal, cut a small strip out of it, and fix that in place of the gauge.
Pros
Chuck can be adjusted to work on different projects

Speed can be regulated as required

Can drill into workpieces of different sizes

More portable than many other models
Cons
Gauge for depth adjustment may not stay in place
Our next pick for you is this model from Genesis, which is perfect for DIY lovers looking for a convenient and considerably powerful drill press at a reasonable price. It can be used to obtain accurate results for different projects and is quite suitable for those seeking greater versatility.
Why Did We Like It?
To begin with, we really liked its 2.6-amp motor that provides a quiet yet smooth performance and works consistently for the years to come. Added to this, you can adjust the working speed by 5 levels to suit the needs of different projects, which contributes to enhancing the versatility of this unit. 
Similarly, users can regulate the speed with the help of an easy-to-operate pulley housing. Another useful feature is the ½-inch chuck that makes it suitable for handling larger bits. Thus, you can drill large-sized holes in wood, metal, and many other materials without putting in a lot of effort. 
Apart from that, the swing size makes the machine ideal for drilling holes in the center of 8-inch workpieces. Lastly, the table can be tilted by 45 degrees to the left or right in order to drill holes at special angles. 
What Could've Been Better?
The machine may wobble a bit during use, which is due to its unstable base being made from relatively inferior cast iron. Its upper portion is significantly heavier, which makes portability difficult. However, we didn't face any issues with the overall functioning per se.
Pros
Powerful motor delivers a consistent performance

Capable of handling different projects

Can drill holes in the center of 8" workpieces

Can drill holes at special angles
Towards the end of the list, we've included this mini drill press from SE as it provides good accuracy and speed for all the work that it handles. Ideal for small projects, it is the go-to drilling tool for woodworkers, hobbyists, jewelers, and mechanics. In fact, this unit offers much more user satisfaction than standard hand-held drills.
Why Did We Like It?
First of all, this drill press has a maximum drilling height of 7½ inches that can handle different kinds of workpieces. Coupled with this is a drilling capacity of 6 mm, which enhances its versatility considerably. 
Furthermore, the spindle travel distance of 1-inch makes this unit suitable for drilling deeper holes than cheaper-quality models. As for the drilling power, it comes with a strong motor of 100W and 110V that helps in providing faster and more accurate results every time. 
You also get a fairly large working area of 6-9/16 x 6-9/16 inches so that accommodating larger workpieces becomes easier. Finally, the strong base with dimensions of 6⅝ x 6⅝ inches provide the required stability during use.

What Could've Been Better?
The speed adjustment feature of this unit may not always work properly. As such, you might need to operate the machine at the same speed for two projects with slightly different needs. That said, this doesn't have a major impact on the efficiency of the drill press. 
Pros
Can handle of a variety of workpieces

Suitable for drilling deeper holes

Can easily accommodate larger workpieces

Provides the required stability during use
Cons
Speed adjustment feature may not work properly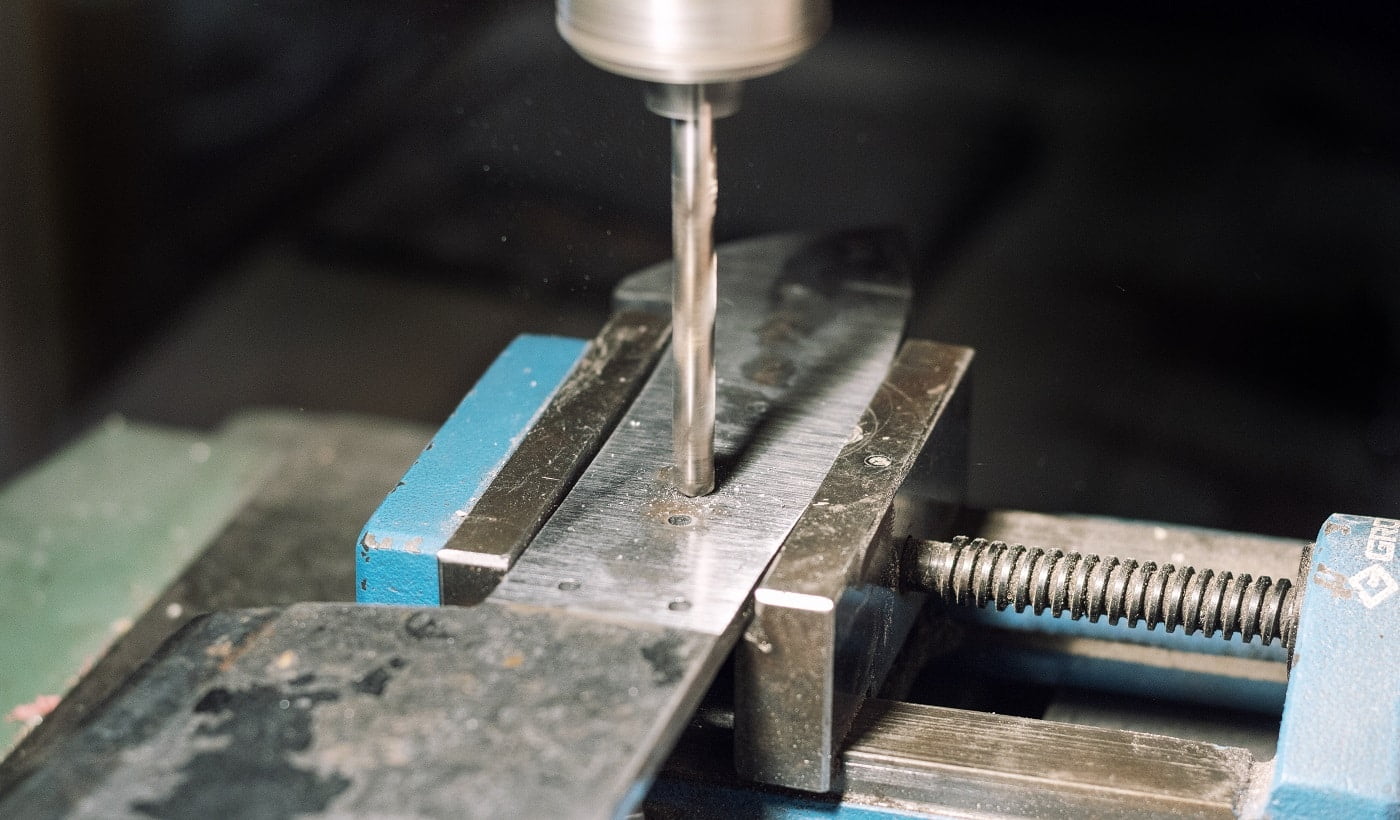 Budget Drill Press Buying Guide
The right budget drill press can't be chosen by just going through the best models available. You need to consider some key features that are essential to provide a good performance. And only then can you find the model that will fetch the desired results every time. 
On that note, here are some important points to take into account before proceeding to make a choice. 
Power
For a budget drill press, the power is determined by the output of its motor, which is generally measured in terms of horsepower (HP). Drill presses that are highly powerful have motors with horsepower between ½ and ¾, which is ideal for drilling into materials like metals and wood. 
On the other hand, those with horsepower between 3/25 and ⅓ can handle small to medium drilling projects effectively. So, while considering a unit, make sure you go through the information regarding the output of its motor. 
Spindle Travel
This term is used to refer to the depth of the hole that a unit can create without having to halt and readjust its table or the workpiece. While smaller drill presses have a spindle travel distance of about 2.5 inches or less, in the case of larger units, it may be as much as 6 inches or even more. 
If you're a DIY lover engaged in small to medium-sized projects, a smaller model can easily get the job done. But professionals who have to carry out larger projects frequently will need a model with greater spindle travel distance. So, keep in mind the purpose for which you'll be using the unit to make the right choice. 
Chuck Size
This is a crucial factor in choosing a drill press as it tells you the kind of bits that you can use with the unit. Some of the common chuck sizes include ½, ⅜, and ⅝ inches, which can make drill presses suitable for working with a wide range of bits. Do remember to check the compatible chuck size of the model you're considering as it must be compatible with the bits that you plan to use.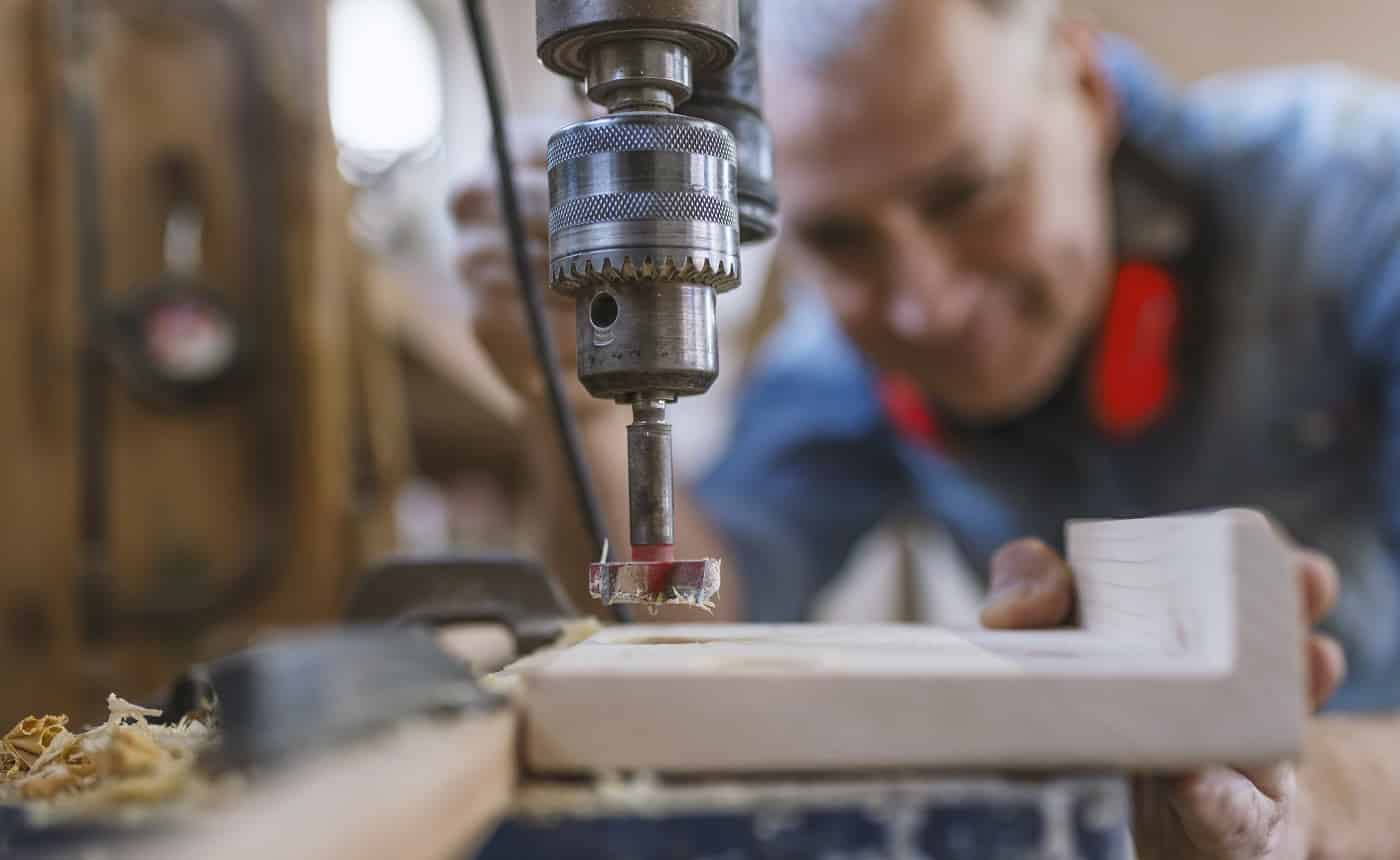 Verdict
With that, we have reached the end of this guide, and we hope you'll find it easier to choose a suitable unit now. Again, make sure you consider your needs and preferences before zeroing in on a product. 
But before we call it a day, we would like to quickly take you through our favorites from the list. If you are searching for a budget-friendly model that also offers great performance and versatility, the WEN 4208 Drill Press is the perfect choice to go for. 
However, in case you prefer a unit with a laser and don't mind spending slightly more for that, the SKIL 3320-01 3.2 Drill Press will be a good option. On the other hand, the DEWALT DWE1622K Drill Press offers a much greater spindle travel distance to facilitate professional-grade accuracy. 
Let us know whether you agree with our verdict in the comments section below- we'll be glad to hear about it! Till next time, take care!
Related Articles
Makita vs Dewalt Drill [Differences & Winner]
13 Best Hydraulic Bench Presses
11 Best Drill Bits for Hardened Steel
11 Best Drill Bits for Hardened Steel