If you drive a car, a bi-directional scan tool is probably one of the most useful pieces of equipment to own.
These diagnostic tools are adept at performing functional tests, inspections, actuator tests, system tests, and working with reprogramming or reinitializing your car. They convey information to and from the control module of the vehicle, and advanced models are now used to command a specific function. Clearly, they save you a ton of time.
At present, the market is teeming with a variety of products, each with its unique specifications and functions, so choosing the right one for your needs can be an arduous task. This is why we've done the legwork for you!
In this review, you can find the details of the 12 best bi-directional scan tools available out there, including a nifty buyers' guide to help you out.
So, without further ado, let's get started.
Best Bi-directional Scan Tools
IMAGE
PRODUCT
DETAILS

Our Top Pick

Our Top Pick

Launch X431 V Pro

ECU Coding and 30 reset services
Wi-Fi enabled device
Multiple language compatibility

VIEW LATEST PRICE →

Ancel AD610 Elite

Deals with ABS and SRS light trouble codes
Supports all OBD II test modes
Multilingual operation

VIEW LATEST PRICE →

Foxwell NT630

Accurately diagnoses ABS/SRS/SAS errors
Removes air from internal brake fluid chambers
SAS calibration on over 30 models

VIEW LATEST PRICE →

Autel Maxisys MS906BT

ABS Auto-bleed
Over 23 OBD II functions
Free software update and 1-year warranty

VIEW LATEST PRICE →

Ancel FX6000

Capable of ECU coding
Supports all OBD II tests
Multilingual scanning tool

VIEW LATEST PRICE →

Launch X431 V+

Over 20 reset functions
Reads DTCs and live data streams
Operates the fuel pump

VIEW LATEST PRICE →

Autel MP808

Excellent capacity for code, active test, and live data
Performs EPB and regeneration services
Automatic software update

VIEW LATEST PRICE →

Foxwell NT650 Elite

Diagnoses airbag malfunction
Upgraded 9X35 processor
Advanced onboard monitoring

VIEW LATEST PRICE →

Topdon ArtiDiag 100

Reset and adaptation capabilities
Displays live sensor data
5-inch HD touch screen

VIEW LATEST PRICE →

OTC 3893 Encore

Auto-ID for CAN vehicles
Built-in repair information
AutoDetect technology-enabled

VIEW LATEST PRICE →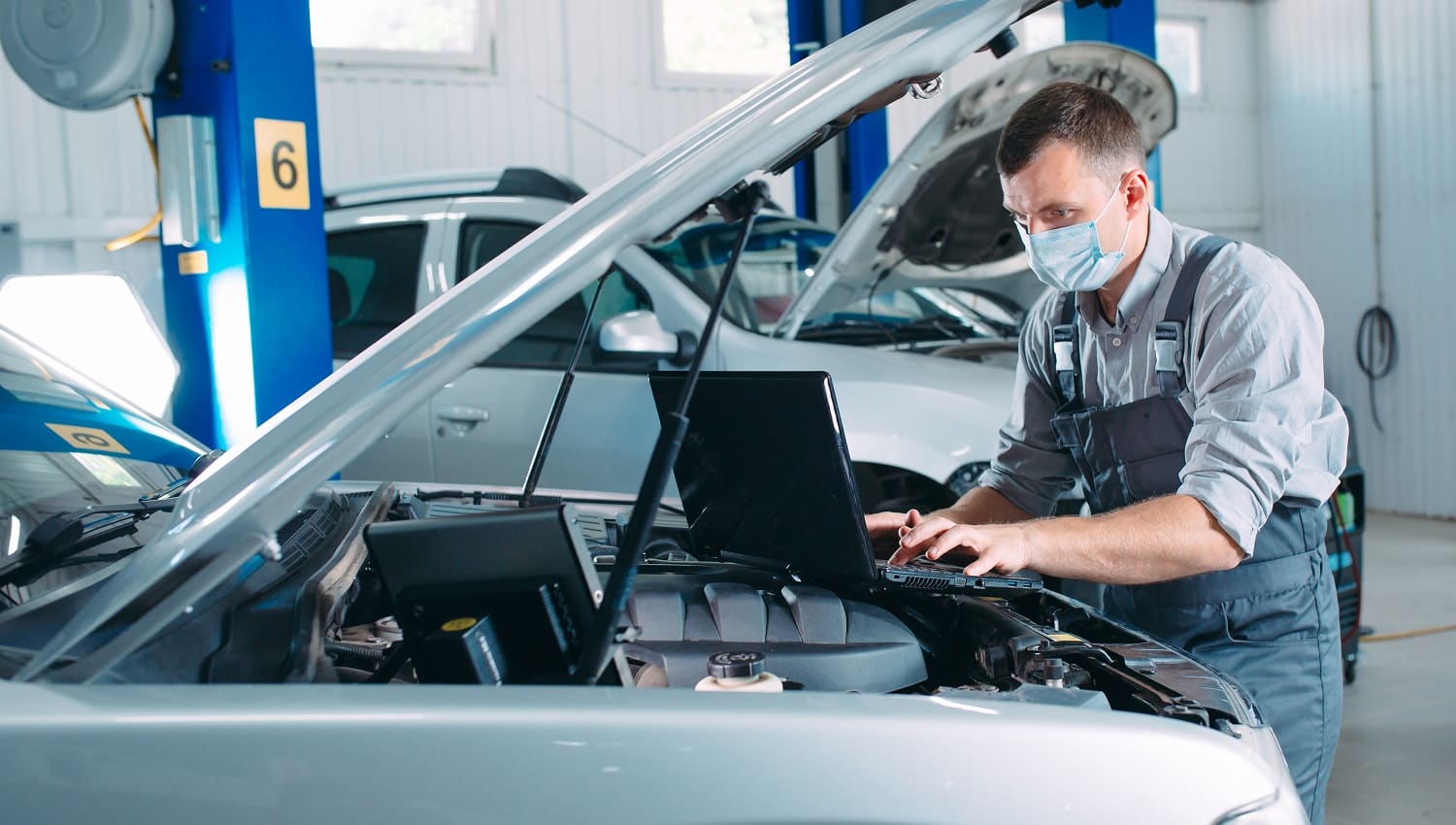 As one of the most well-established brands in car scan tools, Launch is a name you can trust. The X431 V Pro is among their best products and is a highly functional and versatile device that is packed with a ton of features. Easy to use and long-lasting, the V Pro promises a stellar performance and makes for a worthy purchase.
Sale
Why Did We Like It?
The features that we like about the X431 V Pro are simply too many to name. To begin with, it is an 8-inch tablet that offers a thorough inspection of the vehicle. Also adept at reading and clearing DTCs and live data, the unit functions well with a number of systems such as ECM, TCM, SRS, fuel systems, and wiper systems to name a few.
Furthermore, it helps in online coding for popular and high-end brands such as Porsche, Benz, Hyundai, and Audi. In addition to that, the scanner includes over 30 reset functions, ECU coding, and also supports operative solenoids and active testing. Needless to say, this is a highly sophisticated device that ensures top-notch functioning of your car.
In terms of operational efficiency, the X431 V Pro is hard to beat. Compatible with multiple languages, you can use it for nearly any model manufactured in Asia, Europe, the Americas, and Australia. Lastly, it is Wi-Fi and Bluetooth enabled and also comes with a 5-year warranty. Dependable and offering good value for money, this is certainly a scanner to keep an eye on.
What Could Have Been Better?
Although by no means a technical error, the issue that customers may face is the occasional lack of an instruction manual. It's not always included in the package as advertised, which makes it difficult for the user to engage all the features the device comes with. However, Launch has an excellent customer support team that is sure to help out in such cases.
Pros
Extremely versatile functioning

Good value for money

Long-lasting with attractive warranty
Cons
Instruction manual not always included
Next up, is another excellent product from an equally trustworthy brand, Ancel. The AD610 Elite is a bi-directional scanner that scores extra points for its versatile compatibility. Functional and sturdy, it ensures that operating and maintaining your vehicle is a hassle-free responsibility and a time-efficient one at that.
Why Did We Like It?
Right off the bat, Ancel's product impressed us with its compatibility. It performs with equal ease and competence for over 60 worldwide models of cars and is also accurate in identifying the vehicle information. Combined with multilingual menu options and code definitions, this is certainly a useful feature to have.
Speaking of utility, the unit is also capable of taking readings of and clearing ABS and SRS trouble codes on OBD II vehicles. Be it an SUV, minivan, hybrid vehicle, or light-duty trucks, the scanner will almost always give a clear indication of any issue that may cause the 'Check Engine Light' to be on.
Additionally, the AD610 is a powerful tool that can work for live data, O2 sensor tests, and component tests. It displays sensory data both in the form of graphs and text and is able to point out symptomatic data that demands attention and action. Long story short, Ancel's device is one of the most useful bi-directional scanners around and it promises to deliver.
What Could Have Been Better?
The only complaint that users may occasionally have is that the SRS code reading is prone to inaccurate results. We'd suggest contacting Ancel's customer care in case such issues arise, as they're highly capable, prompt, and helpful.
Pros
Compatible with a variety of models

Highly sensitive to diagnostic problems

High operational efficiency
Cons
SRS code reading can be occasionally inaccurate
Our third recommendation is from Foxwell, a brand that's been around long enough to establish a stronghold in the market. The NT630 is a device that performs well and exceeds users' expectations in terms of functionality and operational efficiency. Read our review of it to learn more.
Why Did We Like It?
As a highly accurate device, the NT630 from Foxwell is an able bi-directional scan tool that offers readings for and diagnoses of ABS, SRS, and SAS errors. It qualifies as an Airbag OBD II scanner and among other functions, removes air from the internal brake fluid chambers.
In addition to that, the scanner is adept at assisting in bleeding the brake, which ultimately results in a firm brake pedal. This also helps to cycle the pump and valves while the bleeding is underway. Further, it affords the user greater control over the airbag system including switches, sensors, relays, and actuators. All in all, time-efficiency is one of the biggest perks of the unit.
Lastly, the scanner is a worthy companion to any automobile user as it is compatible with a large number of vehicles, and nearly every OBD II model including SUVs, trucks, and minivans. Also, it comes with an upgrade tool, FoxAssist, that helps in tackling the software while Foxwell itself boasts of a hands-on assistance team that is sure to help you out when required.
What Could Have Been Better?
There are no functional faults in the NT630, as with a number of other bi-directional scanners, the instructions border on confusing which doesn't allow users to make full use of all the available features. In such an instance, we'd suggest getting in touch with the customer care team at Foxwell for guidance.
Pros
Versatile and accurate

Assists with bleeding the brake

Includes software-assistance tool
Cons
Instructions are difficult to follow
Next on the list is the Maxisys MS906BT from Autel, a brand that is well-loved and trusted across the industry. Versatile in functioning and easy to use, the device makes for a smart choice for the ardent automobile connoisseur. This is an excellent scan tool to consider if operational efficiency is your first priority.
Why Did We Like It?
To begin with, the MS906BT is a highly versatile and functional device that combines multiple services into one nifty package. It includes ABS Auto Bleed, fuel injector sync, and comes with a connect kit for DS808 that is equipped to read live data, code, and ECU information.
Furthermore, the scanner is adept at determining the response capacity of the ECM with respect to the given commands. In addition to that, it may be used to access the subsystem and component tests of specific vehicles. This is dependent not only on the manufacturer and model but also on the tests displayed in the menu of the scanner.
Last but not the least, Autel's device gives the user prompt access to the car's systems for servicing and maintenance issues. With incredible OE-level functioning and an HDMI port to boot, this bi-directional tool makes for a handy piece of equipment with high utility and good value for money. For the tech-savvy, this is certainly the way to go.
What Could Have Been Better?
While there are no inherent functional issues with the scanner, users may face a lack of storage. At 30 GB, it is prone to fall short of expectations considering the number is higher in some of its counterparts. However, we'd focus on the functionality of the tool where it outdoes many of the other models in the market.
Pros
High operational efficiency

Long-lasting and robust construction

Sophisticated diagnostic functions
Highly popular with a loyal customer base, Ancel is a brand that manufactures bi-directional scan tools of top-notch quality. The FX6000 is no exception to the rule and delivers a promising performance. Equipped with sophisticated technology, it serves a number of functions and is incredibly easy to operate.
Sale
Why Did We Like It?
There is a lot to like in this bi-directional scanner, starting with its capacity for ECU coding and programming that renders it an excellent diagnostic device for a number of OBD II vehicles. Simple to use for users at any level of expertise, all you need to do is connect the scanner port to the vehicle. There's no need for batteries or even a charger!
One of the functions that impressed us the most in this nifty device is its ability to read and erase transmission errors. Due to the difference in gear ratios of the engine and wheels, this is crucial to the functioning of the vehicle. This particular function, therefore, allows the user to ensure that the automobile utilizes optimum power.
Also high on operational efficiency, Ancel's tool supports an impressive number of languages from Russian, European languages, to Korean and is compatible with just as wide a variety of car models. Fitted with a high-definition TFT screen and 11 OBD connectors, you may rest assured that there's hardly much to complain of.
What Could Have Been Better?
The only issue we found was that the scan tool faces difficulties when operated in Spanish; it often fails altogether. Also, it is priced considerably higher on the scale and may not suit all budgets. However, neither is a functional error and the product remains highly-ranked in our books nevertheless.
Pros
Accurate and versatile functioning

Easy to use and maintain

Excellent transmission-reading capacity

High-definition screen for enhanced visibility
Cons
Does not function well in Spanish

Expensive
The second product by Launch on the list, the X431 V+ is equipped with features that are even more sophisticated than its predecessor. It excels as a diagnostic scanner on many fronts and offers a high degree of operational efficiency while at it. Versatile and sturdy, the unit makes for a worthwhile addition to your toolkit.
Why Did We Like It?
Right off the bat, the unit impressed us with its versatility. With over 20 reset functions, including oil and SAS reset, ABS bleeding, injector coding, BMS, and TPMS reset, it serves the purpose of single-handedly ensuring a vehicle's optimum performance. Along with this, the scanner is also adept at ECU coding which further enhances its utility in mechanics.
In addition to that, it has the capacity to decode and clear DTCs as well as live data, and may also suggest maintenance recommendations for various components of the vehicle such as the engine, transmission, brake, fuel, and emission systems. Needless to say, this is a scanner that not only takes care of the essentials but also goes the extra mile.
Lastly, the X431 V+ is compatible with a wide range of brands of cars; we're talking no less than 150! Also effective for heavy-duty trucks, the device can give commands for specific functions along with performing all the aforementioned tasks. A true workhorse, this upgraded scanner comes with a battery life of up to 8 hours, a 5-year warranty, and promises to deliver.
What Could Have Been Better?
It's difficult to find technical errors in the product; it's nearly perfect. However, the only issue that customers may complain of is the shortage of memory space, which is considerably lower than the advanced models in the market. Although, in our opinion, the functions offered by the X431 V+ far outdo the rest in efficiency and for that reason, it remains a top recommendation.
Pros
Ensures optimum performance

Offers good value for money

Long-lasting battery life
Next up is another excellent bi-directional scanner from Autel. Powerful and high-functioning, it carries out a number of tasks with efficiency. As the upgraded version of the DS708, it makes for a handy tool for any automobile owner and comes fitted with a number of features that ensure an enhanced performance. Read on to learn more.
Why Did We Like It?
To begin with, we'd like to comment on the accurate diagnostic capabilities of the MP808. As powerful as the MS906, it is fully equipped to read and decode codes, live data streams, and active tests and is also time-efficient while working.
Furthermore, the unit performs a number of essential functions such as oil reset, EBP service, TPMS programming service, and SAS reset. Together, they ensure that the vehicle performs to its utmost capacity without straining the internal or external components. Also, adept at carrying out specialized tasks, the MP808 moves ahead of its predecessors by a considerable margin.
In addition to that, Autel's scanner scores high on compatibility. Including over 80 brands across the USA, Asia, and Europe, it also includes an OE-level system coverage that makes it highly attractive among buyers. Last but not the least, the unit features an automatic software update option which, in the first year of purchase, is available free of cost.
What Could Have Been Better?
There is hardly much to point out by way of shortcomings in the MP808 from Autel. However, we feel that their customer service could certainly improve. To counter this, we'd suggest taking up the issue with higher authorities. Autel is an established brand and is sure to look into the matter.
Pros
Compatible with over 80 brands

High-functioning and low maintenance

Accurate in diagnostic functions
Cons
Customer service could improve
The NT650 is our second recommendation from Foxwell, a brand whose stronghold in the industry is well-established. An excellent bi-directional scanner, this product makes for a cost-effective option for anyone looking for efficiency on a budget. It is easy to operate and also comes with a host of attractive features to boot.
Why Did We Like It?
As a highly functional device, the NT650 performs a number of diagnostic and corrective functions. It is able to detect airbag malfunction along with ABS bleeding, battery registration, steering sensor inspection, SAS and oil resets, and DPF regeneration. The variety of tasks is more than commendable and saves you additional costs of buying various tools.
The reason behind its incredible versatility is the sophisticated internal mechanism the scanner makes use of. It boasts of a 9X35 processor with a memory of 16 GB which ensures that the scanner works with improved speeds. Using Auto VIN technology, it offers accurate identification of a vehicle's model, make, and year, and does so for a wide range of automobiles such as cars, SUVs, light-duty trucks, and minivans.
Moreover, if it's comprehensive diagnostics that you're in search of, you needn't look any further. The NT650 is an able tool that offers the same for global OBD II vehicles and comes with an excellent graphing capacity. This allows the user to check for any suspicious activity and issue with the car as the scanner provides symptom-specific data. A sturdy and long-lasting tool, Foxwell's scanner is bound to make an impression.
What Could Have Been Better?
The only issue that users may face with this otherwise excellent product is downloading software updates. The scanner is sometimes prone to lag in the process, thus slowing down the operation. However, Foxwell comprises a hands-on and responsive customer care team and we'd suggest contacting them in such cases.
Pros
Life-long warranty

High operational efficiency

Varied and versatile functioning
Cons
Software updates can pose a problem
A new entrant on the list, Topdon is at par with all the other names we've covered so far. Its product, the ArtiDiag 100, is a versatile scanner that combines many essential functions into a single unit. Equipped with state-of-the-art technology, it scores high on operational efficiency and delivers a satisfactory performance.
Why Did We Like It?
First up, the ArtiDiag 100 is a useful tool to have around given the sheer number of tasks it can carry out, among which, reset services and adaptation capabilities take the cake. Along with that, it is also adept at ABS Bleeding, reading code, injector coding, and displaying live sensor data from over 70 models of cars.
Additionally, the unit is designed with ergonomics and efficiency in mind. For instance, it supports BMW and Benz models with requiring additional adapters which cuts costs for the user and is also easy to use for any first-timer. Moreover, it excels as a scan tool also due to its immense coverage of most major car brands across the globe.
Last but not the least, Topdon's product features a diagnostic system that is further augmented by the 5-inch HD touchscreen. At 800×480 DPI, it offers crystal clear readings, thus leading to more accuracy and, ultimately, to better diagnoses. To end with, the scan tool comes with a 1-year warranty, is multilingual, and updates the software free of cost. If you ask us, we need nothing more!
What Could Have Been Better?
The only drawback of0 this highly functional scanner is that it cannot activate sensors. However, the units that can, are more expensive by a huge margin. So, in our books, this is hardly a red-flag.
Pros
Ergonomic and sturdy design

Wide coverage

Excellent operational efficiency
Next on the list is the 3893 Encore bi-directional scanner from Owatonna Tool Company. This is a brand that has been manufacturing specialty tools for the American market since 1925, and design has been their strong point. The team specializes in diagnostic equipment and the scanner is the perfect example of their craftsmanship. Read on to know more.
Why Did We Like It?
There is a lot to like in this high-functioning scanner and the extent of its coverage is just one of them. Compatible with American, Asian, and European automobiles, it offers 30 years of OEM service and with great efficiency. The lifetime hardware warranty is an added bonus in this case.
In terms of features, there is no dearth of diagnostic functions that the scanner can perform. Along with Auto-ID for most CAN vehicles within a span of 10 seconds, it's capable of providing repair information that is built into the system. Included in this are over 30 million repair solutions collected from real-time experiences.
Moreover, the tool comes with an AutoDetect technology that allows the scanner to shift from DTC to repair information with a single tap on the screen. Accurate and built to last, the 3983 from OTC is a reliable piece of equipment that offers good value for money.
What Could Have Been Better?
There are no technical flaws in the product. The only aspect that may not sit well with all buyers is the hefty price tag. However, in our books, it exceeds expectations in terms of functioning and is certainly worth shelling out a few extra dollars.
Pros
Excellent coverage for vehicles

Time-efficient and functional

Durable construction
The CarScan Pro is the most high-functioning bi-directional scanner from the brand and it comes equipped with a ton of features to choose from. Inclusive and versatile, it offers professional results that are hard to match.
Sale
Why Did We Like It?
As one of the most versatile and utilitarian products on the list, the CarScan Pro from Innova offers an impressive range of features. To start with, it boasts of excellent reset functions that help in repairs and overall maintenance of the vehicle using relearn procedures. And while at it, the results are always top-notch and professional.
In addition to that, the unit gives the user access to live data streams that allow them to read important metrics for ABS bleeding, SRS, and transmission. Also, the scanner is adept at conducting emission and smog checks and supports all OBD I & II modes. What's more, with an impressive capacity for sending essential commands for fuel and brake operations, the Pro is truly a premium product.
Built with efficiency and aesthetic appeal in mind, the unit employs the latest OBD II software and makes for a smart choice. Apart from such attractive features, it also has a sturdy construction that withstands years of use. One of the very best, we'd say!
What Could Have Been Better?
Although an impressive bi-directional scanner, the device's excellence comes at a cost. Priced considerably higher on the scale, it may not suit all budgets. However, we believe it does compensate for the price tag, thanks to the ton of useful features Innova offers.
Pros
Accurate and professional results

Excellent repair and diagnostic capacity

Long-lasting and durable
Cons
Price is considerably high
Our last recommendation is another incredible product from Innova, the CarScan Tech. An inexpensive version of the CarScan Pro, this remains a scan tool worth checking if accurate diagnostics are your first priority without having to make a dent in your pocket. Equipped with handy features, it makes for a handy piece of equipment.
Why Did We Like It?
The CarScan Tech boasts of excellent features that are sure to impress the most discerning buyer, but to begin with, we'll pick the advanced brake caliper service function. Especially useful while one's running diagnostics, it allows for both EPB and ABS bleeding, two essential functions in any vehicle.
Further, with this device, the user will have no problem reading and gauging sensor data and tire pressure, both of which ultimately ensure the safe operation of the automobile. Also, it enables the user to verify the temperature of transmission fluid and decide whether or not it's suitable for operation.
Lastly, the scan tool features a number of other functions such as emission and smog checks, OBD I coverage, oil level monitoring, and testing of the battery system. Moreover, Innova manufactures its products to last, so you can rest assured that you won't be buying another scan tool any time soon.
What Could Have Been Better?
Although there are no issues with this scan tool, it must be kept in mind that it may expose the user to chemicals, including DiNP, which is known to cause cancer. However, the quantities are minute and if used with discretion, there should be no problems whatsoever.
Pros
Versatile and precise diagnostics

Ensures both user and vehicle safety

Wide range of functions
Cons
May expose the user to chemicals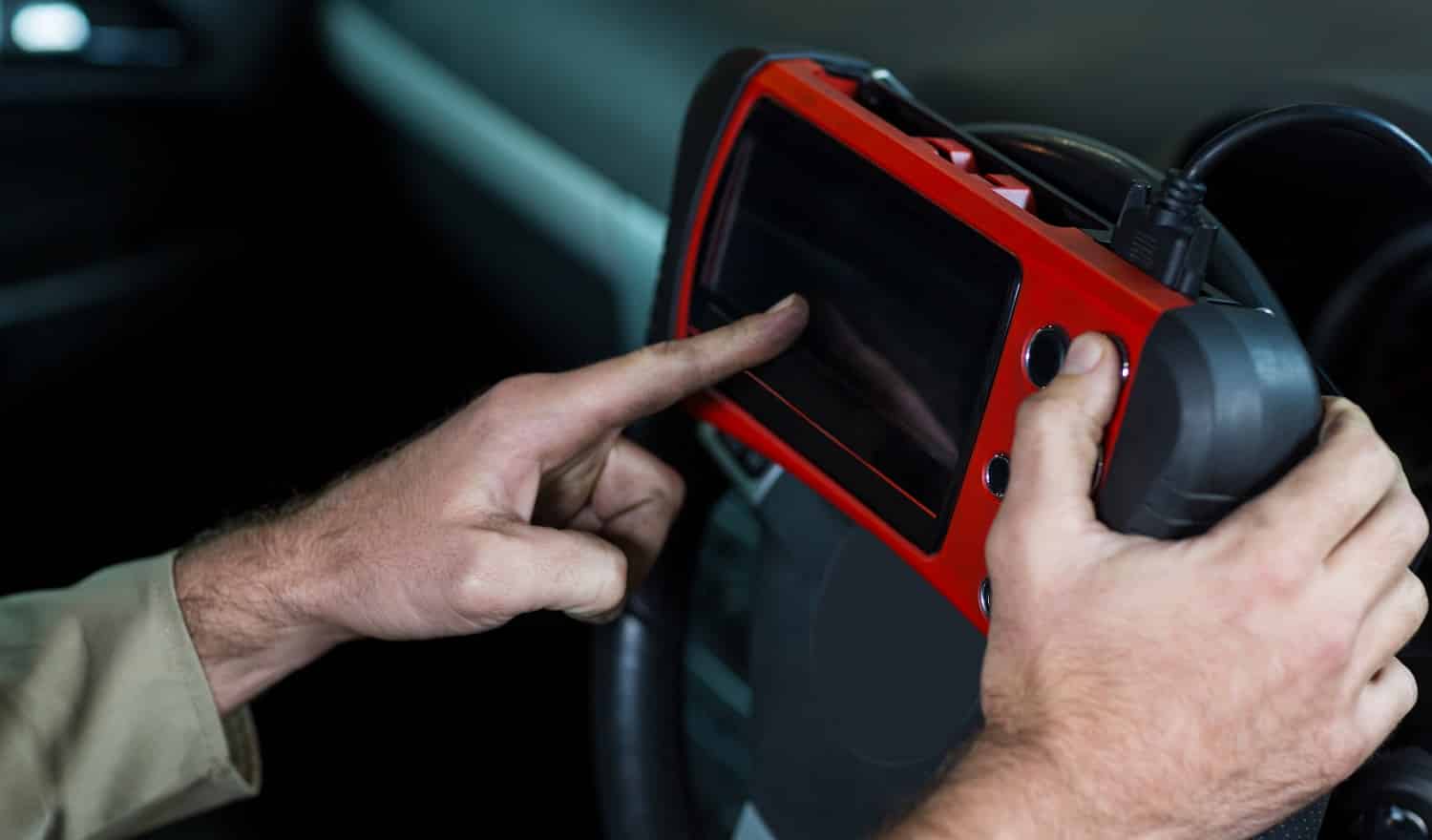 Bi-directional Scan Tool Buyers' Guide 
As the models undergo regular upgrades, it's wise to keep a few fundamental points in mind before investing in a bi-directional scan tool. Performing both scanning and programming functions, they offer a plethora of services both diagnostic and correctional in nature.
With the variety of products available in the market, it can be a difficult task to select the right one for your needs. Outlined below are some guidelines that should help in such a case.
Compatibility
This is where checking for the OBD plays a vital role in gauging the compatibility of your scan tool. Essentially, it is a standardized system that enables external devices to interface with a vehicle's computer system. There are two kinds of scanners in this regard – OBD I and II. The former is outdated; however, OBD II is likely to serve the purpose well.
Response Time
Another crucial aspect is the response time, as it hardly helps to have a diagnostic tool that lags. In case of a long response time, the entire process of diagnosis and repair is delayed, leading to faulty operation in cases. A good boi-directional scanner is fast and prompt, otherwise, it isn't worth the expense.
ABS and SRS Systems
These are perhaps the most essential functions of a scan tool as they're intimately connected to ensuring the safety of the user. As the anti-lock braking system and the safety restraint system, they make up the primary safeguards against mishaps and a bi-directional scan must be able to verify the functioning of the two.
In the event of accidents, the scanner signals the control module which then inflates the airbags. An efficient scanner ensures that the process is carried out in a smooth manner.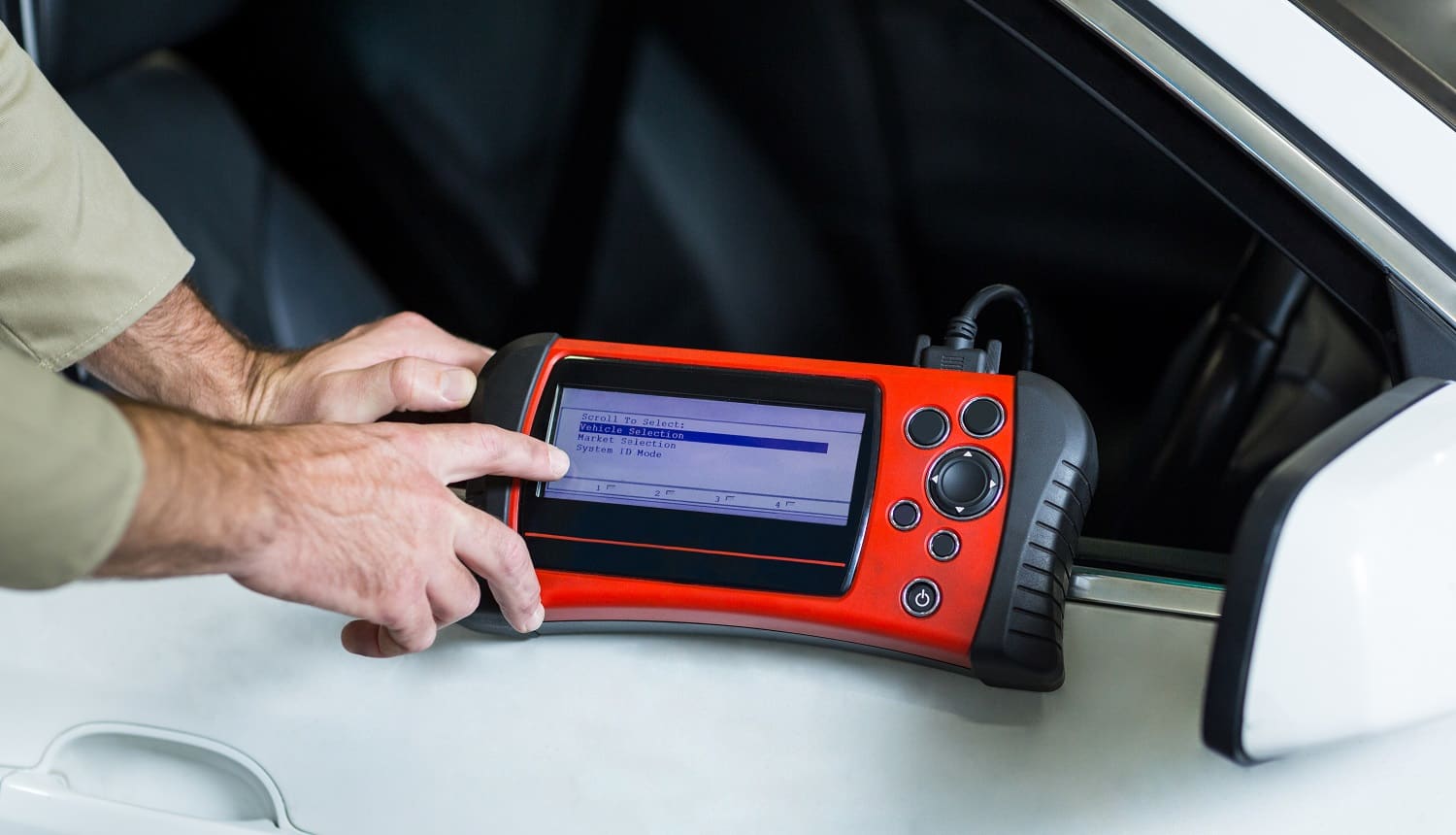 Verdict
With that, we come to the end of our listicle and guide to the best bi-directional scan tools and we hope it has been beneficial.
While the reviews should make it simpler to streamline your options, making the final selection can still leave you biting your nails. This is why we have rounded up a few of our favorites to guide you further.
The X431 Pro by Launch is the best product for overall functioning and efficiency. Accurate and sturdy, it's bound to impress, while the Foxwell NT630 Plus comes a close second. On the other hand, Ancel's AD610 Elite makes for a great budget scanner.
We'd love to know your opinion on our suggestions; do let us know in the comments below. Till next time!
Related Articles
10 Best 240v Electric Garage Heater To Consider