If you think holding a metal sheet or wooden ply is a piece of cake, then you may not be totally wrong.
Now before you roll your eyes in disagreement, just hear us out for a bit. Sure, your hands may not be fit for the need, but bench vises are! Even more so if you're looking to build something out of it. Sounds good, right?
However, the range of options out there can make you feel otherwise. But don't worry, as we have reviewed the 13 best bench vise up for grabs. And all you have to do is take out some time to quickly go through our descriptive but simple list so that you get the best tool for your needs.
All said and done, let's jump right in!
Top Bench Vise 
IMAGE
PRODUCT
DETAILS

Our Top Pick

Our Top Pick

Wilton 11104 Wilton Bench Vise 4-Inch

High strength steel body
120-degree swivel base
4-inch wide jaw

VIEW LATEST PRICE →

Yost Vises Multi-Jaw Rotating Bench with Swivel Base

6.5-inch jaw opening
Dual jaw grip
Anti-slip and scratch

VIEW LATEST PRICE →

Olympia Tool 38-604 4-Inch Bench Vise

270-degree swivel base
Pipe jaws
Reinforced base

VIEW LATEST PRICE →

Yost LV-4 Home Bench Vise

240-degree swivel base
Cast iron construction
Lightweight design

VIEW LATEST PRICE →

TEKTON 4-Inch Swivel Bench Vise

120-degree swivel base
Polished anvil work surface
Dual lock system

VIEW LATEST PRICE →

PanaVise 381 Vacuum Base

Knob controlled head 
Split-ball adjustment
Heat resistant

VIEW LATEST PRICE →

IRWIN 226306ZR Bench Vise

Captured safety jaw
Covered screw design
Stable base

VIEW LATEST PRICE →

Forward CR60A

Fully closed design
Rugged jaws
Corrosion-resistant handle

VIEW LATEST PRICE →

WEN 453BV

Heavy duty main screw
Smooth operation
2950 pound of clamping force

VIEW LATEST PRICE →

Yost Vises 455

Built from a mix of cast iron and steel
U channel bar 
360-degree interlocking swivel base

VIEW LATEST PRICE →

RIDGID 66987

Drop-forged steel construction
Parallel jaw alignment
Hardened anvil surface

VIEW LATEST PRICE →

HFS Milling Machine Lockdown Vise

Acme screws
Easy to read scales
Ductile iron build

VIEW LATEST PRICE →

Eclipse Quick Release

Quick-release trigger
Dual pre-drilled holes
Cast-iron body

VIEW LATEST PRICE →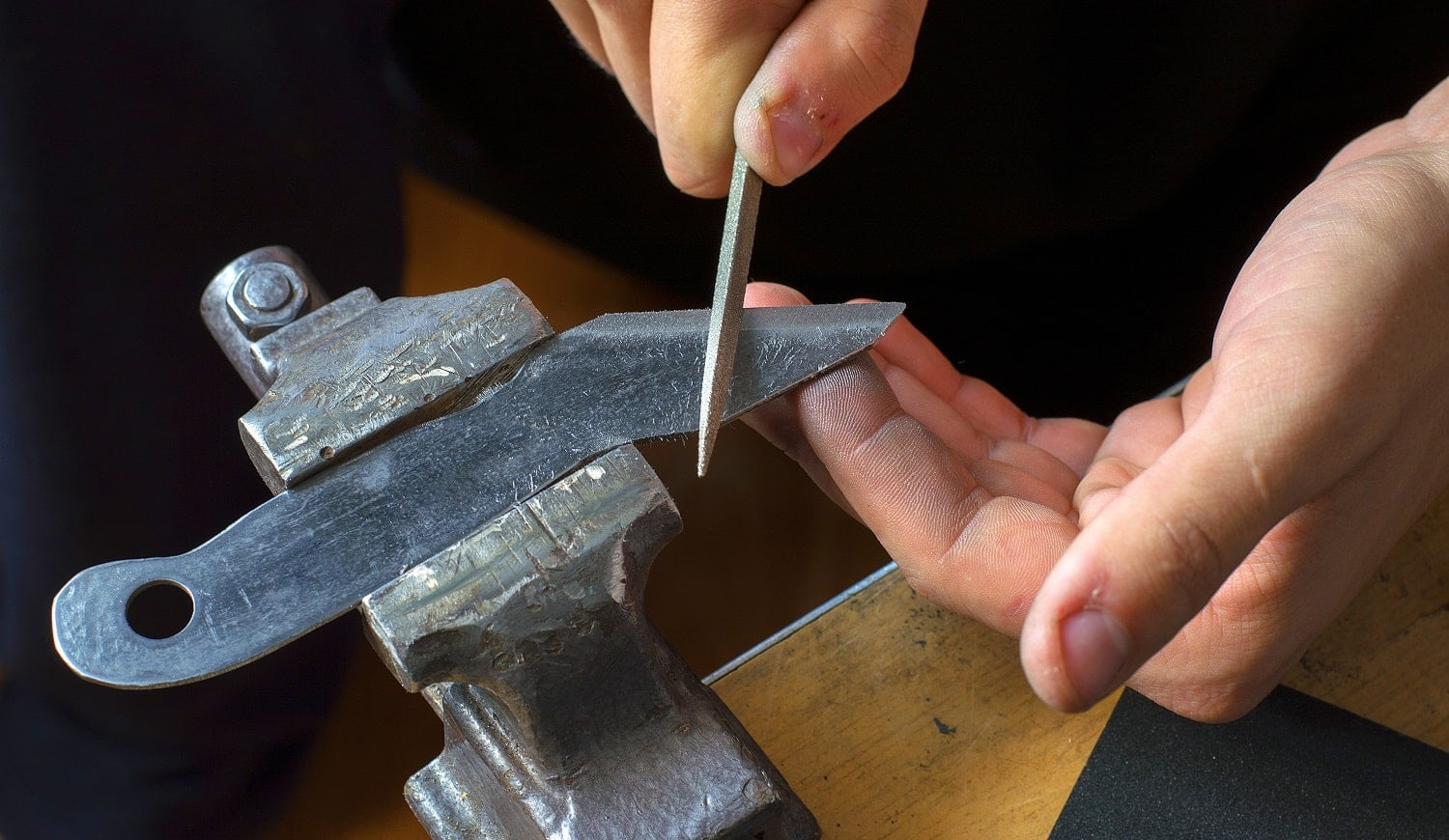 We start the list with the highly rated Wilton 11104 Bench Vise. For a brand that has been in the business since WWII, this high performing tool is a prime example of why Wilton is still a reputable name. If you are looking for a durable and easy to use vise, then this product is worth considering.
Why Did We Like It?
For starters, we were really impressed with the positive customer feedback. Its 4-inch opening is equipped with diamond-machined finish jaws that provide a firm grip. In addition, the square-shaped central slide reinforces precision and stability while clamping the object, no matter its material.
Moreover, this design prevents the accumulation of dirt and grease on the main screw, thereby reducing frequent maintenance needs.
Perhaps its most striking feature is the 120-degree swivel base that gives the user complete control of aligning the object, without having to move around the vise physically. All we had to do was turn the pair of locking screws to hold down the base, once we were satisfied with the position of the clamping.
What we also liked is the size of its anvil surface, which is slightly bigger than usual. Not only does this give you some extra workspace, but it also absorbs the vibration that arises from the constant hammering of objects. We were satisfied with its stability for both our metal and woodwork projects.
Since it does not require a lot of attachments, the installation is quite hassle-free, even if you are a first time user. This is the reason why, despite weighing around 15 pounds, the tool doesn't come across as too heavy. Overall, its simple design and efficient performance make this tool a total value for money deal.
What Could've Been Better?
The vise doesn't come with a pipe jaw, meaning that clamping on round objects may take some extra time and effort. But for the kind of performance that the tool delivers on its affordable price tag, this small glitch is far from being a deal-breaker, in our humble opinion!
Pros
Rust-resistant blue coating

Has 4 lugs for secure fastening on workbench

Smooth maneuverability of anvil base

Affordable and cost-effective
Cons
No pipe jaw to take care of round objects
The Yost Vises Multi-Jaw Rotating bench vise takes the second spot on our list. Backed by an industrial-grade iron construction, this tool is a fitting choice for a range of lightweight applications. What's more, its design is equipped with several user-friendly features that get your job done in a jiffy!
Sale
Why Did We Like It?
As you may have guessed, its rotating base is the first thing that we are going to talk about. Owing to a 360-degree turn, you can rotate and lock the vise into one of the 12 positions on offer. Not only that, the unique pull-pin mechanism located at the back of the model lets you do so with one hand. Talk about convenience!
Moreover, its multi-purpose jaw raises the bar for flexibility quite high. Unlike the Wilton 11104, this tool comes with a pipework jaw to help you work with rounded objects like tubes. Its self-aligning design ensures optimum contact with the object to maintain a strong grip. This is a good feature to have for preventing injuries to the hand or feet.
In addition to its heavy duty cast-iron body, the presence of a U-channel bar enhances the durability of this product. Thanks to a special interlocking base gear feature, we hardly broke a sweat to ensure secure mounting of the vise on our workbench.
What Could've Been Better?
Despite having flexible utility, there is still some room for improvement. The handle that controls the opening and closing of the jaws does not come across to be very durable. Perhaps, some better quality washers may have solved this problem. Also, the lock screws may need some extra lubrication for seamless movement.
Pros
Two locking screws on either side of the base

Top jaws can be easily replaced

Pipe jaw has groovings for better grip

Covered main screw for dirt resistance
Cons
May not be suitable for heavy duty work
For the third pick, the Olympia Tool 38-604 makes a deserving entry. Its durability and ease of use make it a suitable option for homeowners and DIY enthusiasts. If you're looking to get a vise on a budget, then this product might just fit your needs.
Why Did We Like It?
Our search for budget buys in the category led us to this product, and honestly, we are not at all disappointed. Firstly, the 4-inch wide opening is backed by steel constructed jaws, which are not only sturdy, but can also be easily replaced when worn out. Besides, the operating handle helps you to gain precise control over the desired width.
Furthermore, the 270-degree swivel base allowed us to work from different angles. Sure, the range is not as diverse, but we couldn't ask for more, given its affordable price tag. There has been no compromise on multi-purpose utility either, as the model comes with an in-built pipe jaw.
Similar to the Wilton 11104 Bench Vise, its anvil base provides for a stable workspace. Also, the 4 lug mounting ensures a highly secure mounting that stands the daily wear and tear with zero displacement. Moreover, the handle and spindles have a black oxidized finish to prevent them from corrosion
To sum up, we will only say that the Olympia Tool 38-60 did exceptionally well to exceed our expectations. 
What Could've Been Better?
Since the main screw is not covered, it will attract more dirt and grease, so the maintenance will require some extra attention. Also, the operation may not be as smooth as some of the high end vises, but is still efficient enough to go about the job without causing much trouble. 
Pros
In-built pipe jaws

Has an anvil horn for shaping objects

Spindle guard feature

Powder coated finish
Cons
May require additional lubrication
Now that we have started exploring the more pocket-friendly options out there, let's talk a bit about yet another Yost vise. The LV-4 Home Bench vise has a simple but sturdy design that stays true to its purpose of delivering optimum performance. It's a no-nonsense product that is one of the most competent entry-level tools.
Sale
Why Did We Like It?
Similar to the Yost Vises Multi-Jaw Rotating bench vise, this tool has a cast iron body that provides it with some much-needed durability. Sure, there's no dearth of iron manufactured vises, but we were surprised to see that despite having such an affordable price, it doesn't have a cheap look and feel. 
Apart from the serrated steel jaws that have an opening width of 4.5-inch, it is also equipped with a pipe jaw that can easily hold small pipes and tubes. Honestly speaking, this feature comes as a bonus, considering its price.
And if you think the vise will make you harder, then wait till you see the 240-degree swivel base. Not only does it allow you to work from different positions, but the secure fastening is ideal for sharpening metal or wood. 
Lastly, the four mounting holes on the base of the tool makes use of 3/8-inch bolts for quick installation on the workbench. Complete with a powder-coated finish, the humble-looking design definitely punches above its weight!
What Could've Been Better?
The small anvil surface is so small that it hardly serves any purpose, which means that you may not be able to use it for beating and flattening objects, However, this isn't much of an issue, since the design is anyway meant for light duty applications.
Pros
Acme threaded lead screw for quick engagement

Reliable base reduces lateral movement

Rust-resistant body

Value for money
Cons
Is not suitable for beating objects
The fifth product on our list today is the Tekton 4-inch Swivel Bench Vise. With a smooth operation and strong grip, this tool is a true all-rounder for both residential and workshop needs. Its durable build is meant to withstand long-term use, and its price won't burn a hole in your pocket. 
Why Did We Like It?
First things first, the positive reviews from existing customers helped us put our faith in this product. While its 4-inch jaw width is suitable for a variety of jobs like car repairs, metalwork and woodwork, you may also opt for the 6-inch or 8-inch model in case of special needs.
Coming to its operation, we are thankful for the 120-degree swivel base. Not only does it have a smooth rotating action, but the dual locks on either side of the base ensure a rock-solid position. In addition, the acme-threaded lead screw gives you precise control for adjusting the jaw size.
After testing a number of vises that came with four mounting holes, we were a bit skeptical about this tool's stability, since it is equipped with only three holes. However, this design hardly makes a difference as the tool can be easily mounted on the workbench without the fear of having loose ends. 
It's safe to say that the Tekton 4-inch Swivel Bench Vise can efficiently handle a range of medium to heavy duty applications to justify its reputation as a high performing multi-purpose tool. 
What Could've Been Better?
The sharp edges on the jaw, anvil surface and the throat of the vise can cause injuries if you're not paying attention. Nevertheless, this problem can be easily solved by lightly filing these parts before using the tool. And for its price and performance, we didn't mind putting in the extra effort.
Pros
Bind-free operation

Anvil surface supports heavy duty hammering

Textured steel jaws for better grip

Easy installation
Coming in at the sixth position is the PanaVise 381 Vacuum Base. As you may have figured out, this work-holding tool creates a vacuum suction that secures it to the surface. Characterized by a portable design, this product is a fitting choice for varied uses, including electronic projects.
Why Did We Like It?
First things first, we loved its vacuum suction feature, so let us decode how this mechanism works. It uses a simple combination of a rubber pad and flip lever located at the base of the tool. All you have to do is place the vise and twist the lever as the vacuum mounting gets going with the job.
The vise head is equipped with 2.5-inch wide nylon jaws which can open up to 2.25-inch. To give you a fair idea, we used this vise for a number of light duty applications and had no problem. Moreover, they can resist up to 200 degree Fahrenheit of continuous heat. This feature will come handy when working on gluing and circuit wiring projects.
Once you have fastened an object between the jaws, the split-ball system on the top of the base provides for smooth maneuverability along three separate planes. Using the control knob, you can adjust the position of the object with either an angled rotation or a full 360-degree turn. 
Last but not least, its lightweight design adds to the portability factor, thus making it a user-friendly tool in the price range.
What Could've Been Better?
It may be helpful to know that the vacuum base works only on smooth and robust surfaces. Also, we are not sure if the suction mechanism will be able to tolerate heavy duty tasks like shaping and flattening objects. 
Pros
Replaceable rubber pad

Intermittent heat tolerance of 300 degree Fahrenheit

Jaw head has a 90-degree tilt

Compatible with many vise heads
Cons
Not suitable for heavy duty applications
Almost halfway through the list, and we have the Irwin 226306ZR at the seventh spot. Its strong grip and easy to install design makes this product capable of seamlessly handling light to medium applications. Also equipped with a pipe jaw, this vise manages to accommodate multi-purpose utility in its moderate price.
Why Did We Like It?
After working with a lot of 4-inch vises, we were eager to try out something that had a bigger jaw width. The 6-inch wide fixed main jaws on this tool provide for greater surface contact with the object to ensure a strong hold. Besides, the steel construction of the jaws will eliminate any doubt that you might have about the grip.
Moreover, we were also pleased to find the much preferable covered screw design on this one. Since the internal components remain unexposed the sliding operation, there are fewer chances of damaging the vital parts, thereby increasing durability. Additionally, the lead screw is controlled by a rotating handle to enforce maximum clamping pressure.
While at it, we should also mention the presence of captured jaws, which prevents the slide from falling out during rigorous applications.
Similar to most vises on the list, this one also has a smooth anvil surface that can withstand quite a bit of hammering. Though it may not be that big, the size is perfect for carrying out some basic flattening and bending jobs on hand. 
What Could've Been Better?
Even though the Irwin 226306ZR has a cast iron construction, we are not totally convinced about its durability. Compared to similarly built models on this list, this one may not be a very reliable option to go about the heavy duty applications.
Pros
360-degree rotating base

Dual locking pins to set the base in position

4 lug mounting for secure fastening

Deeper throat capacity
The Forward CR60A is a heavy duty vise that is suitable for both workshop and DIY needs. Made of ductile iron, the overall design is meant to tolerate the regular wear and tear for a long service life. Use it for grinding, filing, hammering or cutting- this work holding tool will not disappoint you. 
Why Did We Like It?
At first glance, the Forward CR60A comes across as an industrial-grade vice, and its features justify the tag. Built from 60,000 PSI ductile iron, its robust body is meant to tolerate harsh jobsite environments. Moreover, the fully enclosed design protects every inch of its vital components from dust and moisture, especially while working outdoors.
The rugged jaws are 6.5-inch wide and can open up to 6-inch, which is more than enough to ensure a firm and stable grip. Although we didn't find a pipe jaw, the grooved insides of the main jaw assured us of its ability to tackle rounded objects. Multi-purpose utility, checked!
Also, the corrosion-resistant operating handle has a rubber ring for extra protection while simultaneously reducing the noise level.
Finished off with a large anvil workspace and rotating base, this holding tool is as user-friendly as useful. If you're willing to spend a few extra bucks for a professional-grade vice, then this product might just be your ideal match.
What Could've Been Better?
We'd have been a tad bit happier if the swivel base could do a full 360-degree turn. Though the 270-degree rotation is not bad either, it is still limiting when compared to a 360-degree swivel. Having said that, we didn't face any issues with locking the base into the desired position. 
Pros
High clamping force

Easy to use with round workpiece

Longer operation handle

Strong build
Cons
270-degree swivel base can be limiting
The next entrant on this list is the WEN 453BV. Sporting a premium quality cast iron design, this bench vise is a reliable and sturdy choice for numerous lightweight applications around the house. Complete with a rotating base and mounting holes, this is one of the most preferred budget buys on the market.
Why Did We Like It?
For starters, its durable cast iron construction with a powder-coated finish makes it look like a high-end product. Yes, we agree that looks should be placed at the very bottom of the priority list for such tools, but we really don't mind having a good looking vise in our tool arsenal!
Coming to its performance, the 5-inch wide jaws have a deep throat capacity as well as a spacious 6-inch opening. This means that your longer and wider workpieces can seamlessly fit in the space. Moreover, the jaw pattern is such that it exerts a tight and secure grip over the object, thus making it easy to execute tasks like drilling, sanding, polishing or grinding.
Similar to the Tekton 4-inch Swivel Bench Vise, this model also comes with three mounting holes for a stable fixture and comfortable work experience. 
Overall, the WEN 453BV is equipped with simple but useful features that work just fine to stand the test of productivity and stability. If you're looking for a holding tool to get through the regular tasks around your home and garage, then this product is worth considering.
What Could've Been Better?
Given its cost-effectiveness, there's not much room for complaint. However, we did notice that the acme-threaded rod appears to be a bit undersized as compared to the overall design. That being said, the threading is deep enough to engage the mechanism, so it's not much of a concern. 
Pros
120-degree swivel base

Replaceable jaws

Broad anvil workspace

Secure mounting
As we near the end, here's another Yost vise that can take on a range of holding jobs. Designed with a host of features, this study tool is the perfect partner for your intermittent construction and repair tasks. Its use of use and efficiency has earned this product a spot on our list today.
Sale
Why Did We Like It?
Having tried a couple of Yost vises, we had our hopes pinned on this tool, and it did well to keep up with our faith. Firstly, the mix of cast iron and steel in its design forms the basis of a high clamping pressure, greater than those built from only cast-iron. So if you want the best of both worlds, here it is!
Similar to the Yost Vises Multi-Jaw Rotating bench vise, the base supports a 360-degree turn, while the steel U channel bar adds to its durability. And as always, we appreciate the covered main screw design that cuts down on maintenance time and effort.
While the dual lockdown feature is in-charge of adjusting the position of the base, a tightening knob secures its position for minimum lateral displacement. Moreover, the wide anvil work surface let's you do a lot of tapping and hammering without compromising on stability. 
Weighing at 30 pounds, the Yost Vises 455 is heavier than some other models in the price range, but is also easily mountable on a range of surfaces. 
What Could've Been Better?
The mix of cast iron and steel may provide better durability, but we cannot say the same for its steel parts, which are a bit softer than expected. This, in turn, makes us question if the tool can withstand heavy duty applications in the long run.
Pros
Threaded main screw

Removable top jaws

Rubberized vise handle

4 mounting tabs
Built to last, the Ridgid 66987 is a bench vise that has the perfect mix of productivity and ease of use. Its smooth operation is backed by a sturdy base that glides on to the surface in the blink of an eye, without causing you to spend a fortune.
Why Did We Like It?
Yes, you're right! The first thing that we will be talking about is its drop-forged steel construction. The 75,000 PSI all-steel body is what makes it capable of withstanding rough use regularly. Plus, its productive sleek design is at par with the best cast-iron vises on the market.
It's not unusual to find misaligned jaws on the more affordable vises, but that's not the case with this product by Ridgid. Owing to its parallel mechanism system, the jaws have a proper grip with a 4-inch opening. Besides, the steel handle controlling the jaw mechanism comes with anti-pinch rubber rings for better user comfort.
Ably assisted by dual draw-down bolts, the swivel base can be locked into the desired position for high precision jobs like cutting and drilling. And so that you don't have to switch tools, the wide hardened anvil surface allows for some considerable hammering and flattening activities.
What Could've Been Better?
Perhaps the only downside to this very likable product is that the rotation locks are a bit stiff to operate. One possible reason may be the misalignment of locking screws, but some extra coats of lubrication should be good enough to solve the problem.
Pros
Surface-hardened slides

Double-rolled acme lead screw

In-built standard pipe jaws

Gripping pattern on jaw face exerts little pressure for clamping
The last two vises on this list have a more specific use, the first one of which is the HFS Milling Machine Lockdown Vise. As the name suggests, this holding tool can exclusively be used with a milling machine, but stays true to its purpose. Besides, its affordable pricing is hard to look away from.
Why Did We Like It?
The first thing that drew our attention was the high quality 80000 PSI ductile iron construction. This alone is a testament to the fact that this vise is indeed built for heavy duty and rough applications. Also, its clamping power is high enough to get a strong grip on the workpiece.
But what truly makes the design efficient is its distinctive mechanism. The horizontal force that is generated by turning the handle pushes the jaw downward, thus making sure that the object becomes immobile. And since your workpiece is tightly locked in, you can let the perfectionist in you rejoice.
Moreover, the jaw plates have four setting positions that compensate for the otherwise bleak-looking 3.93-inch jaw opening.
We were also glad to use the familiar 360-degree swivel base which produces a nice range of working angles. Also available in 5-inch, 6-inch and 8-inch variants, the  HFS Milling Machine Lockdown Vise is compatible with most milling machines, making it one of the best products in the category.
What Could've Been Better?
Although the jaw inserts on this one work fine, we'd have liked them to be a little taller, so that the clamping required some less time. Also, the graduated scale on the base doesn't put indexing marks on the upper body, making precise reading next to impossible.
Pros
Affordable

Adjustable jaw positions

High compatibility

Smooth finished machine surface
Cons
Markings do not suffice precise reading
The last product for today is the woodwork specialist Eclipse Quick Release vise. Featuring a substantial 9-inch jaw opening, this holding tool is built to last several years of shaping and trimming duties. With a quick clamp-on mechanism, the vise is a one-stop solution for stable and smooth operation.
Why Did We Like It?
One of the first things that caught our eye was the tool's ability to prevent application-related damages. Though the cast-iron build is robust and secure, what appealed to us the most is the inclusion of a fused tommy bar that automatically bends under heavy clamping pressure for safety. As for the user, it's best to respect its tolerance limit.
So that you are completely assured of its clamping force, Eclipse has put together multiple features. Firstly, the toed ends of the 9-inch wide jaws have been designed for superior grip. Its quick release mechanism lets you use the front-mounted lever for quick opening of the jaws to clamp the object. Strong hold and fast operation is the combination to die for!
And just because it is meant for a particular application doesn't eliminate the possibility of multi-purpose utility. The adjustable front stop/dog transforms the tool into a regular vise or tail vise when needed.
Lastly, the pair of pre-drilled holes and cast tabs on the base provides for a fast, smooth and hassle-free mounting.
What Could've Been Better?
The only thing missing on this near-perfect design was an acme threaded lead screw. Although the existing one seemed to be pretty durable, we'd have happily accepted the more commonly found screw design. Nevertheless, it performs at par with some of the industrial-grade woodwork vises.
Pros
Available in 7-inch and 10-inch

Steel slide rods

Customized configuration

Stable base
Cons
Mounting instructions are unclear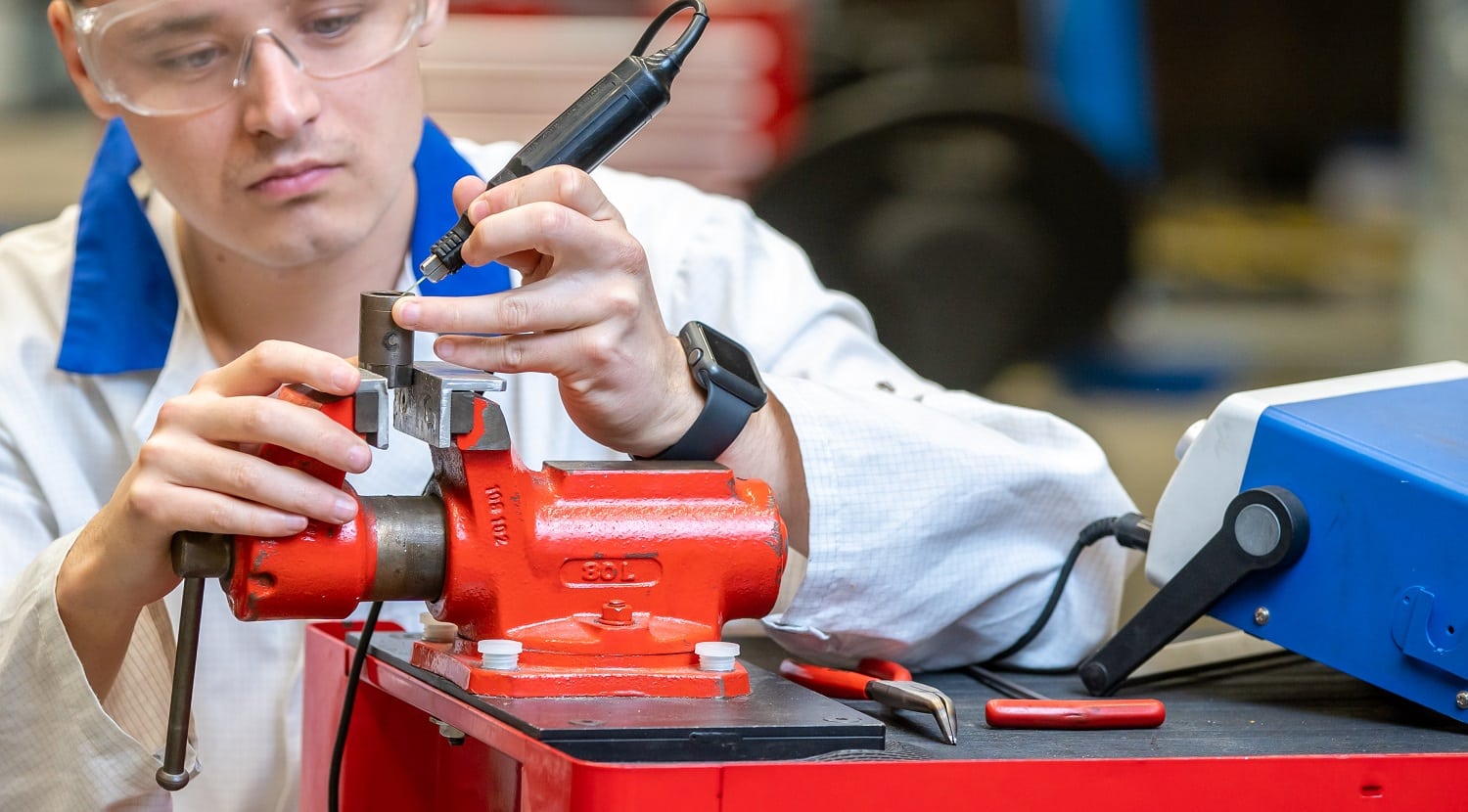 Bench Vise Buyers' Guide
Only if buying a bench vise was as easy as clamping it on, life would have been much simpler.
Although they are one of the most affordable tools on the market, there are still a number of factors that need to be considered before making that investment. So sit back and relax as we list some key points that should frame your final decision.
Jaws
If you're buying a tool to hold objects in place, it's only fair to prioritize the portion which will grip the workpiece. While analyzing the capability of the jaws, there are two main things to keep in mind: the width and opening size. 
To put it simply, a higher width can accommodate thick-sided objects and a larger opening size is meant for holding broader workpieces. Generally, most household and DIY requirements can be met with a 3-5inch wide jaw and 5-6inch opening. However, you may opt for a higher specification in case of special needs.
Swivel Base
There's hardly a vise that comes without a swivel base, but the degree of rotation definition varies from one model to the other. We'd suggest going for a full 360-degree swivel base that will provide a wide range of working angles, without having to walk around the tool.
Anvil Worksurface
Though almost all bench vises have an anvil workspace, the size is different for each. Our preference is a larger anvil base, so that it absorbs optimum hammering vibration and force. In case you decide to go for a smaller anvil space, make sure that you never use the jaw head for shaping or flattening tasks.
Additional Features
It's a good practice to look out for some useful additional features like a quick release mechanism for easy clamping or a tommy bar installation to prevent over-stressing. This way, you can be assured of a long service life for the price.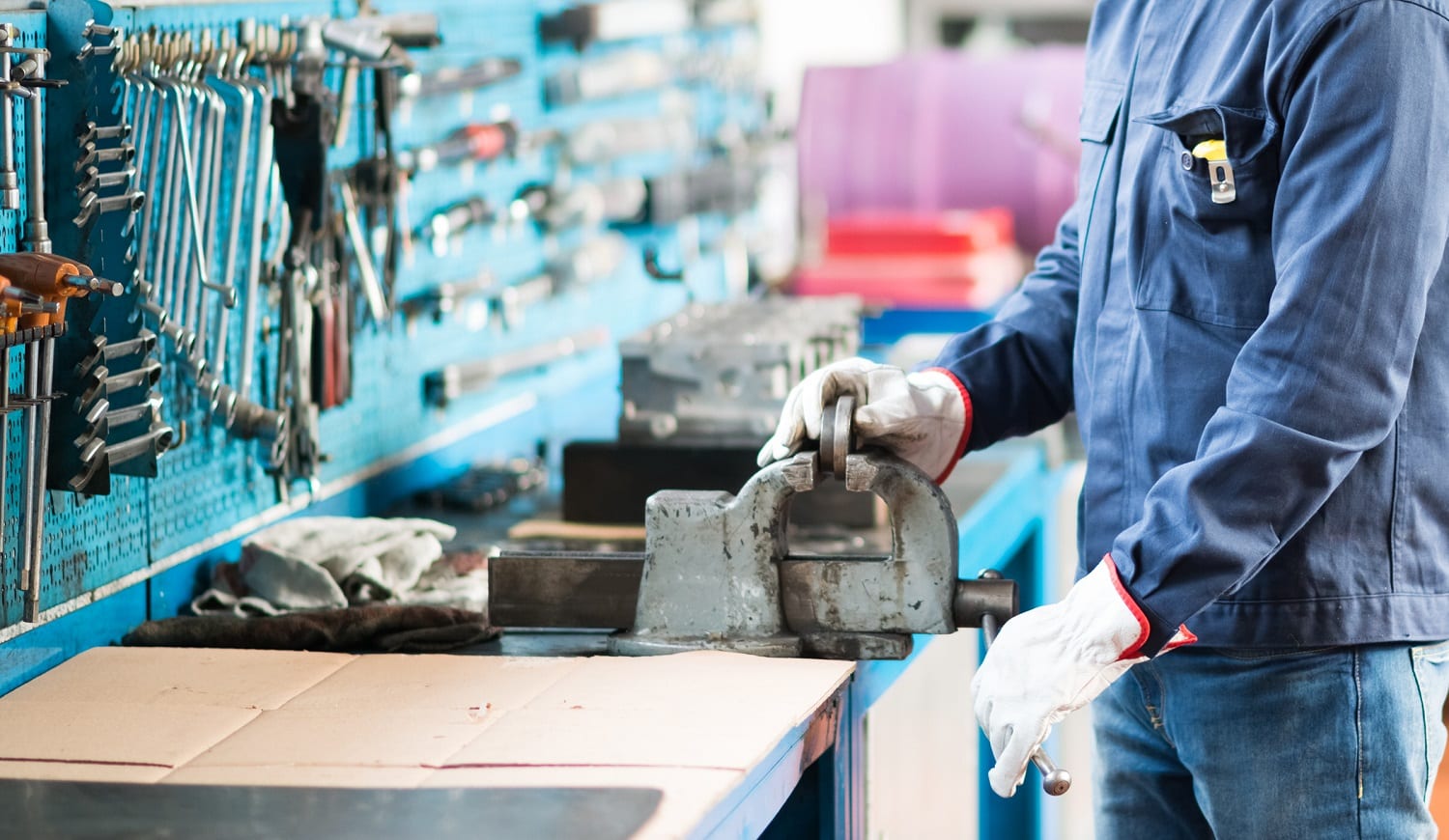 Verdict
You may be the master of construction or repairs, but unless your work-piece has a secure hold, your skill remains incomplete.
Thankfully, the inventor of bench vises decided to provide us with a 'third hand' to make our job easy and precise. And so that you have the perfect assistant, we have tested the 13 best performing bench vises.
But before we wrap up this comprehensive review and guide, here's a quick summary of our review.
The Wilton 11104 Bench Viseis lightweight and easy to mount, while the PanaVise 381 Vacuum Base uses suction for a secure fixture. On the other hand, both HFS Milling Machine Lockdown Vise and Eclipse Quick Release are specialized work holding tools.
With this, it's time for us to say goodbye, as we hope that you find the ideal bench vise for your needs.
Let us know your thoughts in the comments section below. So long!
Related Articles
13 Best Cordless Oscillating Tools 
13 Best Screwdriver Sets on the Market Today
13 Best Wood Routers for Professionals & Amateurs Alike
Simply the Best Stained Glass Ring Saws 
49 FREE DIY Router Table Plans For an Epic Home Workshop
10 Best Shop Vacs For Dust Collection 
11 Best Hammer Drills on the Market Today
11 Best Tap And Die Set on the Market Today | Buyer's Guide
11 Best Torque Wrenches on the Market Today | Buyer's Guide
11 Best Multi Tools of 2022 Reviewed | Buyer's Guide
11 Best Angle Grinders on the Market Today
13 Best Chainsaws for the Money 
13 Best Tile Saws of 2022 Reviewed | Buyer's Guide
6 Best Chainsaw Brands to Consider 
11 Best Sliding Compound Miter Saws
11 Best Belt Sanders Right Now
13 Best Stud Finders – Review & Buyer's Guide
13 Best Bench Grinders of Saws 
9 Most Powerful Cordless Drills in 2022
Tekton Tools Review | Craftsman vs Husky vs Tekton vs Gearwrench 
11 Best Kreg Jig Pocket Hole Alternatives To Consider [Reviewed]