If you're looking for more info on air walkers and how to buy the best one, you've come to the right place.
If this is the first time you're hearing about these machines or have your wallet out to buy one, we have good news for you. Choosing the best air walker and air glider is not tough!
All you need to keep in mind are your requirements, budget, and some little bits of info on how these machines work. On first use, air walkers might feel like it's having no effect, but use it consistently for 20 minutes, and you'll realize that's not true at all.
In fact, we have no problem arguing in favor of this machine because unlike using an elliptical trainer, an air glider doesn't strain your knee joints.
Besides, these are more economical and don't need to be plugged in to any electrical outlet. So, what are our recommended picks? Let's find out!
Top Air Walker & Air Gliders 
IMAGE
PRODUCT
DETAILS

Our Top Pick

Our Top Pick

Gazelle Freestyle by Tony Little

Supports up to 300 lbs
High-density handlebars
Folds flat

VIEW LATEST PRICE →

Sunny Health & Fitness Air Walk Trainer

Has a digital monitor
Anti-slip handle bars
Weight capacity 220 lbs

VIEW LATEST PRICE →

Sentuca Foldable Air Walk Trainer Elliptical Machine Glider

Dual action split suspension
Foam covered handlebars
Weighs only 40 lbs

VIEW LATEST PRICE →

Gazelle Edge by Tony Little

1.5 inch tube diameter
250 lbs weight capacity
5-function workout tracks

VIEW LATEST PRICE →

ANCHEER Elliptical Machine

8 magnetic resistance levels
Supports up to 330 lbs
Designed to be quieter

VIEW LATEST PRICE →

Body Power 2-in-1 Elliptical Stepper Trainer

LCD screen that tracks metrics
Transport rollers for easy movement
Support up to 250 lbs

VIEW LATEST PRICE →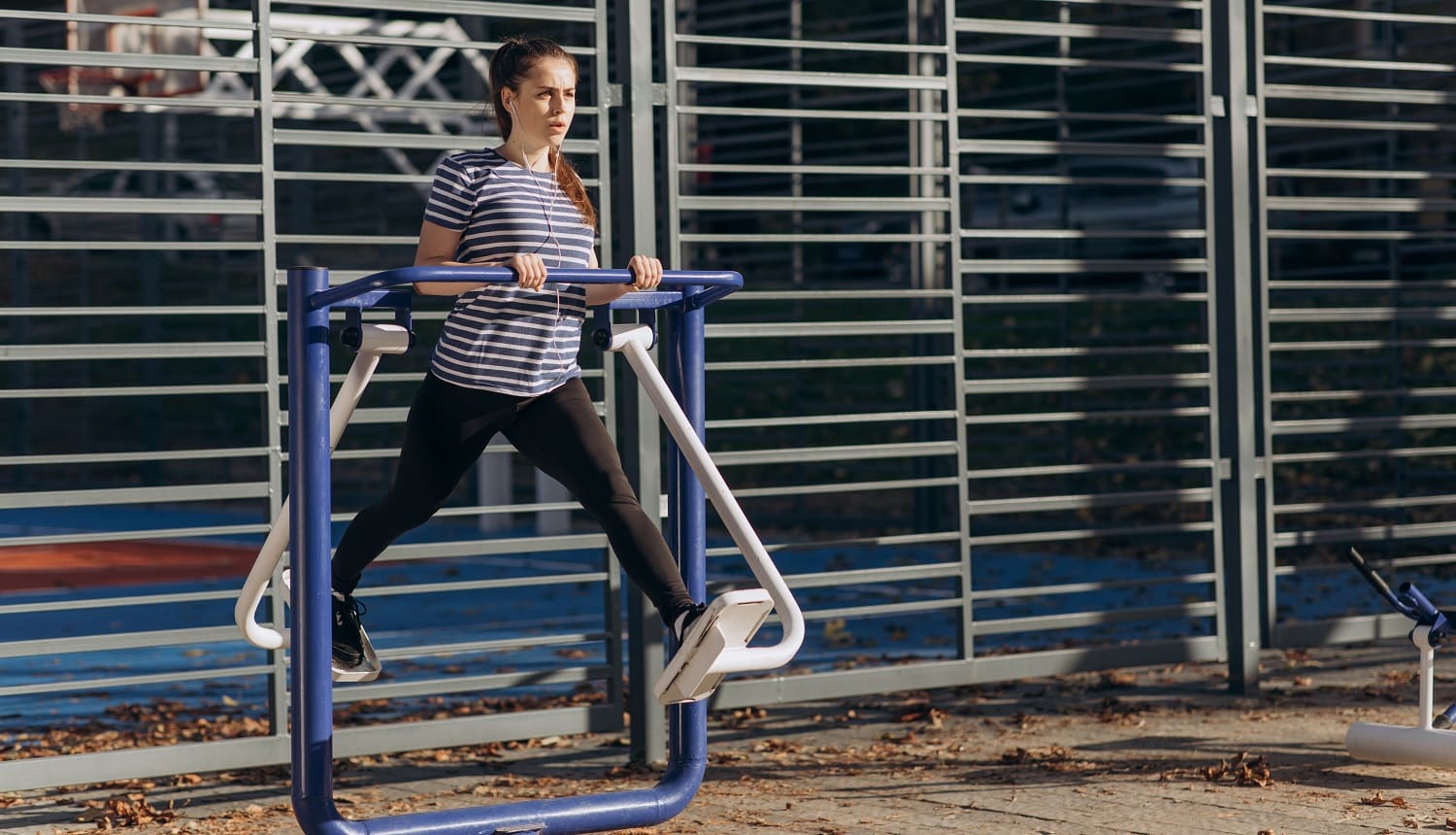 This model by Tony Little is our top pick because it does so many things perfectly! It's affordable, sturdy in construction, and has all the functions you'd need to get a great workout at home. Check out everything we liked about it and then decide.
Why did we like it?
If you're taking the first steps into the world of fitness and don't want to step inside a gym just yet, then this model would fit you just great. It is based on a very simple foundation of engineering that allows users to get something close to a full body workout without putting strain on the shins or knees. And it is far less costly than an elliptical machine.
As instructed in the manual, we started from a slow walk and took our own sweet time to graduate to full on running. As far as range of motion is concerned, you can rest assured knowing this air glider has your back. You can do up to 10 exercises to burn calories and count on every bit of your body to feel the effects.
Since this is a low impact workout machine, the soreness you'd feel the day after workout or the day after it, is very low. Honestly, if someone had told us it is possible to get such a good cardio session at home, we wouldn't have put so much effort into running outside everyday.
What could've been better?
The one and only flaw we can think of is the assembly instruction provided. It took us close to 2 hours to assemble this piece when it should've taken 30 minutes at most, with proper instructions. The package comes with everything you'll need to put this thing together, but you really have to count on your lucky charms to get it setup easily.
Pros
Easy to use

Works all the parts of your body

Easy to store away when not in use

Upto 10 exercises from this machine
Cons
Unclear setup instructions
If you really don't want to spend over a hundred dollars, then this air walker from Sunny Health & Fitness will come as a rescue. Like the first product we reviewed, this one also offers stellar features that makes every workout a blast! Even though the max capacity is lower (220 lbs, instead of 300 lbs), the machine has enough features to warrant a purchase.
Sale
Why did we like it?
Well, like the previous model, this one also provides a full body workout and customizable features to suit everyone. If you're a beginner, we recommend taking time out to get familiar with the settings. Start with a slow walk and work your way up to a full run, as usual. This machine is excellent for targeting arms, legs, as well as the abdominal muscles. 
A bonus feature you get with this model is an LCD monitor, which displays calories burnt, distance covered, time, etc. Basically everything a treadmill or an elliptical trainer would show. With only 20 minutes of workout, you can lose or maintain your weight as well as keep up with regular fitness regimes. 
We especially liked how easy it was to fold up the product to half of its length and store away. So, don't fret if you have a small apartment or studio; this air walker would fit in quite fine. As far as safety goes, the non-slip footpads are a welcome touch as they will help you maintain grip even during the most strenuous workouts.
What could've been better?
We didn't encounter any problem using this machine, but some people have complained that the parts are of poor quality. Some even returned their product in the first month itself because either the left or right foot broke. Few people have also claimed to hear creaking noises after using it for sometime.
Pros
Excellent features to work all muscles

Costs less than $100

Folds up nicely to be stored away

Non-slip foot pads for extra grip
Cons
Problems with parts quality
Next on our list comes another great product that you should try out. The Sentuca Foldable Air Walker might cost a little higher than the two products reviewed above, but it brings enough features to make the additional expenditure completely worthwhile. Check out everything we liked about this highly rated unit.
Why did we like it?
This model is not exactly an air walker per se, but a combination of an elliptical trainer and an air walker. Like the previous two models, this one also allows you to progress from slow walking to full run without any sudden stops in the middle. The non skid foot platforms are durable and provide enough ease to let you exercise without straining your body parts. This is ideal for low impact workouts.
Even though this model is comparatively new in the market, it has been getting great reviews so far. One of the reasons for that is the machine being incredibly easy to fold up and store away. So, no more excuses of your apartment being too small. We enjoyed exercising our full range of motion thanks to the dual action split suspension, and after using it, we don't think you'll settle for anything less.
What could have been better?
One persistent problem we keep on noticing is that the assembly is never as easy as it is supposed to be. Seriously, how hard is it to create a good instructions manual that outlines the process step-by-step? So, be prepared to spend a little more time than usual setting this baby up.
Pros
Great durability

Gives you complete range of motion

Easy to fold and store
Cons
Assembling might be a little difficult
When it comes to fitness equipment, it goes without saying that Tony Little has carved out a great presence in the industry. So, when we were offered to try out the Gazelle Edge, we naturally could not resist ourselves! This is another highly rated model that has many goods going for it and very little bad.
Why did we like it?
Well, aside from the brand name, this product looks and feels sturdy. And when it comes to air walkers, you don't want to compromise on the material quality. In addition to lasting longer, a sturdy build will also give you peace of mind, knowing you're not going to encounter any accidents while using it. That is why features like high-density foam handlebars, non skid foot platforms matter so much.
Oh, you'll also be happy to know that the gauge steel construction allows this unit to hold up to 250 lbs. This air walker also offers complete freedom of movement so that you can complete your favorite aerobic exercises without putting excessive strain on different body parts. Operation is smooth and noise produced is minimal – is what we noticed in the beginning.
What could have been better?
Yeah… well… the noise might be minimal at first, but over time it does become noticeable. Especially if you have an ear for these things. We're not saying it's loud enough to annoy your roommate, but if they are already mad at you (for any reason), this might push them over the edge. Jokes aside, this is a pretty good unit you should try out.
Pros
Built to last longer

Can support weight up to 250 lbs

Offers six different exercise programs
Cons
The noise can get a bit annoying
Just hang on for a minute! Before you say out loud "why are you reviewing an elliptical machine in a guide about air gliders?" Let us just say that there's only a fine line between an elliptical machine and an air walker. And if you read about the features of this product and our thoughts on them, you'd understand how right we are. So, let's proceed.
Why did we like it?
Well, since we're comparing this to an air walker, we have to talk about its size and portability first. Luckily, like air walkers, this unit is quite light and easy to move around. Despite using solid steel frame, it maintains a lower weight that we can't help but admire. Plus, it is quieter than the average air walker and comes with transport wheels so that you can move it around easily, when needed.
Talking about advanced features, there are many to play with! For starters, you get 8 magnetic level resistance to crank up or tune down the intensity as required. And thanks to the Dual power motion, both your lower and upper body gets worked simultaneously. Supporting these features are 13-inch reverse motion paddles that are non-slip and provides zero impact workout sessions with ease.
What could've been better?
Believe it or not, this unit also comes with an air blower/fan that you can turn on when you're sweating and want to cool off. The only issue is that unlike proper elliptical trainers (like the ones you find in gyms), this fan is not very powerful. So, you might rather prefer to sweat it out and not listen to the additional noise when the fan is running.
Pros
Great portability features

Much more cost effective than a full-scale elliptical

8 levels of magnetic resistance

13-inch non-slip foot pads
Cons
Built-in fan is a bit weak
Last on our list, we've got a highly praised product that's almost as good as an air walker even if it's branded as an elliptical trainer. With lower weight, advanced, portability features, and exercise modes that guarantee a full body workout, this machine will ensure you get your daily fill of exercises right at home. Let's check out some of its best features.
Sale
Why did we like it?
If you're a fan of HIIT workouts, then you'll love this model as it offers easily customizable resistance levels that can be tweaked on the go. That is made possible due to the ergonomic crank that allows us to easily change the levels while we're still doing the workout. And like a proper elliptical machine, this unit also comes with a full LCD screen that shows time, speed, calories burned, etc.
We love this unit's space saving shape and how it combines the benefits of an elliptical trainer, vertical climber, and exercise stepper in one package. Like air walkers, this elliptical machine offers excellent zero impact workouts to keep your knees safe from injury or damage. And if you're worried about its weight capacity after seeing the structure, then don't be as this machine can support up to 250 lbs.
What could've been better?
The build quality could've been a little better in our opinion. Even though we did try testing this machine with someone who weighs close to 250 lbs, we advise caution if you're of that weight and intend to use it regularly.
Pros
Can support weight up to 250 pounds

Excellent shape and size for home use

Low impact workouts
Cons
Construction feels a little flimsy at times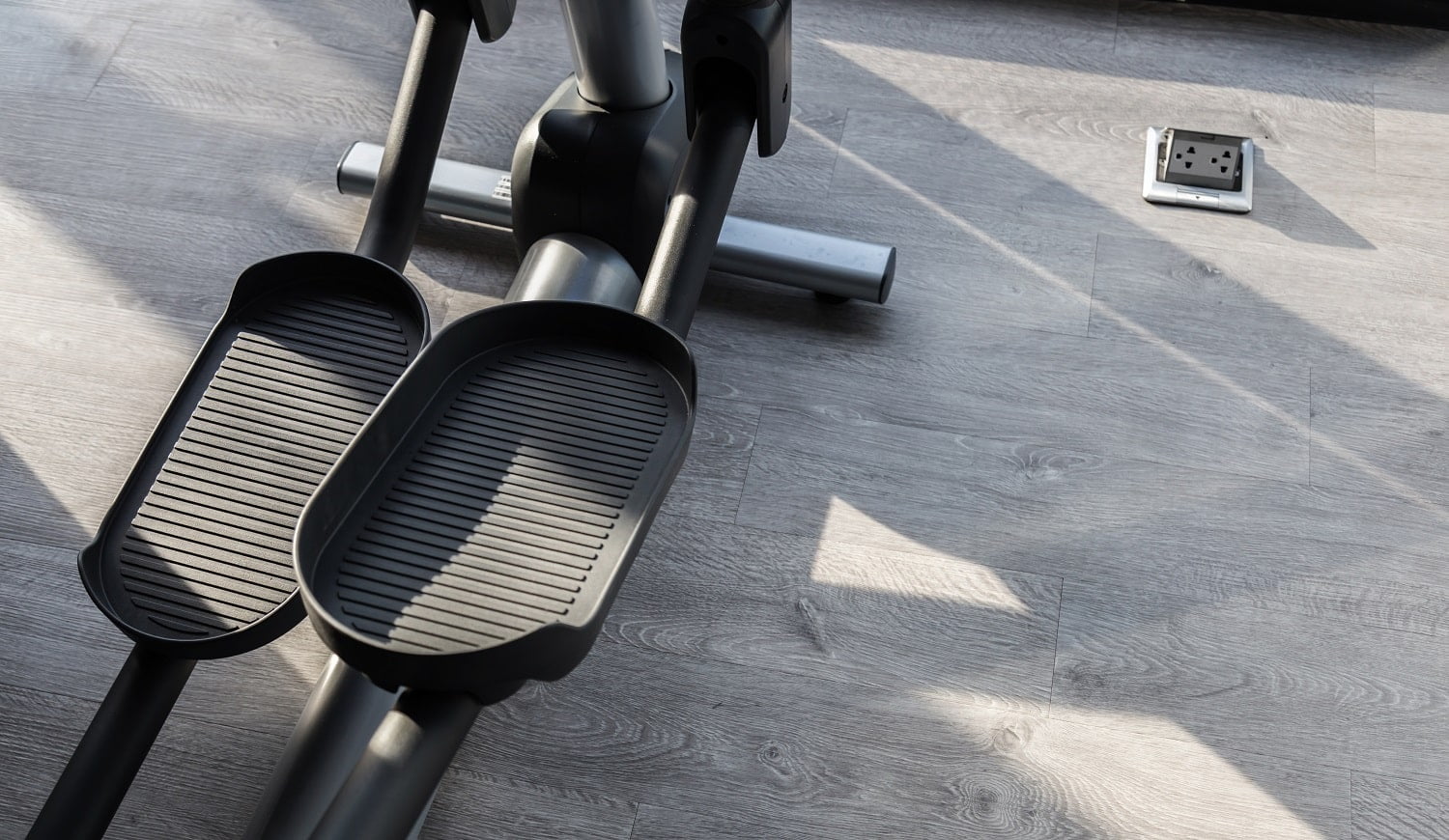 Air Walkers Gliders Buyer's Guide
The concept of air gliders (not elliptical trainers) is still new, which is why there's not much information on the Internet. However, we are going to change all that because when you want to buy the best air walker, all you have to do is keep a few key things in mind. And these things are not much different than what you'd look for when buying an elliptical trainer. So, without further ado, let's begin!
Price of the product
Let's be honest here; we all care about price and want to get the best bang for the buck. However, luckily, if I may add, the priciest products aren't always the best or the right fit for you. That is why you must keep a flexible mind when it comes to picking an air walker. While there are many models under the $ 100 mark, you'll also find some products that cost twice as much but offer very little in terms of extra features.
Sure, the higher priced variants might be made by the top names in the industry, but brand name also does not matter as much as we think it does. Take a look at your shortlisted products closely and then decide which features you cannot do without. Then, go ahead and make your purchase decision. We promise you'll be happier with the results.
Now, coming to features, there are some absolute essentials we'd like to discuss, and they're mentioned below.
Product features
Non Skid foot platforms:

this is something your air walker must have because the last thing you'd want is to slip and fall. Lucky for us, almost all major brands are putting a lot of focus to make the foot platforms as safe as possible, which includes making it nonskid. Having such a foot platform will give you a lot of peace of mind, which you cannot buy by saving money.

Full range of motion:

the best feature of these machines is undoubtedly the fact that they allow you to train how light or how heavy you want. That is why all the products in our guide let you start slow by walking and then move up to quick running. Since air gliders are supposed to be accessible to everyone, this feature makes all the difference in the world!

Weight support:

speaking of accessibility, most air gliders offer impressive features, which includes support up to 300 lbs. We all come in different shapes and weights, and if you happen to weigh a little on the higher side, don't let it discourage you from trying it out. These units can be excellent for helping you lose weight without putting in an extraordinary amount of effort.

Exercise modes:

like the elliptical machines, air gliders also offer a variety of exercise modes that let you train the way you want. So, don't let anyone convince you that air walkers are not as flexible as elliptical trainers.
Durability
Durability is an obvious yet crucial factor when it comes to buying anything online. And when you're trying to pick out the best air walkers, looking for a unit that's been built sturdily is of utmost importance. Most affordable air walkers are durable and can support weight of up to 250 to 300 pounds. That's quite a lot if you consider the average weight of the general population.
The durability is achieved mostly by using quality tubular steel frames that make up almost the entire body of the unit. And there might be transportation wheels too if an air walker promises easy relocation and storage. Given the products we have reviewed here, you can go ahead and buy one without worrying about any of this stuff.
Maintenance and storage
With most of us living in compact apartments and studios in big cities, there is rarely any space left to fit in a big exercise machine. That is one of the main reasons why the idea of an 'air walker' came to the market as it is more affordable and compact than an elliptical trainer. Thankfully, due to fewer moving parts and less complicated electronic connections, maintenance of air walkers is easy.
Just some regular cleanup – every week or so, is good enough to keep the machine running. There is no need to oil the moving parts, unless advised by the manufacturer. Storing it away after use is easier as well because most of the models almost fold down to half their size. So, you can simply stash the unit somewhere out of sight when you're done using.
Exercise options
Today, air walkers offer a variety of exercise options to fit every individual need. We can say that these machines have become as good as elliptical trainers but cost less. You can get almost every function you would from an elliptical machine, including but not limited to various range of motion leg and upper body exercises. This is made possible by dual action arms and increased stride length.
For more details regarding exercise modes, refer to the product description of the model. We are sure you'll find more than you need.
Elliptical trainer versus air walker – what's the difference?
Even though both machines share a lot of similarities, and some air walkers are sold as elliptical trainers and vice versa, there are a few key differences that set them apart. Some of them are obvious; some, not so much.
Portability and storage
This is undoubtedly the number one factor for which people buy air walkers instead of elliptical trainers. Since air walker machines tend to be lighter, more portable, and easy to store away, it becomes a no-brainer for anyone to buy it if they live in a compact studio apartment. Plus, these machines can be folded down to almost half their size when not in use to store away easily.
Stepping and gliding
If you've ever used an elliptical machine before, you'd know that you have to exert quite a bit of stepping force by pushing your feet down and slightly bending the knee. On the contrary, air walkers do not require any stepping motion because the pedals smoothly glide forward and backward instead of being pushed down. This causes little to no strain on your knee joints, which is ideal for low impact exercises.
Swinging motion
Swinging motion is another feature you can get from an air walker but is absent in elliptical machines. This element is what helps distribute or swing body weight in a forward or backward motion, if you want to train harder or differently. Many air walkers also allow the legs to be swung outward, making a V shape rather than just forward and back.
Moving your legs outward is a great way to work the hips and glutes, in addition to getting more activation of the core muscles. Some advanced models also come with 360° range of motion to allow the movement of legs in any direction you want. Now imagine that feature from an elliptical trainer!
Full Benefits of Using Air Walkers
Since these products are new in the market when compared to elliptical machines, their benefits often go under noticed or not talked about at all. So, today, we are going to give you a sneak peek of only a few of the benefits you can get.
Low impact for less stress
Air walkers promised to be low impact to the point where you can rest assured knowing it won't affect your joints in any way. When it comes to cardio, very few exercise machines can make such a promise let alone keep it. So, if you have a bad knee or experience popping and cracking in the joints while doing other exercises, switching to an air walker will most likely get rid of the problem.
Better cardiovascular health
A healthy cardiovascular system is the key to reducing ailments such as type II diabetes and various heart diseases. And with an air walker, you can get effective workouts that are good for your cardiovascular health without even stepping out of the house. Exercising regularly will boost your mood, increase endurance, provide better blood circulation, and keep heart diseases away.
Help in losing weight
If you want to do cardio as a beginner, running 10 miles might not only sound impossible but can actually be harmful to your body. That's because the running motion puts a lot of stress on your knees and back can be even more devastating if you are overweight. Since air walkers provide zero impact training, you can lose weight without putting undue stress on any part of your body.
Final words
So, that was all we had to say about the top air walkers/air gliders you can find today. If you read the entire guide, you know by now that choosing a product that matches your needs doesn't have to be tough. All you gotta do is pick one among the many products we've reviewed and you're all set. Given how beneficial these machines are, getting one for yourself is a no brainer.
So, don't wait anymore and buy one right now!
Related Articles
4 Best Bowflex TreadClimbers & 3 Best Alternatives
10 Best Junior Training Gymnastics Bars for Kids
Get Your Home Fit With These 92 Home Gym Design Ideas
10 Best Waist Trainers for Men Right Now