Many complain that their impact wrench does not work properly as it needs more air supply. We are here with a solution.

QUICK COMPARISON: Our Top 3 Picks For Air Compressors
It is very easy to go wrong with the air compressors as not every one of them is suitable for impact wrenches. Higher airflow and pressure is needed to get these devices working, and most DIYers and professionals are unaware of it initially. We have been there and faced the same issue previously, and here we are with a way out!
After going through hundreds of reviews and pitting multiple devices against each other, we have come up with a list of the 10 best air compressors. These will get your impact wrenches working smoothly. Every item here is reviewed unbiasedly with their pros and cons listed down.
Without further ado, let us get down to business.
Best Air Compressors For Impact Wrenches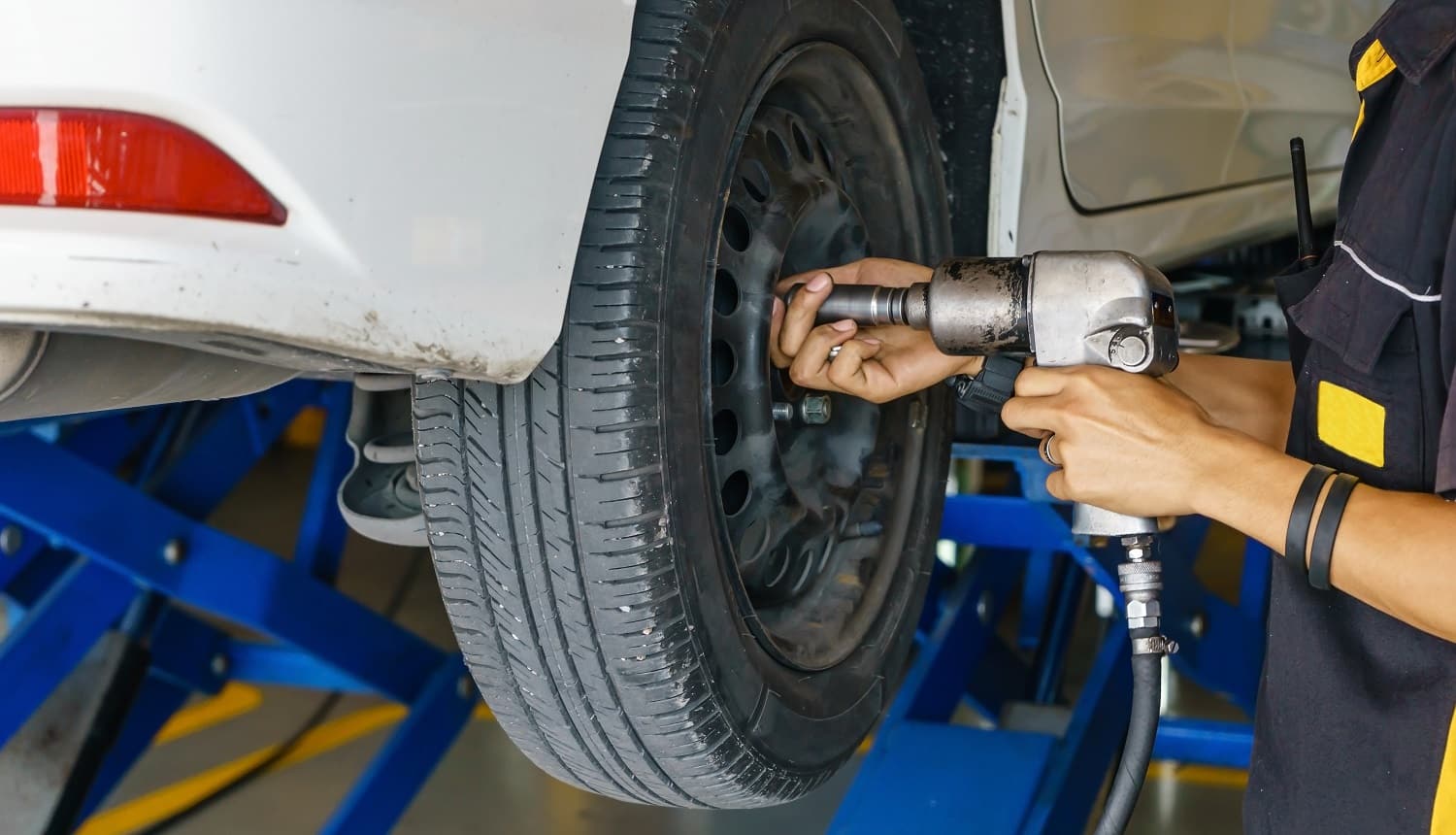 We will begin with the star of the list! The Makita MAC5200 Big Bore 3.0 HP Air Compressor is an all-rounder and offers everything you may need to have a wrench functioning smoothly. It has the right capacity paired with a strong motor, and is lightweight. We could not have asked for more!
Why Did We Like It?
So, what are the basics you look for in an air compressor? A good motor, a durable pump, and enough capacity to work smoothly? This machine will give you all these benefits and more.
It is intricately designed to house a 3 HP motor with thick copper wire, which enhances the durability and performance capacity. While most devices use an aluminum or copper wire to reduce the costs, Makita does not compromise on their quality.
Along with it, the unit has a Big Bore Pump. This pump includes three parts – the cylinder, piston, and joining rod. They are designed in such a way that more air can pass with less power consumed. This is the perfect combination and makes sure you save up on power.
Also, the device comes with a 5.2-gallon tank capacity, which is enough for ½-inch impact wrenches. Finally, we should tell you about how lightweight the unit is. Weighing only 88 lbs, moving it is not going to be a hassle.
What Could've Been Better?
A product loaded with so many features is bound to come at a higher cost. This is one of the most expensive products on the list. But with the best of features, it is a perfect fit for impact wrenches, thus, we would say it is worth the price.
Pros
Ranks high on durability

Weighs 88 lbs and highly portable

Removable cylinder for easy maintenance

Rugged wheels

Storage compartments fitted inside
This is a massive device made for superior performance. The Industrial Air ILA4546065 Air compressor is a compressor that will help you operate multiple wrenches together. It has an enormous tank volume and will not disappoint you with its smooth and efficient functioning. Let's get into the features to know more.
Why Did We Like It?
It is a perfect gadget for 3/4th inch wrenches, which require higher power than ½ inch ones. Powered by a 4.7 HP motor, this device is ideal to use with heavy-duty tools. The job would be done efficiently.
What's more, you can work with it continuously for long hours, thanks to the 60 gallon capacity of the device. This is huge, and you do not have to worry about refilling the tank for a really long time.
Also, you usually would need 7 CFM at 90 PSI to work with a 3/4th inch wrench. But this device offers 14 CFM at 90 PSI, exceeding all expectations. We were blown away by the sheer perfection with which it worked.
Lastly, for the ease of movement and stability, the product has a wheel and stands on two sides. You can not only move it around, but the stands provide absolute stability when needed making it a plausible option on rough terrains too.
What Could've Been Better?
Though the machine comes with a host of outstanding features, it tends to heat up when used for long. If you are going to use it for long hours, it is best to give the machine some rest in between for a few minutes and wait for it to cool down. Once it has, proceed with the job at hand.
Pros
Pneumatic tire for efficient mobility

Oil-lubricated pump

Heavy-duty motor

Has a quick-set regulator
Cons
Tends to heat up after prolonged usage
Sale
Next up is an ultra-quiet device from the house of California Air tools. It only makes 70 decibels of noise and will not disturb you and your conversations at all. For all the noise conscious mechanics and DIY enthusiasts out there, this is a tool that will keep you happy throughout.
Why Did We Like It?
First of all, we will mention that the tank is oil-free. This saves a lot of effort as you do not have to worry about refilling or lubricating the machine from time to time. 
Moving on to the pressure capacity, it delivers 5.3 CFM at 90 PSI. This is sufficient for a wrench and will get it working smoothly. It also comes equipped with a 10-gallon tank, which is double the one that Makita offers. A larger tank enabled us to work continuously for long hours with the impact wrench. 
Weighing 82.5 lbs, this machine is one of the lightest in the list. To provide ease of movement, it comes with two wheels on both sides. Taking it up and down rough terrains is also not a difficult job anymore. 
To add to it, the compact size makes it easier to carry around as well as store in garages with very limited space. 
What Could've Been Better?
We felt that considering usage, the 2.0 HP motor is not as powerful as most of the other devices. It takes time to refill the tank and can be of a hindrance if you want to do the job quickly. 
Pros
Quick-Connect Coupler

Low maintenance

Works in all weather condition

Lightweight

Affordable product
Cons
Not a very powerful motor
Next up is a remarkable product from the house of California Air tools, which is super quiet while boasting of powerful features. We were floored to see the efficiency that this device offered while it whirrs quietly without causing any disturbance. With a compact design and a powerful engine, this unit is unparalleled when it comes to performance.
Why Did We Like It?
Imagine if a single machine came with dual motors, a big 20-gallon tank, and did not cause a ruckus in the garage. Does it not sound perfect? We think this is one of the best devices in the market currently. 
It generates 10.60 CFM at 90 PSI, making it ideal for use in case of both ½ inch and 3/4th inch impact wrenches. This is a brilliant feature, and combined with a dual-piston pump system; you can be assured of longevity and high performance. 
Also, it emits only 75 decibels of sound, which is the icing on the cake. With a powerful machine such as this, we did not expect it to be so quiet. It cannot be heard outside the workshop and will not be of any hindrance.  
To top it all, the machine comes with an aftercooler, which keeps cooling the air that is emitted. This will keep your device cool on the one hand and also prevents the room from getting overheated. 
What Could've Been Better?
We believe the price could have been lower! Yes, it comes packed with features, but the higher rate often makes it problematic to afford. On the other hand, though, it is incredibly durable, and it makes sense to spend more on a machine which will last long. 
Pros
Ultraquiet emitting 75 decibels

Two pressure control gauges

Fills tank in 150 seconds

Heat dissipates quickly

Available with manual and automatic drain valve variants
Being one of the most reliable impact wrench air compressors, the Porter Cable C2002 is a great option in its price range. This is one of the most affordable devices in the list and comes in a pancake shape, making it easy to store. A suitable companion to take around, this device is compact and will not give reasons to fret.
Why Did We Like It?
Weighing just 34 pounds, this is way more portable than you had imagined it to be. It can easily be taken around and can fit into the tiniest of cars. But let the size not fool you! Equipped with built-in thermal overload protection, it delivers 2.6 SCFM at 90 PSI. You can imagine how fast the recovery time is. 
Another great feature is that the motor works perfectly well in all weather conditions. Our old compressor would not start in winders as it gets pretty chilly, and the machine would get severely affected.
 Chances are you have the same story to tell. With this device, the 120-volt motor is well protected and will start even in the coldest of temperatures. 
To add on, the pump is oil-free, and you would not need to worry about refilling it or lubricating it once in a while. It runs very smoothly without any extra effort. 
What Could've Been Better?
The only thing which bothered us here is the noise that is emitted. It becomes a problem more for those around us. Your neighbors may be disturbed, and the people in your house may not be able to function normally with this machine switched on. So we would recommend that if you purchase this device, use it during work hours and not at odd hours. 
Pros
Low amp 120-volt motor

Oil-free motor

Affordable and cost-effective

Lightweight and easily portable

Easy to startup
Next up is a device that can run multiple impact wrenches all at once. Industrial air focuses on making long-lasting and very efficient devices for professional usage, and this is one of its most excellent examples. Packed with a host of specifications, the Industrial Air 20-Gallon Belt Driven Air Compressor is known to be reliable and versatile. 
Why Did We Like It?
At 90 PSI, the device generates 5.3 CFM of air volume. Now this works perfectly for ½ inch impact wrenches because they need a minimum of 5 CFM at 90 PSI, and the device surpasses the essential requirement criteria. 
Also, the 20-gallon size makes it a plausible choice to run a wrench continuously for long without having to switch off or without needing any form of extra pressure. Now, if you are thinking that running the machine continuously may lead to it heating up too much, there is no need to worry.
The device is made in such a way that it dissipates heat constantly and performs without hesitance. Heat does not build up inside it, and all the delicate parts work smoothly without hindrance. 
To add on, the device comes packed in a sturdy frame, which provides excellent support to the machine inside and keeps it safe from external injury. 
What Could've Been Better?
While it comes packed with features, the product costs are pretty high. Now we would say the price is justified given the host of remarkable specifications, but then it can be a problem for an average person to buy. So if you have a bigger budget, then do not think twice about it. 
Pros
Fast heat dissipation

V-twin, cast-iron pump

Durable construction

Pneumatic tires for smooth movement

Perfect for smaller tasks
Next up is the ultimate product of your dreams! The Powermate Vx PLA4708065 80-Gallon Electric Air Compressor is the device specially made for industrial needs. If you are a garage or repair store owner, this machine, with its bells and whistles, will meet all your needs without a doubt. 
Why Did We Like It?
We will begin with the massive tank capacity that it comes with. The 80-gallon tank allows one to work for long hours with multiple devices at once. We are sure that you will tire out before the machine does! 
To top it, the device has a 4.7 HP motor, which is able to provide outstanding power. With so much power used, you must be wondering if the machine heats up due to the heavy usage. Well, the company did think it through! With wired formed belt guard and an operational capability at average RPM, the machine will not heat up even when working with it for long.
Moving on, it delivers 14 CFM at 90 PSI, which clearly adds another diamond to its crown. This works superbly well with 3/4th inch impact wrenches.
What Could've Been Better?
The product is heavy, and that is expected with a tank capacity as big as this. But a word of caution here! Most of the weight of this device is concentrated near the top, and there is a chance of it toppling over. Make sure that while moving this device, at least 3 people hold it from the sides. 
Pros
Equipped with oil-lubricated pump

Cast iron sturdy body

Maximum pressure of 155 PSI

Wired formed belt guard for cooling
Cons
Challenging to move with no wheels
Another powerhouse that you can boast of, Quincy, has come up with this brilliantly powerful air compressor fit for every need of yours. It will leave you astonished with out of the world specifications in one device. With a motor that can function for continuous hours, in the end, we only have good things to say about this device.
Why Did We Like It?
Firstly we will begin with the 5 HP motor which is by far the largest we have seen. Because of its massive size, there is a built-in thermal alert system that will inform you every time the machine heats up. This will in turn save you from constantly having to check on the temperature of the tank. 
Further, the device comes with a two-stage air compressor, which has the ability to generate 15.2 CFM at 175 PSI. It also sports a 100% duty cycle along with allowing you to work with this machine continuously.
Also, this device is known for its durability. It can work for 30000 hours before you need to change the pump. The pump is as reliable as it gets! Another remarkable feature of the pump is that it provides vibrations quietly. Imagine a giant device such as this to be producing a very low sound. Can it get any better?
What Could've Been Better?
We have no complaints about this massive multi-functioning device other than the time that it takes to fill up the tank. It almost takes 6 and a half minutes, which is pretty long when compared to other devices. It could make you pause work for a while in between, but again, we will not hold this against the host of brilliant features.
Pros
Two-stage air compressor

Built-in thermal overload

Operating costs are low

Sports a 30,000 hours pump life
Cons
It takes time to fill the tank
Next up is a smaller device but made for professionals. If you are a serious DIYer, professional, and own a garage or store, this is one device that will satisfy all your requirements. Perfect for ½ inch wrenches, you will be floored with the efficiency it shows.
Why Did We Like It?
Firstly the 20-gallon tank capacity will make sure that you have enough airflow for multiple impact wrenches. This capacity will help you, especially in the store, when there are a lot of machines that need your attention. 
Further, it generates 5.7 CFM at 90 PSI, which is good enough and will suffice for ½ inch wrenches. We had our device functioning smoothly throughout the process. 
To top it, the model has a twin-cylinder pump, which is accompanied by valve plates and a coated head. This ensures that heat does not build up and helps disperse it quickly. A heated device cannot be used for long, and this feature is beneficial in having the device running for long hours.  
Also, high flow regulators present inside assure more rotations, which in turn lets you take out nuts and bolts with ease. The device is compact in size while performing heavy-duty functions. 
What Could've Been Better?
The device comes with a hoard of brilliant features and is made for serious users. If you are planning to use it irregularly or your need is less, spending on this unit may not be fruitful. This is because the costs are high, and the expenditure makes sense only if you plan to use it efficiently. 
Pros
Robust dual voltage motor

Both light and heavy-duty jobs

Equipped with a quick-set regulator

Oil-lubricated pump
If you are a DIYer who needs an affordable device for infrequent use, this is an excellent option. Perfect for ½ inch wrenches, it has all the essential features required and will impress you with its smooth functioning. Also, the compact size makes it portable and can be taken around easily. 
Why Did We Like It?
With a 20-gallon tank, you will not have to worry about working continuously with the device. The tank has ample capacity and will take care of your needs with perfection. 
Also, it comes with a cast iron V-twin pump, which is oil-lubricated and increases the durability of the machine. The oil keeps the parts healthy and working in a smooth condition. While the cast iron protects the body, providing it with a long life. 
Additionally, the machine comes with flat-free tires for easy portability. The tires are a boon, as you do not have to worry about filling air into them. These tires will last you long with zero maintenance.
What more! The device is quieter than most devices on this list and will not cause a ruckus in the workshop whenever it is switched on! You can carry on a conversation with the machine running by the side. 
What Could've Been Better?
A major complaint that we have with this product is the pressure regulator. It comes with the compressor often malfunctioning, leading to mishandling of the PSI and CFM levels. Though the issue can be fixed, it becomes time-consuming, and we wished if the regulator could be made better. 
Pros
Portable and versatile

Quiet machine

Longer pump life

Very efficient customer support

No flat solid tires
Cons
Faulty pressure regulator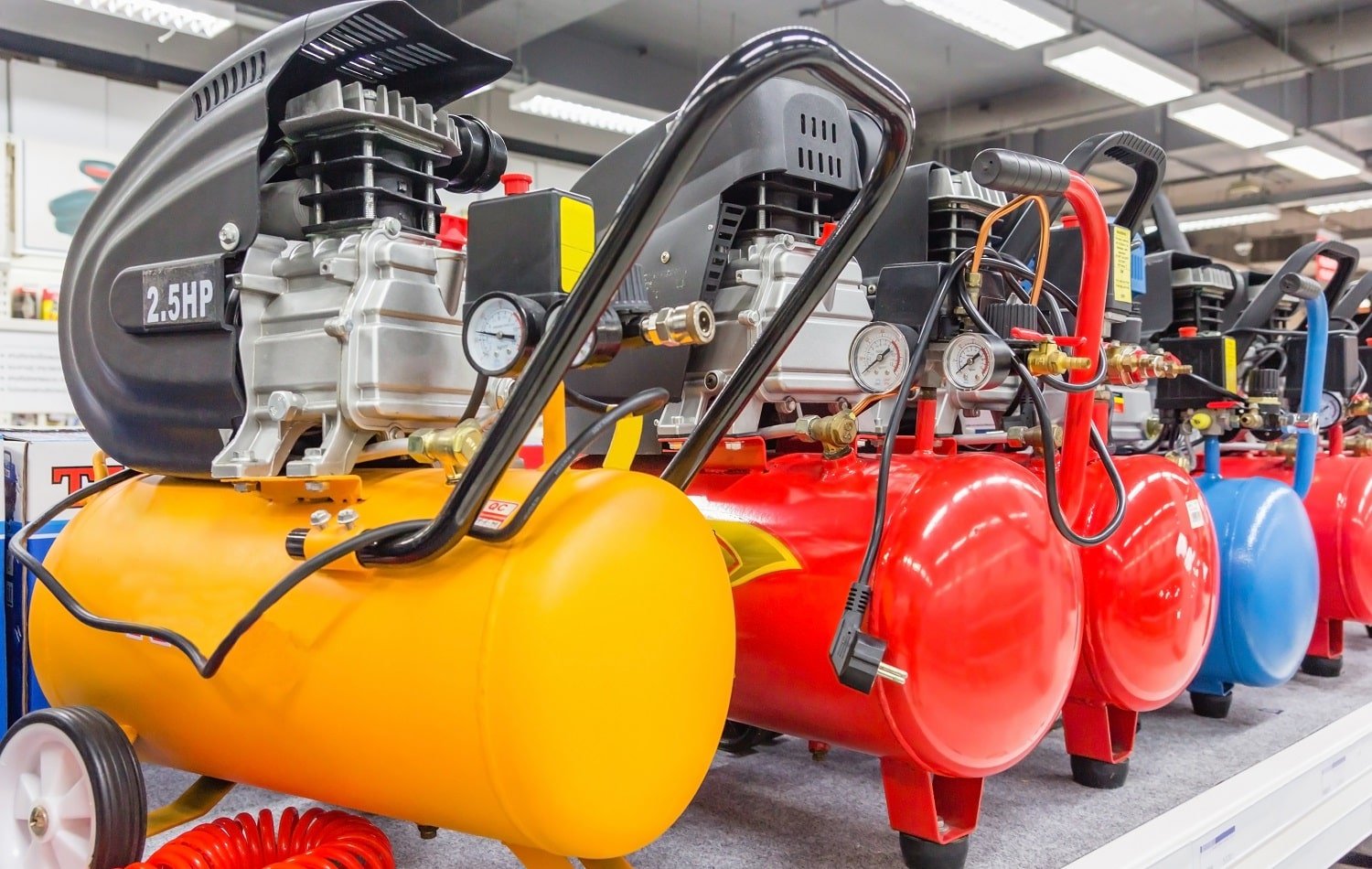 Air Compressors For Impact Wrenches Buyer's Guide
Since you have a specific use in mind, buying a random air compressor would not make sense. Buying a product just because it has some good features or is the most expensive one on the list may lead to unnecessary spending. To make it simpler for you, we have listed down some of the top points to keep in mind before choosing a device. 
Size of impact wrenches
There are two standard sizes of impact wrenches, the ½ inch version and the ¾ inch one. Both have different requirements, and thus you need to buy a machine that is compatible with your wrench. The 12-inch one requires a device that at least delivers 5 CFM at 90 PSI. Anything above this is considered fit to be used. 
While for ¾ inch wrenches, the required pressure would be 7 CFM at 90 PSI. A machine that is fit for the former wrench may not be appropriate for the latter. And buying a vast machine for the 1/2 inch version would be pointless and expensive. 
Portability
This is an essential feature as the devices which have a 60-gallon tank or above are pretty heavy, and if you are buying it, mobility may be an issue. Now some devices come with wheels that allow you to move the machine smoothly, but some tools are devoid of wheels. 
They need 2-3 people to carry them and thus are not portable. They are useful if you want a device to keep in the garage.
Smaller devices with a tank capacity of 20 gallons or lesser are easily portable as they generally weigh less. 
Oil-free or lubricated
Some units function without oil, while some need oil lubrication. The oil-free models are better suited for the environment and will save you a lot of time and effort. On the other hand, lubricated machines are more powerful and last longer. Also, they wear down slower even when the parts are used very frequently. 
Since both have some advantages and disadvantages, it depends on you as to which one is more suitable. 
Noise levels
This is something people often tend to ignore in the beginning, but in the long run, noise levels matter a lot. If you are looking for a device that does not make a lot of noise, there are options above. These devices are beneficial, especially if you have neighbors staying very near you.
A loud device can not only be a hindrance to you and disrupt conversations, but it can also not let your family members function normally. Also, imagine the problems of working in a garage with more than one air compressors switched on and emitting high levels of sound!
It may really be bothersome. So make sure you consider the usage and where you need it before buying a product.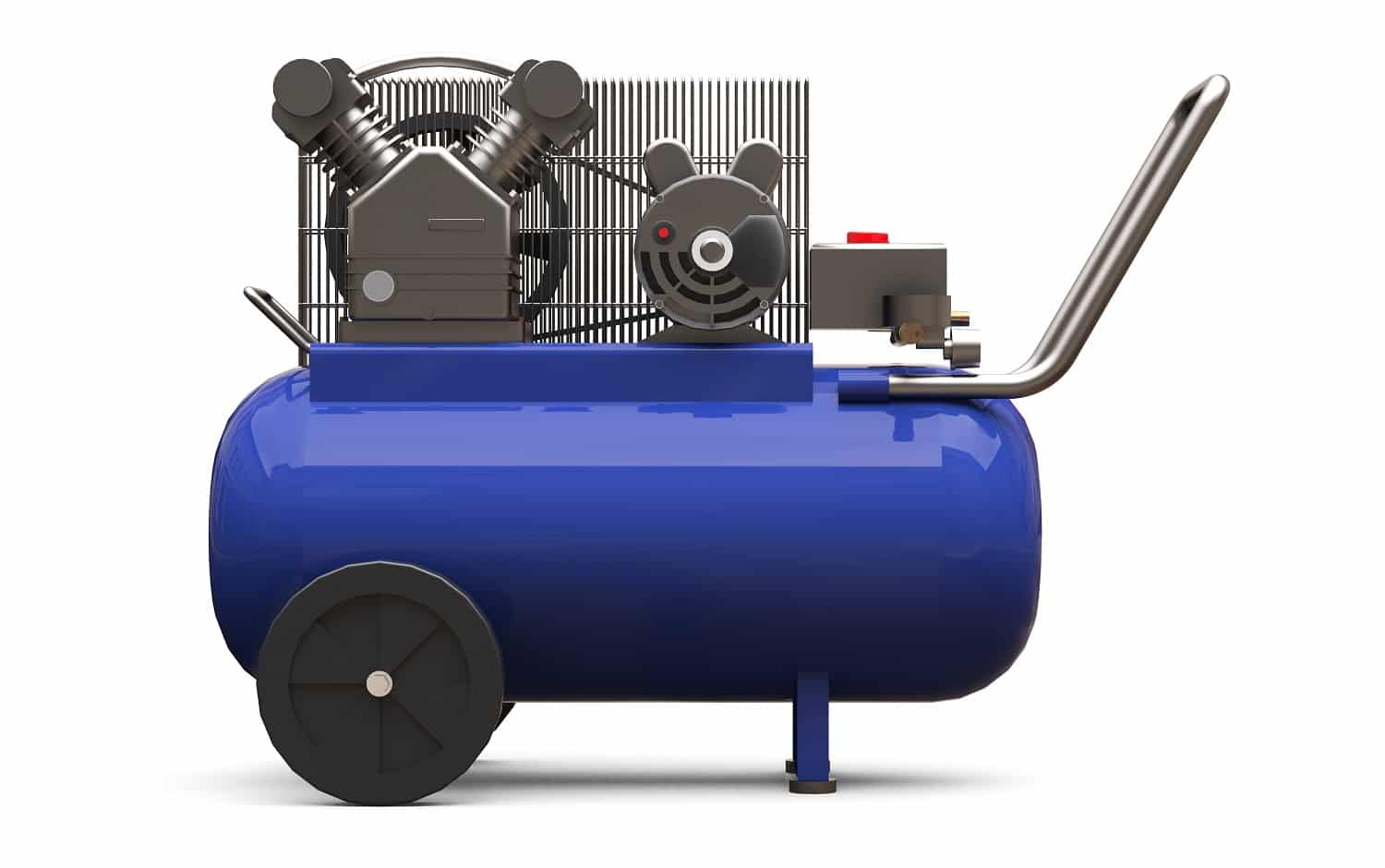 Verdict on Best Air Compressors For Impact Wrenches
Finally, it is time to choose the best of the lot. When it comes to ½-inch impact wrenches, the Makita MAC5200 Big Bore 3.0 HP Air Compressor is a clear winner. It comes with a large tank capacity and a strong motor to do the job like a pro.
If you are planning to use ¾-inch impact wrenches, the Industrial Air Hi-Flo Single Stage Cast Iron Air Compressor is the best choice. It is powerful, portable, and ranks high in efficiency.
We are at the end, and while we will take your leave, it is time for you to go out there and explore the options. We are sure you will make the right choice.
Till next time, happy shopping!
Related Articles
10 Highest CFM Air Compressors
9 Best 6 Gallon Air Compressors for Your Home & Garage
10 Quietest Air Compressors For Your Garage
13 Best 30-Gallon Air Compressor  
Makita Mac2400 Air Compressor Review
10 Best 80-Gallon Air Compressor to Consider
13 Best 20 Gallon Air Compressors 
13 Best Portable Air Compressor
How To Refill Co2 Tank with Air Compressor?
13 Best Quiet Air Compressor for Your Home in 2022
10 Best 60-Gallon Air Compressors to Use in 2022
13 Best 10-Gallon Air Compressors for the Buck in 2022
10 Essential Air Compressor Accessories You Need
10 Best Air Compressors For Nail Guns
13 Best Finish Nailers for Woodworking 
13 Best 60 Gallon Air Compressor  
12 Best Gas Powered Air Compressor for the Buck