Are you planning to add some heavyweights to your gym space without punching a hole in your pocket?
Speaking of budget-friendly gym upgrades, adjustable dumbbells are the best options to consider. First and foremost, these are pretty useful for targeting your upper and core muscles. As a bonus, these products are also effortless to store anywhere.
However, let's be honest – is it as easy to choose the most efficient adjustable dumbbell as it sounds? Most of us aren't even familiar with the popular brands that manufacture the best models in the market – we usually leave it to the gym professionals.
So, in case you're planning to bet a few sets on your own, here are 13 of the best adjustable dumbbells you can buy today. We have also added a buyer's guide to walk you through the essentials to keep in mind before buying.
Now, without any further ado, let's dive in!
Best Adjustable Dumbbells 
IMAGE
PRODUCT
DETAILS

Our Top Pick

Our Top Pick

Bowflex SelectTech 552 Adjustable Dumbbell

Variety of weights ranging from 2 to 24 kgs
Premium molding for plate protection

VIEW LATEST PRICE →

PowerBlock Elite Adjustable Dumbbell

Range from 15 to 50 pounds at a difference of 5 pounds
Multiple handle settings for easy and comfortable lifting

VIEW LATEST PRICE →

Core Fitness Adjustable Dumbbell Weight Set

The range between 5 to 50 pounds at a difference of 5 pounds
Twist-and-lock system for easy and comfortable adjustments

VIEW LATEST PRICE →

Merax Deluxe 71.5 Pounds Adjustable Dial Dumbbell

Maximum weight limit of 71.5 pounds at a variation of 5.5 pounds
Comfortable non-slip rubber grip for added safety and comfort

VIEW LATEST PRICE →

ProForm SpaceSaver 25 Double Dumbbell

Very appropriate for aerobics exercises
Built with metal for enhanced durability

VIEW LATEST PRICE →

PowerBlock Sport 24 lbs Adjustable Dumbbell

24 lbs dumbbells; very appropriate for quick home cardio
Foam-padded handles for a secure and comfortable grip

VIEW LATEST PRICE →

ATIVA FIT 27.5 Adjustable Dumbbell

Quick-lock pin to ensure safe settings
Ultra-soft grip handle

VIEW LATEST PRICE →

NordicTrack Select-A-Weight 55 Lb. Dumbbell Set

15 variations; can be increased to 55lbs
All-metal construction for enhanced durability

VIEW LATEST PRICE →

NordicTrack SpeedWeight Adjustable Dumbbell

Adjustable weight variations up to 12.5 lbs
The 5-year warranty period for quality

VIEW LATEST PRICE →

Bowflex SelectTech 1090 Adjustable Dumbbell Set

34 set adjustments; can be maxed up to 90 lbs
Premium molding to reduce dropping noises

VIEW LATEST PRICE →

Titan Fitness 105 lbs Adjustable Dumbbell (Pair)

Supports up to 52.5 pounds
Can change up to 24 plates

VIEW LATEST PRICE →

Weider 25 lb. SpeedWeight Adjustable Dumbbell

Can be adjusted up to 25 lbs
High-quality storage tray

VIEW LATEST PRICE →

ATIVA FIT 71.5 Pounds Adjustable Dumbbell Set

Maximum weight limit of 71.5 pounds
Best-in-class safety release button

VIEW LATEST PRICE →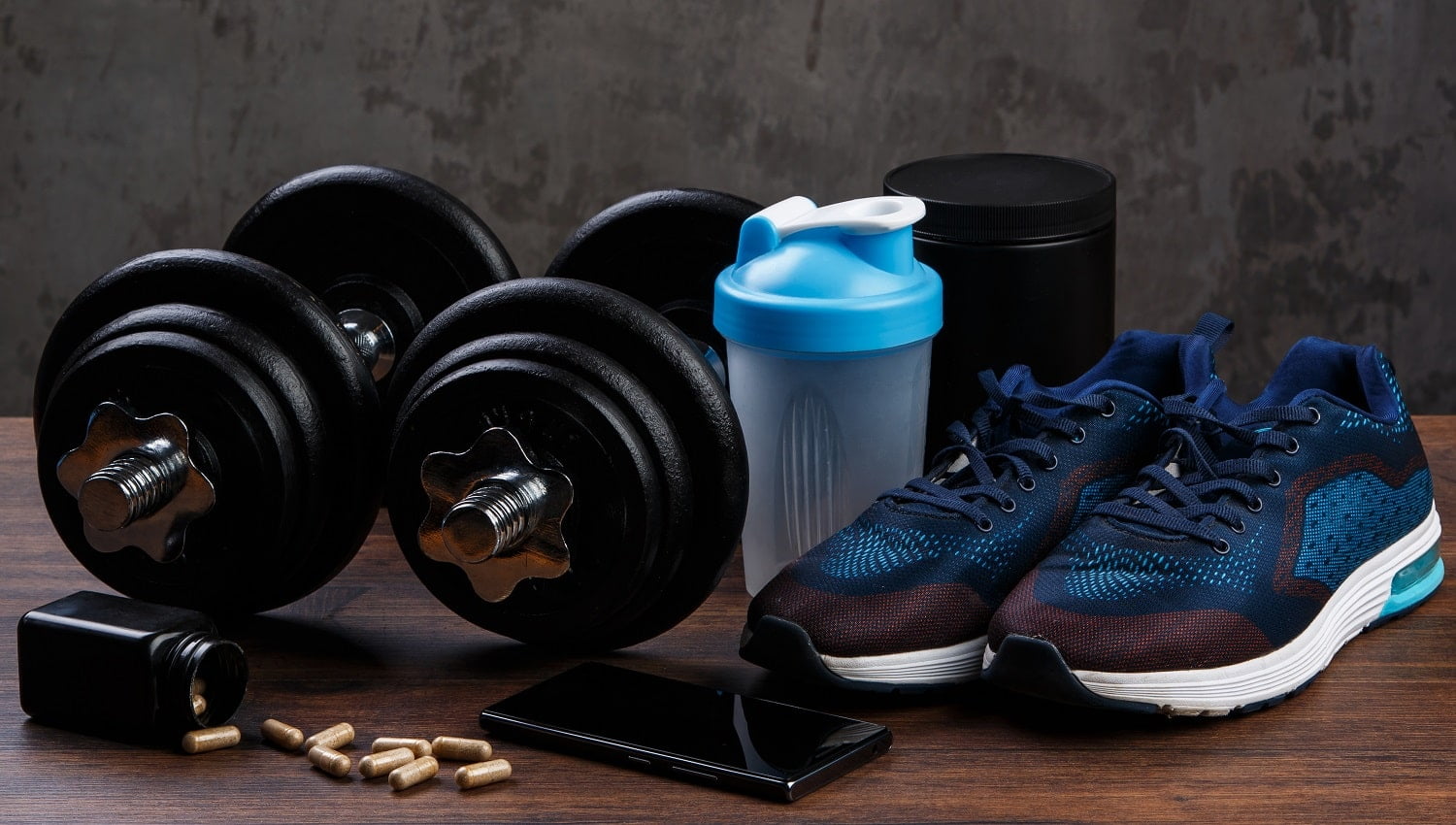 Bowflex is emerging as one of the best-selling brands in the fitness market, and why not? The products set higher standards for quality with their premium innovations. The SelectTech adjustable dumbbell set is something you'd likely notice in every professional gym, mainly because the user convenience it offers is second to none.
Sale
Why Did We Like It?
First and foremost, the product ranks very high in versatility, making it an ideal all-in-one option to opt for while upgrading your home gym. The thing is, you'll notice that the amount of free weights in this set is higher than usual. This convenient feature gives you the freedom to train as per your capabilities without having to buy extra plates.
To make it easier for you, the brand already offers weights ranging from 2 to 24 kgs. While training with this set, you can receive equally effective results as you'd get from 15 sets of weights. This way, at a one-time cost, it makes a pretty affordable deal.
Furthermore, we're fans of its best-in-class make and materials, which is also why Bowflex products are the number one choice for hardcore fitness freaks. As a bonus, it features a premium molding around the metal-built plates, which offer very smooth and uninterrupted flow while working out. Moreover, it cancels out the annoying noises when you drop the weights after a hard-hitting rep.
Last but not least, we're in love with how Bowflex makes your home workout sessions easier and more accessible with its added benefits. With every purchase, you get free access to a fitness app that features over 30 exercises with around 80 variations.
What Could've Been Better?
The most frequent user complaints that we've noticed are that the weights tend to stick together while storing, mostly after 8 to 10 months of use. Other than that, the product doesn't always stay in stock due to its high demand, so you have to act fast.
Pros
High-quality metal plates

High versatility

Free fitness training app access

Noiseless workout experience
PowerBlock is one of those names that you'll hear from almost every fitness enthusiast – that's how established it is in the market. Boasting a strong base of thousands of satisfied customers, this brand has changed the game with the all-new Elite adjustable dumbbell set. Let's take a more in-depth look at its core features.
Sale
Why Did We Like It?
The word on the street is that adjustable dumbbells weren't the same since PowerBlock started reshaping its dynamics with their best-in-class innovations. One of its most prominent examples of it is the Elite series, which, at first glance, doesn't resemble a generic dumbbell.
Maybe that's what attracts young fitness enthusiasts – its quirky design does make one curious about its efficiency. Instead of round-shaped plates, this product comes with squared plates that make it stand out from other alternatives. The best part is that as the dimensions are squared, the plates won't roll away when you rest them down on the ground after finishing a set.
Wait, it doesn't end there – you also get five different handles, comprising one central handle and four separate handles on each corner. Due to this design, you're bound to notice a considerable difference while using the dumbbells. Such a dynamic setting makes you use the weights from different perspectives for optimal comfort and safety.
Moving on, let's take a look at the weight range and versatility you get with this dumbbell set. In this case, the multiple plates range between 15 to 50 pounds, each maintaining a difference of 5 pounds. Now, that's what we call the best value!
What Could've Been Better?
As it's a premium-class product, the pricing is slightly higher than the usual alternatives you'll find in the market. Apart from that, build quality is a prevalent issue with the Elite adjustable dumbbell, as you may notice warped plates or curved rails.
Pros
Very flexible and convenient

Multiple handles for ease of use

Extensive weight range

Quirky design
Cons
Build quality could be improved
Core Fitness has been delivering the best quality fitness equipment under an affordable price bracket for years, which is why it's so commonly recommended by home fitness trainers. If you're looking for a compact and versatile dumbbell set for the buck, don't miss out on the CF adjustable model. Let's check out its core specs and functions.
Sale
Why Did We Like It?
If you're looking forward to upgrading your home setup for hardcore strength training, the Core Fitness adjustable dumbbells are a very low-cost yet efficient option to consider.
For starters, this product features a very stylish appearance, which is guaranteed to amplify your fitness workspace's overall style quotient. The gloss black paint scheme is attractive and protects the plates from mild scratches, wear and tear while doing vigorous exercises.
Moving on, it also enables you to pursue different strength exercises, thanks to its wide range of weights. It features multiple plates ranging from 5 to 50 pounds, that too, with a consistent increment of 5 pounds.
Unless you're relatively experienced, we wouldn't recommend using the dumbbell at its maximum weight setting. Stick to the lower weights for a while to ensure 100% safety.
You can easily set the weights according to your workout needs, as the twist-and-lock adjustment system makes it easier to choose by rotating the handles. If you feel like upgrading to a higher weight after every set, it's literally as easy as a flick of the wrist.
What Could've Been Better?
We hope that the manufacturers focus on smoothening the adjustments, as resetting the weights can get pretty tedious at times. Also, it might not be the best option for practicing decline bench presses.
Pros
Premium-quality metal plates

Optimal versatility

Easy to use and maintain

The support base for storage
Cons
Resetting is time-consuming
Merax, being one of the favorite brands for fitness enthusiasts, has shaken the market with its elite 71.5 pounds adjustable dumbbells. Just as the name implies, everything about this product is 100% deluxe-quality, which isn't hard to understand by its appearance itself. But, does it live up to its hype in the long term? Let's find out!
Why Did We Like It?
Let's begin with how the manufacturers have crushed its competition with the 71.5 pounds heavyweight dumbbells (pun intended). This is one of the most massive sets we've come across, and it screams of elite performance. With such a wide range of plates with a variation of 5.5 pounds, you can push your body beyond its limits while exercising at home.
If you're thinking that such heavyweights might make it hard to adjust, let's be clear that it's not the case with this unit. We were surprised by how fast and effortless it is to fix, which gives it the upper hand over numerous other alternatives in the market. As a bonus, you also get a weight adjuster dial on each end to make the job even simpler.
Speaking of build quality, Merax never disappoints. The plates are constructed from 100% solid metal to ensure years of durability. Not only that, but its ebony gloss finish protects the plates from rust and corrosion in the long run.
Using these dumbbells won't stress your palms after a while, mainly because the handles feature a secure rubber grip to ensure optimal user comfort. This feature also cancels the chances of the weights slipping out of your hands, which is much-needed for user safety.
What Could've Been Better?
The thing is, the product comes with a plastic mount for added protection. Although it's suitable for the weights, it also consumes a large amount of floor area. Considering this, it can be a little troublesome to store for those who have already crammed their home gym with more than enough equipment.
Pros
Highest weight limit in this range

Very comfortable to hold and carry

High-quality build material

Weight adjustment dial for ease of use
Our final pick of the day is the ProForm SpaceSaver, very compact workout equipment that can go head-to-head against several big names with its highly convenient features. If you're looking for reliable workout weights under a reasonable price tag, this should be your ultimate go-to pick.
Why Did We Like It?
One of the main reasons customers think twice before buying adjustable dumbbells is that they can be pretty expensive. However, if budget is the only factor that's stopping you from reaching your transformation goals, the ProForm SpaceSaver is one of the most feasible options we can recommend to try.
For starters, as the name itself suggests, this product is comparatively easy to store. It features a very compact body, so it doesn't consume a lot of your space. You can comfortably rest it on the plastic storage tray on a side, once you're done hitting your daily cardio goals.
Speaking of build materials, its plates are built with premium metal for enhanced durability. This way, even if you accidentally drop the weights while exercising, it wouldn't suffer any damage. However, the product already comes with a non-slip grip handle, which prevents the chances of it slipping off accidentally in the first place.
What Could've Been Better?
To be honest, we had expected it to feature a smart plate-adjustment system for high-end user convenience. But, as per our experience, changing weights on this dumbbell can get very frustrating at times.
Pros
Simplistic design

Ergonomic design

Premium build quality

Great for beginners

Affordable price
Cons
Not easy to change weights

Not suitable for professionals
PowerBlock is back on our list with its compact 24 lbs adjustable dumbbell kit, one of the most affordable products. This set qualifies as an ideal companion for your quick home cardio exercises with limited weight capacity and easy-to-store size. Let's dig deep into the details.
Why Did We Like It?
As we move on to more compact and lightweight dumbbells for the buck, the first product that comes to our mind is the PowerBlock Sport model. It's the mini-me version of the iconic Elite variant, offering somewhat similar comfort and efficiency at a very less cost.
First, it features a similar design as its bigger variant, only with a few minor modifications. Most importantly, it features flat and full plates that come in very handy while targeting your muscles for a pumped-up cardio session.
As we already know, the square-designed plates make it impossible for the dumbbells to roll away while remaining on the floor during rest.
Besides, this product features a square handle and five different grips that raise its versatility to another level. We're in love with how comfortable the handles are to hold, mainly because of the incredible foam-padding. However, it still provides an excellent grip that saves you from getting into an accident.
Moving on to its build quality, "durable" would be an understatement to describe the make and material the product packs at such a price. The all-metal construction, along with the premium fiber guard, makes sure that it lasts you a lifetime. And the most incredible fact here is that PowerBlock backs up its durability with a whopping 10-year warranty period.
What Could've Been Better?
According to the most frequent complaints, although the product description mentions a set of two dumbbells, the customers only receive one. There's a significant shipping issue that PowerBlock needs to focus on immediately.
Pros
Compact and easy to store

Extra-comfortable grip for safety

Adjustable weights

Meager price tag
While we're speaking for lightweight dumbbells that come at a negotiable price bracket, it might be the best time to introduce the ATIVA FIT 27.5 adjustable set. This product has created big waves with its classy outlook and performance, making it a suitable option for your home cardio sessions. Let's find out some more.
Why Did We Like It?
This product features an incredible weight adjustment limit with a maximum weight of 27.5 lbs, that too, at an interval of 5 pounds. And just like its 71.5 pounds variant, it also features a similar design. Not only that, but the matte black finish also prevents the sides from being scratched while dropping, or just through regular usage.
Furthermore, you don't have to worry about accidental adjustments as the product features a quick-lock pin to ensure safe settings. However, in this case, the lock is placed on the topmost area instead of the sidewards. It provides a more stable lock, assuring you that the weights won't slip off during exercise.
We're also fans of how the manufacturers haven't compromised with overall product quality, despite its meager price range. To be precise, it features an all-steel construction that ensures years of longevity. You won't also notice a single plastic component, which prevents the dumbbells from breaking off while being dropped randomly.
You're also guaranteed to fall in love with its ultra-soft grip handle that makes your cardio sessions a little comfortable by saving your hands all the unnecessary stress.
What Could've Been Better?
There's a significant defect that can cause unforeseen accidents while using the product, as the weight indicators display an internal of 2.5 pounds. If you're not aware of it, you might end up hurting yourself in an attempt to increase weight capacity.
Pros
Compact and ergonomic design

Ultra-soft grip for safety

Adjustable weights

Meager price tag
Cons
Incorrect weight indicator display
Since the last 45 years, NordicTrack has proven itself to be one of the most reliable fitness equipment manufacturers worldwide. The brand has the one-stop solution for your home workout needs, the Select-a-weight dumbbell set. With a maximum capacity of 55 lbs, it makes an ideal companion to your day-to-day strength training sessions.
NordicTrack Speed Weights
Learn How to Strength Train with iFit; Discover thousands of...
Replace 26 Dumbbells; The Select-A-Weight adjustable...
Why Did We Like It?
NordicTrack products are always popular for making free weight exercises a lot more convenient. Similarly, this efficient dumbbell set fits the bill as a suitable home workout tool with its wide array of features.
First and foremost, the freedom of variable weight selection that it offers can be maxed up to 55lbs. This feature makes it very useful for both light cardio and massive strength exercises, which gives it a significant advantage compared to the other products in the game. To be precise, it has a robust weight setting of 15 different variants, which you can play with as per your needs.
Furthermore, the weight selection system is also surprisingly very swift and smooth. You can select the weights quickly and shuffle between 2.5 and 5 pounds intervals for an intense training session. With such high versatility, it stands eligible for various workouts, ranging from chest to leg exercises.
Being a NordicTrack product, the durability of these dumbbells is also very high. It's built with premium-class metal that ensures a long-lasting product life. It doesn't feature any plastic material, which means that you can drop it quickly without worrying about irreversible damages.
What Could've Been Better?
Speaking of efficiency, this product doesn't have any such area where it needs improvement. However, it's the de-racking of the weights that cause all of the issues. After 10-12 months of regular use, it may be a little hard to de-rack the plates, as they tend to stick to each other.
Pros
Very durable build quality

Suitable for numerous exercises

All-metal build materials

Comfortable grip
If you were curious about trying the Select-A-Weight dumbbell but don't need such heavyweights, NordicTrack has precisely what you need. The iconic SpeedWeight is one of the best options for quick toning exercises, as this compact and lightweight dumbbell set offers optimal efficiency and convenience. Let's take a sneak peek at its core features.
Why Did We Like It?
This product is guaranteed to be a delight for the brand aficionados, as every single inch reflects the classy NordicTrack DNA. Despite being a compact dumbbell, it does have a lovely outlook that makes you want to start pumping your muscles right away.
Now, even though it's a mini-version of the Select-A-Weight model, you won't be able to differentiate between both of the designs. It also comes in a similar matte black finish for a classier appearance. Keeping one of these pairs in your home gym is guaranteed to enhance its visual appeal up a notch.
Moving on, this 12.5 lbs can also be adjusted as per your needs, as it features about five different variations for versatile user experience. Each variation has an increment of 2.5 pounds, which is good enough for a mini-workout kit.
Also, the plates' metal construction prevents it from being damaged by dropping, which gives it the upper hand over most of the other products in this price segment. The manufacturers also provide a 5-year warranty period to back up its quality, making it an absolute steal of a deal.
What Could've Been Better?
Honestly speaking, with the NordicTrack SpeedWeight, you get more than what you pay for. There aren't any performance/efficiency issues here, except that the grip handle could have been a little more soft and comfortable.
Pros
Compact and easy to store

Satisfactory product quality

Great for lightweight cardio

Affordable price range
Cons
Grip handle could have been better
Bowflex will always have a special place in our hearts because its innovative workout equipment never fails to amaze us with the immense features it comes with. The SelectTech 1090 is another best-selling dumbbell range manufactured by the brand, usually every fitness enthusiast's first choice. But, does it serve your needs precisely? Let's find out!
Sale
Why Did We Like It?
Imagine the SelectTech 552, only a lot heavier and better – that's the best way to describe the Bowflex 1090 model. It is, without a doubt, one of the most versatile adjustable dumbbells that money can buy.
Bid farewell to the regular 17-set weights, as this product offers a set of 32 dumbbells, which give you the freedom to push yourself as far as you want during your workout sessions. We're fans of the versatility it offers, as you can take it from 10 lbs to 90 lbs to test your stamina. And it can be increased at a consistent increment of 5 lbs, which is fair enough.
Despite offering such heavyweights, it doesn't clutter your workout space. Its compact size is something we're totally in love with, as it's not very common among dumbbells that are as massive as 90 lbs. Storage is made even more comfortable with the incredible support mounts it comes with, enabling you to keep the plates safe without rolling all over the place.
We also have to mention how convenient it is to use, as it saves you from the loud noises of clanking metals. Like the 552 variant, its plates are also covered by a premium-grade molding to reduce the annoying sounds caused by dropping the weights.
What Could've Been Better?
It's a little disappointing how the manufacturers haven't backed up the product with any warranty at all. On the other hand, many users have reported that the plates are poorly made and break easily, which is a very concerning issue.
Pros
The best option for high-intensity workouts

Zero metal noises

Does not clutter the gym space

Attractive design
Some of us gym freaks prefer exercising the old school way, and nothing attracts them more than a pair of iron dumbbells. If you want to look at the mirror and get an Arnold-like sensation while pumping your biceps, the Titan Fitness adjustable dumbbells should be your ultimate go-to pick. Let's check out its core features.
Sale
Why Did We Like It?
First and foremost, this product's odd appearance is what makes it so attractive at first glance. It features a classic outlook, and its glossy silver finish gives you a hardcore bodybuilding feeling while working out at your home. If you're a fan of the original iron weights, you're guaranteed to fall for the Titan Fitness dumbbells.
Despite featuring a basic design, this product ranks very high in terms of efficiency. To be precise, it allows you to switch between 24 plates and set it at a maximum of 52.5 pounds. Not to forget, it gives you the complete freedom to set the weights however you want. If you're not afraid of going full-on beast mode while pumping those pecs, consider it with your eyes closed.
Noteworthy to mention, this is undoubtedly one of the best choices for the amateur beginners, thanks to its entry-level weight adjustment settings. Putting on the plates is a cakewalk, which makes it ideal for those who aren't used to working out with dumbbells. Plus, the simplistic side-lock makes sure that the weights don't fall off while exercising, which is a much-needed safety feature.
What Could've Been Better?
To be honest, it's only best for those who are very new to weightlifting, as the pros aren't likely to be satisfied with its lack of modern features. It doesn't feature a weight adjuster dial, which makes putting on the plates quite tedious. Furthermore, the handle could have a better grip for added user safety.
Pros
Simplistic design

Premium build quality

Great for beginners

Affordable price
Cons
Doesn't feature a weight adjustment dial
The second-last item on our list is a name that doesn't need any introduction. When it comes to budget-friendly equipment, nobody does it better than Weider co. Likewise, the brand's all-new 25 lbs adjustable set stands eligible as an efficient and cost-effective lower weight dumbbell. Let's take a more in-depth look at its features.
Why Did We Like It?
Although we wouldn't recommend it for heavy weight training, this dumbbell would be a lifesaver if you're someone who's into aerobics and other lower weight exercises. You can set it from 2 pounds to a maximum setting to 12.5 pounds, which is satisfactory for body toning workouts.
Furthermore, we're pretty impressed with its compact yet highly efficient design. From tip to toe, this product defines class at its best. Apart from that, the model also ranks very high ergonomically, enabling you to use it for long hours without facing any arm fatigue.
The manufacturers have seriously raised the bar higher for safety with this model, as the non-slip handles cancel out any scope of it slipping off your hands. This way, you don't have to stay afraid of crushing your toes accidentally while performing a hyped-up cardio rep.
Putting on the weights you'd need isn't an issue either – the product comes with a unique setting where you have to move the adjustment dial pin and pull the handle sidewards.
Last but not least, you can store this compact dumbbell anywhere without worrying about losing the plates. That's because it comes with a reliable storage tray, making it easier to keep without cluttering your space.
What Could've Been Better?
The build quality of this product requires considerable improvement, as the plates tend to develop scratches during regular use. Furthermore, as the plates aren't molded, you have to stay a little too careful while dropping the weights.
Pros
Suitable for aerobics

Premium versatility

Great for beginners

Affordable price range

Very safe
Cons
Build quality needs improvement
If you're someone who loves to pump heavyweights, you probably aren't a stranger to the brand history of Ativa Fit. For our heavy lifters, the globally-leading fitness equipment brand has recently launched a stylish 71.5 pounds adjustable dumbbell set. Let's take a more in-depth look at its features.
Sale
Why Did We Like It?
Right off the bat, this one is one of the most feasible choices for your strength and toning exercise needs. It comes equipped with almost every possible feature you'd need from an all-in-one home workout companion.
To begin with, just like the Merax Deluxe model, this product has also surprised us with a maximum weight limit of 71.5 pounds. It fits the bill of an ideal set you'd need for your hardcore bicep and bench press exercises. You can use its 5-7.5 pounds at its best to push your limits after every workout, which is very beneficial for muscle growth and toning.
In case you're worried about how safe it is to lift such heavy dumbbells, we can assure you that the manufacturers have raised the bar with the best-in-class safety release button. This feature prevents any chances of accidental adjustment, which helps you stay focused on your workouts even more.
Furthermore, the safety is further enhanced with its non-slip rubber grip handle. This feature prevents any chances of accidents while your hands get sweaty during workouts. Apart from that, it also offers optimal comfort so that your palms don't stress out while using it for long hours.
What Could've Been Better?
Honestly, there isn't much to complain about this rather astounding set of dumbbells. We find it to be a little too expensive compared to our previous recommendation, which offers just as effectiveness and convenience.
Pros
Weight limit range is impressive

Rubber grip for safety

High-quality build material

No chances of accidental adjustment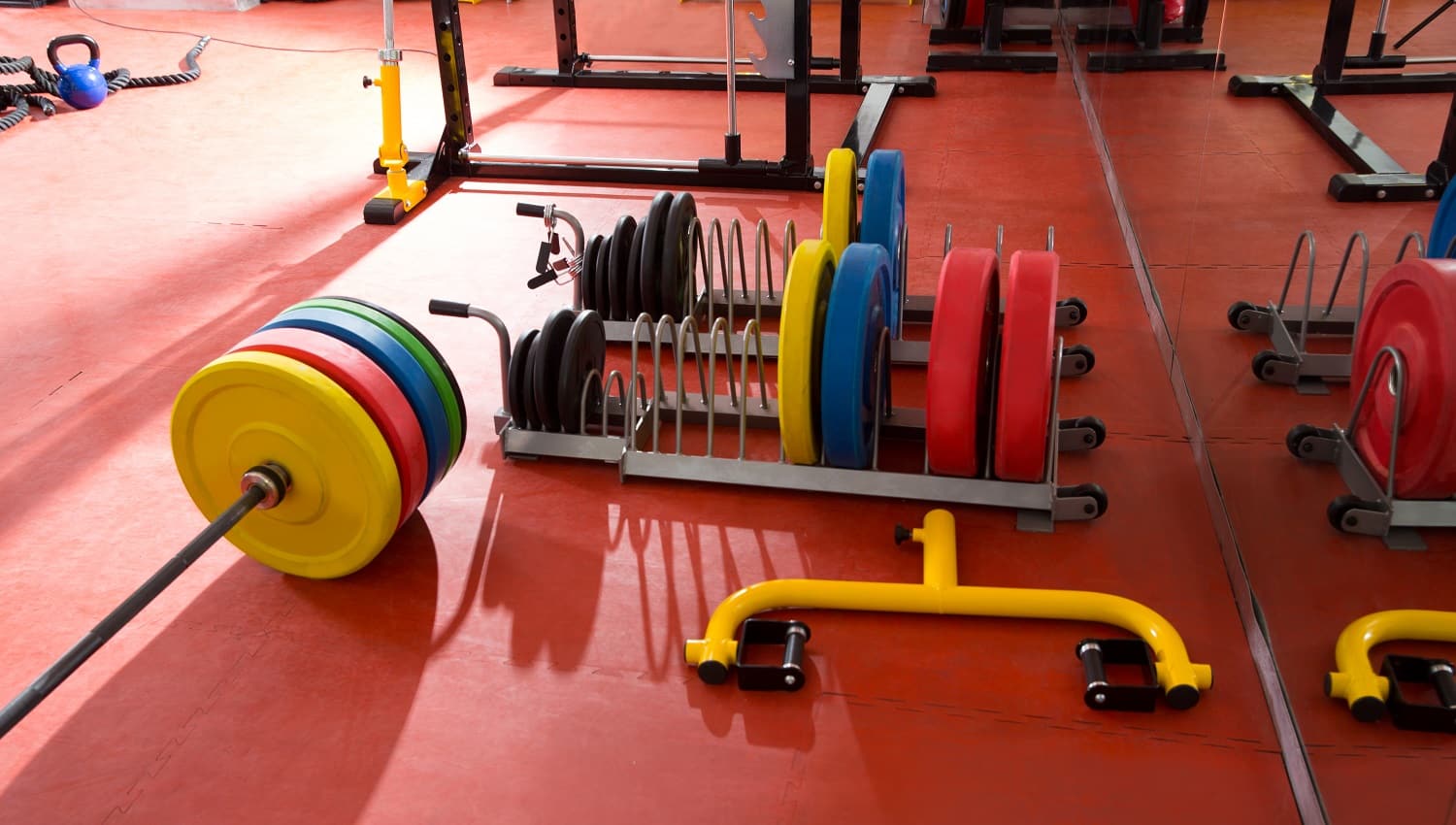 Adjustable Dumbbells Buyer's Guide 
Even though you're now familiar with the top models, it's equally imperative to learn about the main factors to keep in mind while buying an adjustable dumbbell. If you follow these in mind, it'll be easier to choose the one that suits your needs the best.
Maximum Weight
If you're into bodybuilding, you'd require heavyweight dumbbells that allow yourself to push beyond limits. That said, always opt for products that offer an average weight limit of 50 lbs, as it enables you to practice both free weight aerobics and hardcore strength training.
Safety Features
As these heavy equipment have a direct impact on your body, it's best to ensure whether it's 100% safe to use. Let's not forget that some of these dumbbells weigh as much as 70 lbs, so even a little negligence can result in dangerous accidents. For example, the plates must be adequately locked to avoid any accidental adjustment in the middle of a set.
Overall Grip and Comfort
Another essential criteria you'd need to check is whether the handle is comfortable enough. It helps you focus more on finishing the reps, rather than distracting yourself from the unbearable arm ache caused by holding for a long time. Also, it's important for the handle to be slip-resistant, as otherwise, it can cause accidental damage.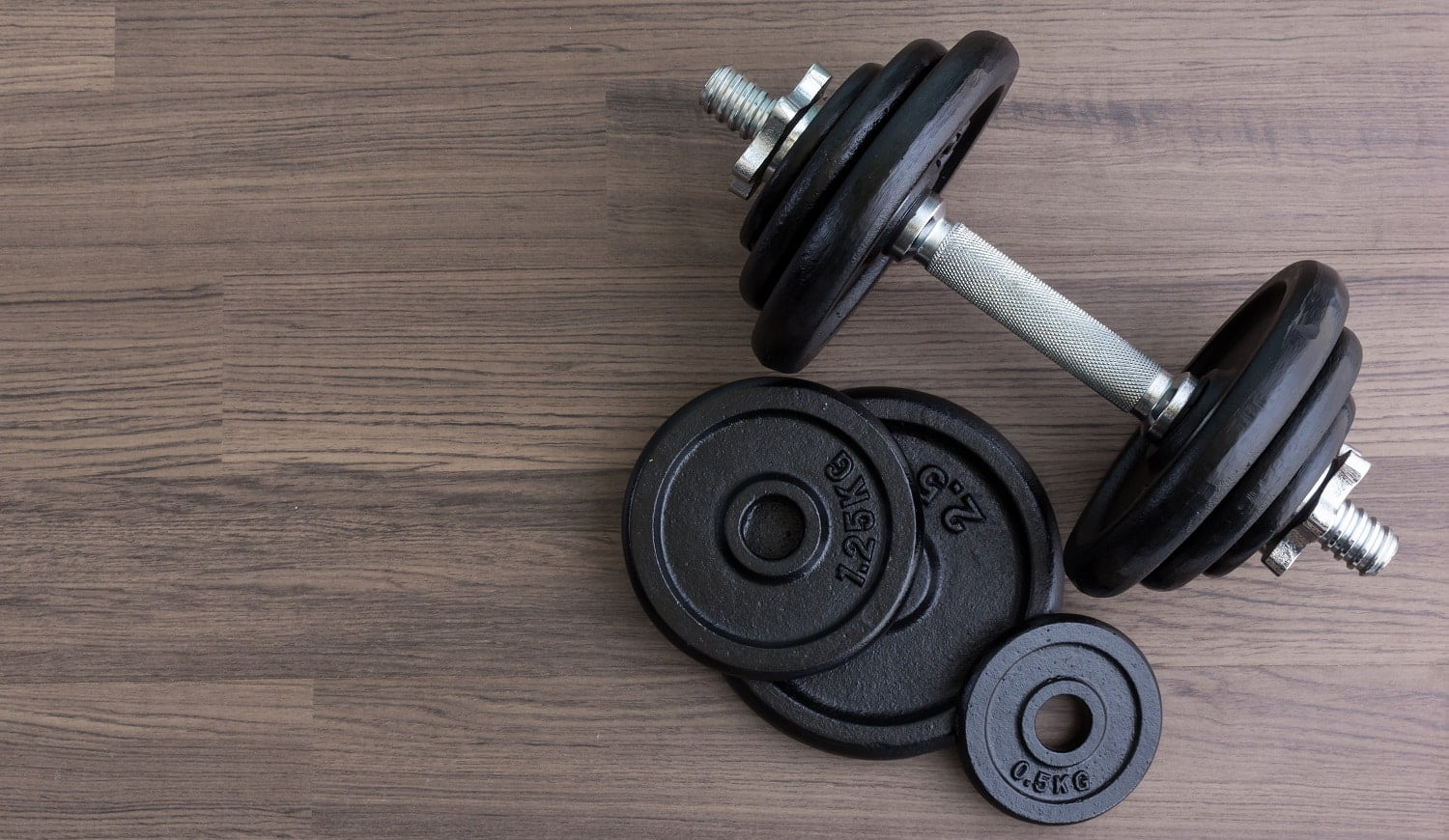 Verdict
This concludes our comprehensive guide to the 13 best adjustable dumbbells in the market. Have you found your pick yet? Let us know in the comments below.
And in case you haven't, why not go through our editor's top picks once again to make a smart purchase?
The Bowflex SelectTech product series is what you should opt for if you're searching for the best value at an affordable price point. If you're into heavy weight lifting, the Merax Deluxe should be your ultimate pick. Finally, the PowerBlock Sport is the most feasible option for lower weight exercises.
We'll see you soon with our upcoming articles, folks! Till then, stay tuned.
Related Articles
10 Best Waist Trainers for Men Right Now
10 Best Junior Training Gymnastics Bars for Kids
Get Your Home Fit With These 92 Home Gym Design Ideas
4 Best Bowflex TreadClimbers & 3 Best Alternatives
6 Best Air Walker & Glider Exercise Machines