Disclaimer | This article may contain affiliate links, this means that at no cost to you, we may receive a small commission for qualifying purchases.
Imagine all drawings on your paper taking 3D shapes in the air. Well, it's no longer a distant dream. With 3D pens, it is totally achievable today!
If you are an artist or aspire to be one who is waiting to explore their creative nerve by delving into the 3D spectrum, these pens are going to become your perfect companion.
However, there are a plethora of options available on the market. How do you know which one is best for you? To answer this question, we have curated this guide. You will find the top five products along with a discussion about their pros and cons listed in this guide.
Moreover, there's a buyer's guide to help you out.
So, without any further ado, let's dive right in.
Top 3D Pens Of The Year
IMAGE
PRODUCT
DETAILS

Our Top Pick

Our Top Pick

MYNT3D Super 3D Pen

3 colors of ABS filaments
1-year warranty
Ultrasonically sealed nozzle

VIEW LATEST PRICE →

3Doodler Create

Has 50 plastic filaments
Weighs 16 ounces
Dual drive technology

VIEW LATEST PRICE →

3Doodler Start Essentials (2020)

For 6+ users
Comes in a certified environment-friendly package
USB charger in the kit

VIEW LATEST PRICE →

MYNT3D Professional Printing 3D Pen

Speed control feature
Weighs 12 ounces
OLED display

VIEW LATEST PRICE →

MYNT3D-MP032 Junior2 3D Pen

Low-temperature pen
Does not work with ABS/PLA
Includes starter stencils and USB cable

VIEW LATEST PRICE →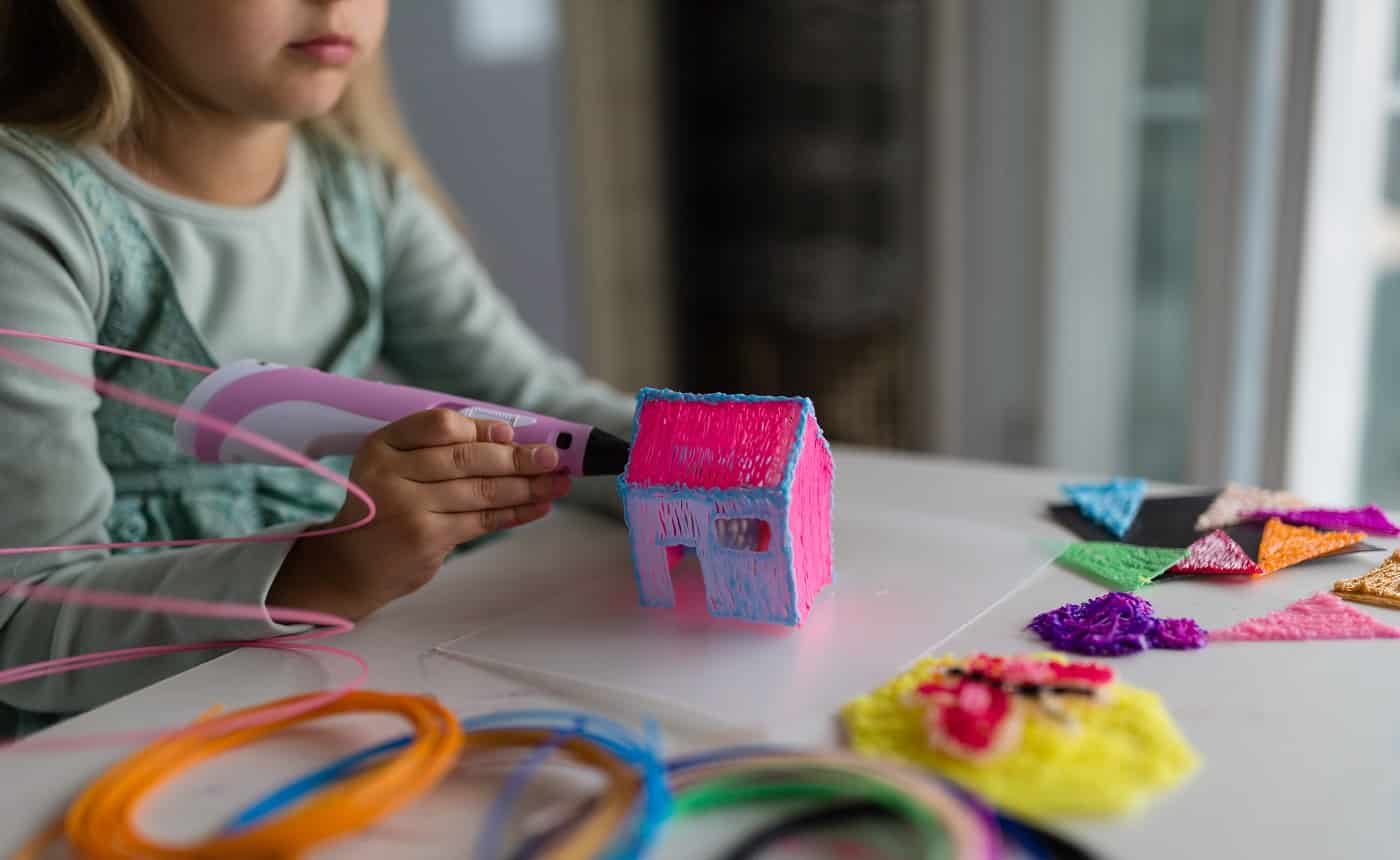 If you are looking for a 3D pen that will catch everyone's attention and also be extremely comfortable to use, MYNT3D Super 3D Pen is a good bet. It is pretty lightweight, and that makes it highly convenient for long hours of use. Plug it into the nearest power source and doodle away!
Why Did We Like It?
When you are trying to convert your paintings into 3D art, comfort becomes a significant consideration. This item comes with a step-less speed slider that enables you to moderate the flow in order to have complete control over the material when you are drawing.
Furthermore, we have often seen many users complaining about the problem of clogging in 3D pens. However, with this item, the latest upgrade has introduced an ultrasonically sealed nozzle that prevents clogging and makes the pen more durable than before.
Now, coming to the most crucial part – ease of use. The design is exceptionally good, and the angular style makes it very comfortable. This makes it very easy to hold the pen and also makes it easy to reach the feeder button.
Additionally, an in-built red-light and green-light system indicates when the pen is ready to be used.
What Could've Been Better?
After using this product, we hardly have any complaints about it. It is smooth and very easy to use. However, we noticed that its prize is a bit on the higher end of the spectrum. In case you are on a tight budget and thinking of getting this, plan wisely beforehand.
Pros
Very easy to use

Good design

Indicates when it is ready to use

Good customer service
Next up on our list, we have 3Doodler Create. This 3D pen comes with 50 plastic filaments, which is more than most of its contemporaries out there. With the stylish black body, this pen is a show-stealer. This is perfect for users who are in the intermediate level and want to explore this art form further.
Why Did We Like It?
The best thing to have happened to this product is the recent upgrade. The current version works faster and feels sturdier than before. So, it is a lot more comfortable to use this item. Also, thanks to its enhanced drive update, the printing is almost noiseless.
Additionally, if you are looking for an interactive experience, this model is a great consideration. All you have to do is to download the app. This will give you easy access to the stencil section and provide you with step-by-step interactive instructions. You can also share what you make directly on social media with this app.
Moreover, you get a set of 15 color plastic refills and a stencil book. This is very good for beginners because you do not have to buy any additional accessories to get started with your art. So, it is relatively cost-effective and would not make you spend any extra money on tools.
What Could've Been Better?
After using it for a while, we felt that the sturdy body is better if you are using it for a short time period. In case you decide to use this pen for long hours, you may find it a little heavy. As mentioned before, it is better for users who are in the intermediate level.
Pros
Noiseless

Great interactive experience

Tools included in the package

Saves money
Cons
A little heavy compared to its competitors
Best known for its simplicity, 3Doodler Start Essentials (2020) is created keeping in mind what the children would need. It is very simple to use and has a large, rounded plastic casing that kids can easily use. The product design is such that children won't get confused with the features.
Why Did We Like It?
If you are handing a 3D pen to your kid, the first concern is to make sure that it is safe to use. This product is designed in a way that there are no exposed hot parts that your child might touch by mistake. The nozzle and pen body do not get heated up to the extent to cause any burns.
Moreover, this pen has also undergone a recent upgrade whereby it has only become much better. The extrusion speed is more refined than before, and that makes the experience of working with this 3D pen extremely smooth.
Additionally, you do not need to worry about the quality of the product. It is made of child-friendly plastic that is made in-house in the manufacturer's factory in Ohio. This material is not just safe for kids but extremely durable too. With little care, this pen lasts for a long time.
Furthermore, you can also check out their app to learn about cool stencil tricks!
What Could've Been Better?
Despite being kid-friendly and very easy to use, this product comes with a problem. After using it, we realized that cleaning is quite a task. The color filaments often get stuck on the inside after you are done with your work. We suggest that you look up a tutorial on the internet to make this cleaning task easier.
Pros
Very easy to use

Safe for kids

Highly durable

App to enhance your experience
Cons
Cleaning is not very easy
For all the professionals out there, MYNT3D Professional Printing 3D Pen is one of the best options to consider in case you like experimenting with speed. This pen enables you to adjust the extrusion speed to fill up larger areas or slow it down to make more detailed artworks.
Why Did We Like It?
In case you make serious art with 3D pens, we understand that precision is very crucial to you. The ergonomic design of this pen gives you complete control and enables you to maneuver it in more intricate ways, which are not possible with a pen of a bulkier design.
Moreover, it does not need a live power source. In the package, you will get a USB cord that helps you charge the battery power banks. You do not always need to be in your workstation with a power outlet to use it. Charge the batteries and work on the go!
Furthermore, you must know that any temperature mistake with a standard 3D pen would not leave you with any other option but to throw it in the garbage bin. However, with this pen, there are no such worries. In case the temperature goes wrong, you can replace the nozzle within minutes.
What Could've Been Better?
We hardly have any complaint about how easy it is to handle this item. However, we have to mention that in case you are new to 3D pens, you might have a hard time getting this product to start. The user manual is not very clear, and you might need to take the help of some online tutorials to work this pen.
Pros
Good for precise work

Does not require a constant live power source

Nozzle can be changed

Brilliant design
Cons
Unclear set of instructions
If you want your kids to explore their creative sides, MYNT3D-MP032 Junior2 3D Pen is the thing to hand to them. It is kid-friendly and extremely flexible to operate the item. This junior pen is geared towards garnering creativity and spatial understanding in your kids.
To know more, read on.
Why Did We Like It?
The first thing to know about this item is that it is made for children. So, it goes without saying that the design and features are carefully considered keeping in mind that children will use them.
There is no external part that gets hot, and the average operating temperature does not cross 88 degrees Celsius. As a result, by no means would you risk any chance of burns.
Additionally, we all know that children's hands are more small and compact as compared to those of adults. This item offers an ergonomic grip so that children can play with it for long without feeling any fatigue.
Moreover, it will not cause any hindrance if your child wants to use it for long hours at a stretch. Be it a playdate or a weekend picnic, your children can have a gala time with this pen creating beautiful pieces of art with their friends. The battery is strong enough to support long hours of work.
What Could've Been Better?
One thing that might be a problem to first-time users is that it comes with a unique filament set. If you are not accustomed to buying stationery, you might face some difficulty getting the filaments replaced once the primary ones get over.
Pros
Long battery life

Suitable for children

Easy to hold for long hours

Good design
Cons
Difficult to replace the filaments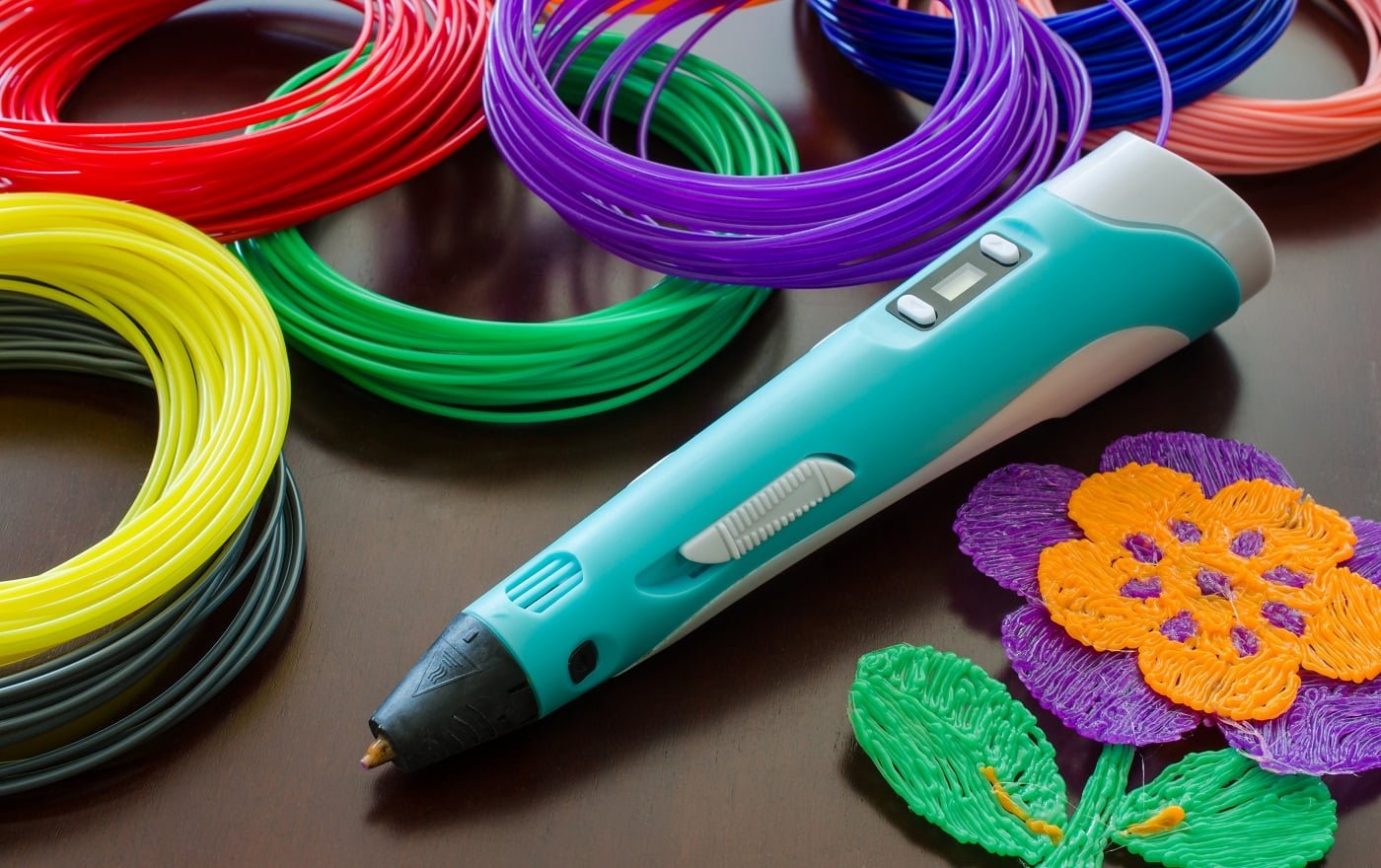 3D Pen Buyer's Guide
After reading about the products in detail, we are sure that you understand 3D pens a little better than you did before. However, it needs to be kept in mind that just knowing about the features is not enough to make a smart choice.
We understand that you still might be a little confused about making the right decision. Before you do that, let us tell you that there are a few more things that need to be taken into consideration. And, in this section, we are going to talk about those factors.
So, without any more delay, let's see what they are!
Control
This is a significant consideration before buying a 3D pen since it is the control that determines how good the quality of the product is.
If you see 3D pens that are made of plastic, you will notice that they mostly allow the user to control the temperature. Some options will even give you the opportunity to modulate the speed at which you draw.
It goes without saying that speed regulation features elevate your comfort when drawing. And if the temperature can be controlled, you can make more intricate and finer artworks.
Cooling Time
Like any electronic device, these pens also need their system to cool down after they are used. While using it, remember, just like any engine, if it gets too hot from using, it might break down.
So, before you commit to buying a product, just ensure that they have controllers or PCBAs. This controller prevents the machine from getting damaged when it turns too hot. If it crosses the level of optimum heat, the controller will automatically turn it off.
Ideally, you should look out for a device with a shorter cooling time so that you can spend more time drawing.
Type of Filament
The kind of filament you put in the 3D pens determines what kind of art you will make. Yes, it is really that crucial an element!
There is a range of filaments that now flood the market. But how do you choose the correct one? Well, just go for an option that will not give you a hard time when replacing.
If the pen comes with a replaceable filament feature, you can rest assured that it will be your art companion for a long time.
If you study the market well, you will mostly find 4 main types of filaments: standard, specialty, flexible and composite.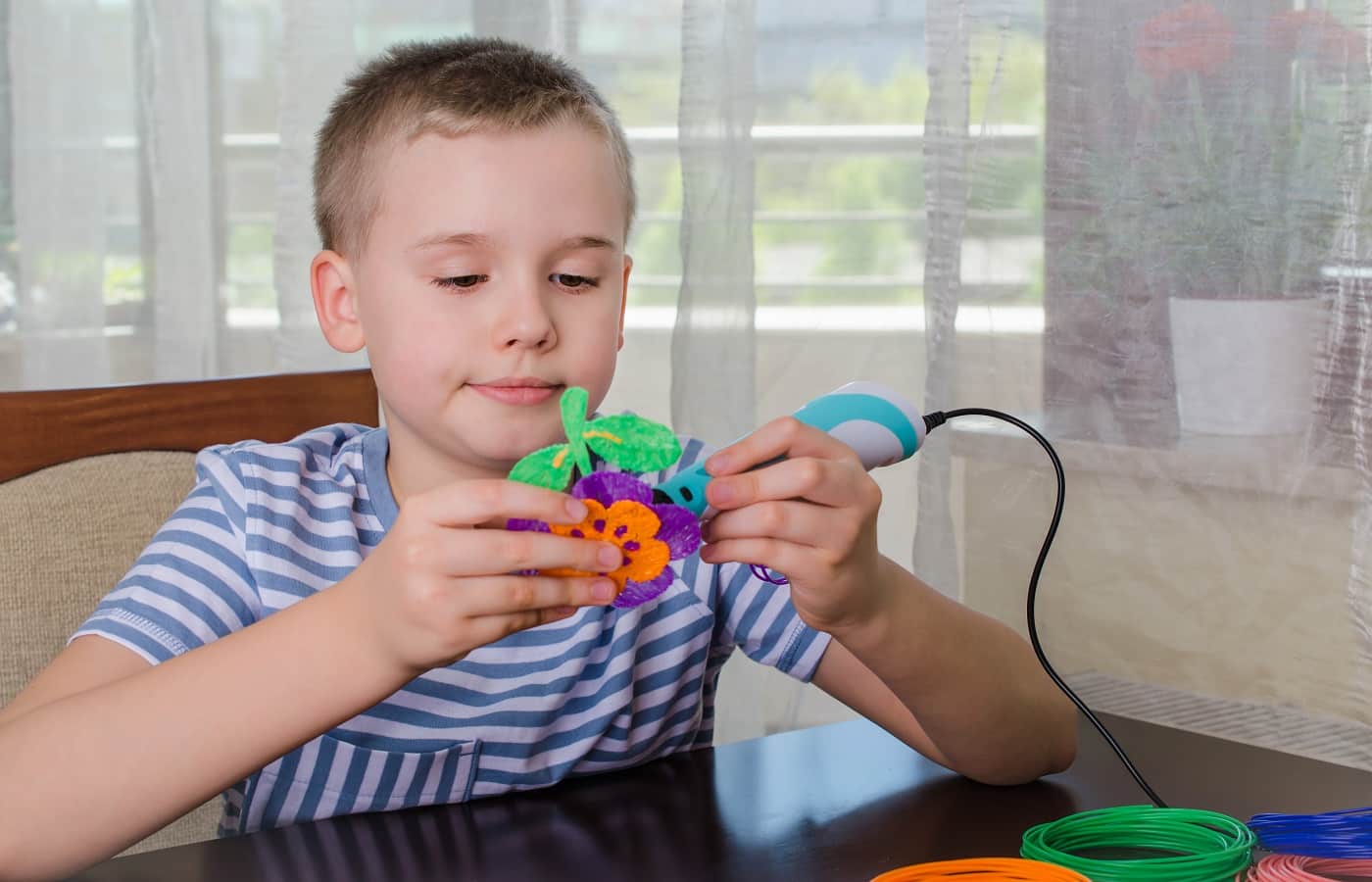 Verdict
And now we have reached the end of this guide that we compiled for you! We hope that the information we shared will help you make a wiser decision.
But before our final goodbyes, we would like to let you in on our favorites. MYNT3D Super 3D Pen takes the award for being the all-rounder. And if you are looking for an affordable option that delivers brilliant results, 3Doodler Create is a great choice.
For those of you who are getting it for your child, 3Doodler Start Essentials is the perfect bet.
And with that, it's a wrap. Until next time, happy doodling.
Related Articles