If you like to enjoy the summer sun in the backyard with friends, a burner gas grill is a much-needed companion to keep everyone happily fed.
It is not the decision to get a gas grill that is difficult, but to know which one to select. You have to take note of several factors before deciding on the perfect one for you. Is the griller big enough to cook multiple burgers for your friends at the same time? How sturdy is it to carry for your camping trips? Is it heat-resistant so that you can use the grill without any fear of burning yourself?
We understand that getting answers to these questions is not easy. So, to help you out with all such dilemmas, we've curated this list of the top 11 3-gas burners for you to consider. Also, we have included a buyer's guide to further simplify the task for you.
So, without further ado, let's take a look.
Top 3-Burner Gas Grills
IMAGE
PRODUCT
DETAILS

Our Top Pick

Our Top Pick

Char-Broil 463773717

360 square inches of cooking area
3 stainless steel burners
170 square inches swing-away warming tray

VIEW LATEST PRICE →

Royal Gourmet Corp PD1300

Adjustable burner
316 sq. inches porcelain enameled top
Piezo Ignition

VIEW LATEST PRICE →

Char-Griller E3001

Generates 40,800 BTU (main burner)
192 sq. inches warming rack
12,000 BTU side burner

VIEW LATEST PRICE →

Weber 49010001

10-foot flexible hose included
Porcelain-enameled, cast-iron cooking grates
529 sq inches of cooking space

VIEW LATEST PRICE →

Master Cook 3 Burner Propane Gas Grill

30,000 BTU
Control panel made of stainless steel
Porcelain-coated steel lid

VIEW LATEST PRICE →

Camp Chef Tahoe Deluxe

Aluminum burners rated at 30,000 BTU
Cooking area of 608 sq. inches
42.8 inches long and 17.5 inches wide grill

VIEW LATEST PRICE →

Royal Gourmet Corp ZH3002-S

27,000 BTU output
Heat resistant up to 600 degrees high heat
Made of double-layer stainless steel

VIEW LATEST PRICE →

Napoleon Grills P500RSIBPSS-3

80,000 total BTU output
900 sq. inches grilling area
7.5 mm thick cooking grids

VIEW LATEST PRICE →

Kenmore PG-4030400LD-AM

30,000 BTUs output
408 sq. inches grill grate
Easy start ignition

VIEW LATEST PRICE →

Dyna-Glo DGC310CNP-D

24,000 BTUs output
A total of 449 sq. inches cooking area
2 large side tables

VIEW LATEST PRICE →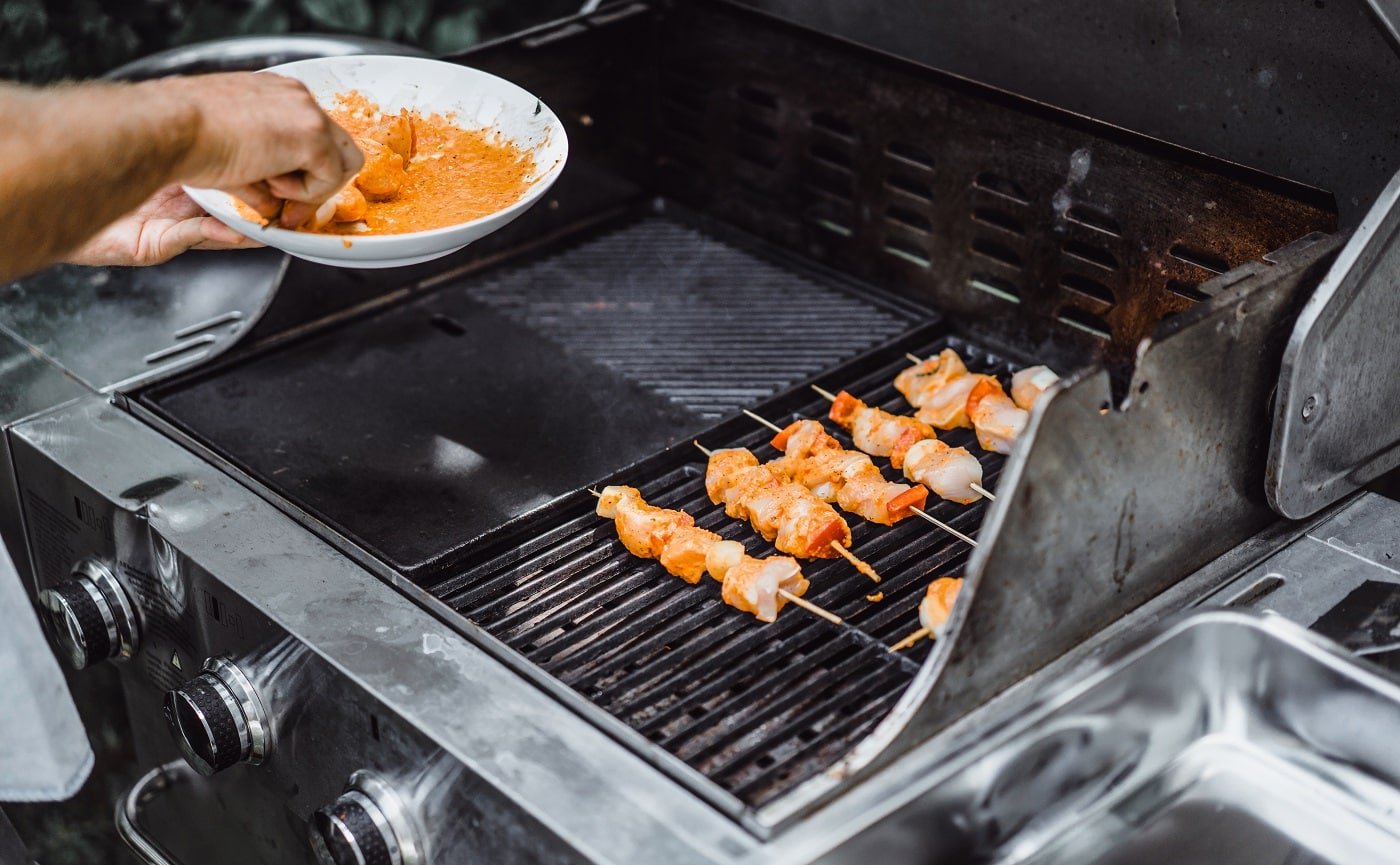 Char-Broil is the leading manufacturer of gas grills, and if you are looking for an option that is very affordable and reliable, then 463773717 is the perfect choice! This is great for families that love enjoying barbeque sessions on the lawn every other weekend. To know more about this product, read on.
Sale
Why Did We Like It?
This product is perfection when it comes to the true meaning of having a barbecue brunch. That is, it helps you relax and have a great time!
The cooking space that this item provides is pretty broad, and it comes with an added 170 inches metal rack that can be used as a tray. As the space for cooking is sufficient, you don't have to worry about the number of guests. Use the tray to keep some prepared delicacies as more get slowly cooked on the main rack.
Moreover, you don't need to worry about durability. The lid and firebox are made out of porcelain-coated steel, so you can safely use it all year round.
And lastly, we can assure you that you would not suffer any back pain from pushing the device on the lawn. How, you ask? Well, it comes with added wheels for extra comfort.
What Could've Been Better?
Honestly, there's hardly any fault that we could find with a device as efficient as this. However, it does not come with a temperature control option. So, we had to be a little careful while preparing the dishes. Toss and turn the food on time, and it should not be a problem.
Pros
Large cooking space

Highly durable

Easy to move it around

Fast and reliable; starts with the push of a button
A barbeque grill is very closely tied with festive seasons and social reunions. And the Royal Gourmet Corp PD1300 is one of the best options to make grilling enjoyable and fun. So, for that perfect grilling party in your backyard, read on to know more.
Why Did We Like It?
To begin with, the ease of handling this device deserves a special mention. Comparatively a lot less bulky than its counterparts, Royal Gourmet Corp PD1300 is very compact and easy to use.
Moreover, it comes with 3 burners made of stainless steel and generates a total of 27,000 BTU output. The ring-shaped burners enable it to heat up fast and also distribute the heat well. We used it for a few months and scored it very high on efficiency and design.
Also, we found it very convenient to carry it on your picnics and camping adventures. It is very portable, and the design is such that it doesn't occupy much space when you carry it.
Additionally, it has grease dip cups, and it will save you hours of clean time. The grease won't accumulate and stick on the tray. After you are done cooking, you can simply remove all the accumulated oil and spices from this drip cup. Very convenient, we'd say!
What Could've Been Better?
For the price point, this option is nothing but a steal. However, after repeated use, we did face some trouble with the cooking tray. It gets heated quite fast, and our crepes get cooked from the outside but not thoroughly. Moreover, the tray sometimes acts a little shaky.
Pros
Lighter than its peers

Portable

Easy to clean

Smooth and easy controls
If you have a big family who enjoys your steaks made outdoors on the patio, Char-Griller E3001 is a perfect choice. Passionate cooks, who love to experiment with cooking outdoors, this griller can be your best friend. Fire this grill up, and you'll be ready to go!
Why Did We Like It?
Well, who doesn't like their buns to remain all nice and toasted while the burger meat gets slowly prepared on the grill? Not us, we love it.
With its 483 sq. inches of cooking, this device makes sure that the main dishes can keep getting prepared as you keep your starters hot and crunchy.
Moreover, there are other features that add to the design and ease of using this option. It is made out of heavy steel,, and to enhance durability, it is also powder coated.
Additionally, the waiting time is quite low for this griller. All you have to do is to light the grill with the electric ignition, and you're good to go. It hardly takes any time to get hot.
Lastly, to ensure safe usage, it also comes with a stay-cool hood handle. So, no chances of burning your hand if you touch the handle in a hurry!
What Could've Been Better?
Honestly, we don't have much to complain about the product other than the fact that it involves quite a complicated process to assemble it. For beginners, it might be very hard to understand how to set it up. A more detailed set of instructions would've been quite helpful.
Pros
Very durable

Hanger to keep your equipment organized

Easy to start

Stay-cool hood handle
Cons
Doesn't have a detailed user manual
Up next on our list, we have the Weber 4901000. For the ones, who have a working gas pipeline and do not want any hassle of getting fuel to power up the grill, this is a very impressive option. To step up your grilling experience, read on.
Sale
Why Did We Like It?
To begin, we've to say that the griller is quite versatile and it takes care of all your grilling demands. Weber 4901000 comes with reversible plates that enable you to get pretty creative with what you make.
Choose the thinner side of the plate if you're cooking something delicate. You can also select the wider side if you prefer thick sear marks and enhanced charred aroma in the food.
Moreover, this device is equipped with an open cart design that expands the space and adds extra room and accessibility.
Lastly, the side tables too need a mention. If your balcony is small and you want to use the space wisely, it can be achieved with a click of a  button. And you'll have more room to keep your food and grilling accessories. Now, that's what we call convenience.
What Could've Been Better?
We felt that a product as good as this should also give more thoughts on the user's convenience when it comes to assembling. We did not find the user manual to be very helpful,, and we'd recommend that you watch some instruction videos online before you set out to assemble it.
Pros
Can be directly connected with the gas pipeline

Available in multiple colors

Reversible plates allow versatility

Open cart provides additional space
Cons
User manual is not very helpful
If you are looking for a griller that has high built-quality and also performs like no other, Master Cook 3 Burner Propane Gas Grill is a perfect choice. Be it camping or a regular Sunday brunch with your friend on your beautiful patio; this item is suitable for all occasions.
Sale
Why Did We Like It?
The first thing that caught our attention was how good it looks and how well-designed it is. Made out of high-quality steel, it boasts an attractive silvery metal gloss that makes it stand out.
This is further complemented with two large wheels that will let you easily put the device anywhere you desire. Moreover, it comes with a four-stand that is pretty solid and stable. Thus, you can set up the barbeque party anywhere you wish to.
Moreover, it comes with two foldable tables on the side. So, if you have more guests, you can use this added space to keep the extra plates and cooking equipment. Go ahead, keep your cola glass up on the side table as you sear the steak. You don't have to ask your friends to hold the glass anymore.
And lastly, the built-in thermometer on the gas-grill is a real help when you're grilling chicken or turkey. You don't have to put the lid up to check if the meat is getting cooked well.
What Could've Been Better?
We cannot complain about how well this product actually performs. However, assembling this seemed a huge task as it comes with many small parts. We'd suggest that if you are planning a party, do assemble it a day before to not run into any last-minute complications.
Pros
Good design

Comes with foldable tables to hold cooking accessories

Added wheels for ease of movement

Quite sturdy
Next up, we have a stellar recommendation for those with big families and big groups of friends- the Camp Chef Tahoe Deluxe. This item is perfectly designed to be your companion during family reunions, camping trips, and even simple barbecue parties that you host in the backyard.
Let's see what all this product has to offer.
Why Did We Like It?
We liked the fact that it not only offers ample cooking space but is also durable. You wouldn't want to carry a griller to your camping trip only to realize that it has broken down on the way, right? This product would give you no such worry. It is made of sturdy cast aluminum that makes it super durable.
Moreover, even for beginners, this device is very easy to operate. The grills are spaced well, and you wouldn't find it difficult to stir your food even if all the grills are occupied. Also, it comes with fully adjustable heat-control dials.
Furthermore, it comes with a windscreen. So, goodbye to all the problems of breezy days! Set up your griller on your lawn, and even if it is breezy, the stove won't be put off. The windscreen has got you covered!
What Could've Been Better?
When it comes to quality and performance, there's nothing to complain about. However, after repeated usage, we realized that it is comparatively a little heavier than its peers. So, if you plan on carrying it for a camping trip, we'd suggest that you keep the rest of the luggage a little light.
Pros
Highly durable

Very easy-to-operate

Windscreen to protect against a heavy breeze

Heat-dials can be adjusted
Cons
Heavier than its contemporaries
If you are looking for a griller gas that is not just high on performance but also very convenient to use, Royal Gourmet Corp ZH3002-S is a perfect bet. You'll see an elegant design and superior heat-resistant features all blending into one. Overall, this product is designed to amplify your barbecue experience.

Why Did We Like It?
To begin with, this option provides ample space for cooking items for big parties. The cooking area is as wide as 740 sq. inches. This has the fireboxes, main cooking grates, warming racks all included in it. We'd say that with this device, you're not going to ever run out of fresh barbequed meat for your guests.
Moreover, with this device, you can adjust the height according to your convenience. Front facing crank handle lets you raise or lower the pan with ease without having to open the lid. No need to crane your neck anymore every time you want to check if the food is done.
Also, you'll not have a hard time cleaning this device. It comes with a full-size ashtray below the charcoal firebox. All you've to do is to simply dump the burnout that gets collected over time. Additionally, it is made of stainless steel, so you can easily clean it under running water.
What Could've Been Better?
Like some of its peers mentioned on the list already, this machine also comes with assembling troubles. If you're setting up a griller for the first time, it might be difficult for you. It lacks a clear set of user instructions.
Pros
Large cooking area

Height of the grill can be adjusted

Easy to clean

Quite durable
Cons
Lacks detailed user manual
Next up, on our recommendation list, we have Napoleon Grills P500RSIBPSS-3. For that perfect grilling experience, you can get your hand on this device that has the capabilities of a fully-functioning outdoor kitchen. Also, we've noticed that this stunning griller often becomes a good conversation starter.
Sale
Why Did We Like It?
For us, who like the party big and our burgers bigger, this is a perfect fit. This machine comes with 4 burners and a large cooking area that will enable you to make up to thirty hamburgers at one go. You can fit another eight or more on the side burner too. So, we'd say that it is perfect for large gatherings and family reunions.
Moreover, the cooking grids are made of stainless steel and are 7.5 mm thick. Thus, you can understand that they hardly need any kind of maintenance. Also, they are infused with a unique wave-shaped design that ensures that the heat is distributed evenly.
Furthermore, it comes with every homeowner's dream- a good storage space. It has an inbuilt storage cabinet that helps you keep all your BBQ equipment in one place. No more will they take up your kitchen space.
What Could've Been Better?
Honestly, there's hardly any downside that we could come up with after testing this product. It looks stunning and delivers good performance. However, we can't deny that it is quite a pocket pinch. However, if your budget is on the higher end, this shouldn't be a problem.
Pros
Suitable for large groups

Low on maintenance

Easy-to-operate

Additional storage cabinet
We cannot help but agree that in the last few years, Kenmore has made quite a name for itself in the outdoor grill market. After thorough testing, their product PG-4030400LD-AM has made it to our list. We're sure that with this pedestal-style grill, you too will have some great BBQ parties.
Why Did We Like It?
This item was quite a conversation starter when we hosted our cookouts. With a design as elegant as this, that's no surprise. The lid is constructed of double-walled stainless steel and has an added azure protective powder coat. Not only does this enhance visual appeal, but it also increases the overall longevity of the product.
Moreover, it generates the perfect heat to cook your steak the best and is also thermally efficient. You'll get the heat that sears your steak to perfection. Also, the burners can be independently controlled, and thus you can use the heat according to your requirements and save some gas at the same time.
Additionally, this item scores high on keeping the user's convenience in mind. It comes with folding side tables with tool hooks to add some extra space. A nice touch! If you have a small deck, you can really use this added space.
What Could've Been Better?
This is a great product when it comes to ease-of-use and performance. However, we did find that it often turns too hot, and risks are high that the food might get charred. So, you need to be present around the griller and keep turning the food to ensure that it doesn't get overcooked.
Pros
Elegant design

Available in multiple color options

Burners can be controlled separately

Added side tables for convenience
For the perfect burner grill that makes Sunday BBQ brunches with friends an absolute pleasure, Dyna-Glo DGC310CNP-D is a perfect consideration. This open cart propane gas grill is highly efficient when it comes to grilling activities and also scores high on its looks.
To know more, read on.
Why Did We Like It?
What we liked best about the product is the ample space that it provides to make cooking easy. The total area is as big as 449 sq. inches and allows you to simultaneously cook multiple items.
Moreover, the main cooking area is made of porcelain cooking grates infused with easy to clean technology. The porcelain-coated heat tents help to vaporize the food's natural juices that helps in adding extra flavor and aroma to your dish.
Additionally, the griller comes with added side tables that can be folded when not in use. For those who have paucity of space, this feature is a blessing. The folded tables can be used to keep extra plates and other cooking accessories that you need to host the perfect BBQ party.
Also, the porcelain finish on grill tops helps in easy clean-up, and the added wheels are a savior when it comes to pushing this device on your lawn.
What Could've Been Better?
We did have a great time testing this product and all our barbeque sessions turned out to be top-notch with it. However, we did face some difficulty with sparking the burner. A better ignition system can be a good addition.
Pros
Ample cooking space

Porcelain-coated cooking grates

Folded tables for extra space

Easy to clean
Cons
Ignition doesn't work very well
For our next recommendation, we have Grill Boss GBC1932M. If you're a Barbecue lover, this device will surely make you very happy. It is perfect for a summer barbeque night with friends and family.
Want to know more? Read on.
Why Did We Like It?
We have found that a lot of fellow BBQ lovers complain about how difficult it is to get the griller started sometimes. However, with this device, it is a cakewalk. All you've to do is to turn the ignition and fire up the griller. It is very simple to start and quite easy to light.
Moreover, we assure you that you can comfortably feed a big group with this machine, and no one will go home hungry. It has the capacity to cook 25 burgers simultaneously.
Also, with this item, you have no reason to worry if the weather gets bad at any point. The stainless steel lid acts as extra protection whenever you're cooking in unexpected weather conditions.
Lastly, even if you want to move the griller quickly because of unexpected weather changes, the wheels will be of enormous help.
What Could've Been Better?
Though this product is quite durable and easy to use, we were a little disappointed that it doesn't have many variations. For a product that boasts such a good design, some color variations would've been an excellent addition.
Pros
Ignites very fast and easily

Large cooking area

Lid protects food in dire weather condition

Quite durable
Cons
Not much variation available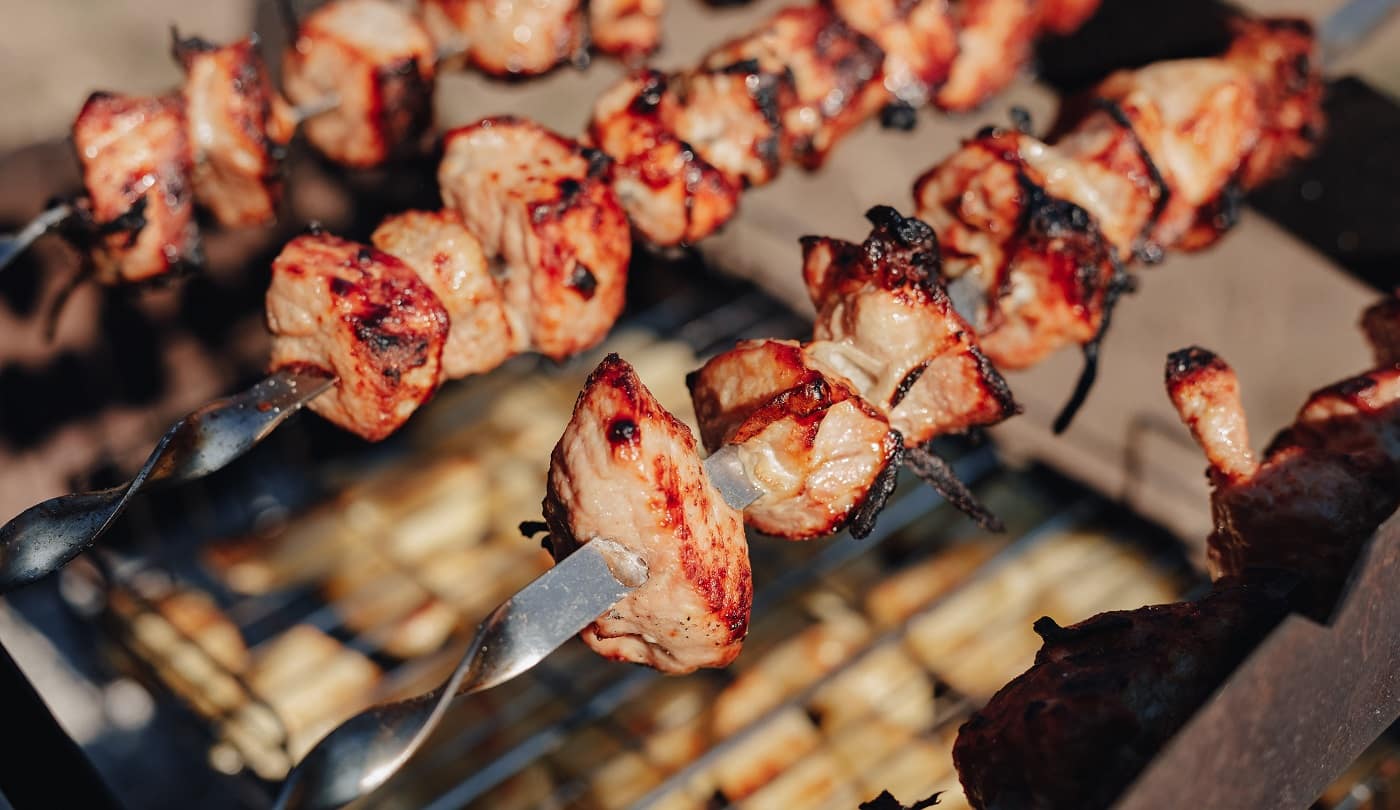 3-Burner Gas Grills Buyer's Guide
Believe us when we say that now after going through the details of the top 11 3-burner gas grills, you are only halfway to your goal. Before you can lay your hands on the perfect option, there are just a few more things that need to be taken into consideration.
We understand that selecting the right option from a list of competing choices can be very confusing. So, here we present a complete buyer's guide to help you make your pick. Make sure you go through them carefully to make the right decision.
Let's get to it then.
Foldable Side Tables
This should be a prime consideration for all those who face space shortage. With devices that come with added foldable side tables, this worry will completely go down the drain.
These tables are foldable, and thus, they do not occupy any extra space when you do not need them. However, you can click a button or use the lever to get these tables out. They are quite helpful when it comes to keeping those extra dishes and all essential cooking tools. So, before you decide on a product, do take this into consideration.
The Correct Grill Size
Size does matter when it comes to choosing the perfect griller size. Bigger grills mean more burners and extra space to turn and toss your food easily. A smaller space makes it difficult to move your hands.
Whether you need a big or a small grill depends on how many people you generally host. Also, consider the maximum guest you'd have, and how often you do have that many guests over. Once you have all the answers, it wouldn't be a difficult task to select the right one.
However, even if you go for a griller that is a little small, make sure that it comes with warming trays and foldable tables to provide you with that added space.
Good Construction
When you're choosing a griller, we'd recommend that you go for one that is sturdy and durable. This will save you from the trouble of buying a new one every alternate year.
Make sure that before you decide on buying one, you check the cart, wheels, and firebox for their strength and structure.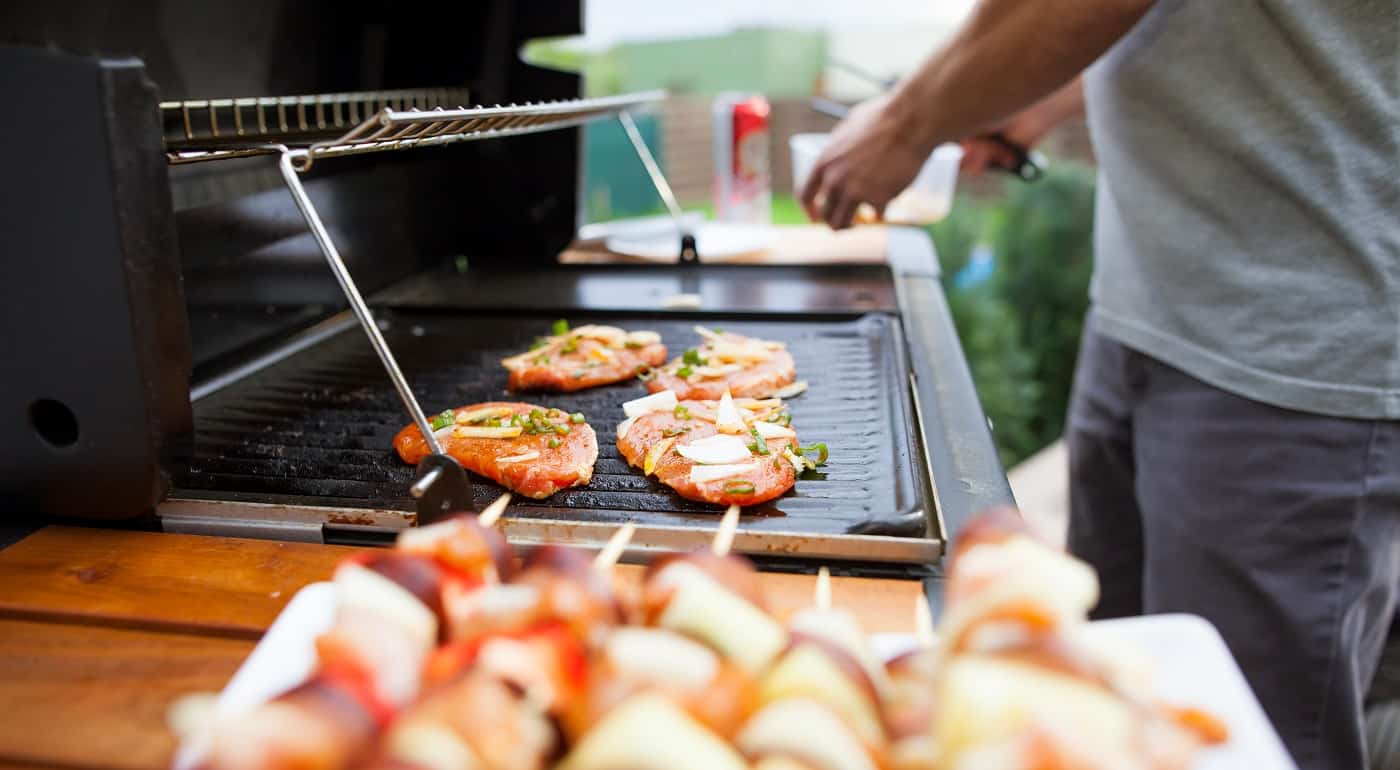 Verdict
It has been a long ride so far, and we're sure that you're completely ready to go grab the perfect burner gas-grill. Follow the suggestions to the tee, and your BBQ nights are going to be better than ever before.
But before we take your leave, we'd like to let you in on our favorites from the list. The overall winner is Char-Broil 463773717 for the excellent performance it offers at such an affordable price point.
That said, if budget is not a constraint for you, the Royal Gourmet Corp PD1300 is an excellent catch considering how portable it is. And if you like more options to cater to your visual aesthetics, Weber 4901000 can be a stellar addition to your outdoor kitchen.
We hope that these recommendations will help you choose wisely. With that, we'll take your leave.
Until next time, happy grilling!
Related Articles
Traeger Renegade Pro Review – Traeger Pellet Grills
Blackstone 28" Griddle Review – One of the Best Flat Top Grill Today
5 Best Small Traeger Grill For Backyard & RV BBQs
Saber R50SC1417 Gas Grill Review Under the Microscope
Weber Spirit E-330 Review – Handpicked Gas Grills Reviewed
Napoleon Prestige Pro 500 Under Review
Weber Summit S-470 Gas Grill Under the Microscope
7 Best Electric Smokers Reviewed – Buyer's Guide
Nexgrill vs. Weber | Budget Grills Product Comparison
Broil King vs. Weber Grills | Two of the Best Compared
13 Best Grills For Apartment Balcony at Tasty Prices
7 Best Portable Electric Smokers 
5 Best Cast Iron Hibachi Grill
7 Best George Foreman Grill Models