For any DIY-er worth their salt, an air compressor is a must-have in the garage or workshop. And for home use, most prefer the 20-gallon variety.
If you think about it, there are multiple reasons for doing so. 20-gallon air compressors are portable, affordable, and, most of all, versatile. Whether it's inflating the kiddie pool or powering that nail gun, a 20-gallon air compressor can come in handy for a plethora of uses.
The trouble is, there is a large variety of these products out there in the market, and for the layperson, it can become challenging to make the right choice. But don't worry, we're here to make sure you don't fall in that bracket!
Today we've gone ahead and reviewed some of the best 20-gallon air compressors in the market that you can buy. What's more, we've even included an informative buyers' guide to help you make the decision.
Let's get down to business then!
Best 20-gallon Air Compressors
IMAGE
PRODUCT
DETAILS

Our Top Pick

Our Top Pick

Industrial Air IL1682066.MN

Cast iron construction
Quick-set regulator
Heavy-duty induction motor

VIEW LATEST PRICE →

California Air Tools 20040DC

Ultra-quiet at only 75 dBA noise level
Powerful 4HP motor capacity
Oil-free dual-piston pump system

VIEW LATEST PRICE →

Husky C201H

Maximum 175 PSI
Only 83 dBA noise level
High-performance motor and pump

VIEW LATEST PRICE →

Porter Cable PXCMF220VW

High quality, oil-free pump for longer life
Max 150 PSI for smooth operation
Semi-pneumatic wheels for mobility

VIEW LATEST PRICE →

Campbell Hausfeld DC200000

Horizontal design makes for easy transportation
Sturdy and durable build
Easy to read control panel

VIEW LATEST PRICE →

DeWalt DXCMPA1982054

Cast iron build for durability
155 PSI maximum pressure
Dual voltage induction motor

VIEW LATEST PRICE →

North Star Single Stage 20-Gallon Air Compressor

Durable and sturdy body
V-style cylinder
High portability

VIEW LATEST PRICE →

Eagle EA-6500 Silent Series Air Compressor

Ultra-quiet operation
2.5 HP capacity for high performance
High life expectancy

VIEW LATEST PRICE →

California Air Tools CAT-20015 HPAD

Extremely quiet operation
High peak pressure of 175 PSI
Steel-build for utmost durability

VIEW LATEST PRICE →

Ingersoll-Rand P1.5IU

Durable cast iron construction
Highly portable design
Extremely quiet operation

VIEW LATEST PRICE →

Industrial Air IPA1882054

Equipped with a twin-cylinder, oil-lubricated pump
Dual voltage motor
Durable cast iron construction

VIEW LATEST PRICE →

Central Pneumatic 21-Gallon Air Compressor

2.5HP motor for powerful performance
Thermal overload protection
Ergonomic design for portability

VIEW LATEST PRICE →

DeWalt DXCMLA1682066

Twin-V cast iron pump
Heavy-duty induction motor
Highly portable vertical design

VIEW LATEST PRICE →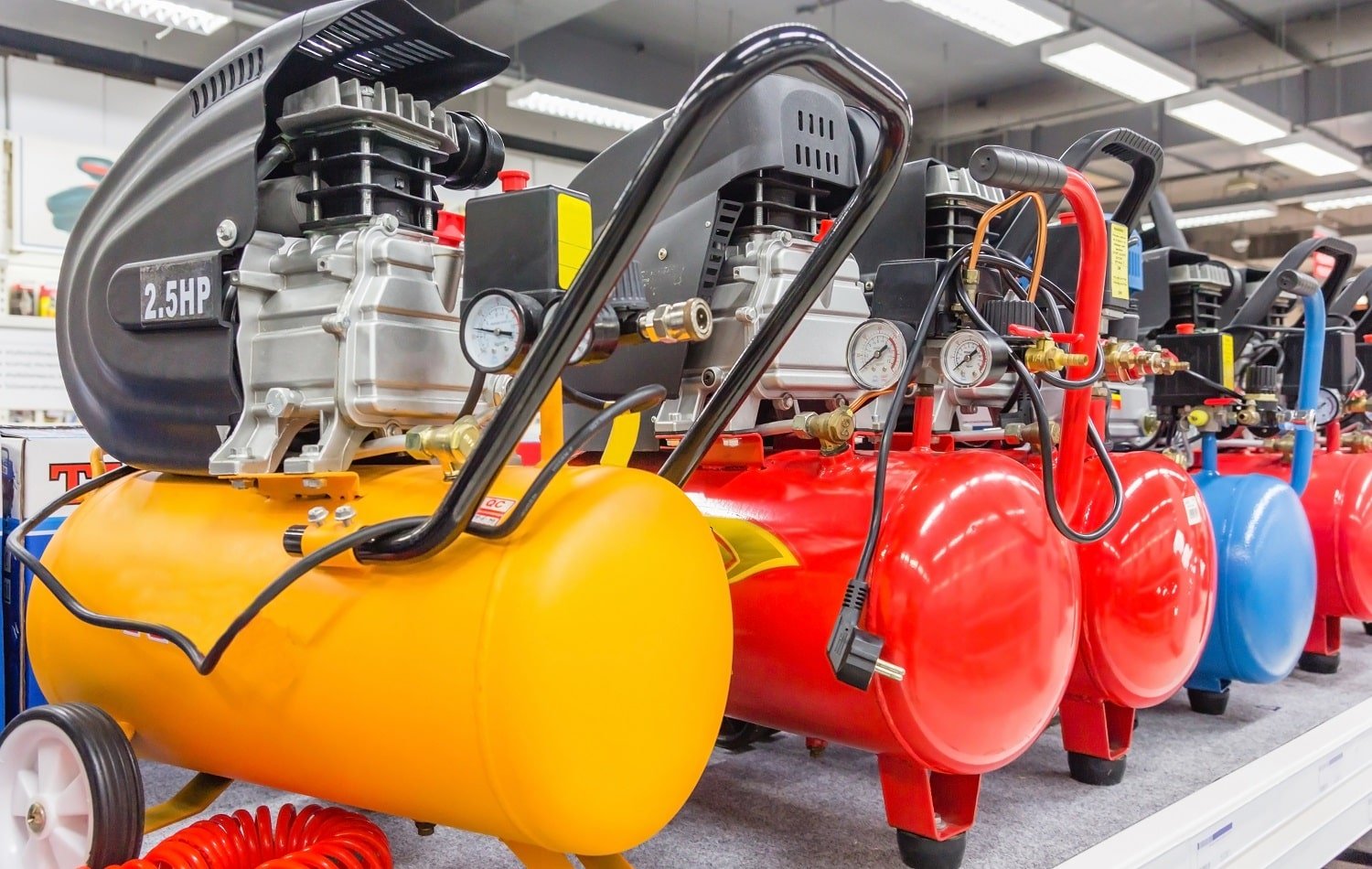 The first item on our list is one of the best, and naturally among the priciest. The IL1682066.MN from Industrial Air is an air compressor that both DIY-ers and professionals swear by. A testament to the heavy-duty design of the brand, this product is not for the faint of heart.
Sale
Why Did We Like It?
If reliable and robust performance is what you're looking for, then you can't do better than this 20-gallon beast. With a 1.6HP induction motor at its heart, this air compressor is ready to deliver optimal performance with a maximum of 135 PSI.
What's more, the motor has been designed to operate at dual voltages. This means it can be wired for standard 120-V as well as higher-level 240-volt requirements. And with a twin-cylinder, oil-lubricated pump made of cast iron, this is a durable device.
Next, we must mention the 20-gallon vertical portable tank, which acts as the air-reservoir of the device. Equipped with a quick-set regulator and pressure gauges, this device can be operated at the flick of a switch.
And finally, we were quite impressed with the portability of the product. It comes pre-attached with pneumatic tires, which allows you to move it around the garage or workshop with immense ease.
What Could've Been Better?
Honestly speaking, feature-wise there's nothing missing in the product. The only point of contention might be the price, which is indeed rather steep for the average buyer. But given the feature-set that this product boasts of, the high price tag is expected.
Pros
Ensures faster heat dissipation

Simple and smooth operation

Pneumatic wheels for portability

Dual voltage induction motor
A stellar offering from California Air Tools, the 20040DC is an ultra-quiet model that packs a punch. With an oil-free compressor and 4HP under its hood, this product can easily make many others look pale in comparison. No wonder we were floored to see its operation.
Why Did We Like It?
Just think: a dual-motor, 20-gallon air compressor with a total of 4HP (two on each motor), an extremely low sound level, and oil-free operation. What's not to like? This is one of the most powerful products on the list.
The device comes equipped with a dual-piston pump system that promises longevity, high performance, and durability. California Air Tools is known to be pretty thorough with its product testing, and this device has been tested to give at least 3,000 hours of service.
Storage of air-compressors is usually a pain-point, but the compact yet horizontal build of this product ensures that you can use it in any location. What's more, the product is also equipped with air dryers that are designed to remove water vapor from the air.
Finally, we must mention the after-cooler, that is used for cooling the discharged air from the compressor. Overall, with so many features, this one is well worth the price tag.
What Could've Been Better?
While we are on the topic of the price…the price could've been lower! In keeping with the well-packed feature set of this product, the price tag is still pretty high. But this was something we expected, so it really didn't come as a surprise.
Pros
Oil-free twin-cylinder pump

4HP motor for that extra punch

Air drying system for ensuring better maintenance

Available with manual and automatic drain valve variants
Next up is the C201H from the house of Husky, another well-known player in the air-compressor circuit. A single-stage air compressor, this model is perfect for home-scale operations. With a compact, portable design and powerful airflow, this product can certainly get the job done and then some.
Why Did We Like It?
First off, the max pressure. While most 20-gallon air compressors peak at a PSI of 150, this model takes it a notch higher to 175 PSI. This makes for 80% longer running times for the tool, thus allowing you to do more.
This peak performance is due to the high-quality pump and motor that delivers higher pressure and SCFM to the tools you're working with. And all this is achieved at a quiet noise level of only 83 dBA, thus making for calm work environments.
The next thing that had us impressed with the device is the design. The product has a slim, vertical build, and this makes it take up a minimal footprint in the shop or garage. Thus you can easily store it with other devices and tools.
Finally, we must mention the oil-free pump, which lowers the maintenance required. Coupled together, the above features ensure that the device operates perfectly for all home and smaller commercial projects.
What Could've Been Better?
There's no doubt that the device is perfect for all lighter uses. However, there have been some complaints of leaking lines. Also, during operation, we found the aluminum tube connecting the compressor to the tank getting super-heated. So be careful not to hurt yourself when handling the device.
Pros
Higher PSI as compared to other models

Quieter operation

Space-saving design

7-inch wheels for maximum portability
Cons
Leaking lines

Aluminum tubing gets hot
The Porter Cable PXCMF220VW 20-gallon air compressor makes the fourth spot on this list on sheer merit. Affordable, great looking, and above all of impeccable quality, this product is known for providing continuous and dependable performance during all tooling operations. Interested by now? Time to take a closer look.
Why Did We Like It?
The first thing that stands out among the features of this value-for-money device is the oil-free motor that delivers 150 psi of air pressure. Seeing as the motor is oil-free, this translates to low maintenance operation.
Further, the device boasts of a low startup voltage. This means that unlike other devices in its class, this motor doesn't have to deal with much power impact. Coupled with the low maintenance engine, this gives the device a longer operational life.
The 20-gallon air-tank of the device is UL and CSA certified, and along with the Twin-V cast-iron pump, makes the perfect combination of quality and power. The device also comes with 7-inch semi-pneumatic wheels that give the device mobility.
Finally, we need to mention the low decibel rating of the device, which at 84 dBA is low enough for ensuring noiseless operation. Together with the Quick-Connect feature, built-in regulators, and pressure gauges, this is a product for the pros. So whether you're bolting or hobby painting, this is the one.
What Could've Been Better?
The only fly in our ointment about this device is that due to the relatively low horsepower of 1.5HP, the air-tank takes considerable time to fill. For those looking for faster operation, this can be considered as a letdown.
Pros
Fully enclosed design

Slim and portable build

Low noise operation

Doesn't need regular maintenance
Cons
Relatively low horsepower

Oil tank takes time to fill
Three among the first four on our list were vertical tank air compressors. So we decided to change the style and go for a horizontal one again for the fifth. The DC200000 from Campbell Hausfeld is representative of the company's over 150-years' of experience. Sleek, stylish, and portable, this is a device that any DIY-er would love in their workshop.
Why Did We Like It?
As we mentioned before, the horizontal design of the device makes for easy portability, although storage does require more space. The oil-free pump has a durable construction and provides extended and hassle-free operation.
Due to its oil-free nature, the pump requires very little maintenance and has superior longevity. At 150 PSI pressure and 1.3HP motor, the product is enough to get you through any home-based or DIY projects.
The optimally placed control panel further enhances the usability of the device. This allows the user to read the pressure settings easily and thus control the airflow. Plus, the delivery of 4CFM at 90 PSI ensures that all your projects are completed on time.
We began our description of this product with the portability factor, so it's only natural that we end with another aspect of it's portability. This time, we need to mention the steel handle and large trolley wheels that allow the device to be quickly taken from one place to another. Talk about ease of use!
What Could've Been Better?
Despite its great features, we found the device to be quite noisy. So don't expect as quiet an operation as the previous product. Plus, there have been reports of the device working up after a few weeks of use, though till now, we've faced nothing of the sort. 
Pros
High-performance motor

Easy to manipulate and use

Portable build

Very low maintenance product
Nothing extra needs to be said about DeWalt, the all-American brand that has made waves around the world. DeWalt air compressors are designed for tough and durable operation, and this 20-gallon model has all the bells-and-whistles as the first product on our list, only a bit pricier. Just check it out below.
Why Did We Like It?
Being an oil-lubricated air compressor, this is a device that promises extended operational endurance. The model boasts a 155 PSI maximum pressure, which allows for optimal tool performance.
As regards portability, this device scores high on that account as well. With a 20-gallon ASME portable air-tank and horizontal design, this product is as stylish as it looks. Further, it even comes with pneumatic tires for enabling maximum portability.
For most air-compressors, the main problem area remains the motor, which often gives out due to regular use. This product, however, has a durable dual voltage motor that is wired for both 120V as well as 240V operation. This ensures that you get prolonged service even with regular use.
Finally, we must mention the quick-set regulator, which makes operating the device a simple task. Together with the pressure gauges and easy-flip on/off switch, this is a product that certainly isn't all air.
What Could've Been Better?
Even though this is a rather well-equipped device, the problem lies in the safety valve. We've found the faucet to spring a tiny leak from time to time. However, this is sporadic and can be fixed pretty quickly. So don't let it deter you from buying the product.
Pros
Extended operational endurance

Portable horizontal tank design

Equipped with regulators and gauges
If portability is your prime criterion for selecting an air compressor, then this is the one you should settle with. One of the most portable ones around, this 20-gallon air compressor from North Star, makes it easy to take the work away from the workshop. Ideal for pressurizing smaller tools, this is a product worth looking into.
Sale
Why Did We Like It?
As mentioned, this is one of the most portable devices there is, even though it's weightier than the previous products on the list. 
Equipped with ball-bearing wheels and no-flat tires, this device can be wheeled wherever your need takes you. Further, the vertical design means the storage footprint of the device is small, which allows it to be stored with bulker instruments easily.
One of the greatest enemies of air-compressors is heat, which can destroy the pump and render it inoperative. Thankfully, this is not the case with this North Star product. Equipped with a V-style cylinder that provides consistent cooling, this product offers a longer pump life.
Finally, we must mention the cast-iron build, superior crankshaft support, and superb customer service that the product comes with. And to top it all off, it even boasts of a 2HP induction motor, one of the higher ones on our list.
What Could've Been Better?
Our only pain point about this device is the cost, which seems a bit too high for average buyers. Other than that, the noise levels on this device are rather high. But if you can overlook these two factors, then this is a good choice.
Pros
Highly portable build

Great for pressurizing smaller tools

Superior customer service

Longer pump life
Cons
Expensive product

High noise levels
As the very name of this product suggests, its highlight is the ultra-quiet operation. In fact, according to the manufacturers, it's so quiet that unless you paid attention, you'd not know if it was running or not! That had our interest piqued, and so we took a peek under the hood of the product to see if it was all it claimed.
Why Did We Like it?
And after we checked it out, we were pleasantly surprised by all that the device had to offer! The reason for the quiet operation of the product is the professional-grade compressor that the device uses.
These compressors have been specifically designed to allow noise-free operation without sacrificing performance. Whether you're working with a team or on a DIY project, the complete noiselessness means you can work in peace.
Another aspect of this product that had us impressed was the oil-free double piston pump, which reduces the required amount of maintenance. Plus, the low current drawing capacity increases life expectancy almost four times when compared to regular models.
Finally, we'd like to mention that this product has a very high horsepower at 2.5HP, and comes equipped with 8-inch flat-free tires that promise easy portability. In short, a real value-for-money deal if there ever was one.
What Could've Been Better?
Perhaps we were unlucky, but the unit that we received had the front support bracket a bit crooked. We hope this is not a persistent design flaw and just a one-off problem in our unit. Other than that, there's nothing negative that can be said about the product.
Pros
Quiet and comfortable operation

Greater life expectancy

High horsepower

Requires lesser maintenance
Cons
Crooked front support bracket
This product by California Air Tools is yet another noiseless product on our list. At just 70 dBA, this product has one of the lowest noise levels that you can ever hope for. We were glad that we took time out to experience this product; otherwise we'd have missed out on a lot.
Why Did We Like It?
For those of you looking for an ultra-quiet product, this is the one to go with. Similar to the EA-6500, this device also offers very low noise levels. However, a lack of sound is not the only thing this product has going in its favor.
The two-stage compressor of this device has 1.5 HP of power, which is comparable to some of the best products in the market. Plus, the motor operates at only 1750 RPM, which contributes to the low noise of the product.
An exciting feature of the device's motor is that it has been designed to increase the duty cycle of the product. This allows for continuous operation over prolonged periods.
Finally, we'd like to mention the dual piston pump system and oil-free design that improve the usability of this device. Overall, one of the better products available in the market.
What Could've Been Better?
Without a doubt, the price; considering the features, this device has one of the highest price tags on the list. This makes it well beyond the means of the average householder. We wish it were a bit cheaper, but if wishes were horses…
Pros
Provides the user with a high operating pressure

Has automatic tank drain feature

Longer duty cycle

Very easy to start in cold temperatures
Created with durability and dependability in mind, the Ingersoll-Rand P1.5IU has been dubbed the Garage Mate, and rightly so. Equally handy in any work location, this vertical compressor more than lives up to its name. The following are some of the reasons to go for this model.
Why Did We Like It?
An ideal device for portability and durability, the Garage Mate single stage portable compressor can be easily wheeled anywhere you desire. No more dragging or lugging around a cumbersome device.
The product comes equipped with a 2HP air compressor that offers a maximum of 135 PSI operating pressure. This makes it the perfect fit nail guns, drills, and other air powered instruments.
The next highlight of this product is the durable cast iron build that promises a long operating life. Further, the device sports a belt-driven design that ensures noiseless operation, which is a plus if you're using the device at home.
Finally, we must mention the easily accessible side-drain valve, automatic start-stop pressure control switch, and manual overload motor protection, which lend a superior operational efficiency to the product.
What Could've Been Better?
There have been complaints from certain sections of the user-base that the capacitors in the compressor tend to fail a bit early. Aside from this claim, there isn't anything else to find fault with this device.
Pros
Semi-pneumatic wheels for extra portability

Powerful 2HP compressor

100% continuous duty cycle

Thermal overload motor protection
Cons
Occasional problems with the capacitors
We've already presented you with one Industrial Air product, and now we're here with yet another. The IPA1882054 has one of the best compressors around, is relatively noiseless, and provides plenty of air as and when required. The following is a detailed look into the device.
Why Did We Like It?
Industrial Air products are known for their heavy-duty operation, and this device is no exception. Built from high quality cast iron material that ensures superior and long-lasting performance, this is a product with several nifty features.
First off, we'd like to mention the heavy-duty induction motor that ensures a steady pressure of air. The maximum air pressure is 155 PSI, which promises optimal tool performance. Also, the device is UL and CSA certified, which speaks to the level of quality that the device embodies.
Continuing about the motor, we'd like to mention that the motor is wired for dual-voltage operation, which means it can operate for 120V as well as 240V applications. Further, the onboard controls allow easy manipulation of the device.
Coming to the portability factor, the device is extremely portable with pre-attached pneumatic wheels and compact horizontal tank design. And though a 20-gallon tank, the design has been optimized to have a minimum footprint. This allows it to be stored anywhere with other tools.
What Could've Been Better?
Just as this product sticks to the brand's best quality benchmarks, it also ensures that the price tag that it comes with is on the higher side of the spectrum. We'd have really preferred it if the device had been a little less costly.
Pros
1.9HP dual voltage induction motor

Oil-lubricated pump for quiet operation

Lightweight and portable design

2-years warranty
This product is a budget buy from the house of Central Pneumatic and overshoots the 20-gallon mark of our list by only a single gallon. A heavy-duty product that boasts of a long operating life, this is the penultimate product on our list, and also more affordable than the pricier picks.
Why Did We Like It?
What does one look for in an air compressor? A powerful build, a heavy-duty compressor, and portability factors are the topmost things on anyone's mind when choosing the right air compressor.
Thankfully, this product incorporates every one of those features, and then some. The device has a heavy-duty 2.5HP motor, along with an oil-lubricated compressor that promises a long life. 
This entire setup is housed in a durable cast-iron sleeve that has been precision-machined for lasting performance. Plus, the unit is mounted on a wheel kit with 6-inch wheels and an ergonomic handle that allows for seamless portability.
Finally, the device manufacturers have also put in adequate thought towards the safety aspects of the device. The single capacitor motor comes with thermal overload protection that guards the product against overload incidents. And to top it all off, the product even includes an oil level indicator that simplifies maintenance.
What Could've Been Better?
We've been using this unit for quite some time and there are two problems that we've noticed. First, the reed valves seem a bit flimsy and may need early replacement. Secondly, the pressure gauges aren't very well-calibrated.
Pros
Easy to use and maintain

Advanced safety features

Oil-lubricated compressor for longer life

Precision machined cast-iron sleeve
Cons
Flimsy reed valves

Poorly calibrated pressure gauges
We end our list with another quality product from the house of DeWalt, the all-American brand we all know and love. As we know, DeWalt is considered a specialist in small to mid-range air compressors, and this vertical 20-gallon unit is a prime example of their engineering prowess.
Why Did We Like It?
Equipped with a 1.6HP air compressor, this device provides power enough for the professional handyman or domestic DIY-er. Featuring a single-stage oil-lubricated cast iron pump, the device sports a twin-V design that ensures distributed heat dissipation.
Along with that, the product features a one-piece cast-iron crankcase and iron cylinder body that promises durability and lasting performance. Plus, the device is thermally stable, which adds an extra layer of security.
We were also pretty impressed with the full-size metal belt guard that enhances the motor's protective capacity. Add to that the friction-lowering ball bearings, stainless steel reed valves, and oil lubrication, and you've got a device that's meant to provide smooth and efficient operation.
What Could've Been Better?
Straight out of the box, the product comes with a loose belt that requires some adjustment at the beginning. Also, after getting a taste of the massive 4HP behemoth that is the 20040DC, 1.6HP seems a little too low for a compressor. But it gets the job done, and we're not complaining.
Pros
Heavy-duty design

Thermally stable body

Dual voltage induction motor

Attached wheels for portability
Cons
Loose belt may need adjusting

Low power compressor of 1.6HP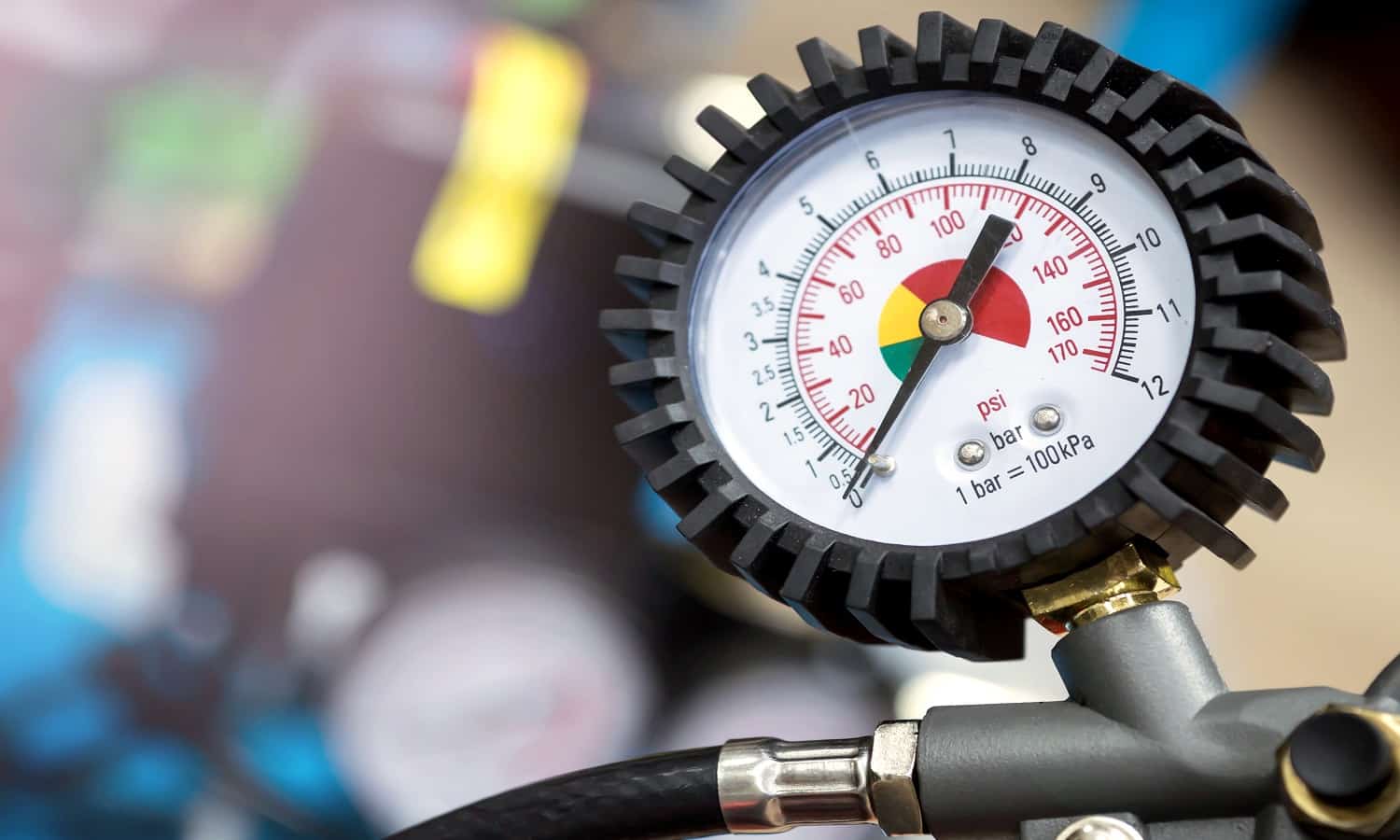 Buyers' Guide for Best 20-Gallon Air Compressors
Now that you know all about the 13 best 20-gallon air compressors of 2022, we're sure you're ready to go out and get one.
But don't; at least, not until you've finished reading this entire resource. That's because merely knowing about the best air compressors doesn't equip you with enough information to make the right choice.
To make the right decision, you need to have an idea about the different facets that need to be considered while evaluating the performance of air compressors. And to help you do just that, we've compiled this comprehensive buyers' guide that's meant to help you out.
Once you've gone through all the finer points of this guide, then will you be ready to choose the air compressor that can fulfill all essential needs. 
Let's get to it then.
The Motor
Your compressor motor is the most crucial part of the device, and rightly so. It is the motor that is responsible for compressing air into the tank and also refilling it. So you can realize that it's the motor that undergoes the greatest amount of use in a compressor.
As a result, you need to look for units that have a powerful and high-quality compressor. This is essential to ensure that you don't end up spending too much time and money on repair work and maintenance. For best results, settle with a motor that connects to the compressor via a belt. And make sure of any lubrication requirements of the motor.
PSI And CFM
These are two very important metrics to look after when you're choosing the right air compressor. PSI and CFM are the numbers that define the power and speed of your compressor.
PSI stands for Pounds-Per-Square-Inch, and CFM denotes Cubic-Feet-per-Minute. CFM is essentially the rate at which air is pumped out of the compressor. Naturally, the higher the CFM, the faster the tank will be depleted.
PSI, on the other hand, represents the amount of force per unit area that the compressor can deliver. Naturally, CFM and PSI are inversely related to each other: the more air that you let out, the lesser will be the pressure of the device and vice-versa.
You can find PSI and CFM readings on the manufacturers' website or the packaging for each model. Many units even have the metrics printed against the air-tank.
Tank Capacity
When it comes to air compressors, the most noticeable aspect is the tank. In our guide, we've focused on 20-gallon models, but there can be compressors with lesser or greater capacity. 
Understandably compressors that have a larger tank will be able to hold a more significant amount of air. This allows them to work for more extended periods without the need for refilling. Plus, they are also able to maintain their peak PSI for more extended periods.
So if you are going to use the compressor with a tool that requires a large amount of power, then go for one with a large tank. However, for low-powered applications, a smaller tank will suffice.
Oil-Free Or Lubricated
When going through compressor listings, you're bound to notice that some air-compressors are oil-free while others are oil-lubricated. Both types have their advantages and disadvantages, and which one you go with depends on your needs and preferences.
Oil-free compressors are generally cheaper to maintain. They don't need periodic oil replacements and are also better for the environment.
But don't think that means oil-lubricated ones are out for the count! Oil-lubricated compressors undergo less frictional wear-and-tear and hence last longer than oil-free compressors.
Noise Levels
Let's face it: air compressors are not meant to be quiet pieces of equipment. They are designed to operate under industrial conditions; hence noise dampening may not be considered necessary.
Nevertheless, if you're looking for quieter compressors, then you won't be disappointed. In general, electric motors are designed to be quieter than ones that run on gas. On the flip side, gas motors are more powerful.
Also important to understand is where you're going to use the product. In case you're planning on using it in an open space such as a construction site, a louder one will do. But for closed workspaces it's best you get a quieter one.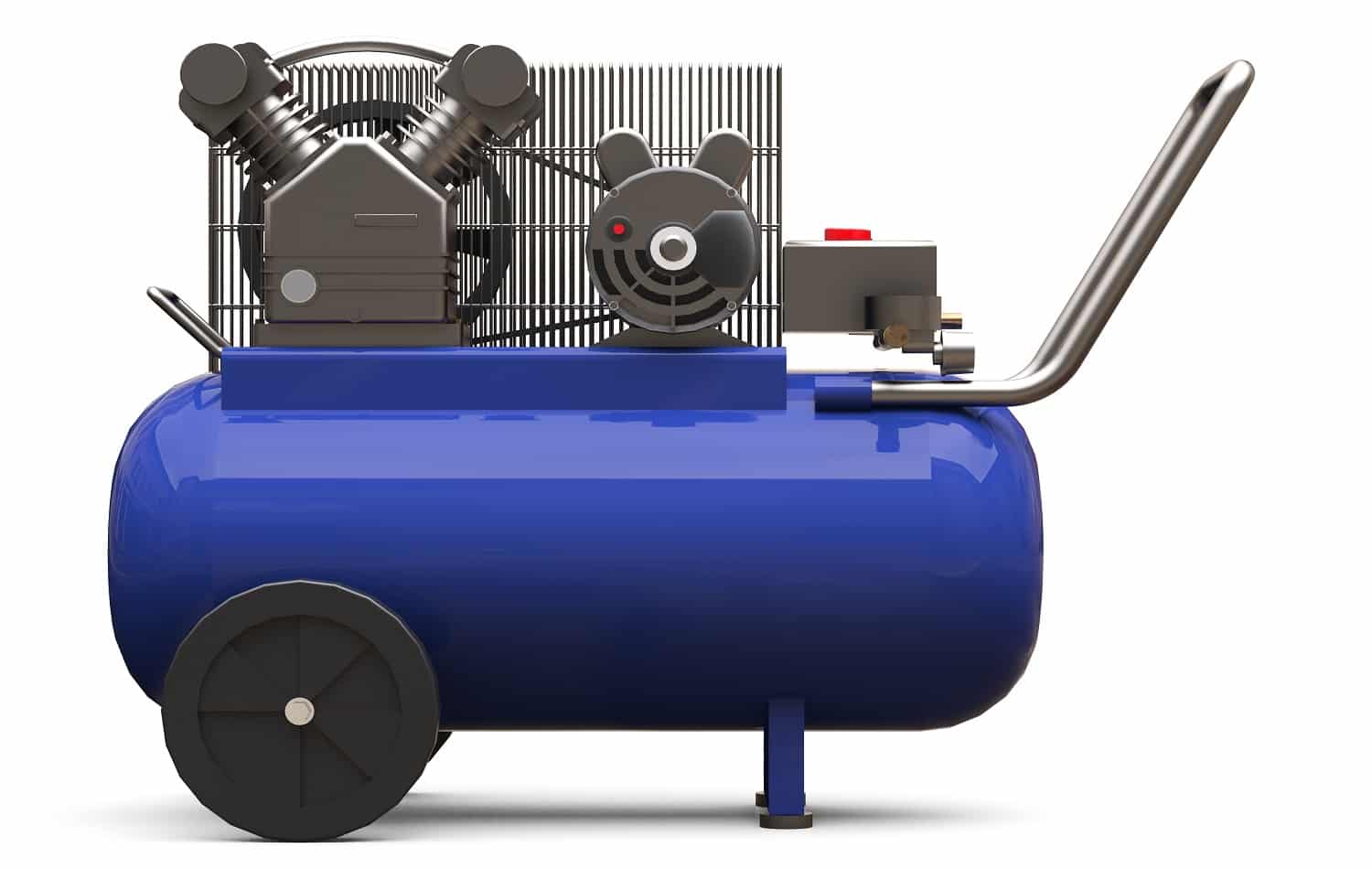 Verdict
And we're done! Finally, now you're all set to go out and get that best compressor that will fit your needs exactly.
Before we leave, we're going to let you in on our favorites from the list above. After all, we consider it our job to make things as easy as possible for you. So here it goes…
For the best overall pick, we recommend the Industrial Air IL1682066.MN model, which is the first product on the list. Though a bit pricey, this one has everything that you can desire in an air compressor.
If, however, you're looking for one with the highest PSI, then we recommend the Husky C201H or the CAT-20015 HPAD from California Air Tools. Both have 175 PSI of pressure, one of the highest on the list.
And if horsepower is what you're after, you can't do better than the 20040DC, again from California Air Tools. With dual motors and a combined capacity of 4HP, it's the clear winner in this category.
And with that, we'll take our leave. Till next time!
Related Articles
11 Best Face Paints of 2022 Reviewed | Top Brands Compared
Learn How to Body Paint With Brilliant Results Right Now
16 Brilliant Face Painting Techniques to Feed Your Imagination
11 Best Face Painting Kits of 2022 Put to the Test
13 Best Air Compressors of 2022 | Buyer's Guide and Reviews
10 Highest CFM Air Compressors of 2022 Reviewed
9 Best 6 Gallon Air Compressors for Your Home & Garage
10 Quietest Air Compressors For Your Garage
13 Best 30-Gallon Air Compressor of 2022 Reviewed
Makita Mac2400 Air Compressor Review
10 Best 80-Gallon Air Compressor to Consider
13 Best Portable Air Compressor of 2022
13 Best Air Compressors of 2022
How To Refill Co2 Tank with Air Compressor?
13 Best Quiet Air Compressor for Your Home in 2022
10 Best 60-Gallon Air Compressors to Use in 2022
13 Best 10-Gallon Air Compressors for the Buck in 2022
10 Best Air Compressors For Impact Wrenches in 2022
10 Essential Air Compressor Accessories You Need
10 Best Air Compressors For Nail Guns
13 Best Finish Nailers for Woodworking of 2022
13 Best 60 Gallon Air Compressor  
12 Best Gas Powered Air Compressor for the Buck  
11 Best 4000+ PSI Pressure Washers of 2022
9 Best Air Tools Oil Review | Top-Rated Pneumatic Nail Gun Oil