Disclaimer | This article may contain affiliate links, this means that at no cost to you, we may receive a small commission for qualifying purchases.
If you're a DIY enthusiast, we have exciting reviews lined up as we're looking at 12-inch miter saws. 
But what makes these saws different from regular miter saws? For starters, they are every woodworking professional's dream, ensuring that you can complete numerous projects with ease. As the name suggests, the 12-inch size plays an important role in generating more power, allowing you to cut through thick materials. 
On top of that, the durable blades coupled with precise output ensure that these saws stand out in the market. Whether you're a first-timer or seasoned professional, they promise a smooth experience, making work more manageable. 
However, the difficulty is in choosing the best model from the multiple options available out there. For this reason, we've listed seven quality units, taking the market by storm. Additionally, there's a buyer's guide section to discuss the essential aspects of 12-inch miter saws. 
So, press the power button, and let's get sawing. 
Top 12-inch Miter Saw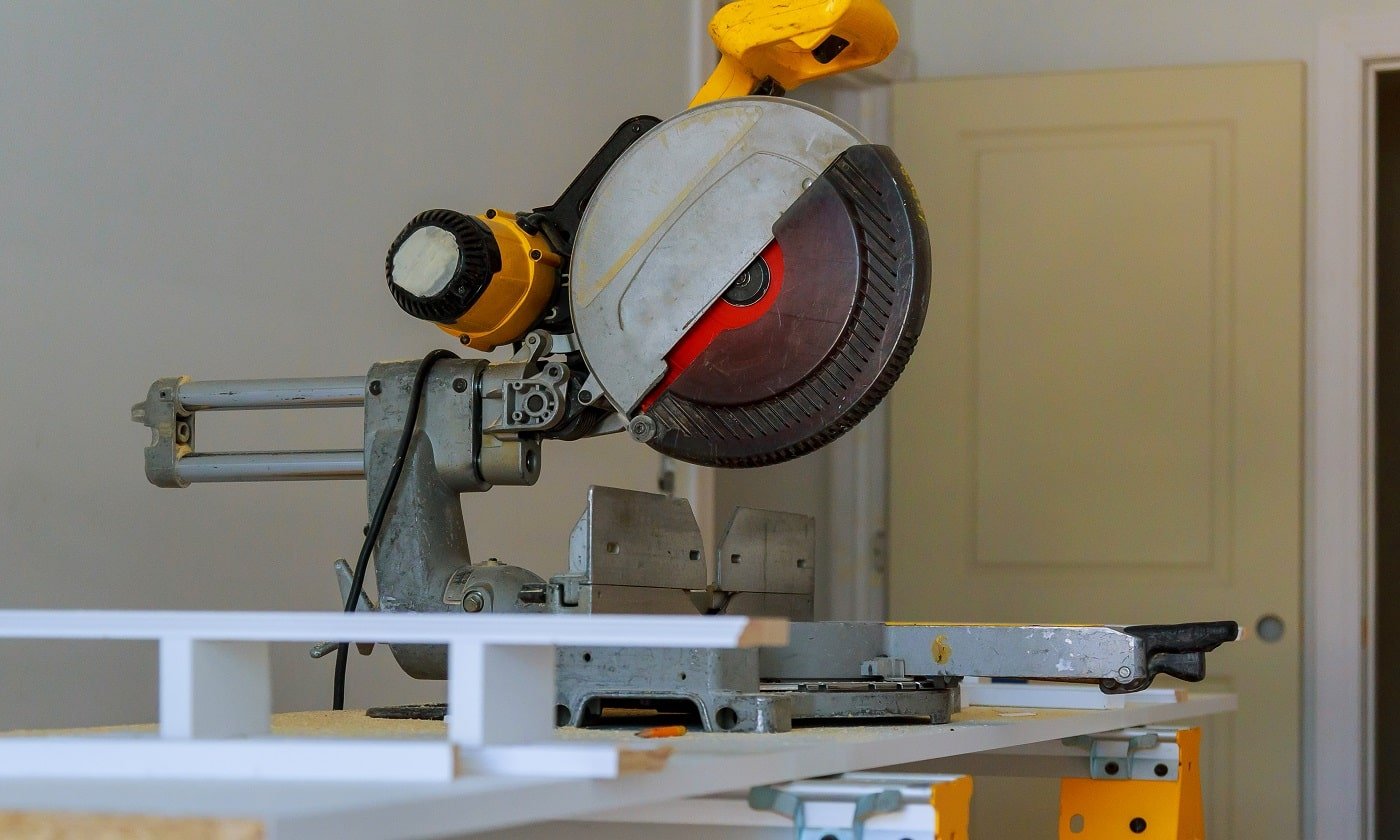 Over the years, DEWALT has produced a wide range of quality products to be regarded as trustworthy. This new miter saw is no different and has most bases covered, guaranteeing reliability in your tasks. Users have expressed their admiration at its numerous functions, promising efficiency along with a smooth experience.
Sale
Why Did We Like It? 
We'll start by discussing two critical aspects of a miter saw – power and durability. This saw has a 15A motor that produces 4,000 rpm for making fast cuts. And supporting this powerful performance is a robust body designed to last a long time. 
Adding to the sturdiness is the stainless steel detent plate and hardened bevel top. Plus, the 14 positive stops help improve accuracy, delivering efficiency in each task. In that regard, the miter detent override mechanism enables you to override the miter stops to adjust the angles for varied cuts. 
Moving on, the tall sliding fence proves ideal for supporting the crown and base molding, providing a smooth experience. You can easily slide the fence to make bevel cuts with the machine-based fence offering stability while working. 
Furthermore, the designers have added a dust bag to scoop up debris and keep the workstation clean.
What Could've Been Better? 
Due to its many features and durable construction, this model weighs more than the other units available out there. So, if you're unaccustomed to working with heavy machinery, it'll take some time to adjust. But the good news is that users reported getting the hang of it with a little practice. 
Pros
15A motor

14 positive stops

Tall fence sliding

Smooth operation

Machine-based fence
Another brand that often acts as the marker for quality is Bosch, so expect nothing short of the best from this lightweight saw. It's a corded model, deriving power from an electric output to deliver unmatched cutting ability. As a result, it stands out in the market, generating substantial buzz among potential buyers.
Why Did We Like It? 
First things first, the axial glide system makes this unit compact while allowing for wider-cross cuts and easier alignment. Not only does it save space on the workbench for more maneuverability, but it also delivers a seamless experience, enhancing user-friendliness. 
What's more, the saw has an expanded cutting capacity and offers more variety on vertical and horizontal cuts. When working horizontally, the cutting capacity is 14 inches, while on vertical cuts, it's 6-½ inches, highlighting the fantastic range of the model. Moreover, thanks to the innovative fence, spring users have loved its crown capacity. 
Now, it's highly adjustable with its easy-to-read bevel and stainless-steel miter scales, allowing you to make accurate cuts. In that regard, the square lock quick-release fences secure the table at 90 degrees for more stability. 
The manufacturers have also added a one-touch lock/unlock mechanism to slide the fence without any hassle. 
What Could've Been Better? 
A major concern for customers is that it takes time to assemble the unit. With no clear instructions, first-time users face a challenge installing the components in the correct order. This is one aspect where it lags compared to models that are ready-to-use out of the box. 
Pros
One-touch lock/unlock mechanism

Upfront bevel

Impressive dust collection

Square lock quick-release fences

One-touch lock/unlock mechanism
Cons
Challenging to assemble

Instructions are unavailable
You probably haven't realized that we're halfway through the guide, but the remaining products promise to be equally eye-catching. So, now we would like to discuss how Metabo has become the talk of the market, thanks to its latest miter saw. There's a lot to like about it, and we're sure you want to find out more.
Sale
Why Did We Like It? 
If you're looking to work on hardwood, then we would recommend giving this saw a try. While it uses a 15 amp motor like most other products, the 1,950W output makes it stand out, guaranteeing a power-packed performance. 
Having learned about power, the next question is how to control it? There's no cause for concern as the adjustable miter scale ranging from 0-52 degrees allows you to adjust the blade conveniently on either side. As a result, it's suitable for making a wide range of cuts, highlighting its incredible versatility. 
Other than that, the tall, pivoting aluminum fence measures 5-⅛ inches and comes in handy for vertical cuts. However, the significant inclusion is that of the micro-bevel adjustment knob, permitting users to input the desired angle of operation. 
Finally, with help from thumb actuated positive stops, you can quickly adjust the miter angles without any hassle. 
What Could've Been Better? 
Some users feel that the thumb button on the trigger handle is too small and may be inconvenient for left-handed users. Another drawback is that the wrench is black, meaning it might get mixed up along with the other tools. The easiest thing would be to add a different color, making it clearly identifiable for enhanced user-experience. 
Pros
Pivoting aluminum fence

Micro-bevel adjustment knob

Thumb actuated positive stops

Versatile

Precise performance
Cons
Small thumb button

Difficult to distinguish among tools
While forming our guide, this saw from Milwaukee snuck up on us, as it doesn't possess anything out of the ordinary. However, a closer inspection revealed that it has all the relevant functions to rival even the top brands available out there. Not surprisingly, all those who have used it seem satisfied. 
Why Did We Like It? 
Let's have a look at the detent override function first before exploring its other attributes. The designers have added this function for making precise meter scale adjustments. All you need to do is input the correct angle, and the saw will take care of the rest. 
Another interesting addition is the miter angle digital readout function, meaning it's suitable for users of all ages to determine the exact value. It delivers repeatable results that are accurate to within 0.1 degrees, highlighting its user-friendliness. 
Furthermore, you'll love the inclusion of job-site lights adding to the safety while permitting you to make cleaner cuts. These lights illuminate the work board from both sides, extending work time and providing a clear line of sight. 
Lastly, the 15 amp direct-drive motor has a maximum output of 3.3HP, delivering impressive performance. And the debris generated is gobbled up by the dust channel, helping to maintain a quality work environment.
What Could've Been Better? 
It doesn't come with a vacuum adapter making it difficult to use the saw once you attach the vacuum. Users will have to buy an adapter separately, thereby increasing the overall cost of the unit. Also, we feel that it needs a power switch, ensuring users don't have to unplug the cord every time. 
Pros
15 amp direct drive motor

3.3HP

Clears 75% debris

Accurate to within 0.1 degree

Adjustable meter scale
Cons
No power switch

No vacuum adapter
The next product out of the hat is the SKIL Saw, making all the right noises to feature on most wish lists. It has up its sleeve a laser guideline for improved accuracy and nine positive stops for altering the angle of operation. Therefore, this model delivers more versatility for the best results.
Why Did We Like It? 
First and foremost, this saw features a laser cutting guide for improved accuracy. You'll have a clear idea of how to make the desired cut for greater efficiency. In that regard, the nine positive stops prove useful for adjusting the miter angle according to the task. 
Now, the 15 amp motor delivers sufficient power, turning the blades at 4,500 rpm for faster and cleaner cuts. Not only does it reduce work time, but it also lowers stress. As a result, the ergonomic design comes in handy, ensuring you can work for long hours at optimum capacity without suffering from blisters. 
Also, for operating on longer pieces of wood, users need to adjust the extension table to the left or right. It's highly convenient and increases the space for more maneuverability. Lastly, thanks to the quick-mount system, you can easily assemble the unit without any hassle.
What Could've Been Better? 
The main problem with this product is non-alignment, and it takes time to adjust the components at the correct angles. Initially, it might be difficult to get the best results, but it gets better over time. Plus, upon starting the saw, you'll experience a significant kickback, which isn't ideal, to say the least. 
Pros
Increased maneuverability

Quick mount system

Ergonomic design

Adjustable miter angle

Laser cutting guide
Cons
Unaligned components

Kickback upon starting
Wen has produced a fantastic saw, causing buyers to queue up outside stores in eager anticipation. We found that it delivers substantial power without compromising on its other features, making this an all-around unit. So, rest assured, it'll be a terrific addition to the tool shed and well-worth the money.
Why Did We Like It? 
Right off the bat, the powerful 15A motor hogs the limelight, allowing you to cut boards of varying thickness. The maximum that users can cut is 3-½ inches, which is ideal for handling numerous tasks with ease. Moreover, it has nine miter stops, ensuring accurate bevel cuts up to 45 degrees in either direction.  
Like some of the other models, the saw features an onboard class II laser guide that works in tandem with the LED work lights. The lights complement each other, providing unimpeded vision for a clear line of sight. Therefore, you can make precise cuts to make your projects stand out. 
The engineers have also added a crown and base molding for more stability so that it doesn't wobble. This comes in handy while working on intricate tasks, permitting you to control the 60-tooth carbide-tipped blades better. Plus, we loved the two retractable table extensions, offering more space.
What Could've Been Better? 
A common complaint among customers is that the markings may come off after regular use. As a result, it becomes difficult to get the desired precision in your tasks. Apart from that, the guard may fall off, thereby raising safety concerns. However, getting it replaced isn't a hassle. 
Pros
60-tooth blades

Carbide-tipped construction

LED lights

Laser guide

Powerful cuts
Cons
Markings may come off

Guard falls off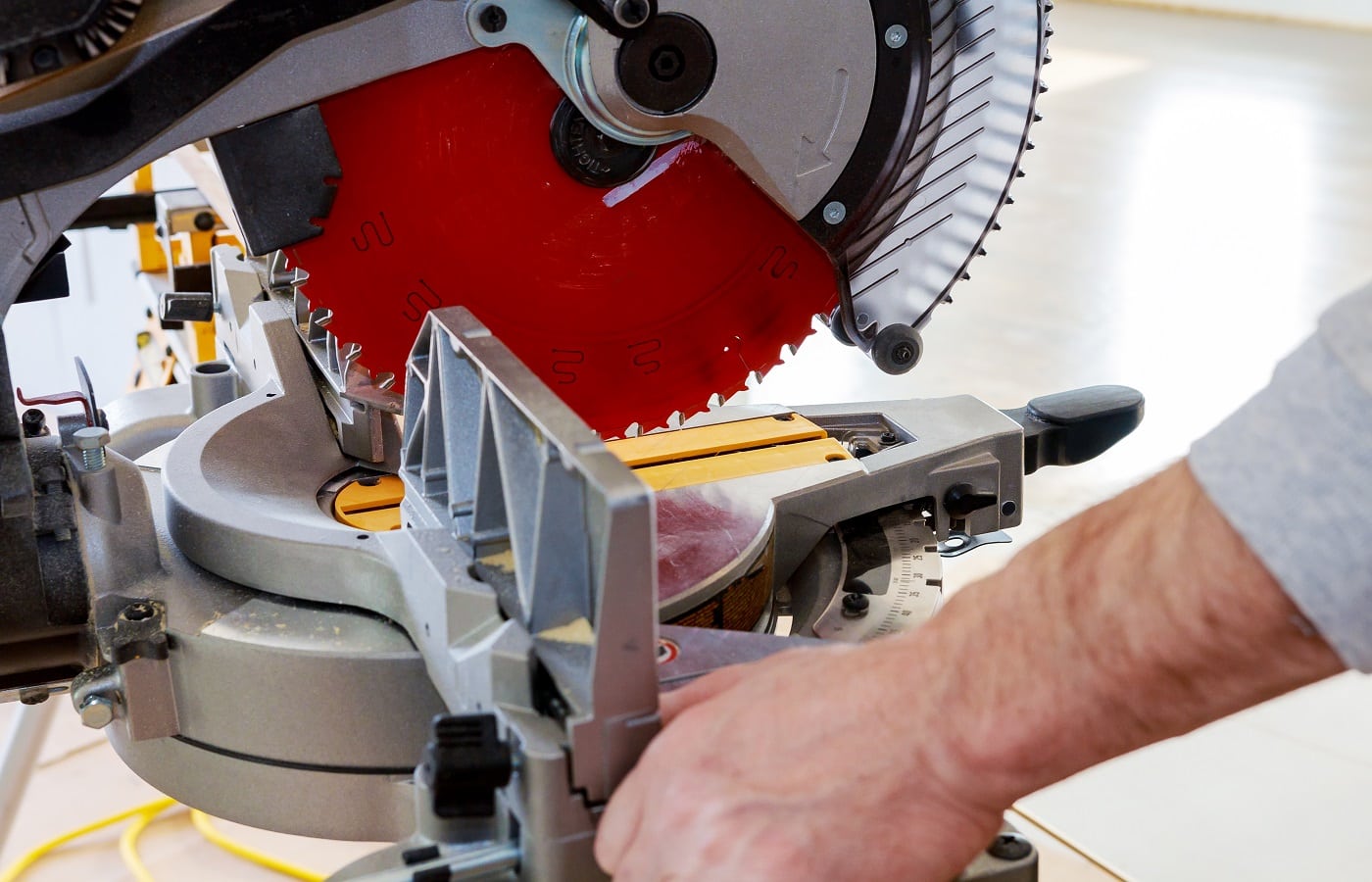 12-inch Miter Saw Buyer's Guide 
Coming to the buyer's guide section, we'll focus on what makes 12-inch miter saws special. This will help you choose in case you're confused between two quality products. So, note down the following points for future reference. 
Sturdiness 
First and foremost, the saw must be durable, delivering reliability in your tasks. The users are making an investment, so by no means must this tool break down suddenly. As a result, the designers must use quality materials for construction, ensuring you get nothing short of the best. 
Power 
Secondly, it must have sufficient power for cutting through thicker materials. So, the motor must produce high rotations per minute, allowing you to make varied cuts and delivering a smooth experience. 
The power drives all the other functions, making your projects stand out. 
Adjustments 
Finally, users must have the ability to make the necessary adjustments for precise output. The best models allow you to make vertical and horizontal cuts with ease, thanks to the impressive bevel cutting feature. Plus, you can enter the angle of operation manually, which proves useful for working on intricate projects.
Verdict 
We've reached the final section in our guide, where we'll be giving you a few pointers to help you make the correct choice. 
Having covered most of the points in the reviews and buyer's guide, it's time to look at our favorite models in different categories. After careful consideration, we believe that the DEWALT Saw delivers the best performance, thanks to its 15A motor and machine-based fence.
Apart from that, the Bosch GCM12SD Saw is incredibly user-friendly with the axial glide system, giving it an edge over other units. That's all the time we've got, but hopefully, you've gathered valuable knowledge regarding 12-inch miter saws. 
We've tried to cover most aspects, and whenever in doubt, you can look at the reviews or consult the buyer's guide. It won't be long before we are back with another exciting product review but until then, enjoy the performance of your miter saw. 
Take care, goodbye! 
Related Articles
13 Best Screwdriver Sets on the Market Today
13 Best Wood Routers for Professionals & Amateurs Alike
Simply the Best Stained Glass Ring Saws Reviewed
49 FREE DIY Router Table Plans For an Epic Home Workshop
11 Best Angle Grinders on the Market Today
13 Best Chainsaws for the Money Reviews & Guide
13 Best Tile Saws Reviewed | Buyer's Guide
11 Best Sliding Compound Miter Saws
Different Types of Saws & How to Use Them  
9 Best Hybrid Table Saws Under $1000
11 Best Budget Bandsaw Reviews 
11 Best Dry Cut Metal Chop Saw
11 Best Table Saw [Reviewed & Buyer's Guide]
7 Best Cabinet Table Saws [Reviewed & Buyer's Guide]
9 Best Band Saw [Reviews & Buyer's Guide]
13 Best Contractor Table Saws [Reviews & Buyer's Guide]
Best 20″ Chainsaw [Reviewed & Buyer's Guide]
11 Best Chainsaw for Milling Lumber | Buyer's Guide
5 Best Stihl Chainsaws [Reviewed & Buyer's Guide]
11 Best Table Saw Fences [Reviewed & Buyer's Guide]
DeWalt DW735X Planer Review [Should You?]
Bosch 4100-10 Jobsite Table Saw [Reviewed]
Hack Saw Vs Bow Saw [All You Need to Know] [Explained]
9 Best Compact Circular Saws Of 2022 [Reviewed & Buyer's Guide]
How To Sharpen A Bow Saw And Bow Saw Maintenance
6 Sabre Saw Vs. Jigsaw [All You Need to Know]
Radial Arm Saw vs Miter Saw [Differences & Winner]