Faucets are among the most important accessories that can give a wow factor to your bathroom. Plus, they help in maintaining cleanliness and hygiene. 
Whenever we extend, renovate, or build a bathroom from scratch, we take considerable time to choose the plumbing fixtures to be installed. This is mainly because it makes our bathroom attractive, comfortable and easy to use. 
Bathroom faucet models, in particular, are available in varied styles, shapes, designs, and colors on the market and at different prices. And to select the one most suitable for your bathroom, you need to conduct a little survey or research. 
Hence, we have reviewed some of the best ones in the following read. We are sure that going through this will allow you to select a unit that's perfect for your requirements and budget. 
So without further ado, let's get into it! 
Best Bathroom Faucets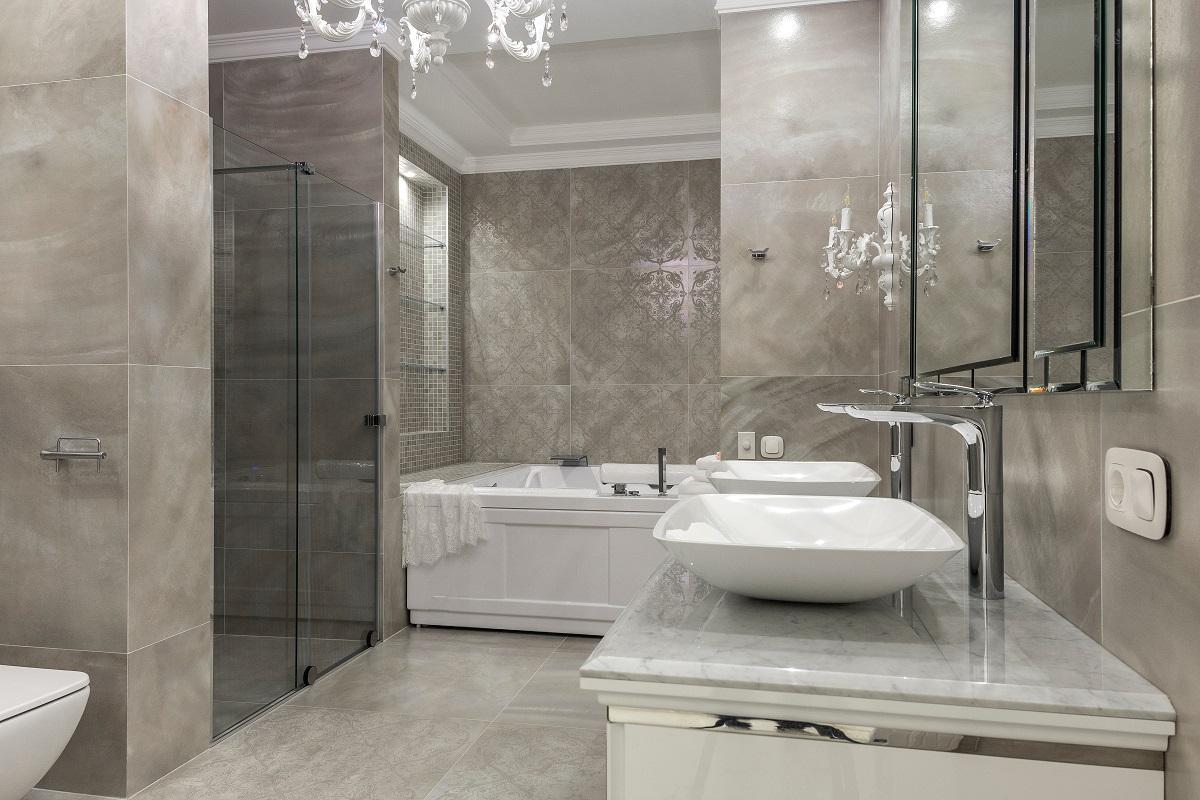 This two-handle faucet from Wowow is easy to install in your sink basin. It features a commercial brushed Nickel coating, which provides an elegant look to your bathroom. Along with that, the NSF-certified ceramic valves will provide a drip-free performance. 
Why Did We Like It?
The primary attraction of this unit is its Nickel-brushed finish and metal body, which provides an elegant and classic look. Its two-handle design will allow you to have easy control over the hot and cold water flow. And the ceramic valves turn effortlessly to ensure smooth operation. 
Besides, this model is designed for performance and can withstand the test of time. The drain stopper can easily be pulled up and down using a lifting rod. As a result, you can wash your hands quickly without having to touch the stopper. 
Also, the drain mouth is attached directly to the sink basin, allowing all the water to drain completely. This will allow you to keep your bathroom cleaner and hygienic. 
Moreover, the NSF-certified ceramic valves provide a dip-free performance that saves water and delivers long-lasting performance. 
What Could've Been Better?
The bizarrely long outflow pipe is one of the significant drawbacks of this bathroom faucet. So, many users might need to cut its length using a hacksaw or similar tool accordingly. If the pipe doesn't fit the sink area, the installation might become an issue. Hence, we would've preferred shorter-sized pipes for easy use. 
Pros
Metal build and brushed Nickel finish

Easy to install and control

Drip-free valve

Smooth flow of water

NSF-certified ceramic valves
Sale
Next up, we have a surface-mounted bathroom faucet by PARLOS that comes with a brushed nickel finish, corrosion, and tarnish resistance. Its metal push provides an aesthetic and elegant look to any bathroom while the 2-lever handles make for user-friendly use. 
Why Did We Like It?
This brushed nickel 2-handle sink faucet gives it an elegant look and makes it  much easier to use as compared to other faucets.  It also comes with an aerator that provides a restricted and non-splashing stream of water. Moreover, the rigorously tested cartridge avoids any leakages, otherwise found in  older faucets. 
We also found the installation much more manageable, and you do not need a plumber for the purpose. Just insert the faucet, tighten the nuts, connect and tighten the supply hoses, and you are ready to go. That's not all; the brass construction makes it corrosion and tarnish-free, thereby ensuring a long-service life. 
The 2-Handle design offers better control over the flow of water. Plus, the drainage pipe and toggle stopper prevents the water from dripping. Hence, this faucet will provide you with good value for money. 
What Could've Been Better?
Although the drain is easy to install, it has some issues that make it difficult to use over time. A plastic lip from the drainage assembly remains stuck above the basin and does not allow all the water to drain out. As a result, it may become unhygienic to use with a prolonged water deposit. 
Pros
Brushed nickel finish makes it corrosion-free

Lead-free supply hose

2-lever handle for easy water adjustment

Easy to install
The deckor surface-mounted bathroom sink faucet by Phiestina offers a beautifully designed and integrated Quick Connect technology. You will be able to install it by yourself without calling professionals. What's more, the copper-made push pop-up drain makes it durable, avoids leakage, and is easier to use than traditional-style road drains. 
Why Did We Like It?
Phiestina commits towards certifying their materials and products with NSF-61 and CUPC, offering you lead-free and healthy use. Its innovative design and creative quick technology allow easy and hassle-free installation and use. Hence, it can well save on professional installation costs. 
For us, the most attractive feature of this faucet is its high-quality ceramic cartridges, which are long-lasting and allow easy control over water streams. Furthermore, the self-clean system ensures a clean and steady stream of water with every use. 
What's more, it's designed to be resistant to the damages caused from thermal shock and excessive high pressure water, making it durable and long-lasting. Additionally, the entire drainage system is made of copper to avoid any kind of leakage. 
Last but not least, the push and seal pop-up drain makes it easier to use with just a push. 
What Could've Been Better?
While this elegant-looking sink faucet will add to beauty of your bathroom, it does not offer an option to control the water temperature. You might have to keep using the cold water, which comes out every time. Other than that, some customers have complained about small metal pieces sticking out from the bottom. It can damage the rugs and also cause injuries if users aren't careful. 
Pros
Easily installable and easy-to-use design

Push and seal pop-up drain design

High-quality ceramic cartridges

Resistant to thermal shock and corrosion

Lead-free materials
Cons
No temperature control

Unconcealed metal pieces may cause injuries
Sale
Soka, a leading designer and manufacturer of bathroom fixtures, strives towards delivering quality products to its customers. And this 2-handle bathroom faucet is no different, as it offers a premium metal construction that is durable, reliable and delivers long-lasting performance. Its 3-hole configuration and step-by-step instruction included with it will ensure that you do not go into much trouble installing. 
Why Did We Like It? 
Soka has always committed to delivering functional, beautiful, innovative, and affordable products. This particular deck-mounted bathroom faucet offers a smooth surface and streamlined design whose handles move in 90-degree forward rotation, thereby allowing you to install it in tight and compact places. 
Furthermore, the ABS Sprayer installed does not allow hard water or scale to deposit, keeping it clean and hygienic. 
Nevertheless, its 5" spout height and reach will suit everyone in the family, and kids will quickly get a hand at it. It is also made of stainless steel and colored with brushed nickel, making it corrosion-free, durable, and long-lasting. 
Last but not least, you will be able to easily switch between hot and cold water according to your convenience. Thus, installing this bathroom faucet will provide you with a unique washing experience. 
What Could've Been Better? 
Although the bathroom faucets of Soka are durable, innovative, easily installable, and integrated with unique features, customers might find some of its aspects to be unnecessary or absent. Firstly, it does not come with a pull rod, and secondly, its drains are made of cheap plastic. Hence, you may need to purchase separate pull rods and drains. 
Pros
Premium ceramic valve

Facilitates high-performance aerated stream

ABS sprayer for smooth flow of water

Easy to clean and use
Cons
Cheap quality plastic material used for drain
Sale
If you are looking for an exquisitely finished, durable, non-corrosive, and anti-scratch bathroom faucet, the Wowow lavatory sink faucet is just the one for you. Its unique design and matt black finished surface will provide your bathroom with a glimmering and retro look. Besides, the 2-handle basin faucet will be convenient for precisely controlling the water temperature and volume. 
Why Did We Like It? 
Wowow lavatory sink faucet is one of the best bathroom faucets on the market in terms of design, price, and features. Its unique and exquisite matt finished surface, combined with a brass connector, will add a modern design to your bathroom. It also comes with a 360-degree swivel spot vanity faucet. 
As far as the installation is concerned, its unique fast connect construction allows hot and cold water mixing with a quick-install pipe that doesn't require a wrench. Furthermore, the widespread design will allow you to adjust the installation distance based on the sink size and your requirements. 
Finally, its 3-piece design makes it convenient to control water temperature and volume. At the same time, its high sealing ceramic cartridge ensures drip-free performance. 
What Could've Been Better? 
Despite having quality design and materials used in almost the entirety of the bathroom faucet, its water supply lines are made of flimsy material, and overuse can lead to potential leakage. In fact, they may prove to be short enough to reach the waterline for many users. 
Pros
Elegant design and heavy-duty construction

Facilitates DIY installation

2-handle design

Easy control of water temperature
Cons
Poor quality and shorter supply lines
Sale
Many of us seek to have a simple bathroom design that has neutral colors, basic shapes and straightforward fixtures. And this Delta bathroom Faucet offers a sleek and minimalistic design to meet those needs. Besides, chrome polished single handle faucets provide it with a modern twist and go equally well with the vintage-style bathroom. 
Why Did We Like It? 
Firstly, this minimalistic and straightforward-designed bathroom faucet offered by Delta Faucet is suitable for any kind of bathroom, whether simple, classy, or vintage. And owing  their experience in designing and manufacturing bathroom faucets for over 60 years, you can be sure of the quality and superiority of their products. 
In terms of installation, it offers a flexible design that's suitable for single, three-hole, or four-inch configurations. A drain assembly is also included in the package, which is usable with a simple push. 
Furthermore, it is Delta WaterSense labeled, which saves 20% more water than industry standards, and you will be able to save more money without compromising on performance. It is also certified with the ADA standards. 
What Could've Been Better? 
Although it has all the necessary features and design one seeks for in a quality faucet, it's not free from drawbacks. Its simple design may not fit your needs if you're looking for something more high-end looking. Besides, it doesn't allow users to control water temperature and volume. 
Pros
Polished chrome surface

WaterSense labeled which saves water

ADA compliant

Easy Installation

Included supply lines
This single-handed bathroom faucet by VOTON is a perfect mixture of minimalistic design, style, and modern functionality that brings a lucid look to your bathroom. Its surface is brushed with high-quality nickel that gives it a classic look. Furthermore, its high-quality surface ensures scratch and corrosion resistance. 
Why Did We Like It?
Everyone loves a classy nickel or chrome finish faucet in their bathroom that is easily installable, easy-to-use as well as long-lasting. This particular faucet has a brushed nickel finish and 100% brass body that renders an elegant look and makes it durable as well as long-lasting. 
On top of that, single-handle faucets like this create a cleaner look compared to custom countertops. Being longer makes flow rates and temperature change pretty effortless. 
Its ultra-wide waterfall design will provide you with a pleasant user experience. You would be able to carry out your daily tasks like washing hands and brushing without worrying about the water pressure. Plus, its minimalistic and elegant look goes well with contemporary bathrooms too. 
Long story short, having a VOTON bathroom faucet will help render functionality and a modern look to your bathroom. 
What Could've Been Better?
VOTON provides a high-quality product at this price range and bestows a unique and effective waterfall feature. Although we did not find many drawbacks, it would have been much better if it was easier to install, as seen in other faucets on this list. Also, it could have included a lift rod and pop-up drain in the package. 
Pros
Brushed nickel finish for optimum corrosion and scratch-resistance

Easy control over temperature and water flow

Ultra-wide waterfall flow

High-quality hoses

Water supply line is CUPC certified
Cons
Arduous installation process
Sale
Pfister bathroom faucets express elegance and grace to transform your bathroom into a spa-like room by creating a smooth water stream. This single control faucet provides a flexible and simple installation, requiring you to drill only a single hole. Additionally, it can be a common choice for elders or people suffering from arthritis, as turning them on and off is almost effortless. 
Why Did We Like It? 
This Pfister bathroom faucet provides an elegant and graceful look with sleek, soft lines and precise traditional styling cues. If you prefer a particularly soothing look to your bathroom, then this can be the perfect choice. Also, its flow rate of 1.2 GPM ensures a smooth water stream and you can have a calming and soothing experience in the bathroom. 
Moreover, you do not need to worry much about its installation, as it boasts of a push and seal drain assembly that takes only 3 minutes. It will be a straightforward three-step toolless installation. 
Beyond that, its advanced ceramic disc valve technology means that you do not have to fret about a leaky faucet. Obviously, you would not want a dripping and leaky faucet in your bathroom. 
We appreciate that its design complies with the ADA/ANSI A117.1 requirements, which ensures its ease of use for a disabled person. Along with that, it complies with CEC (California Energy Commission) water-efficiency standards and saves 20% more water as compared to traditional faucets. 
What Could've Been Better? 
We'd have liked this unit better if the brand had equipped it with a 2-handle faucet instead of a single handle, as it would have provided more control to users. It would have allowed them to adjust the water temperature better and ensure seamless water flow. 
Pros
Waterfall style faucet providing seamless water flow

Easy installation

Ceramic disc valve prevents leaks

Code compliance design
Cons
Single-handle faucet can make operation challenging
Delta has always been a manufacturer of quality products and aims to transform the experience of its customers. As such, its 2538-MPU-DST bathroom faucet is specifically engineered and installed with Diamond Seal Technology that guarantees twice the lasting as compared to traditional faucets. Plus, it is included with a single convenient drain assembly, and therefore, you do not need to purchase additional parts. 
Why Did We Like It? 
There are many things to like about this product, but the one which comes on top is the limited lifetime warranty on offer. You can install and use it with confidence for a prolonged period. The company has included all the necessary accessories, like a pop-up drain assembly for making its installation less troubling and straightforward. 
Furthermore, the presence of a Lifetime Limited Warranty allows you to install your faucet with confidence and saves the hassle of hiring professionals. It fits in a 3-hole, 4-inch centerset configuration, is clear and is easy to install, thanks to the inclusion of detailed instructions in the box. 
Other than that, users do not have to worry about its durability with the presence of diamond-integrated ceramic disks, which guarantee no-leak performance. 
Another aspect to like about this bathroom faucet is its Diamond seal technology, which reduces leak points and lasts longer. It also comes with Innoflex PEX supply lines for eliminating any leak point in the faucet. 
Finally, it is certified with Delta WaterSense, which means that you can save 20% of water without even compromising its performance. 
What Could've Been Better? 
The Delta bathroom faucet needs to develop a corrosion-free and scratch-free polished chrome design. Apart from that, the company would need to focus more on its quality, as most of its customers complained about its durability.  
Pros
Easy installation

Reduced leaks

Increased durability

Included supply lines
Cons
Requires improvement in design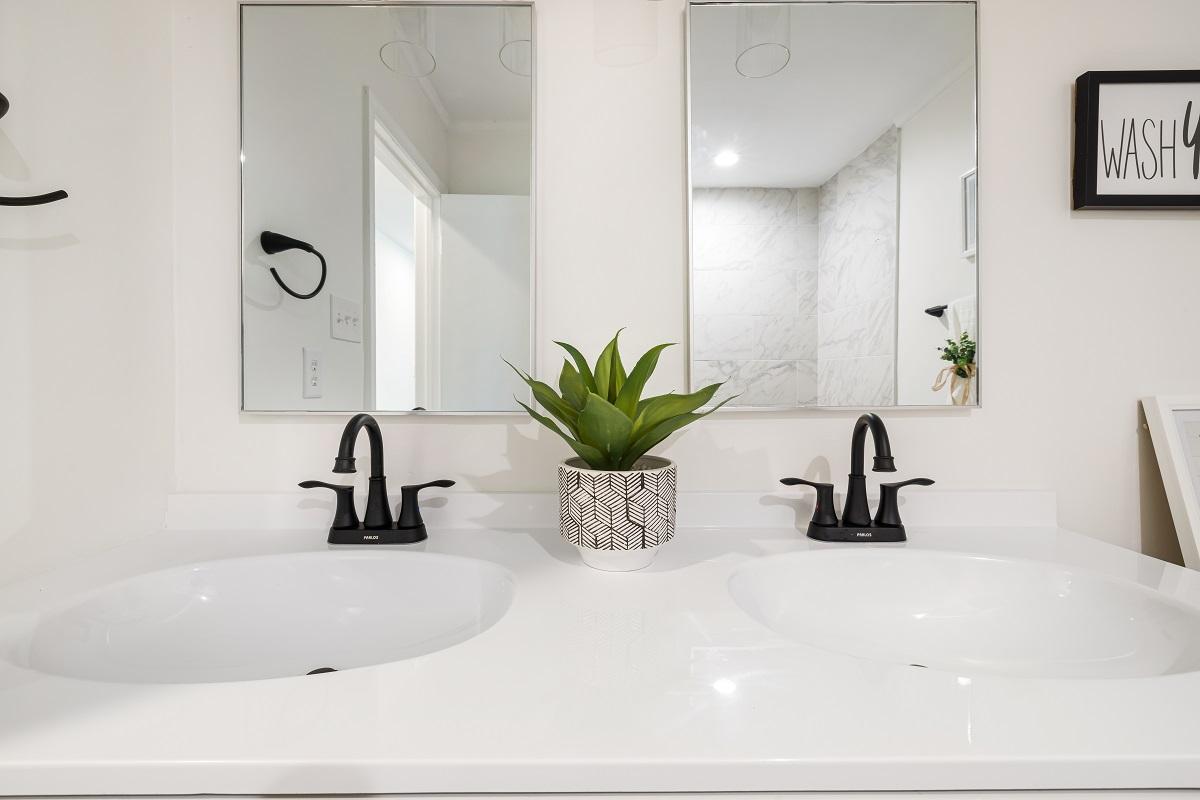 Bathroom Faucets Buying Guide
Bathroom faucets come with different styles, designs, features, and finishes to customize and decorate your space. 
When selecting the right faucet for your bathroom, you need more than just looks that appeal to the eyes. You might get drawn towards a specific look, but it is crucial to think about its fittings, materials used, and handle type, to understand if it will fit your needs. 
If you are looking to replace a leaky faucet, you might not have several options in hand. In such a case, you will just need to install a faucet similar to your previously installed one or one with more features but a similar design. On the other hand, if you are remodeling the bathroom and need a new faucet, you will have an infinite range of options when selecting the right bathroom faucet. 
A long-lasting and corrosion-free faucet will be most important for your bathroom. In this regard, you should ensure that  it is made from stainless steel or solid brass and features no-leakage ceramic disc cartridge valves. 
Besides the material, the number of holes it requires for installation and where the faucet would be mounted will play an important role in its selection. 
Also, visible parts like a spout, finish and handle also need to be taken care of during the selection process. But don't get overwhelmed with these factors- our comprehensive buying guide will help you make a better decision. 
1. Type
All bathroom sink faucets do not go well with every sink. For example, many houses have a small sink basin due to availability of small areas and would need a smaller faucet. That's why  faucets come with one-hole, centerset, or widespread design. 
Centersets are for washbasins with three holes and handles separated by 4 inches, while single hole faucets have single or separate handles. On the other hand, vessels are taller faucets and come with single and multifunction handles. 
2. Color And Finish
Color and finish of your faucet need to complement the rest of bathroom fixtures and accessories. For instance, a chrome-finished faucet fits better with classy and modern bathroom designs. Besides, they  are available in various colors, including black, nickel, brass, stainless steel, copper, bronze, or gold. 
3. Valve Construction
Every bathroom faucet has an inner valve installed, which controls the water coming through the sprouts. The quality and the inclusion of a washer determine its durability and reliability of a faucet. We feel that the best bathroom faucets are the ones that come with brass-base metal, brass, or corrosion-resistant workings. 
4. Washer And Washerless Faucets
Compression-valve faucets are the ones that work through a stem, which moves up and down to pass the water. These kinds of faucets are pretty common in older homes and the washer tends to wear out gradually to avoid the complete shutdown of the water flow. But once that happens, the faucets start to drip water. 
Washerless faucets, like ball faucets, have a rotating plastic or metal ball, which regulates the water intake. Besides, they reduce the likelihood of malfunction, as there's only a single moving part. Cartridge faucets, on the other hand, use rubber O-rings for controlling water flow. 
Likewise, ceramic disc faucets are maintenance-free and involve two ceramic discs that rotate in a shearing action to allow or block the water flow. 
5. Control Options
A wide range of control options is available in the bathroom faucets, which can be selected on the basis of your needs. These include cross handles, knobs, joystick, lever handles or push–buttons, controls. Along with that, you have touch-activated or touchless models. These would not need you to use knobs or handles for controlling temperature or water flow and works well for users having accessibility issues. 
6. Other Considerations
You can also explore other options in your bathroom faucets to make them look more beautiful and elegant. These can be decorative handle buttons, LED lights, integrated supply lines, or matching pop-up drains. 
Along with these, you can add water-efficient designs to your faucet. Although some models are already WaterSense certified, you can customize your choice for saving more water and in turn money. Having a quality faucet that fits perfectly with your needs and requirements will make your life a lot better.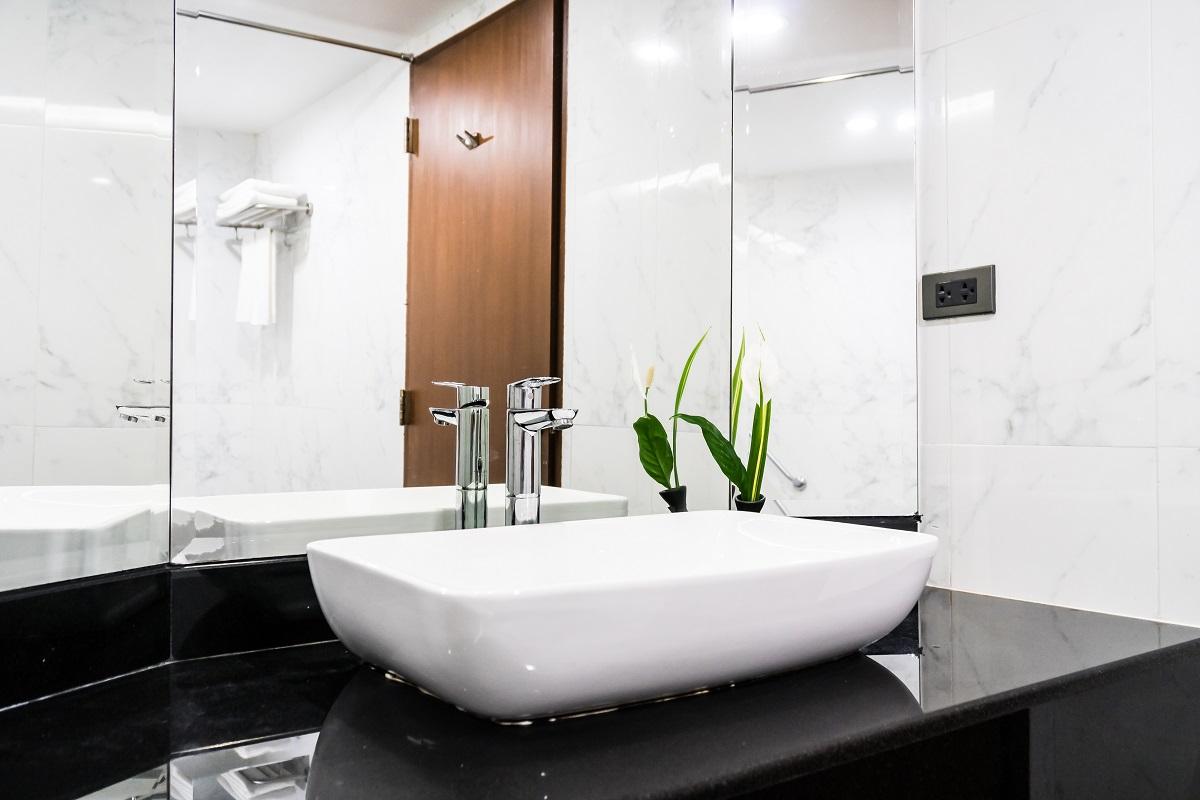 Bathroom Faucets Verdict
It is understandable that selecting the bathroom faucet from a huge collection can be a daunting task for you. We hope you have gone through the reviews and have gained a brief idea about what each of our recommendations have to offer. 
So, among the options mentioned, we think that the WOWOW deck mount is the best bathroom faucet if you want to give an elegant and classic look to your bathroom without missing out on functionality. 
You can also opt for the Phiestina bathroom sink faucet if you do not feel like calling a plumber for installation but still want to give a luxurious look to the bathroom. Ultimately it comes down to your needs and requirements. And remember that you will also need to look into your budget and bathroom décor for selecting an appropriate faucet. 
That's it from our side. Take care, and do not forget to tell us about your favorite from our list of options! 
Related Articles
66 Epic Wood in Bathroom Design Ideas to Realize
19 Double Vanity Bathrooms That Will Make Your Lives Easier
7 Things That You Have to Consider During Bathroom Renovations
The Graff Ametis Collection-Bathroom Contemporary Interior Design
11 Best Tankless Hot Water Heater
13 Best Commercial Kitchen Faucets
How Does A Touchless Faucet Work
How to Remove a Stuck Faucet Handle
10 Most Common Plumbing Problems & Issues and Tips How to Avoid Them