Red copper pans have emerged as vividly popular non-stick cookware options in the market today.
But there's an ongoing debate surrounding their credibility as safe and non-toxic cooking utensils. If you're among the population who are not sure if these copper pans are safe, you're in the right place.
After spending a lot of time getting to know more about this cookware, we've finally come to a definite and conclusive answer. Here's where we'll share our findings to help you gain insight on the topic.
In addition to that, we'll be providing a lot more information related to red copper pans. We'll also be sharing a few tips on using and maintaining them. These tips will help enhance their overall performance and longevity.
There's a lot in store for you. So, without further ado, let's dive right in, shall we?
Red Copper Pans | All You Need To Know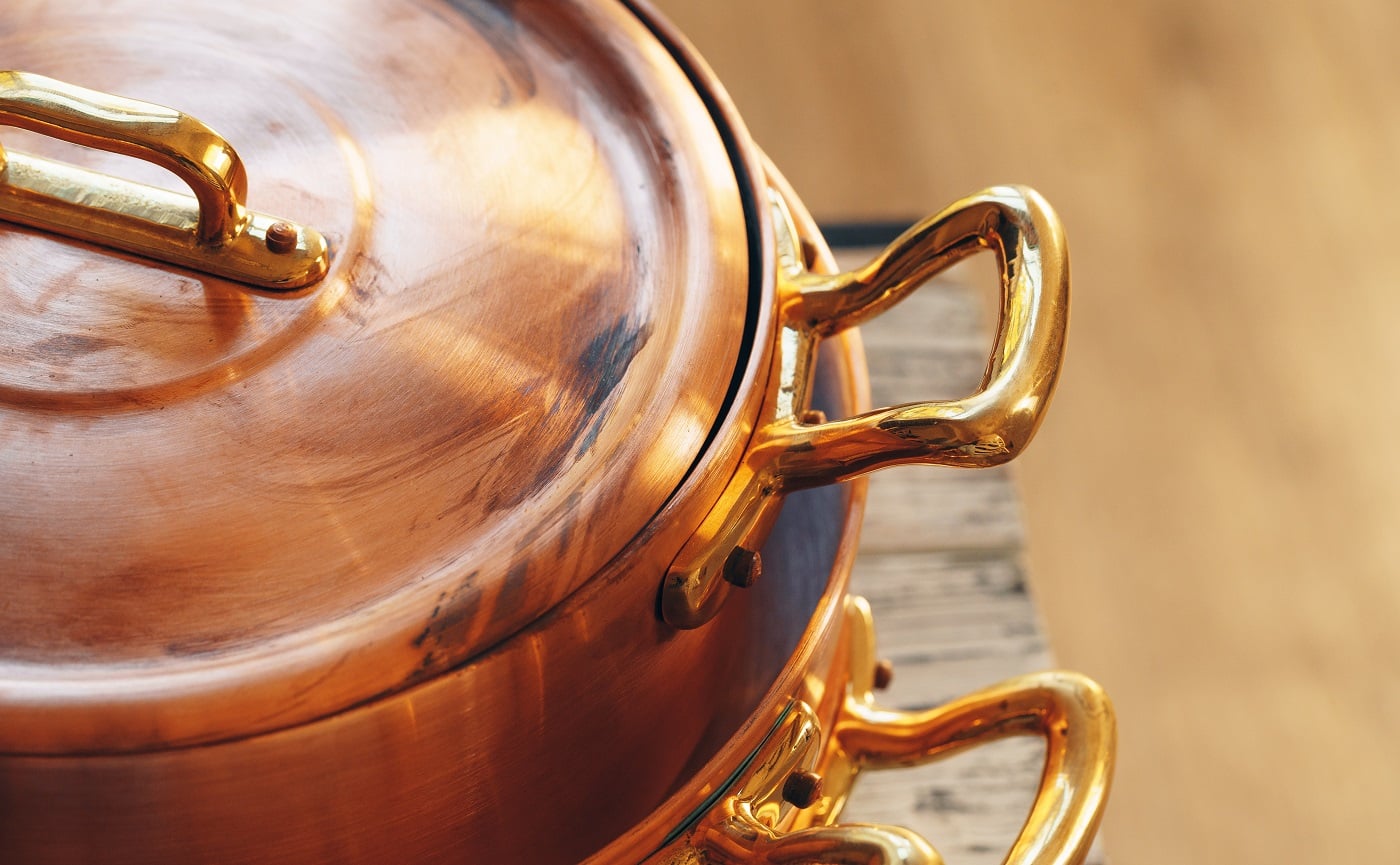 What Is A Red Copper Pan?
Before we dive into the details of the topic, we'd like to take a minute and introduce you to red copper pans. What are they, and are they any good?
Well, to put it simply, a red copper pan is basically a non-stick ceramic copper utensil, featuring a non-stick ceramic cooking surface and copper-infused design. It's made using premium-quality copper, so there's no doubt about its longevity. You'll also love its attractive design, which makes it stand out in any kitchen. 
Now, coming to this copper pan's performance, it's great in absorbing and evenly distributing heat throughout its surface. This helps ensure the perfect cooking results, while the ceramic layer prevents harmful substances from getting mixed with the food.
Are Red Copper Pans Toxic?
Now, it's time we answered the most important question, which forms the basis of our guide. So, are red copper pans toxic? The straightforward answer – no, they aren't.
This is because these pans are PFOA and PTFE-free, which means they don't really expose your family to toxic chemicals. And thanks to the ceramic cooking surface, there's no reaction that might corrode the pan no matter how acidic the food is.
In simple words, acidic foods fail to dissolve the exposed copper, so there won't be any risk of copper poisoning, aka Copperiedus. To sum up, red copper pans are safe, and we'll now provide a few more points to help validate our answer.
Free From Chemical Toxins
Copper generally has a tendency to leach into the food, especially while cooking an acidic meal. Now, this doesn't happen with copper bowls used to mix ingredients or whip egg whites into foam. But in the case of pans, the heat combines with the acidic mixture, causing the issue.
It's therefore natural to confuse these pans with pure copper cookware and assume them to be toxic. However, this is not true; red copper pans are made of copper and ceramic, so you get the benefits of both materials. 
Here, copper is only used to structure the frame of the cookware. At the same time, the ceramic non-stick coating at the bottom of the pan efficiently eliminates the possibility of copper getting involved with your cooked food.
Ceramic Cooking Surface
As mentioned earlier, red copper pans come with a ceramic cooking base where all the cooking is done. This is free from harmful chemicals, including PTFE and PFOA, that are generally released from copper after heating. It can also bear temperatures up to 500-degree Fahrenheit, ensuring quick and uniform cooking.
Teflon-Free Non-Stick Layer
Most pans feature Teflon coatings to prevent food from sticking to their surfaces. Now, although Teflon is a safe and stable compound, it starts breaking down at high temperatures, thereby releasing toxic chemicals into the air. Inhaling these fumes can lead to problems, such as polymer fume fever, which is also referred to as Teflon fever.
Luckily, red copper pans are Teflon-free, but that doesn't mean you have to worry about food getting stuck and burnt. They come with inner non-stick layers, which make the clean-up process convenient.
Additionally, you won't have to use much oil while cooking food. This makes them dependable cookware for health-conscious people that are ideal for everyday cooking.
Is There A Right Way To Use A Red Copper Pan?
You can use a red copper pan the same way you'd use any other conventional non-stick cooking pan. All you have to do is ensure that it's handled carefully. And avoid using spoons and spatulas that may scratch the surface.
That being said, you won't need to use a lot of oil to fry meat or vegetables in this pan. A little spray of oil would be sufficient to fry or sauté anything and everything you desire.
Just make sure you season the pan regularly to help make it scratch-proof and keep its non-stick properties intact and in the best working position. For this, you'll have to coat the entire interior with olive oil and bake it in the oven for around 30 minutes. Don't forget to repeat the process for at least six months to achieve effective results. 
How Do You Maintain A Red Copper Pan?
It goes without saying; red copper pans are safe to use. But in order for the cookware to function well and remain toxin-free, you'll have to keep them well-maintained. Now, all brands claim that their pans are dishwasher-safe, and quite rightly, they are. However, it's not always advisable to wash them in a dishwasher.
They have to be handled with care, and the best way to do this is by washing them by hand. In this section, we'll be providing a few tips to help you wash and maintain this copper pan easily without deteriorating its performance. Let's get going then.
Using Water And Baking Soda
The best way to wash a red copper pan is by using a mixture of water and baking soda. It will act as the perfect cleaning agent to remove all the leftovers, odor, oil, and grease from the cookware surface while saving it from damage. As such, you won't be exposing the pan to any acidic or chemical soaps.
Using a Non-Abrasive Scrubber
Next, we'd strongly advise you to use a non-abrasive scrubber instead of a steel scrubber as the latter might scratch the ceramic lining of the cookware. As a result, the lining will be quick to wear with time, exposing the copper, which might react with your food because of the heat.
The non-abrasive scrubber will help you gently clean all the parts of the pan without causing any damage to its surface.
Drying The Copper Pan
This may not seem like a crucial step, but if you ask us, it is. That said, remember to place your pan under running water and clean it thoroughly to remove any remaining debris. 
Once that's done, make sure you use a soft cloth to wipe its surface dry. Keeping it wet is not a good idea since the outer surface is made of copper, which is an oxidizing material.
Adding Lemon To The Soap Solution
This trick will work wonders if you wish to get rid of burnt grease and food from the pan. Add a suitable amount of lemon juice to the soap solution and then use it to clean the surface of the cookware. 
The acidic nature of the lemon will react with the food and oil particles to break them down. Consequently, they'll  become relatively easy to remove. This trick will also help in neutralizing the strong odor of burnt leftovers.
Other Useful Tips And Tricks
We've already explained the process of seasoning red copper pans using olive oil prior to this section. Besides this, there are a few other useful tips that can make your non-stick cookware last for more than five years. 
First things first, avoid using cooking sprays on it as they might leave a residue, which can be challenging or even almost impossible to remove. Secondly, if you are unable to wash the pan immediately after use for some reason, fill it with hot water. This will prevent the residue from drying.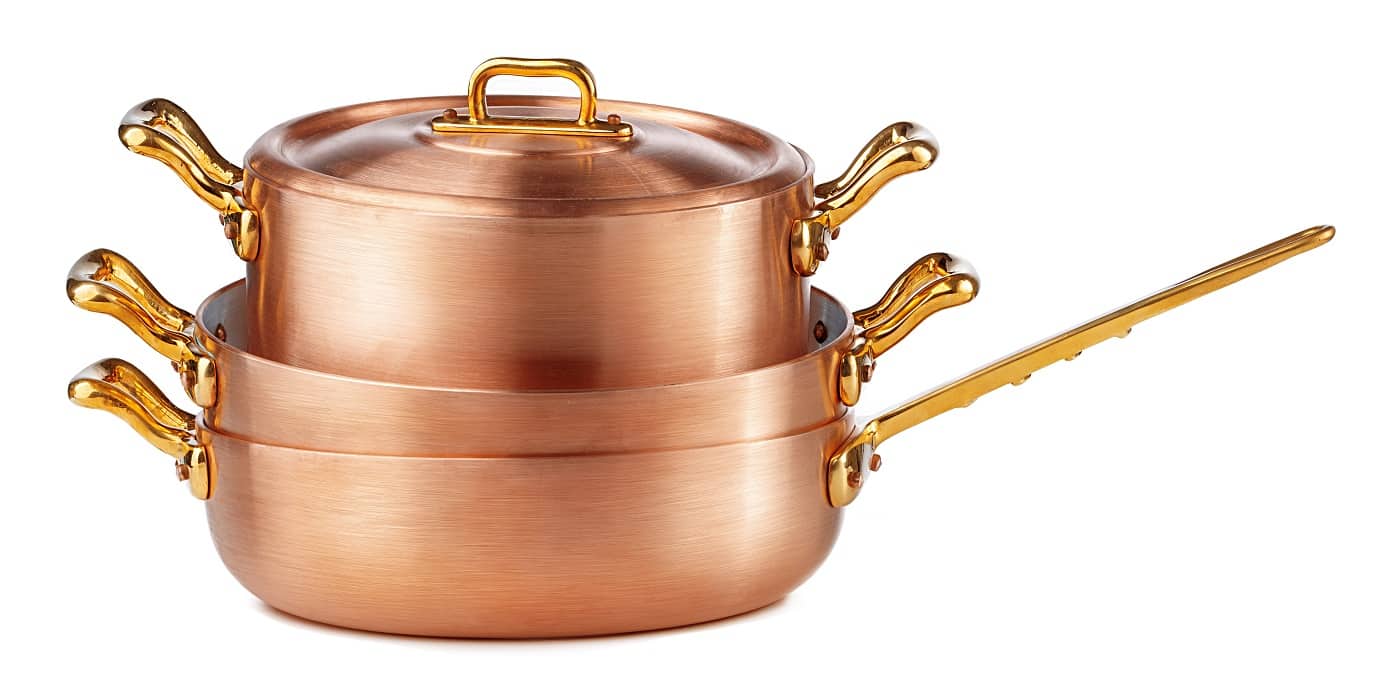 Final Words
That's all there is to know about red copper pans. So, if you are planning on buying one, don't hesitate as they are completely safe and non-toxic. You won't be compromising the safety of your family by exposing them to poisonous chemical fumes or copper-infused food.
In fact, they are also highly durable and can last for over five to six years with proper maintenance and care. Just make sure you're a bit more careful while choosing one for your kitchen.
This is because the market is flooded with a wide range of poorly-made copies posing as genuine products. And it's difficult to distinguish the fake and low-quality pans from the reliable units.
To minimize the chances of getting victimized by this, always look for copper pans from credible and reliable sources. On that note, allow us now to take your leave. 
Till next time, take care!
Related Articles
11 Best Nonstick Cookware Brands
13 Best Pastry Mat [Reviewed & Buyer's Guide]
9 Best Tamale Steamer [Reviewed & Buyer's Guide]
9 Best Chinese Cleaver [Reviewed & Buyer's Guide]
Ceramic vs. Stainless Steel Cookware 101 [All You Need to Know]
11 Best Chef Knife Bags Under the Microscope
13 Best Steak Knives Right Now
11 Best Electric Knife Sharpeners
How to Build a Hidden Cabinet Knife Drawer Safe For Children