Acrylic paints have been a favorite of artists for generations. They've been used for both personal and professional painting projects since the 20th century. 
These paints are easily available and have various uses. But we don't recommend acrylic paints for your skin as they are unsafe and might result in allergies or similar skin problems. 
But what if you're invited to a costume party, and have to dress up as a clown or a vampire? And, you are out of your high quality body paint. Should you then resort to using acrylic paints if nothing else is available? That's exactly what you'll be able to answer after reading this guide in detail! 
Do you know how long does acrylic paint last? Or what are the best types of paints for face and body art? We have answered both these questions in our articles respective to them. Check them out for more information on those topics. 
FUN FACT | Do you know acrylic paints are not like superglue, which are close to impossible to remove, and they can even stick metals together. Check out our article on superglue sticking two metal pieces and retaining them if gluing metal intrigued your curiosity.
So, let's get into it. 
Can You Put Acrylic Paint Directly On Your Face?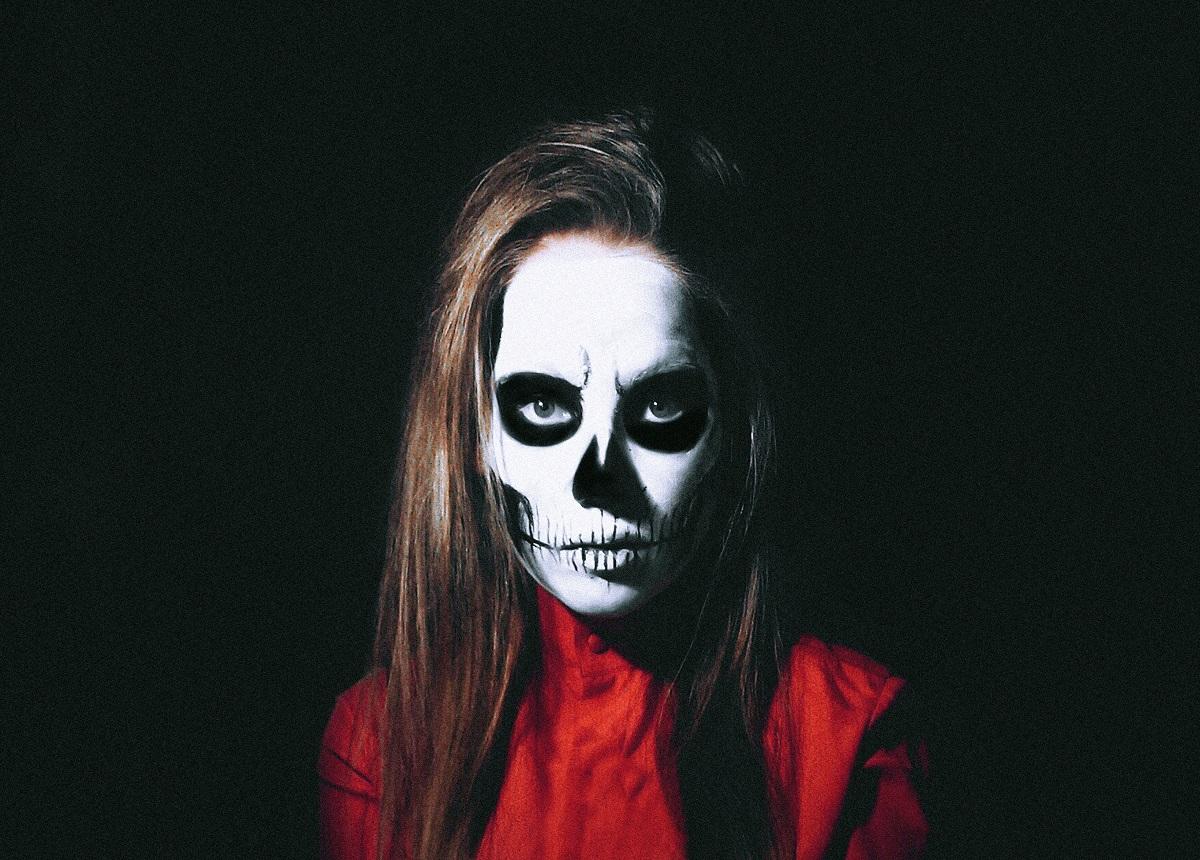 The answer to this question is a big NO! You shouldn't apply acrylic paint on the face because it might cause allergic reactions, irritation, and other skin problems. And in a world where skin ailments are rampant due to pollution, you definitely don't want to take that extra risk. 
Though most acrylic paints are non-toxic, their pigments are not safe for everyone's skin. Even if you get some acrylic paint on any other part of your skin other than the face, we recommend washing it off immediately. 
It's best to use dedicated face or body paints when you need to deck up in special colors. The reason for this is that acrylic paints stick to your skin and become non-washable once dry. Such dry paint can start to peel off the healthy skin cells and hair follicles from your face. 
That's why you should always use nitrile gloves when handling acrylic paints, and try to ensure it doesn't come into contact with any part of your face. 
Is Acrylic Paint Safe For The Skin?
Acrylic paints are not as bad for the skin as oil-based paints. But, you should never use acrylic paint directly on your skin as it can cause severe irritation and damage. And if you have sensitive skin, we suggest you stay away from acrylic paints with special care! 
If even after everything you want to (or have to) apply acrylic paint on your skin, please use water-based ones and always wear a face mask. After application, ensure it stays on for a short while and is removed as soon as possible before drying. 
Overall, acrylic paints are not made for the skin. Though they are versatile when it comes to using on the canvas, human skin is not a suitable base for them. 
Is Acrylic Paint Bad For The Environment?
Acrylic paints contain pigments that are non-biodegradable, thus making them harmful to nature. When not disposed of carefully, the metals present in these paints can cause health problems for plants and animals alike. 
However, some brands nowadays are manufacturing biodegradable acrylic paints that they claim are non-toxic. These paints have natural ingredients that help break down the paint into harmless components that don't harm the environment. 
Turning Acrylic Paint Into Face Paint
As we've already mentioned earlier in this article, applying acrylic paint directly to the face can cause severe skin damage. But, if you are dead set on using acrylic paint on your face, we would recommend taking the help of makeup artists who work as face painters. 
If hiring a makeup artist is not possible, you can use non-toxic acrylic paints to try and limit the damage to a minimum. We still suggest using high-quality face paint instead of acrylic if you need to apply it to facial regions. Another option is to mix moisturizers to dilute the paint and then apply it to the skin. 
What Paint Is Safe For The Skin?
Thankfully, there are many skin-friendly alternatives to acrylic paint that you can use on your face and body. The following list includes some acrylic alternatives that are safer for the human skin: 
1. Water-Based Paint
When it comes to face painting, water-based paints are the best option because they are gentle to the skin and include lesser VOCs. The only drawback of these paints is that they crack easily and hence might damage your facial art if you engage in vigorous movements. 
2. Metallic Body Paint
This type of body paint is usually non-toxic and gives the human body a shiny, metallic look. They are made from natural ingredients and are relatively safe, but the metallic pigments might be irritating to some people. 
3. Henna
Henna is a traditional body paint made from a natural plant dye and is one of the safest options on the market. This plant extract is suitable for adults as well as children, so anyone can use it without worrying about breaking out in rashes. 
This natural dye has been used for centuries in Asian culture, especially during celebrations. The stain of this paint stays on the skin for weeks without causing any irritation or allergy; and when it fades, it leaves a cool orangish tinge.. 
4. Latex Body Paint
Liquid latex body paint is popular among cosplayers and costume designers. It doesn't leave any residue behind as other body paints often do. But before applying latex body paint, ensure you're not allergic to latex and are not going to use this paint in extremely hot conditions. 
5. Body Painting Marker
This type of body paint is used to create non-permanent body art. Body painting markers are among the best skin-safe paints and are washable. But before buying a body painting marker, you should check the brand as not all of them are suitable for every part of the body. 
7. Alcohol-Based Paint
Next, we have alcohol-based body paints that are waterproof and used for special effects. These paints don't crack when dry, but they may rub off due to sweat. As these body paints have alcohol, they tend to dry faster. So be gentle while removing this paint because you don't want to irritate the skin by excess rubbing. 
8. Commercial Body Paint
This body paint is available in jars or spray bottles that some companies produce and are free of latex. Commercial body paints are among the safest body paints available on the market, but you should always perform a patch test before applying them to the skin.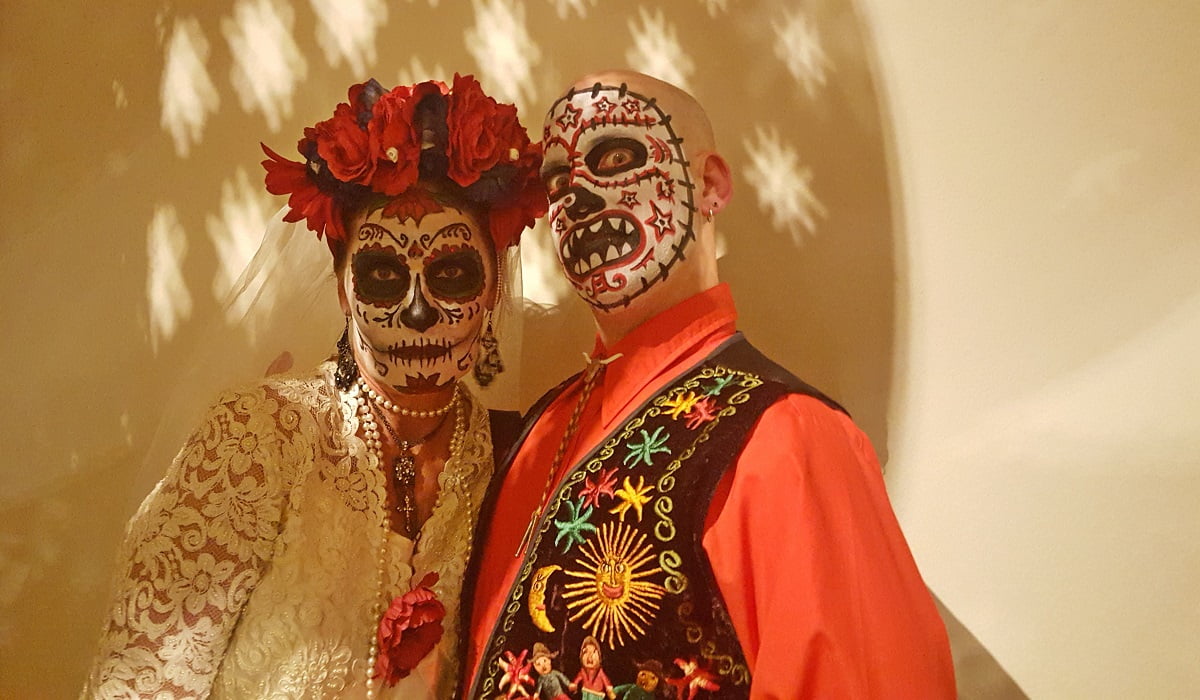 Choosing The Right Paint For Your Face
So, now you know which paints you can apply to the face and skin and which ones to avoid. However, still there are a fair number of options to choose from…and how can you do that? By keeping the following factors in mind when going through the choices available: 
1. Hypoallergenic Formulation
The first aspect you need to check when selecting body or face paints is whether they are hypoallergenic. The reason to look for hypoallergenic paints is that they suit even the most sensitive skins out there, thus making them a safe option. 
2. Paint Opacity
Many often overlook this factor, but face paints with high opacity are essential to make the colors stand out regardless of the skin tone. In addition, the opacity of the paint allows you to finish your work quickly as less buildup is required to achieve the desired look. 
3. Water-resistance
Always check whether the product can withstand water when purchasing face or body paint. If it does, the paint will stay in place even if you are sweating, getting a drink, or suffer an accidental spillage during a party. 
Can You Put Acrylic Paint On Your Hands?
Acrylic paints shouldn't be applied anywhere on the body, including your hands. In case your hands do come in contact with it, wash it off as soon as possible to avoid permanent skin damage. We've already mentioned that you need to use protective gloves when handling these paints. 
Step-By-Step Instructions For Face And Body Painting
Face and body painting might be required in many situations, especially for those who practice performing arts. The ideal course of action here would be to purchase hypoallergenic, water-resistant paint that's suitable for the human skin. This will guarantee that you'll not be putting yourself at the risk of skin infections or more harmful diseases. 
Once you've selected the right type of paint, you can get on with the makeup. Here's a list of a few simple steps you can follow to begin face and body painting. 
Step 1: Gather Your Tools
Before you begin, ensure that all your tools like brushes and sponges are ready at hand. You will also need a mirror, ample water, a spray bottle, damp cloth/ wet wipes, and of course, the paints which you're going to apply. 
Step 2: Prep The Skin
For the second step, cleanse your skin and pat it dry. After that, apply a moisturizer to hold the paint firmly to your skin. 
Step 3: Start Application
After preparing your skin, start applying the paint carefully. Always ensure to start with light colors and gradually move to darker tones. And be careful not to apply too much face paint at once, or it will dry fast without letting you blend it.
Step 4: Add Details (Optional)
The fourth step is entirely optional. If you want, you can add details like fairy wings, animal prints, butterflies, and many others based on the theme that you are going with. You can also take the help of reference pictures to create small objects on the face or the body.
How To Remove Acrylic Paint From Skin?
Acrylic paint is hard to remove. Unlike water-based paints, which come off quickly, getting rid of it is challenging. But that doesn't mean you must stay away from your favorite colors. Just follow this guide for removing acrylic paint from your skin:
Use soap and lukewarm water to remove the acrylic paint gently

Lightly scrape the paint off using your fingernails

Rinse thoroughly

Alternatively, you can use rubbing alcohol if the paint has dried on the skin
If the measures mentioned above fail to remove the acrylic paint off the skin, you can try peeling off the paint faster using vegetable oil, canola oil, olive oil, baby oil, or mayonnaise. 
Best Face & Body Paints
There are many washable, FDA-approved paints available on the market that you can use on your skin. Some of them are mentioned below:
1. Ben NYE MagiCakes
This is a lukewarm-water-activated face paint that you can easily apply with a wet sponge. It comes in various colors and even works on dark skin tones. This face paint is an excellent choice for heavy makeup and cosplays as it doesn't run or drip in extreme temperatures.
2. Snazaroo Classic Face & Body Paint
This one is a fantastic option as it comes in 18 ml resealable bottles, making the paints long-lasting. Not only that, these paints are cosmetic-grade and fragrance-free, which makes them suitable for even sensitive skin. Plus, the opaque colors make sure that you don't need to apply too much of it.
3. Neon Glow Blacklight Body Paint
This paint kit is perfect for glow-in-the-dark fun events and blacklight parties. The kit comes in six vibrant colors and is certified by the ASTMD-4236 as a safe and non-toxic paint for kids and adults. The paints are activated by UV light and emit a bright glow under blacklights.
The skin application of these colors is smooth and dries quickly. Plus, the colors are easy to remove with soap and water.
4. Assorted Face Painting Kits
You can also get a number of face painting kits that are available from various brands. These kits are meant for kids, and the paints are usually hypoallergenic and FDA-approved. This makes them safe for applying on the face and body.
These kits include a number of colors along with stencils, sponges, brushes, glitters, etc. Plus, the colors last for hours on the skin without making you feel uncomfortable. And you can easily remove the paint using a wet cloth or baby wipes.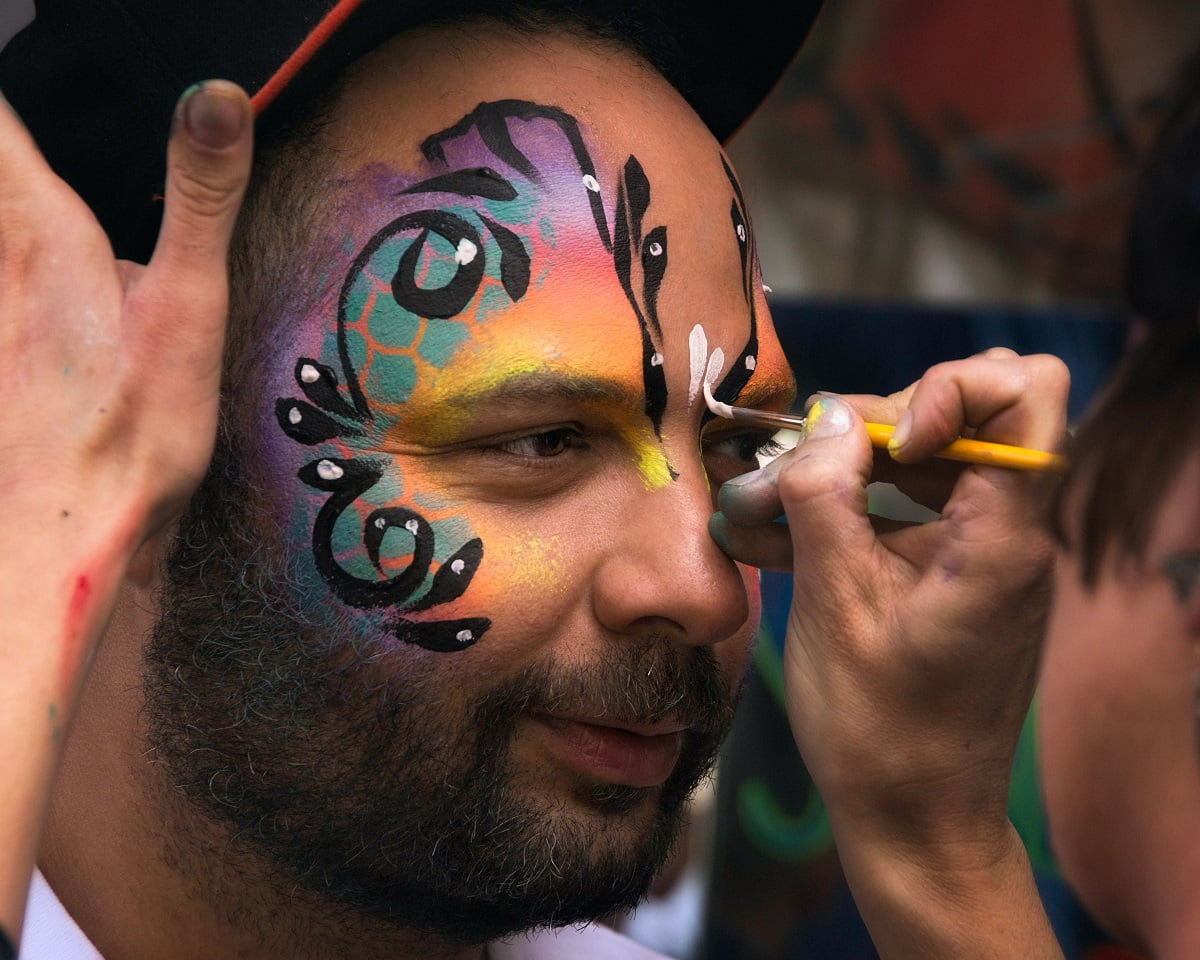 Acrylic Face Paint Final Thoughts
We have finally  come to the end of this extensive guide, and we hope we were able to throw some light on this much-debated topic. Our suggestion would be to avoid using acrylic paint anywhere on the body, even if it's water-based or non-toxic acrylic paint. Instead, use FDA-approved paints manufactured explicitly for human skin application.
If you must apply acrylic paint on your body or face, don't keep the paint on for a long duration. Also, please stick to reputable brands that don't use harmful or allergic ingredients in their colors. This way, you'll be as safe as you can be.
So, that's all from us. If you found our guide helpful, please share it with your friends and family. And do remember to maintain all safety precautions when using body or face paints!