So, for all of us who have offered ourselves up to the all-consuming and hauntingly beautiful power of the "art realm," DeviantArt stands to be the sacred online portal for accessing limitless creativity.
It not only lets us share our artwork with the rest of the world but also helps us get in touch with esteemed art figures residing in every corner of the world.
However, for those of you who are really looking for equally awe-inspiring alternatives to the site, we do have pretty good news for you!
Because, in the following extensive read, we are bringing you a list of some marvelous alternative art sites to DeviantArt that's going to blow your mind right away to the land of spectacular creativity!
Each of these is unquestionably as brilliant as the other and as cool as DeviantArt itself, opening up not only an inspirational art ground for you but a platform at which you could let your creativity run wild, learn from others and better your art!
So, just keep on reading to know more!     
Alternatives to DeviantArt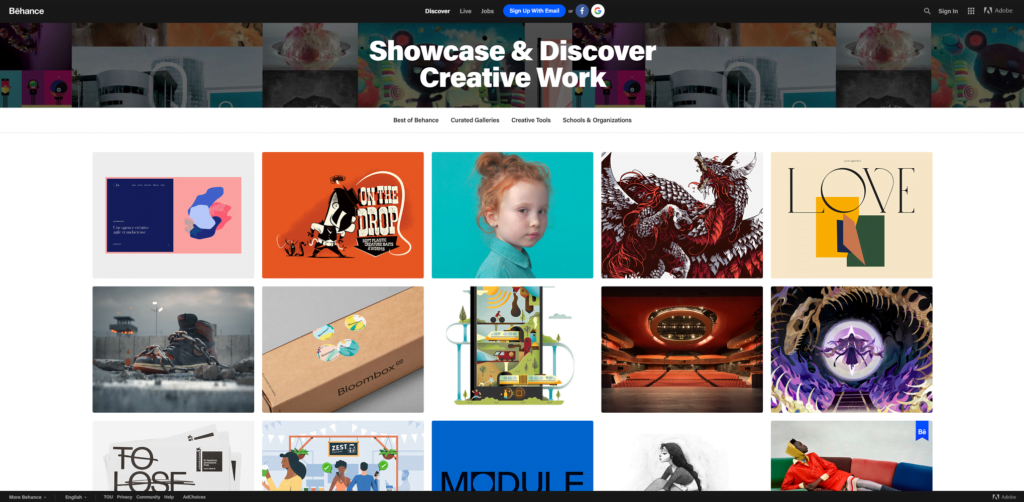 Behance is a portal that helps you find incredible creative work and to showcase your own projects, both digital and traditional. This is actually an essential part of the Adobe family which is used by millions of users worldwide for uploading their artwork. This somewhat works like Pinterest that provide you with contextual analyses, a ginormous range of varied redesigns.
Very similar to what DeviantArt offers, Behance opens up a vast online community of artists for you to be a part of. Thanks to the availability of apps such as Photoshop and Illustrator, you could easily share your "work in progress"es with just a few clicks with everyone out there, thus giving you a wide scope of getting noticed!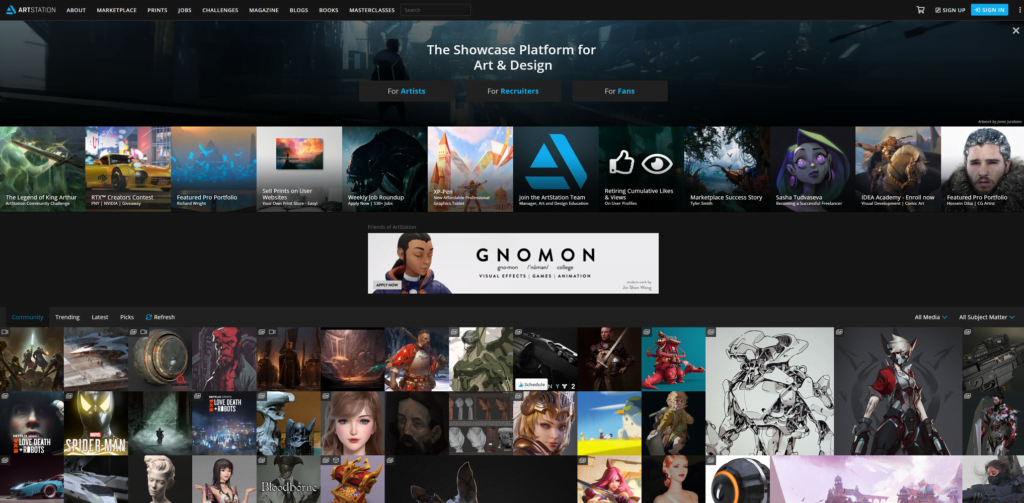 If you're looking for an online portal that fundamentally focuses on digital 3D or 2D media, then you should check out ArtStation by all means. This is a fantastic online community for everyone who is searching for a platform celebrating traditional art forms, producing limitless results for millions of ardent followers of DeviantArt.
ArtStation provides you with the scope of searching and filtering through their incredible database of unbelievably amazing paintings and sketches, that will inspire you to no end!
Also, for all who are looking for a portal that's not stacked up with A-rated images will absolutely admire the subtle "mature content" warnings which makes it comfortable for you to check them out anywhere you want.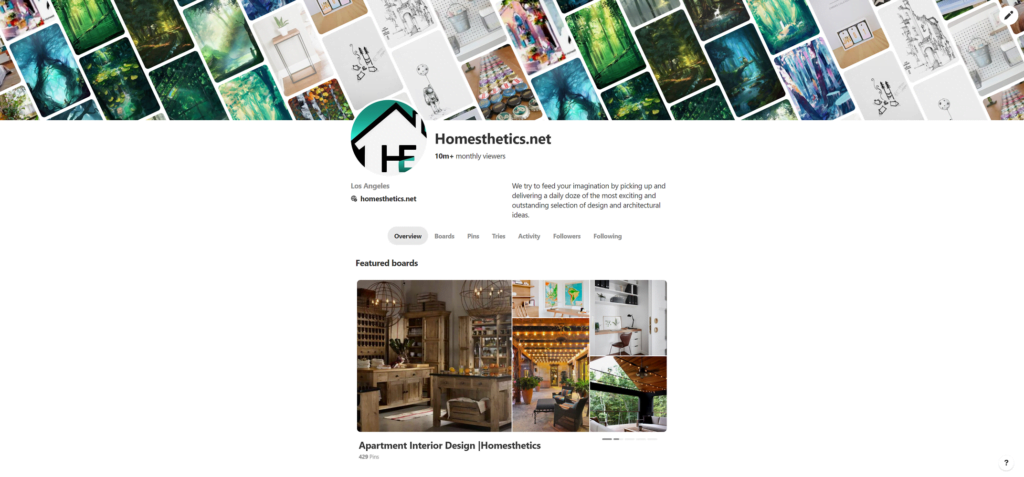 Although Pinterest is not a specified portal for art, it can still be one of the most powerful platforms for promoting your artwork to an enormous user base. If you manage your a personal art website, any social platform or an Etsy store, Pinterest can be just what you need to get noticed.
Apart from promotion and an incredible gallery that enchants and inspires all, you could even get incredible new ideas, tips, tricks and techniques and several amazing guides to help you with your work.
Pinterest really has a unique way of sharing contents and is also the official application from the famous informal community of the same name. You can easily create your personal board on the portal and add to its incredible database.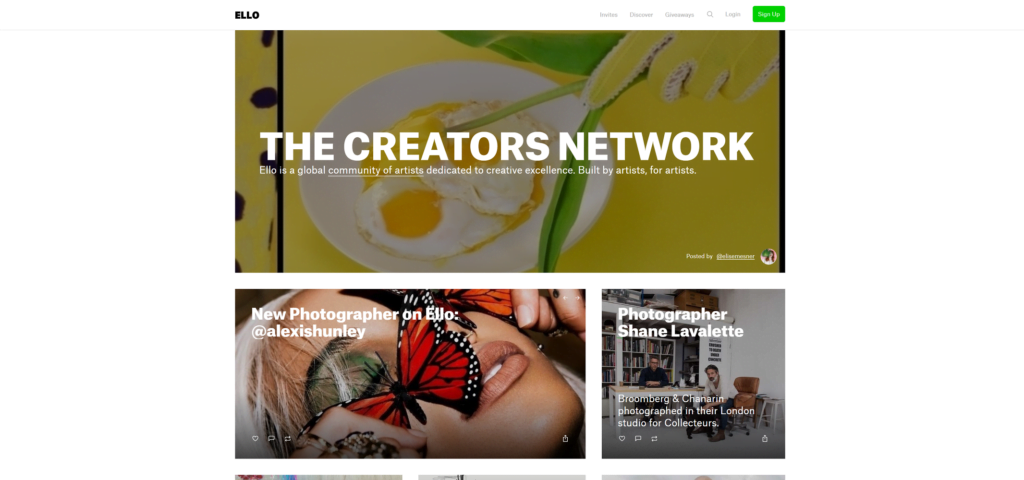 Hailed as the "The Creators Network," Ello.co really is a winning platform for online art communities. This has 37 categories which allow you to follow anything and everything from traditional 2D art to "Skate" photography or textile-work such as embroideries, quilting, etc.
You can comment, like or repost the posts of other artists and they can do the same with your posts as well. A significant feature of this site is that it allows you to buy or sell artwork.
But, the greatest feature of it is that if you're listing a painting or a sketch, the site lets you link directly to your site so that you don't have to share any of the sales with even Ello itself.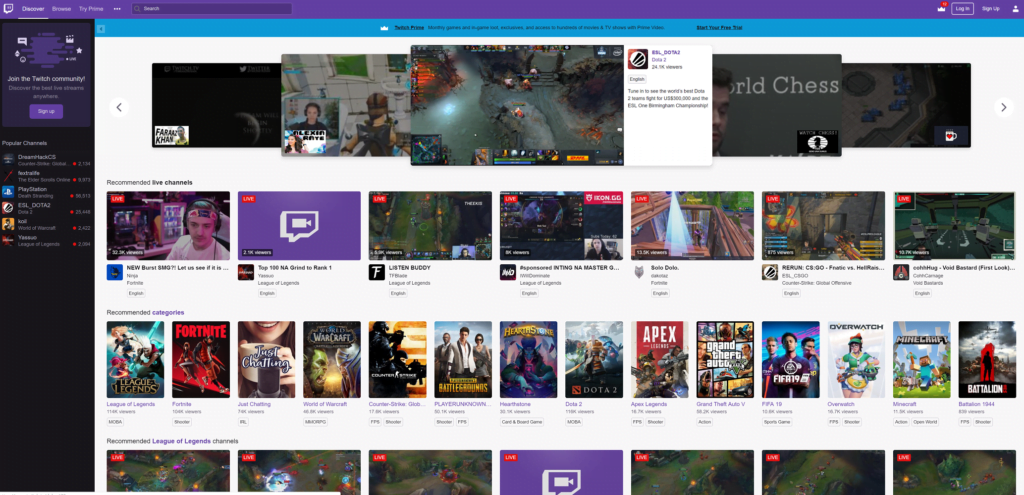 Although Twitch might not be the thing for followers of the DeviantArt, the creative section of this portal does help enormously if you want to sit before the camera for a substantial part of the time and see how other artists are creating their stuff.
There is no dearth of either digital or traditional artists on this portal with an equally good art creative content. Even though it can be a bit tricky navigating through this to find the right locations for art, this is a promising area for inspiring art tutorials and other things.

This is a site similar to Pinterest where the format is designed like conversing sheets that speak to "trees." The site lets you to actually search through these different trees which are actually storehouses of various recordings, links, connections, and objects identified with an intrigue or a common point.
Pearltrees controls the calculations for these administrations by depending on the data that it can acquire from an enormous amount of records and bookmarks that its clients possess.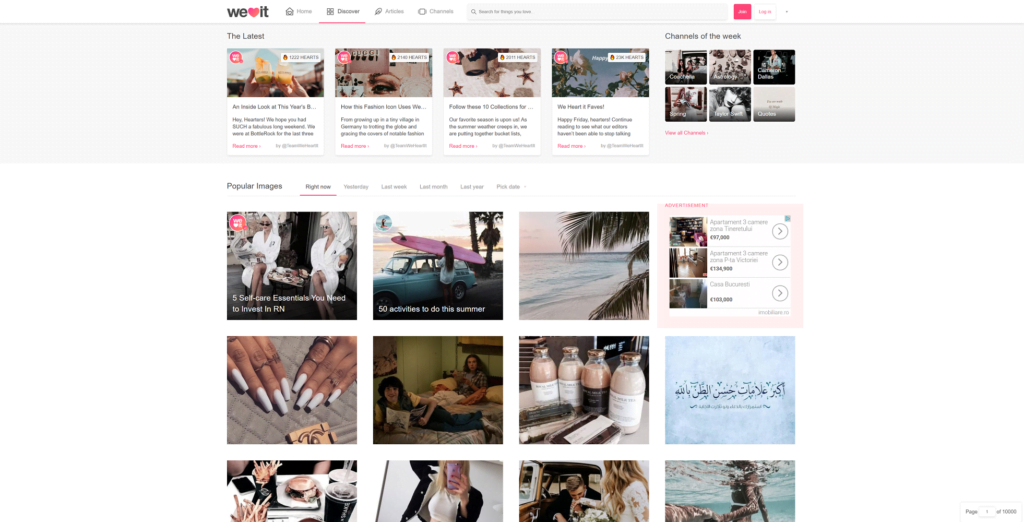 We Heart It is one such application that allows you to discover pictures of all the subjects that you have liked the most and also spare them later in your records, known as mists, on your Android devices.
This works similar to Pinterest where you can share locales and posts. You can also pick the marks that appeal to you the most and help you find all the pictures that are transferred by different clients who have these names.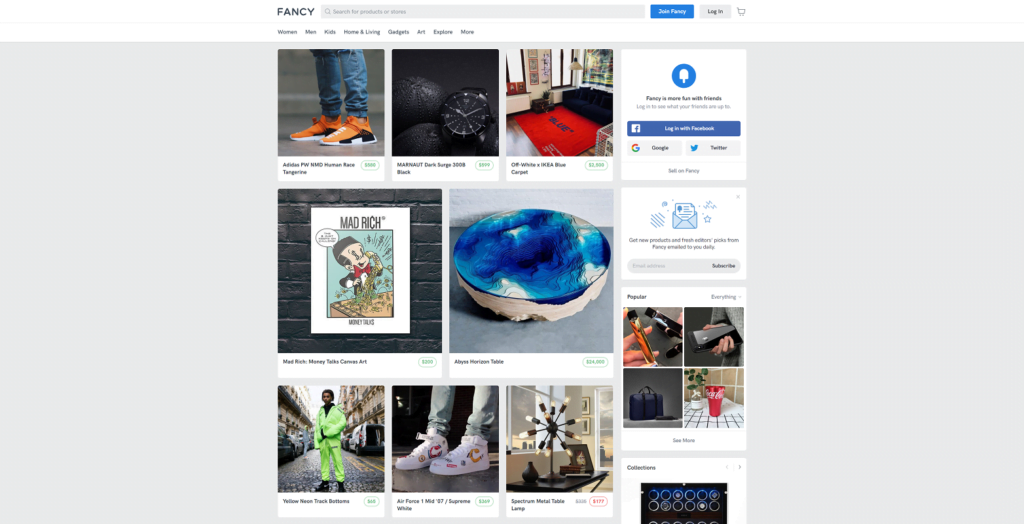 The Fancy app is one which allows you to discover brilliant new things that lets you spare in a rundown of top picks or by using the application. It consists of an ideal informal community for art enthusiasts, dealing extensively in outlines and styles.
The interface to this integrates a magazine, a site and an accumulated database that lets you create an exhibition hall with your personal style. All in all, a good place for DeviantArt followers to be at for creating their own design layouts for the world to see.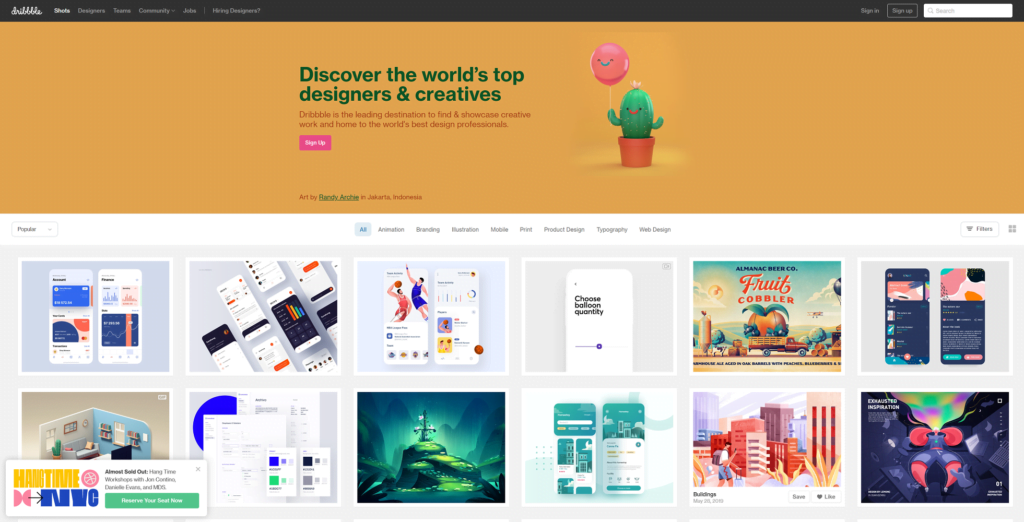 This is one app that is focussed entirely around the creativity. This is a very beneficial platform for artists who are searching for inspiration for an upcoming project in the near future. This has some of the exact key features as that of Behance and is an ideal portal for digital artists, helping them to share clips and stills of their projects, acquiring a follower base and several other things.
Dribbble allows artists access to an enormous marketplace where they can share their digital projects with the world. The active job-board on the portal gets regularly updated creating new opportunities. The local meetup board of the app helps you find and connect with fellow artists every day!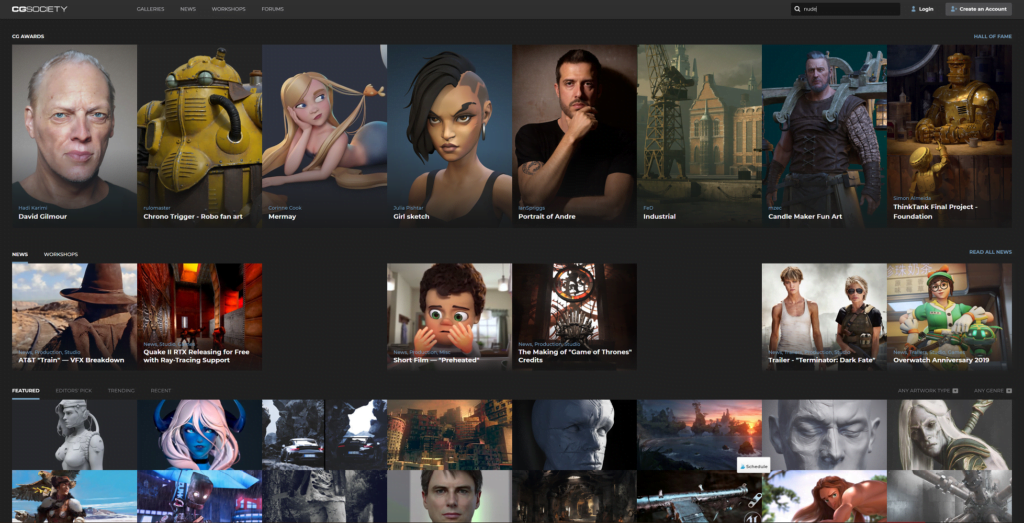 When we're mentioning CGSociety, all followers and ardent fans of DeviantArt will know exactly what we're talking about. The category for digital art on CGSociety is unquestionably one to die for!
A fabulous blend of Behance and ArtStation, CGSociety is a spectacular arena to display your latest works, which also gives you the opportunity to watch some of the most incredible tutorials by esteemed artists at their CGS-TV section!
And if you want to look for traditional artists, you'd be happy to know that there is no lack of marvelous artists on the portal. You have a high chance of coming across them while filtering by broad tags such as watercolors, acrylics or oil painting where you can see some stunning results from its members.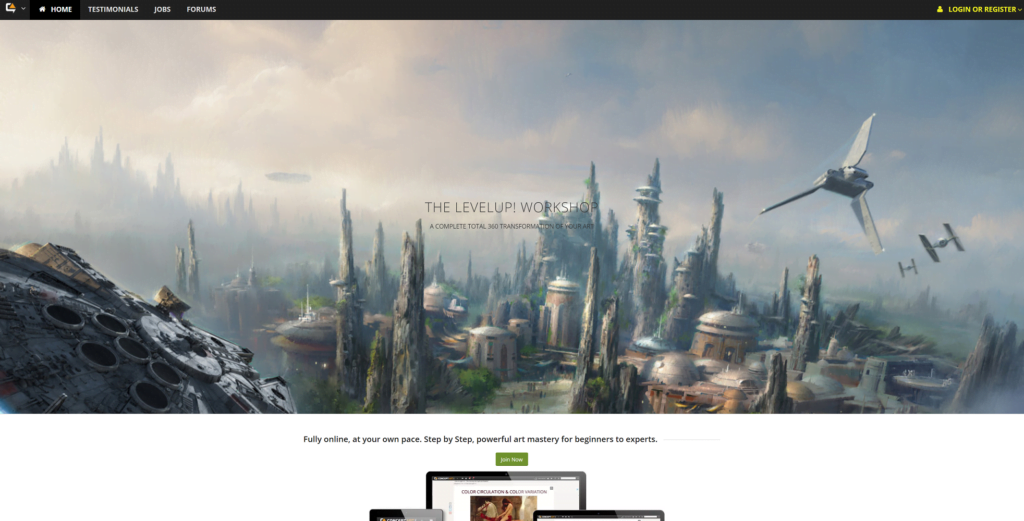 The portal of ConceptArt is a part an online art session and part a string online art forum that is formed of one of the most incredible and diehard art communities outside that of DeviantArt itself!
It is mainly known as a solid platform for digital artists but doesn't lack even in a bit on the vital information and varied discussion on a wide range of topics by famous artists all over the world.
These may include anything from sketchbooks to precious critiques of art. And similar to DeviantArt, ConceptArt also features a substantial job board that displays posts from esteemed studios and galleries.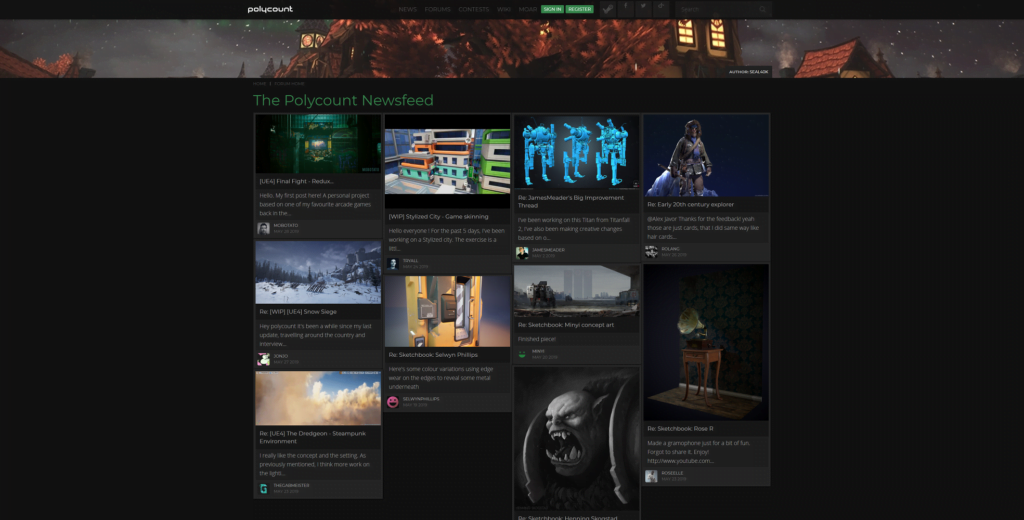 For all who are looking to engage in discussions with fellow artists outside of a forum like DeviantArt will admire the amiability of Polycount's user interface. Similar to ConceptArt, this "forum-centric" portal makes for an ideal chatting space for artists in both 2D and 3D categories.
One of the highly sought-after features in this regard is the Technical Talk section that helps you vastly in your projects. Also, apart from the usual critiques and discussions, Polycount holds contests frequently.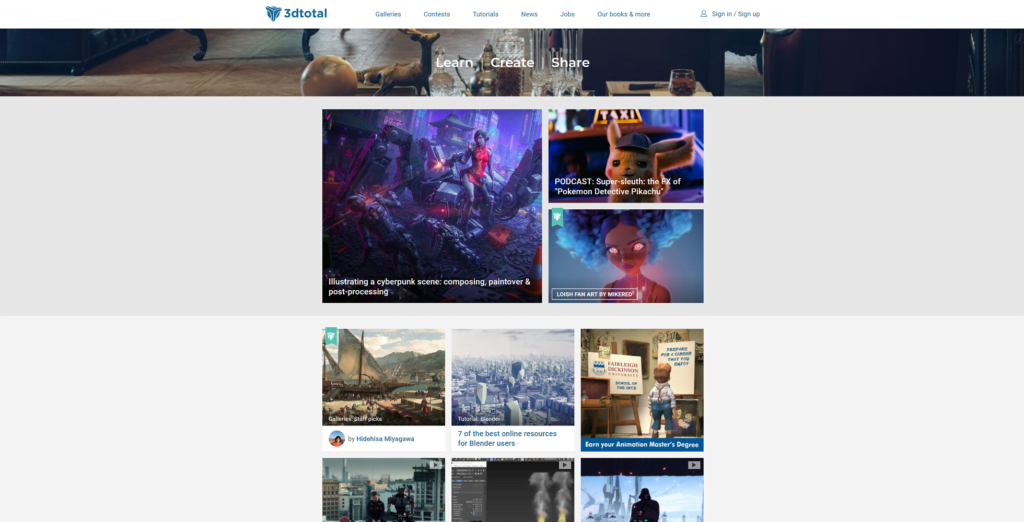 3D Total is another strong site that helps you to showcase your digital artwork to a huge user base. The website is perfect for increasing and learning up on art using reference guides through sketching tool, magazines, anatomy figures and so much more!
A unique and cool feature of this portal is that it comes with an unbelievable amount of free textures and tutorials which are actually more structured and cohesive than Youtube!
Hence, this is an awesome portal for everyone who is looking to learn up on or sharpen their skills at ZBrush, 3Ds Max, Maya, and other famous tools.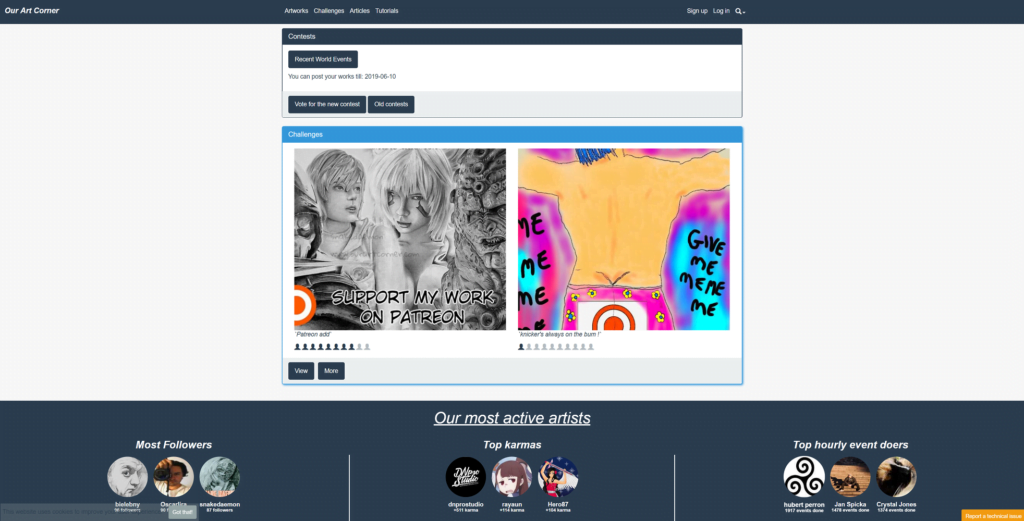 Our Art Corner is basically a critique site and an art challenge forum. This has a greatly minimalist layout, and the community over here is divided into two major sections-one focussing on the artwork part and the other on the challenge section.However, this is another platform that works incredibly well in helping you share your projects with the world art community.
What happens in the challenge section is that it selects two random artists on a weekly basis who are then required to compete with each other. Finally, the community decided the winner. The portal also holds "Group Battles" where groups face-off with one another.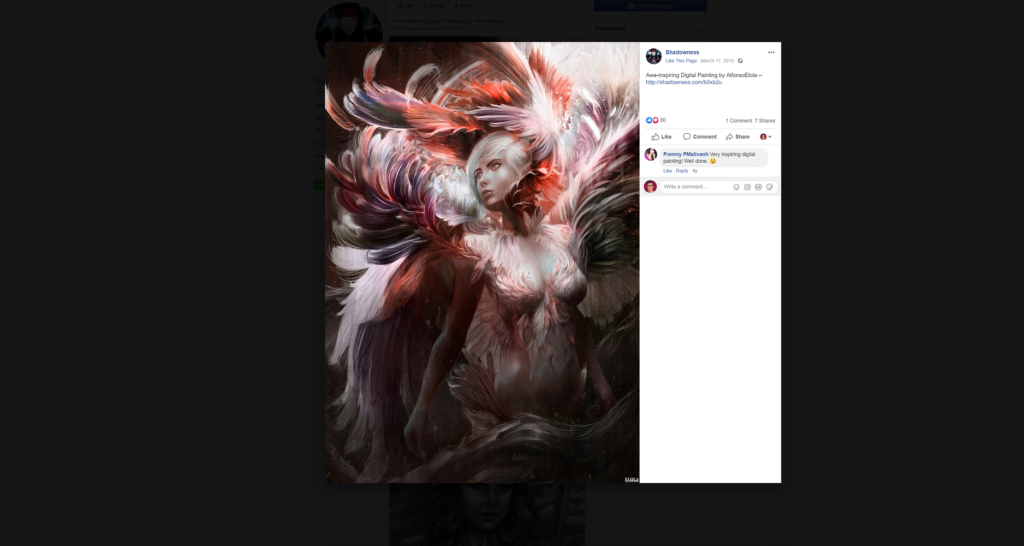 This was initially started out by Meng To as personal art project more than a decade ago. The portal is now a home of an art community consisting of more than 50,000 designers and artists along with numerous interested web surfers and viewers.
Shadowness seeks to bring skilled artists from all over the world in close contact with each other, helping them to connect and share their spectacular artwork through itself.
To get onboard it, all you have to do is create and upload your portfolio and an interesting persona that you want to reflect and portray and make a cool new customized theme to go with.
You can earn experience points and several other benefits as you start contributing to the site. You can also join groups and follow strings of interesting topics or discussions and even share them on social media portals.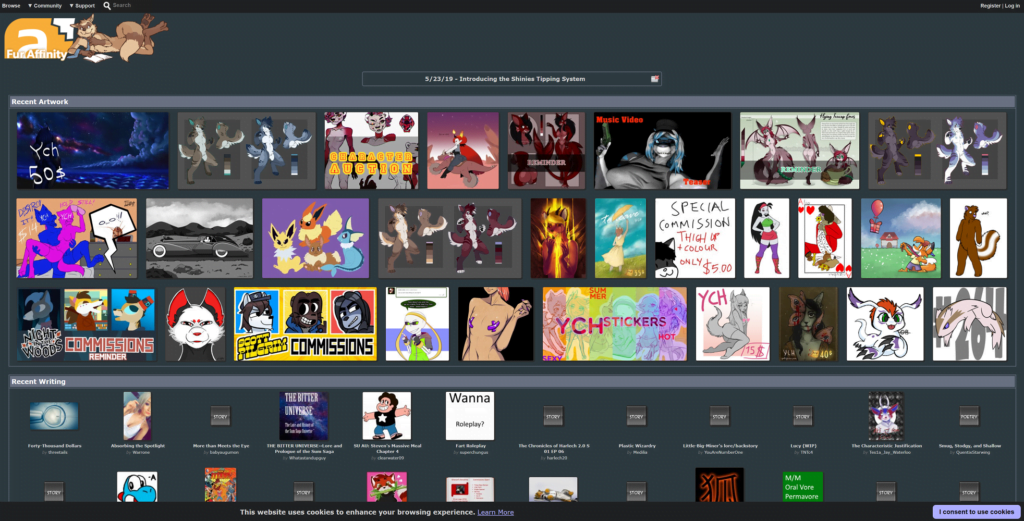 This is a favorite art website of the followers of DeviantArt that fundamentally concentrates on creative anthropomorphic expressions and themes. It allows you to share your projects and individual creative talents with the rest of the world and follow all your favorite artists through comments, faves, and watches.
And even though the site has been developed essentially for anthropomorphic or cute "furry" depictions, it does accept any sort of thematic artwork. So you could get creative without any fear of inhibitions or restrictions whatsoever!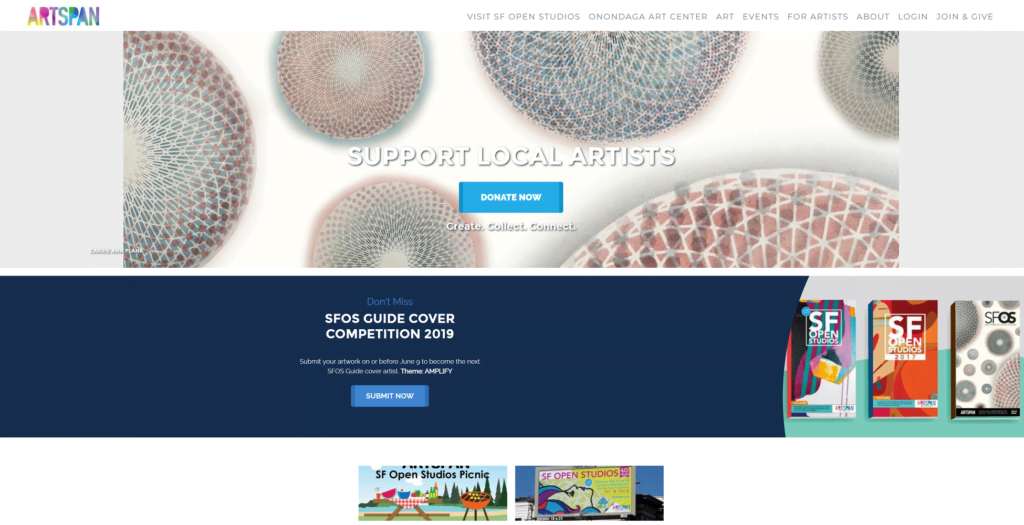 Artspan made its grand entry into the virtual realm in the year 1999 and since then has successfully established itself as one of the most reliable "contemporary art destination" that caters to artists, artisans, and photographs from all over the world.
Each member on the site has got their own domain name and site that you can acquire via the browser search window. You could hit the keywords on the site for carrying out "category searches" that helps you to get to your required location easily.
It lets all connoisseurs of contemporary art to get to their destination smoothly through searches that could be conducted alphabetical or category-wise, or through subcategory directories.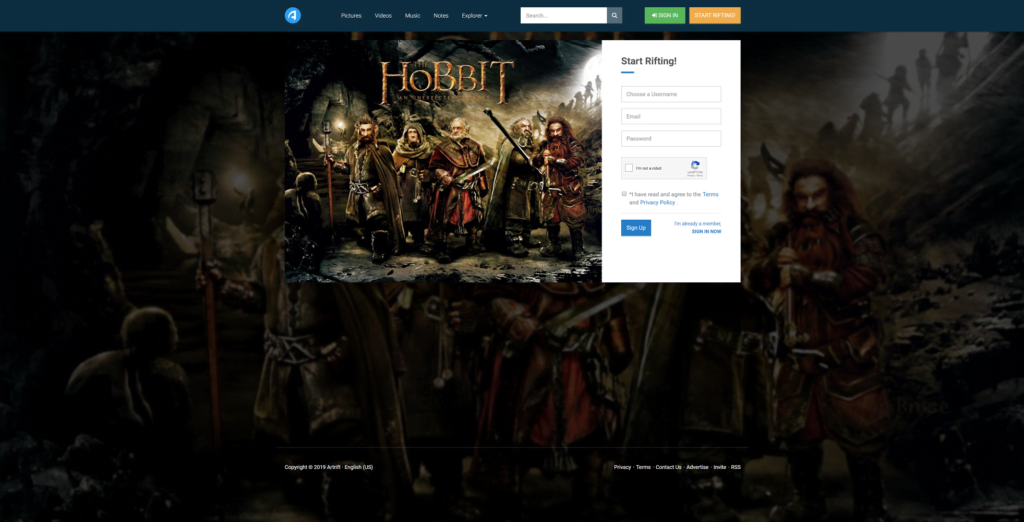 Artrift is basically an online art community that is specifically made for all traditional artists and animators. The virtual platform of Artrift lets you discover and scout and the multifaceted dimensions and the limitless range of artwork and sheer creative magic exhibited by numerous artists from all corners of the world.
This is a great portal that lets you get noticed and discovered by several esteemed figures as well at Artrift. According to what the creator and developer of the site had to say, this digital art portal that was created to motivate and inspire artists all over the world has been successful enough to help people find their individual niche in the field of art.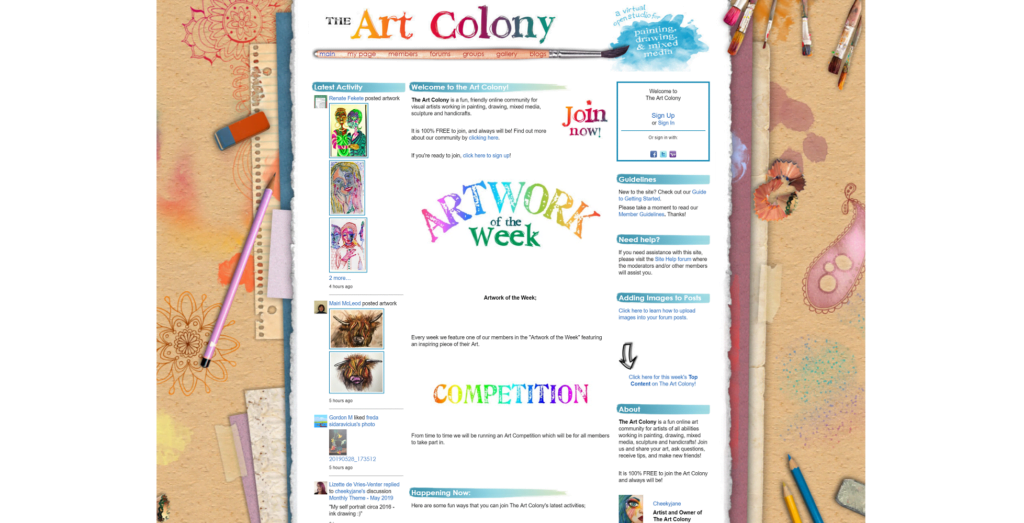 Art Colony is a well-recognized "virtual open studio" for various kinds of mixed media projects that majorly include painting and sketching. It's an awesome art community which allows artists of all levels of skills, knowledge, and experiences to put up their creative pieces and techniques for the rest of the members to learn from.
They can themselves learn immensely by asking questions through these platforms and by befriending fellow artists with similar tastes in art. The virtual space at Art Colony was created especially for the fellow artists to chat about art and to connect to each other.
You can attach your sketches and paintings to your profile by selecting the "My Artwork" option, and you can even share your artistic ideas through blog posts.
Fanart Central that is also known as FAC is an easily accessible art destination that lets you exhibit your creative work and discuss more about art with numerous other artists with similar tastes to that of yours through its comments section.
It supports and celebrates general fanarts as well as other creative items. The portals offer a wide range of art options that also include video games, cartoons, movies and anime, and manga and many more!
There are also separate columns created for original and traditional artwork aswell, such as furries and fantasy.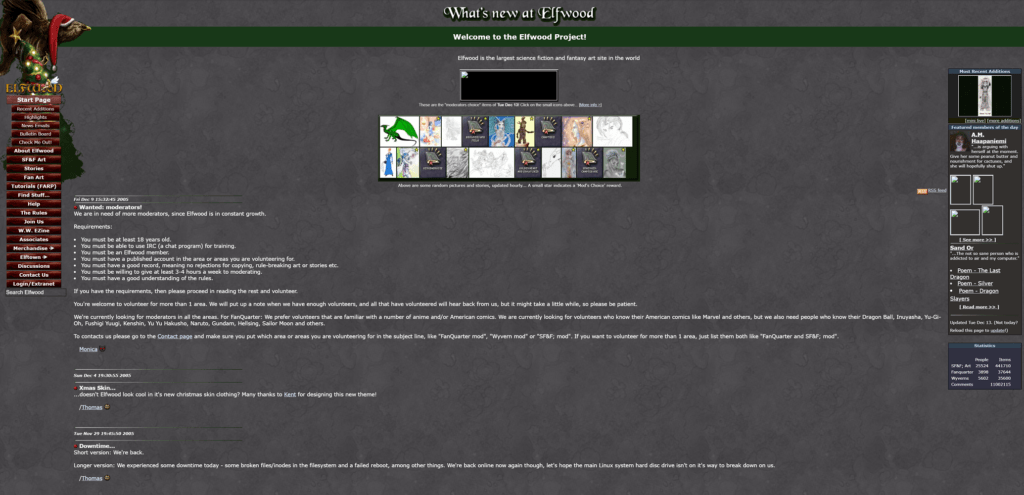 If you love drawing elves, dragons, mythical beasts, fairies or other similar elements of fantasy, then Elfwood is just the perfect art destination for you! Over here you can exhibit all your awesome fantasy or sci-fi artwork for the world to see.
This allows you to share your artwork and projects with the other members on the site as well, helping you learn from others and even find other artists.
This was actually launched in 1 May 1996 by Thomas Abrahamsso and stood as worthy contender to the DeviantArt portal till 2016 when it sadly shut down, it provided easy access to a world of incredibly talented and inspiring artists that shared their art worldwide.
We include it because this website was simply legendary, today it can be accessed partially via websites archives.
Pixiv is, hands-down, one of the most incredible online art community that there is, maintaining a strong hold on every DeviantArt follower's heart. This is a Japanese site that can absolutely overwhelm you with its content. You can easily search for famous works through its "search bar-centric" layout that works like Google.
The site is also bilingual-friendly that gives you both English and Japanese(katakana) translations of the word you want to search for. It gives you a vast range of results for every word searched in either language with each one being more spectacular and awesome than the previous one.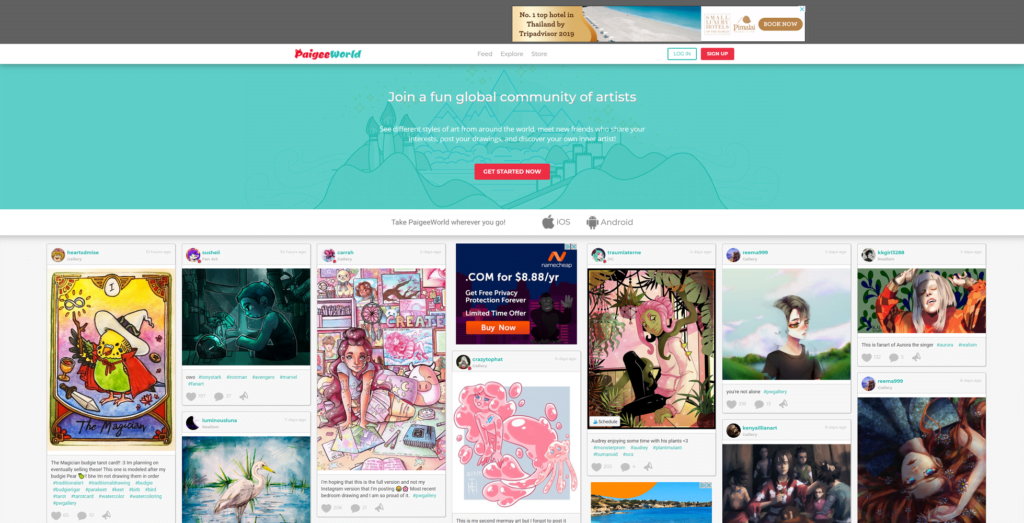 This is more of an obscure site that is primarily focused on artwork inspired by Japanese style and design. Although this may give you a few "eyebrow"-raising results, it is certainly more liberal and unrestricted in its content. This makes it one of the apt alternatives to DeviantArt.
Filtering out art-projects and famous artworks are quite easy on this site as it works quite similar to what you might see on Pinterest and other forums. It also comes with a #hashtag support attribute along with other features of our familiar social media platforms that enables you to like or comment on your favorite posts, as well as find and follow your favorite artists.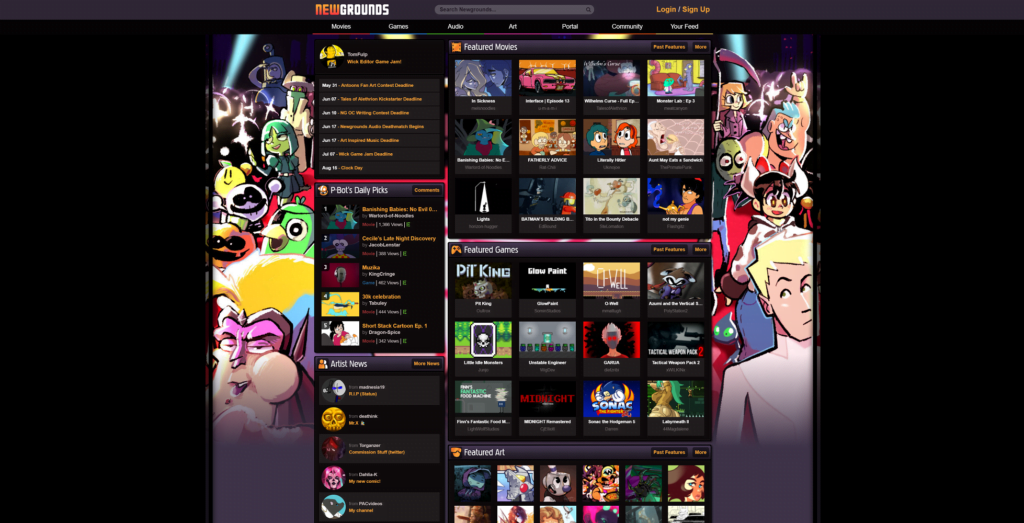 NewGrounds is an enormous art site that features fanarts including games, audio, movies and an actually limitless range of astonishing artwork that makes it in an appropriate alternative for all DeviantArt fans.
Boasting over a metric ton of artwork, the site is perfect for all who wants search for, discover and explore a plethora of new and brilliant things. The "Art" section on NewGrounds will open up a huge arena of 3D art, fine art, illustrations, pixel-work and much more for you!
Whereas, in the active "Community" section you can learn up immensely on fantastic tips and techniques by engaging in conversations with fellow artists from all around the globe.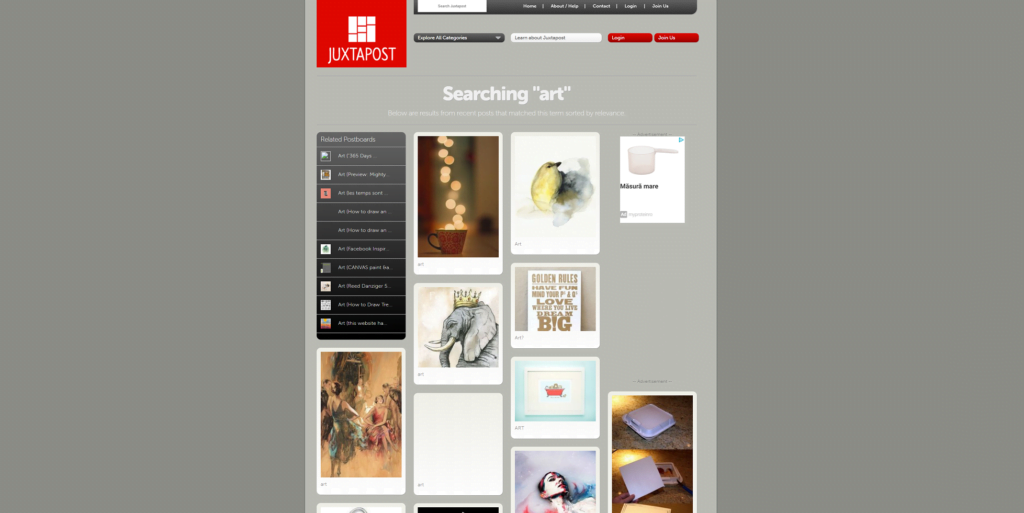 The jack of all trades, Juxtapost has everybody's favorites- from apparel to arts and crafts along with an abundance of DIY projects from the field of education, pet care, product creation, design idea and a lot more. An amazing aspect of this website is that you can save all the things that you browse the web, share every fashion, design and art ideas with other acquaintances. And although Juxtapost might seem like a Pinterest knockoff at first, it can indeed offer a lot to every user.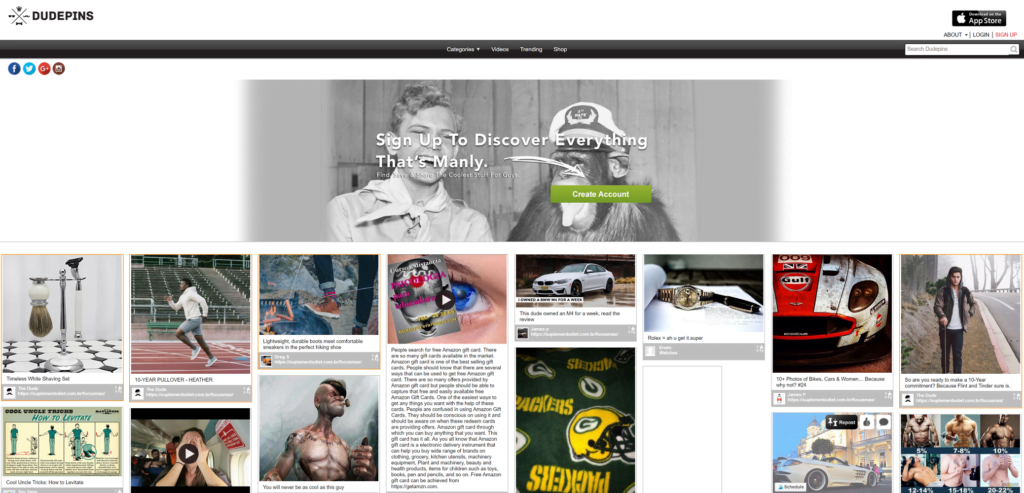 For many years now Dudepins has been exclusively a male-friendly platform that has a loyal women fan-base . A consensus made in the February of 2012 proclaimed that almost 80% of the Dudepins user base consisted of women.
And it wasn't all that surprising really when you looked at the featured content. But Colin Brown and Kamil Szybalski wanted to change all of that by inventing Dudepins, a startup, that shared art and other contents which engaged the masculine gender more.
Dudepins is incredibly easy to use and houses a lot of fantastic features which anyone can effortlessly get a hang of.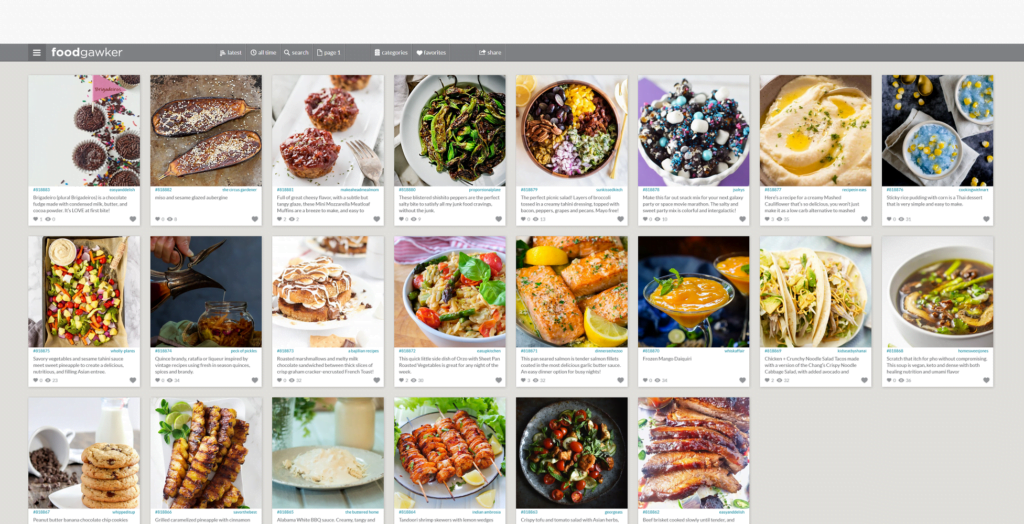 Artistic aspirations have a lot to do with visual discovery as well, and this is exactly what FoodGawker deals with. However, in terms of art, FoodGawker is a bit different from the other sites, as it deals more with foods that are visually appealing.
The site hosts a lot of recipes as well, along with detailed information about how the food was made to be so artistically pleasing on the dish. You can also submit your own recipes and techniques with a wider user base, you can display the pictures on your website showcase, but they will need to be reviewed by the editors first.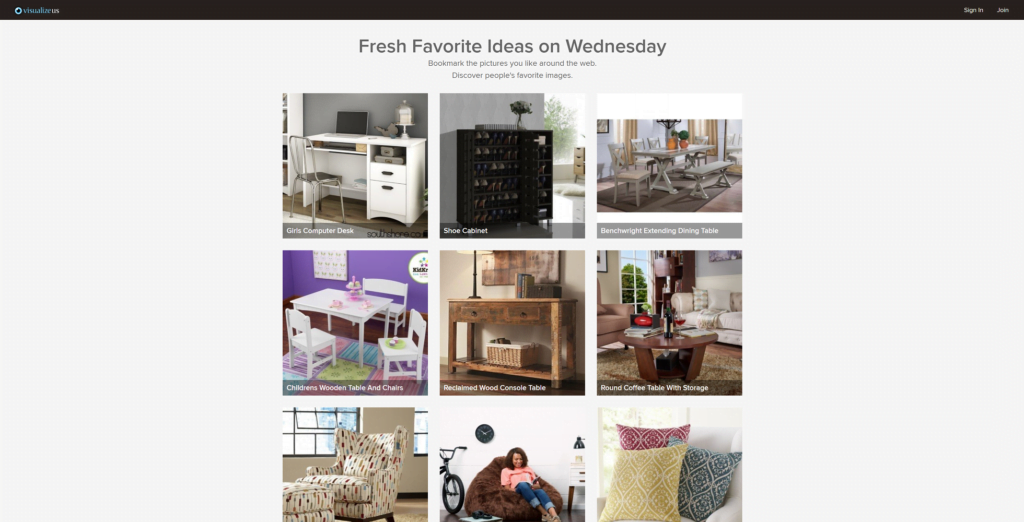 Photos are an amazing way for one to capture their art and share them with the world. Vi.sualize.us allows one to gather photos of different art pieces at either one particular place or at different places throughout the internet.
Handling the site is simple as well- from easy transferring procedures to convenient sorting methods, Vi.sualize.us several beneficial options to art enthusiasts which many other sites do not.
Vi.sualize.us looks and functions a lot like Pinterest making it easy for everyone to follow and learn up on quickly.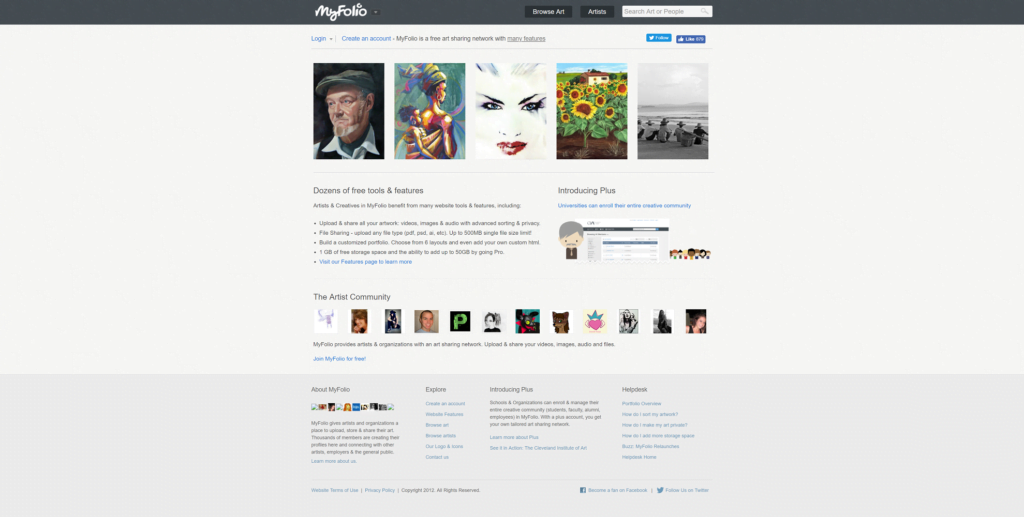 MyFolio, similar to DeviantArt, lets you create a fabulous portfolio of your artwork online. It includes every form of art- from photography and traditional art to digital works, it envelopes everything.
This provides an ideal platform and an awesome online community to photographers, digital artists, and traditional designers, helping them to exhibit and share their works with fellow artists from all corners of the world.
MyFolio is pretty easy to use and manage. This quickly uploads all your work within seconds and helps you get numerous views. This makes it a great alternative for all DeviantArt followers.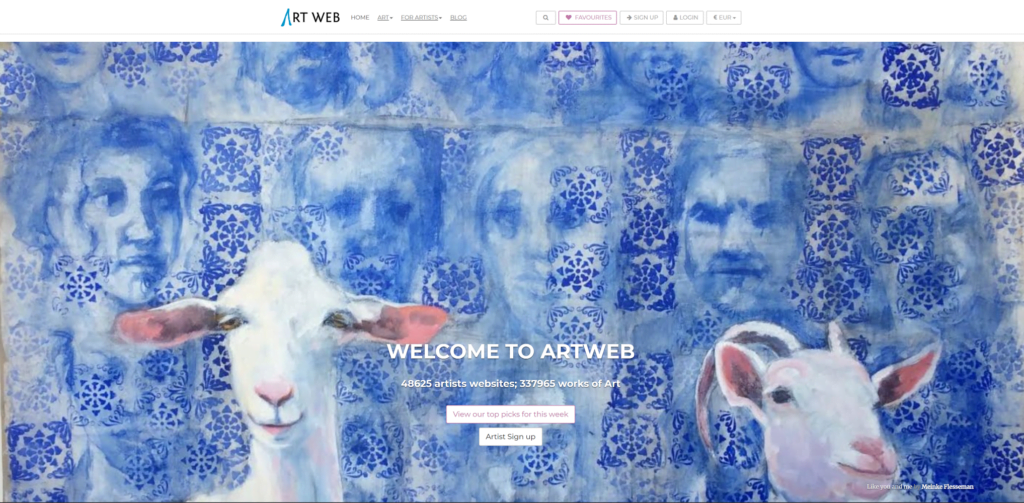 The Art Web is actually one of the largest and significant online art community that there is. Boasting over as many as 33,000 artists and a database that consists of over 300,000 artworks for you to browse through, this is one website that is bound to mesmerize every DeviantArt lover.
This lets you share your own projects and creations with the rest of the world and opens up an enormous range of artistic creations for you to explore to your heart's content. All of this makes it an incredible online art community that could help one learn so much about art and hence, something that you shouldn't miss out on in any way whatsoever!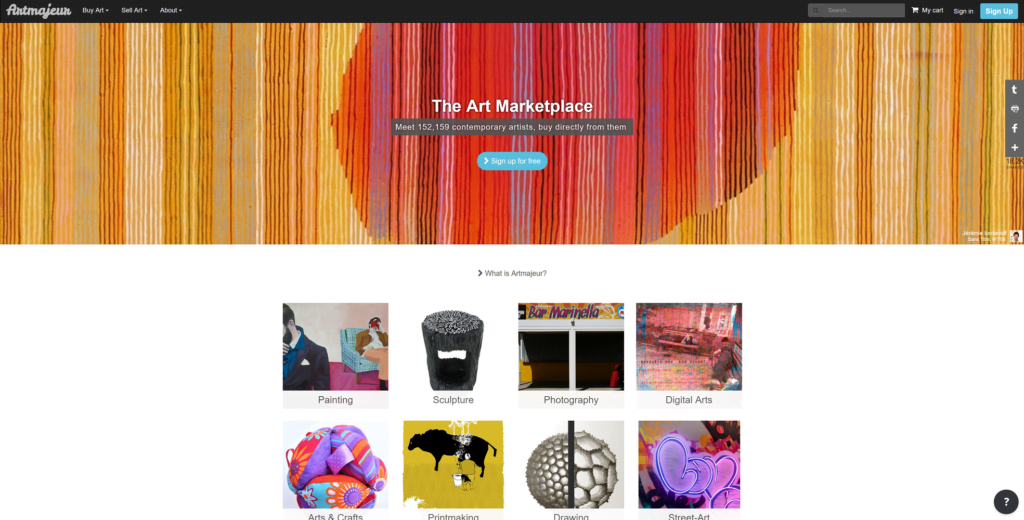 ArtMajeur is yet another brilliant online art portal like DeviantArt. The main attractions and benefit of this website is the easily accessible transactory feature that lets you buy and sell your artwork online.
So, if you happen to come across a piece of art on this site that you really want to have, you can extend an offer or make a bid on it through this portal. Also, if you're looking to sell your own works, ArtMajeur will let you put your artwork on sale on its site and make money off your stunning creations!
And if you're an existing art marketer, this will be a good place for you to expand on your business.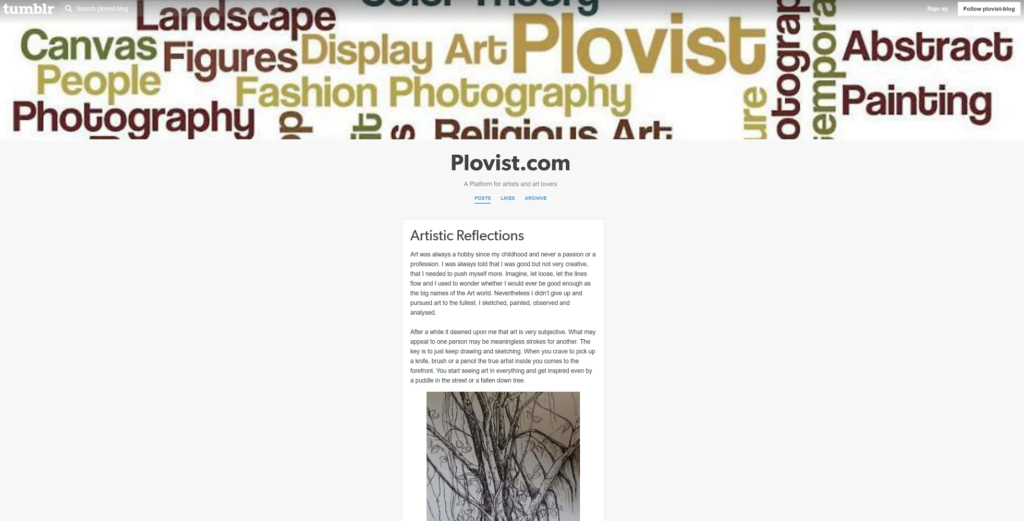 Similar to ArtMajeur, Plovist is another great online art platform that allows you to sell or buy artwork through its website. This encompasses all art genre, ranging from photography, traditional art, and digital creations to so much more in this field.
And, like every other online community, Plovist too, has a got a wide and stunning range artwork that you could access and explore for inspiration. It gives you a vital idea of all the developments in artistic techniques and lets you connect with other artists through its portal.
You could add your own creations to the site's huge library and share them with the rest of the community to get noticed.
Conclusion
And…..we're calling it a day with that! That was about all the alternative sites for DeviantArt that you could and should check out! We hope you liked reading our compilation.
We'll be back with more such wonderful topics for you soon!
Till next time!
Related Articles
16 Best Pixel Art Programs and Software | All OS