Picking a gift on a tight budget is a daunting task and picking a very personal gift for a loved one a small budget is even more difficult. Thanks to the DIY phenomenon today we can learn far more from the internet that we would have a few years back. We can now find tutorials from experienced and gifted individuals all around the world online, learning us step by step how to create marvelous things with homemade resources and little to no expenses. Moreover, the actual process of crafting is becoming an extremely personal act that is transcended on the gift or craft further with emotion and warmth. You can never compare a homemade perfumed soap with a purchased one, it is simply different, unique and in most cases, far far better in quality and far far more healthy. After our 35 Easy to Make DIY Gift Ideas That You Would Actually Like to Receive article has been received with a tremendous positive feedback, we are continuing the topic with more easy and inexpensive diy gift crafts that you would simple adore. Each craft is different and each craft has the tutorial a click away underneath. Feed your imagination with the extraordinary feed of inspiration below and craft away!
#1 DIY Scented Padded Hangers
via gardenmatter.com
#2 Rose Petal Glycerin Soap
via  gardenmatter.com
#3 Making Herbal Oils and Vinegar
via  gardenmatter.com
#4 DIY Script Coasters Tutorial
#5 Homemade Vanilla Sugar Bottles
via celebratingeverydaylife.com
#6 Fern Printed Tea Towels
via gardenmatter.com
#7 Oak Hydrangea Leaf
#8 DIY Lemon Sugar Scrub
#9 Various Homemade Soaps
#10 Homemade Jams With Vintage Packaging
#11 Rolo Cookies in Graphic Chinese Box Wrapping
#12 Button Bookmarks to Accessorize Your Notes
#13 Colorful Zippered Bow Punch
#14 Friendship Bracelets
#15 Homemade Sugar Scrub in Unique Packaging
#16 Confetti and Money Balloons
#17 Caramel and Apple Package
#18 Ingenious Thank You Latte Gift Card

Source
#19 Simple Mason Jar With Flowers
#20 Smart Candy Bouquet
 
#21 Neat Jersey Knit Bracelet
#22 Candy Filled Colorful Pin Cushion Jars
#23 Personalized Apron
#24 Lovely Grandparents Memory Blocks
#25 Sweet Cupcake Jar
#26 Simple Felt Bow
#27 Wedding Song Gift Idea
#28 Colorful Reversible Coffee Cop Sleeve
#29 Sweet Candy Lei
#30 Bed Side-Table Family Photo Display
#31 DIY Coasters
#32 Elegant Vintage Lace Cuff
#33 Ingenious Candy Pack Wrapped in Money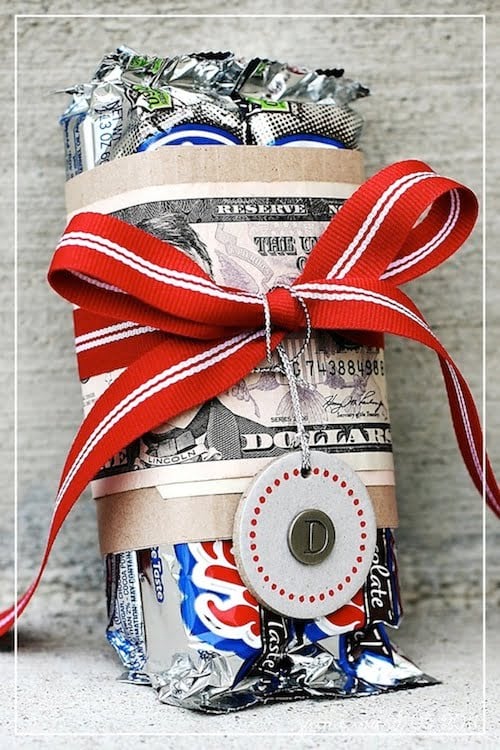 #34 Little Package With Sweets Marked With Free Printable
#35 Joey-like Personal Printable Love Coupons
What do you think about the selection of inexpensive diy gift crafts above? We would love to hear your opinion in the comment section below.