In today's ever changing society, the luxury of working from your own home office has become a common encounter, especially for the younger generation.The freedom of organizing your own time and making your own schedule is constantly encouraging young mind into this particular direction and developing the need for home office design where there was none before. In most cases, the work from home trend expands from an individual need to a couple or family activity which involves a slightly different approach in considerations of design and functionality.
We now take into account different needs and preferences, we bend the space to accompany and include two personalities and different tastes and ideas about how an home office should look like.The solution lies in compromise and in taking into account the true essential needs of the involved individuals in order to provide a stimulating, friendly environment for both parties. Further on we'll present a list of 30 brilliantly beautiful shared home office ideas for your household, cast a glance.

In fortunate situations, tastes do not differ radically and a common ground is reached in matters of design and interior expression. A shared office implies a certain coordination and mutual respect towards your partner, a visual connection that encourages communication and stimulation. It's a scientific proven data that people who work together are more effective and productive than the ones who are left to work alone.
by LEICHT New York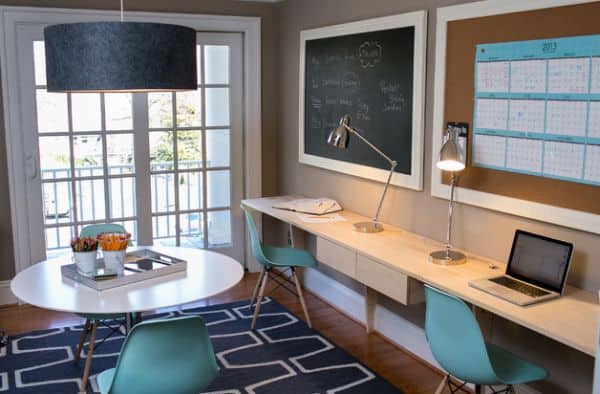 A neutral color scheme is the most common choice, one that function well for both parties. Accents can be tough used to break the pace of the hues and add a tad of contrast.
by Residents Understood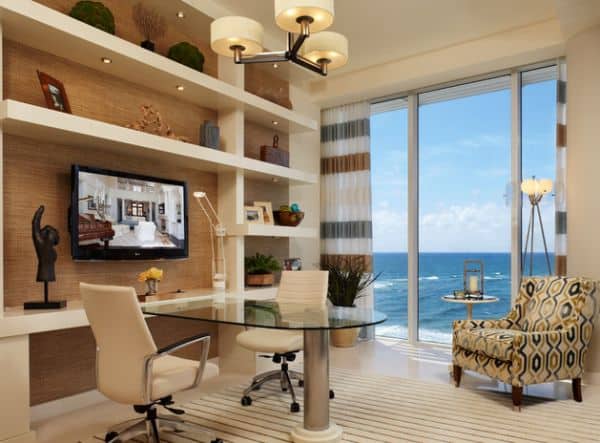 If incredible views are available make sure to position the desk towards it. The example above has chosen quite an uncertain stand as in one of the individuals using the office space will be privileged with the amazing view and the other deprived of it. Position the desk perpendicularly to the window to offer both parties the chance of admiring an incredible view.
by The Decorators Unlimited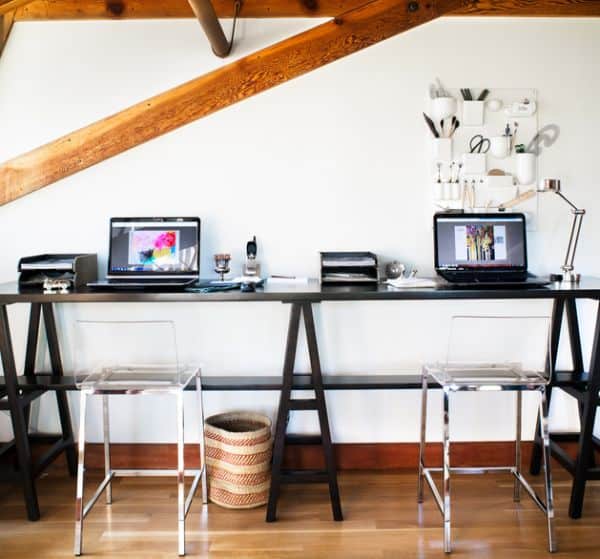 Vapor Bar Stools are often used in interior design for their sleek minimal presence in a room. For individuals who spend quite a lot of time tied to the desk a more comfortable and ergonomic option should be considered.
by Jute Interior Design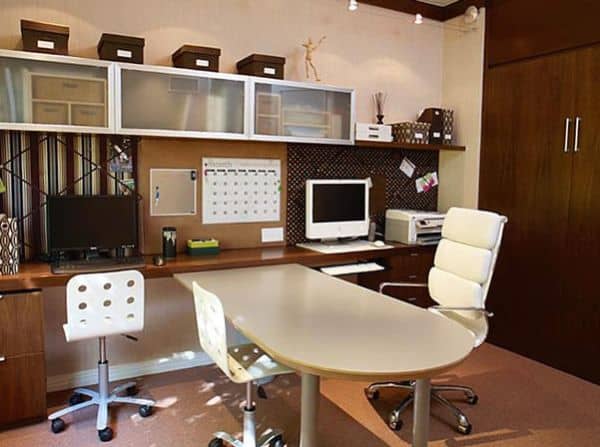 Planning and organizational skills are something that should not miss from our daily routine and vocabulary. Create a common zone where each one or both as a couple can plan and organize their time effectively. Writing down your tasks and positioning them in a constantly visible space will increase productivity and the sense of accomplishment and responsibility.
by Derrick Tamara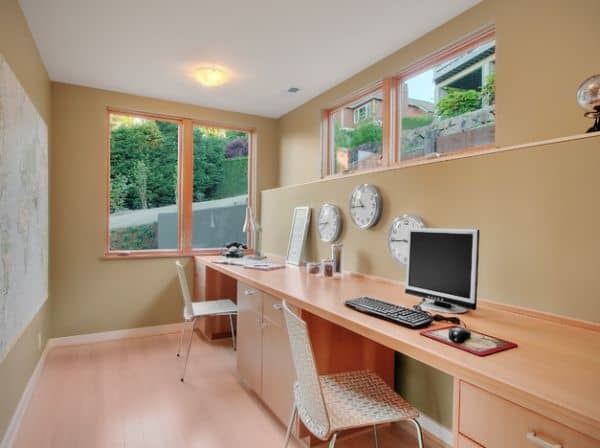 A simple narrow room can accommodate a long narrow desk treated in a minimal manner. Notice how the natural light is guided in through windows situated in adjacent planes for maximum visibility on the working surface.
by David Neiman Architects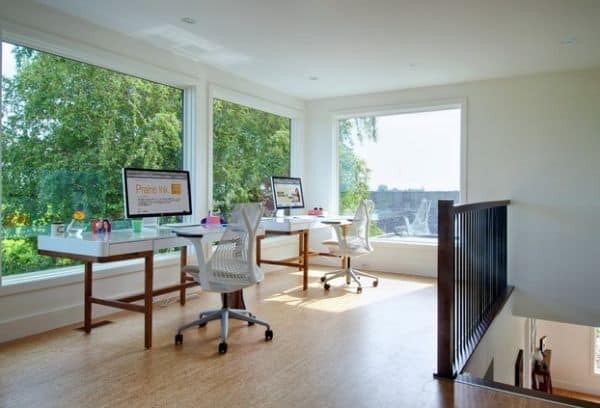 Sometimes couples do tend to think alike and to have similar tastes. Choosing a desk and doubling it can be a simple efficient idea to take into consideration.
by Andrew Snow Photography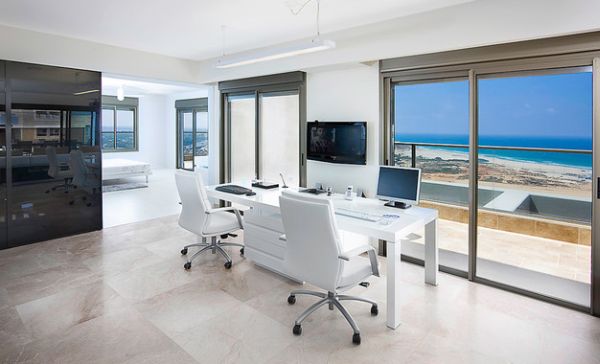 A sleek white office space long enough to accommodate two is ideal for a modern minimal house with a seaview.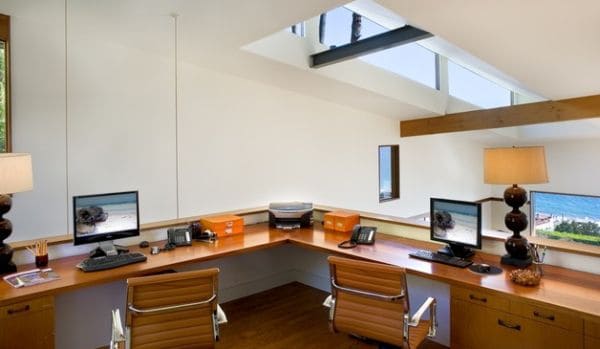 Natural light is a key element in home offices and offices in general, we are more productive, less stresses when we have a window to look at from time to time, especially if that window offers surreal landscapes. If we are talking about a shared office space, choose that special corner from your house were you both feel safe, comfortable and the natural light is in abundance.
by Tracy Murdock Allied ASID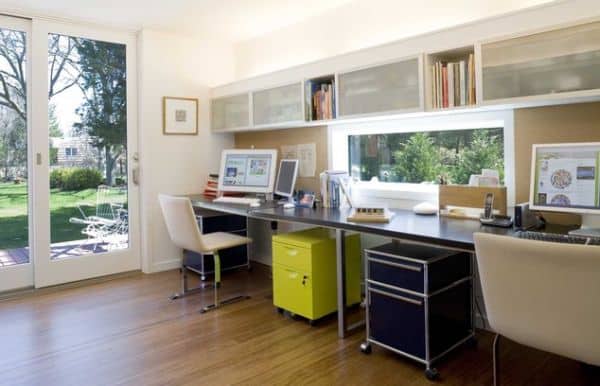 Even if the overall design is an unitary one, a tiny contrast that differentiates the two individuals is recommended for a feeling of appurtenance to cet space.
by ASAP House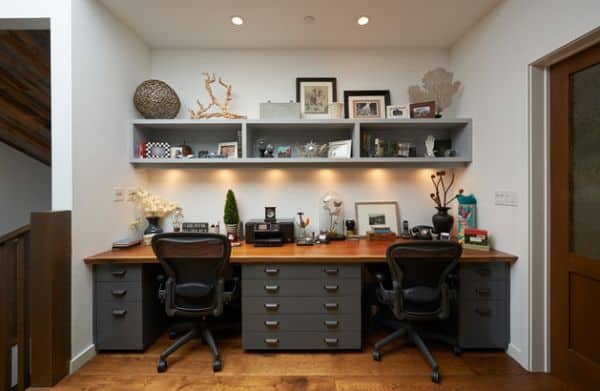 The advantage of working from office, apart from the flexible schedule, consists in the versatility of choosing your own space to dedicate to the actual office. Here a staircase landing has been transformed into a joined office space.
by Dixon Construction
Common work spaces are often designed in line for saving up on space.Nonetheless, the feeling of the other one constantly looking over your shoulder might appear, reason for which, for a person who gets distracted easily, a face t face layout is preferable.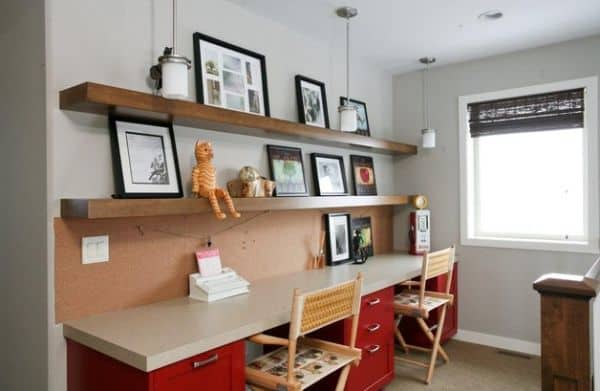 Transform the office space with personal family photos to avoid the sterility of an actual office space.
by Jennifer McCarthy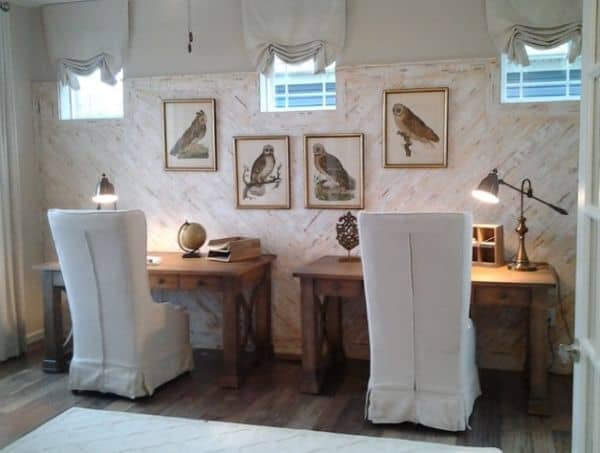 Art should be part of your working environment.
by Anita Roll Murals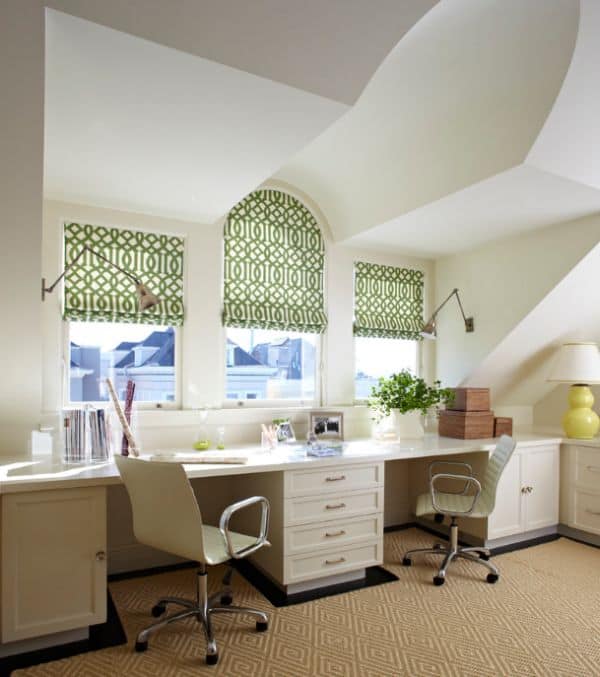 Protect your eyes and your monitor visibility in bright summer days by adding colorful shades to your windows.
by Charlie Barnett Associates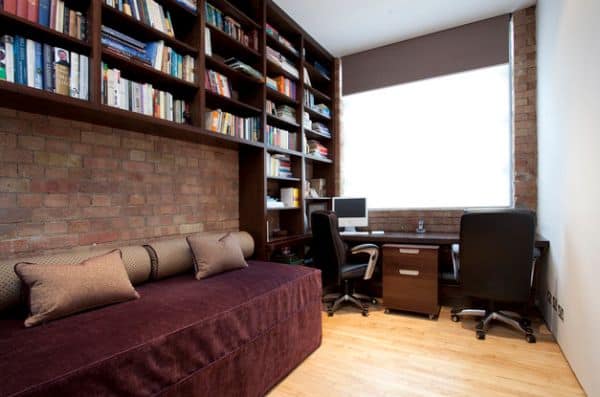 Even a small space can become a shared office, intimate and cozy.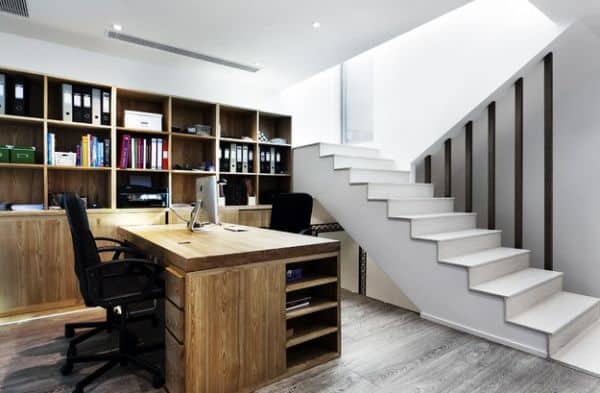 A basement can be transformed into a useful  shared office space, make sure there is plenty of natural or artificial lighting.
by S.I.D. Ltd.
Dare to be different and invest in your style and comfort. In a shared office space both individuals can claim their own style and private space.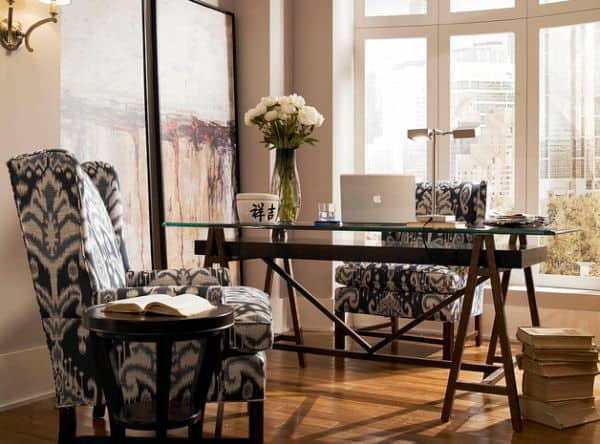 A cozy chair without actual desk space can be your choice for a more relaxed approach to a home office whilst your other half needs the presence of a working surface.
by Laura Hardin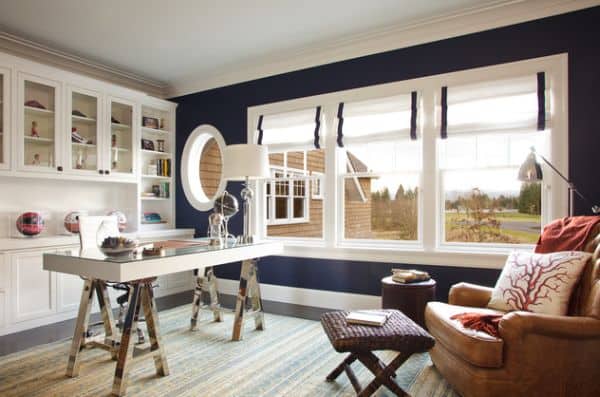 Position your cozy chair to admire both the view and maintain visual contact with the other.
by Garrison Hullinger Interior Design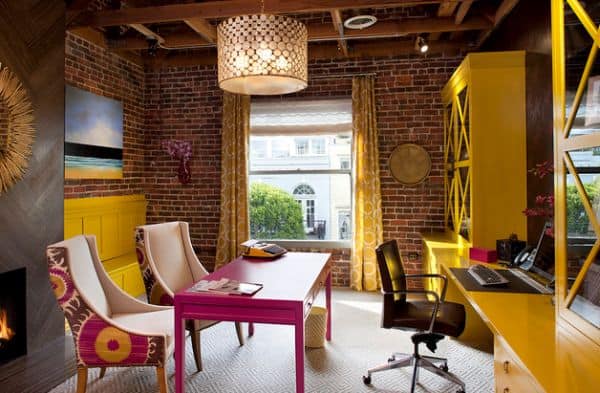 Bright colors and contrast can stimulate creativity require din an office space.
by Artistic Designs for Living, Tineke Triggs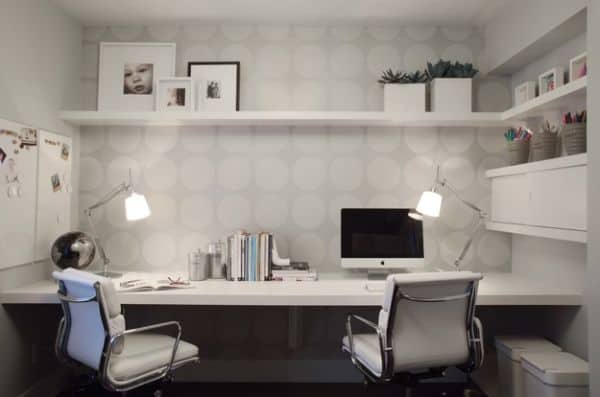 If an all white design is to your taste, add a touch of texture through wallpaper to avoid plainness.
by After Design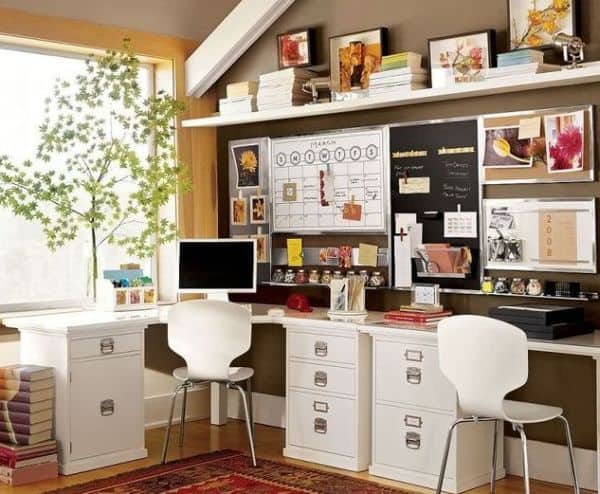 Storage space and plenty of it should not miss.
by Graceful Vintage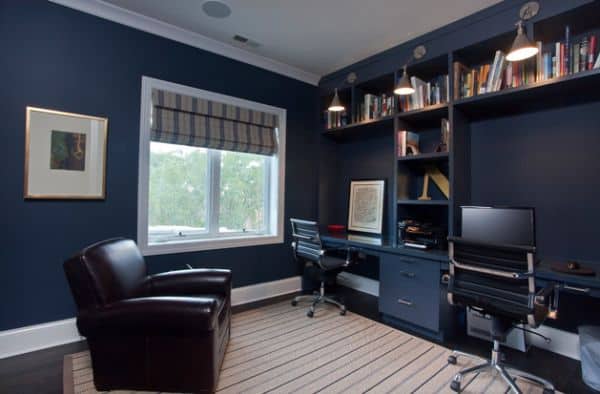 Choose to add focused lighting systems for increased visibility and visual comfort.
by Michael Abrams Limited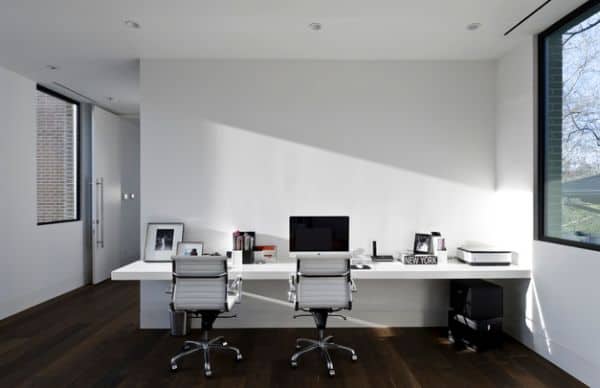 Keep things to a minimal if this is what keeps you focused.
by CONTENT Architecture
Share the space, use it to the maximum and invest in storage units, especially in the ones placed between the two of you, they will guarantee a certain barrier, a limit.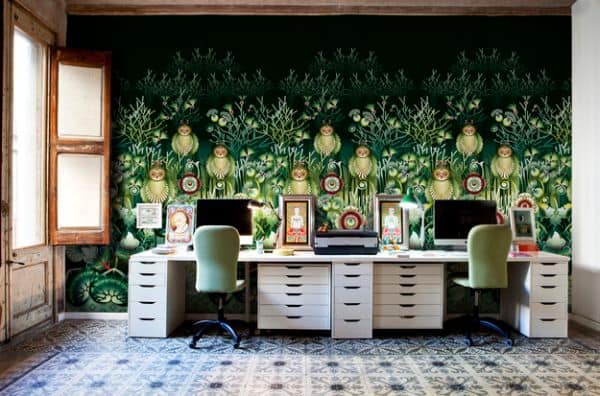 A powerful colorful wallpaper connects the two similar working stations who share a common storing space in the middle.
by Catalina Estrada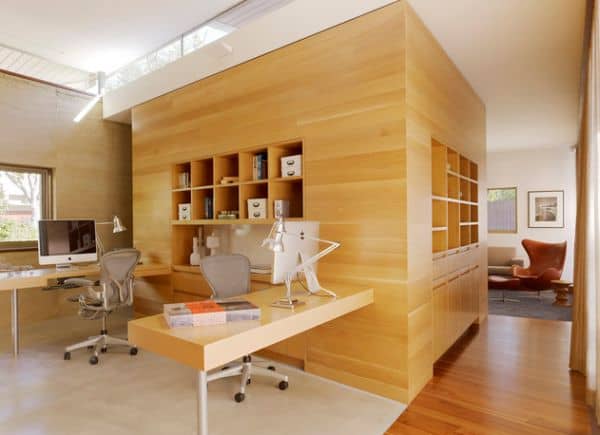 Choose to work back to back to avoid distractions.
by CCS Architecture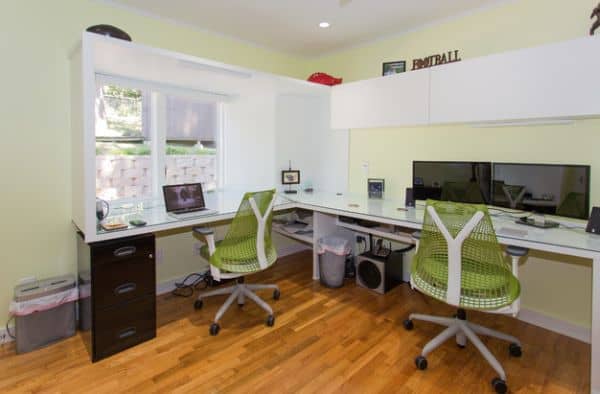 Stylish Sayl Task Chairs for the compact home office
by GB Group Construction
Respect should be mutual, use headphones to avoid unwanted audible stress but stay engaged with your partner for encouragement and stimulation.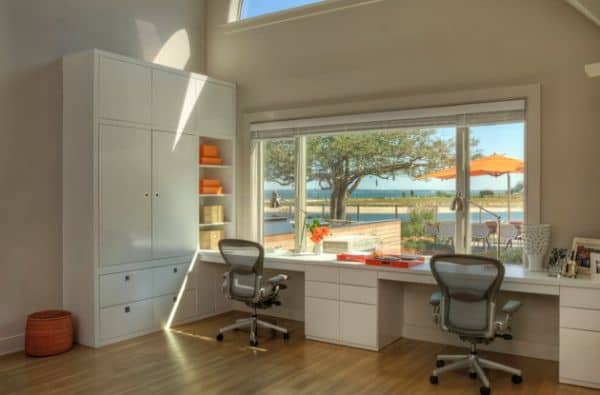 The large window offers a wonderful view, increasing productivity.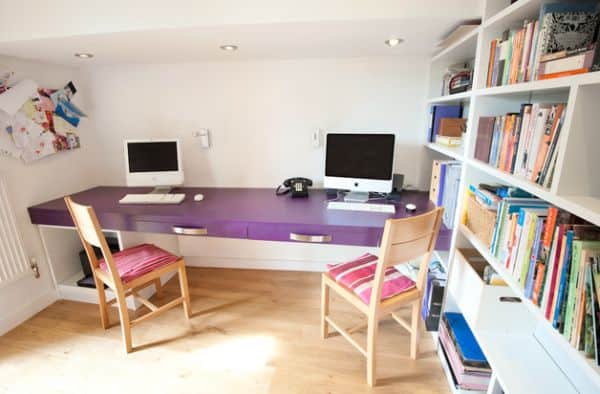 A feminine touch can be noticed in this purple office design.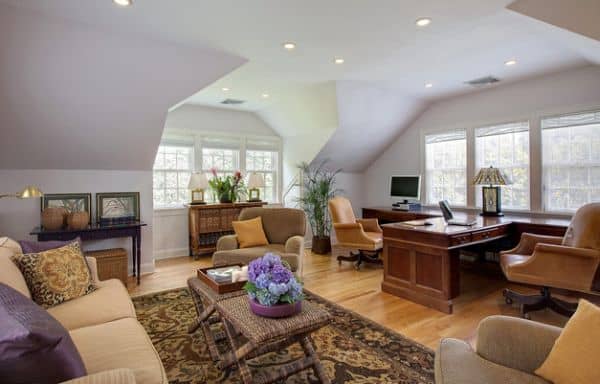 Some prefer a much larger working space for increased privacy, funny, no?
by B Fein Interior Design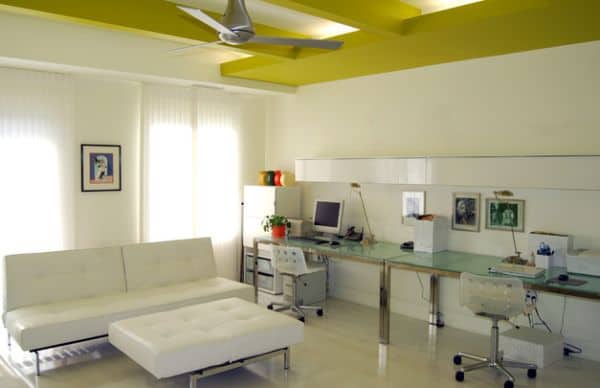 Adding a seating zone in your shared office space is recommended, especially if you plan on spending a lot of time at the actual desk.Take a break from time to time and change your position without leaving the working environment and distracting yourself with other house chores.
by NOA Architecture Planning Interiors
How do you feel about the idea of a home shared office space? Feel free to express your opinions in the comment section below.
Related Articles
13 Best Paper Shredders | Buyer's Guide
19 Best Office Chairs for Creatives Everywhere
9 Best Quiet Paper Shredders Right Now
10 Best Home Office Desks Right Now 
19 Best Office Chairs for Creatives Everywhere
33 Best Types of Office Chairs to Consider for Your Desk
10 Best Key Lockboxes for Office and Home