The bathroom can be the place of supreme relaxation, the space in which you soothe your nerves at the end of a very long day, an important room that we visit before we go to sleep and as soon as we wake up, a room that should be looked far beyond its practicality a great deal. To emphasize the endless opportunities of a bathroom that can and should transcend its functional values, a list of beautiful diy bathroom pallet projects has been constructed, these vary from various storage options up to wall treatments and recipients able to contain greenery, each and everyone managing to introduce a rustic feel, coziness and warmth.
Pallets are a resource that we can all access to little to no costs, cast a glance over the curated list and choose how you are to influence your charming bathroom, how you are to make it different.
DIY Bathroom Pallet Projects
1. create a wood wall out of salvaged wood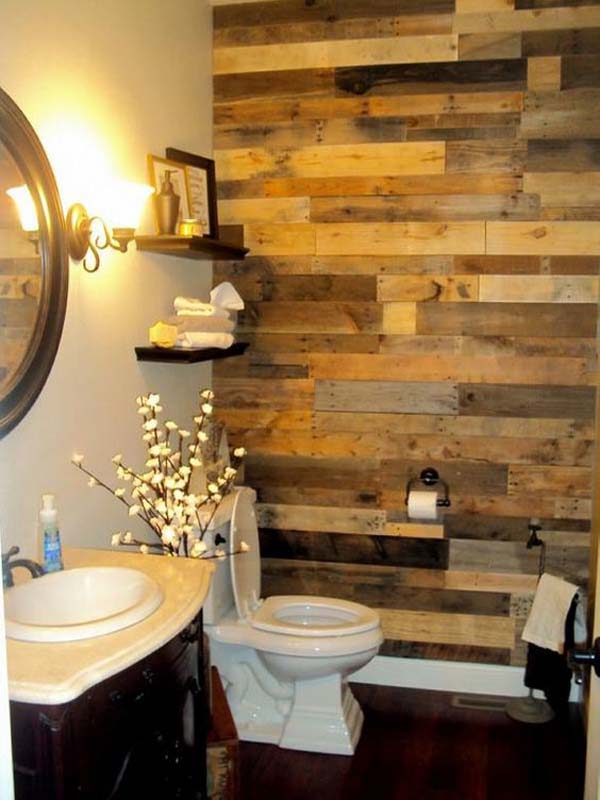 Salvage different types of wood and get crafting, the pallet wood wall will bring in an extraordinary feel.
2. upcycle a pallet into a neat storage piece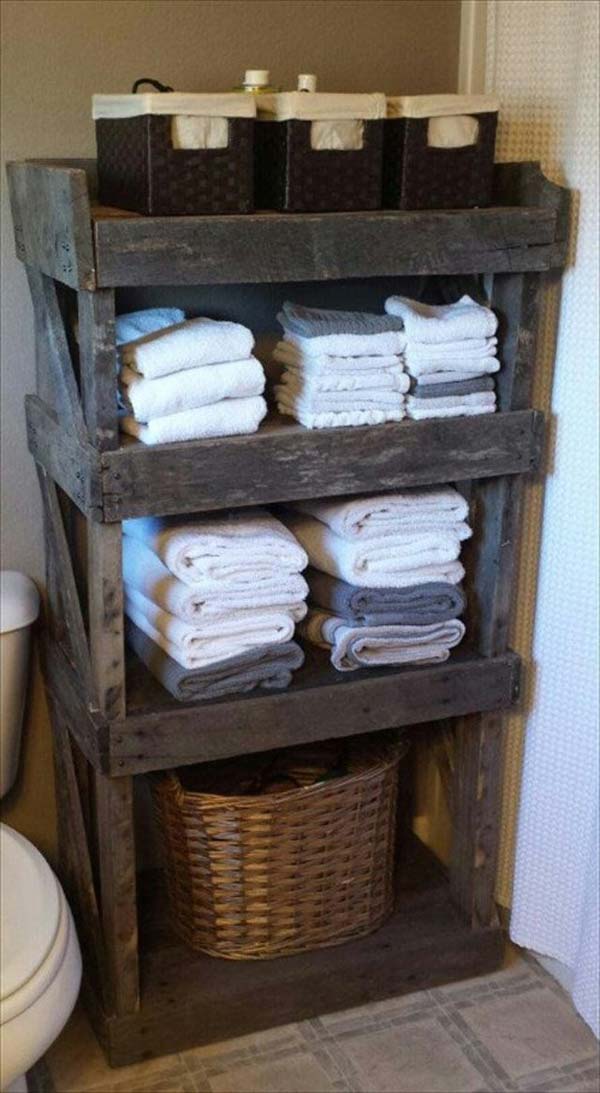 3. use wood to shape an outdoor shower with ease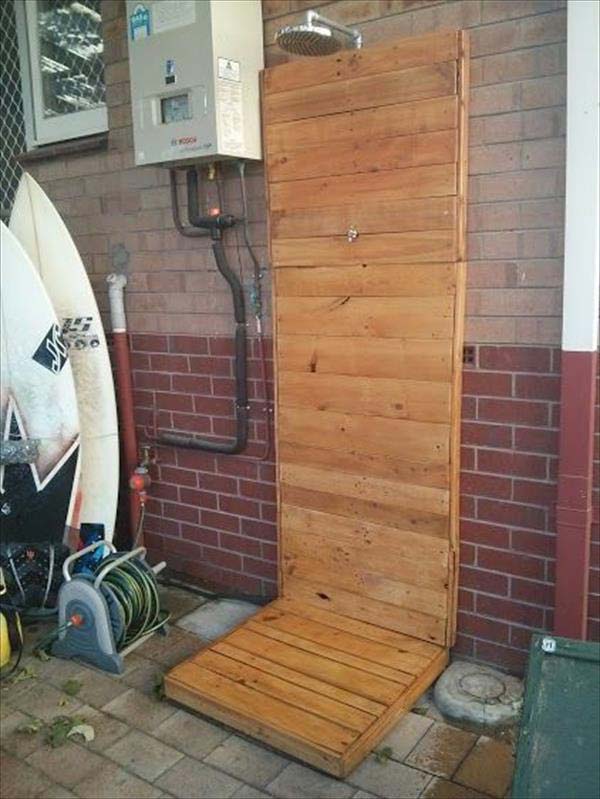 An outdoor summer is a great way to enjoy the hot summer. Through salvaged pallet wood one could construct a neat L shaped item that would emphasize the experience.
4. transform a galvanized bucket into a sink through pallet wood
5. tailor an epic wooden pallet vanity cabinet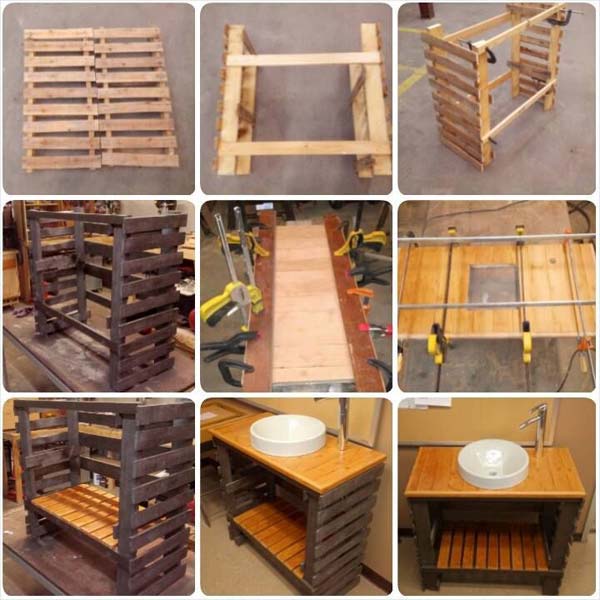 A minimal sculptural white element on a cozy wood vanity cabinet can reside beautifully.
6. transform a wooden pallet into a mason jar storage unit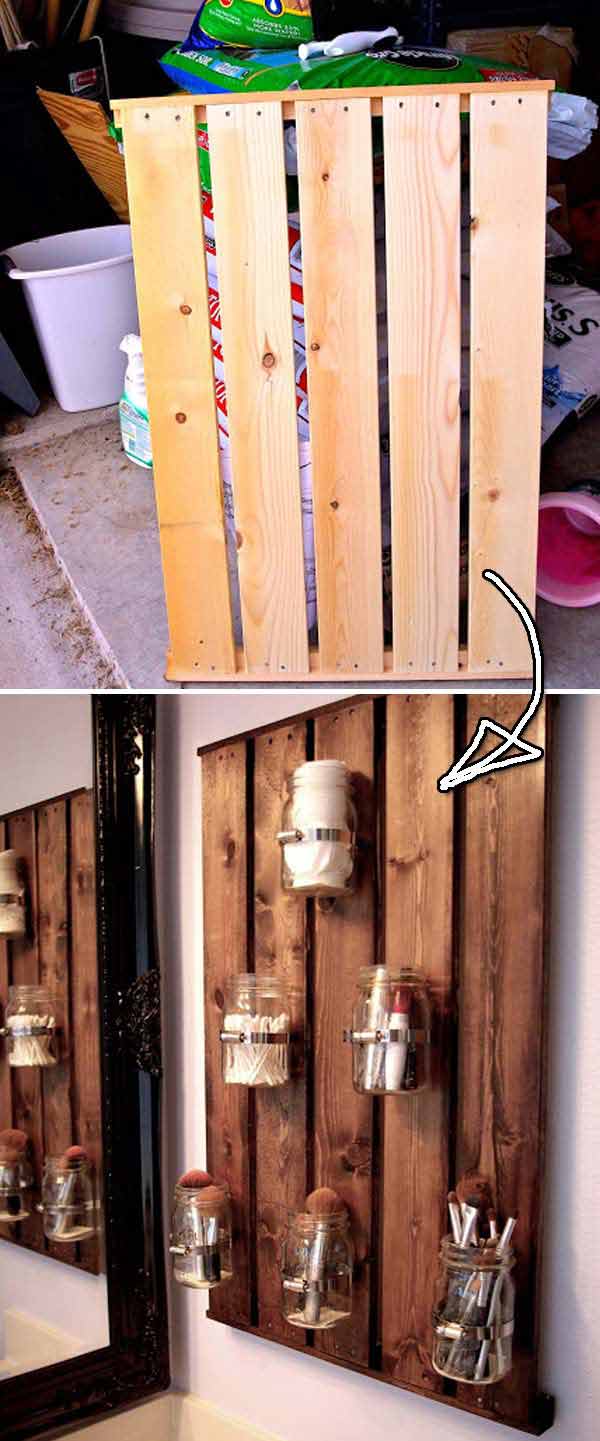 Mason jars and wooden pallets go along beautifully in both practicality and aesthetics.
7. a PETITE wooden pallet can storage bathroom accessories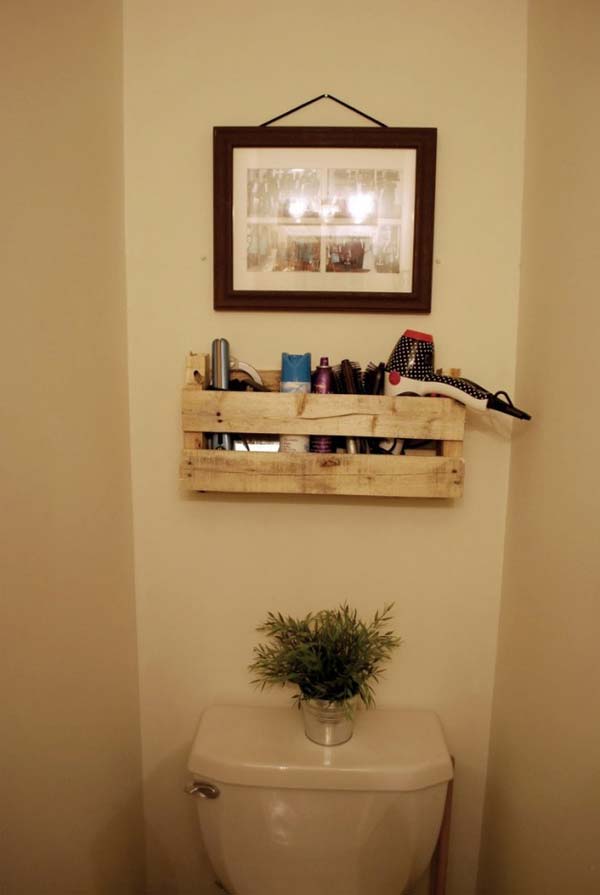 8. open-shelving cozy rustic bathroom towel storage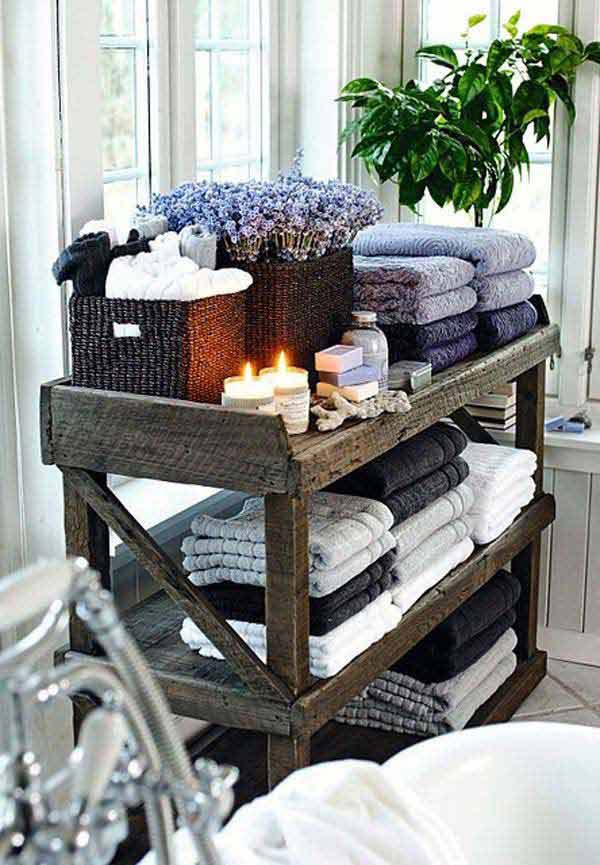 Tutorial @ remodelaholic.com
9. build a swift cozy rack out of pallets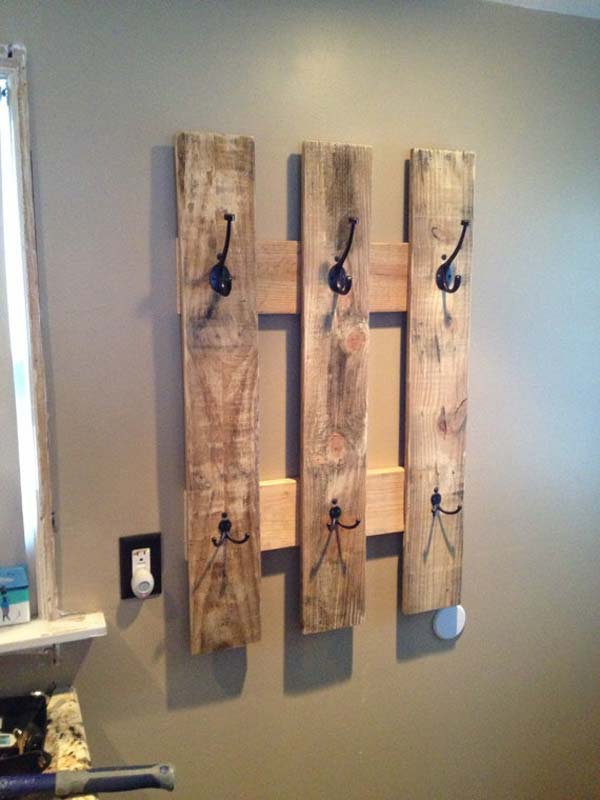 via Etsy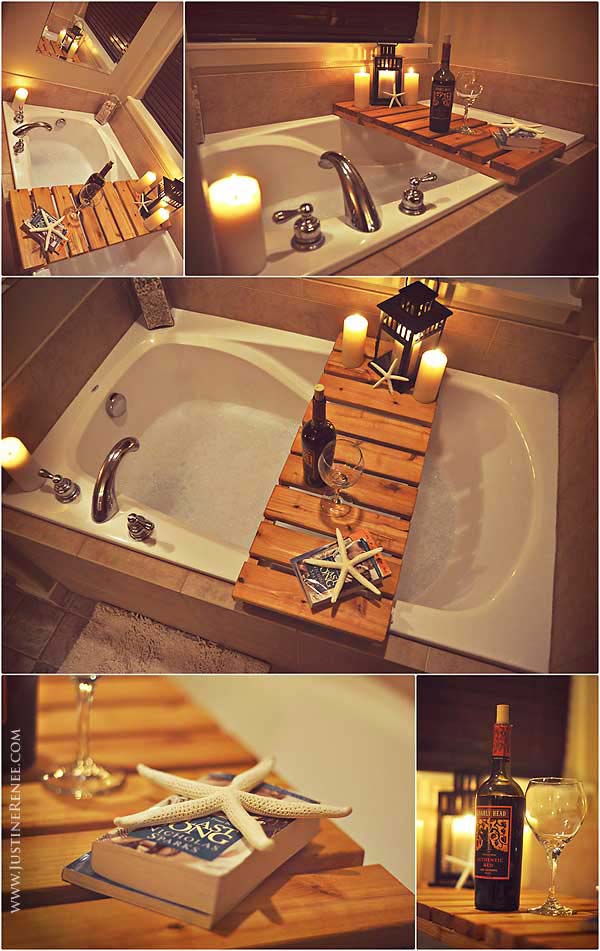 11. use wooden pallets to shape complete bathroom furniture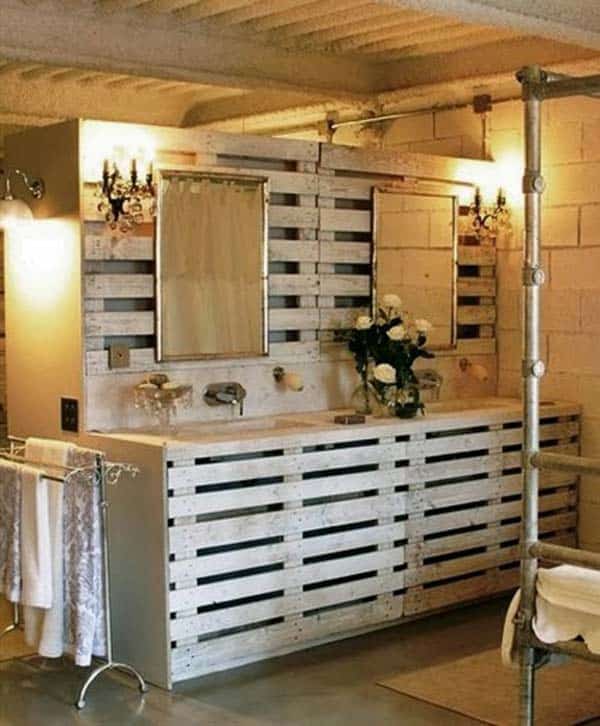 12. create a neat wooden storage unit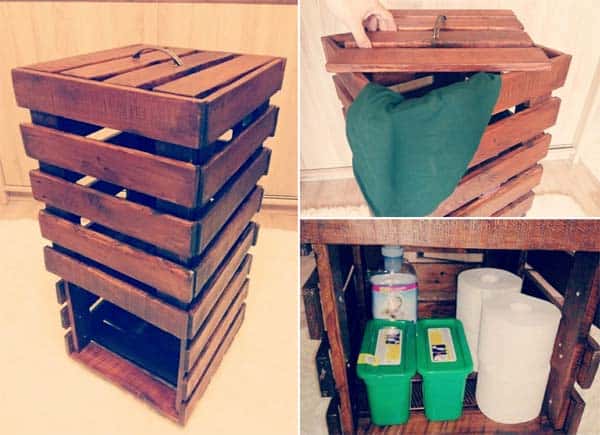 Tutorial @ Youtube.com
13. build open shelving options with pallets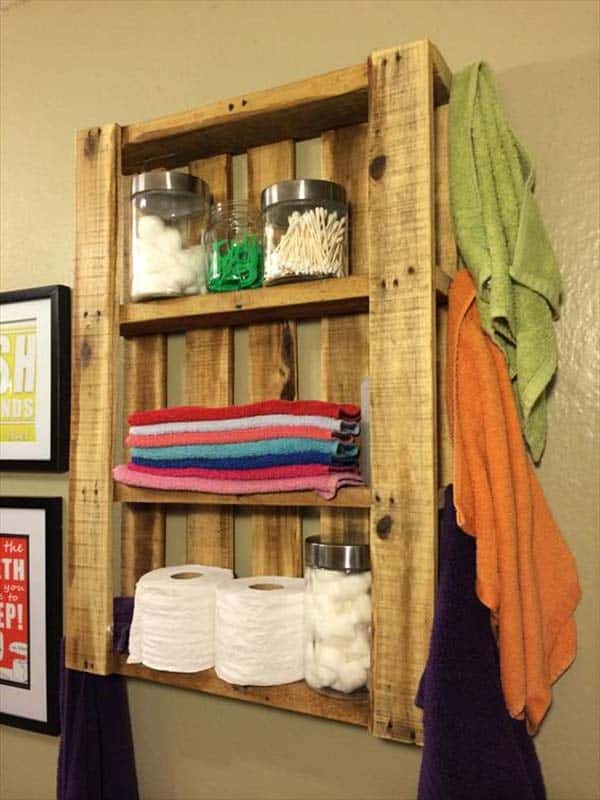 15. wooden wall accent realized with salvaged wood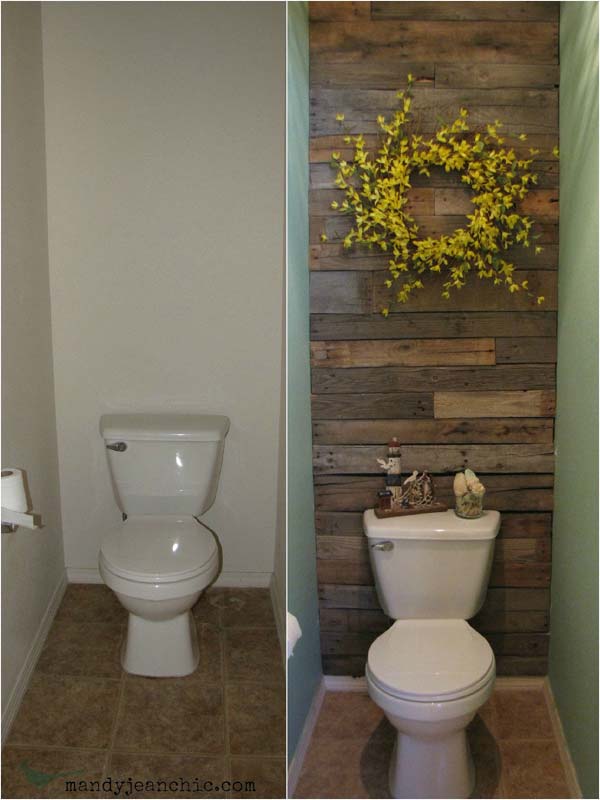 An immense transformation that can cost little to nothing, simply beautiful.
16. invite greenery indoors with ease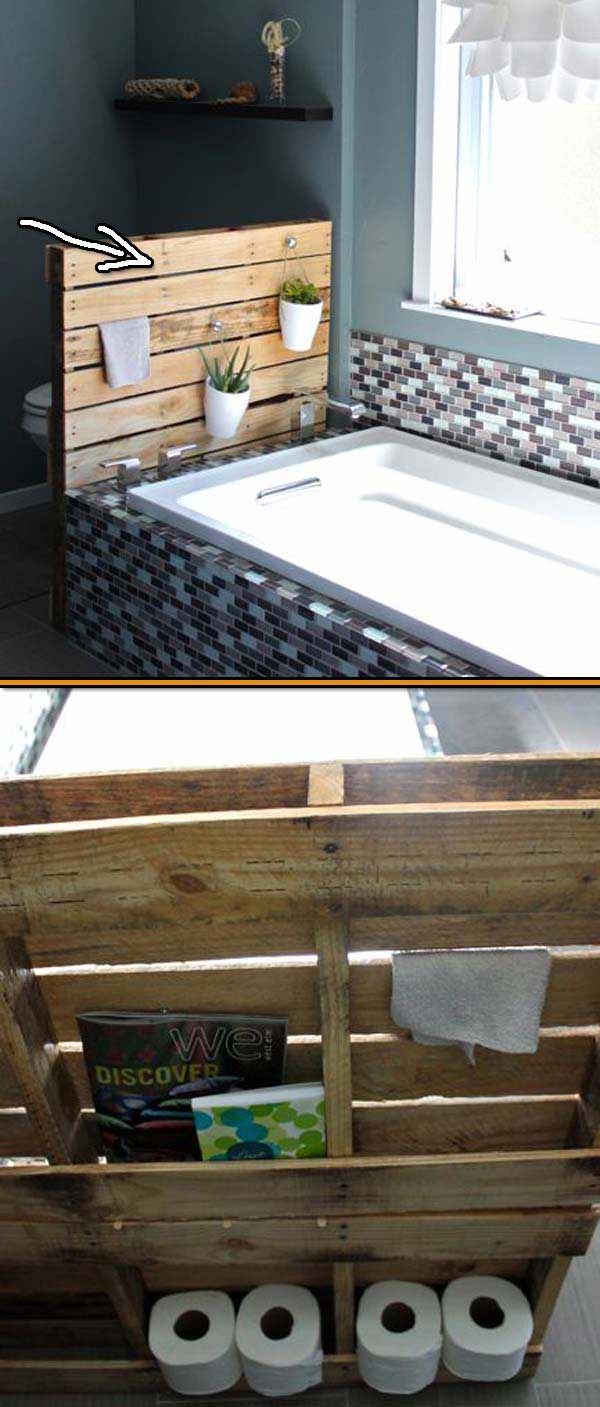 A wooden pallet green wall can go a long way, vegetation simply emphasizes everything beautifully.
17. tailor a tiny pallet towel rack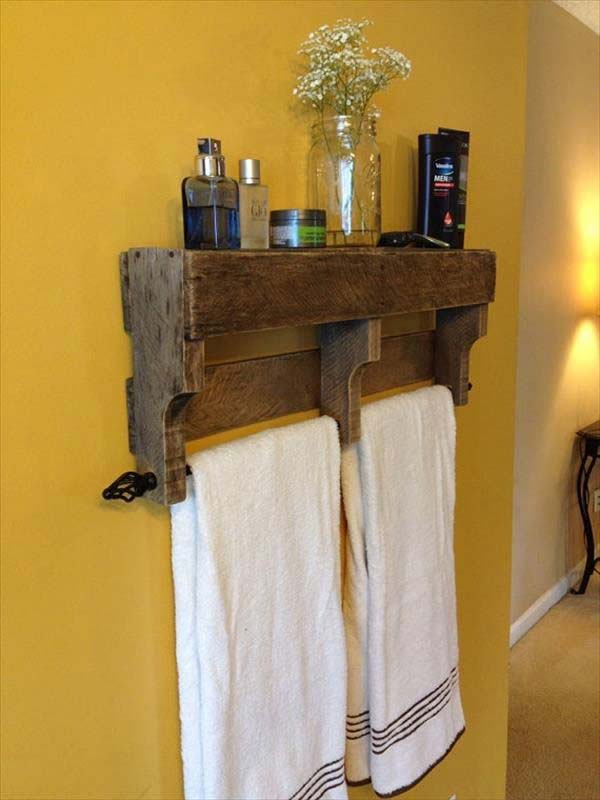 Certain pallet woods can be transformed in a couple of minutes in a towel rack, a curtain rod can bring a graphic presence in the craft and certain items can be stored on top of it.
18. create minimal rustic wooden shelving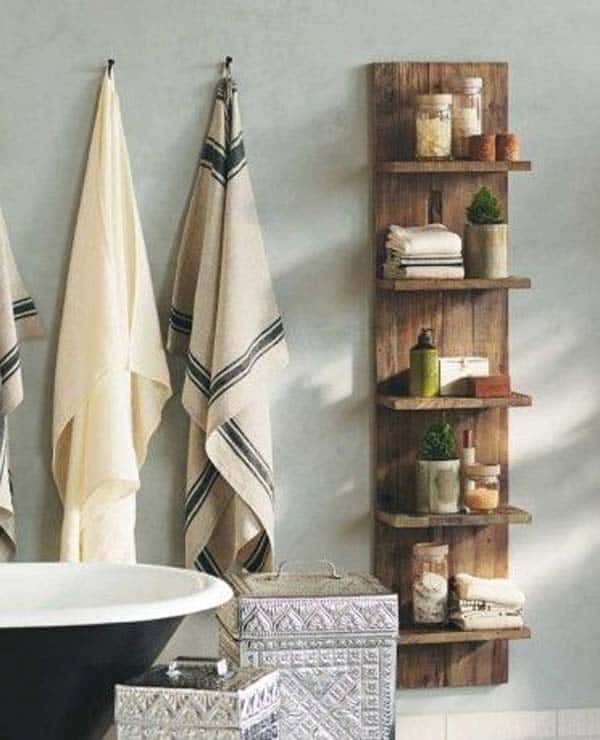 Open shelving is emphasizing the feeling of spaces; realized right it can bring coziness and warmth in through the wooden textures.
19. create a laundry station out of wooden pallets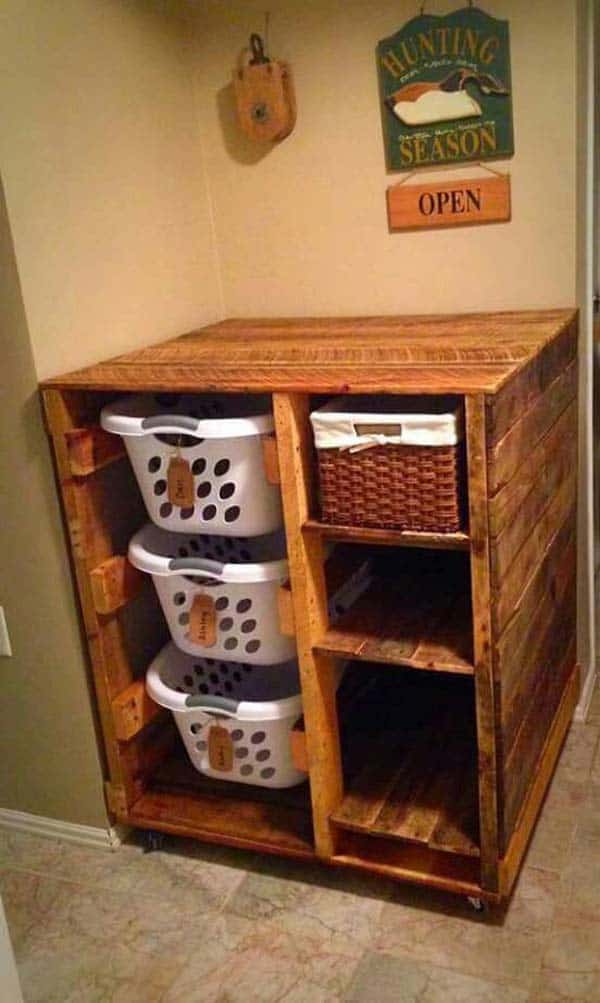 Laundry units can make the washing experience seamless, make sure you have things properly organized and you`ll avoid the sorting  that usually precedes the machine loading.
20. use mason jars and pallets to organize things THOROUGHLY
Glass and wooden textures go a long way, up-cycle pallets and mason jars into brilliant organizers. Tailor your own storage solutions.
21. nestle a sculptural sink on salvaged wood and make a vanity cabinet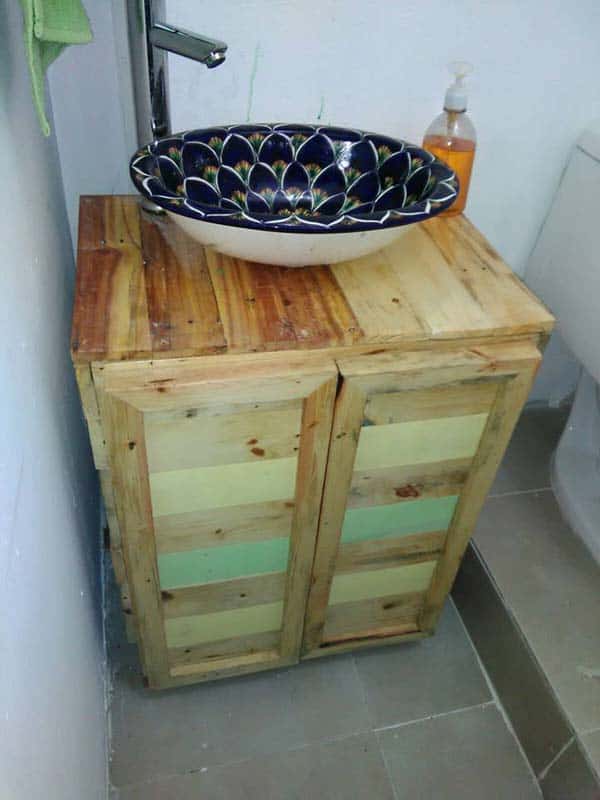 A wooden vanity cabinet can support and emphasize a sculptural position that would be taken by the sink itself or the faucet.
22. use salvaged wood to shape an epic mirror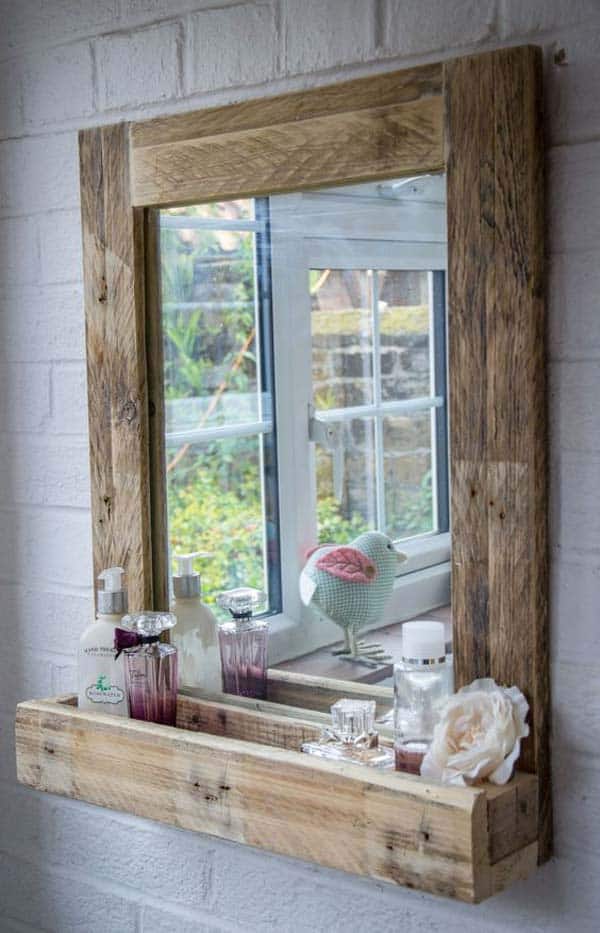 Emphasize your wooden mirror with coziness and warmth through wooden textures.
23. towel rack and storage in a simple unit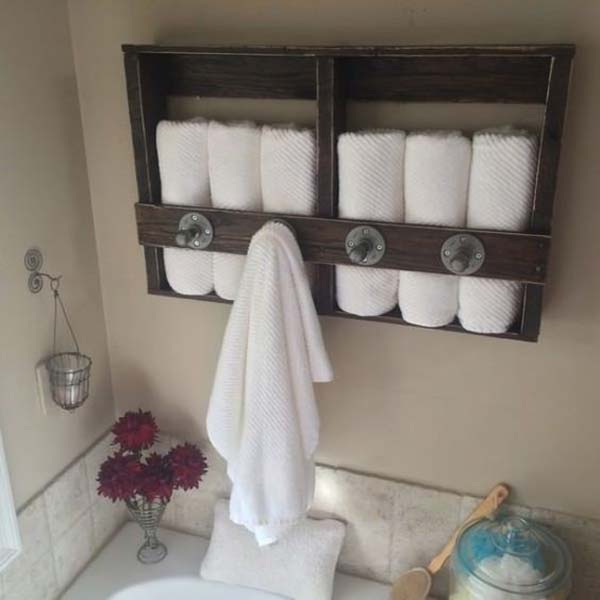 24. beautiful and inexpensive way to signal the bathroom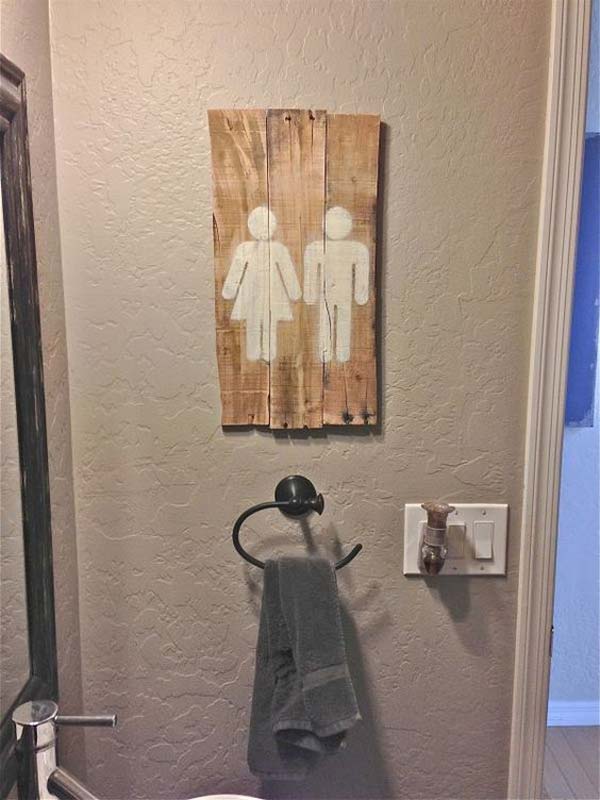 Simple and inexpensive way to signal the bathroom, you can transfer the images onto wood or you can use decals. Fast and easy.
25. open shelving with magazine rack included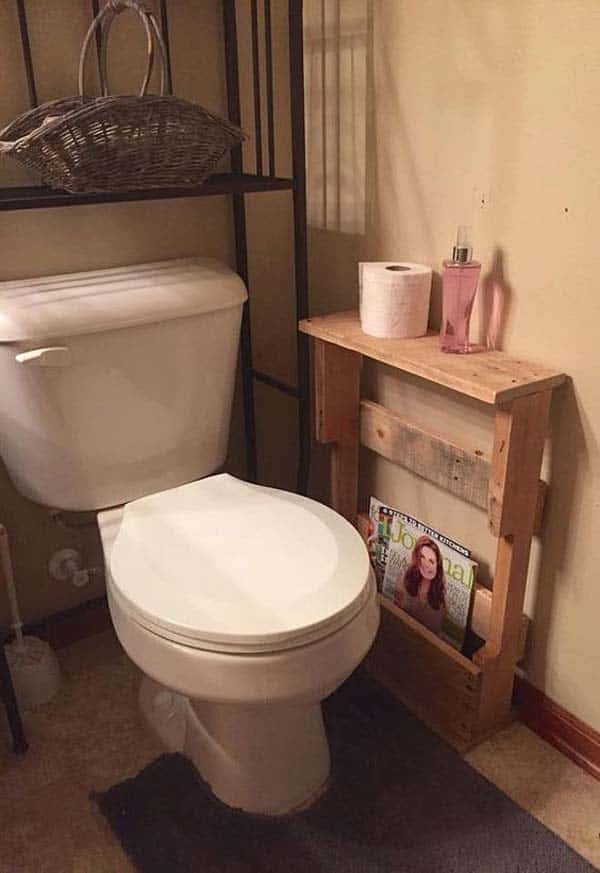 26. outdoor shower – play arena tailored with wood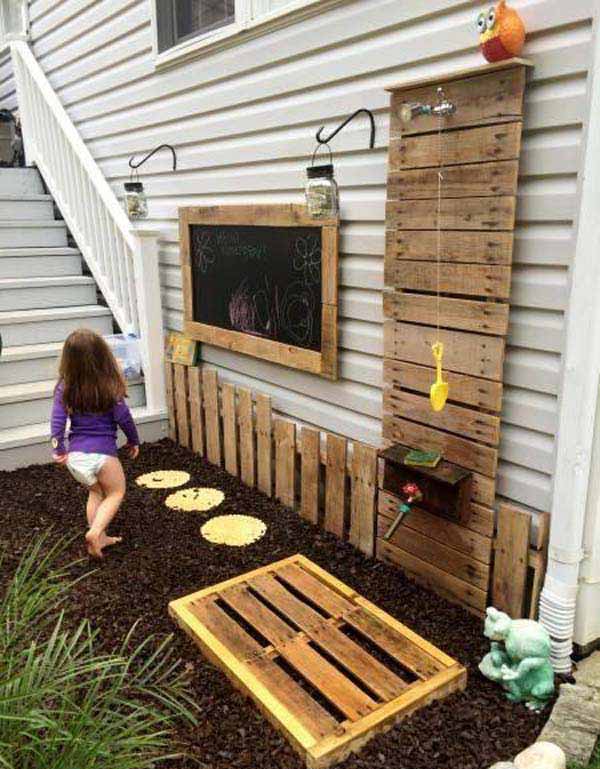 The real playground is shaped by the imagination of the little one, aid him in this endeavor and help him nurture his imagination with ease through simple crafts. A chalkboard outside, a small fence and a summer outdoor shower that has a petite control at his level might be great elements. Feel free to add that tree house or outdoor pallet room and always be ready to play outdoors like you`re four years old all over again.
27. mirror unit with practical tall thin storage back

Tutorial @ shanty-2-chic.com
DIY bathroom pallet projects are a common subject in the DIY communities, the great valences of wood and its inexpensive nature do create a great combination.
What do you think? We would love to hear your opinion on the subject in the comment section below.
What do you think about these awesome pallet projects ?
Do you like pallet projects?
We though you did, here are some awesome pallet fences, pallet bed frames and pallet beds, cast a glance !