With spring around the corner it is time to get creative in the garden. The backyard landscape will become our natural screensaver that we can refresh through a simple blink. Little by little, weekend by weekend DIY garden projects are starting to break the ice through simple efficient methods that will beautify our every day lives with ease through a simple flower. It is up to us to create the perfect retreat around us, to materialize a small green heaven. We can start today by sharing inspiration with our friends and by selecting our first DIY garden container project to start with this spring. Be creative and craft away!
#1. Graphic and Creative Shoe Planters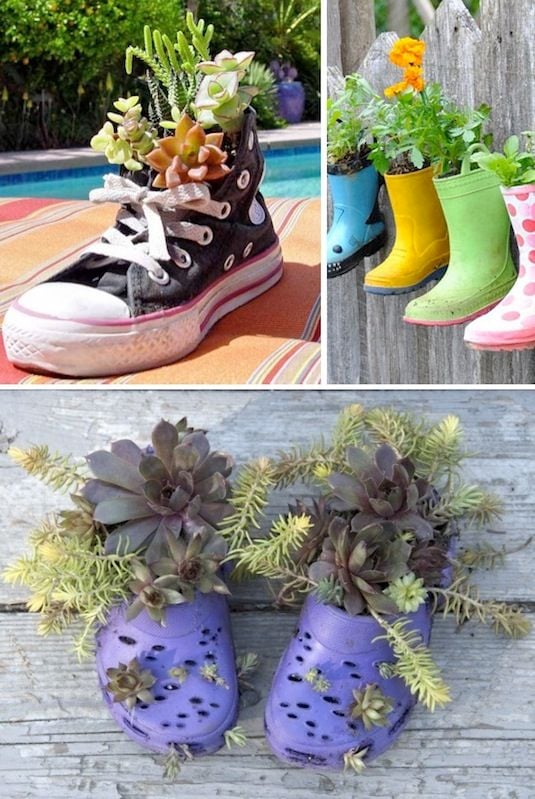 Ensure the proper drainage through a few holes drilled and nestle your plants, succulents in a new beginning.
1. Black Gold 2. Rosy 3. Gardening Forums
Whimsical, inspiring and truly creative. A boem decor to enjoy with your daily coup of tea.
Top: flickr
Small is great, small is truly original and inspiring whilst being cozy and personal. Use cork to offer shelter to your succulents.
Source & Instructions: Upcycle That
Upcycle tires and join the sustainable movement. You can find more inspiration here.
1. LB&T 2. Architizer 3. Recaptured Charm
Fairy tale like gardens can be nestled into upcycled water fountains. Make sure that the arrangement fits the scale of the fountain for an extraordinary result.
1. BHG 2. Rancho Reubidoux 3. bc living
This craft proves that pretty much anything can be used as a planter and even more ideas will follow to confirm it. Be creative and plant as much greenery as possible around you.
Top: My Home Ideas Bottom: Midwest Living