Mod Podge means nothing to some, yet everything to others. It all depends on what kind of DIY projects you like. By the end of the article we are sure however that you will give Mod Podge a try. It gained popularity thanks to very sticky and simple craft projects.  There are entire websites dedicated to Mod Podge Crafts. Mod Podge became an experimental object, people are actually researching its possibilities in DIY projects everyday. Some would say that there is no better adhesive then Mod Podge; this adhesive has been around since the `60s but with the DIY projects exploding in the last few years it is more known than ever. Follow our shortlist of projects and let us know what do you think, evidently, these are only a few, the possibilities being endless .
1. Colorful Textured DIY Chevron Art
Graphic composition of textures and colors tailored in an extraordinary beautiful manner. You can use this craft to simulate the apparel of a bigger craft that you would like to start, like a quilt. You can use it as wall art with ease.
(via Lila Griffith, full tutorial can be found here )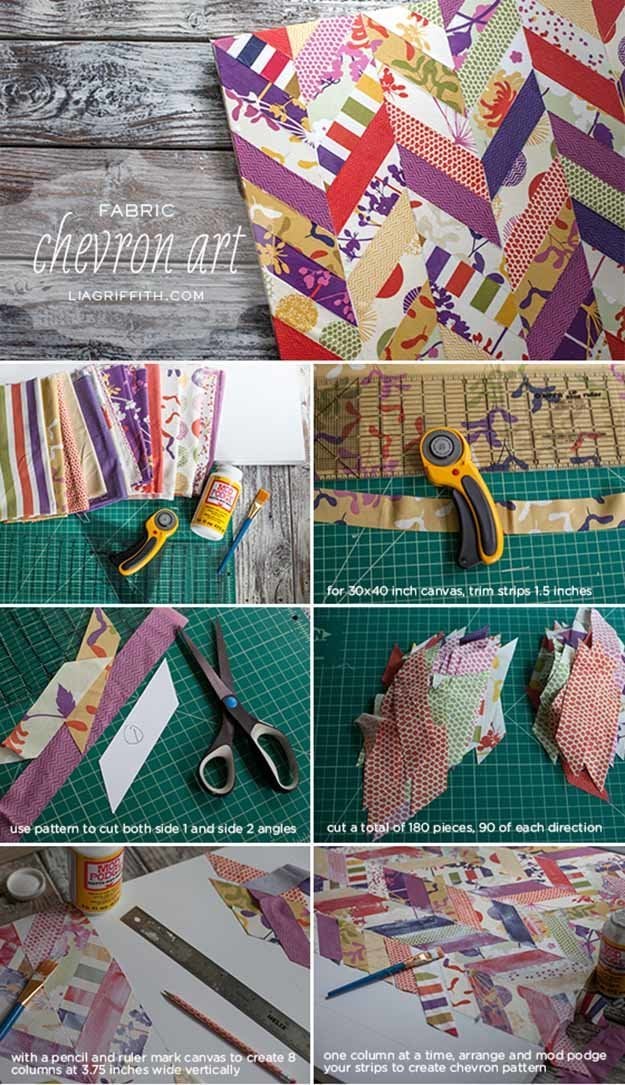 2.Textured Lace or Burlap DIY Coasters
If you love textures and fabric you have already had attempts to texture everything about you, be careful not to over do it though . You can however insert them in a multitude of small objects that can either complement your decor or contrast it beautifully. You can try adding lace textures or burlap textures on some old coasters. Mod Podge does the job brilliantly here and you can upgrade the fabric as often as you like by simply adding one more layer.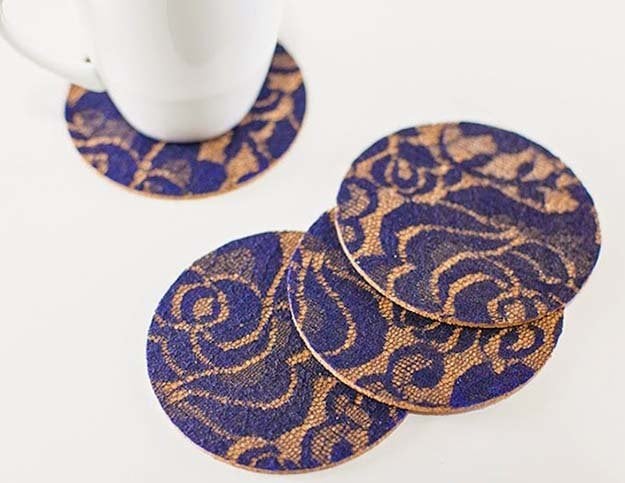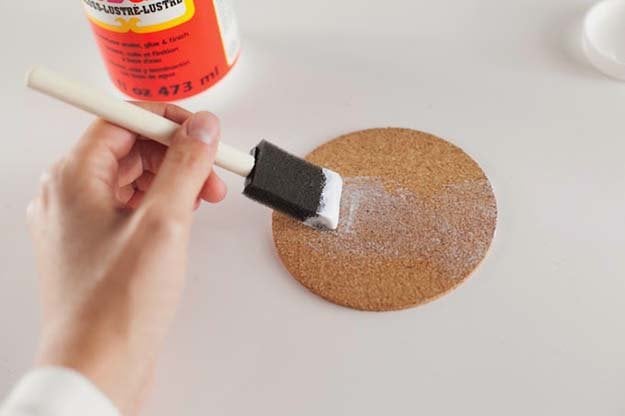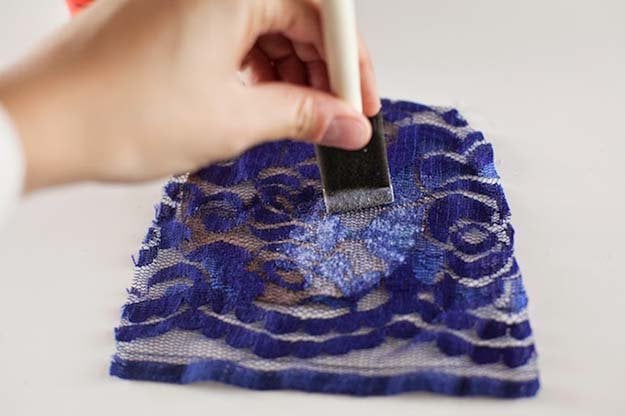 (via Mod Podge Rocks!, click here for full tutorial)
3. Unique Polaroid Shirt with Mod Podge
Even though it is hard to believe Mod Podge actually allows you to transfer photos on fabric.  Mod Podge Photo Transfer will help you to personalize your objects beautifully.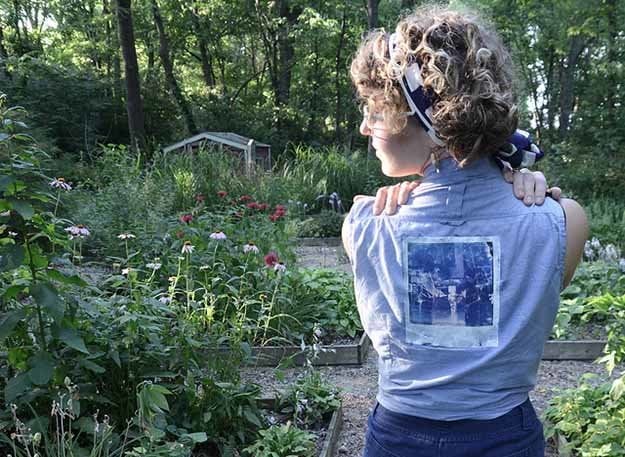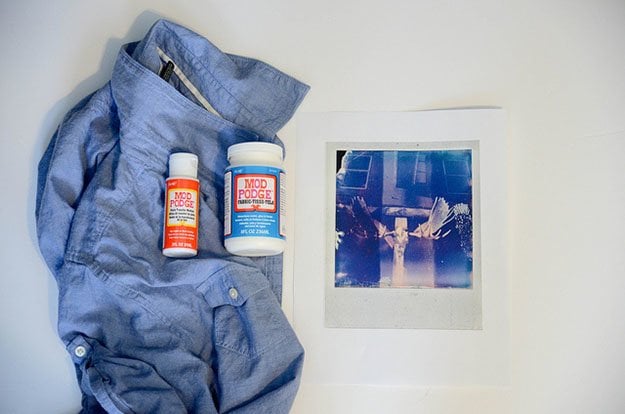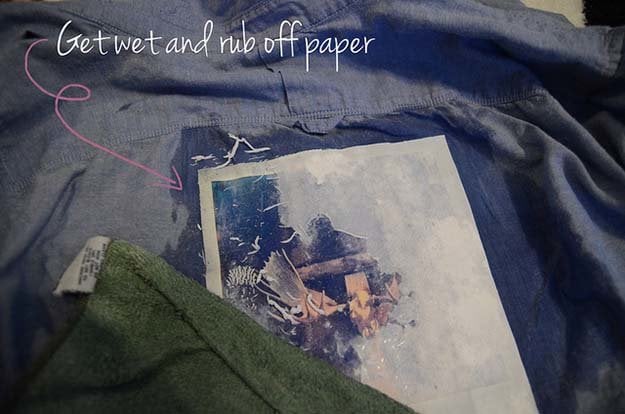 (via Stars for Streetlights)
4. Graphic Japanese Washi Tea Tins
The Japanese printed paper textures have become a standard in interior designs. It just has a very different equilibrium in texture and along two other textures that can complement or contrast the dominant color you will obtain a very beautiful composition. The project ahead uses this prints and Mod Podge to transform some simple containers into delightful containers .

(via Thirsty for Tea, click here for full tutorial)
5. Quote Wall Filled With Substance and Memory
If you have a photo printer at hand you are good to go. If you are obsessed with motivational quotes and call to action inspiring pictures or drawings this is the project for you. Search a word of wisdom that calms you down or a reminder of great philosophies in life that are worth following.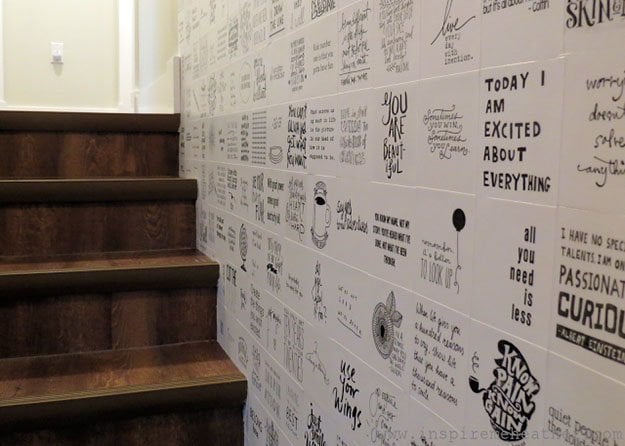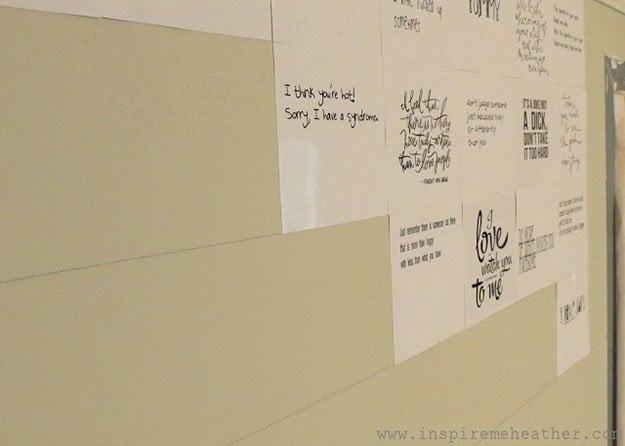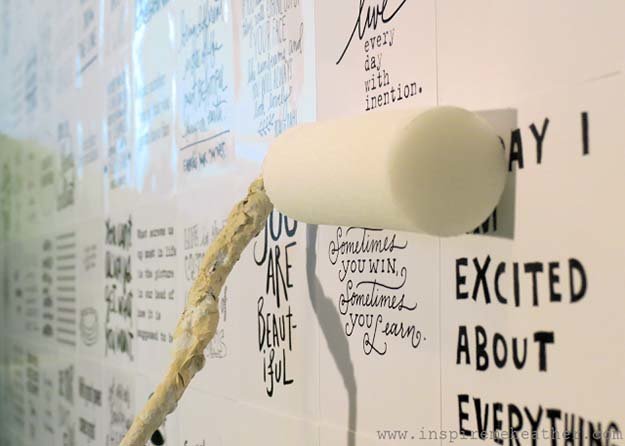 (via Inspire Me Heather, full tutorial here )
6. Vintage Stamps Illustration Platter
If you collect stamps, vintage magazines, comic books, paper images, cards or any other graphic paper form, than you might find this interesting. You can use doubles to make a very graphic illustration platter to showcase in your home setting.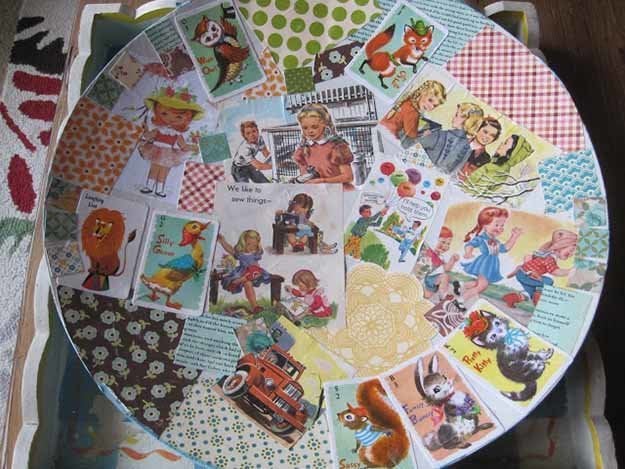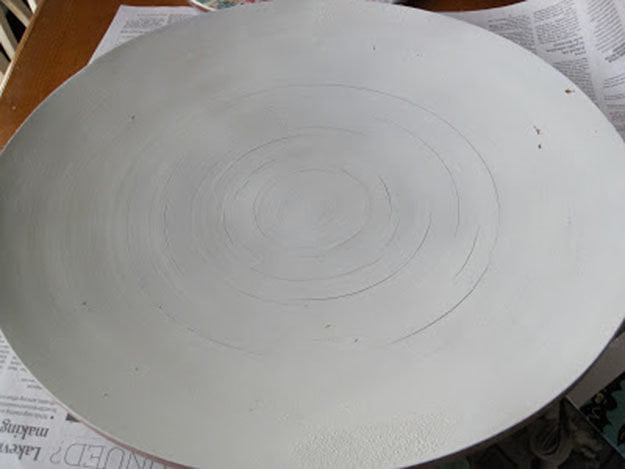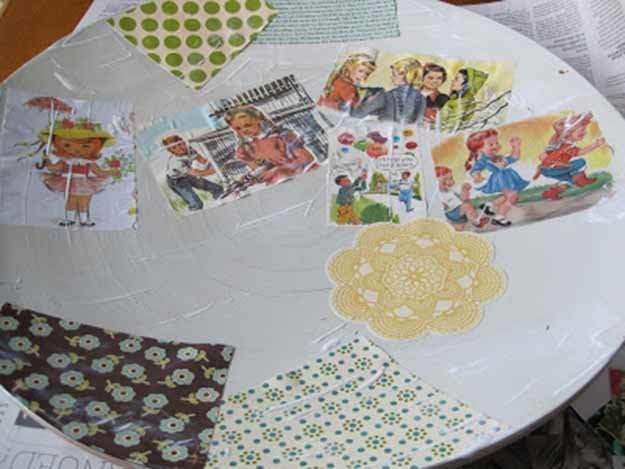 (via The Vintage Umbrella, click here for instructions)
7. Colorful Parakeet Mirror Pendant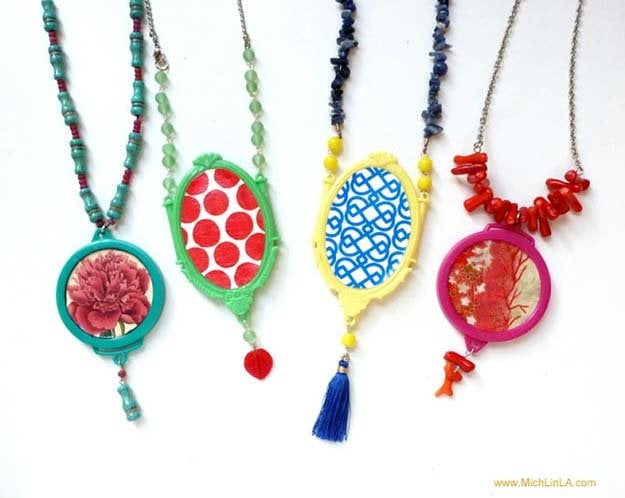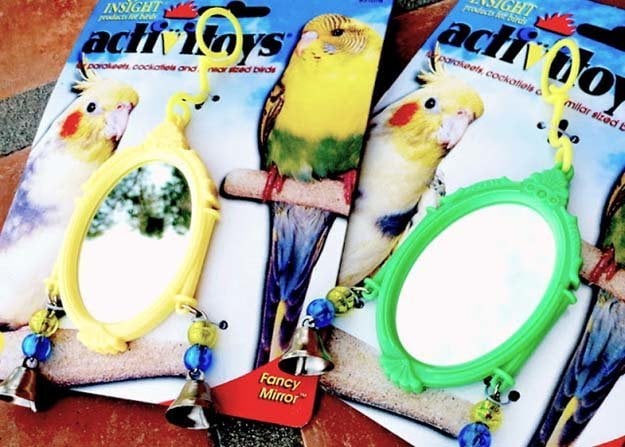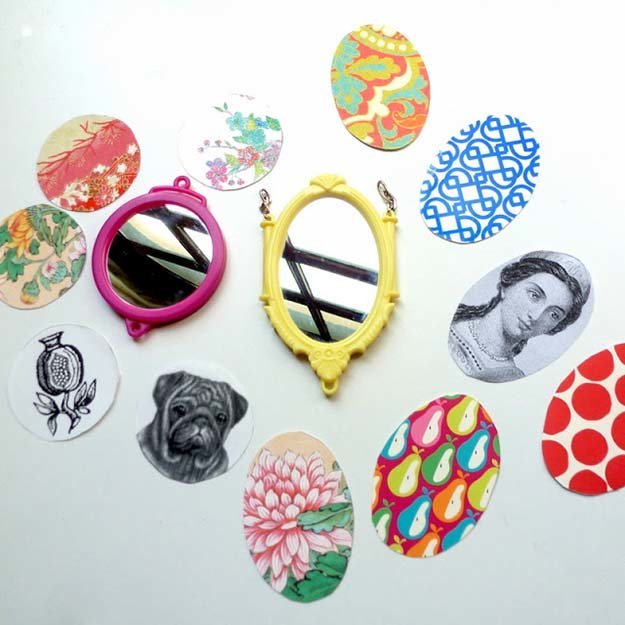 (via Mich L. in LA, instructions here )
8. Colorful Ceramic Ring Catchers
You can decorate your own ring catcher with Mod Podge Sheer Color paint; it is exceptional on ceramics and perfect for your new ring catcher. Start a DIY project for a one of a kind ring catcher today.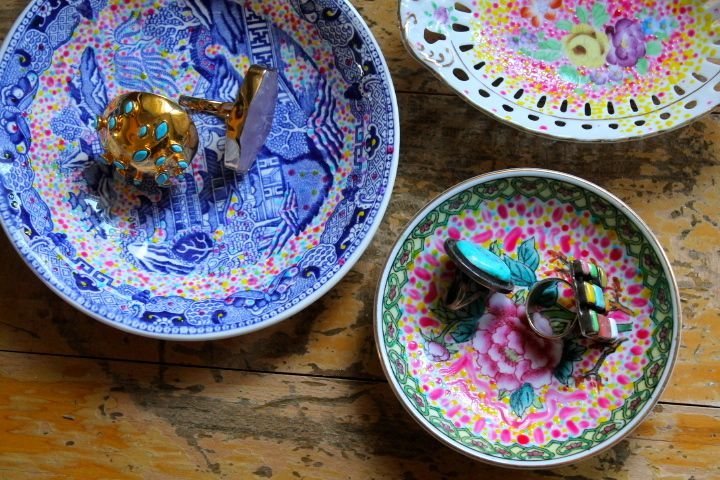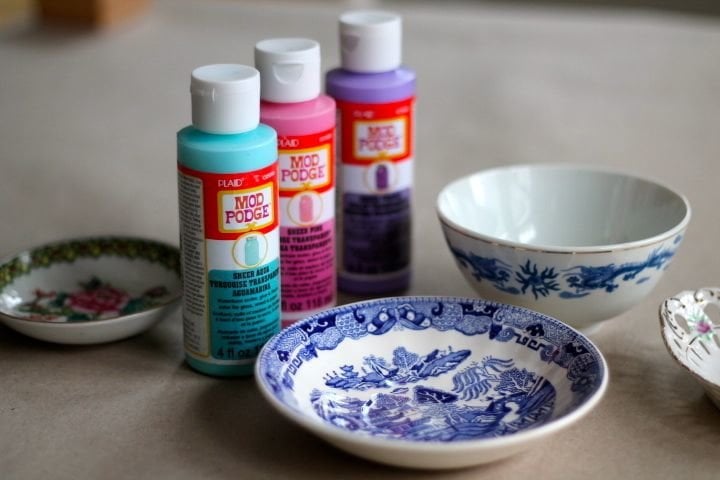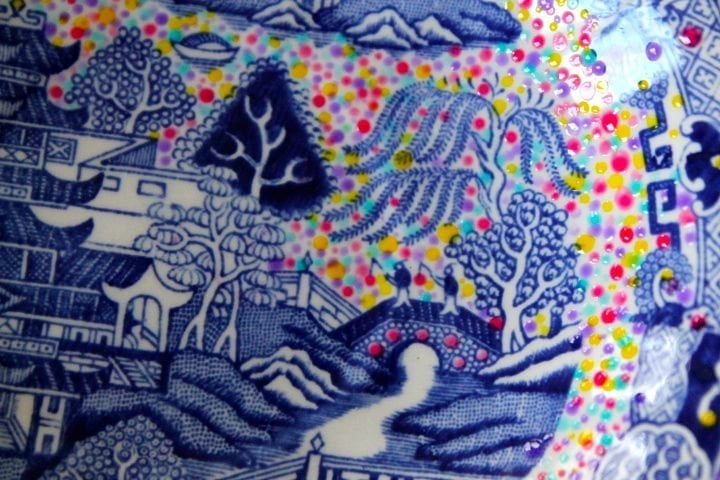 (via Family Chic, click here for instructions)
9. Glitter Sunglasses
With Mod Podge you can create the diy glitter projects of your dreams with ease. Make your old sun glasses fabulous with a quick glitter makeover.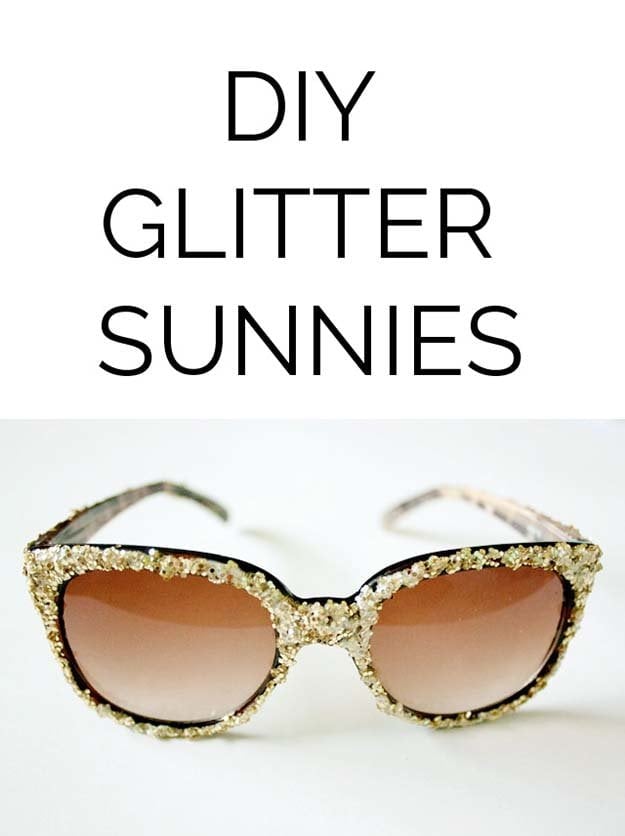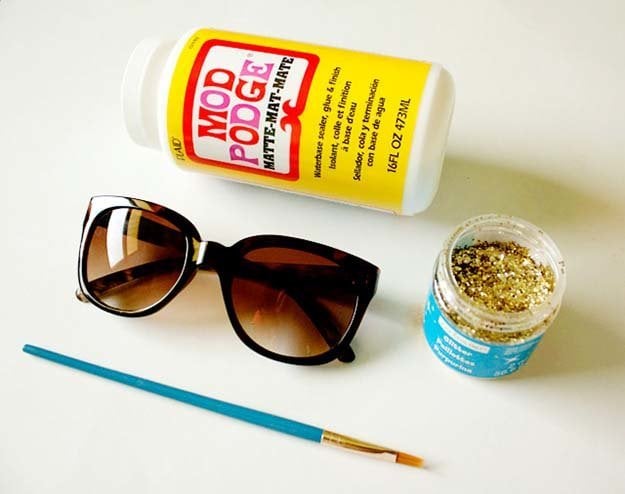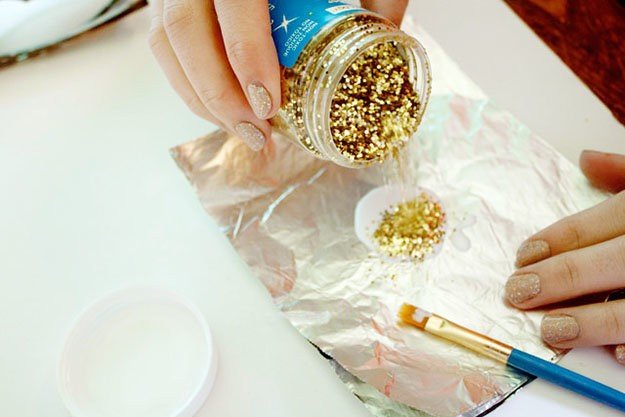 (via See Kate Sew, click here for instructions)
10. Fabric Covered Flower Pots
Finding a graphic flower pot on a budget is tiresome. The options are limited and there are no personalization options. With Mod Podge you can add simple textures and colors through fabrics on flower pots.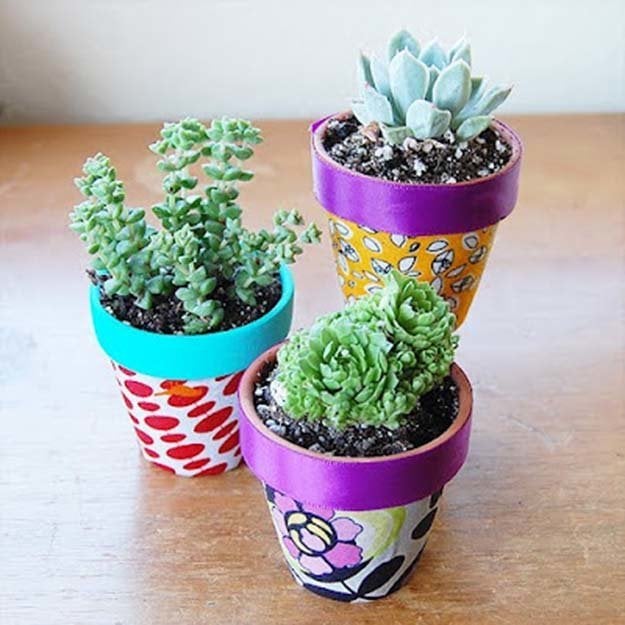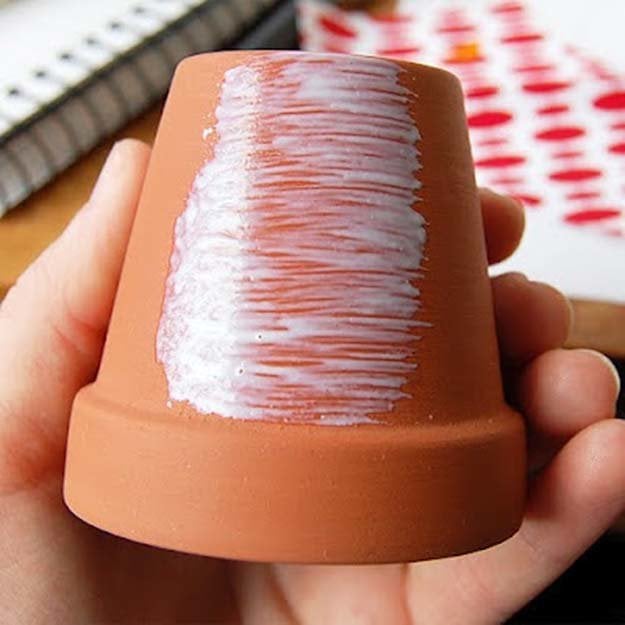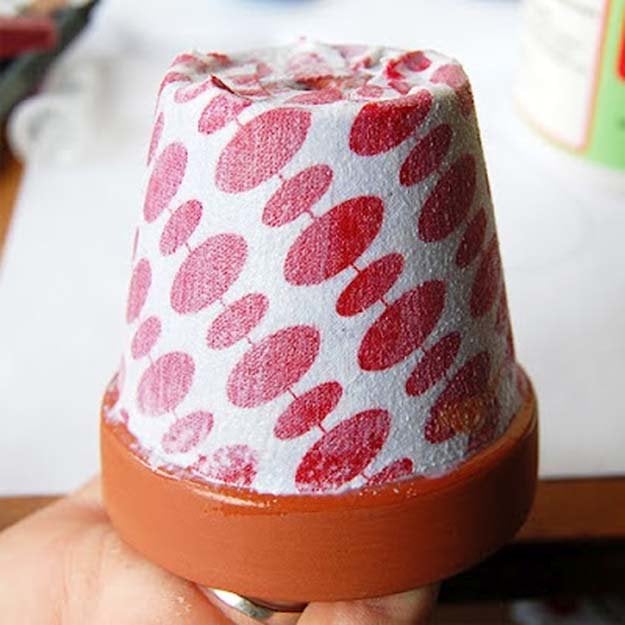 (via The Craftonomicon, full tutorial here)
11. Fabric Covered Sneakers
Transform something ordinary and common in something unique. Impulse buys are not always extraordinary but today, with Mod Podge, you can covert a few things with a Photo transfers or an inexpensive pair of sneakers with Fabric Mod Podge. Cover them in the fabric that you love and jazz them up!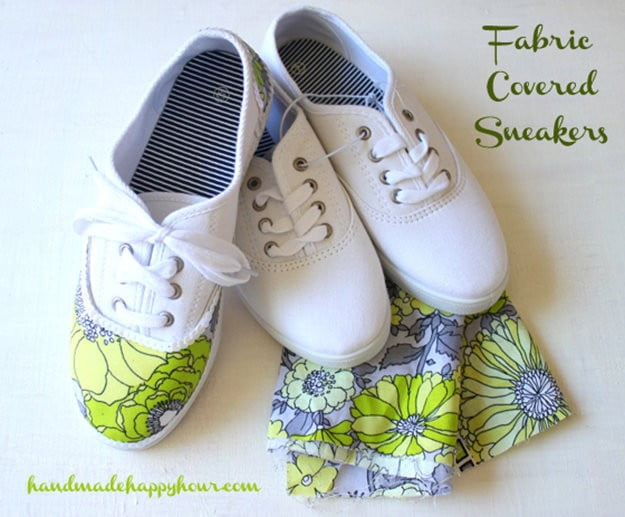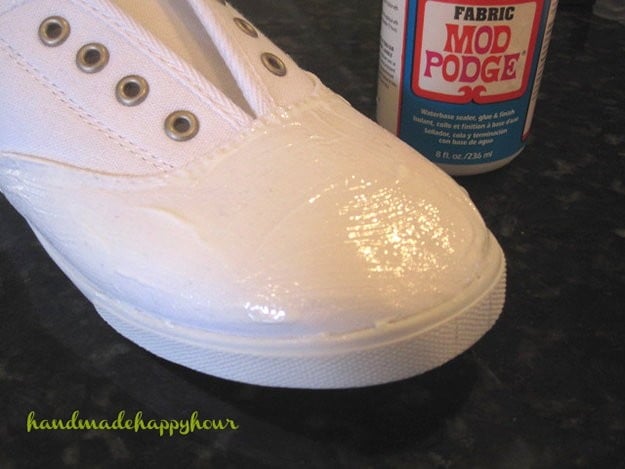 (via Handmade Happy Hour)
12. Colorful Doily Bowls
Repurpose the multitude of doilies in a more pragmatic manner. You can use them to make bowls for candy.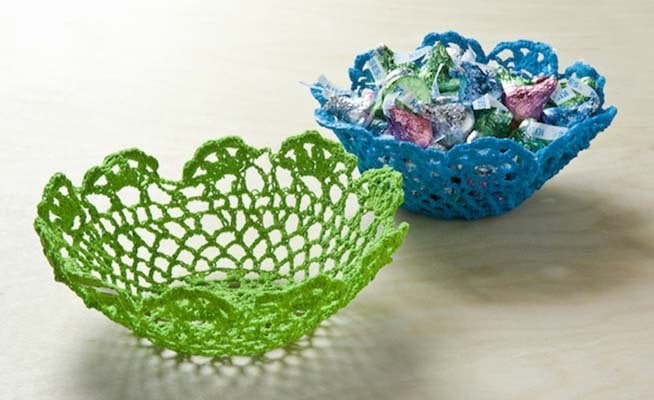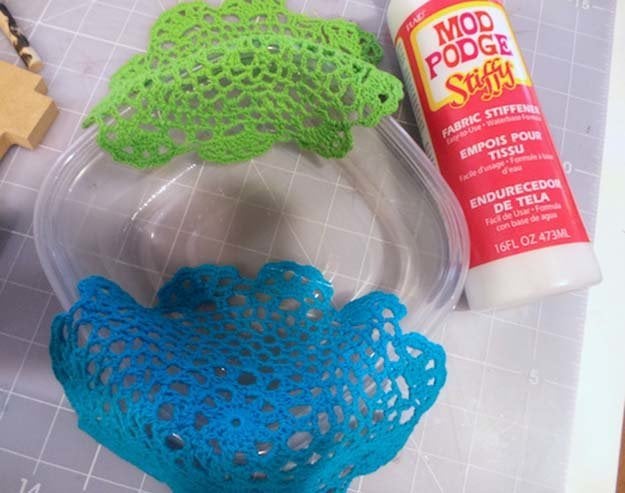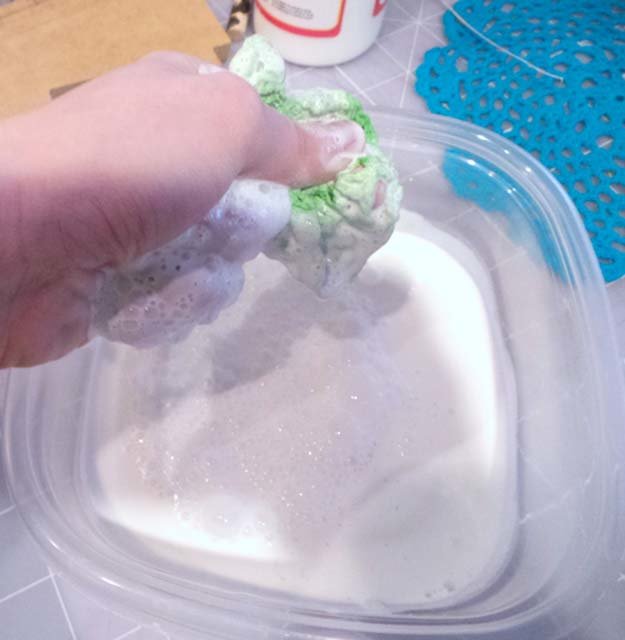 (via DIY Candy,find instructions here )
13. Gift Wrapped Side Table
Mod Podge and Chalk Paint go along great and you can go and use this mix without doubts. You can use this mixture to repurpose vintage side tables, coffee tables or armoires beautifully. To make them even more beautiful you can add wallpaper lines in interior, these can create rhythm, direction and contrast.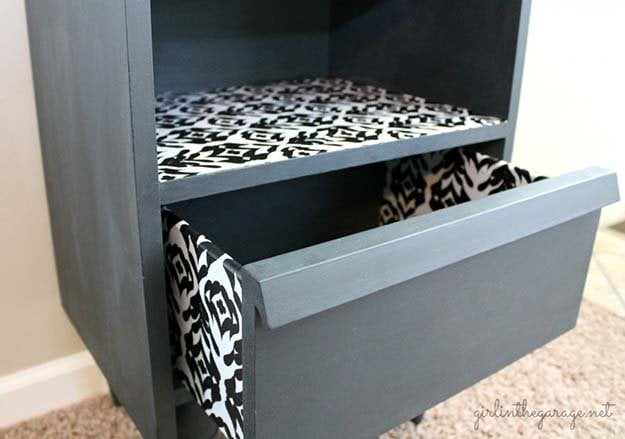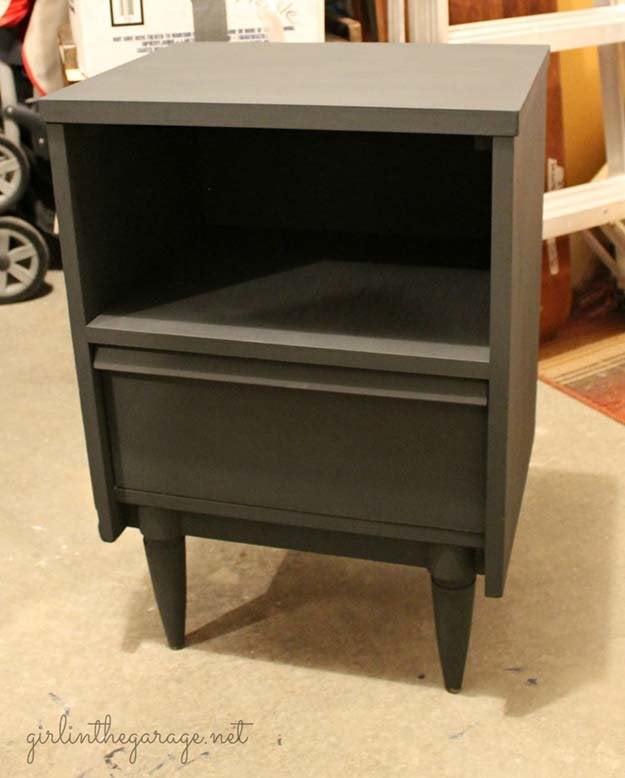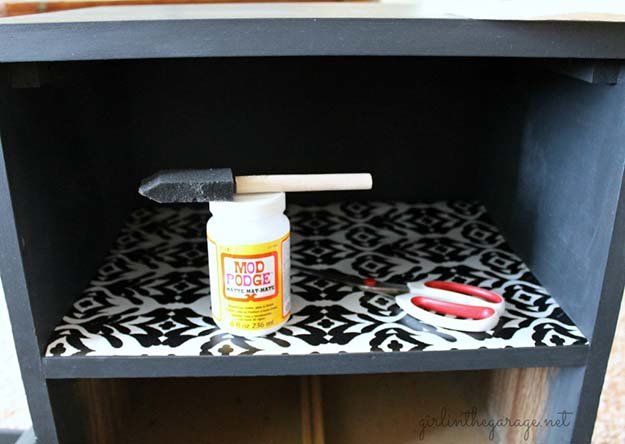 (via Girl in the Garage,full tutorial here )
14. Monogram Map Box
Map themed vintage- looking items are simply beautiful thanks to the very dense organic texture that they bring to the home setting. You can make your own map boxes and store the things that you love by using this magical adhesive. Make sure that each box has a unique textures and size if possible and try to avoid placing more than three in one place, it will make the composition seem unbalanced.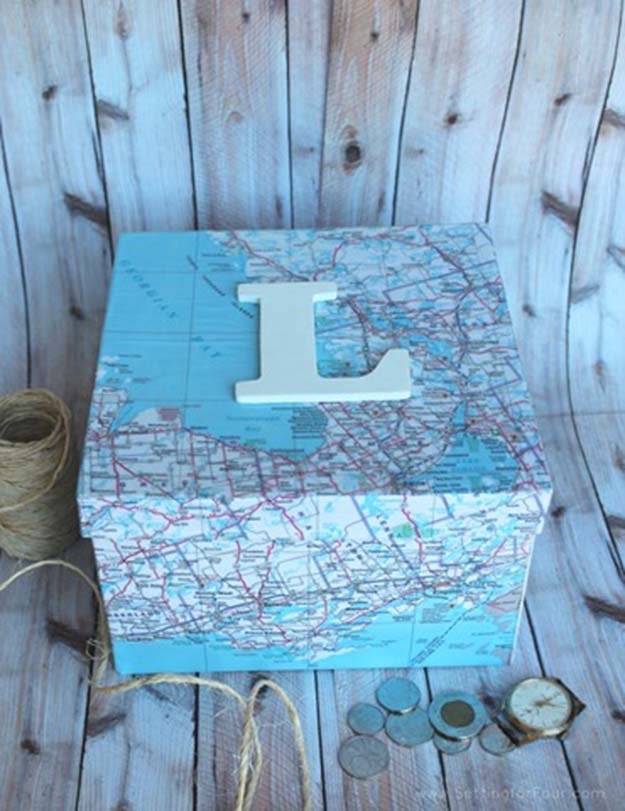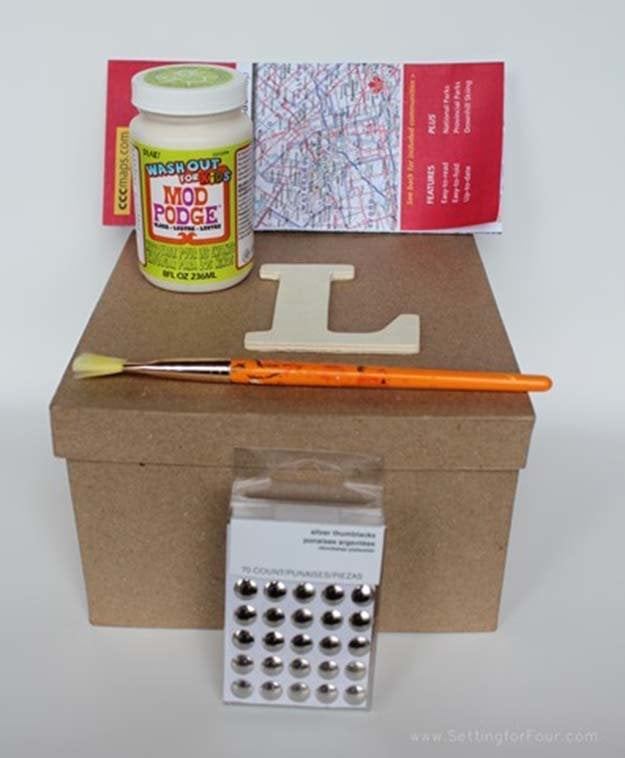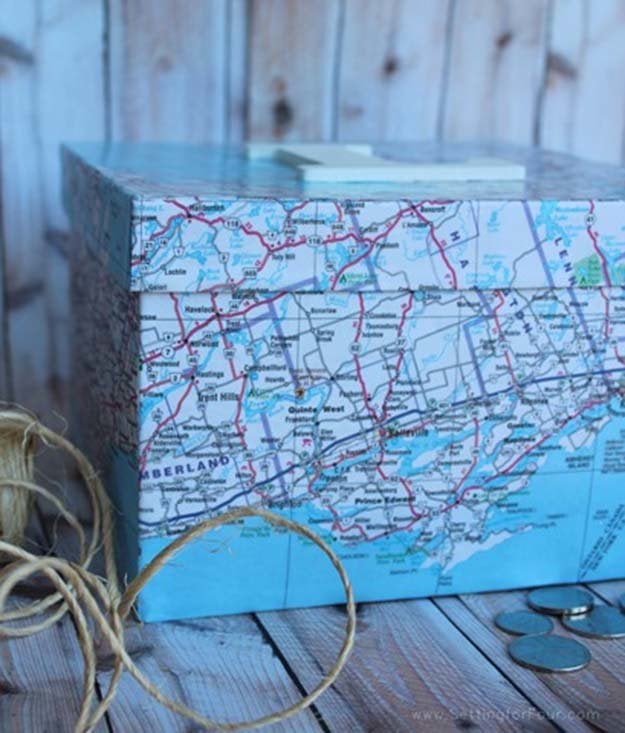 (via Setting for Four, click here for full tutorial)
15. Spring Printer's Tray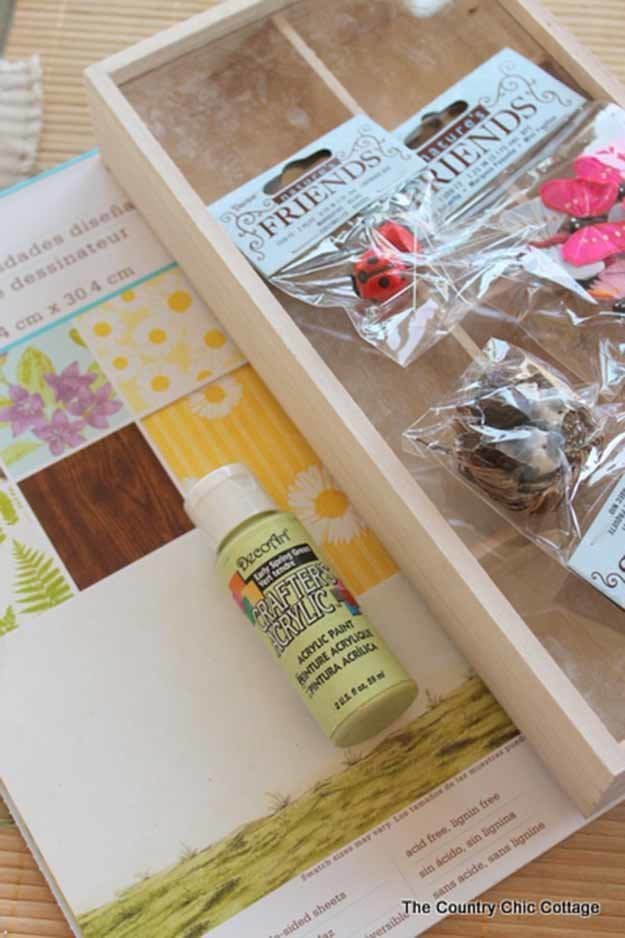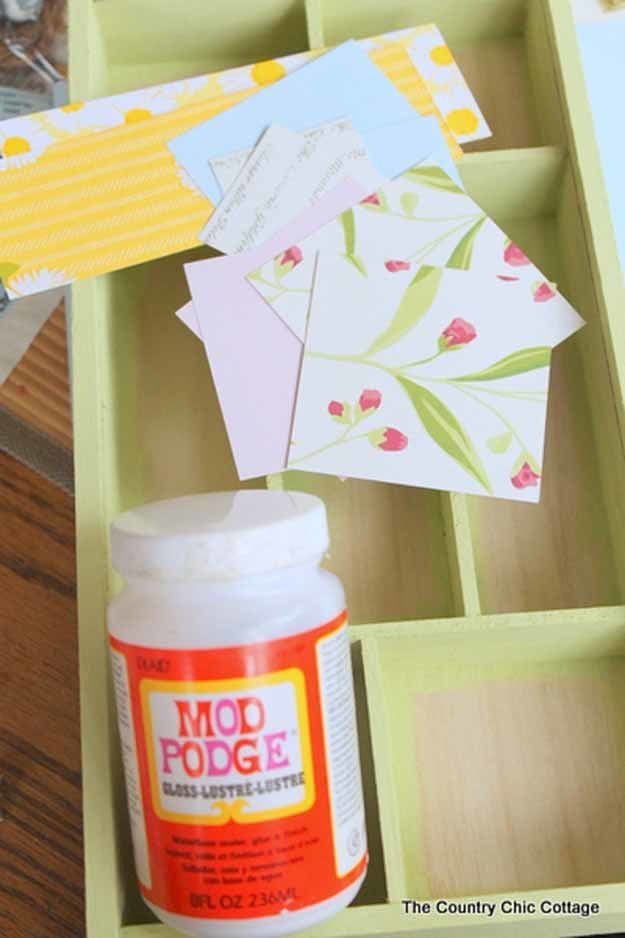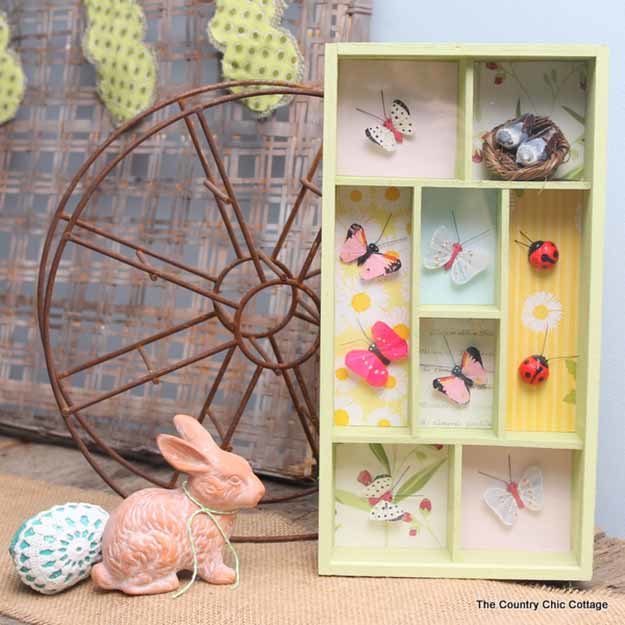 (via The Country Chic Cottage, instructions here for full tutorial)
16. DIY Wooden Magnets
A fridge can always carry one more magnet. If yours misses the natural touches of a DIY wooden magnet, sea shell or small rocks maybe it is time to consider adding a few. Mod Podge can aid you in this endeavour.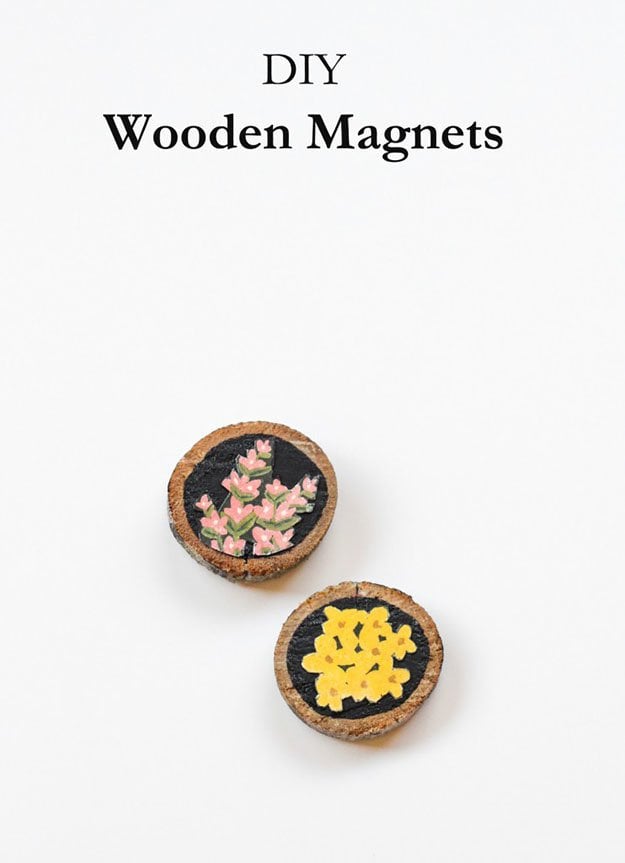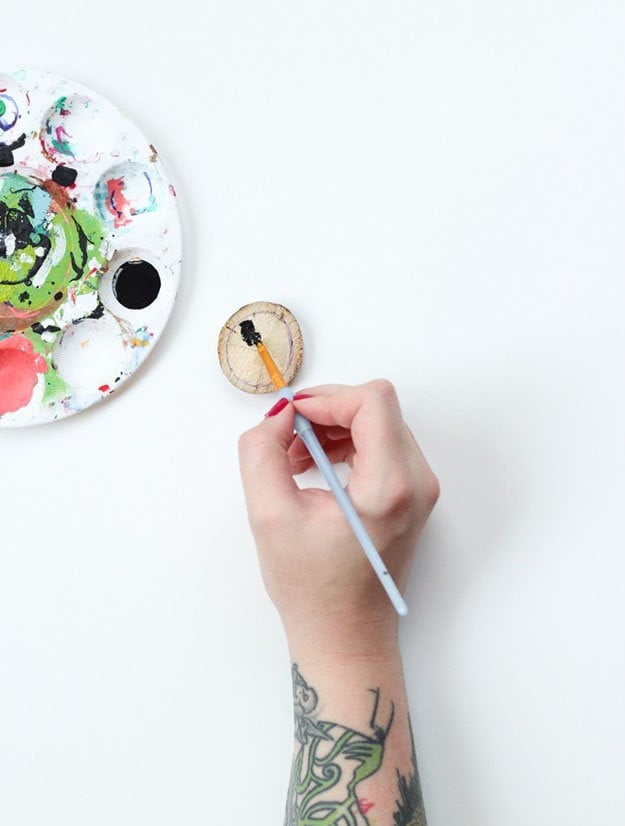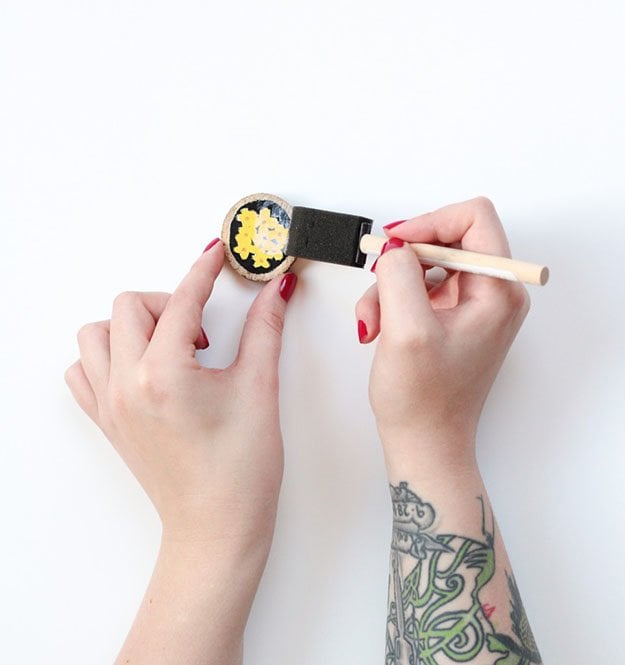 (via The Crafted Life, full tutorial here )
17. Cake Stand With Mod Podge
With Mod Podge you can create colorful stands for public cake displays. Entertain in style and use only your favorite segment of scrapbook paper to showcase your creations.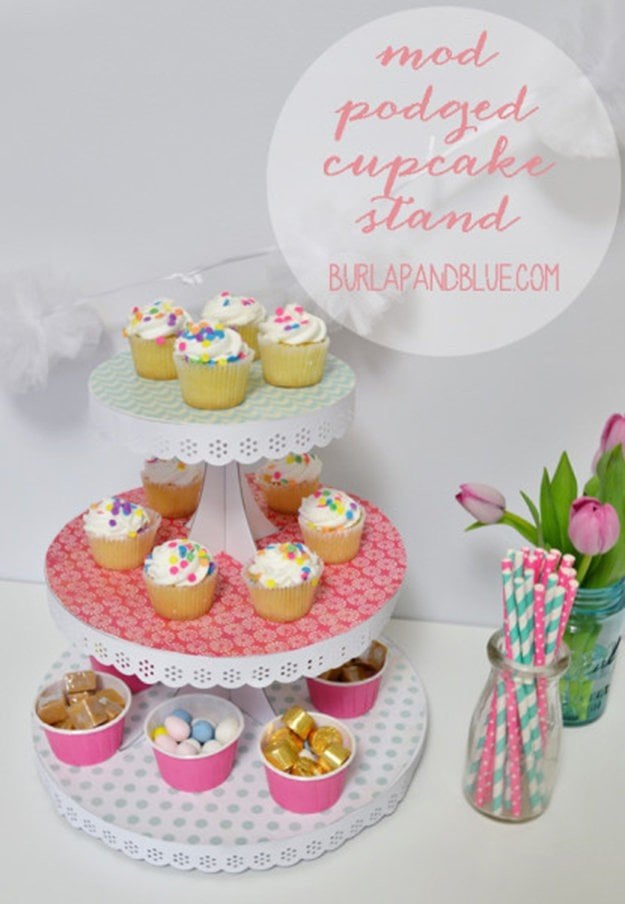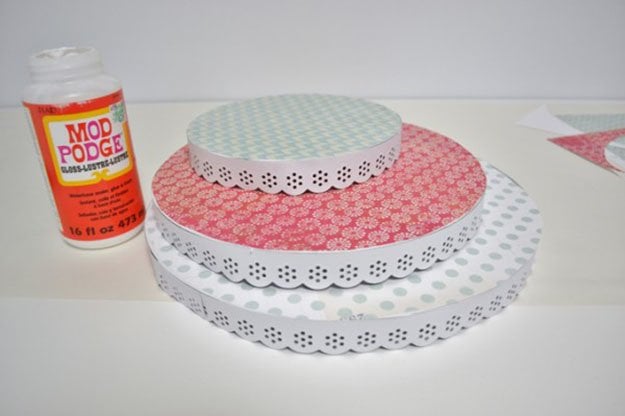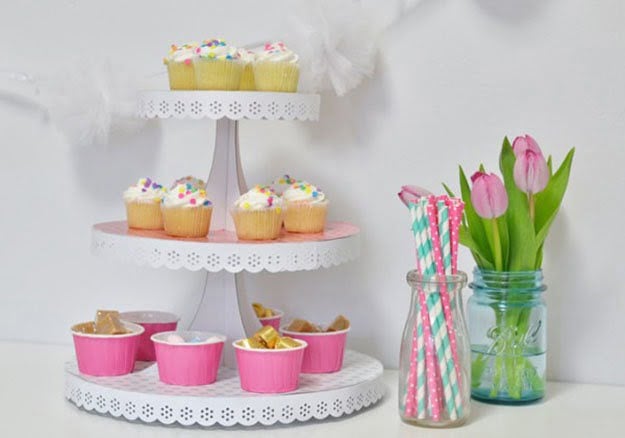 (via Burlap and Blue, click here for full tutorial)
18. Polka Dotted Parasol Craft
Summer is knocking at the door and, with it, summer DIY projects rise. You can make your beach umbrella by using outdoor Mod Podge. The project might be more difficult but your parasol craft will be unique for sure.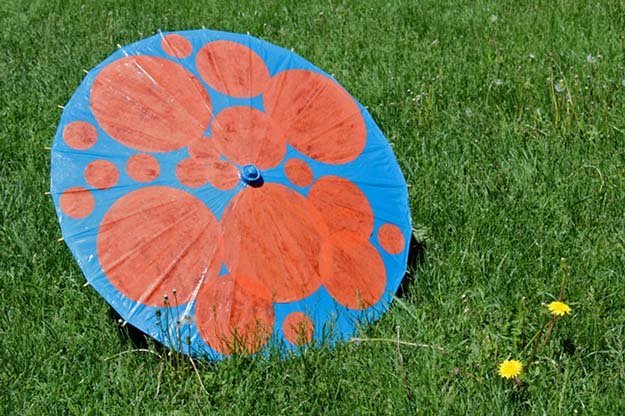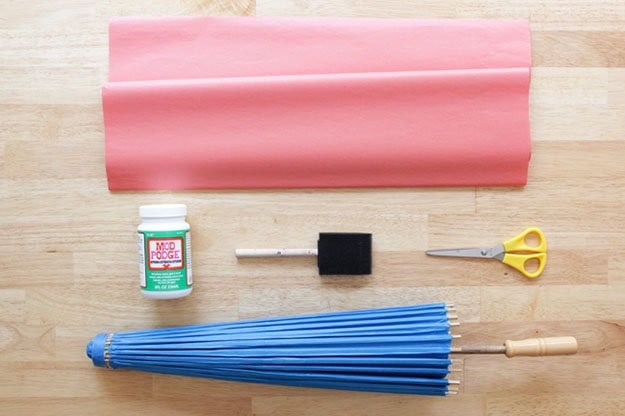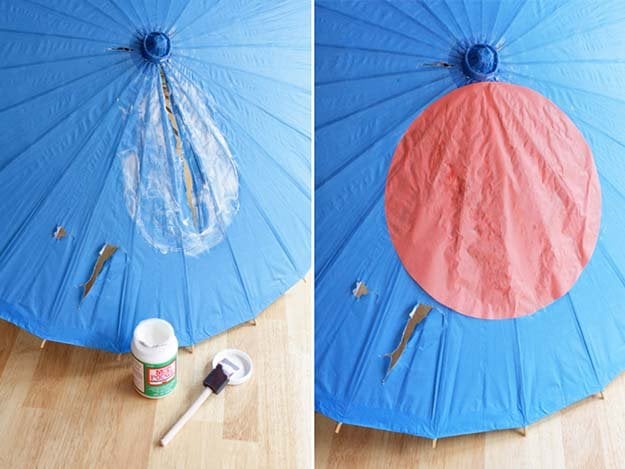 (via Mod Podge Rocks!,instructions here)
19. Simple Recycled Book Cubes
Store memories in little recycled paper blocks and make sure that you update the collection of cubes often. Few things are worth remembering daily.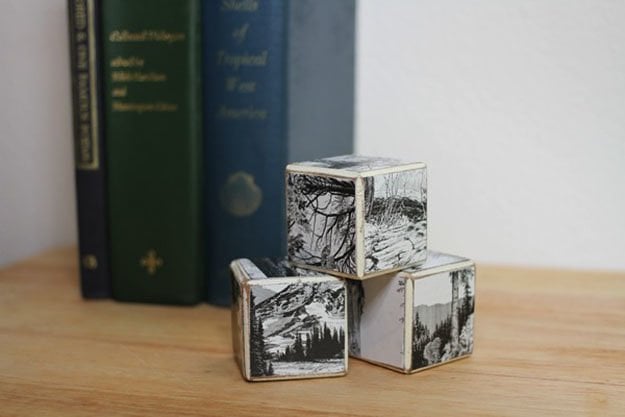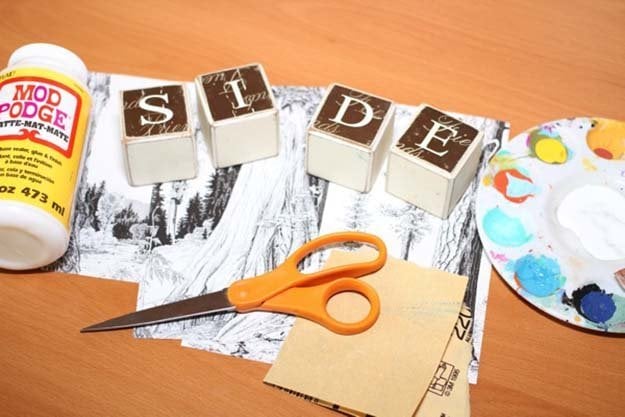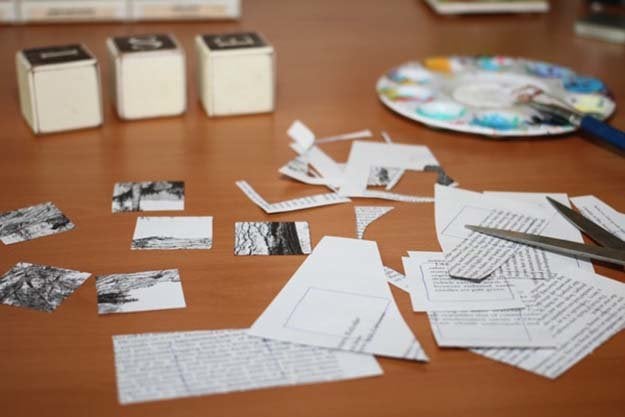 (via Trashy Crafter, click here for full tutorial)
20. Scrap Paper Decorative Vase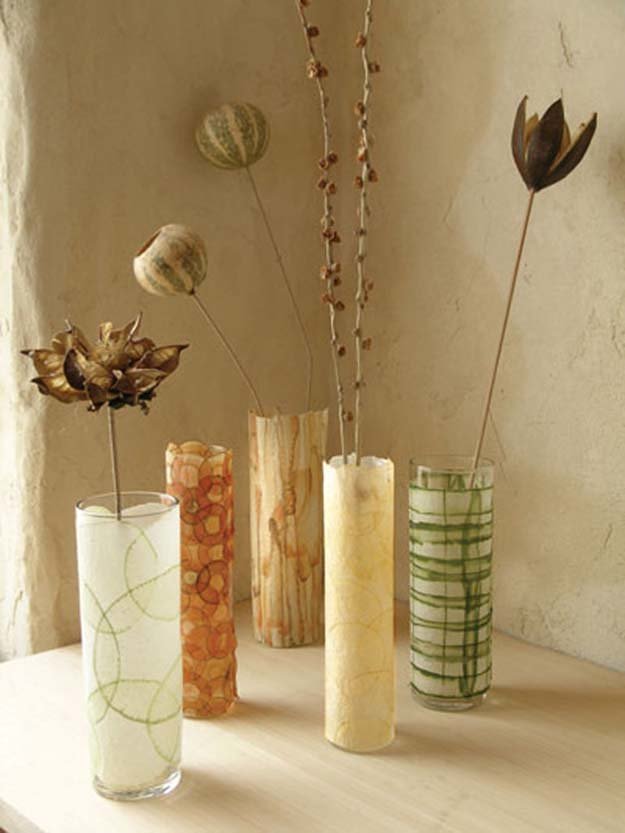 (via Mother Earth Living, click here for full tutorial)
21. Glow-in-the-Dark Fabric-Covered Recipients
This DIY project surely ain't for everybody but for some might be appealing from the first second. Follow the tutorial and let us know what do you think.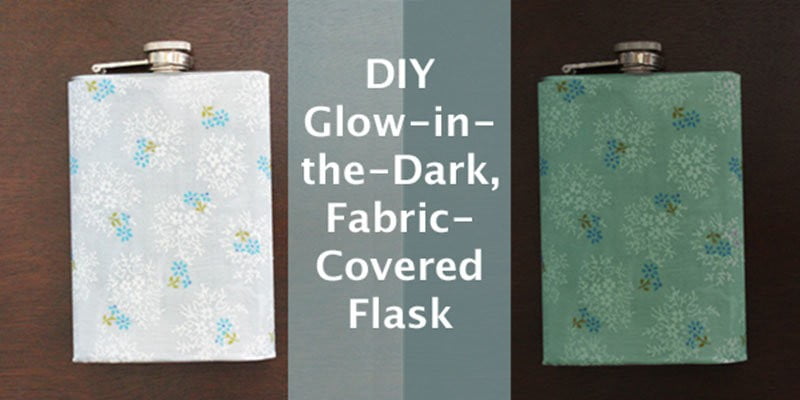 (via Hands Occupied, click here for full tutorial)
22. Use Balloons and Mod Podge For Bowls and Luminaries
Whether you use lace, leaves or just string it is simple to use glue in diy balloon projects. Give it a go.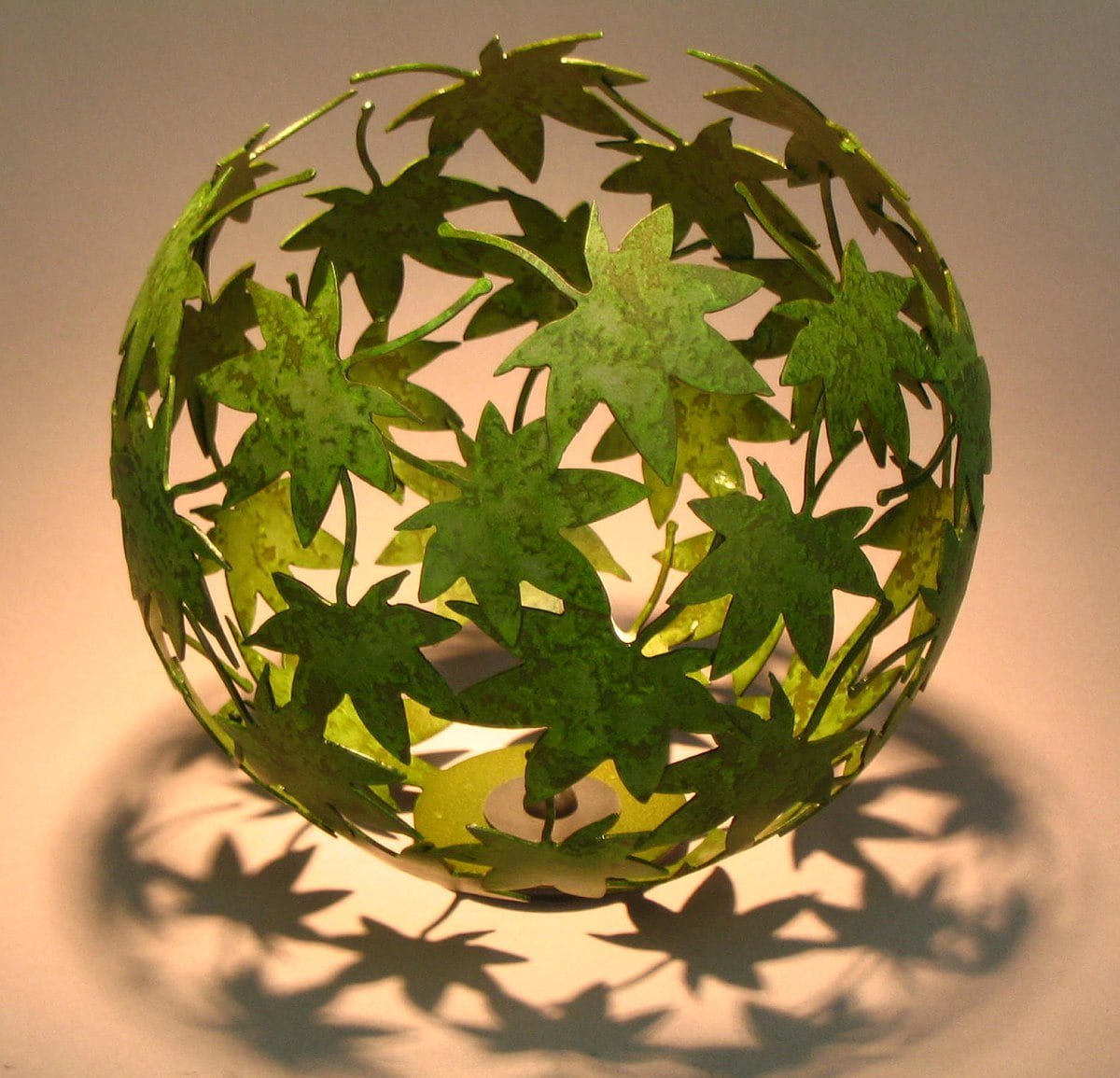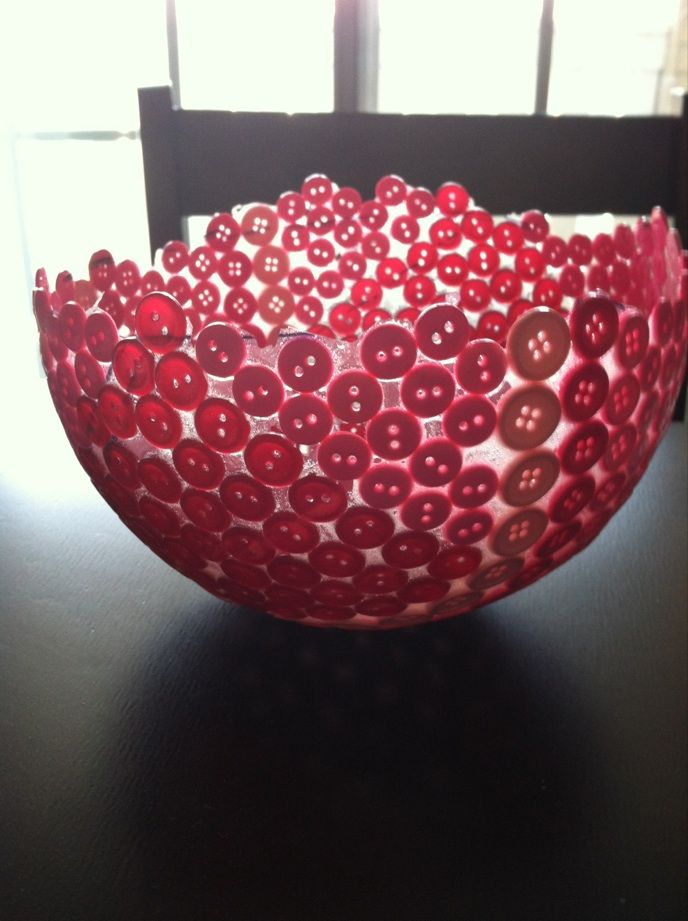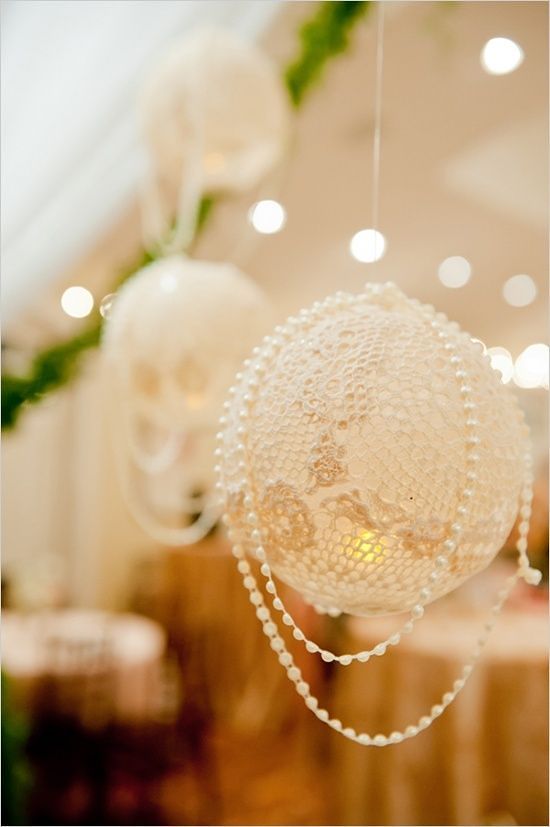 (via Homesthetics, more ideas here )
The possibilities are endless with Mod Podge. All you need is time and will to start the project that your pursue. We would love to hear your opinion in the comment section below.