Not all DIY project materials are easy to find despite popular belief. The sole purpose of DIY projects is to use what you have at hand and upcycle creatively items into objects filled with memory and substance. These crafts are not easy yet each and everyone will surprise and reward you into the right context. After publishing a DIY tree stump inspiration pack today we are presenting you twenty hand picked DIY Branches Crafts that will surely amaze you.
Tree stumps are extraordinary : they`re heavy, short and wide, they offer your interior a very bold direction, a proper tree stump coffee table enroots your design into our realm, it moves the entire center of gravity of your decor through a beautiful massivity. Tree branches on another hand are quite different : they`re fluid, organic, slim and long, they tend to reach the sky on a path filled with dynamicity, texture and flowing beauty. As a result their uses are quite different, you can use them as a handrail, as an extremely graphic hanger or as a body for floor lamp. Needless to stay that you can stack them up and realize everything that you would realize with tree stumps in a more sensible design but the amount of work invested increases and so are the resources required.
Keep in mind that no trees should be cut for your next hanger. You can surely find some fallen trees to use and you can always talk to the local forester. Craft away!
Use Tree Branches to Shelter Memories Beautifully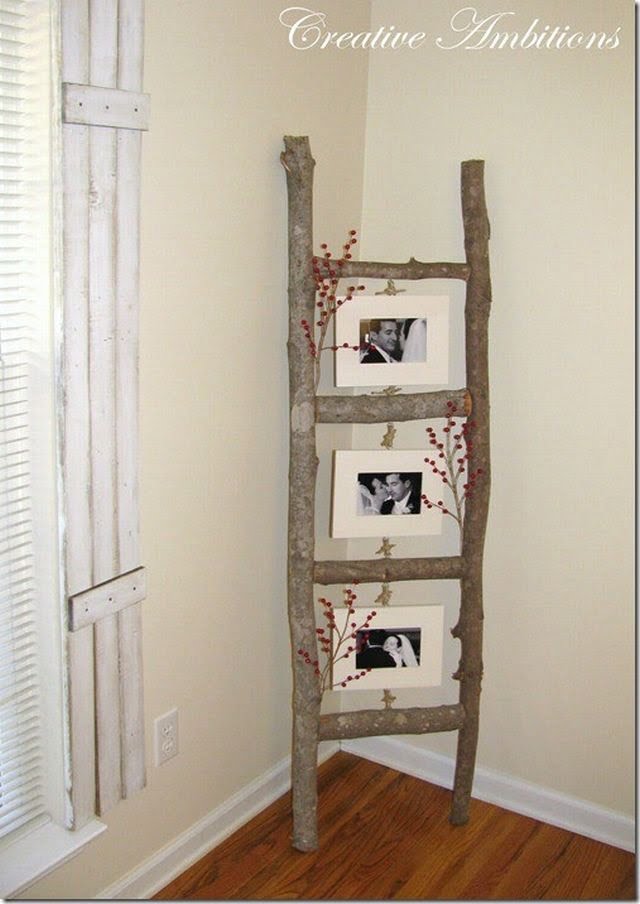 What can be simpler than this photo rack? Here it has been used to complement the corner but you can easily hang it or move it around the house whenever you want wherever you want. It is that simple!
Via lovethispic.com
Mesmerizing Sculptural Branch  Lamp Enhancing a Decor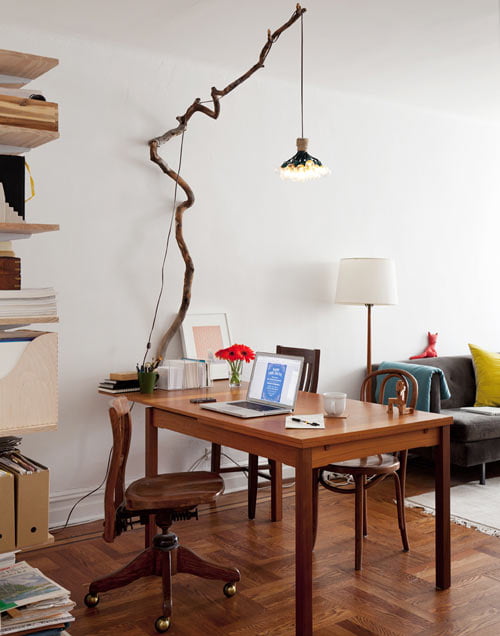 It is clear that the sculptural branch beautifully enhances the decor here but take a moment and notice the floor, the extremely spectacular wooden ergonomic chair and the light bulbs at the end of the branch. All these are complementing the decor in a spectacular manner.
Floor to Ceiling Sculptural Branches Serving as Hangers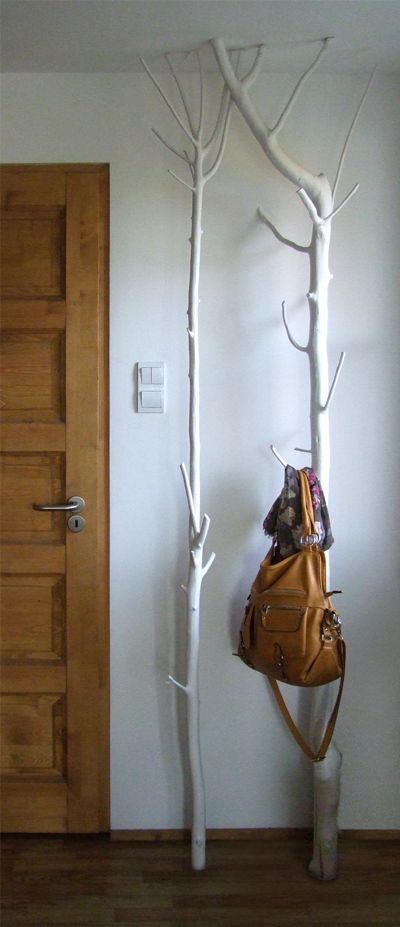 Insanely simple to realize and insanely graphic. Here the branches have been fixed into place but if you are insecure about your current environment or you tend to design versatile multipurpose spaces you can find below a free standing coat hanger .
Multiple Twigs Sensibilizing a Coffee Table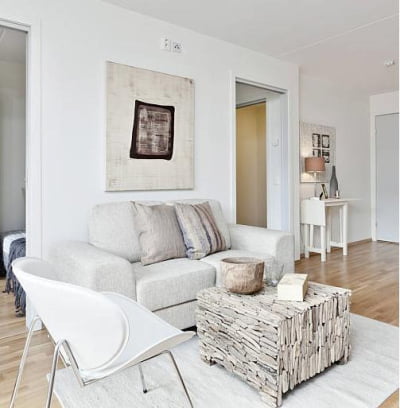 Twigs used here are using an old coffee table as the structure. In this manner you would use far less materials but the result will look a little more artificial. If you have enough branches you can always stack them up neatly.
Sculptural Branches Composition Dinner Table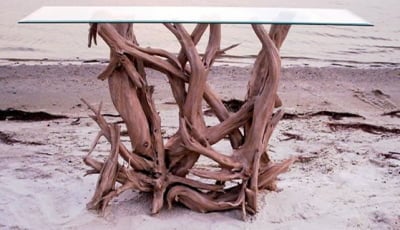 The sculptural dinner table surely ain't easy to realize. The composition and structural demand in perfect static and graphic equilibrium is hard to realize but always rewarful.
White Branches Side Table Empowered by Living Nature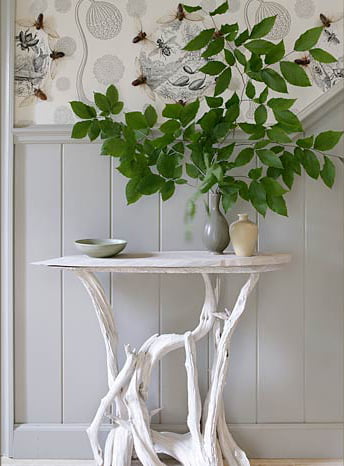 In Shabby Chic Interiors and Scandinavian Interiors alike a top of white will never do any harm. The natural texture can contrast white in isolated focal points.
Organic Twigs Used in a DIY Wall Art Project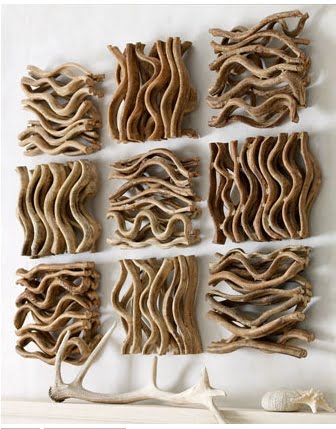 Wall art requires no introduction in DIY projects but above us we have an example that shows how repetition can work very well with fluid and organic lines.
One Branch Nestling Infinite Memories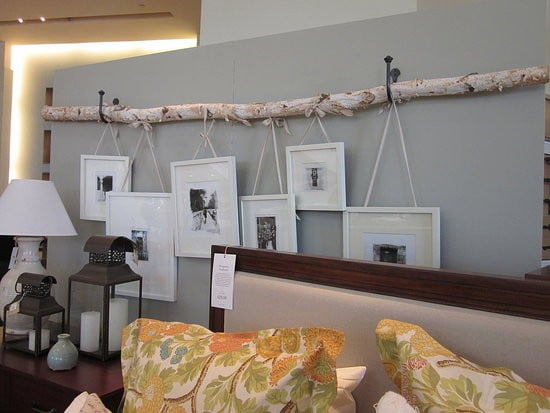 This might look odd for some but if you take a moment to envision it in a shabby chic or Scandinavian interior design you will change your mind for sure. Moreover, the branch pierces the wall in just two points to sustain its weight and carry the frames. Imagine how many pierced would your wall be without it. The branch will also allow you to change the composition with ease every time you like in every direction .
Via keeppy.com
One Ensemble Sliced Into Three Frames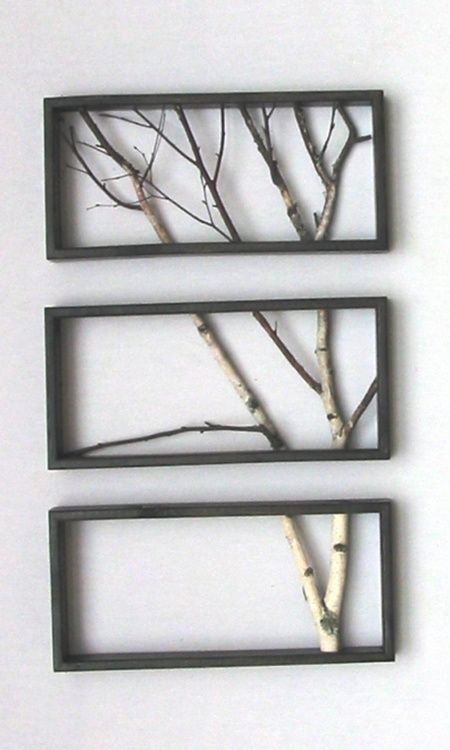 Simple and graphic.
Mesmerizing Center Shabby Chic Centerpiece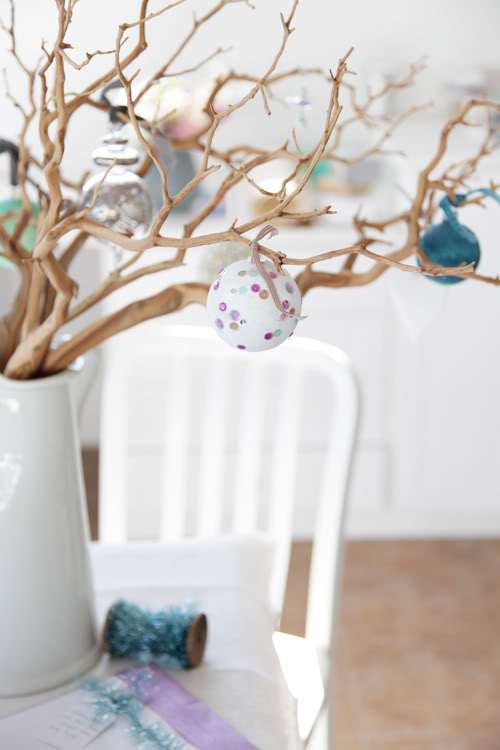 There are no words to describe this extraordinary centerpiece. Imagine its evolution through seasons, every time the branches wearing a different decor for Easter, Halloween, Christmas and so on. Very creative and versatile, your efforts will be rewarded.
Simple Branch Handrail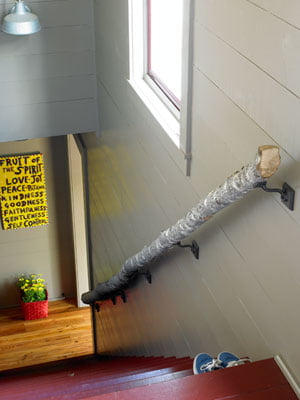 High end handrails are quite pricey and the customization possibilities on affordable ones are really dull. You can always use this graphic handrail as a temporary solution until you move towards your dream handrail.
Small Twigs Beautifying Simple Candles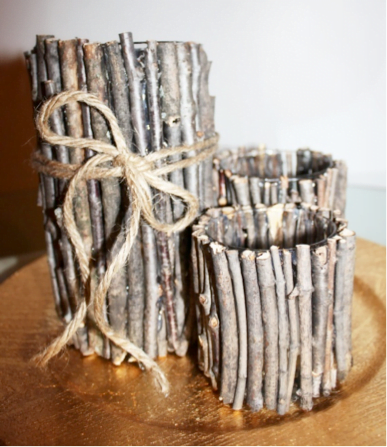 Simple twigs, simple candles, beautiful result.
One Branch Chandelier to Rule Them All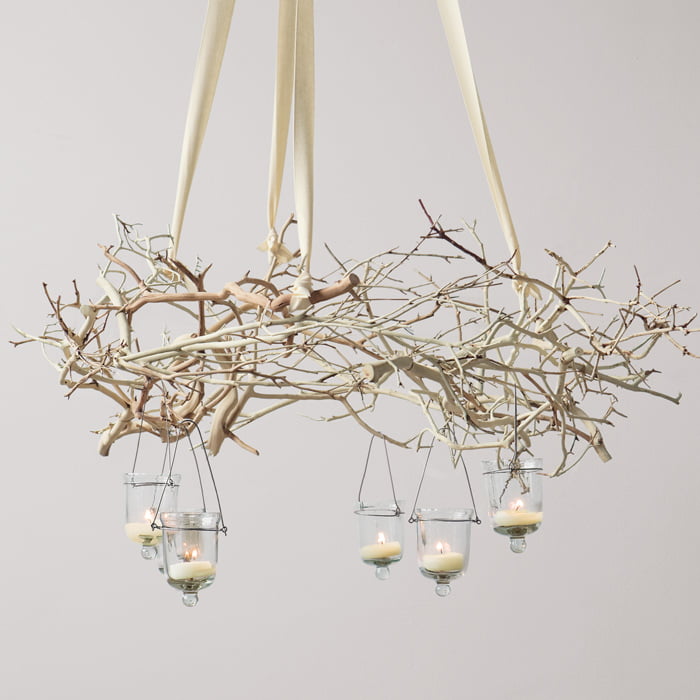 While the candles above your head might look quite inappropriate you can always replace these with LED lights that produce no heat. Be creative and find sculptural solutions for your interior decor. You can also use less twigs and more branches to obtain a more solid result but these are here to warm us.
Decorate an Old Window With Sliced Wooden Branches and Twigs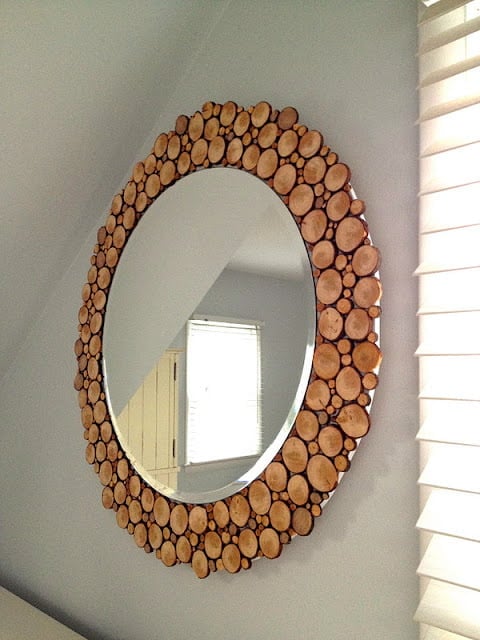 Old mirrors can be easily upcycled and the possibilities are endless but if they're in a good state why not use them for their original purpose. Ask a friend that owns the right power tools to slice them beautifully, sand them and stick them on the contour in a neat composition.
Via paigespartyideas.com
Upcycle a Broken Lamp in a Natural Organic Manner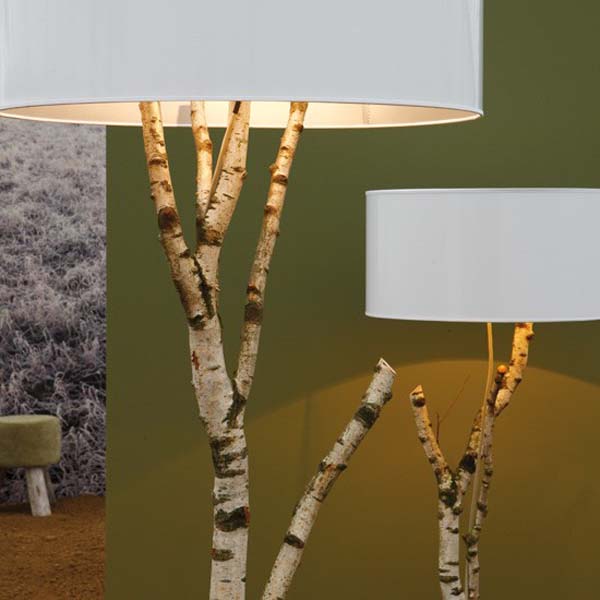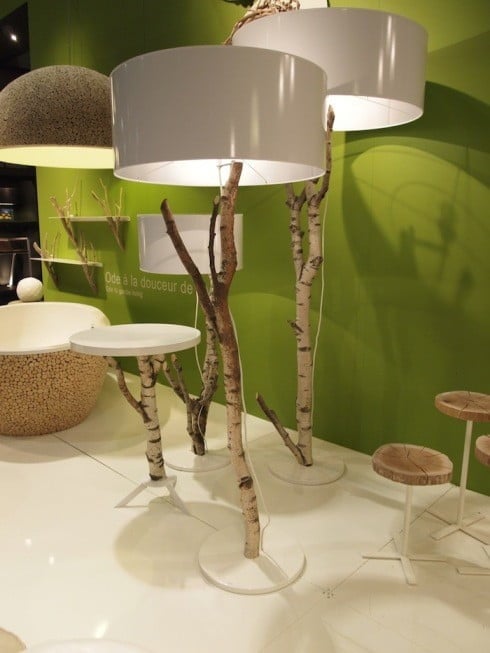 Whether you are looking for a new lamp and you've decided to purchase a lamp kit or simply upcycle an old one, using branches as a  structure is a safe and viable option. Make sure that the bulb is at a safe distance from the wooden part though.
Via abitofbeesknees.blogspot.gr
Extremely Graphic Shabby Chic Branch Sustaining Hangers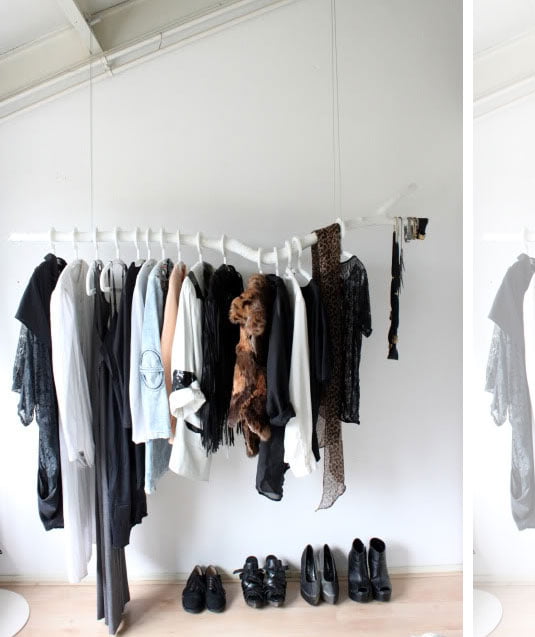 Probably the most creative solution in our guide and the least expensive bar hanger ever produced. Craft away!
Movable Organic Branches Coat Hanger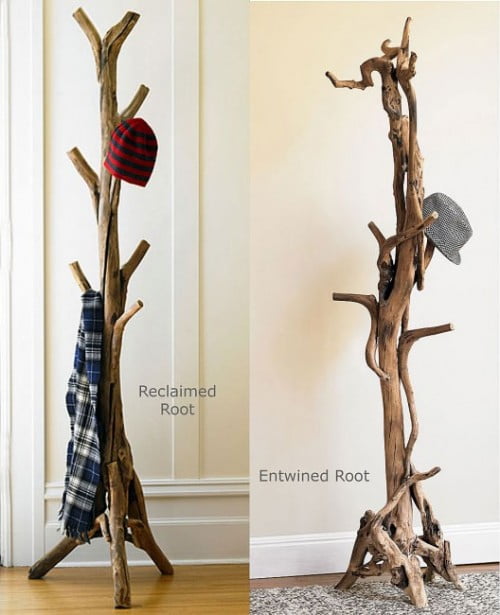 The free standing coat hanger alternative mentioned earlier in the article. Notice how two different parts of the root are changing the graphic end result.
Via shelterness.com
Solid Floor Lamp Branch Illuminating a Decor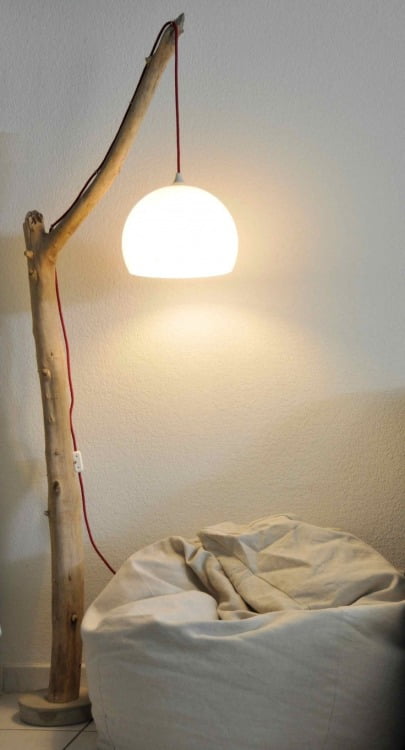 A solid floor lamp with a beautiful lampshade. Notice the red wire contrasting the simple decor. Beautiful.
Via www.bestproductsgadgets.com
Rustic Key Hanger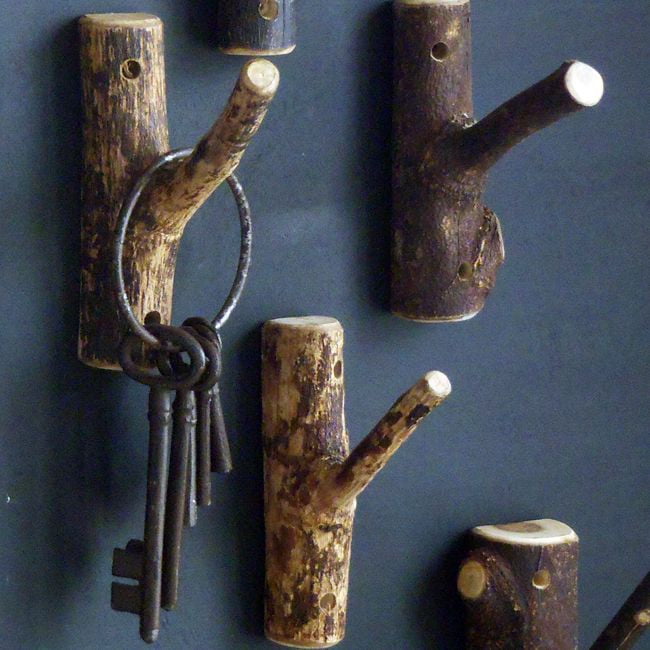 If you are a fan of rustic design you can embrace this solution with ease. The small branches have been sliced here but you can create a bigger ensemble of twigs and branches in your hallway; the branches will serve as a coat hanger while the small twigs can work as key hangers. Make use of the organic, warmth and coziness of wood in your design and imagine the bigger picture. The result will be impeccably beautiful and moreover it will be YOUR design!
Via roobyroost.com
What do you think about our hand picked selection? We would love to hear your opinion in the comment section below and we would be more than delighted to see your crafts on the subjects .