With the summer days around us, slowly luring us out of our shelters into the warmth of the sun we slowly start to move as much activities outside as possible, we want to live outside and embrace the growth of nature around us, the lush vegetation that emphasized our landscaping or simply our terraces or balconies.  Are you prepared to transition towards the outdoor living, do you have everything that you need to welcome the summer in a great style and wonderful manner? In today`s article we are going to showcase a couple of ideas that will add comfort and style to your outdoor spaces.
You don`t have to consider every proposal that we make in our little article but we definitely advise you to throw a look, they`re simple and efficient and will help you transform your outdoor spaces into a little peace of heaven. Maybe you just need a colorful umbrella to shade you from the sun, some pillows to add even more colors and padding.
We have also found some really neat stylish outdoor room design ideas that we have really enjoyed on Designrulz, the ideas are worth considering and sharing. The pergola designs in white along with the exterior fireplaces are extraordinary touches.
Setting The Mood
We are going to try to keep some kind of order with the article and with this thought in mind we will start with items that will help you set the tone for your outdoor living space. For example a really eye-catching rug can offer a wonderful focal point and tie things together. Bellow exemplified we have displayed the Rayas Outdoor Kilim from West Elm. This one in particular is made features sustainable attributes as well being yarn harvested from recycled plastic bottles.
In matter of rugs they`re definitely thousands of extraordinary alternatives. The Skien Reversible Indoor-Outdoor Rug from CB2 is viable choice that caught our attention; it adds a colorful vibe in shades of reminiscent tropical ocean blues, perfectly blending into a exotic environment whilst considering sustainability. It`s realized out of recycle polypropylene and it is very easy to maintain clean and shiny.
A rather important factor that you`ve probably consider already but we cannot overlook in our little guide are the draperies. An elegant black and white pack of striped outdoor draperies can be a game changer. The one presented bellow is entitled Sunbrella Indoor/Outdoor Grommet Drape  and it comes from Pottery Barn being crafted from a stain-resistant polyester.
Cool and Stylish Outdoor Finds
Exterior spaces should definitely be animated by light; a filtered outdoor lighting can add a very romantic and delicate ambiance. Several intricate shadows can bring it a highly specific touch. The beautiful lanterns presented bellow are entitled Verdigris Filigree Lanterns realized by  Terrain. These are crafted of metal with glass insertions for stashing candles. These hundreds of designs, and several do it yourself projects that you might want to consider.
An extraordinary example of festive entertainment is this small cinema presented bellow, it`s animated by light trough Globe String Lights from Pottery Barn which are , as you would expect, available in different lengths for your convenience. Here as well there are several do it yourself guides worth considering before purchasing the ones above.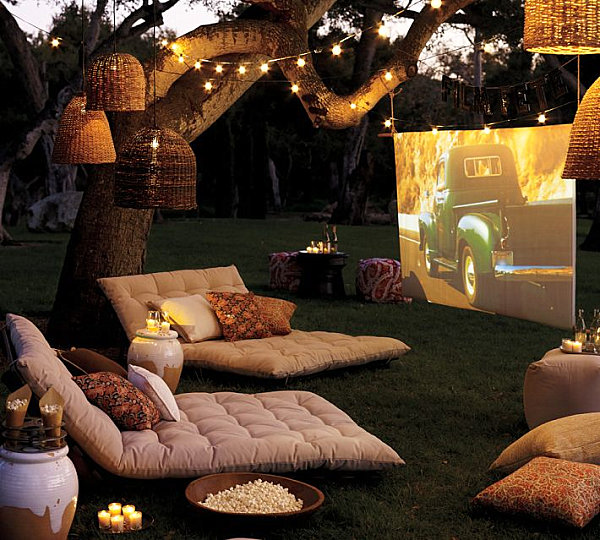 Getting Comfy!
With the atmosphere all set you have to start considering the sitting places because a problem that occurs very often when entertaining guests is related to sitting spots. Whether you use comfy pillows and sofas in your garden as presented above or simply wooden trunks; you should always consider some neutral chairs for a short meal or dinner that can be stored easily somewhere with a simple fold. The chairs presented bellow are entitled Painted Metal Bistro Chairs from Terrain. We find them fascinating because they just add a top notch feel with such a simple beautifully colored design.
A more comfortable space attracts more question, more attention, much more interesting conversations, you may want to showcase a conversation starter in these area as an anchor. A contemporary abstract painting or a sculptural piece of furniture might work extraordinary in your outdoor living space.
Add pillows! They add an extraordinary amount of comfort in your outdoor space and they can become a very cool and stylish accent if used right. The ones billow are from West Elm.
Outdoor Tabletop
Even if you are not planning to entertain this summer, your friends will definitely think it`s a good idea. Try to make it easy with paper plates and napkins . In the picture showcased bellow the Woven Striped Place-mat in Orange Dahlia from West Elm makes a statement for itself on the table with its citrus-y hue and gray stripes…
If you are worrying about all the ironing that you might need to keep things neat and tidy stop right there. Casual ripples will take the pressure off your easily. You can find them in a variety of colors and they can help you in the overall design a lot if you plan to add some color in your outdoor spaces. Functional and decorative, what can be better?
Easy breezy style can be obtained in different kinds, maybe you love the dots more then you love stripes?! These napkins bellow can be very airy in dark colors as well if you need such tones.
Another way to add colors into your outdoor summer table, to add a fresh vibe is while serving lemonade trough bold glassware. The ones presented bellow are the Salud Barware from Crate & Barrel and they have an extremely beautiful gradient that can match many color schemes.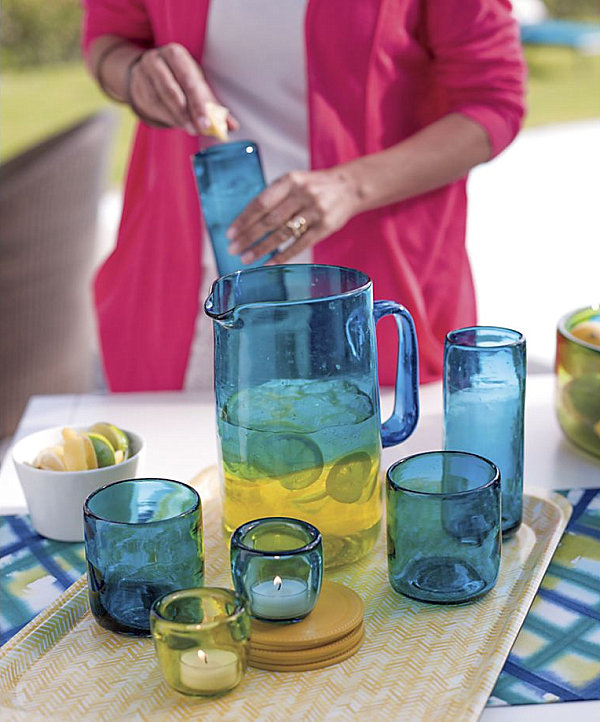 You can enhance both practicality and aesthetic values when transporting delicious drinks with an Airtight Glass Bottle from Crate & Barrel, I have seen several models on IKEA as well. Whether you are using them for holding water, oils, vinegar, sodas or lemonade, the clear glass just looks so much better then the plastic alternative.
Extra Perks Worth Considering
Further on we will pay some attention to extra parks meant to elevate your outdoor decor to a new level.These are of course optional, little touches that are making a difference; we are aware that these are mostly born from personal taste, so we would love to hear your extra perks used in your outdoor spaces as well in the comment section bellow.
The first example in this direction wears the colors of our website, it`s a free Round Juniper Free-Arm Umbrella with Base  from Crate & Barrel. You will definitely need protection from the sun at a certain point and this maybe the way to go. You can use different colors and textures to spice up your outdoor space. The umbrella is crafted of spun polyester and happily is weather and fade resistant as well.
Greenery will never never never ever hurt you outdoor space design. If you have limited space you can choose just low maintenance flowers with high aesthetic values sitting in some beautiful stylish containers. The ones bellow are Dune Planters from West Elm -are crafted of earthenware and covered in reactive glaze !
The Richard Taylor Scallop Shell Bowl from Pottery Barn is also a very nice touch ;cast from a mold designed by the Scottish Artist Richard Taylor ;it`s simple and it can work pretty much anywhere from your outdoor space or beach where it can host some magazines and towels up to your interior design in the winter carrying the beloved Christmas treats. You can add sand and candles  for a more romantic touch..
The next outdoor pot it has one single purpose: to conceal your favorite garden hose with style; it`s entitled the Global Garden Hose Pot from Pottery Barn and crafted of iron with a neat weathered finish. These are  the kind details which add up in your outdoor space towards the imaginable paradise.
You need a refresh after a dip in the pool or the ocean? Or maybe just after some gardening in your backyard. An exterior shower is an extraordinary asset that can become really graphic. Bellow it`s the Copper Outdoor Shower from Terrain. It`s vintage apparel that can match any outdoor space design whether is classic or modern.
In the end we thought the perfect finishing touch is music. A calm relaxing lounge playlist can change your mood and ambiance entirely. If you don`t want to move your stereo outside or find complicated wired solutions there are some Bluetooth wireless ideas.
Bellow its the Rukus Solar Bluetooth Player from Crate & Barrel with which you can easily enjoy news music and whatever you would like to listen to in a high end manner. The player is solar powered and is showcasing a beautiful modern design.
How do you spend your summer? Are your outdoor living spaces ready to entertain, and more importantly, are you? We would love to hear your opinion in the comment section bellow or on Facebook or Twitter.
Enjoy reading more about outdoor living spaces in an article that we wrote for the Interior-Deluxe Blog !