Christmas trees are that one decoration that never gets old or out of style despite being in use for centuries. The timeless presence can be nestled in any interior design effortlessly along with combinations of old fairy lights, ribbons and Christmas ornaments of all kinds that invite the magical holiday allure that we all pursue. The Christmas trees outdoors can make the setting interesting as well whether they`re planted or potted, emphasizing the festive feel around a home in no time.
Whether you choose to decorate your tree with classical combinations such as gold and red or silver and blue or simply decide to let it bare, raw animated by light only the piece will beautifully emphasize any setting, simply ensure its presence in your setting.
Red and Gold Christmas Trees
Classic set up – red and gold  
Ribbons of gold and red along a combination of Christmas globes and poinsettias of the same color are a successful combination. It may look dense, flamboyant compared to other Christmas trees yet the combination of red and gold produces the Christmas feel that can fit any home. Red and gold simply fits well with the cold, wintery Christmas theme.
Plaid red and gold
Christmas arrives, a home is filled with festive decorations from the first step on the porch all the way up to the attic and while one might make his life purpose to avoid decorating with gold and red, most interior designs will surely have red and gold,  both very significant presences in the Christmas season. Red and gold pieces naturally complement one`s Christmas tree and the natural deep green hue that we all adore. The dainty fairy lights add a beautiful background and greatly enhance the lovely Christmas tree.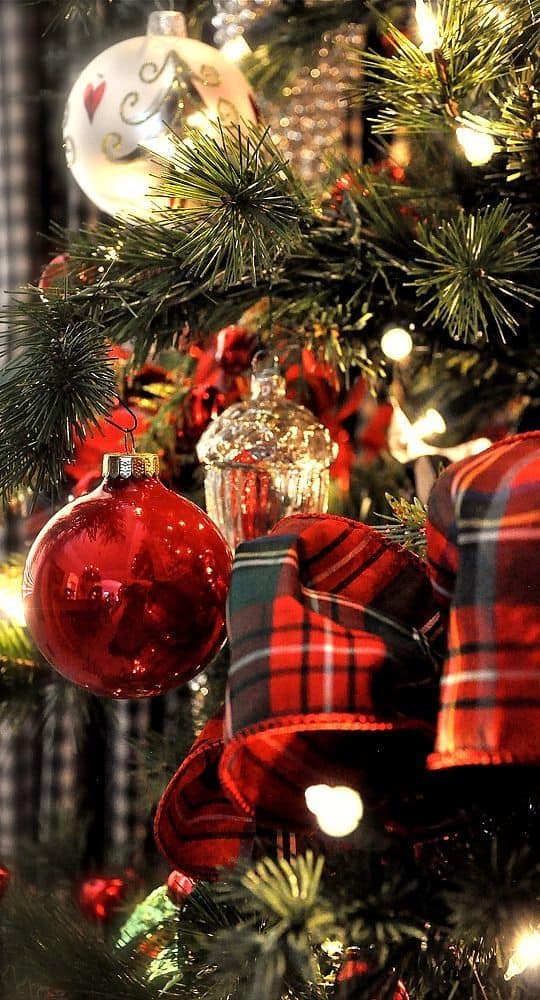 Small elements
Red and gold can let anything stand out perfectly on other solid colors, even on a combination of the same red and gold background. The setting bellow meets yellow and maroon in background yet it stand out thanks to the small elements that become great focal in the beautiful green mass represented by the Christmas tree. Scale can always help you win over a decor. Use it wisely.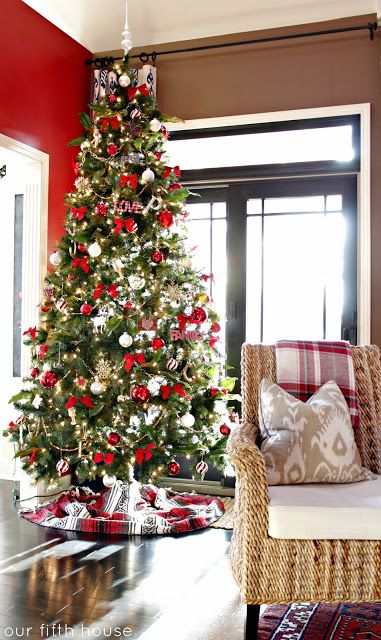 Rustic mix of gold and red poinsettia
Poinsettias are a strong presence and in red they often win the Christmas decor game. Whether fresh or artificial, this stunning flower brings out the festive feel from its lively red hues, emphasize with some rustic golden decors and simple warm white lights. Burlap can aid your decor too !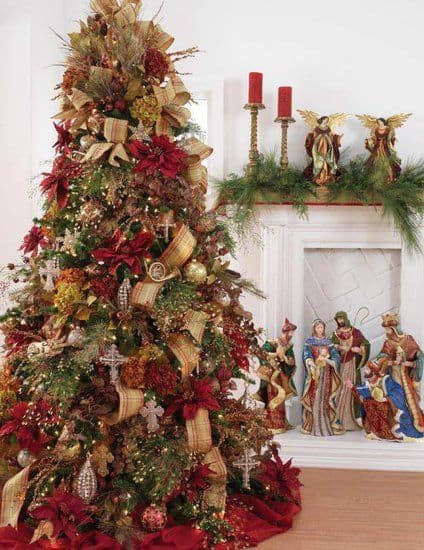 Cascading golden ribbon and shiny red decors
While placing ribbons around the Christmas tree is the classic way to go, having these ribbons cascade on the tree can be an option, creating a certain drama on the tree. Notice how the golden ribbons are highlighted at the top with a red starry presence, a visual delight.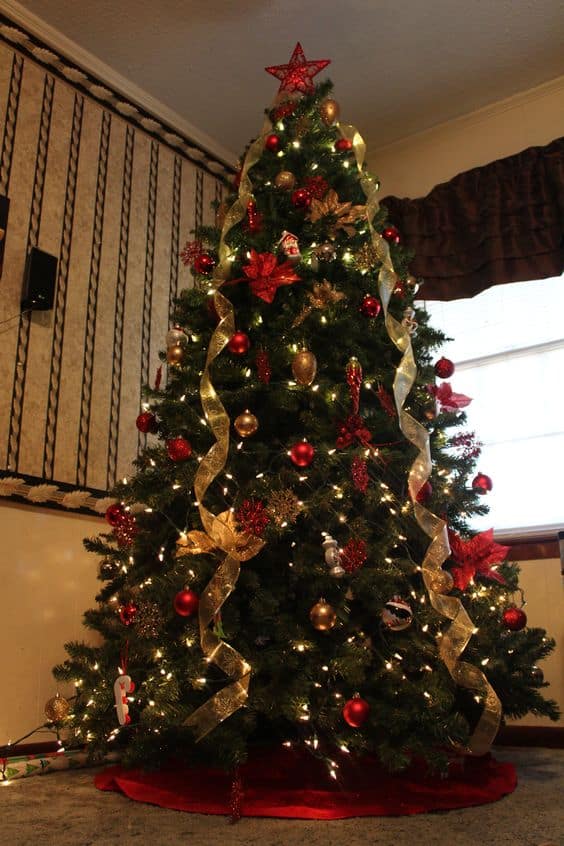 Red globes and golden lights in simplicity
Clutter-free Christmas trees are hard to obtain and some may even consider them inexpressive, a tad boring yet the setup that follows clearly does not fall in this category. Strong red Christmas globes shine in a red green mass, highlighted by warm light decorations thus shaping a very strong presence in a classical-elegant setting, one that can`t receive clutter, one that requires simple elements, not to be challenged .
Classic English manor Christmas tree
This English Manor inspired Christmas tree is timeless, splendid, especially with gold-red decorations. The variety of the ornaments at different scales creates a lovely emphasis on the tree through depth, the dainty red ribbons around the tree are subtle but unquestionably, present.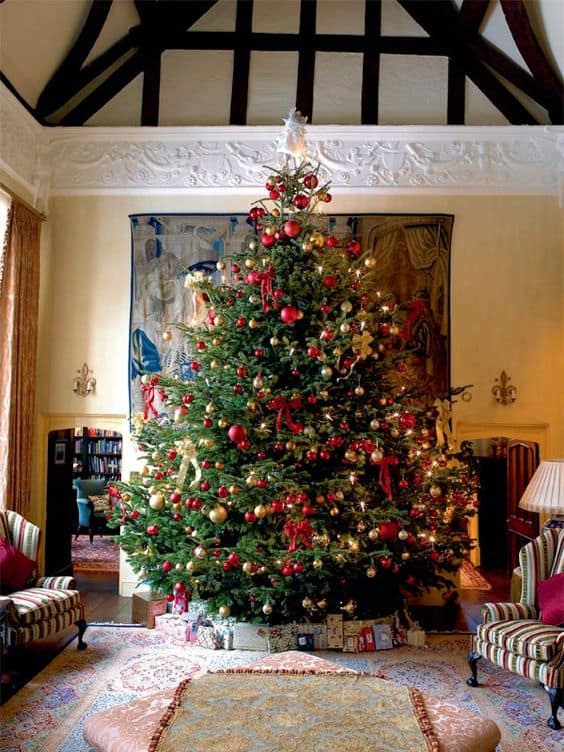 Large scale – small variation
Larger can be better and this works well with this red and gold Christmas tree design. The tree stands out in the room without looking overcrowded. The solid red and gold decors create a dramatic effect not only on the tree but the whole room.The variation as a result is small, not to destroy one`s view. Simple, epic design.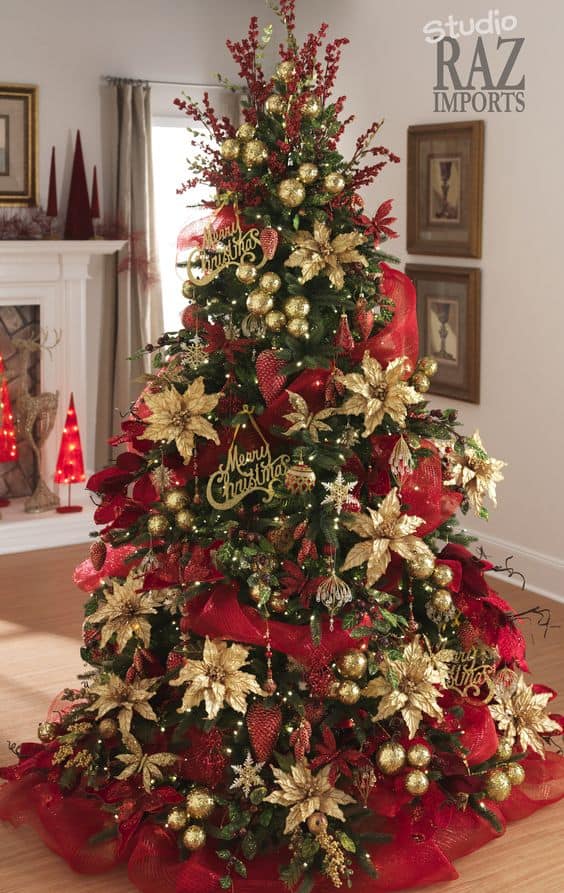 Shiny collections of Christmas globes
Christmas globes are as common as snowmen during the Christmas season. These decors are the go-to choice for a Christmas tree, a simple must. As simple as it is, these shiny globes are still stunning when they`re mixed properly in color and scale.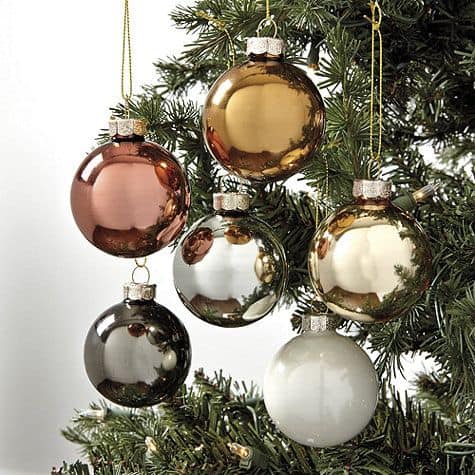 Matte decors for a cool country home Christmas tree
While many would choose the glossy decor approach for a Christmas trees, matte decors are a solid alternative that can make a Christmas tree look extraordinary. This creates a country feel that some shinier trees lack, simple lights here and there could emphasize the design of the Christmas tree.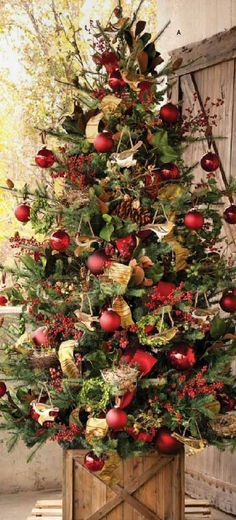 Illuminating the yard with Christmas tree lights 
Concentrating on a tree inside the home is essential yet having another one on your yard makes the whole Christmas decorating complete, offering a great Christmas allure for the inhabitants and pedestrians alike. Using simple lights on a simple conic frame, these simplified Christmas trees or red, gold and green brighten the yard without going over the top whilst creating a lovely effect along the snow.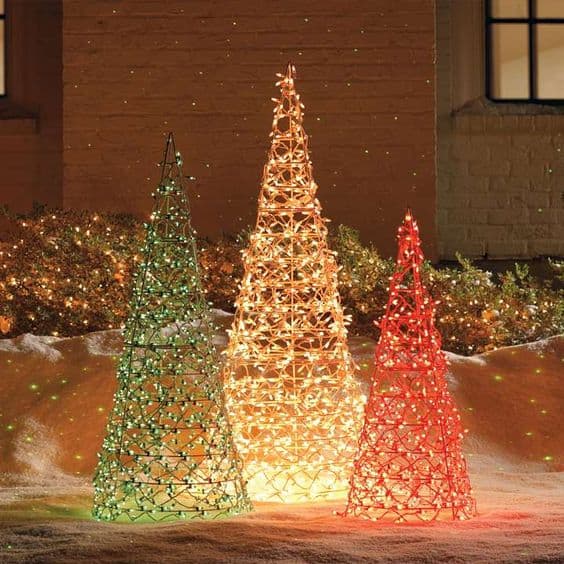 Large red flowers and golden gauze  
While small decors are the usual trend for red and gold Christmas trees, larger decor pieces are also becoming a popular choice. Besides from being clutter-free, larger designs create a different kind of classic touch on the Christmas tree in the change of scale as they stand out inviting the Christmas tree itself in the focus area of the viewer.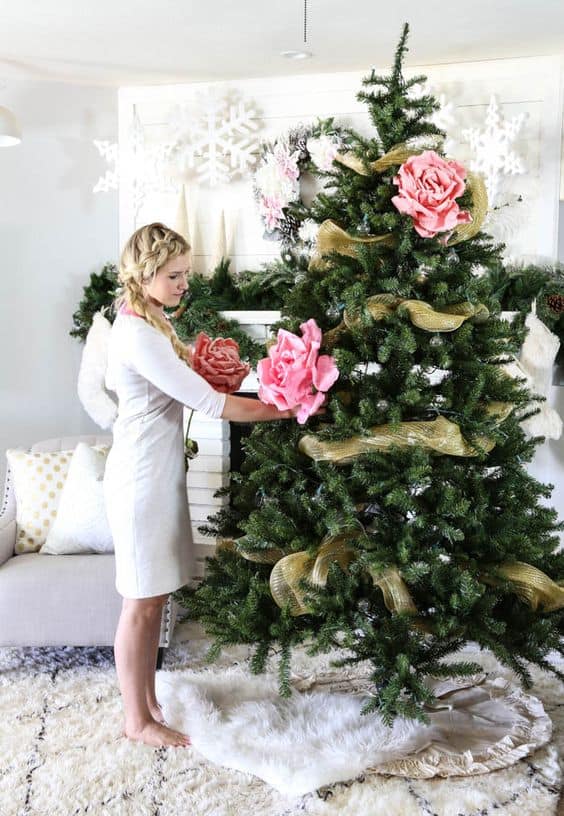 Christmas globes are enough for a lovely tree
The Christmas tree may have all sorts of decorations yet Christmas globes can dominate these pieces with ease. The solid, uncomplicated colors are highly graphic yet subdued to the natural beauty of the tree. The garlands and fairy lights also accentuate the globes, making the setting look shinier.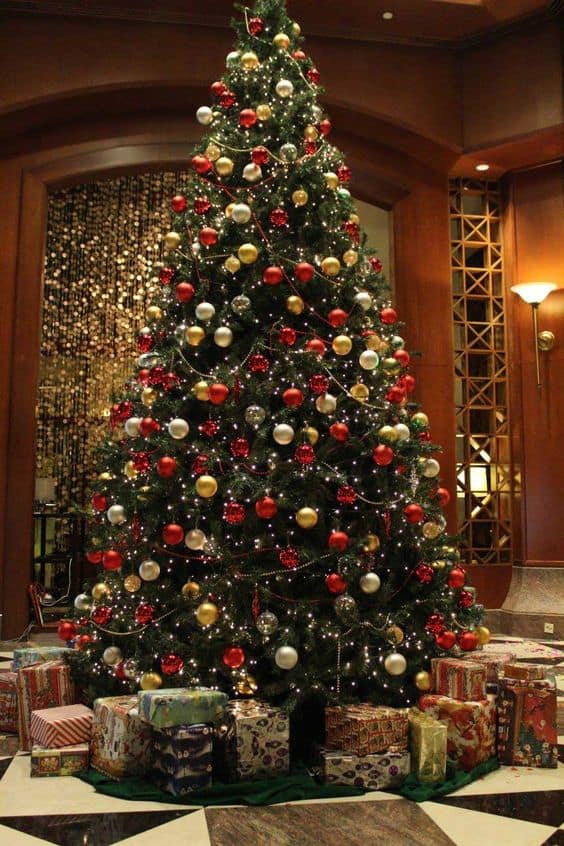 Conceptualized trees for the Christmas dinner table
The lucky ones can get a real pine tree fit in their homes, or the usual commercial Christmas trees sold in stores yet in small spaces or with low budgets, conceptualization is key. A Christmas tree cannot be exiled in a home with no inhabitant, a home in which the inhabitant only sleeps late at night after full work-days. In these scenarios, simple reminders in centerpieces or coffee table decorations can help. A simple cone dressed to fit the holiday setting by a candle and a shower of string lights can be sufficient to invite the charming, magical allure of the holiday.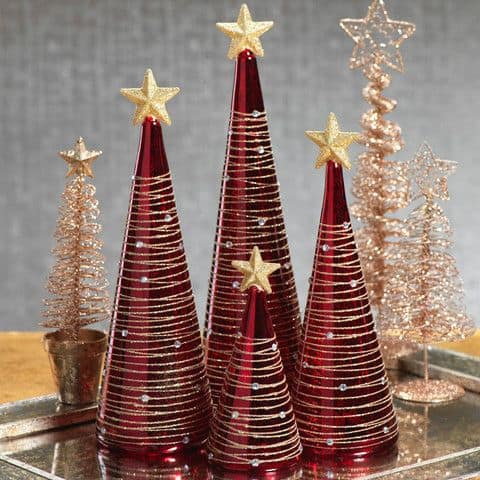 Perfect red and golden tree topper
A Christmas tree is never complete without a topper and while simple DIY crafts can bring you extraordinary results in this area, the classical flamboyant ones that can be found in retail will never go old. The red, almost orange hue mixed with gold can become a focal point immediately.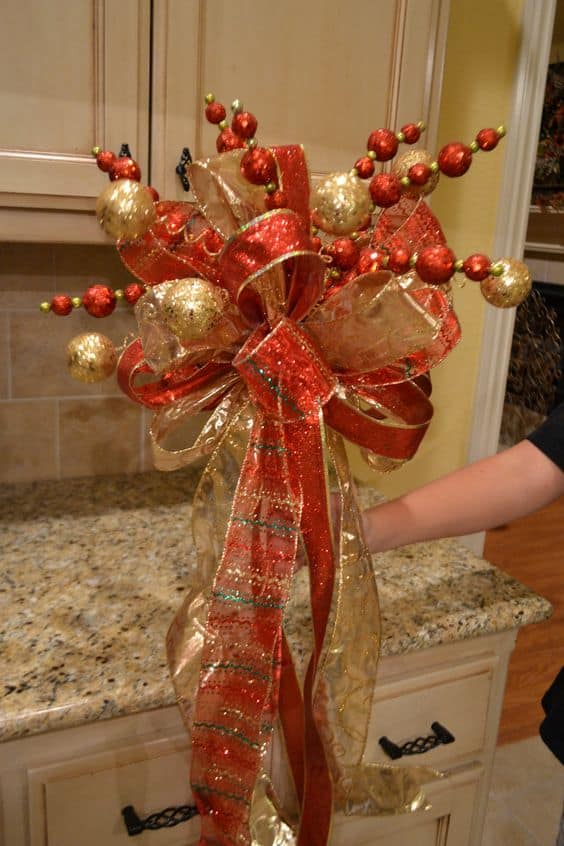 One lighter take on the red and gold
The burlap ribbon creates a lovely addition to this red and gold Christmas tree, a wonderful texture nestled between an extraordinary personal and graphic Christmas tree. The burlap ribbon supports a golden light with the fairy lights while the large light red globes stand out beautifully, complementing the green presence.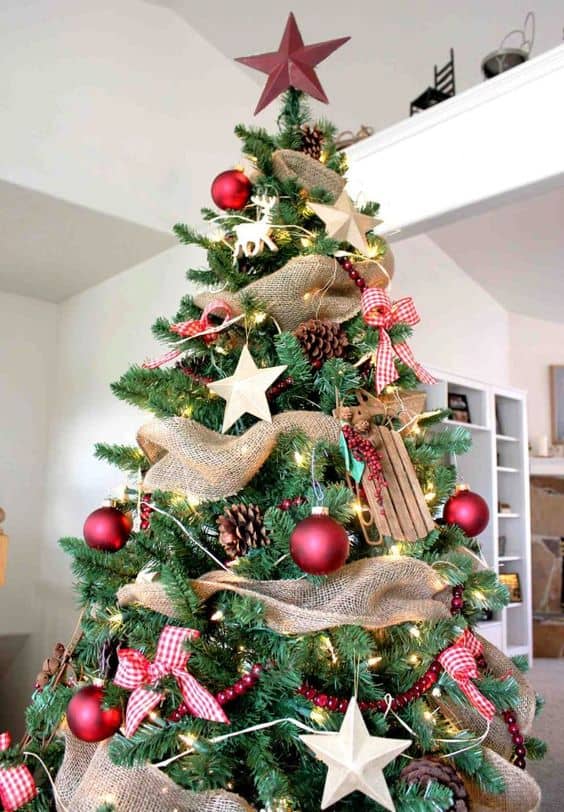 Dense red and gold Christmas tree perfect for kids
This cute red and gold Christmas tree is perfect for a home that has children. The light red and golden decors do not hurt the eyes and perfectly match the white walls of the home. The immense tree and the small decorations scale make the decorating of the tree an immense treat for children as the process will last for hours in the the home`s heart among family, friends, loved ones nestled between cinnamon, hot chocolate, cider, oranges and a warm fire in the fireplace, an extraordinary experience.

How do you see these stunning red and gold Christmas trees? We would love to hear from you in the comment section below !
Related Articles
14 Best Christmas Copper & Rose Gold-Finish Decorations
14 Awe-Inspiring Ceramic Christmas Decorations
16 Best Christmas Glass Ornaments [Bauble & Icicles]
19 Christmas Tree Paper Decorations for Delicate Look
12 Best Christmas Glass Tree Toppers for a Jolly Xmas
14 Best Star Christmas Decorations for a Shiny Christmas
14 Best Christmas Tree Lights to Consider This Year
Learn How to Store Icicle Lights After Christmas
Start The DIY Christmas Gifts Process Early
19 of the Best Candle Gifts Sets & Baskets for Epic Presents | Candles Gift Guide 101
76 Best Lego Gifts & Best Lego Sets for Lego Lovers
14 of the Best Gifts for Sculptors in 2022 | Gift Guide
32 Best Gifts for Marvel Fans of the Realm 2022 | Gift Guide
29 Best Gifts for Interior Designers and Creatives Everywhere | Gift Guide
45 of the Best Gifts for Architects in 2022 | Gift Guide