One might wonder where the inhabitant of a small home finds enough storage to deposit its belongings whilst keeping his interior clutter free. It is not easy to imagine unconventional storage options tailored to your space and needs yet some creative ingenious diy enthusiasts have always been successful. 27 Insanely smart tips tricks and hacks for small cozy homes have been handpicked to feed your imagination, inventive stories that show us just how much larger and more beautiful a small space can become, cast a glance and start sewing your spaces into proper storage to enjoy the coziness and warmth of your small space to the fullest.
More articles on space saving solutions
15 Ingeniously Smart and Functionable Bedroom Space Saving Solutions
16 Highly Functional Space Saving Ideas For Your Tiny Home
24 Extremely Creative and Clever Space Saving Ideas That Will Enlargen Your Space
Creative Space Saving Solution for Small Flats by Marta Badiola
Space-Saving Hideaway Desks for Small Apartment Designs
Creative Small Space Storage Solutions That Will Make Your Life Easier
10 Creative and Ingenious Ideas for Small Space Interiors
22 Extraordinary Creative Tips and Tricks That Will Enlarge Your Small Bathroom Design
40 Clever Storage Ideas That Will Enlarge Your Space
#1 use sneaky storage spaces to shelter objects out of sight
It goes without saying that every inch of space must be used creatively. You can use the space behind your cabinet kick-plate, the space under the cabinets and even the top of vertical storage cabinets. Get creative and be sure that you keep things tidy and compact.
#2 Make use of hidden pull out storage
All bathrooms are carrying great potential to store everyday items. Take advantage of narrow tall spaces and materialize an invisible pull out cabinet. Building book shelves into the wall can work in some cases as well.
#3 use wooden ultra compact stair designs
Wooden textures are in the world to add coziness and texture. Beautiful simple and relatively inexpensive, wood can solve problems in an enchanting noble manner.
#4 Use Beautiful Retro Marine-Styled Wood Stoves
Nothing shut outs coziness more than a fireplace. You now have the opportunity to insert tiny stoves and/or fireplaces in pretty much any small interior on the budget. Personalize yours and make your hot chocolate in an unique manner on supper efficient wood stoves.
#5  pick an insanely comfortable set of FLUFFY pillows and blankets
Nestle yourself in quality fluffiness by the fireplace and you will notice how your problems are slowly melting away. It is simple and easy to find high quality down duvet professionals suppliers like downduvet.co.uk, invest in your own comfort and enjoy every autumn day in your space.
#6 Take advantage of a wall mounted desk
VIA dezeen, solutions.com
Avoid adding huge offices to small spaces, keep your spatiality clutter free and cozy. Fold-able desks are insanely functional and they come in pretty much any color or design line these days.
#7 use sliding doors to save space
Regular doors are not efficient in small spaces. Pocket doors and sliding barn-style doors on the other hand are quite impressive, magical doors highly appreciated for their aesthetic values .
#8 USE Traditional Stairs in your household
A traditional sliding stair can offer you access to an upstairs loft or it can simply hold your towels in the bathroom. Be sure that you make the most out of every traditional item that carries great value.
#9 keep your kitchen clutter free with a slide out pantry
#10 build a tiny All-in-One Kitchen
Disguise an entire kitchen in an average size free-standing cupboard. You can fit a two-burner stove-top to save space, a small sink, mini refrigerator, microwave and you will still have a bunch of space for storage on the side. Clutter free homes are happy homes.
#11 mount storage solutions inside cabinets
You can actually keep unnecessary items behind closed doors by mounting storage in your kitchen cabinets, they remain accessible at all times without cluttering your home.
#12 Built-in Storage Benches and multipurpose furniture
Using versatile multipurpose furniture in our decor is a very practical solution to today's never ending chain of change. Save room by adding storage in benches, sofas, coffee tables and beds.
#13 make use of fold-up clothes drying racks
That fluffy blanket must be maintained fluffy at all times and during the cold season drying cloth outside is quite difficult. For these special moments you can use an aesthetic foldable drying rack .
#14 use the staircases in a meaningful useful manner
In wood`ish coziness staircases can nestle additional storage and even kitchen space without sacrificing anything.
#15 You can save space with everyday items as well
Never forget the details, all of them are utterly important. A clever set of knifes can keep your counter empty and your drawers tidy.
#16 use beautiful interior decor to create focal points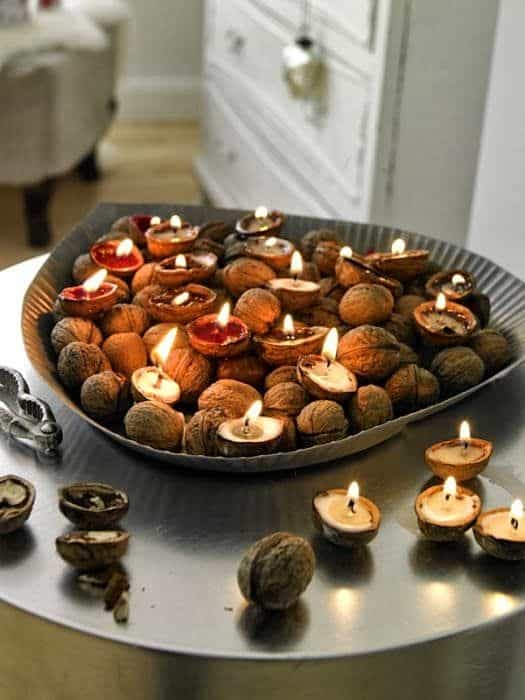 Autumn has brought us thousands of colors to work with and hundreds of ideas along with them. Feed your imagination with proper fall decor and use how many of these you can in your household to beautify your season. By using color you can manipulate the perception of your guests in a beautiful manner.
#17 Decorate your porch and welcome guests with coziness and warmth
via ourvintagehomelove
You now have the opportunity to add coziness and warmth to your home in a highly effective yet inexpensive manner thanks to the fall harvest. Thousands of different items have hit the market with all their beauty and naturalness, ready to be used in simple and complex decorations alike. Whether you are going to create a simple fall wreath, a pumpkin welcoming installation or an entire scenery for your porch you now happily have all the weapons at your disposal.
What do you think? We would love to hear your opinion on the ideas showcased above in the comment section below. How do you keep a tiny home both clutter free but cozy and warm at the same time?