We all enjoy a glass of wine here and there and we usually end up by throwing the bottle and the corks away. But if you are a fan of DIY projects here is actually no need for that. Every single unnecessary item in our home can be re-purposed and its value somehow restored by using some simple easy tricks. We have previously presented some interesting ideas on how you can recycle wine bottles: Recycle Wine Bottles Creatively Into Colorful Tuscan Lights Candlesticks, How to Create Your Own Green Retro Wind Chime Out of Recycled Wine Bottles and 27+ Creative & Inspiring Ideas of How to Recycle Wine Bottles Into Pieces of Art.
Well, today we'll present you a few simple DIY ideas to reuse corks. The light- textured material is suitable for several interesting ideas from stamps to holiday wreaths, bathmats, decorative objects and even an embroidered cork necklace. And we are sure there many many other options we would love to find out from you. If you have a pile of old wine corks stashed away somewhere it is time to take them out and start getting creative. Another option is to go to local restaurants and bars and see if you can take away some of their corks of their hands and use them in your own little projects. And why not recycle? The process of creating corks is an environmental friendly, non-pollute one so continue the link by recycling your wine corks and put them to better use instead of increasing our daily waste amount.
DIY Ideas On How To Reuse Corks
1. Cork candles
Set a romantic atmosphere by using wine corks as small little candles on top of glass bottles.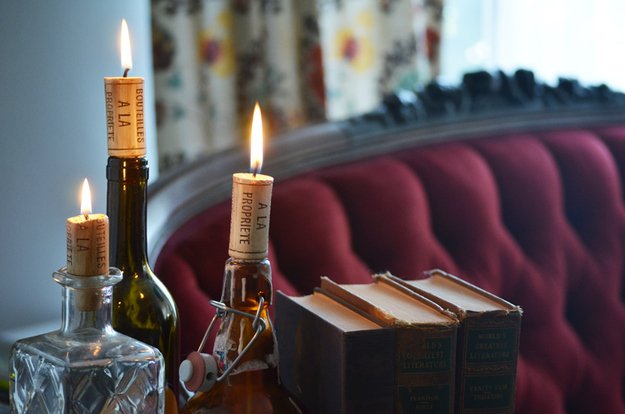 Source : mrkate.com
2. Small Plant Pots
There are a few plants that can actually grow anywhere so why not make tiny plant pots out of corks? Attach a magnet on the back as well.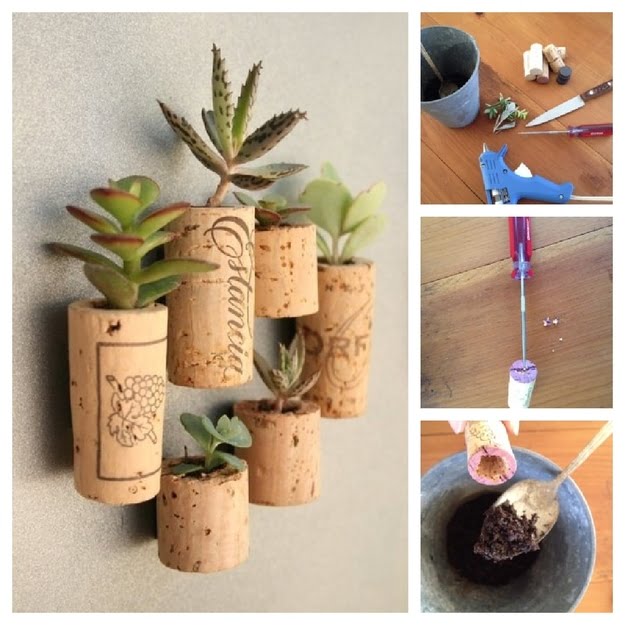 Source : everafterblueprint.com
3. Cork Key Chains
You are among the ones who never seem to find their keys? Try adding a twist to them by using a cork as a key chain.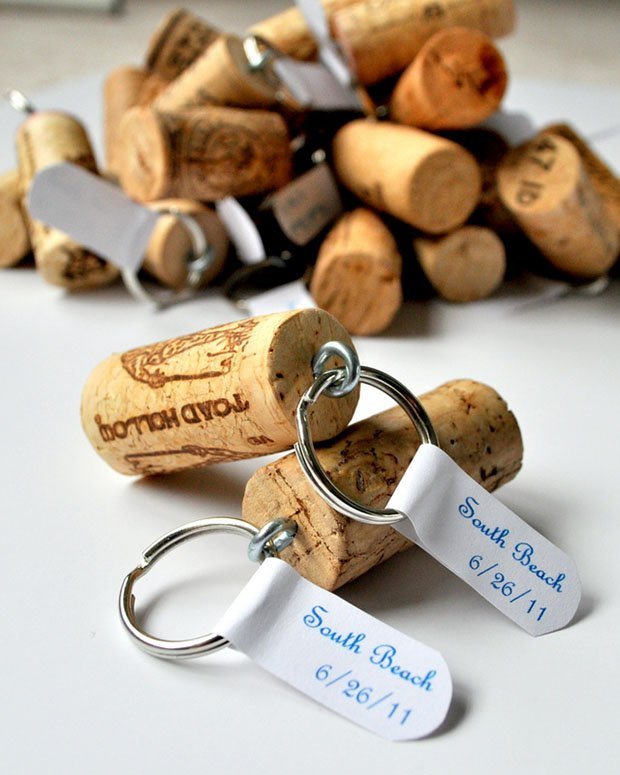 4. Mirror Cork Board
Boards are great ideas because you can use them to pin all your ideas and important papers you don't want to lose. Add corks to an old mirror frame for an interesting twist.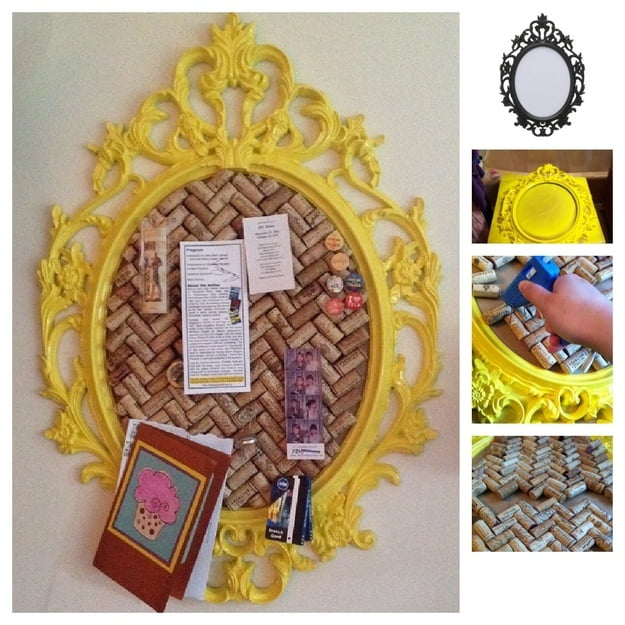 Source here
5. Cork Candle Votives
Candle votive are great decorative objects for any room and with the right aroma mixtures they can smell great as well.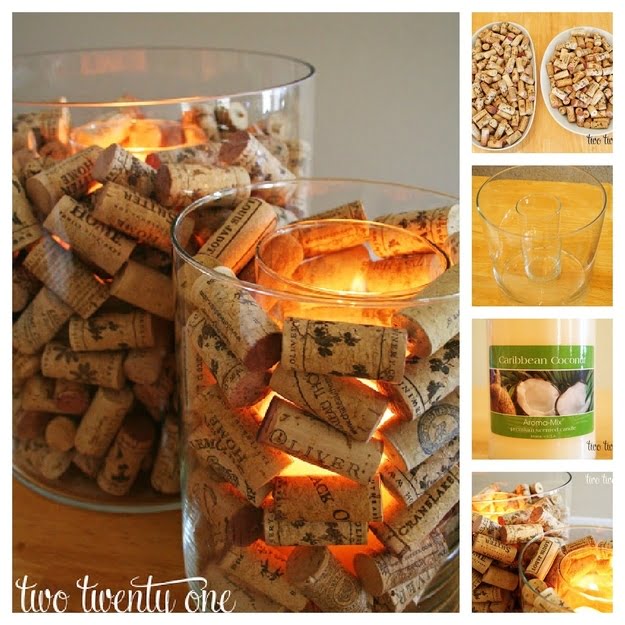 Tutorial here
6. Cork Bathmat
Everyone needs a bathmat and a cork bathmat is so soft at touch and gives your bathroom an interesting appeal.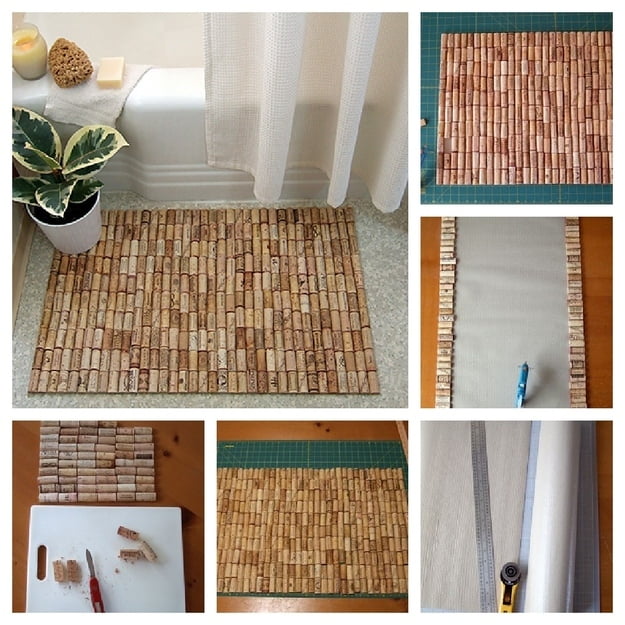 Source : This tutorial
7. Cork Statues
Corks are great for making sculptures for your little ones as well. You can even teach your kids how to do them themselves.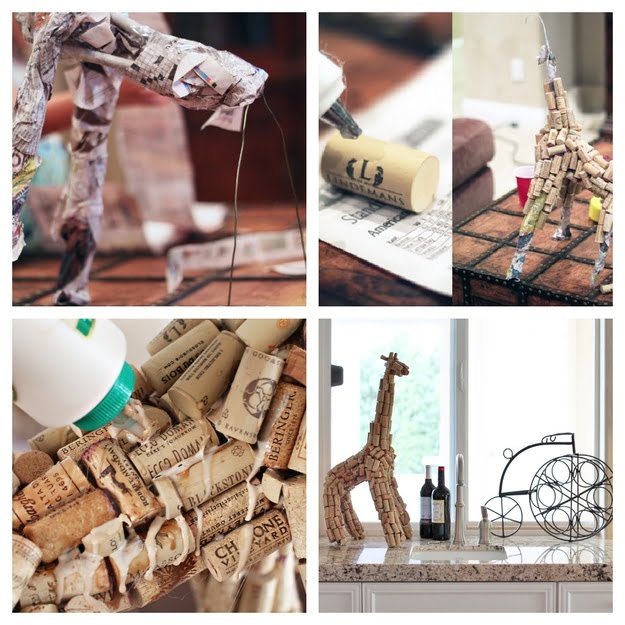 Check out this easy tutorial
8. Small Cork Stamps
Personalized stamps can be expensive. Try using the end of a cork and a little bit of ink and you're good to go.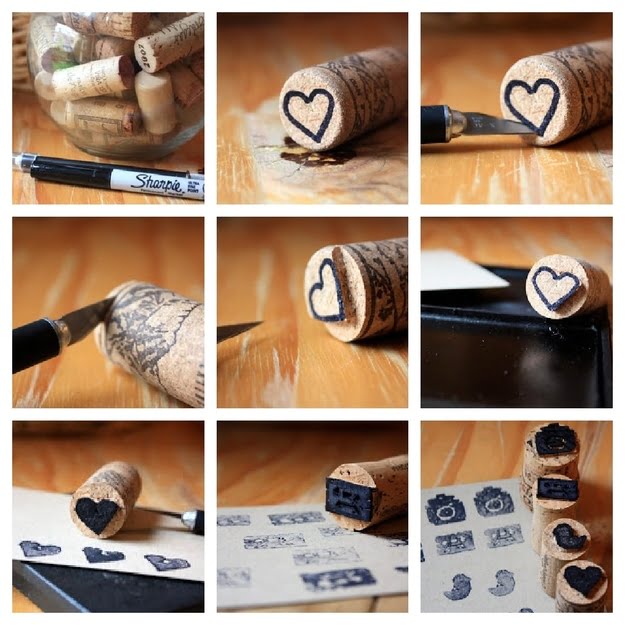 Source here
9. Cork Coasters
Coasters are so necessary, especially when you handle hot objects and this cork coaster is very easy to do.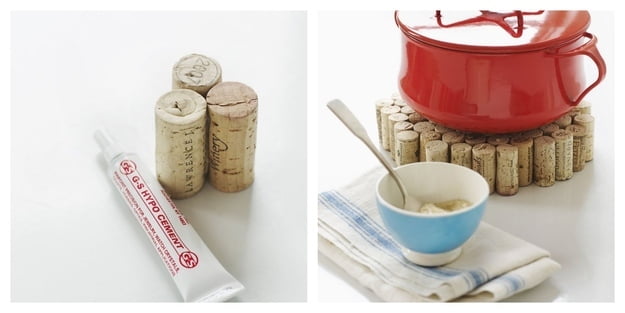 10. Cork Lamp
A cork lamp may seem a little bit odd but with a wooden foot the look may strike you as being interesting.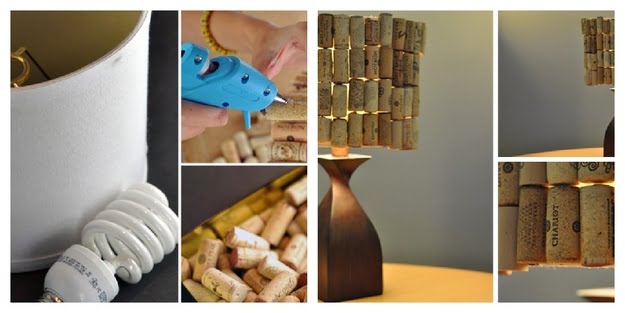 11. Cork Decorative Ball
A cork ball? Well why not? You can see them in magazines and in fancy shops used as decorative objects in book-shelving and now you can make one for yourself much cheaper.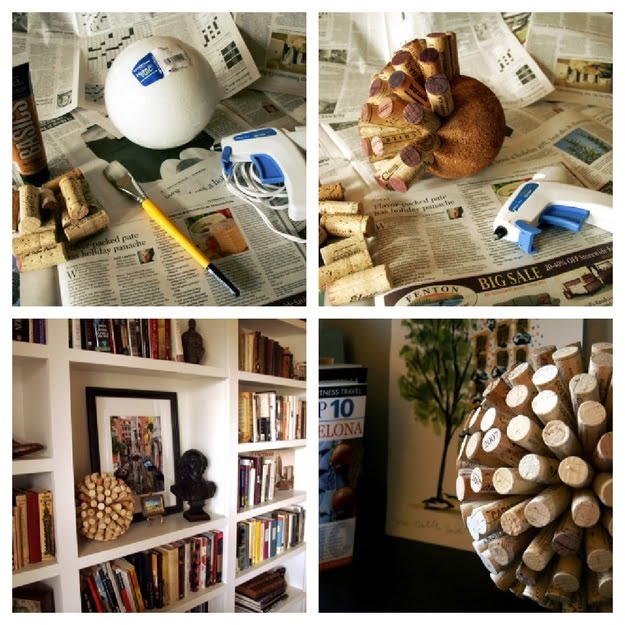 12. Cork Decorative Letters
Letters add an interesting twist to a wall and with wine corks you can make them very easy and fast. Make them for your living room or yours and your loved one's initial on the bedroom wall.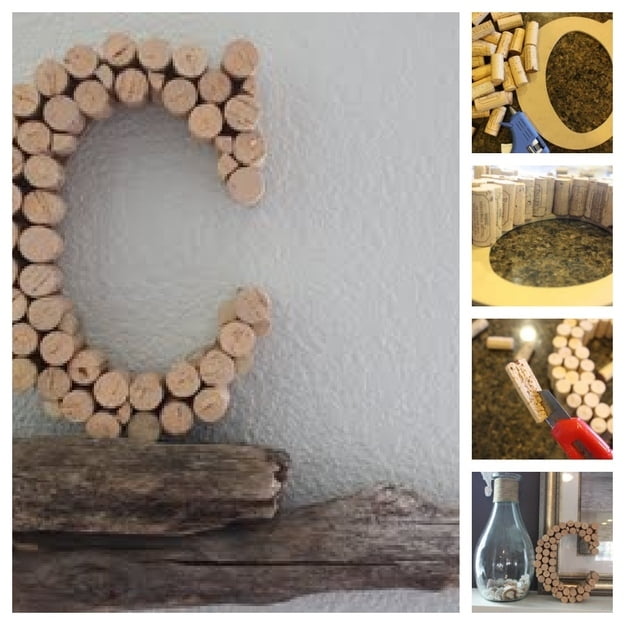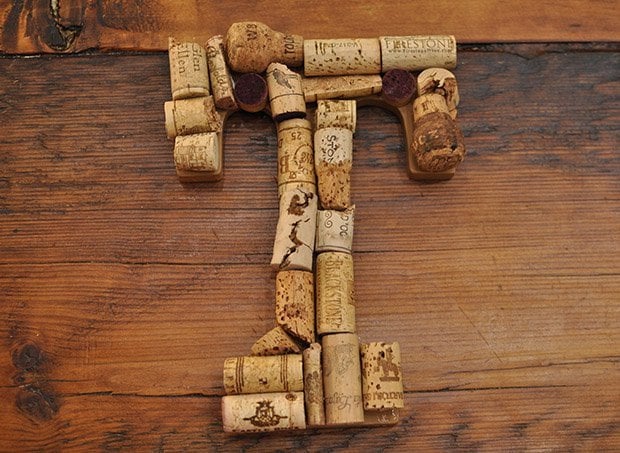 Source here
13. Cork Knife Handle
How often does it happen to you that a knife handle breaks? Try replacing it with a wine cork. It will be more fun to use, soft at grip and overall a good idea to save an old knife.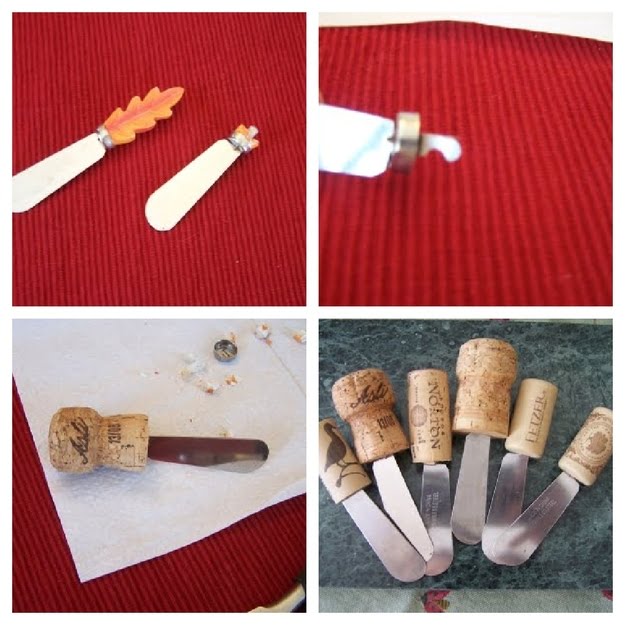 Source here
14. Cork Jewelry Hangers
We, women own lots and lots of jewelry and not having them displayed we often forget we have certain pieces. Try making some jewelry hangers from corks inside a picture frame and placing the frame next to your mirror.
15. Cork Decorative Necklace
Last but not least, the cork decorative necklace. We admit it might seem like a strange idea but nowadays fashion is all about the strange and unconventional. Saw colorful tread around pieces of corks and put together a necklace for the weird in you.

Source here
We hope you have found our small collection interesting and we encourage you to present us other cool ideas involving wine corks in the comment section below and on our social networks pages.