When you are young the possibility of purchasing a large home is very difficult, especially in today's economy. On the other hand, a younger body and mind can find comfort even in smaller spaces, coming up with smart, ingenious solutions meant to save up space and provide everything we might need at the same time. As we grow up the tendency for bigger, airier spaces becomes a necessity for our piece and quiet. Young or old nonetheless, saving up on space should be a priority and maintaining a balance between space and comfort should be achieved.Today we are talking about small beds ideas, practical yet cozy solutions that cover everything from Murphy beds to extensible sofas, bunk beds for kid's rooms and smart solutions that incorporate the sleeping and storage area all in one. Cast a glance at the solutions proposed below and don't forget to leaves your valuable feedback in the comment section below.
Small Beds Ideas For Small Spaces
1. Use a murphy bed in a narrow room
When confronted with narrow spaces two problems rise: the issue of natural lighting and the issue of actual space.The design below depicts both of these issues and the most convenient solution. The smaller wall has been used for almost complete glazing, providing enough natural light whilst the long walls feature the most desired storage space alongside a cozy Murphy bed that can be used when needed.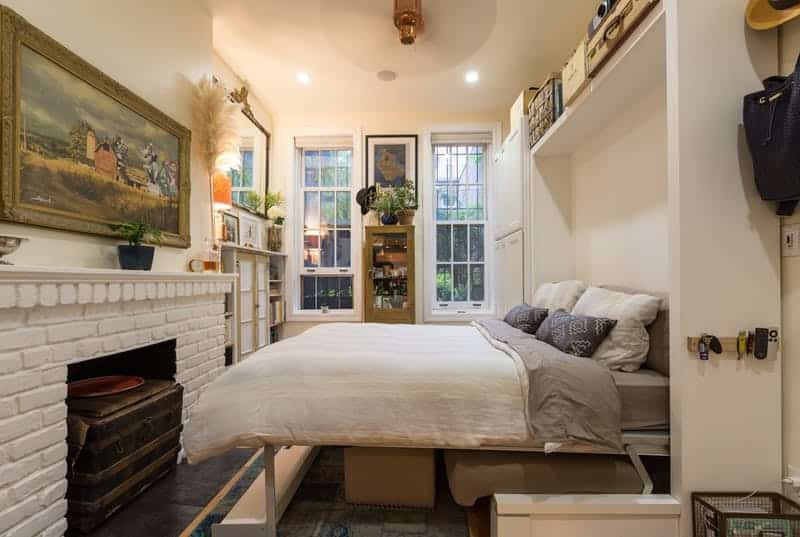 2. Use the height of the room to your advantage
If the space you are dealing with has enough height, use it to your benefit and create a hidden sleeping area. Make the entire affair elegant and simple at the same time and add a sleek black metallic ladder for facile access. Notice how the space has been properly used for storing books and closet space as well as for the actual bed, this work like a diy platform bed, it' only on another level.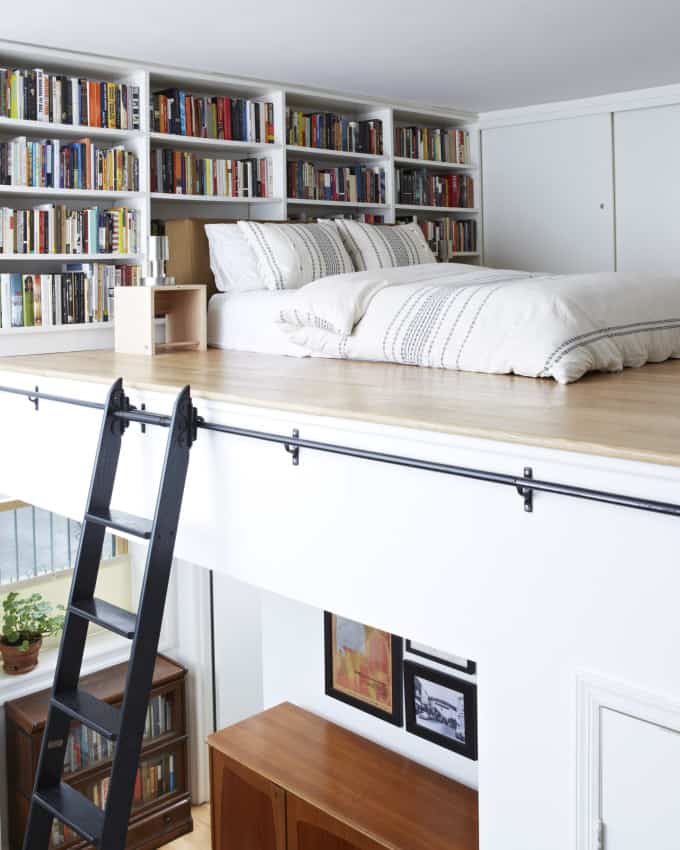 3. Combine storage and sleeping facilities
The example below has also taken advantage of the height of the room, yet here it merges a rather big storage closet with a cozy bed nestled on top of it. The matters in this case has been incorporated into the height of the closet to hide the bed completely. The access has been facilitated through a wooden ladder that serves as book storage at the same time.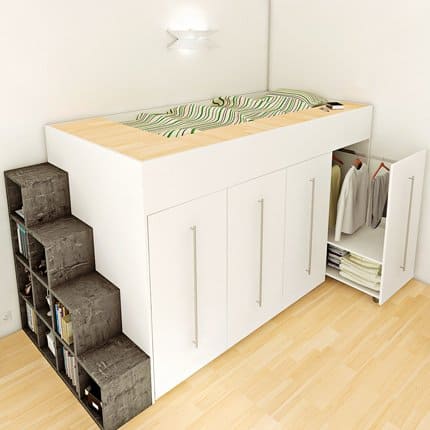 4. Hide the bed when entertaining
If your home is an open plan design with little to no doors and walls, the issue of maintaining an appealing imagery during parties and other similar gatherings appears. If you want to keep your bed all to yourself, why not use a Murphy bed? It provides the smart solution of hiding it whenever you have guests and gaining extra space for movement.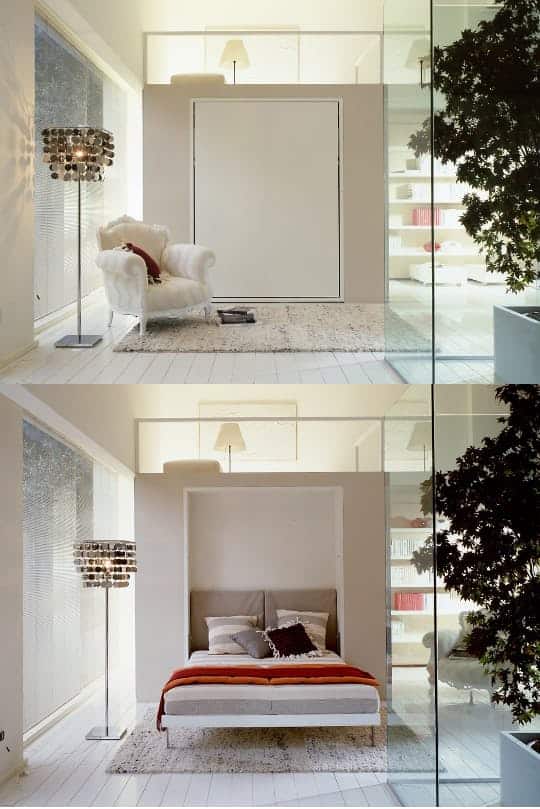 5. Invest in multiple layered beds
The kids' room will always come as a challenge for any parent, especially if we are talking about children, not child. If the one room you posses is not space sufficient enough for multiple beds, invest in a clever solution that provides sleeping space in cascade and which can be closed and occupies a small footprint, offering your young ones the most needed play space.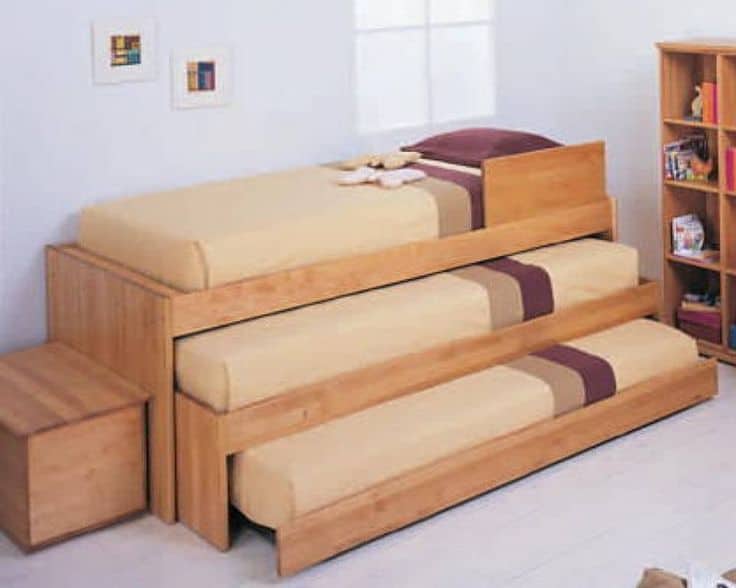 6. Smart furniture will save you up space
This clever solution provides multiple functions from coffee table to sofa bed. You can even create it yourself from pallet wood and some really comfortable cushions. It's biggest advantage is represented by the small footprint it occupies, you can store it almost anywhere when not needed.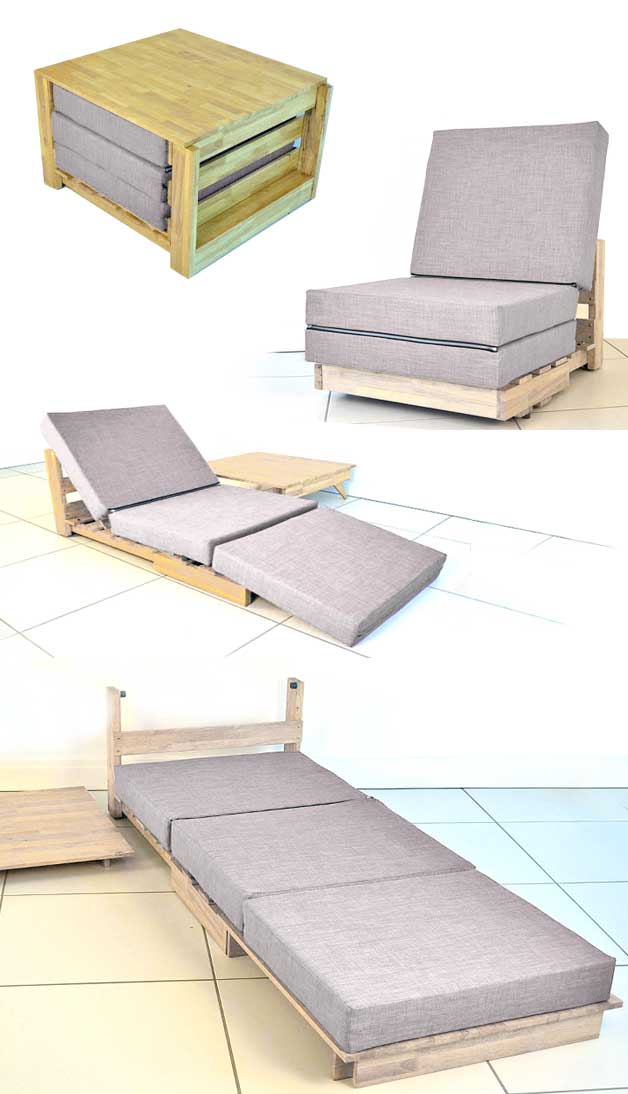 7. One room apartment a smart storage – sleeping solution is ideal
The smart solution presented below uses a raised platform as a bed and the space underneath for storage purposes. A metallic staircase has been added  to the side drawers for access to the bed. This compact furniture piece allows you to have the rest of the room free of clutter.

8. Use the cornet to create three sleeping zones in one
The solution below puts the corner space to good use, creating three platforms situated at different heights. The structural elements are used for storage and serve as a ladder at the same time in a very discreet composition.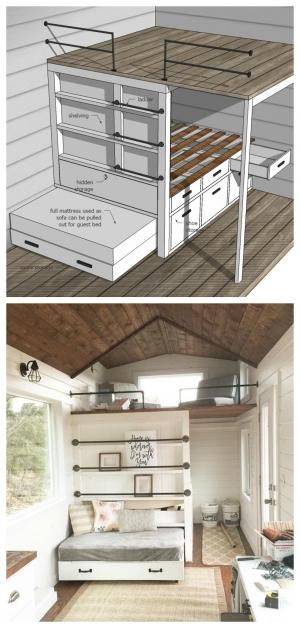 9. Wonderful alternative to the Murphy bed
If you lack the vertical space required for installing a Murphy bed, this harmonica bed frame will occupy very little space on your wall and still allow you to use the rest of the wall for storage.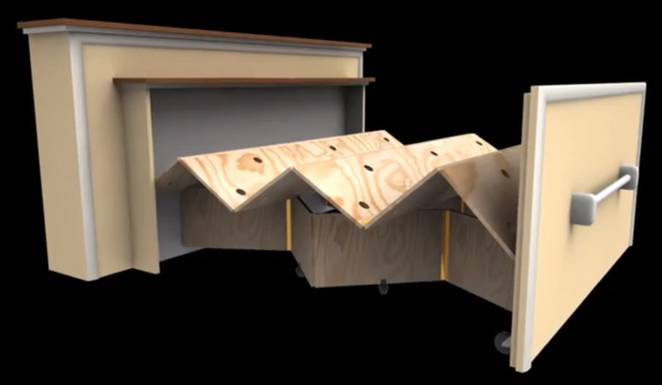 10. Use the living room as a guests bedroom
When dealing with a small space we usually tend to buy smaller furniture, a smaller couch that does not necessary provide the extra space needed for sleeping. Reason for which a Murphy bed is the ideal solution for transforming the actual living room into a guest room  when your friends and family are visiting.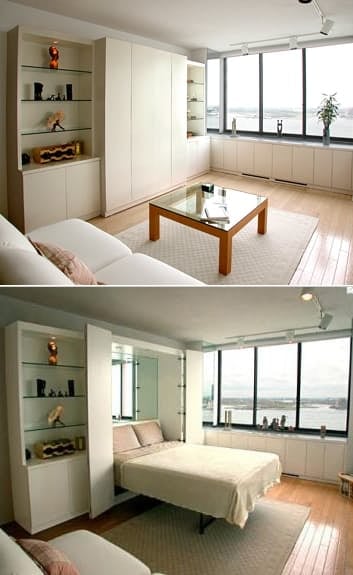 11. Bed over the sofa? why not!
The solution below is quite unique, offering a Murphy bed that falls over the actual couch in the living space, in the same color and fabric.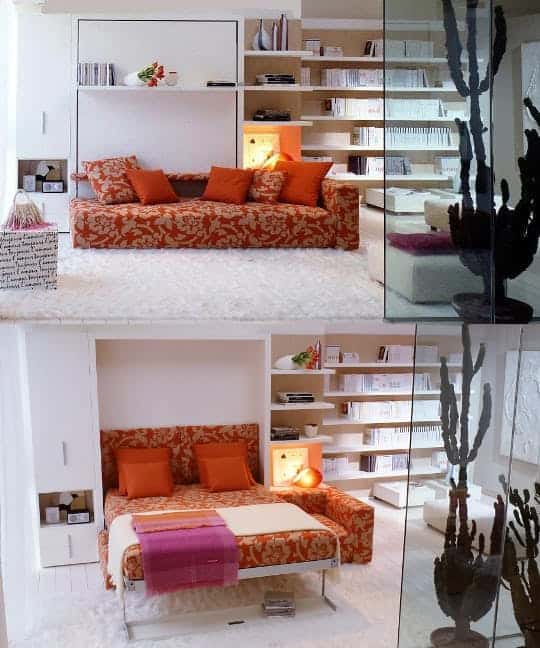 12. Use a raised wooden platform to hide a bed
This idea is ideal for one room apartments. Crate a raised platform for your sofa and lounge zone and sue the actual stairs to hide your bed. Take advantage of the newly create height to install a video projector as well.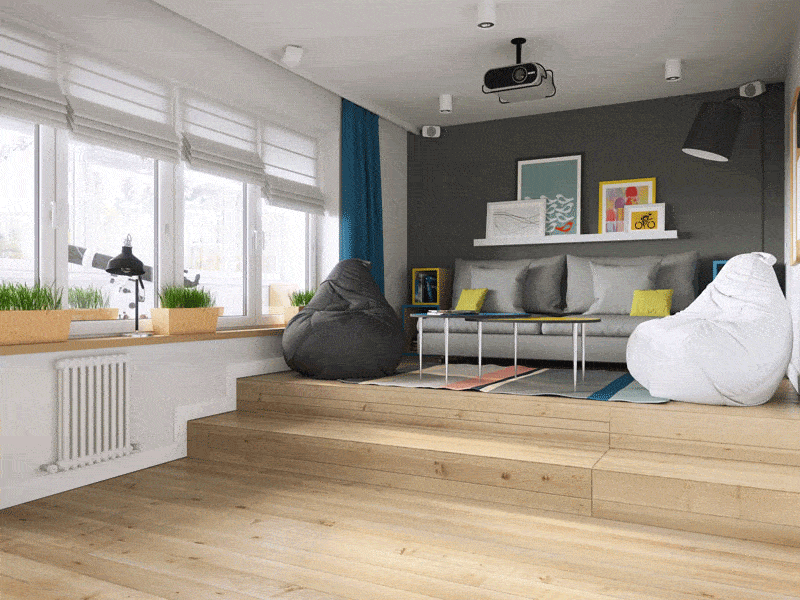 13. Add an additional one person bed in the study
Insert a single Murphy bed into your study bookcase in case of unexpected visitors.Make the actual mask to hide the bed seamlessly.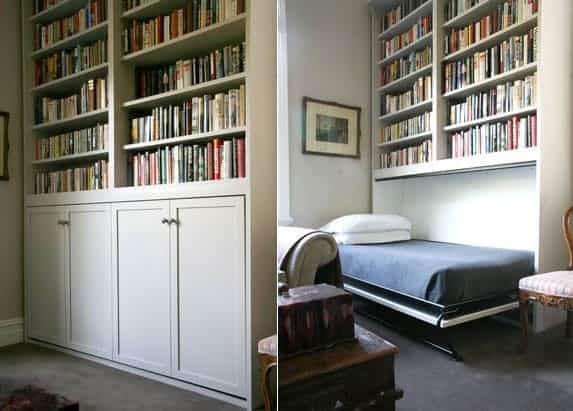 Source unknown
14. Space saving idea provides a bunk bed option
The wooden idea provides the most used bunk bed with incorporated wooden stairs in a pliable compact form, ideal for small kid's bedrooms.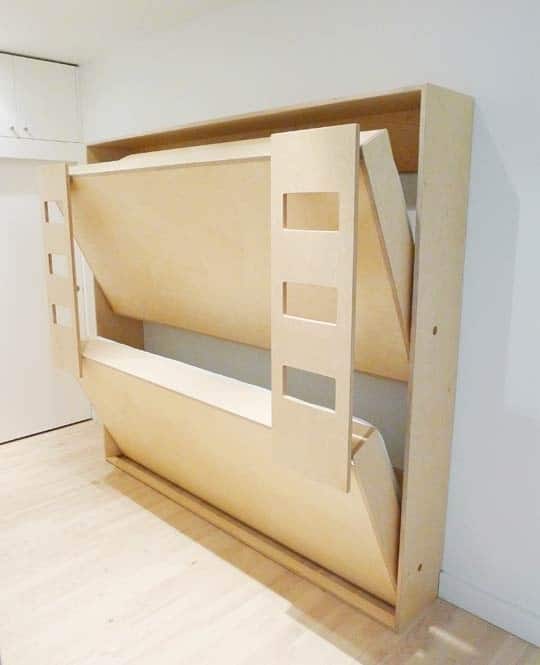 15. Double bunk beds for big happy families
If you have a numerous family, bunk beds are definitely the key solution for the little one's bedroom. Use light wood or paint it white for an airy feel to the room.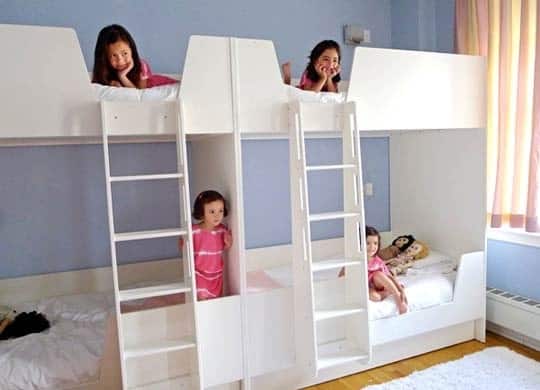 Small beds can be comfortable and regular sized beds can be hidden and occupy less space in your home. What do you think about the small beds ideas presented above? Leave your feedback in the comment section below.
Related Articles
12 Ways To Put Your Bedroom Corner Space To Good Use
29 Brilliant Easy to Build DIY Platform Bed
21 Mindbogglingly Beautiful Fairy Tale Bedrooms for Kids
21 Super Small Nightstands Ready to Fit in Petite Bedrooms
37 Simply Spectacular Tree Bed Designs to Pursue
Recycled Pallet Bed Frames – DIY Pallet Collection
15 Creative Small Beds Ideas For Small Spaces
30 Small Bedroom Interior Designs Created to Enlargen Your Space
37 Smart DIY Hanging Bed Tutorials and Ideas to Do
Bedroom Christmas Lights Ideas For A Cozy Atmosphere
32 Dreamy Bedroom Designs For Your Little Princess
100 Inexpensive DIY Headboard Ideas for Your Bedroom Design
47 Stylish Floating Bed Design Ideas
53 Incredible Hanging Beds to Float in Peace
33 Epic Navy Blue Bedroom Design Ideas to Inspire You
6 Best Vacuum Cleaners for Mattress  
Intex vs. SoundAsleep vs. King Koil | Air Mattress Comparison & Buyer's Guide