Do you fancy warming yourself in the toasty glow of a fireplace while binging your favorite show? Sounds too good to pass up, doesn't it?
To be able to enjoy this, an electric fireplace TV stand is exactly what you need. Accompanied by the calming crackle of flames, this multipurpose unit does much more than it looks capable of. 
Along with being an attractive addition to your living space, it does a terrific job of keeping the house warm on the frostiest of nights. It doubles up as an electric-powered home entertainment system while also scoring points for functionality.
While this energy-efficient appliance makes for a worthy buy, given the variety of models thronging the market, it can be difficult to choose the right one. This is why we've done the leg work for you and rounded up the 15 best ones out there.
So, let's get started, shall we?
Electric Fireplace TV Stands
IMAGE
PRODUCT
DETAILS

Our Top Pick

Our Top Pick

Ameriwood Home Farmington TV Console

Flames work without heat
Multiple storage options
Woodgrain texture with a weathered finish

VIEW LATEST PRICE →

Ameriwood Chicago Fireplace and TV Console

Supports up to 70 lbs of weight
LED with a runtime of 50,000 hours
Multiple storage compartments

VIEW LATEST PRICE →

Walker Edison W58FP18ES Fireplace TV Stand

Cable management features included
Fireplace and heat function individually
Adjustable shelves

VIEW LATEST PRICE →

Media Fireplace TV Stand

1500 watt heater
Flame works independently of heat output
Easy heater on/off control

VIEW LATEST PRICE →

Ameriwood Home Carson Fireplace TV Console

Supports 70-inch, 135 lbs flatscreen TV
LED runtime of 50,000 hours
State of the art design aesthetics

VIEW LATEST PRICE →

SEI Tennyson Electric Fireplace

Classic espresso finish
Bookcases attached on the sides
Automatic shut-off feature

VIEW LATEST PRICE →

SEI Narita Media Console

Produces even heat
Glazed pine finish 
Self-regulating fireplace

VIEW LATEST PRICE →

SEI Antebellum Media Console

Adequate supplementary heat for 400 square feet
Fully energy-efficient
Remote-controlled heat and flame settings

VIEW LATEST PRICE →

Real Flame Fresno G1200-X-B Entertainment Unit

Digital readout panel 
9-hour timed automatic shut off
LED with 5 brightness settings

VIEW LATEST PRICE →

Sonax F-192-BWT West Lake 60-Inch Fireplace Bench

Dark espresso stained wood finish
Even heat distribution
Pollutant-free ambiance

VIEW LATEST PRICE →

Glendon TV Stand with Electric Fireplace

25-inch curved electric fireplace
Warms up to 400 square feet
Integrated center shelf with side cabinets

VIEW LATEST PRICE →

Pleasant Hearth 248-44-34M

Plus into a 120V power outlet
True-to-life embers
Heat output of 4600 BTUs

VIEW LATEST PRICE →

Pleasant Hearth 23-inch Riley TV Stand

Can support 48-inch flatscreen TVs
Multifunctional remote with 17,520 hours of runtime
Cabinets with adjustable shelves and doors

VIEW LATEST PRICE →

ChimneyFree Lynwood Electric Fireplace

Compact, multipurpose unit
Made of premium quality material
Heating output 5200 BTU

VIEW LATEST PRICE →

Altra Furniture Manchester TV Stand

Remotely adjustable settings
Ample storage
Plugs into a standard 120V outlet

VIEW LATEST PRICE →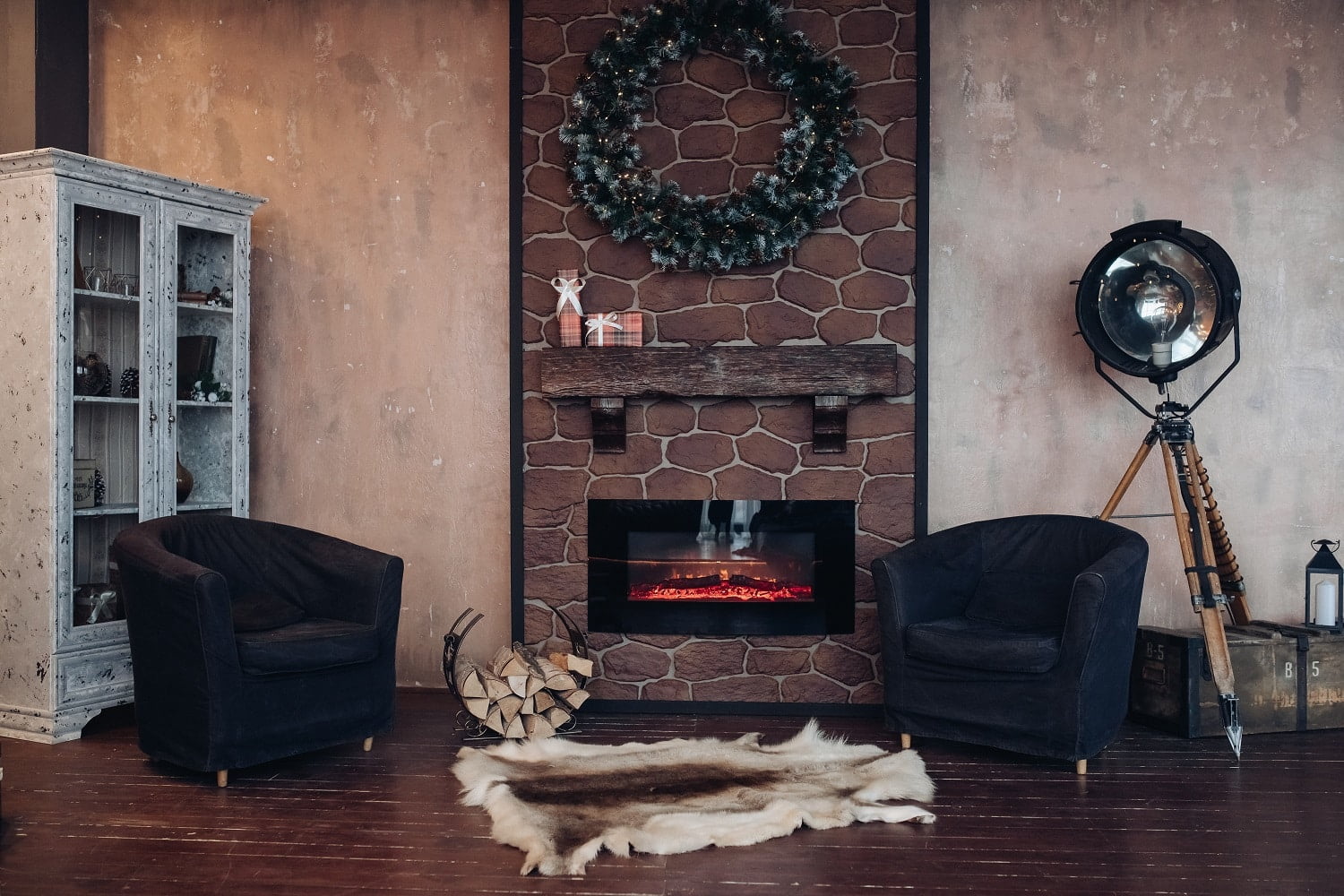 Our first recommendation is an excellent product from Ameriwood, and it's even better than what the advertisements show. High in aesthetic appeal as well as functionality, this is certainly one of the best products in the market. Also, it promises to last a lifetime of use.
Sale
Why Did We Like It?
Ameriwood's product excels on all fronts and leaves us with little to want. First up, its aesthetics are one of a kind and the classic farmhouse finish transforms your room in the blink of an eye. Also, it is of sturdy build, constructed out of laminated particleboard and MDF, and lasts for years.
In addition to that, the unit is equipped with multiple, in-built storage spaces that can hold DVDs, video games systems, and cable boxes, thus doing away with clutter. It is just as capable, also, of supporting a flat-paneled TV up to 60 inches wide and 95 lbs in weight.
Last but not the least, Ameriwood pays attention to details. The 23-inch electric fireplace insert is remote-controlled and can be optimized to be used at the ideal room temperature. Easy to maintain and offering good value for money, the Farmington by Ameriwood ranks high on our list.
What Could Have Been Better?
There are little to no problems with this appliance; it works well in all conditions. However, we feel that the construction of certain parts could improve and also, assembling it requires two individuals. But these are hardly red flags, and in our opinion, the product is worth checking out.
Pros
Versatile, multipurpose unit

Adjustable temperature

Easy to clean

Good value for money
Cons
Construction could improve

Assembly is tedious
One of the most popular models in its range, the Chicago fireplace is 50 inches in width and has a beautiful finish. If aesthetic appeal is what you're going for, then you can easily keep the flames switched on without having to warm the house. Being another highly versatile product, it is a worthy contender on the list.
Sale
Why Did We Like It?
If the ideal combination of style and utility is your first priority, then you're probably looking at the right product. This TV fireplace from a trustworthy brand is a seamless blend of aesthetics and utility. Well-constructed and sturdy, it supports ample weight and lasts for years.
The unit also comes with numerous options for storage. Whether it's your Blu-Ray player or gaming consoles, the side cabinets provide additional space to hold such items. Furthermore, the fireplace is 18 inches wide and easily plugs into a 120V outlet, thus saving you extra costs and effort.
Moreover, the fireplace is a great match with a number of other products from Ameriwood, which allows the user to design their interiors with parity. Lastly, the electric heater alone is also highly effective and can adequately warm up a room of 400 square feet. All in all, a great bargain, we'd say!
What Could Have Been Better?
The only aspect where this otherwise excellent appliance falters slightly is the assembly. For the inexperienced, it can prove to be confusing and difficult. However, this is easily managed with a little help to make the process simple and enjoyable.
Pros
Strong construction

Great design aesthetics

Versatile and high-functioning unit
Cons
Assembly can be difficult
Next up is a brand that's a household favorite for all the right reasons. Walker Edison's W58FP18ES takes the aesthetic appeal of your room a few notches higher, thanks to its elegant, textured finish. But, it also works as well as it looks. Read our review to find out all about it.
Why Did We Like It?
The classy, textured finish of this fireplace can often fool one into thinking that all it's good at is being the center of attraction. While attention-grabbing it definitely is, given the laminated exteriors, Walker Edison's product scores high on utility and durability as well. Constructed out of premium-grade MDF, it supports weights up to 250 lbs without a hitch.
Also, fitted with adjustable shelves, its multifarious storage options can be optimized in order to get the most out of the product. Accommodating and customizable, the unit comes with cable management features as well, in order to ensure the smooth run-in dog chords at the back of the TV stand.
Lastly, designed to heat up to 400 square feet of area, the console is simple in functioning despite its advanced features. Easy to plug in, it requires no electrician or sophisticated technical skill for operation and makes for a great addition to homes.
What Could Have Been Better?
Walker Edison gives us little room for complaint. The only disadvantage to this product is its dimensions that may not be proportionate for every room. Also, it is slightly heavier than its counterparts. But given all that's on offer, we think such minor issues could be easily overlooked.
Pros
Laminated, elegant aesthetics

Customizable and versatile unit

Long-lasting and sturdy construction
The last item on the list, the Media Fireplace from Sumner Corner makes for an excellent choice and gives you your money's worth. Sturdy and dependable, it offers a lifetime of use on a budget and is easy to maintain over a period of time.
Why Did We Like It?
Sumner Corner's product is a great choice for someone whose primary concern is a high level of fuss-free functioning with decent aesthetics. This product ticks precisely those very boxes and offers a lifetime of use.
The heating capacity of the product is impressive at 1500W and is adequate to sufficiently heat up 400 square feet of area. Further, the heating function works independently of the flames; the latter may be used even with the heating off. Also, the controls of the appliance are easy to operate and suitable for users of all ages.
Last but not the least, the unit supports all flat-screen TVs of 45 inches in dimension and weighing up to 100 lbs. Moreover, Sumner's unit is easy to assemble and maintain, and is backed by a one-year warranty from the company itself.
What Could Have Been Better?
The only aspect that we felt could improve is the time taken to assemble. As the unit comprises a number of parts, its installation is often time-consuming and difficult for the uninitiated. However, given all that's on offer, this is a small compromise to make and it remains one of our top suggestions.
Pros
High degree of functionality

Hassle-free operation

Easy to maintain

Long-lasting
Cons
Time-consuming assembly process
Another Ameriwood product on the list, the brand's excellence in home appliances must be well-established by now. The Carson fireplace TV console is another product with a high aesthetic appeal and one that promises to deliver. Check out all its features right here.
Sale
Why Did We Like It?
If there's only one thing left to transform your apartment into the cozy abode you've always wanted, we can assure you it's the Carson Fireplace TV console from Ameriwood. It supports any flatscreen TV up to 70 inches in width and 135 lbs in weight and offers an ambiance that's hard to match. However, you can also enjoy the flames without the heat.
Moreover, the unit is perfectly capable of evenly heating rooms up to 400 square feet in dimensions and also comes with ample storage spaces. Be it books, consoles, or remotes – your room is sure to remain free of clutter with Carson.
Ameriwood's fireplace TV stand is further equipped with an LED that has a runtime of 50,000 hours. Painted in a contemporary black finish, the console makes a bold statement in any indoor space and its true-to-life patented flames add that extra charm.
What Could Have Been Better?
Again, we tried very hard to be critical and could come up with only a minor issue that is hardly anything to be dissuaded by. For some, the height of the console was short in comparison to its counterparts. It's smart to gauge that, especially considering the other furniture in the room, but if you ask us we'd pick Carson in a heartbeat.
Pros
Impressive weight capacity

Flame effects don't require heat to be turned on

Low maintenance, energy-efficient LED
Cons
Height may be on the shorter side
Our next product is sure to impress you with its classic and timeless design. SEI's Tennyson fireplace is also a highly efficient and functional model that delivers an excellent performance without much hassle and for a long time to come. Easy to maintain and operate, it certainly offers your money's worth and then some.
Why Did We Like It?
The SEI Tennyson fireplace stand has been known to have become the center of attraction in any setting, and there's no reason why it shouldn't do the same for you. First and foremost, its design takes the cake. Painted in a timeless espresso finish, it also has a traditional floral motif carved on top to complete the look.
In addition to that, it comes fitted with a host of features that add considerably to your experience of the unit. While the attached bookcases provide storage space, the multihued embers create an unforgettable ambiance that goes well with any reading nook. Also, the LED conserves energy and is easy on maintenance. In short, with the Tennyson console, you have close to nothing to worry about.
Installation is simple and quick, and the automatic shut-off switch, combined with cool-to-touch glass, ensures your safety. With its remote-controlled settings and excellent durability, the Tennyson console is one of the best in its price range.
What Could Have Been Better?
If we had to absolutely nitpick, we would have preferred the shelves on the side to be a little larger to be able to enhance the storage capacity. However, SEI's product is without any functional flaw and that's what makes it a highly dependable option for anyone looking to make a purchase.
Pros
Realistic, ambient flames

Additional features for enhanced safety

Energy-efficient; easy to maintain

Good value for money
Cons
Side shelves could be larger
The next SEI product on the list, the Narita console hardly lags behind its predecessor. With even heat distribution, brilliant aesthetics, and a host of added features, it makes for a worthy addition to your space and promises to deliver. 
Why Did We Like It?
Built to last and of sturdy construction, this MDF and pine fireplace from SEI is a powerful appliance that works in silence. With an output capacity sufficient to heat 400 square feet of area, it distributes heat evenly within a space while offering a warm and welcoming ambiance.
Furthermore, it is equipped with a variety of features for greater operational efficiency. The remote control works to adjust the thermostat and timer, while the adjustable media shelves offer excellent storage. Also, this 1500 watt electric fireplace is an energy-efficient option for the environmentally-conscious buyer.
Lastly, SEI's self-regulating appliance takes care of one's safety. Fitted with glass that is cool to touch and a child safety lock, it ensures that all members of the family are equally able to enjoy all that's on offer. With exceptional style and features to match, the model is in our best books for sure.
What Could Have Been Better?
The only aspect which could improve is the assembly of the appliance as it requires considerable effort and know-how on part of the user. however, this is nothing SEI's exceptional customer care cannot fix and we'd suggest getting in touch with them.
Pros
Durable, sturdy construction

Remote-controlled heat settings

Great design aesthetics
Next on the list is SEI's Antebellum media console and electric fireplace, another exceptional product from the brand. Scoring high on both functionality and design, this is a model that fails to disappoint. Read our review to know all about it.
Why Did We Like It?
One of the most popular products on the list, the Antebellum fireplace console with its classic cottage aesthetics is a unit with a purpose. Multipurpose, dependable, functional, it is one of the go-to choices even for the most discerning buyers. 
In addition to that, the unit provides ample options for all your storage needs, be it accessories, books, remote-controls. The louvered cabinets are fitted with adjustable shelves that allow for great flexibility. Also, the attached LED lights are energy-efficient and a remote control device is provided for ease of use.
Last but not the least, the appliance features a programmable thermostat that goes a long way in optimizing the fireplace stand for your personal use. Brightness and heat levels are similarly adjustable, and all together, such features make the Antebellum fireplace an option worth considering.
What Could Have Been Better?
The construction, although good, definitely has scope for improvement. However, there are no major problems to be faced on that account and the product is nevertheless worth a look.
Pros
Impressive design aesthetics

Energy and time-efficient functioning

All settings are customizable
Cons
Construction could improve
Our next recommendation is a real winner; a three-in-one compact entertainment unit with attractive features, strong construction, and an enviable price tag. The Fresno G1200-X-B is an excellent product from Real Flame and considerably ups the ante. As one of the best products in the market, it certainly gives stiff competition to the rest.
Why Did We Like It?
First up, we must clarify that this particular model is an electric fireplace, entertainment unit, and TV stand rolled into one. An ideal solution for those looking for maximum space utilization, the Fresno offers warmth on a budget and a whole lot more.
It is equipped to support 50-inch flatscreens weighing up to 100 lbs and boasts of a simple installation technique that doesn't require specialized skills. Painted in black, white, or dark walnut, the unit blends in with the other furniture and is 100% energy-efficient as well.
In terms of storage, the product offers six adjustable shelves to all your necessities and electronic accessories. Given its combination of powder-coated steel, wood, and veneer overlay, the unit is sturdy and can contain all that you store in it, without difficulty.
Lastly, all settings on this excellent piece of equipment can be controlled and customized, including flames, thermostats, and brightness. A remote-control has been included to enable this, and all in all, this is one of the best ones you could get.
What Could Have Been Better?
Even after going over all the features with a fine-toothed comb, we couldn't find a single functional flaw. The only possible cause for concern is that the space between the shelves and back covering isn't wide enough which some may find inconvenience. However, this is mostly a matter of personal preference and by no means a red flag.
Pros
Highly customizable

Energy-efficient and easy to maintain

Simple installation

Strong construction
Cons
Storage might not be adequate for some
It's not every day that we come by a fireplace TV unit that stands out for its blend of traditional and contemporary design. But here we are, with the Sonax F-192-BWT! Smartly designed and with a host of impressive features to boot, it is among our personal favorites on the list. Read on to learn all about it.
Why Did We Like It?
Accented with wood-trimmed tempered glass cabinet doors, the dark espresso stained finish of the fireplace TV stand is a sight to behold. Not only does it blend with other furniture in harmony, but at the same time it also stands out as a focal piece. Safe to say, its design aesthetics are some of the best out there and hard to compete with.
The 60-inch Sonax unit is also capable of supporting a 68-inch flatscreen TV and comes with numerous storage options so that your house remains clutter-free. A number of side cabinets and top shelves offer adequate space for accessories, books, and even crockery without any hassle.
Last but not the least, heat distribution is even and the unit works well throughout the year. Built to last and sturdy in capacity, Sonax's product is sure to give you your money's worth while promising a commendable performance.
What Could Have Been Better?
Our only grievance, although not very serious, is that you've to get considerably close to the unit to feel the warmth as the radiation isn't as strong. But given all that's on offer, according to us, this is only a small compromise to make.
Pros
Exceptional design aesthetics

Provides sufficient warmth

Ample storage space
Cons
Radiation field isn't very far-reaching
In a burnished pecan finish with attractive features backing up the design, the Glendon TV stand is an excellent choice among the others on the list. It offers sufficient warmth in a traditional style media console and is more than adequate to store all your necessities. Take a look!
Why Did We Like It?
In combining contemporary and traditional aesthetics, the Glendon TV stand becomes an attractive feature of any room it's installed in. The addition of a curved electric fireplace only adds to its appeal and works well to set it apart from its counterparts in the market.
In addition to that, this is a model that is especially easy to clean and maintain, and offers you considerable warmth along with entertainment options. In that respect, it supports any 60-inch flatscreen TV and evenly distributes heat, thanks to the integrated fan-forced air heater.
Moreover, the product includes a multifunctional remote that allows for greater convenience in terms of heat settings. Backed by a one-year warranty, this sturdy appliance offers ample storage and good value for money, and could easily be one of the best additions to your room.
What Could Have Been Better?
The only area where this otherwise excellent unit could improve is the construction. Slightly flimsy in places, it could be prone to damage more easily than the rest of the device and we'd suggest a thorough quality-check before you make a purchase.
Pros
Integrated design aesthetics

Compact unit with storage

One-year warranty
Cons
Construction is weak in places
A new entrant on the list, Pleasant Hearth is a well-established name in the world of home appliances. This particular fireplace TV stand from the brand is an excellent mix of design aesthetics and functionality, and its durable construction makes it one of the top products in the market.
Why Did We Like It?
Pleasant Hearth's product is a strong contender for the top spots on any list of similar products. With an impressive heat output capacity for 4600 BTUs, it produces sufficient heat to warm up an area of 400 square feet on the coldest of days. With three heat settings to choose from, it also allows for flexibility in terms of flames.
The one aspect where this model outdoes most of its counterparts is the aesthetic appeal. Whatever one's personal preference may be, this tastefully designed appliance makes for a great addition to your room and is sure to get the conversation started.
Last but not the least, being one of the most cost-efficient options out there, it offers good value for money and makes for a sturdy, versatile purchase.
What Could Have Been Better?
The only point where the product falters slightly is assembly. It may be hard to install for some, even though the process is fairly simple. Barring such a minor issue, this product is absolutely flawless.
Pros
Impressive heat output

Multipurpose unit

Ease to maintain

Good value for money
The next product from Pleasant Hearth is equally impressive in terms of utility and sturdiness. Featuring an attractive electric fireplace, it boasts of an espresso finish that stands out and looks great. With ample capacity for use, this is one of the best in the market and is an option worth your time.
Why Did We Like It?
Be it warmth, storage space, or design aesthetics that is your first priority, the 23-inch TV stand from Pleasant Hearth ticks all the boxes. The three heating levels allow the user to regulate the temperature in order to set it to the ideal one, while the three flame settings and eleven thermostat settings add to the experience. What's more, all of them are remotely controlled.
Also, the product features an LCD backlit display for reading the temperature and timer functions. Combined with the silent but powerful fan, the Riley stand ensures nothing but the best for the user.
In addition to that, it comprises ample storage space in the form of adjustable cabinets that are ideal for containing smaller media accessories. Also, safety is ensured by way of the automatic shut-off function which may be set anywhere between 30 minutes to 9 hours. Easy to clean and install, the Riley TV stand is certainly one you can bet on.
What Could Have Been Better?
As with a few other models, here too, we felt that the construction could certainly improve. Some parts seem to be more prone to accidents than others but with the help with customer support, this is nothing that cannot be resolved.
Pros
Convenient backlit display

Even heat distribution

Auto-shutoff feature for added safety
Cons
Quality of construction could improve
Our penultimate suggestion is by no means any lesser than the ones that have come before. A beautiful product from a trustworthy brand, the Lynwood fireplace boasts of enviable aesthetics with a high degree of functionality to match. Read on to know more.
Why Did We Like It?
This electric fireplace from ChimneyFree makes for a great addition to any indoor space for a number of reasons. Comprising premium quality material in its construction, the wooden body features a traditional design while incorporating modern amenities and functions. Along with that, it has a heat output capacity of 5200 BTUs.
Moreover, the appliance doubles up as a storage unit with numerous cabinets and a media center to boot. Also, the DVD shelf is an essential component of the unit and thus provides good entertainment.
Last but not the least, the authentic design is the cherry on the cake. With a plush finish and gorgeous colors, the Lynwood fireplace is an excellent choice for anyone looking to make their home a cozier abode.
What Could Have Been Better?
The heat radiation field of this product is not as wide and far-reaching as that of the other models. Therefore, in order to feel the full effect, one needs to be significantly close to the appliance which may seem inconvenient to users.
Pros
Blend of traditional and contemporary design

Ample entertainment options

Long-lasting and easy to maintain
Cons
Field of radiation not too wide
Altra's fireplace TV stand is hard to beat, be it in aesthetics or functioning. The sophisticated appliance warms your home in style and does a commendable job of it. Fitted with a number of shelves and drawers, Altra also takes care of storage issues without burning a hole in your pocket for it.
Why Did We Like It?
Right off the bat, this uber stylish fireplace stand impressed us with its looks. The unique black finish lends an air of elegance to it quite like no other and is sure to get your guests talking. Additionally, it also keeps the house warm and comfortable. Win-win, isn't it?
Furthermore, with Altra's fireplace, storage is convenient and easy. All media appliances and their accessories such as stereos, remote-controls, consoles, can fit snugly into one of the numerous storage spaces provided. In addition to that, most of the settings on the unit, including heat settings, are remotely controlled for better operational efficiency.
Last but not the least, the appliance has a heat emission capacity of 1500 watts – enough to keep out the cold on any given day. It works well on a 120V power outlet and the result is an ambiance you'd never want to leave.
What Could Have Been Better?
There are no inherent functional flaws with the device. However, in some cases, the heat output was found to be lower than advertised. Although the difference was negligible, it may be wise to contact customer care in case of such issues.
Pros
High operational efficiency

Focal point of the room

Hassle-free installation
Cons
Does not emit as much as advertised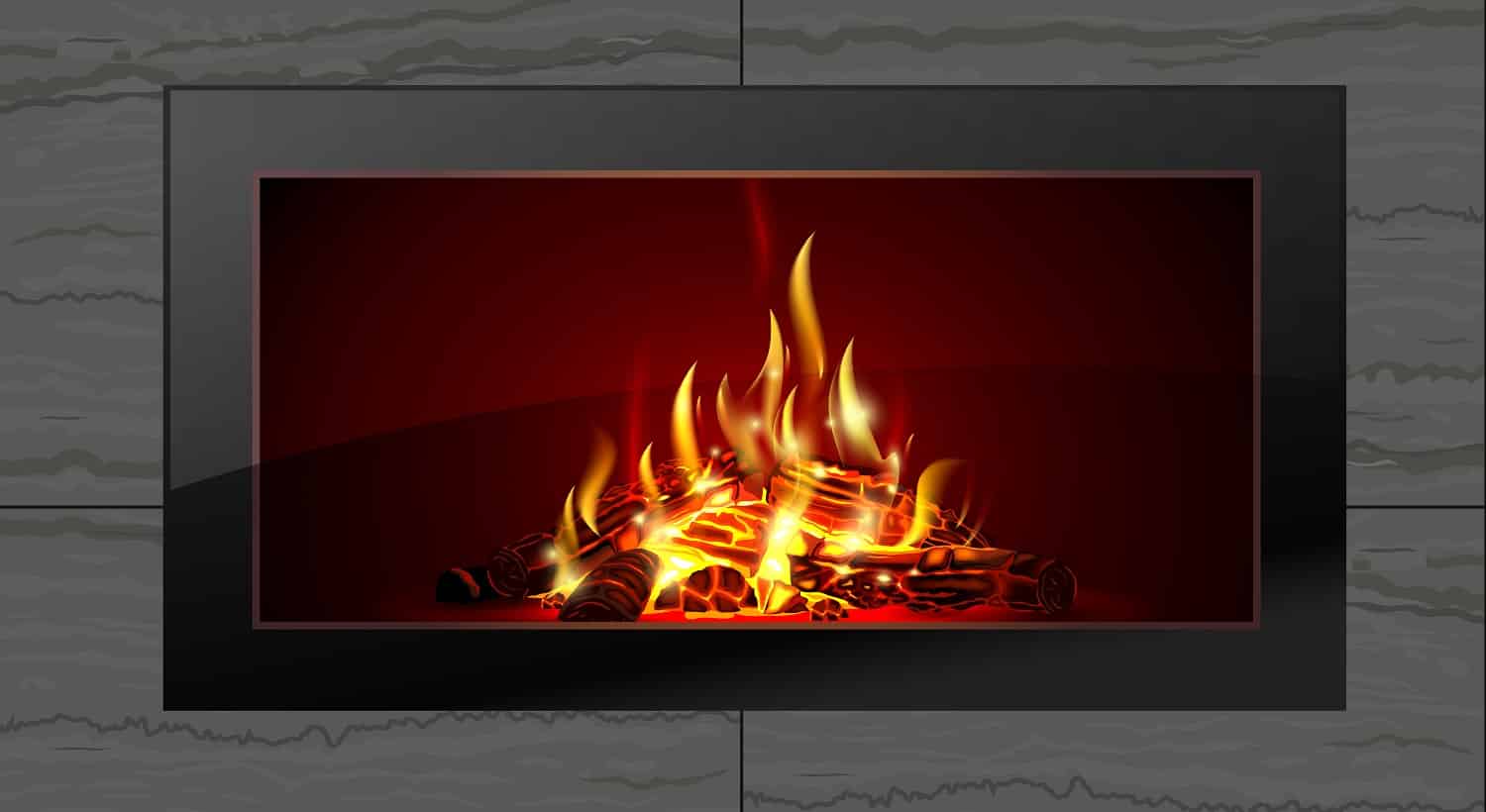 Buyers' Guide | How To Select the Right Fireplace TV Stand
By now, it must be clear to you why a fireplace TV stand would be a useful addition to your interiors. Not only does it offer warmth and a cozy ambiance, but it also serves as an effective storage unit with additional features for convenience, entertainment, and safety.
But with so many options to choose from, selecting the right one can send the best of us in a tizzy. To help you out further, we have compiled a brief guide that should come in handy while you're out to make a purchase.
Place of Installation
Where you keep your TV stand plays a crucial role in deciding which model would be the right one for you. It's wise to decide on this before you begin to shortlist models as often, the products are crafted and built specifically to suit certain spaces such as a corner or flat wall. There are options which cater to both, but it's always better to do the groundwork.
Budget Constraints
Personal finance is perhaps the most influential factor when it comes to buying home appliances, especially electronic ones. Fireplace TV stands suit a wide range of budgets, which is what makes the job even tougher as one also needs to keep in mind what they get in return, or how good the quality is.
However, get rid of the notion that only expensive models are worth considering. You'd be surprised to see what a mid-budget appliance can do!
Indoor Space
Some models are built for spacious areas and take up a considerable surface area. On the other hand, the others fit snugly into smaller spaces. Both kinds can do a good job depending on their functionality and make.
Energy Efficiency
Most products on our list are extremely energy-efficient. Given the present time, it is crucial you factor this into your decision as otherwise, not only will the electricity bill be a depressing thing to tend to, but you will also be consuming excessive energy.
Additional Features
The most popular fireplace TV stands also serve numerous other purposes and are equipped with a variety of features for better operational efficiency. The most common of them are storage spaces, thermostats, and LED lights. There is something that is sure to appeal to your taste.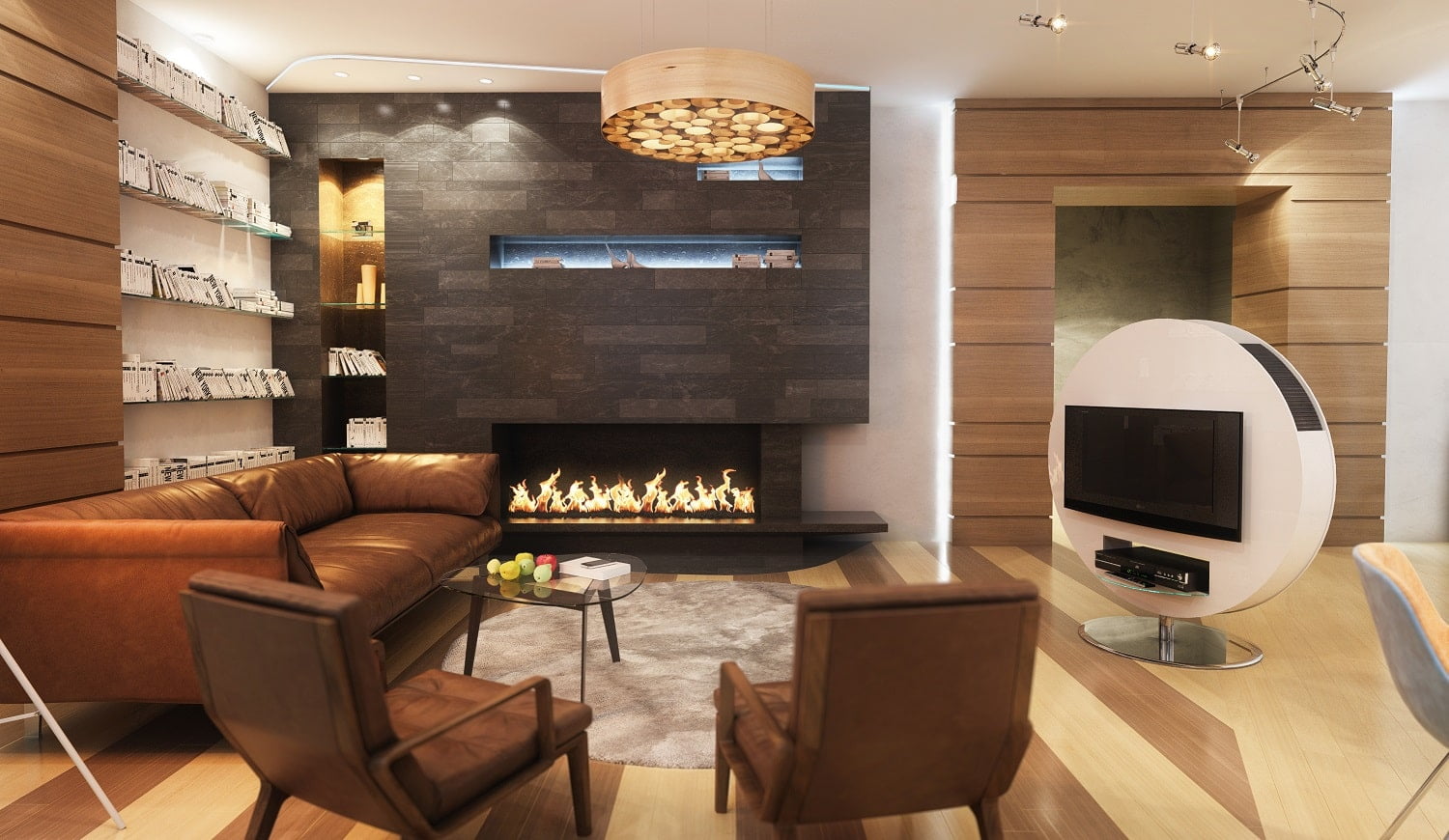 Verdict
With that, we've come to the end of our guide and we hope it has been helpful. To take you just another step closer to the model of your choice, we've rounded up a few personal favorites. 
The Farmington TV console from Ameriwood makes for a popular option that offers great all-round performance. On the other hand, Real Flame's Fresno is a premium product with a lot to offer in terms of utility, safety, as well as operational efficiency. Lastly, it is SEI's Narita that impressed us with its sturdy construction and value for money.
All the products on the list serve a variety of purposes, and we hope you find the right one for your needs. We'd love to know what you think of our recommendations; let us know below.
Till next time!
Related Articles
13 Best Fireplace Tool Set Reviews
10 Best TV Wall Mounts | Buyer's Guide and Reviews
10 Best Rolling TV Stands to Roll