Summer is only a few months away and along with it our late night outdoor entertaining come. It is truly fascinating to sit near a fire and reminisce good times with our friends and loved ones. Late night dinners should not be overlooked either nor should barbecues or outdoor films. We have picked up no less than eleven improvement ideas that we though you should consider; whether you have these elements in your backyard or not you can use this short guide for a recap on what you need to add or update or restore in your backyard in order to welcome summer in all its splendor.
11 Ways to Improve Your Backyard Landscape
#1 Start a DIY Fire Pit Project
It goes without a saying that a fire pit or outdoor fireplace is by far the most important piece of the puzzle. It adds coziness and warmth in an extraordinary manner and it becomes the core of the entire backyard regardless of its position. Positioning the fireplace near the patio, pergola, dinning area or outdoor film projection area will surely help but it can also be a standalone item that would double as a barbecue or smokehouse, in this case the fire pit would have a different shape and it would probably be raised from the ground to an accessible height, where as the usual fire pit is lower, encouraging users to sit directly on turf or low benches. You can find our step by step tutorial on how to materialize your own fire pit here.
Not every backyard lives up to its potential featuring every feature on this list and it obviously shouldn't unless you spend a lot of time outdoors. The cob oven though is a thing that you should really consider; eating a pizza cooked in a cob oven that you`ve realized is an extraordinary experience that you should definitely not miss if you have your own background and the taste leaves no room for comparison. Enjoy a cob oven with your friends, you can find our diy cob oven tutorial here.
Those small little paths in your magical fairy-tale garden are quite unique and we all know it. Never make the mistake of covering with mass produced tiles, they will loose all its splendor and magical allure; instead, pick a pebble design that you like and start your own diy projects with your loved ones.
#4 Create a Small Natural Pond Out of a Tire
We have featured a few months back a DIY project that made use of a tractor tire in a great manner transforming it in a small adorable pond. You can find the full step by step tutorial on how to create your own small pond out of a tractor tire here.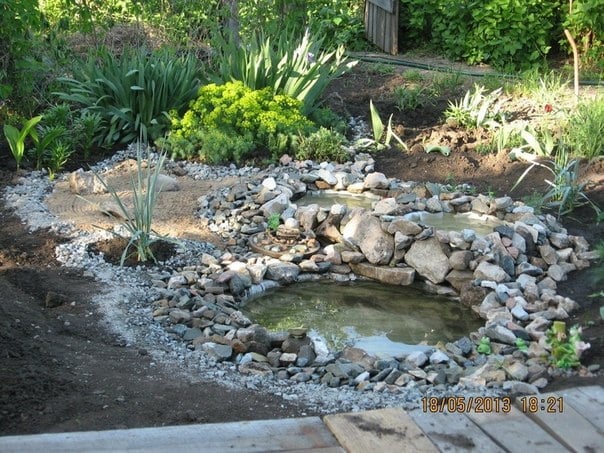 Natural pools are quite an expensive yet rewardful trend that emerged in the last few years. You can find more information here.
The pool along with the fireplace/fire pit are the two most important things in our guide and they certainly need no introduction. You can find a detailed guide on swimming pools here.
You can and you should enjoy your backyard all year long. The extraordinary melody of rain should be enjoyed quit often and it would be extraordinary to have the opportunity to enjoy it along a cop of tea surrounded by small greenhouse and millions of raindrops around you visible through glazed walls. A glass conservatory is simply breathtaking and it can be exploited through all the seasons with ease.
Through a pergola you can obtain a small piece of shade in your most important sitting and entertaining area, make sure you play this to you advantage and you plant graphic plants. Your new pergola design can be your source of wine in the future so consider all the options.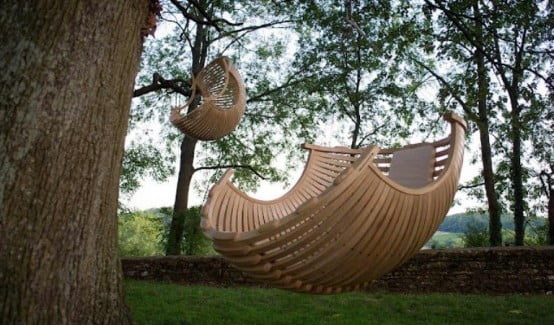 An extraordinary manner to take a break and a small nap in your small piece of heaven.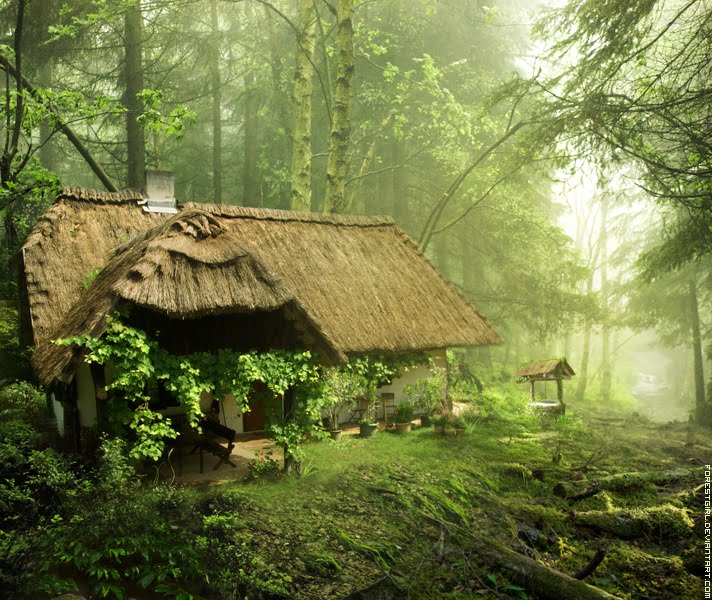 #10 Nestle in Vegetation
Make sure that your small paradise consists of greenery. It is mandatory to populate your small piece of heaven with as many plants as possible without giving up on utility. You need the place to entertain, swim and make a barbecue but all these should be surrounded by greenery for fresh air and comfort.
#11 Shield Yourself in Luxury
Make sure that you have the privacy line that you desire. By using high quality wooden panels, high quality composing fencing or superior automatic shading you can blur or define the privacy line completely when you need to. Your home deserves a high end treatment whether we talk about composite decking solutions, carbon fiber pools or natural swimming pools with integrated waterfalls. It is all up to you.
Related Articles
37 Awesome and Cheap DIY Pallet Fence Ideas to Realize Swiftly