We have presented on a daily basis numerous articles regarding beautiful, new, controversial architectural pieces from world renowned designers and architects that have influenced modern history in one way or another. Thus we have decided to approach a different angle and to expose int the following 100 Architects' Houses Series a synopsis of one of the most important figures in architecture and design's private homes. Because where better to find the true ideas and personality of an architect than into his very own personal creation. So we have decided to start our series with a name that still inspires today architects from all over the world and whos's style and concepts will definitely survive over the years.
Born in 1898 in Kuortane, Alvar Aalto was profoundly influenced on an early age by his father who's work as an ordnance survey gave Aalto a deep understanding of the natural terrain and the merge of the building itself with it surroundings. His style varied from a classical influence due to its University of Technology Helsinki period to a functionalist character in its Turku living time. Inspired by Le Corbusier's ideas and by architect Erik Bryggman, Aalto builds his Paimio Sanatorium and the Editorial offices of Turun Sanomat, architectural pieces that have brought him an international reputation. Later in life, after moving to Helsinki, he starts to move away from functionalism and rationalism and focused on an architecture gravitating around the "man", to a better understanding of the basic needs and the connections we establish with the natural habitat. But his work and accomplishments move beyond architecture to the sphere of furniture design and to the art of glass so in vogue in the 20th industrial century.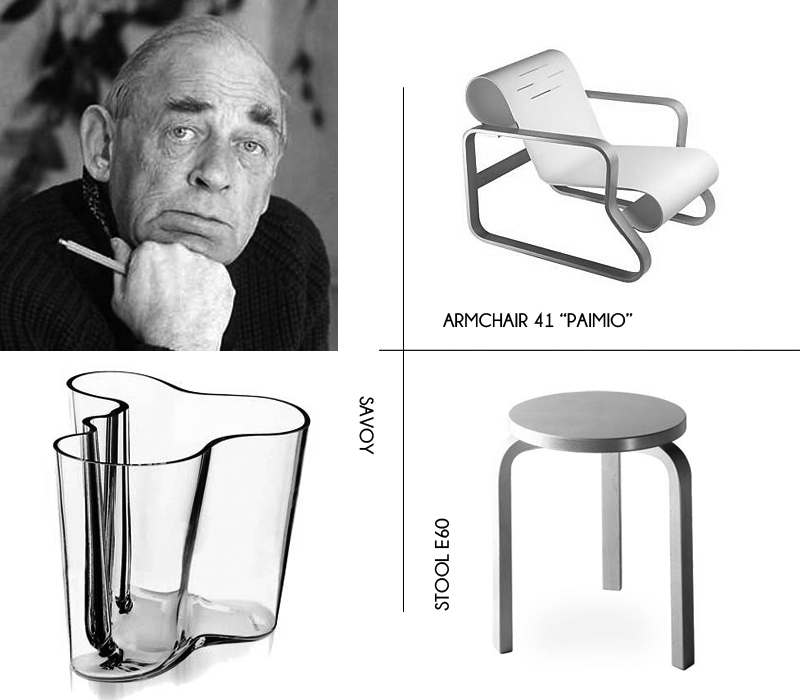 "Alvar Aalto's legendary glassware includes the world-famous Aalto Vase. His vase design caused waves when Iittala presented the vases at the Pair world exhibition in 1937. Aalto simplified design elements to result in millions of combinations that let the end user decide the use. No matter what one sees in the mysterious form, the Aalto vase has become one of the world's most famous glass objects."
His work in furniture design remains impressive today: clear smooth lines residing in bold imposing pieces that make a statement by themselves and can truly empower an interior decor. "Alvar Aalto made his international breakthrough as a furniture designer. Aalto wished to learn "the language of wood fibres" and believed that there is a positive effect when our skin comes into contact with natural materials.In 1935, Aino and Alvar Aalto founded the Finnish company Artek to manufacture their designs. Today, Artek remains faithful to the Aaltos' basic values as their master craftspeople continue to produce Aalto designs in Finland with high quality natural material."
Alvar Aalto and His Riihitie 20, Munkkiniemi, Helsinki
As you would expect, Alvar Aalto's own house has been the result of his life-time thinking process and the influences of the turning point in his career when he got estranged with the rigors of functionalism and gave a closer attention to an architecture closer to the human heart and to nature.The one story home reflects perfectly his own thoughts on 1930's architecture with a perfect merge of different natural textures and materials whilst maintaining the clarity of the functionalist current and a rational  organization of the plan. The Functionalist style is clearly stated by the the chosen locations of the windows and by orientation of every room's design according to proper  natural lighting. But the brutal approach of the front facade is sweetened by the utilization of wood and climbing plants along with white brick, reflecting a romantic attitude. Overall, the exterior aspect in a non-pretentious one, simple yet clear an elegant in its simplicity.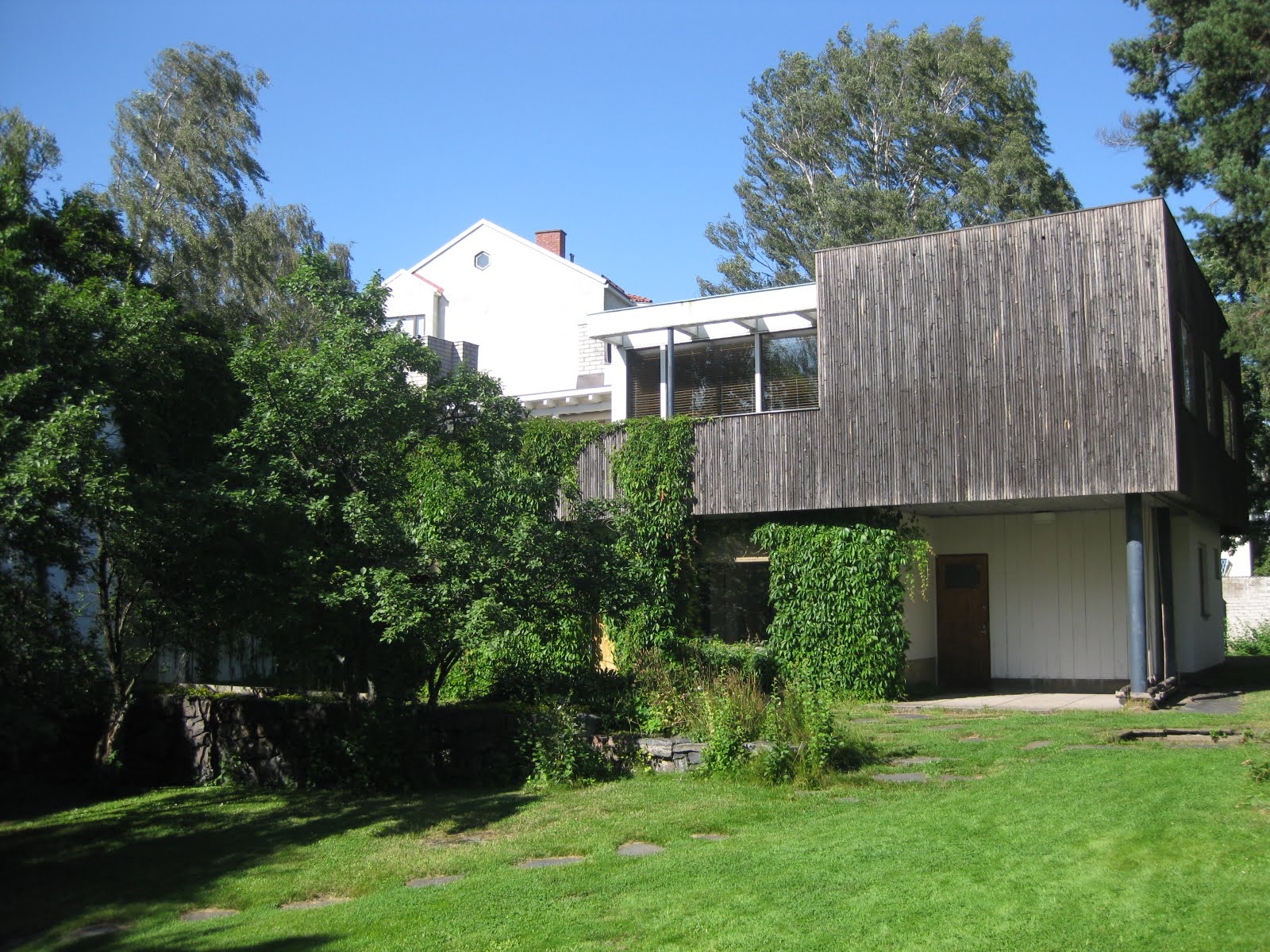 The interior design is a hole different story. Warm wooden furniture contrasts with the purity of the stark white walls and a merge of different natural textures like ceramic, wood, concrete complete the overall design, giving it a rich, powerful atmosphere.What is very interesting is the approach to changes in surfaces and angles: every surface is treated with a different material and color, generating a vibrant creation pulsating with life and color. The design line is kept simple and clear, every piece being an unique creation fit perfectly into the design scheme.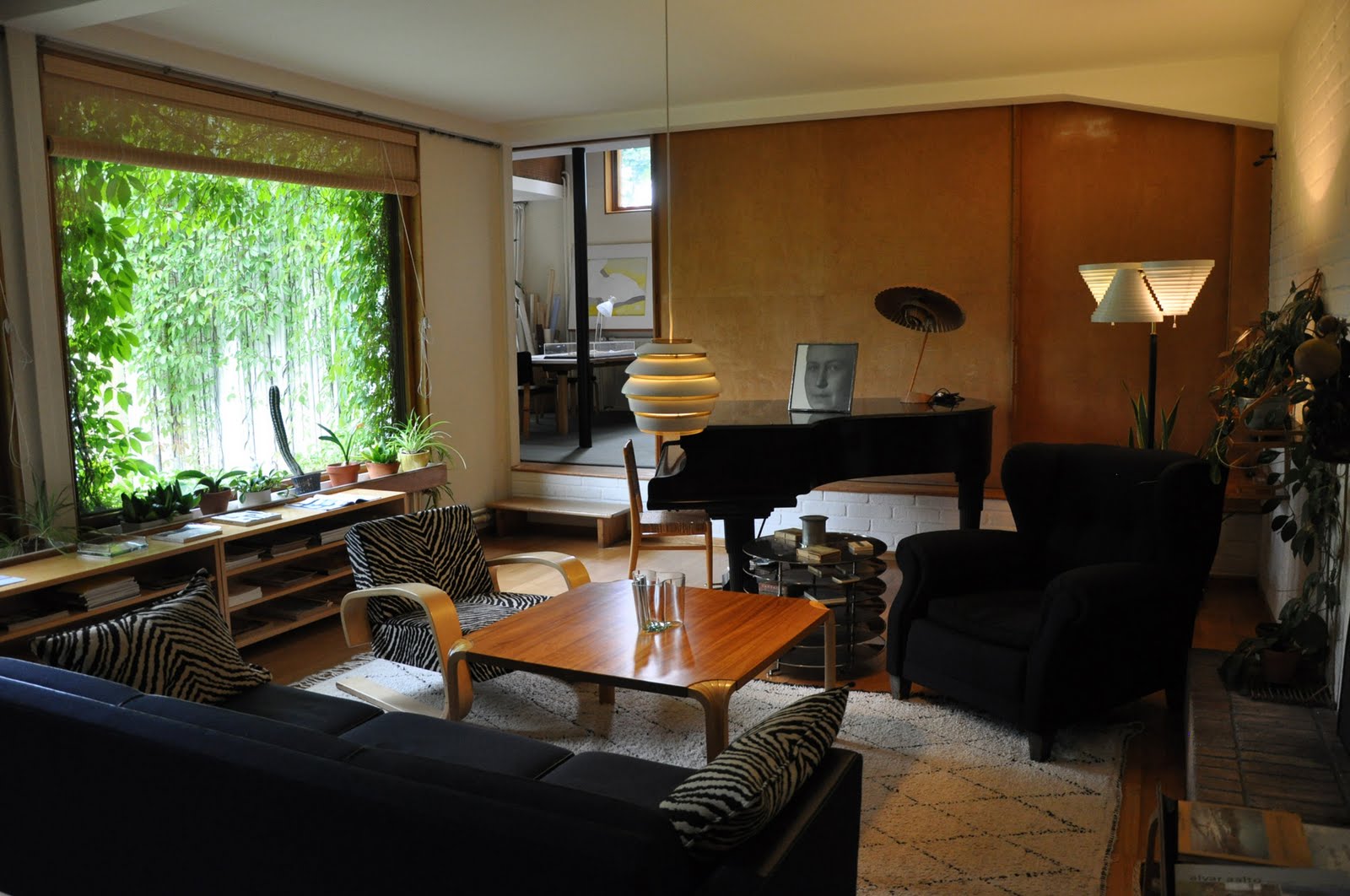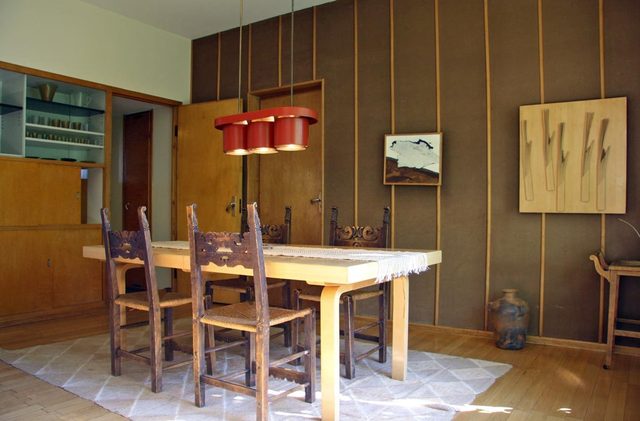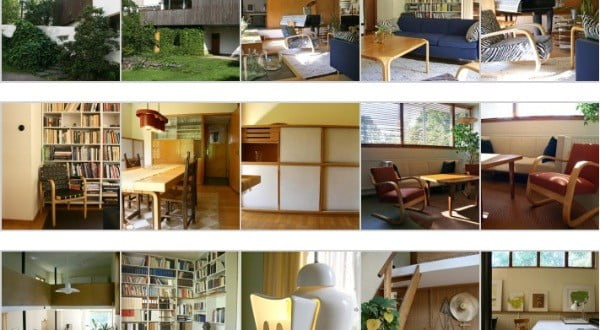 "In 1934, Aino and Alvar Aalto acquired a site in almost completely untouched surroundings at Riihitie in Helsinki's Munkkiniemi. They started designing their own house which was completed in August 1936.
The house was designed as both a family home and an office and these two functions can clearly be seen from the outside. The slender mass of the office wing is in white-painted, lightly rendered brickwork. There are still clear references to Functionalism in the location of the windows. The cladding material of the residential part is slender, dark-stained timber battens. The building has a flat roof and a large south-facing terrace.
Although the streetside elevation of the house is severe and closed-off, it is softened by climbing plants and a slate path leading up to the front door. There are already signs of the 'new' Aalto in the Aalto House, of the Romantic Functionalist. The plentiful use of wood as a finishing material and four open hearts built in brick also point to this.
The Aalto House anticipates the Villa Mairea, a luxury residence where Aalto's creativity was able to come into full bloom. But in contrast to its larger sister, the Aalto House is a cosy, intimate building for living and working, designed by two architects for themselves, using simple uncluttered materials." [ via Alvar Aalto Museum]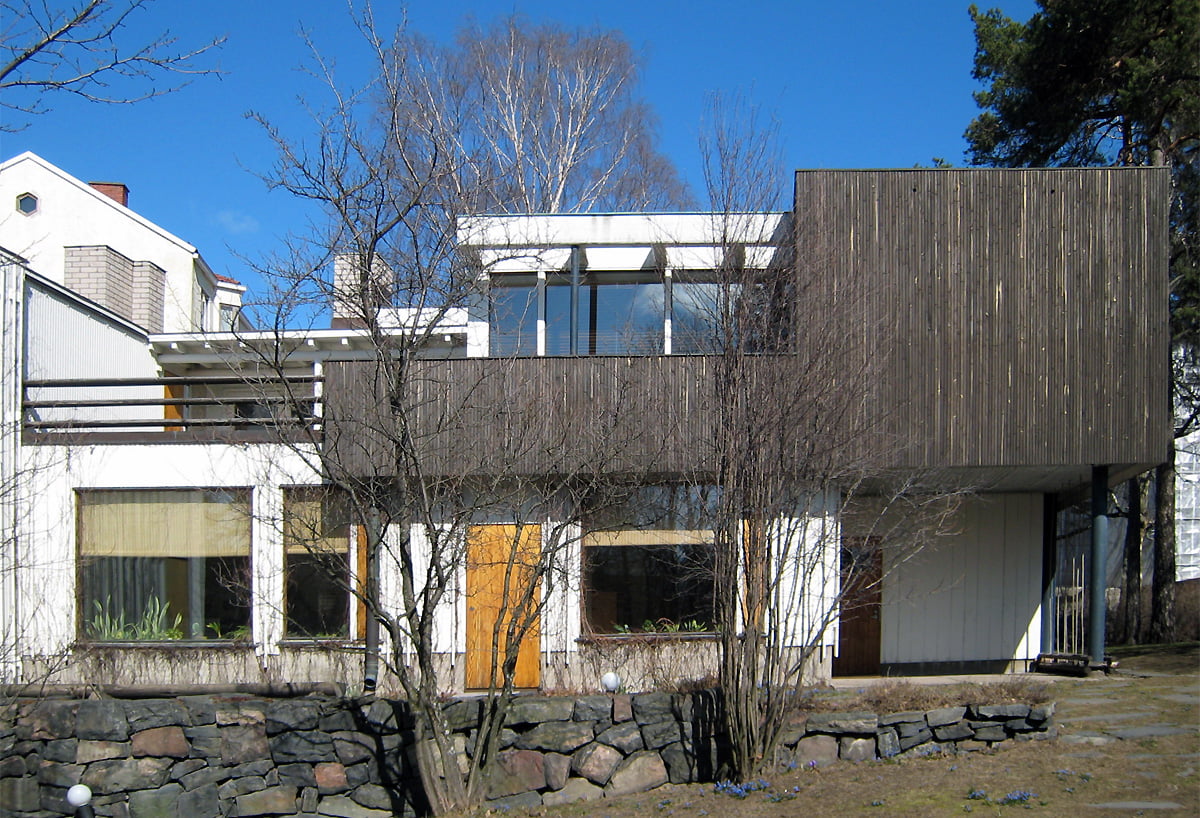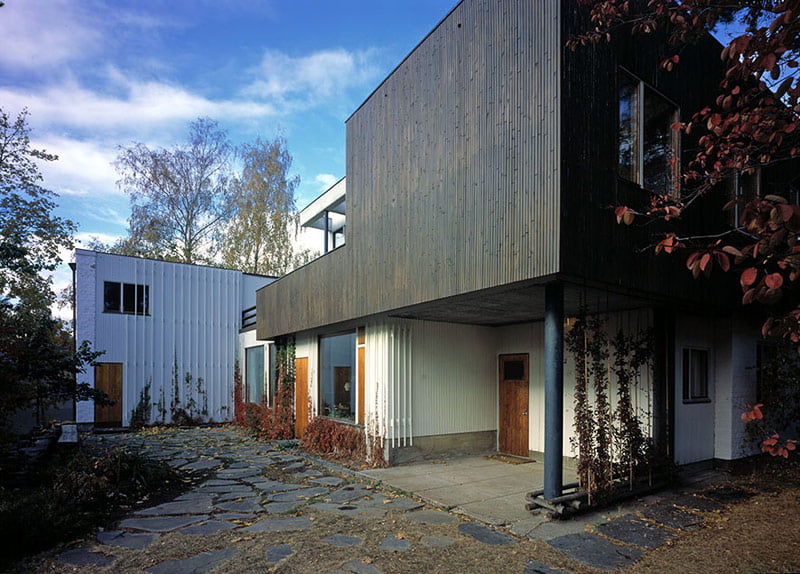 Presented in 1937 in Arkkitehti Alvar Aalto describes his own project as follows: "The building situate din Munkkiniemi, on a fairly steeply rising hillside site, Riihitie 10. It is built as a single-family house combined with the office and studio rooms needed for normal architectural work. Internally, the building is divided into three parts: a two-storey volume containing the workrooms, which are separated by a roof terrace from a group of room intended for private use and a living room on the ground floor, complete with kitchen and patio for meals alfresco. The workroom can be combined with the living room by opening a sliding wall.The vertical load-bearing structure is partly brick, but mostly steel columns, both I-section and circular. Horizontal components are reinforced concrete, while the eastern and south-facing external walls are timber, wedged into special grooves in the concrete."
Aalto's design philosophy regarding the strong connection with the natural habitat is reflected in the Aalto House which has been built in a completely untouched surrounding. Making use of the natural surroundings as a starting point for his designs became Aalto's trademark. The Mairea Villa in Noormarkku is the perfect coronation of Aalto's life time work: a beautiful home responsive to the surrounding green landscape, blending into it harmoniously. Further one we will present you a few of Alvar Aalto's main projects and work that have given him his notoriety over the years.
Alvar Alto's Main Projects
1927-29 Editorial offices of Turun Sanomat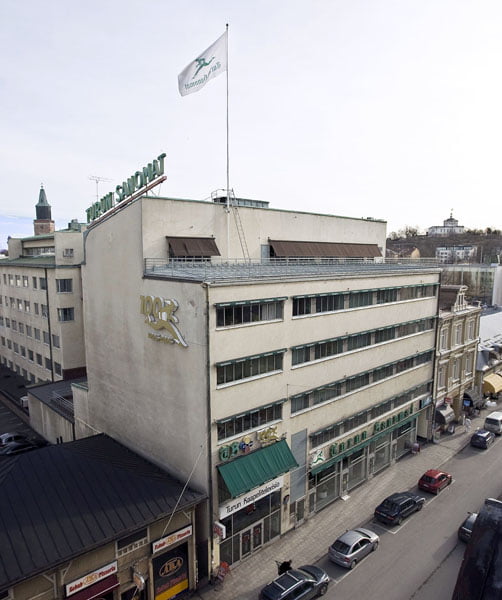 1927-35 Viipuri City Library
1928-33 Paimio Sanatorium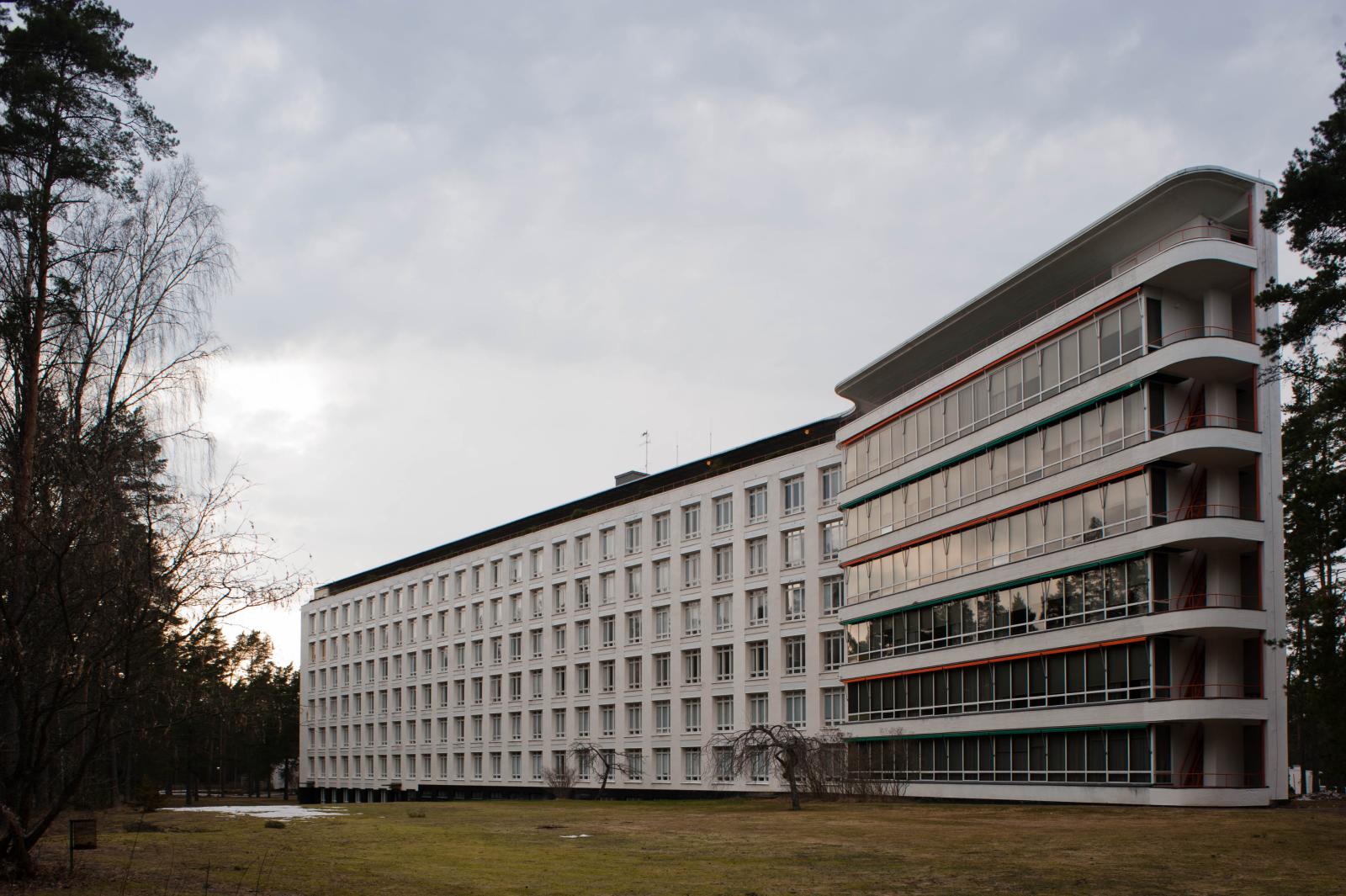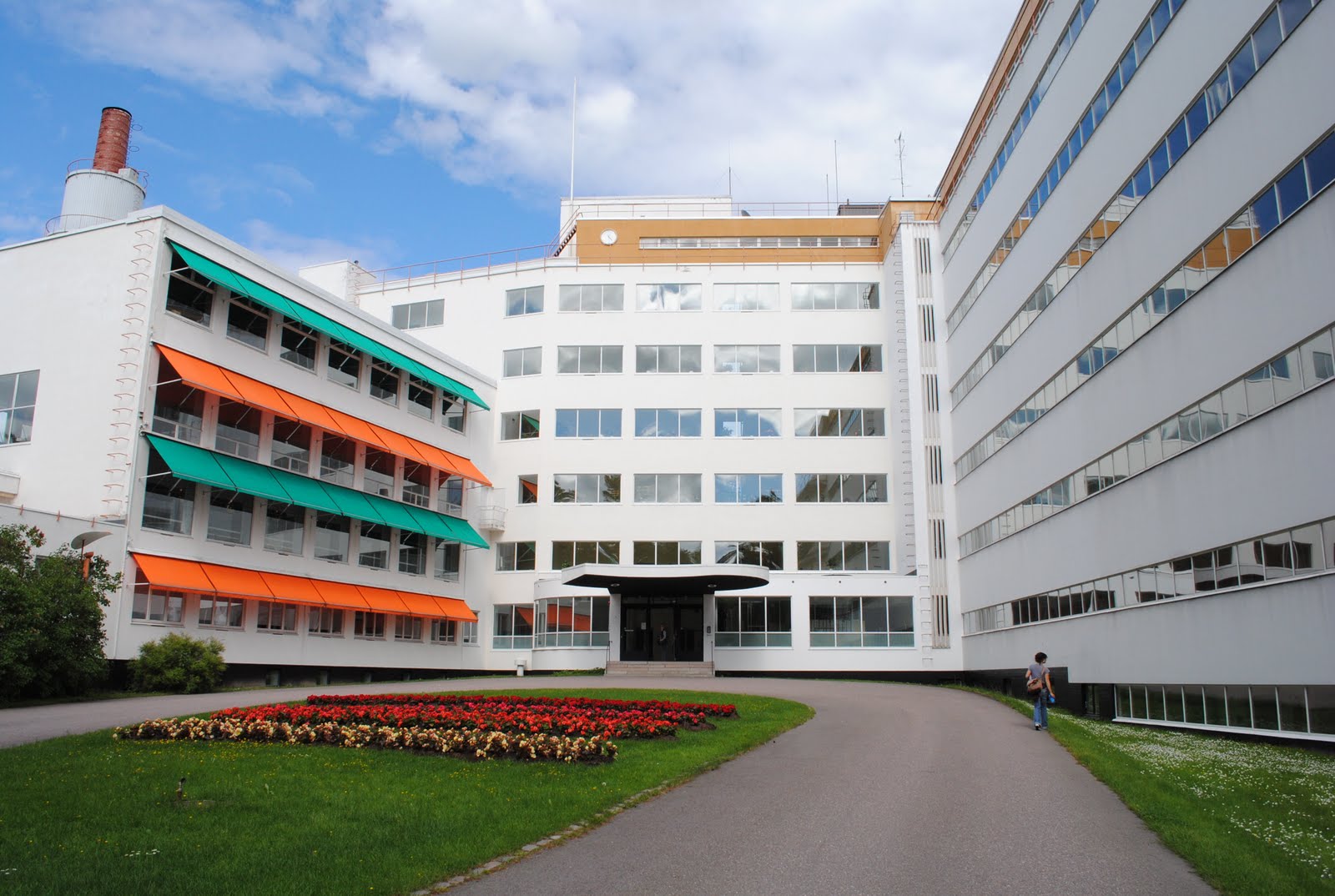 1938-39 Mairea villa, Noormarkku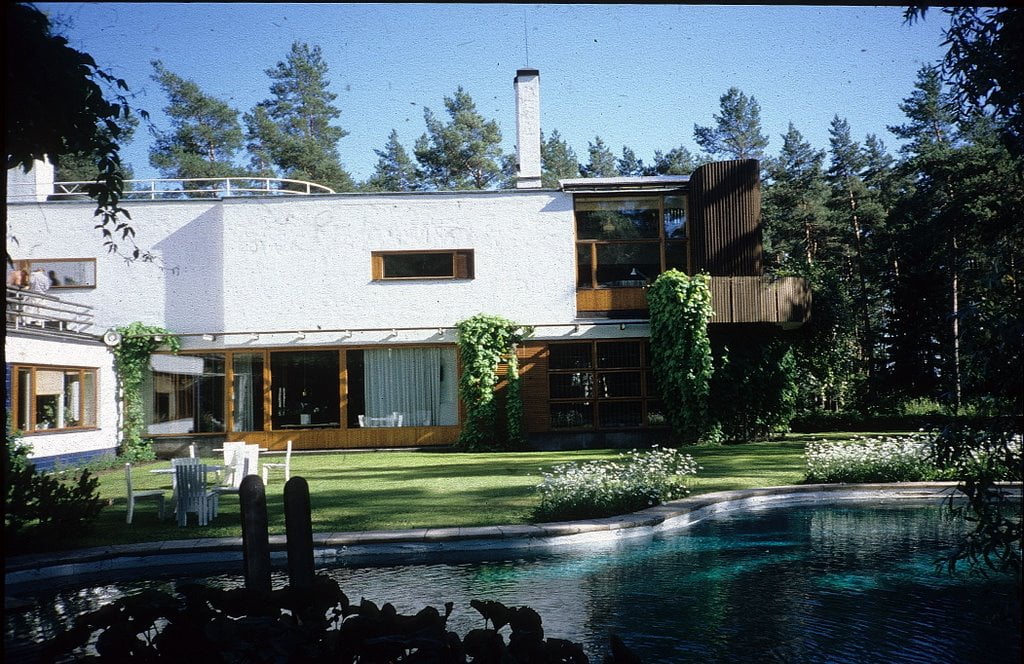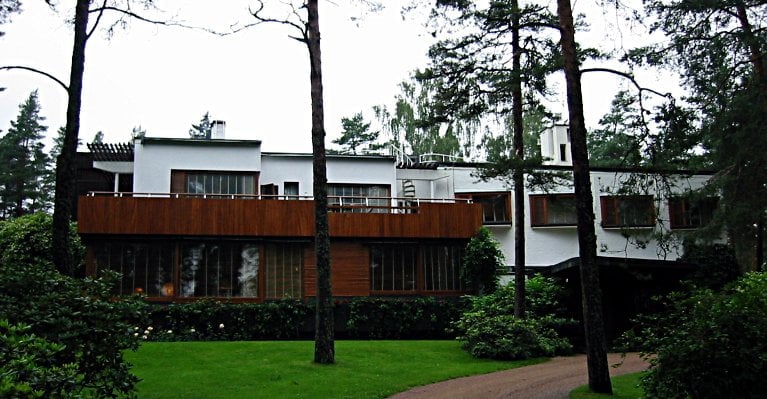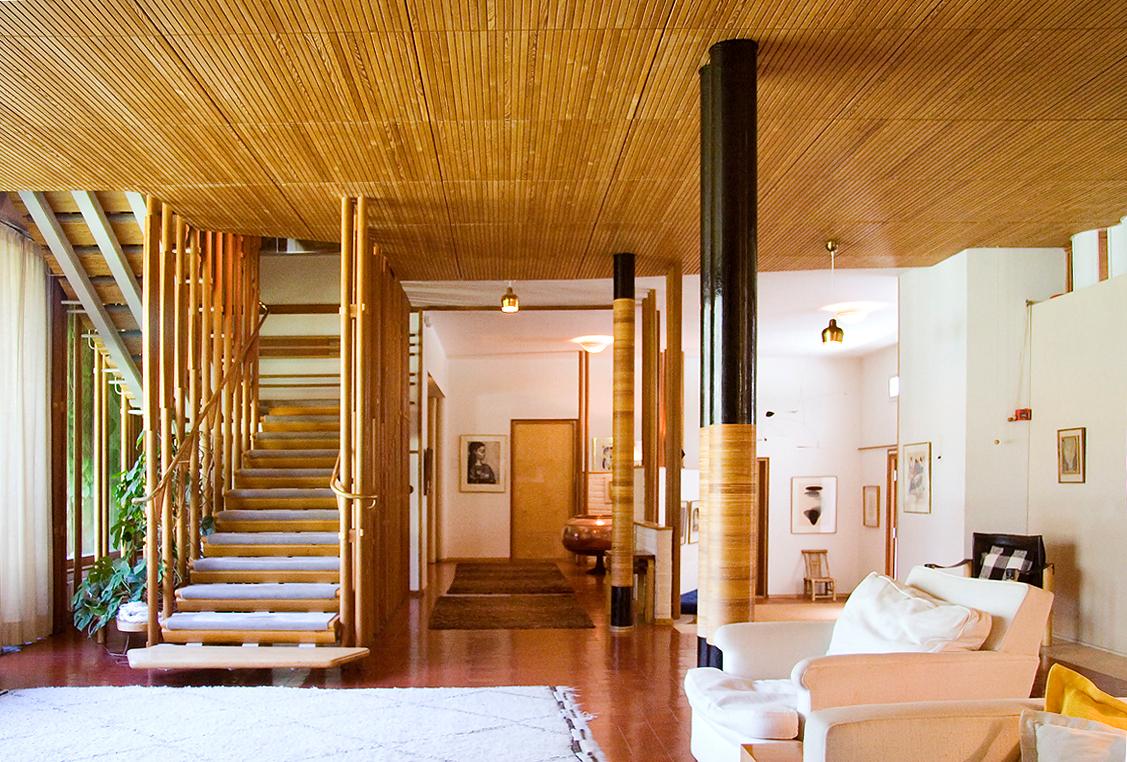 1949-52 Saynatsalo  municipal offices
1949-64 University of Technology, main building, Otaniemi, Espoo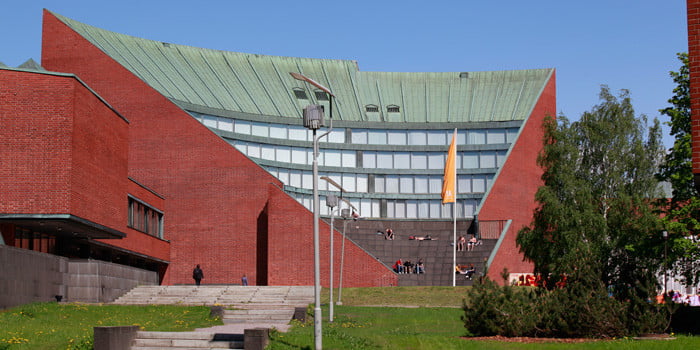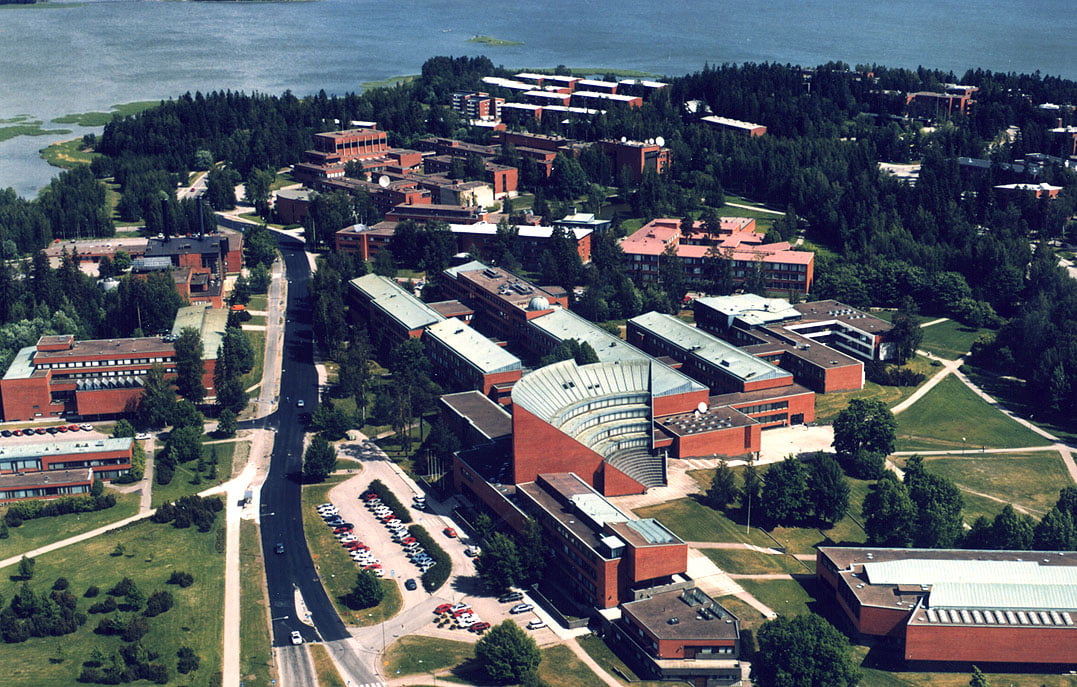 1951-55 Rautatalo, office and commercial building, Keskuskatu 3, Helsinki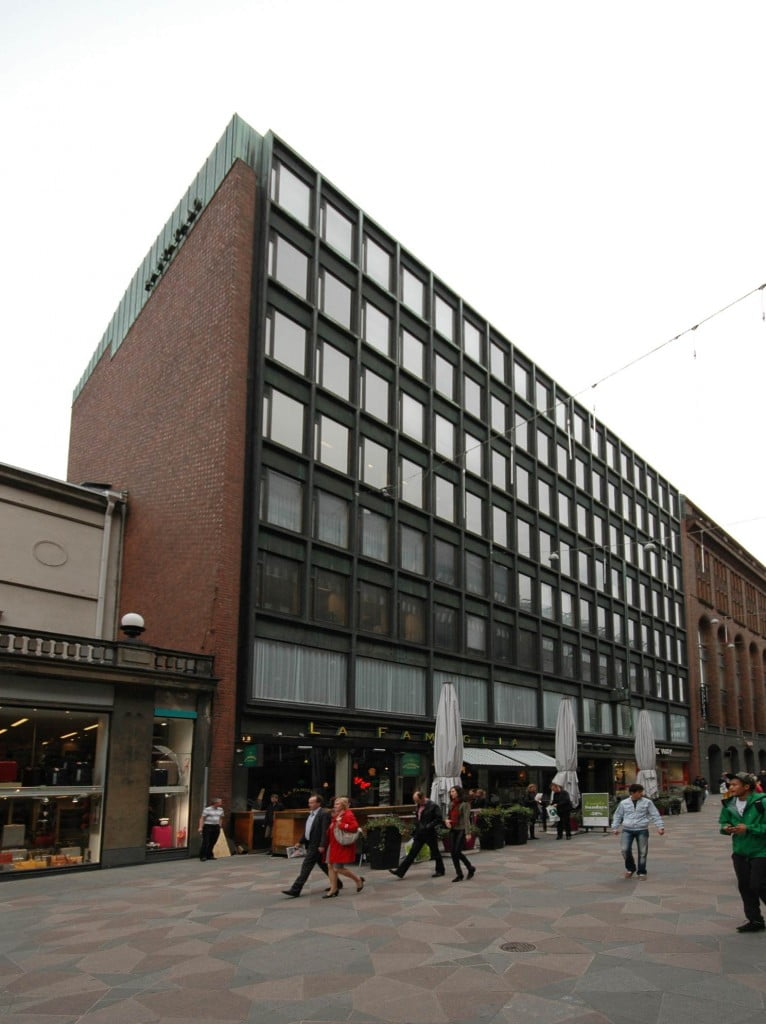 1955-58 House of Culture, Sturenkatu 4, Helsinki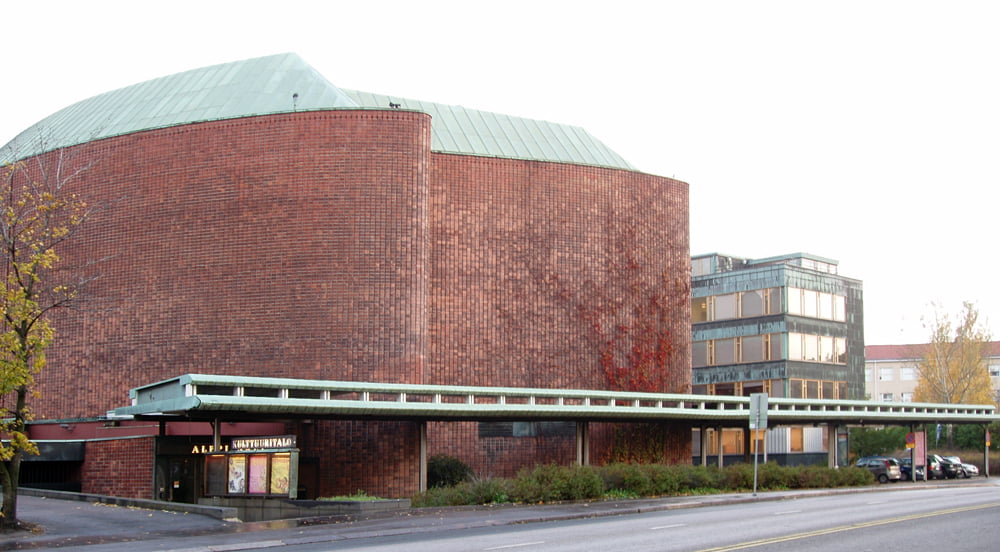 1962-71 Finlandia Hall, Concert and congress building, Helsinki
 Alvar Aalto will remain in the architectural history as one of the 20's iconic figures, a personality expressed beautifully trough simple, clear, rational designs with a touch of romanticism and sensibility.