Stress can take toll on the body as well as the mind and numerous studies have been conducted to confirm this fact.In a busy city life, caught midst the hustle and bustle of daily chores, you need a relaxation corner, close to your heart, where you can go to rest, unwind and connect with yourself, your friends, your loved ones. What could be a better place than your backyard for such a private element? Having a small garden in your backyard will give you the perfect retreat, but the real question is who has the time in the world to try out different alternatives and find the best small garden design idea to implement? This is where this article fits in. It provides a curated list of 10 small flower garden ideas to assist you embellish your own backyard.
Small Flower Garden Ideas
Colors to make you joyous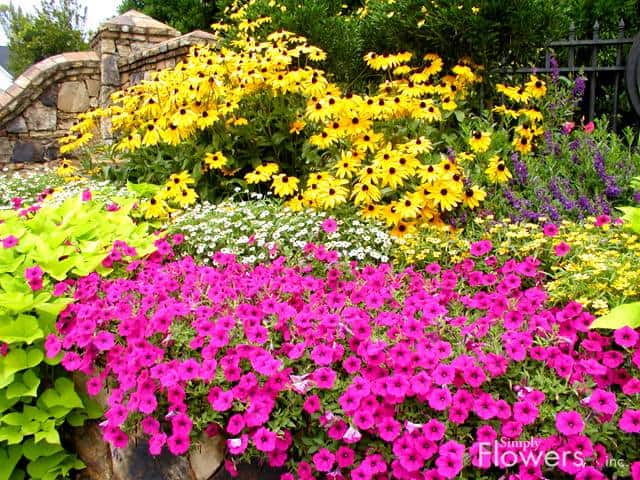 Source: Simply Flowers, Inc
Nothing stimulates our mood as colors do, so much so that there is a specialized branch of study, color psychology, to understand the effect of colors on our well being. Talking of colors, the first thing you can do is to choose having a colorful backyard, enliven with small flowers of different hues and tones. In one corner of your backyard, you can mull to have perfectly structured rows, or even circles, of bright color flowers, use the yellow ones for emotional strength, pink ones for tranquility, blue ones for serenity and intellectual sublimity, white ones for purity and clarity of thought. When creating a colorful small flower corner, you should keep in mind to balance colors against each other in terms of tone, spread, and petal correspondence and composition.
Rows of Petunias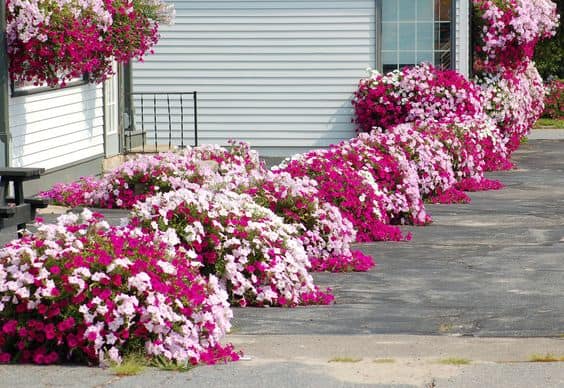 Source: about.com
Another way to make your garden colorful is by adding various types of petunias in a multitude of  forms. A good choice would be to use colorful petunias in your garden to create rows of the flowers and use those to form a border in your garden.You can think of other ways to use it as well, like planting them in planter boxes. Take note that even the petunia plants in the above image have been planted in flower pots, which are placed side by side. You need to limit your choice to three colors, as shown in the image. If you choose to use petunias for your flower garden, you should consider the color balance, opting for two or more colors will increase the complexity of your garden and enrich the senses. In the long term the goal is to build a cozy retreat in your backyard.
 small corner flower garden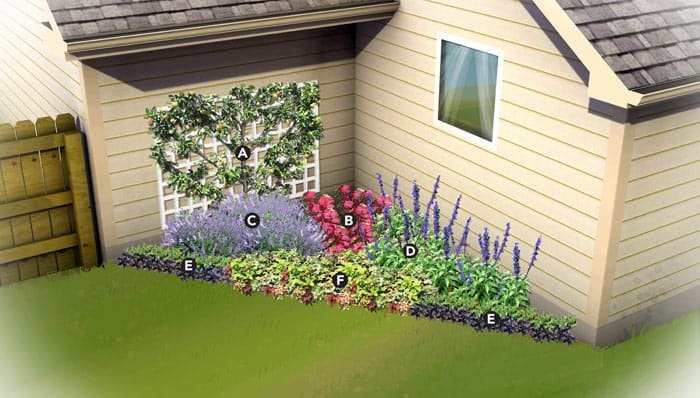 Source: Lowe's
Another way to have a nice cozy corner in your backyard is to design it with an array of small flowers. One way to do that has been shown in the above image, though the source mentioned that instead of flowers you should use plants like basil, coleus, paprika, to complete the corner garden. You can have the same plants should you wish to double the use of available space, but that is not mandatory. Choose any kind of small flowers alongside a dwarf tree to accentuate the design. The key element in the making of a corner garden should be to measure the amount of sun light available for their proper development.
Use rocks for border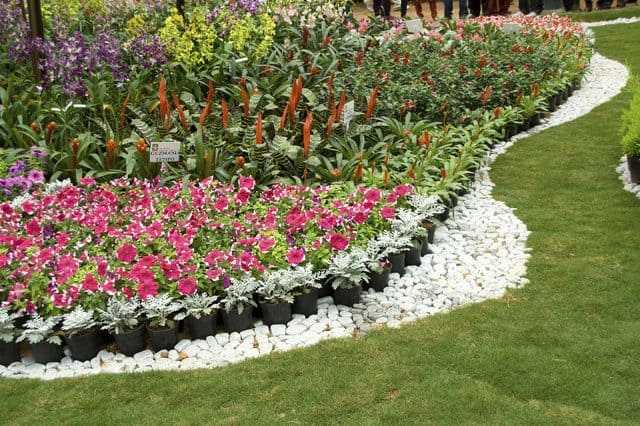 Source: eHow
Rocks add to the natural beauty of a the flower garden or flower bed, for that matter, by providing a natural coarse texture to your garden. They are also used to form borders around the plants. Some people prefer white rock borders, others choose it to be black, while most of you want to mix and match more than one colors of rock to mark the outside borders of your small garden. Rocks and pebbles can also be used to cover the soil around the stem of plants, if and when your small flowers blossom some inches above the ground.
Cover the ground with a carpet of flower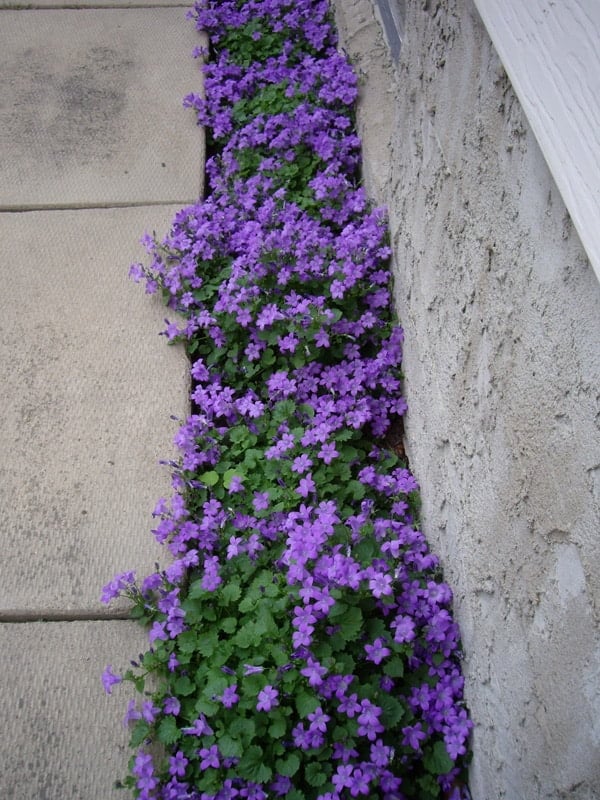 Source: Northern Shade Gardening
If you need to cover the ground with small flowers, Campanula portenschlagiana is a nice option. It is suitable for partial shade and also develops well in sun. The heart or kidney-shaped green leaves of the plant contrast well with the purple and blue flowers. It is suitable for covering grounds, and in the right condition it will soon make its way into crevices and cracks in the ground or wall, giving a uniform look to your small flower backyard retreat, transforming the space and claiming it its own.
Install planter boxes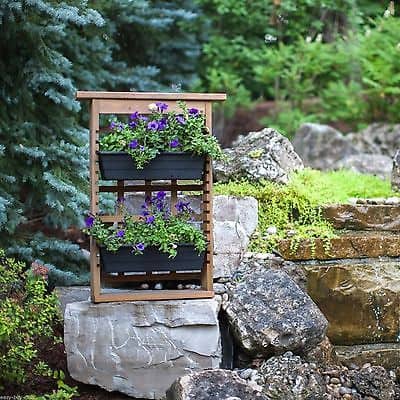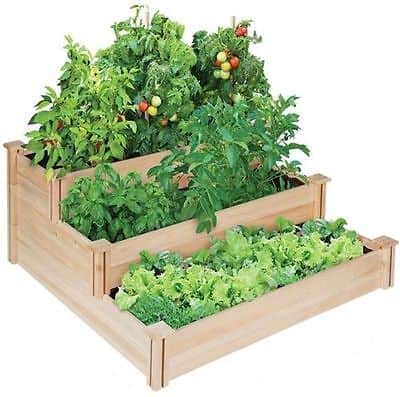 Source: ebay
No one knows for sure how you are going to use the space in your backyard in the years to come, and you cannot always like to go into tearing down the backyard and recreating it to meet the ever changing requirements. Therefore, you may wish to include some sort of removable planter boxes in your small garden plan. These boxes can come in any size, and can be used a portable flower units to be placed wherever you need. When designing your backyard garden retreat, you should keep in mind that a good design always includes the future requirements in the scheme of things. Wooden box planters can be one such inclusion.
Raised Flower bed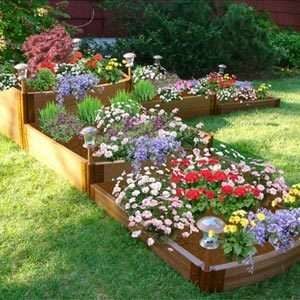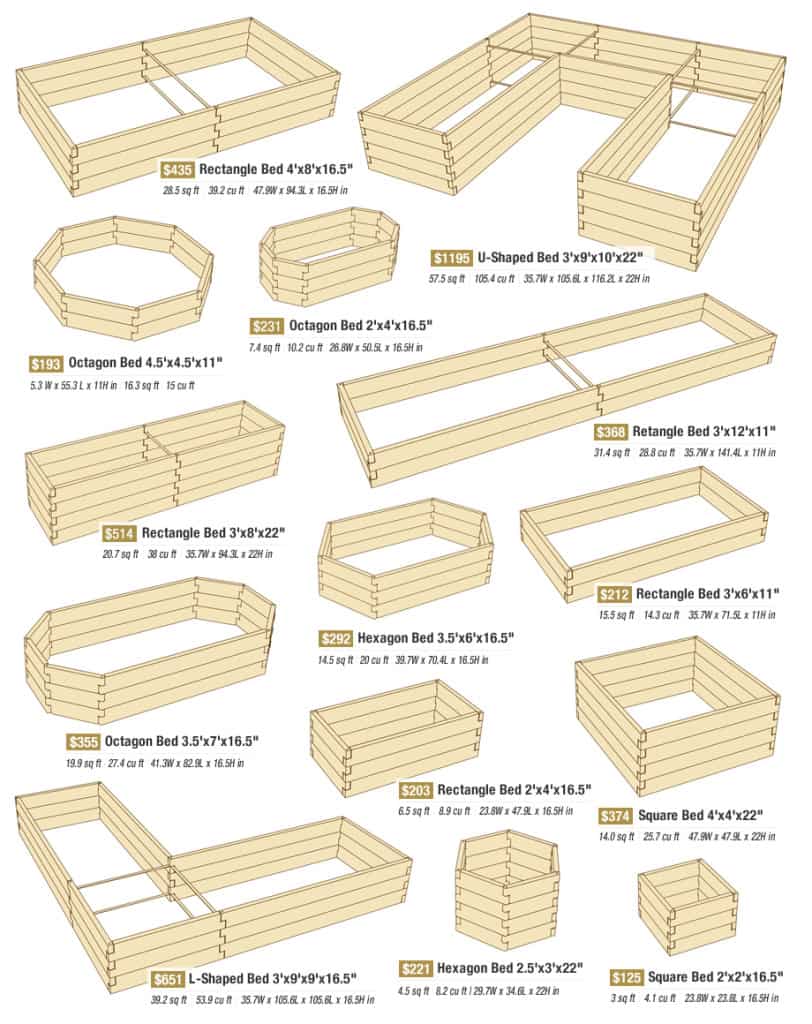 Source: This Next and Alternative Gardening
Taking cue from the above idea, you can also create raised flower beds in your backyard to give character to your small flower garden. The idea of using planter boxes to embellish your small garden can be more useful if you have concrete flooring in the backyard and you do not wish to remove it. You can also use the boxes as an unmovable focal point of your design. The shape, size and height of one or more planter boxes or wooden units depend upon the space. You should take a careful measurement of the area where you want to install it and make the box at least 1 inch smaller, in case you are going for a removable raised platform.
Purple wall of flowers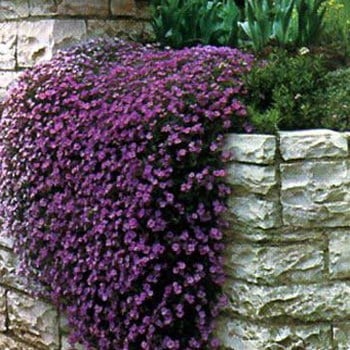 Source: Outside Pride
It seems this article on small flower garden ideas is obsessing over purple-colored flowers. Seeing the suggestions made, the accusation cannot be denied completely, but this does not mean there is not merit to the suggestions made here. When you want to create a hanging basket with cascading flowers or want to cover the entrance of your backyard garden with purple flowers, the rock cress cascading Aubrieta, which blooms during spring, is a nice option. It effortlessly flows like a torrent, adding fullness to your hanged flower pots
Red and white Moss Phlox to attract butterflies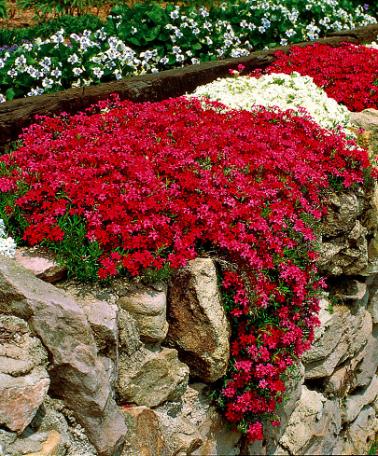 Source: Bakker Spalding
If purple flowers have been too much for you, you can go for clump-forming Moss Phlox. It remains green in both summer and winter and blooms in crimson and white flowers during spring and happily last till late summer The flower attracts lots of butterflies. Does it need mentioning that butterflies will add life to your backyard garden and help you relax? In the season, Moss Phlox gets smothered by small flowers. It grows well in the ground, but can be planted in raised boxes, flower pots or hanging baskets. You can use this flower along with rock cress cascading Aubrieta to add variety to your small flower backyard garden.
Add a point of interest or focal point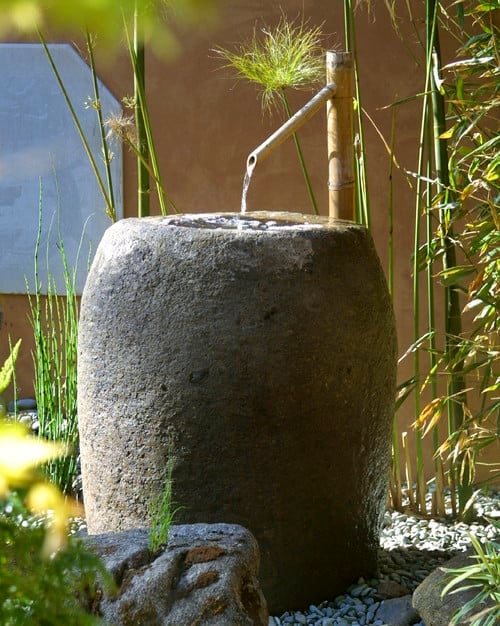 Source: Houzz
For many people, the design is not complete if there is not a point of interest or a focal point built in the garden, small or large. If you share this sentiment than you may want to consider installing a water fountain or a statue or two in your backyard garden. Some people like to have the  statue of the meditating Lord Buddha in one corner. This helps them stay calm and focused.
A parting thought
Your backyard is like a blank sheet of canvas spread open for the artist in you to explore and express your inner meaning, and the flowers, stones, and statues are nothing but art supplies to help you transform your barren backyard into a work of art. The small flower garden ideas shared above are nothing but a gentle reminder to wake the artist in you, suggest some necessary tools, show some work of garden designs and show you your grand canvas which is waiting for you to create your chef-d'oeuvre.